We call it Snowball Bush.
It is also known as Whitsun-Boss, Elder-Rose, Pincushion Tree, or for the scientific agrarian, Viburnum Opulus.
Two bushes grow next door in our neighbor's backyard. And last week the snowballs were tipping boughs heavy, tempting tiny hands.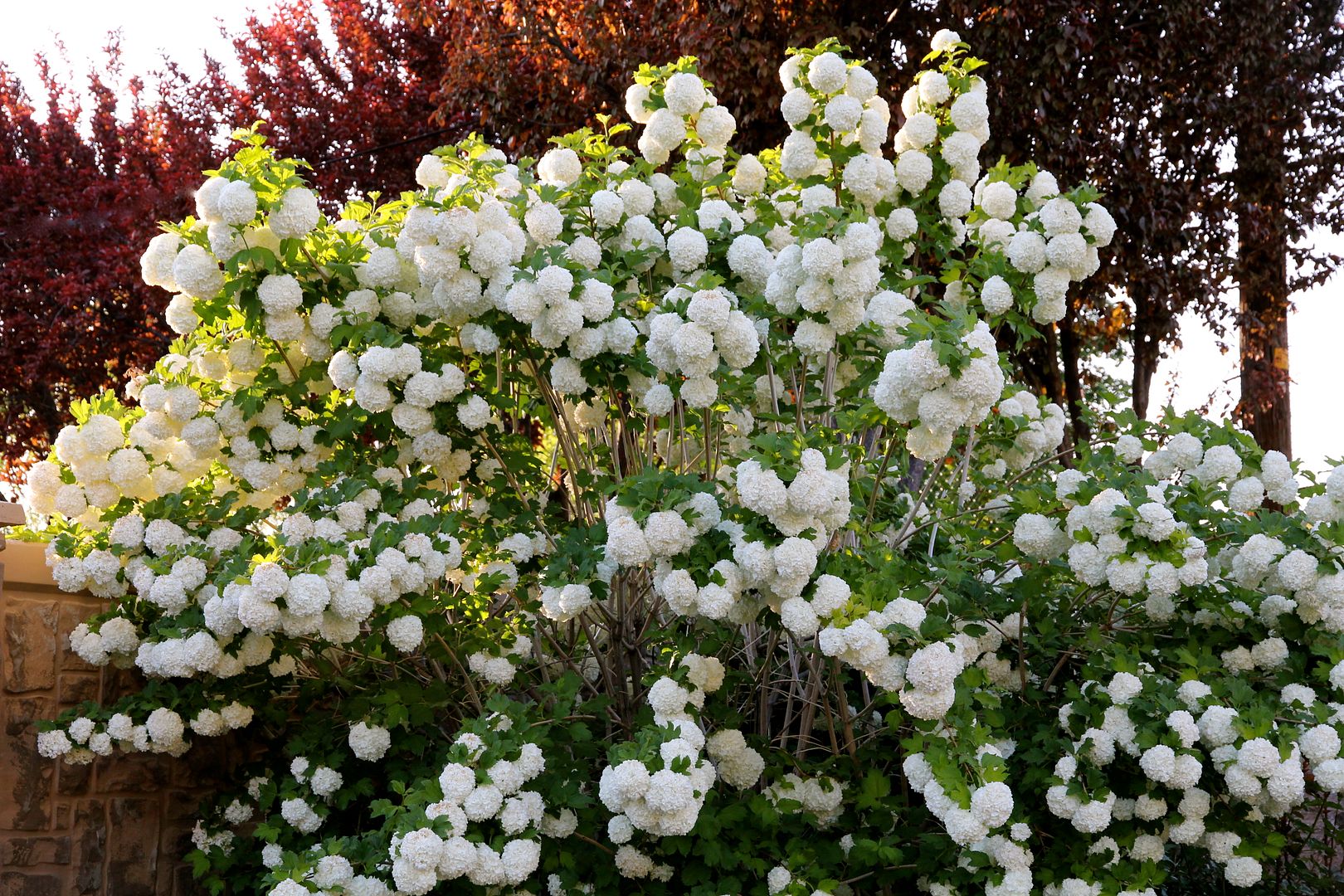 The boys and I ventured over the wall to swing. Spencer and Gordon flew like Superman, tummy-down on the swings, content to twist chains and tap-twirl their feet against the ground.
So I plunked down on a brick wall and opened a book. I had finished one paragraph when Gordon lobbed a snowball right into my face. It hit me between the eyes and I was so surprised, I dropped my book. What startled me most, however, was the non-impact of those soft, fluttery blossoms. Hmmmm, I thought. This could be fun.
I looked Gordon square in the eyes, saw a tease sparkle in his browns, a jest curve upward on his lips. Then I grabbed a snowball, and lobbed it right back.
Within seconds the boys and I were in an all out war, reusing the ammo against each other, white tufts flying. I couldn't stop laughing.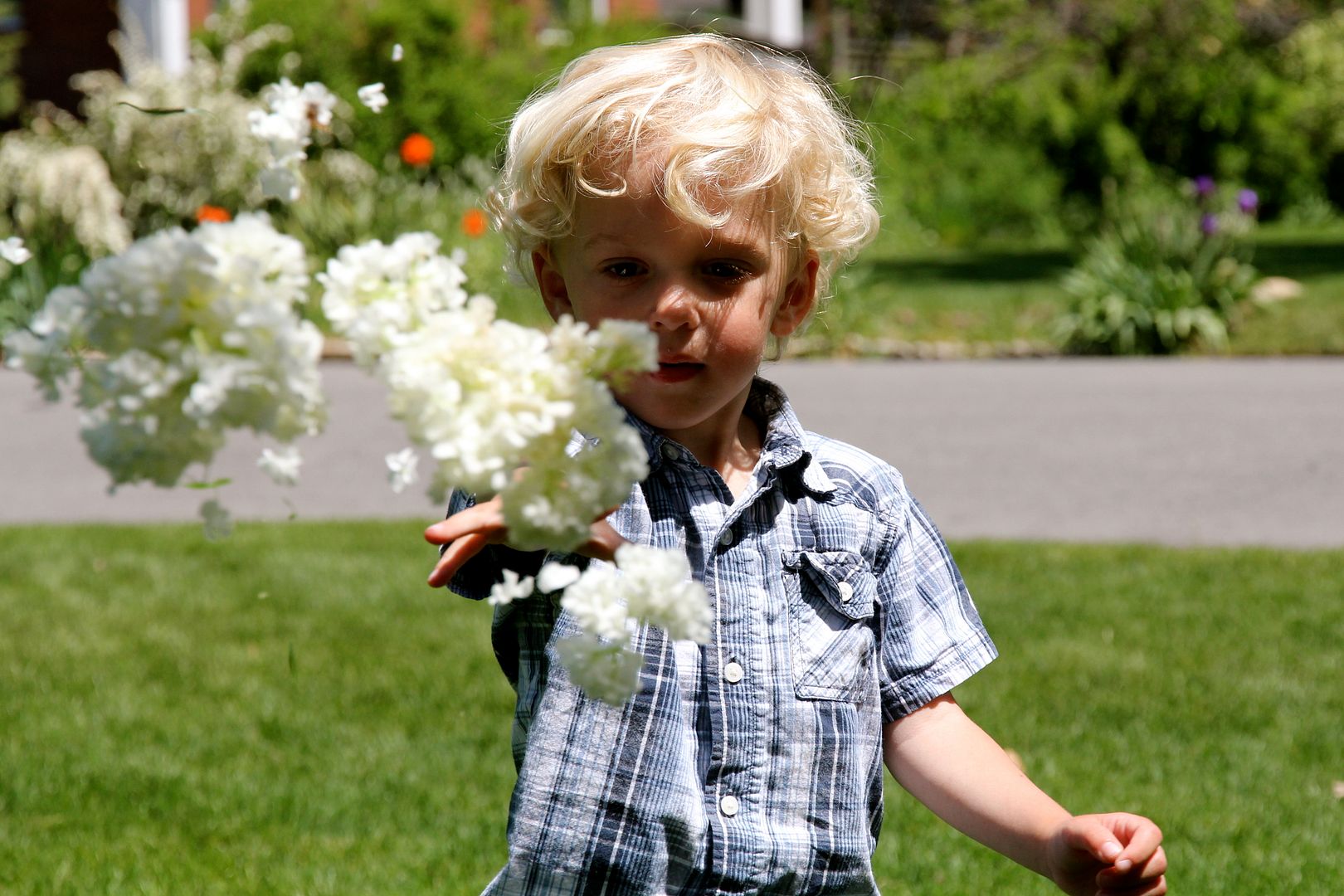 Whooo-eee, did we make a mess.
When our neighbor, Marilyn, came home from work I confessed our charade. Told her about our little snowball fight. How we had plucked a fair number of her blossoms.
True to her practical, personal way, she didn't mind a bit. In fact, she said we ought to pick more and have a snowball fight with the entire family.
Ali helped me clip. And together we stuffed, and stuffed, and stuffed the basket full.
We chose our starting positions.
I doled out the snowballs.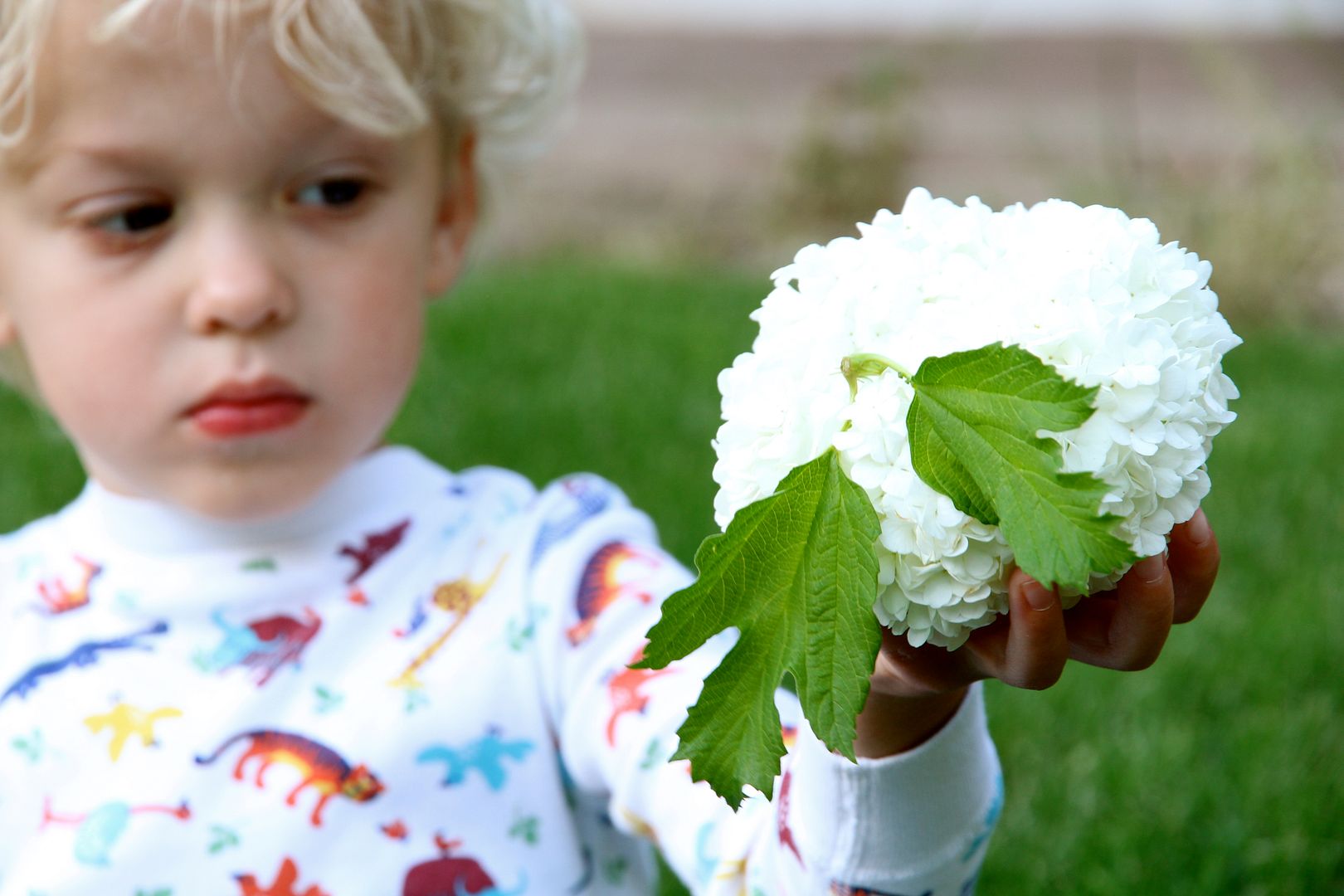 Have you ever seen anything so perfectly round and light and lovely?
The kids were patient as I divvied up the basket, stacked their stations with ammunition. The anticipation building.
Finally.... we let 'em fly!
Doug dropped several down the back of my shirt.
"You wanna play like that?" I said.
And I went after him. The girls joined me. We chased, and snagged his shirt, ran and laughed so hard we had to stop to catch our breath. Eventually, I managed to stuff a handful of snowballs down the back of Doug's pants. Part of an all-out attack that disturbed Spencer so much he started hitting me and telling me to stop getting his Daddy.
When all the balls were spent, the kids gathered up the leftovers and placed them in Doug's hands.
On the count of three, he tossed them as high as he could.
The sun broke through the trees as the last flakes floated down. And we left them there. All those shredded petals, like the stuffing of some poor teddy bear.
Once the kids were down I stood at the kitchen window, washing dishes, surveying the white wreckage that littered the grass.
Fifteen minutes of play. That's all we had. Fifteen minutes of pure play that worked a bit of wonder on my soul. It unified our family, gave us a memory, and left me happily floating into the night.
The kids are still talking about it, wondering if we'll do it again next year.
"We don't stop playing because we grow old. We grow old because we stop playing." - George Bernard Shaw
Some days I realize I haven't just grown up, I've grown old.
Play is an art form. It doesn't come as easily these days, but I ought to do it more. Shed some stuffy old years and remember...what it feels like to lob the first snowball.