June 5th, 2012
"Put your dishes in the sink and run out to the car!" I say to the kids. I spoon leftovers into tupperware, slip off my apron and grab my jacket. Everyone dashes about, snagging shoes and zipping fleece as the door bangs shut again and again.
I felt like we've stepped into the movie Twister, but instead of chasing tornadoes, we are chasing the sun. With welder's mask and camera in hand, I climb into the front seat.
We're off to see the Transit of Venus. An astronomical wonder that won't happen again until 2117. At 4PM, Venus began a traverse across the sun, an unusual path that put it directly between the sun and the earth.
All afternoon we watched the sky, shrouded in low-lying stratus clouds. Every direction I looked there was nothing but gray. We were disappointed. And knowing Doug would be even more disappointed, I phoned him.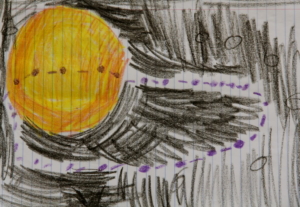 Eliza drew this picture of the Transit of Venus two days prior. Doug has been talking about it for over a week, rallying the family.
"Should we try to drive north? The storm came in from the north. Maybe we could find the sun that direction," I reasoned.
Doug said he would call his brother who lived further north while he drove home. We hung up and I continued to fix dinner.
Then I saw it. In the corner of the west window. A single white cloud, doused in light, with a patch of blue behind it.
Soon as Doug walked in the door he spoke my plan, "I think we should drive west."
"Me too!" I said.
And that was that. We went blazing down the street, with only an hour or so until sunset.
. . . . .
May 20th, 2012
Because we were staying in southern Utah, driving to Kannaraville (Utah's "sweet spot" for viewing the annular eclipse) was a must-do. As my Grandmother would say, "Your IQ demands it."
Kannarraville, a blip on the map that doesn't have a single stoplight, was about to revel in its moment of glory. The (only) main road was lined with cars and anxious viewers wearing eclipse glasses. Everyone was waiting. Waiting for the moon to pass in front of the sun.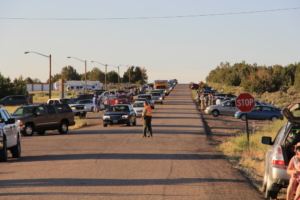 Might be the only time Kannarraville will have a traffic cop at its intersection.
We found a place to park on a narrow dirt road, got the kids out of the car, and took turns donning the welder's mask. The eclipse was starting.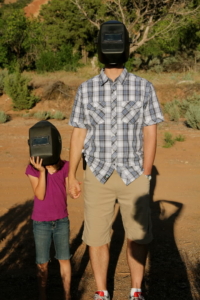 I laugh at these photos because we look like we just walked off the cover of an old sci-fi novel.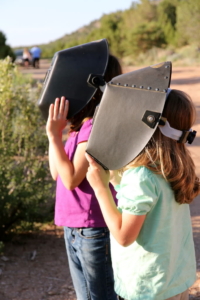 The girls thought the hype over the eclipse was very cool. But seeing the "Ring of Fire" for themselves, was even cooler.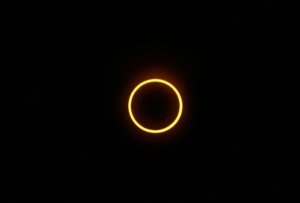 photo by Stacy Watts
This photo shows exactly what we saw through the protected lens of the mask. Two orbs lingering in perfect alignment for over a minute. Then they slowly moved past each other.
I caught Eliza's face as she was lifting the mask. "That is SO cool!" she said, then handed the mask to her sister.
It really was. It was remarkable. The way the muted sunlight cast a subtle shadow over the red earth, the way the orange sun flared gently around the moon. I'd never seen anything like it.
. . . . .
June 5th, 2012
We drive west on the interstate, hoping for a break in the clouds. It comes sooner than we expect. As we reach the Great Salt Lake, the sun glides into an open sky, burns a blinding reflection onto the water.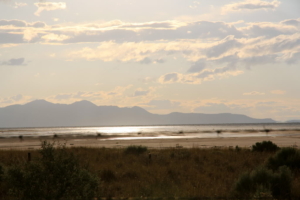 We take the Salt Air exit and park along the frontage road. Antelope Island visible to the north.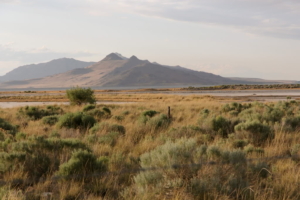 You can see the dark clouds we drove out of, hanging low over the city and mountains.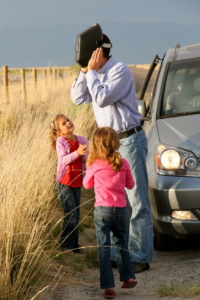 Unfortunately, we brought the wrong welder's mask – the one with a magnifying glass in it. Doug carefully extracts the glass, but even with it out, Venus is difficult to see. Doug keeps the mask on for minutes, straining toward the sun, trying to let his eyes adjust so he can see the faint, black spec en route across the sun.
"It's hard to see," he says. "But you can see it."
I take my turn. And he is right. I have to let my eyes get used to staring at the sun. Long enough that the tiny black dot can appear, almost like an optical illusion, about 2:00 on the sun's face.
Slightly dissatisfied, I say, "Let's ask those people we saw with that gigantic telescope if we can sneak a view."
Down the road, a small crowd has gathered. We step out to talk to them and ask some questions.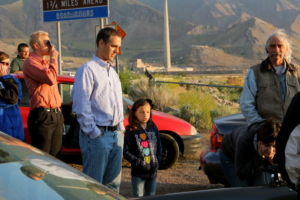 This man (who looks uncannily like Einstein – far right of the photo), has set up his enormous Orion telescope, and is graciously letting curious regulars like us have a look. He is so gentle and unassuming. Afterwards I wish we'd gotten his name, but Doug assures me they'll meet at the next Astronomy Club meeting. I laugh. (Doug really wants to go. Seriously. He's got the bug.)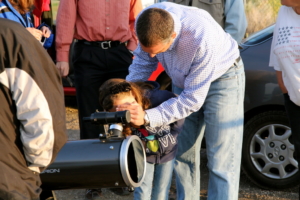 Each of our girls take a look. We all see the Transit. And the view is…
Astonishing. Wondrous. Magnificent. It makes me gasp out loud.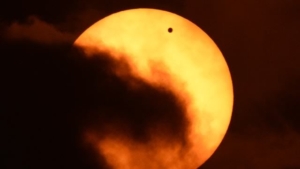 photo by Stan Honda, ABC News
Peering through the lens, I see this. Wispy black clouds, drifting smokily across our system's largest star. And Venus? She's a tiny black circle, silhouetted against the fire.
All at once I feel small. So small. And I marvel over God's big universe, over the reality that light years away he has made systems with stars 1600 times bigger than our sun, supergiants that flame red and blue. Entire galaxies have been formed by his hand. A hand that looks like mine. A hand that reaches into my life, writes my name, knows my children.
The curious splendor of it makes me feel like flying. Yet, at the same time I want to crawl into the salty shore, mingle with the rocks. I am humbled to the core.
That night my prayers are different. I don't rattle off the usual words. I pray to a God who makes worlds. To the Father of us all, who energizes everything and wants to save everyone.
As I sit on my bed, this verse comes to mind.
"The earth rolls upon her wings, and the sun giveth his light by day, and the moon giveth her light by night, and the stars also give their light, as they roll upon their wings in their glory, in the midst of the power of God" (Doctrine and Covenants 88:45).
Transits, eclipses, the waning gibbous moon tonight. All of it speaks to me, tells me there is a God. And amid all his marvelous, radiant creations, a startling truth hangs, suspended.
He glories most in us (
Moses 1:39
). Our mistakes, our litany of less-than moments don't deter him. We remain his prized creation. His purpose, his work, his glory.