Some days I go about the busyness, unconscious. Unaware of the tremendous gift it is to have a good husband. I get to feeling entitled, greedy for his time, frustrated that he isn't home yet. And when he does come home, in the crazy of our children, I glide past him, disconnected.
It only takes seconds. A short pause in the routine to look him in the eyes, consider him – how hard he is working, how he cares about the right things and loves us unconditionally, and the gratitude begins to flow, rush deep in the veins.
I know I am blessed.
When a father loses his way, hurts those he ought to love most, a blackness can filter down generations. Some of you, with whom I hit the morning pavement, brush shoulders in the neighborhood, or communicate online, have forged wonderful lives in spite of or without a good father or husband. At times I have felt your brokenness, and it has pained me.
But then I see you turn to your real Father, the one who knows you best,
sends angels to aid you,
and that intangible part of the picture comforts me.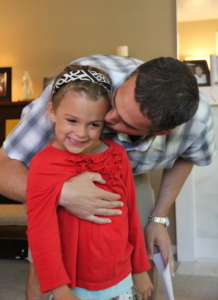 Look around and you will find them. Wonderful men doing what is right, giving their all to their families. I see them twirling their daughters on the front lawn, sitting behind the pulpit at church, standing the sidelines at soccer games.
I do not want to overlook their contributions. They are significant and far-reaching.
We opened small presents yesterday, some of Doug's favorite treats. The girls drew pictures, and we wrote down what we loved about him. As I settled into the couch, mile-long smiles spread across the girls' faces (and mine). He read their home-made cards and kissed their cheeks.
A warmth settled over me, soft and reassuring. He is a good man. He provides well in all things temporal, spiritual, and emotional. Our children have his full attention the moment he walks in the door until they are asleep. They know their Daddy loves them.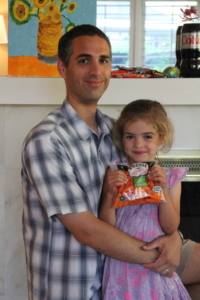 Always the tease, Sam asked if we could buy Daddy a bag of carrots for Father's Day. The poor guy can't stand carrots – hasn't liked them since he was a little boy. He won't eat them for me, but he will eat them for his children.
The paper dripped soggy as he unwrapped his special Sami-gift, rich with vitamin D. We all laughed and I leaned back thankful, oh so thankful, that each of my children has him for their own.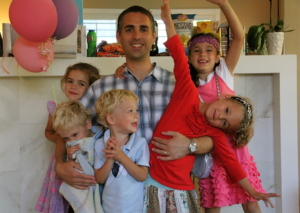 To all fathers who value women, live with integrity, are loyal to their families, treasure their wives, and protect their children, thank you. You are true men. You are the other half of a beautiful plan that keeps the world spinning right.
I love you Doug.
And Dad, I love you too. Every memory I have of you is a gentle one.