Confession: I'm a planner. I like to make lists. I like to feel productive. And it's important to me that I follow through when I make a promise. With a hectic family life, the only way I can keep a promise or tackle a project, is to have a plan. And no surprise, I'm one of those people who gets a buzz from checking things off my list. Planning is
how I roll. Partly out of personality, and largely out of circumstance. Everyone is happier around here with a plan.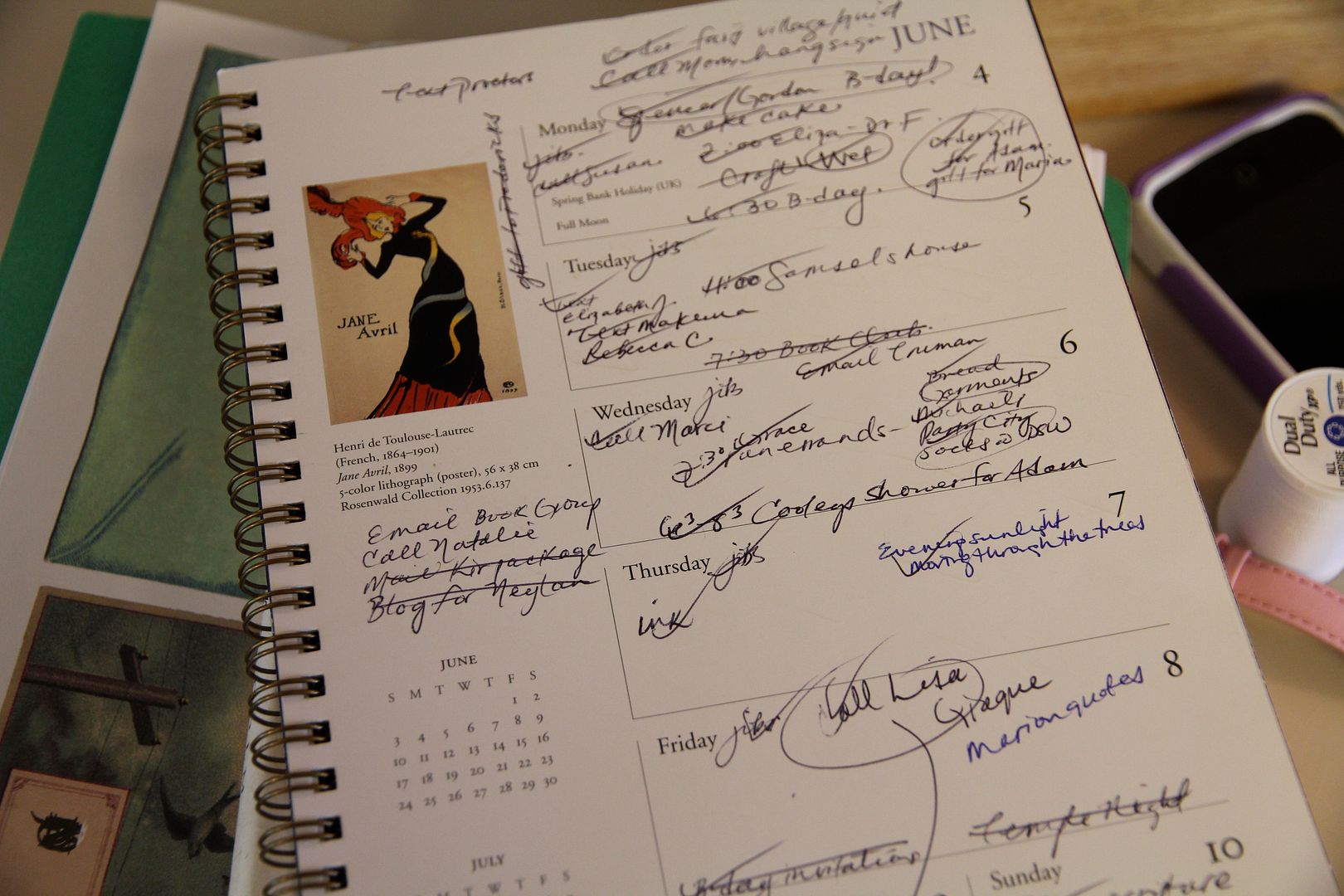 This frightful thing is my daily planner. Messy I know, but it works for me.
The problem, however, with planners, is that we get frustrated when things don't go as planned. From non-sleeping babies, to rolls that don't rise, to the outing at the zoo that turned into a ten minute whir past the elephants because two babies were having a melt-down. But if motherhood has taught me anything, it is flexibility. Even the best of plans cannot be rigid.
I've learned to overhaul or abandon plans when they're not working. I've learned it's okay to return to the plan later, when timing is better. I've also learned it's okay to relinquish the original plan for something more opportunistic.
In

his new book

(which is already a best-seller), Harvard business professor, Clayton Christensen, describes the need for balancing calculation with serendipity. He's talking about career paths, but I think it applies well to parenting.
"We have intentions for our careers [or families]. Against those intentions, opportunities and threats emerge that we haven't anticipated... Among those are almost always better options than were contained in our original plans."
The challenge is to know when and how to take advantage of those opportunities. To let go of the plan for an experience, a moment, an open door, or a teaching opportunity that may not come around again. And of course, we have to remember that people (even little people) matter more than plans.
So as the last few days of school fell off the calendar, I started to feel conflicted. What was I going to do with all five, all day, all summer long? I needed a plan. Or... did I? Maybe we just needed to chill. I might be a planner, but I don't like to jam-pack the schedule, run the to-do list off the page. I crave quiet time myself, and a smattering of open days with nothing on the calendar so we can walk a slow pace, let the day unfold.
Then I found

these ideas

at Power of Moms. A wonderful balance of having a plan (something our family can look forward to) with enough margin for down-time, friends and summer slowness. With a bit of tweaking, we've implemented these ideas, and my kids have been nutso-excited about our summer.
During the morning, we get our jobs done.

These charts

have worked extremely well. The girls are getting better and more efficient as the days go by. Included is a daily reading and writing goal and the girls do a few pages from their

summer bridge workbook

.

That leaves afternoons or late mornings (if the kids are motivated) open for a daily focus. Cleverly brainstormed (not by me) with an alliteration so moms and kids don't forget. Here's our first week of summer.
Mondays we make, build, or craft something. This week we made fairy dolls, in anticipation for Eliza's fairy party. Good thing we tried these in advance. I now know we will NOT be making them at the party. Fairy gardens will be enough. And I couldn't get the glue gun to work so we didn't put on wings or acorn hats, but Eliza opted for the crazy hair-do anyhow.
While making these dolls, I got a message from my friend

April

- wonderful April with Power of Moms. She was driving through our area, an unusual thing since she lives in California, and wondered if she could stop by. Talk about abandoning a plan for something more opportunistic.

A chance to see April? Absolutely! I put dinner prep on hold, let the girls make messy peanut butter toast and let the boys nap long, while April and I visited. April, your impromptu visit made my day. You are radiant in every way, and you're doing so much good for mothers around the world. Thank you dear friend.

Back to Mondays. The girls also made fairy notes.
And Eliza built this cute "Jurassic Park" so the boys would have a place to play with their dinosaurs. Next week we're going to make

Summer Journals
- fun inspiration for our writing goals.
How is your summer shaping up? How do you feel about plans, calculation and serendipity?