Yesterday, the cousins on my mom's side met for lunch. We introduced second cousins to second cousins, told stories about Grandma and Grandpa, and resurrected memories.
My grandparents, Marvin and Lorraine. Aren't they beautiful?
As we talked, part of me wished we could slip back in time to our reunion days at Island Park, morph into those care-free kids with no worries - except how to get up on one ski and what we were going to eat for dinner. Those were good days, good times.
After lunch we crowded into the living room to watch our Kesler cousins (who couldn't make it to the party) strut their stuff in their annual summer music video, filmed at Island Park. The song title, Good Time, couldn't be more perfect.
We loved the cameo appearance of the Christiansen family, Marva Lu's old doll, Cabe's kitchen solo from DC, and the bear mace (apparently a bear shimmied up to the cabin and rummaged for food two nights in a row).
I've said it before but, what I love most about these videos is what they say about family. It's the look on their faces, the line of toddlers trotting into the camper, the dance moves, the laughter and teasing. All depict the tightness of a family, the joy of simply being together, and the absolute safety of having a place we can be ourselves.
Sit back and watch them groove.
Interesting side note: I thought it would be fun for you to know, the Keslers sent an audition video to Family Feud, hoping they might get on the show. Well, they did. And in May they flew to Atlanta to film. Here they are in their coordinated outfits just before the taping of the show.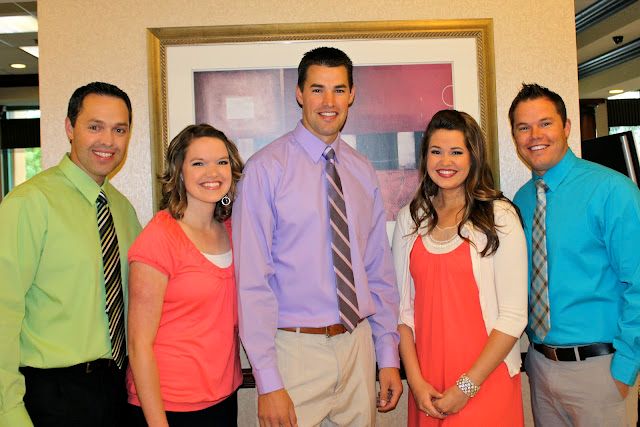 Doesn't my cousin Landon (in purple) bear a striking resemblance to my grandpa?
They are the first family from Idaho to ever be on Family Feud! The show will air in October.
Keslers, we missed you yesterday. I vote for a reunion next Summer at the farm where we can tell more stories, belly laugh, and give those second cousins some memories of their own.
Thanks for showing us a good time. My kids think you're rock stars. xo

p.s. more kesler videos

here.