Some events enrich so many people in so many ways, you leave floating. Feet hovering off the ground. Lilting, humming, wishing you could stay longer.
Last Saturday we attended the fifth annual Fairy Festival, sponsored by

Willa's Workshop

, a non-profit corporation created to foster a spirit of creativity and generosity in children. Willa's workshop was formed to celebrate the brief life of baby Willa who was born in 2007 and lived only five days.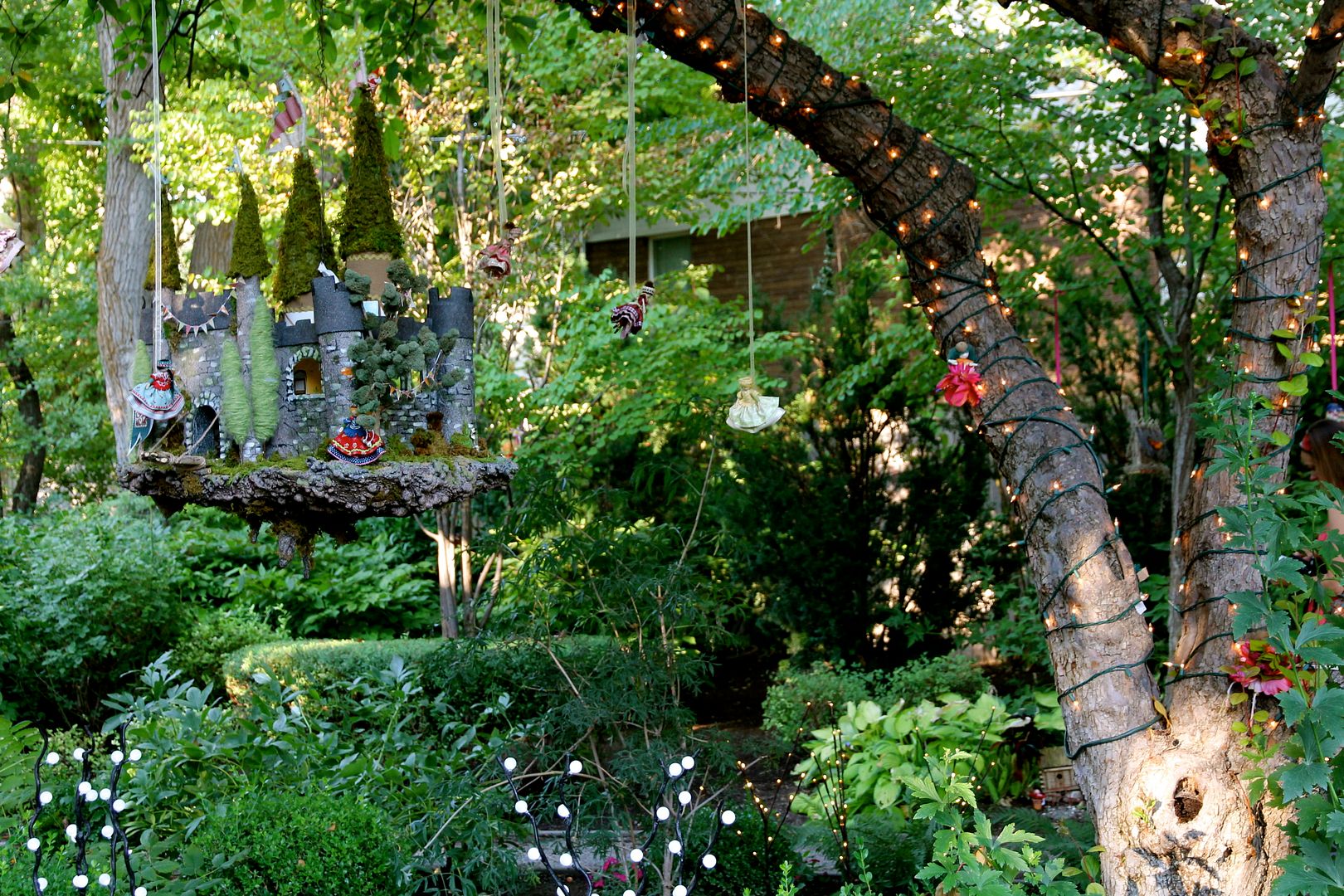 During the summer, Willa's Workshop gathers children together to create art, handicrafts, and other projects. All wares are saved for the annual Fairy Festival (held on or near Willa's birthday), where they are sold, and the proceeds donated to charity.
The fairies you see suspended from trees were made by children in our community. And isn't that castle in the air magical? Every one of my girls stood on the bench to peer inside a window.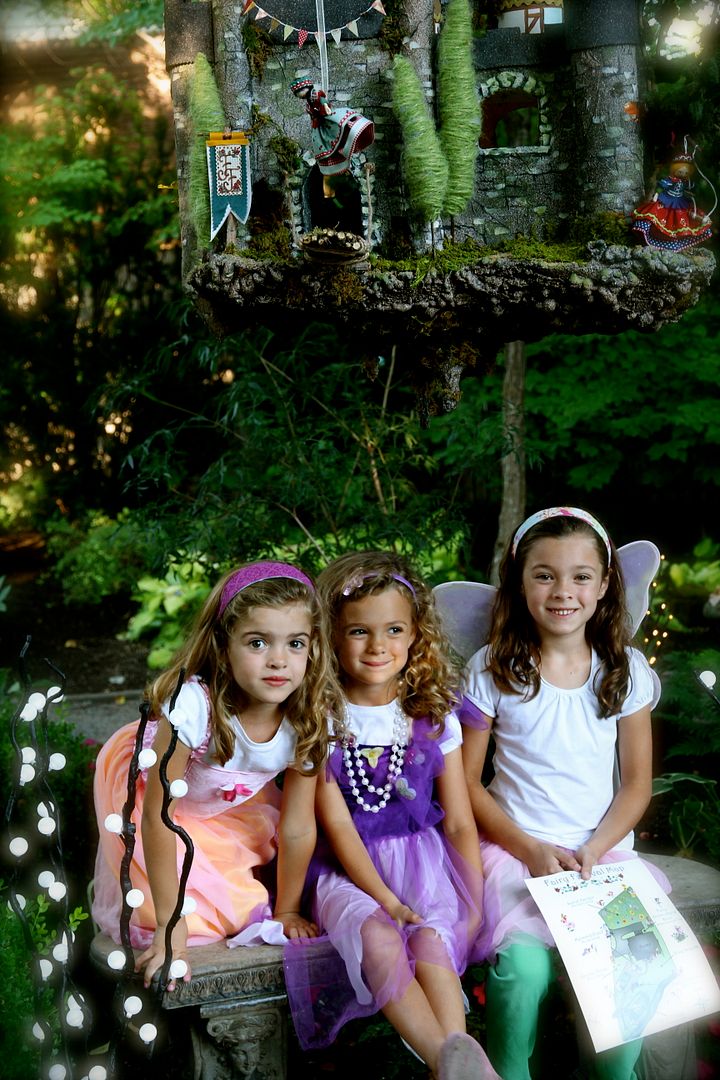 Considering the recent affection for fairies at our house, you can imagine how excited my girls were about the evening.
They had their wings and dresses on by noon.
This year donations and proceeds went to the

Huntsman Cancer Institute

, one of the nation's leading facilities in cancer treatment and research.
Eliza chose a yellow flag for my Mother, wrote her name on it, and placed it atop a white cake, next to the names of other individuals whose lives have been affected by cancer.
Our first stop was the Secret Fairy Garden. It was burgeoning with flowers. Tangled paths led us here and there, with hundreds of fairies to find. Fairies in huts, fairies in tiny houses, fairies on leaves, dangling from branches, and tucked under flowers.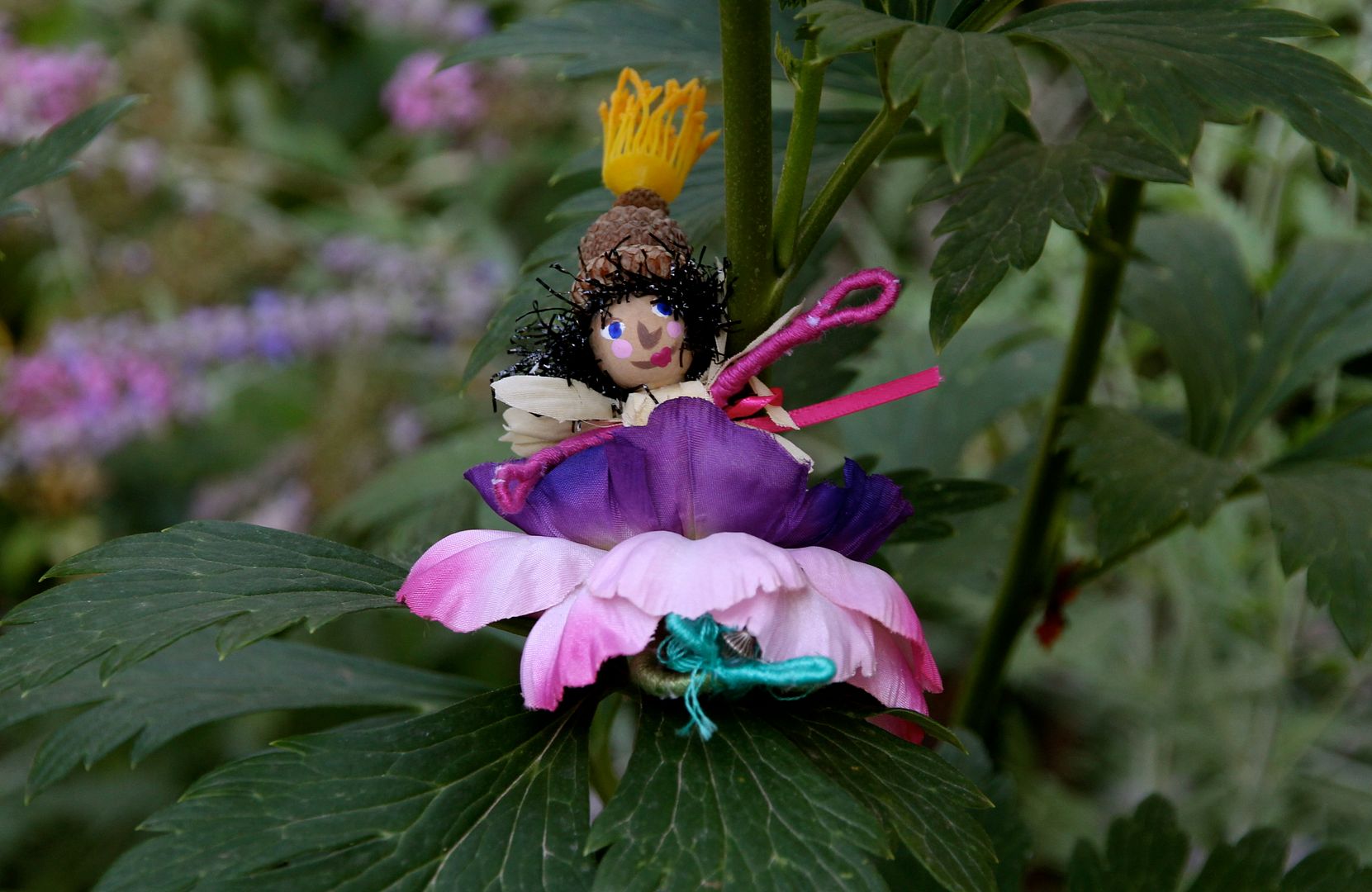 All of them made by children.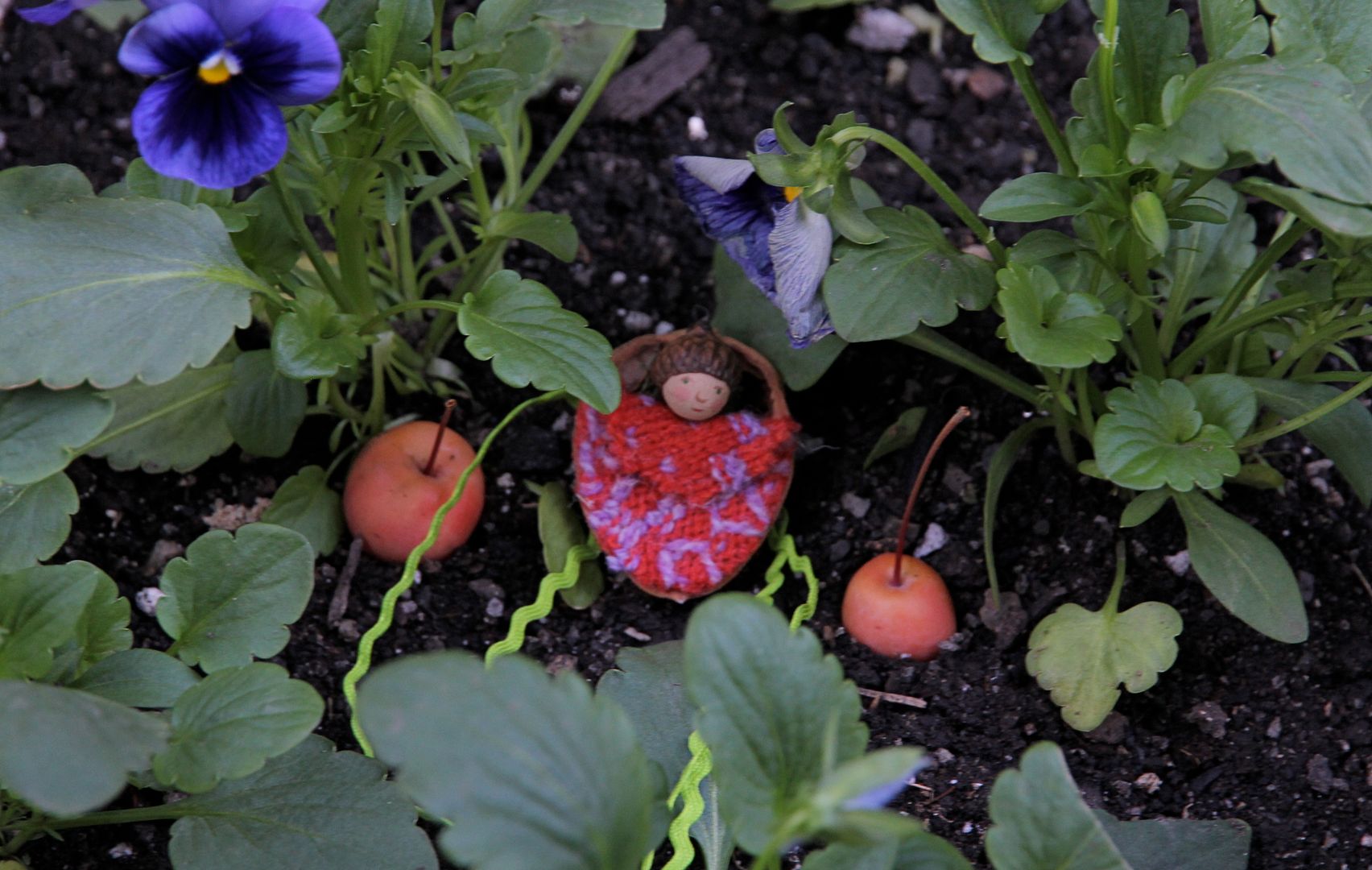 We even found a baby fairy, snuggled into a walnut shell.
Sami thought these fairies were having a tea party. I thought they were holding a serious meeting. Or a knitting circle. Or maybe they were just content to sit together and chin-wag.
The girls explored each trail, poked their heads into every nook that appeared inviting, tiptoed quietly over the stepping stones.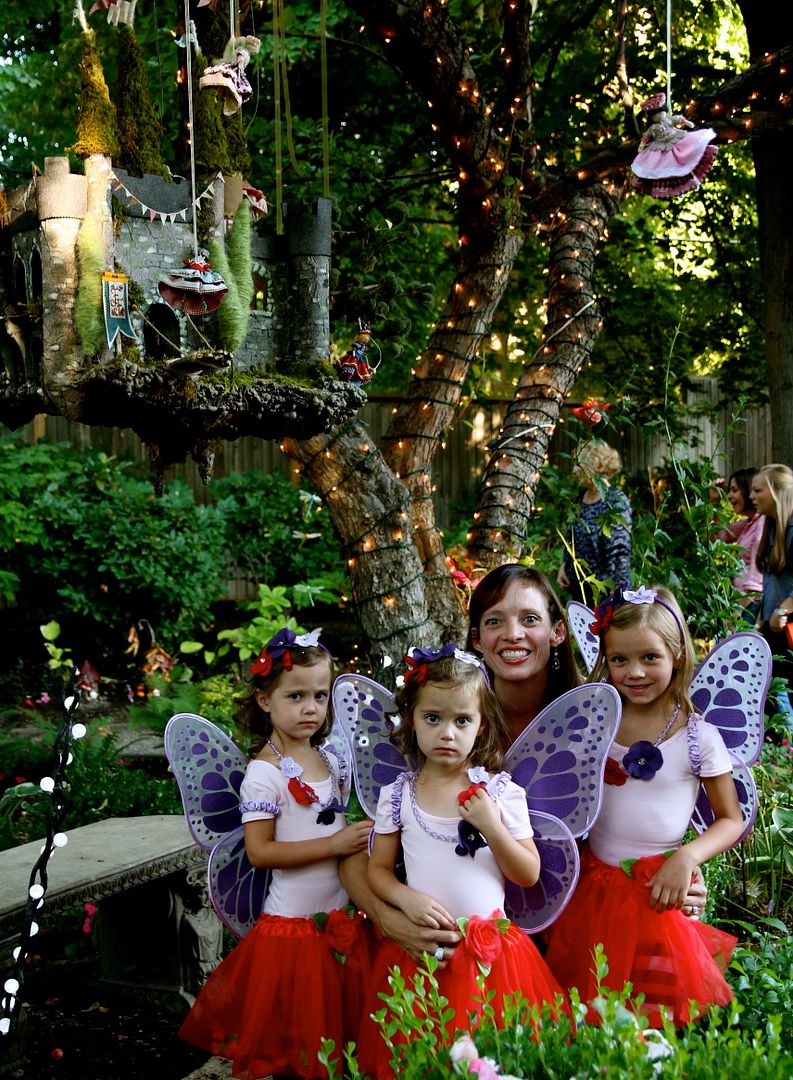 As we were walking in, a beautiful woman behind me introduced herself. Meet Gretchen. We had chatted via blog comments, but never met. And there she was with her three darling girls, bedecked in purple wings and red tulle skirts. Her two youngest are identical twins.
Gretchen, I am so glad you introduced yourself. It was a delight to meet you. Seeing you reminded me of our family a few years ago, when we lived in Virginia, and our three girls were so close in age.
We must have been waiting for the pumpkin carriage to pull up. Taffeta wasn't my usual attire those days.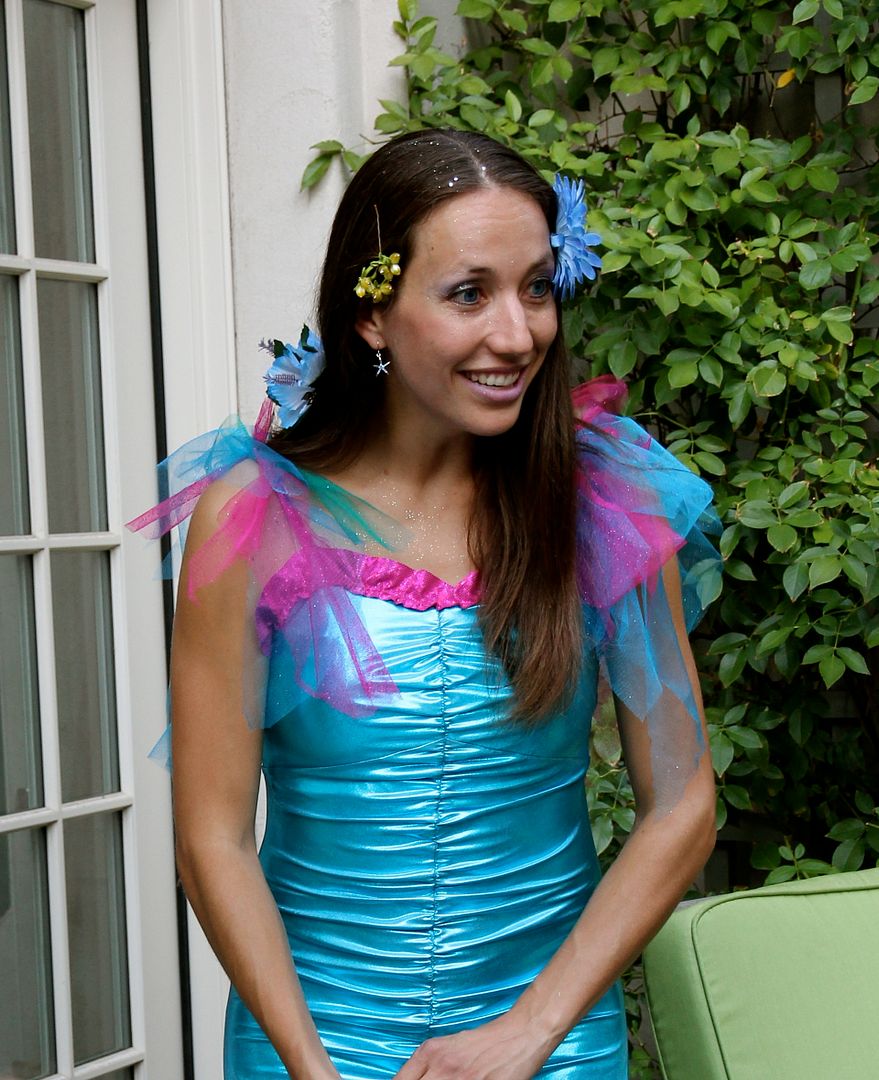 Past the house and through the gate we discovered a Mermaid. A real one. With fins and starfish earrings. She even carried a dingle-hopper, which she let the girls use to comb her hair. She told stories of her ocean life and helped the kids fish for prizes.
Ali couldn't take her eyes off that shimmery blue dress, and she didn't miss the fact that it matched the Mermaid's eyes perfectly.
Near the sweet shoppe, lollipops dangled from ribbons on a tree. Untie your lolli and it's yours to keep.
Each time we skittered past the pool, I looked back, relieved, that none of my girls had fallen in. Or jumped.
With treats in hand we wended our way down this rock path...
to the tables of wares, where I bought the girls fairy wands and necklaces with tiny bottles of pixie dust.
Lest any boys be left out, there was a pirate ship, complete with burly pirates who tossed kids up and down the ladder, so they could fly the jolly roger, man the lookout, and run from bow to stern.
This bush (we called it the rainbow bush) made us happy, with it's bulbs cupped in colored paper.
A few steps from here we waited in line for homemade donuts. The line was long and as the girls got restless I wondered if we should abandon the donut mission. But a friend caught us just in time and told us to wait. Oh my heavenly days, those donuts were worth it! I'd go back tomorrow. Just for the donuts.
As night crept in, the gardens assumed a magical glow. With lights on the ground, lights on the trellises, and lights wrapped around trees, it seemed as if the fairies had lit lantern after lantern, inside and outside their houses.
We
returned to the Secret Garden so the girls could look one last time... for fairies.
And would you believe it? They found one. Her name was Lavender.
She told the girls about the time she was chased by a robin and how she escaped, what she likes to eat, who her friends are. She even asked them what it's like to be human. The girls were smitten. They didn't want to leave. So they ate their lollis and listened. Then she sprinkled them with fairy dust.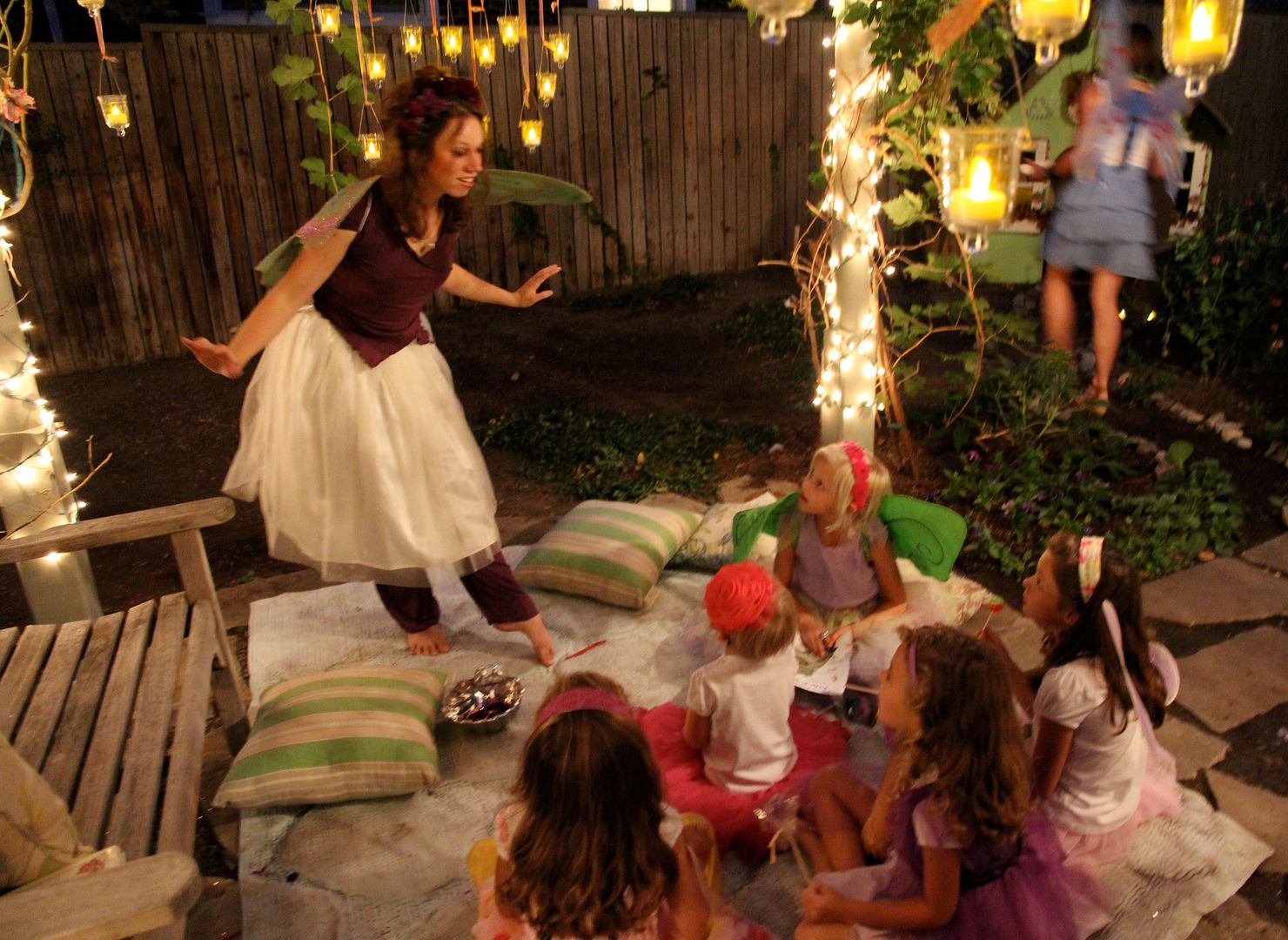 They would have camped out with Lavender the rest of the night if I had let them.
Back at the rainbow bush, the girls waved their wands and spun their skirts wide, leaping, dancing, giggling.
Then they noticed these decorative balls of light twirling from a small tree. They touched the orbs gently, put their hands against the white brightness, and watched their shadows sway.
I thought of baby Willa and her family, how much she must be missed. How any child born into this world is an utter miracle.
I remembered the hard fight for our five and how long I wanted, prayed for, begged for... this. This joy of being a mother. Of skipping down the street in the dark and hearing my Ali exclaim, "I will never forget this night, Mom! Never!"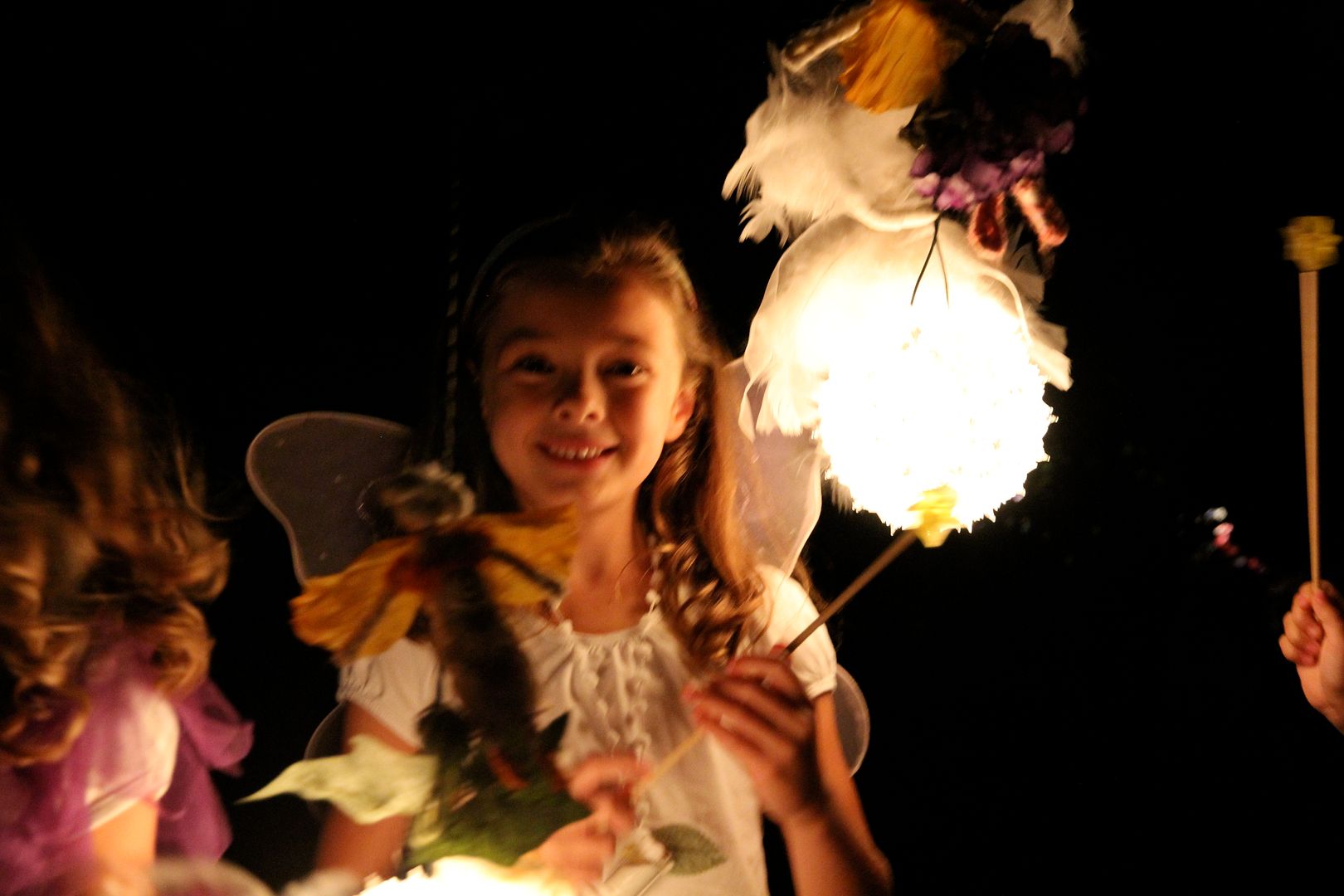 My children always set me right, if I let them. They bring me home to the simplicity and magnitude of this grand life. Help me remember who I am. Tell me with a smile or their hand pressed into mine that my work matters.
In this make-believe fairy world, all the hardness of an exhausting week slipped away.
We went home giddy. Magic spilled off our lips, settled into our pockets, and swirled like halos over our hair. So visible I could almost see it sparkling on our skin.

Now, a request. My friend Emily, who has twin boys, is looking for a second crib tent. Since mine are still in use, I'm putting the word out for her. It's a matter of sanity, you know. If you live local and know of one she could borrow, will you please leave me a comment, or send me an email? Thank you!