When brown pants man (that's what we called our UPS carrier when we were little) came walking up our driveway with a box on his shoulder the size of nothing I ordered recently, I wondered, W
hat could that be?
The girls ran out to heft cardboard, shake its contents, but it was too heavy to budge. So I dragged it into the kitchen where
we slit it open and pulled out the insides.
Stacks of books. Beautiful blue-faced books. Stacks I forgot were coming. And my heart leapt a bit.
On the pages were the collective efforts of sixty-plus mothers. Hours and hours of text read on my computer screen. Days of research, mulling, crafting and re-crafting words. Dozens of emails exchanged.
There it was. Finished and bound. Ready to crease open.
A book that's been in the making for two years.
Have you seen it?
Deliberate Motherhod: 12 Key Powers of Purpose, Order, and Joy

.
If not, I can recommend it to you without reservation. Ten women who care very much about the profession of motherhood teamed up with April and Saren @ Power of Moms to contribute chapters on topics like patience, love, growth, balance, optimism, peace, and priorities. One topic for every month of the year. Or, however, you'd like to read it.
The book speaks to every mother who cares about the kind of life she is giving her children. As well as the life she is creating for herself. We are touting it as a guidebook for mothers who want to thrive, not just survive.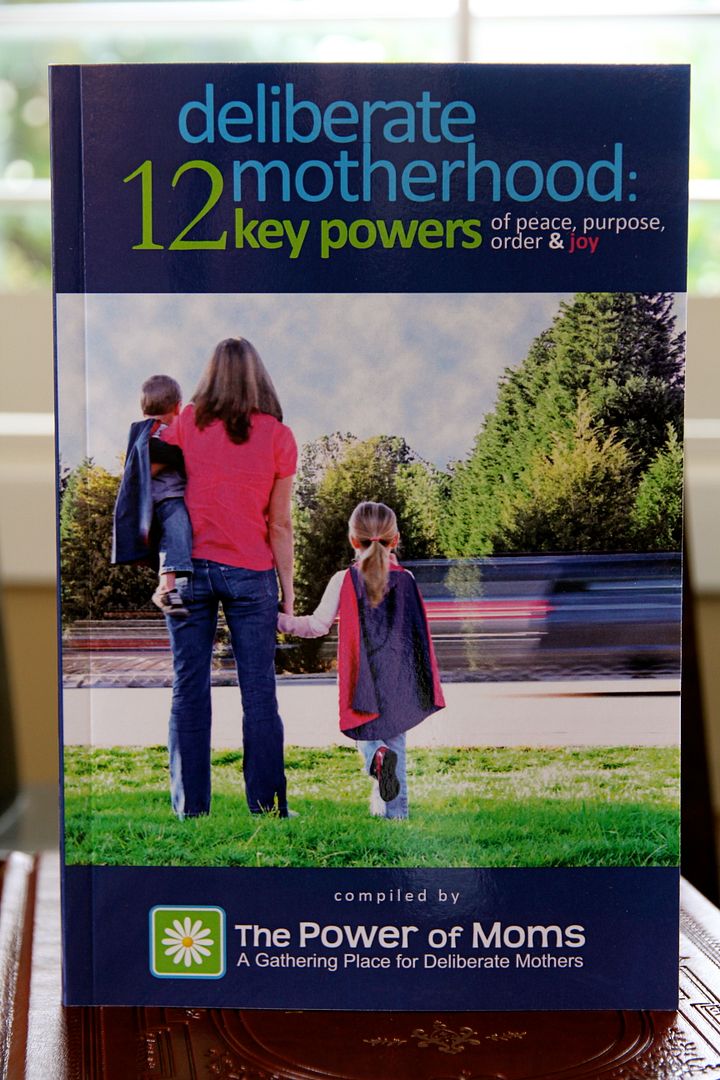 Full of honest personal stories, thoughtful perspectives, and inspiring ideas, Deliberate Motherhood will help you focus on the most important elements of raising a family. It will help you sift through the unimportant and refocus on the facets of motherhood that matter.
I know almost all of these women personally. They are mothers I admire, mothers I look to and learn from. They are imperfect, like all of us, but striving. Striving to pare down when necessary, build up where crucial, and put first things first.
A few contributing authors you might know and already love:
Linda Eyre
Saydi Shumway
Shawni @ 71 Toes
Saren Loosli
Sarah @ Clover Lane
April Perry
I had to re-read my chapter on patience and give myself a good talking-to the other night, remind myself of the tools I wrote about two years ago. Ones I ought to be implementing more frequently to keep things cool, fizzle my sizzle.
Saren and April, who did the last of the leg work on this book and took over when everyone else burned out, (seriously April - you kept this dream alive. Bless you), are anxious to make the book available to everyone. We get no kick-back. All authors volunteered their time, so I'm promoting it here for the sole purpose of support. With a hope that when you read it, you will feel connected and lifted by mothers who care like you do.
Click

here

to buy a copy. Or to read excerpts or download the PDF version, click

here

.
There is nothing like the pure joy of childhood.
Nothing like the wonder of watching little people live in the moment.
Or run into your arms.
There really is no greater work. As Daniel Webster put it,
"If we work upon immortal minds, and instill into them just principles, we are engraving on that tablet that which no time will efface..."
I'd like to give away two copies here. Just leave a comment on this post if you'd like a chance at receiving one and I'll do a random draw come November. And of course, I'd be delighted to ship international.