Here's a cartoon my friend Kara slipped me yesterday, in a venue not compatible with laughter. Of course, stifling my laughter only made me chortle louder.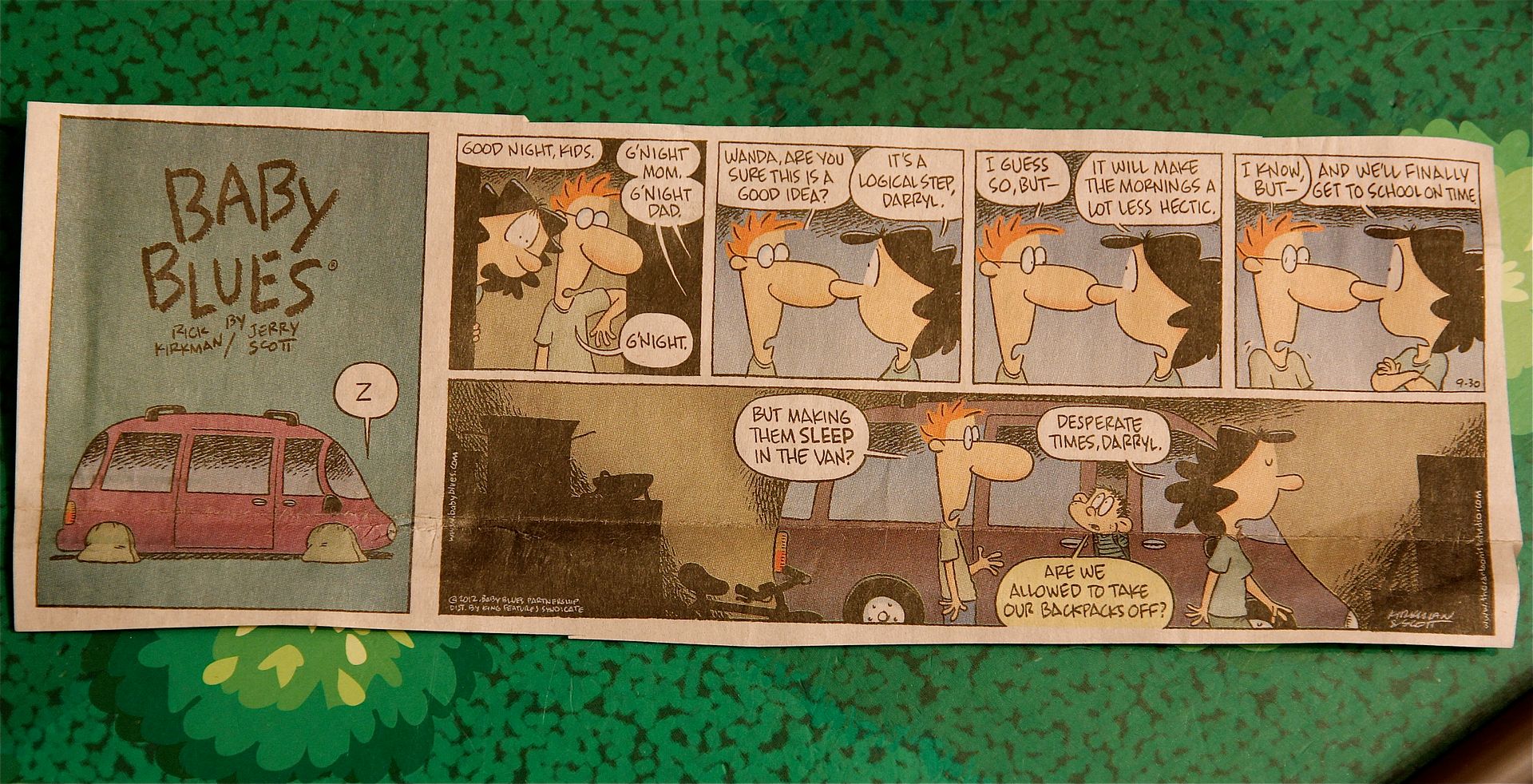 Kara knows getting my girls up for school in the morning is like waking the proverbial dead. Sleeping them in their clothes has actually crossed my mind. But in the van? Now that's genius.
Oh.... sometimes life around here is way too serious, and if I don't step back and laugh, I'll slump into a corner and cry.
So I've officially declared September "National Acclimation Month" (I know my nation is miniscule and exists only under this roof). But next year I've got to remember that for an entire month (or longer) we will get nothing done besides acclimate to the new routine, figure out what in the world we're supposed to be doing, and how.
Unfortunately, October hasn't proved any more productive. But with events like Halloween, birthdays, and other charges I can't keep neglecting, I can either storm around the house feeling stressed, which does no one any good. Or glance around me at the chaos and laugh that I don't have time for anything but the basics.
I am choosing to laugh.

Four cans of pumpkin have been sitting on the counter for almost a week. Any day they think I'll crank them open to make the pumpkin chocolate chip cookies I've been planning to bake for two weeks. Step 1? Buy pumpkin. At least we made it that far.
The boys have... (please place your hand over your heart for a moment of silence) stopped napping. Dread.
Evident by this charade:
Location? Gordy's crib tent (still in use). And what's all that crumpled paper, you ask? Ah... the remains of TWO NEW library books from the BRAND NEW library! Gah! I know, I know. I should have stuck with the rule - no books in bed.
Look at them! Pulverized. Obliterated. Not a single page left in either book! And guess what he's saying to me as I take this photo?
"I still love you, Mommy." Little toad.
$43.60 later I am no longer an indentured servant of the Public Library System.
And guess who gnawed a hole through the top of his crib tent? Yep. The book muncher. Looks like a mug shot, doesn't it? Hard to be mad when he smiles so sweetly at me with those big 'ol browns.
I am so sad to see the crib tents go, but you know what? We got an extra year of afternoon naps with those contraptions! Remember

my S.O.S

.? So lucky we snagged them before the recall. Now, alas, the day has come. Big boy beds by Christmas.
Need a couple other funnies?
One night at dinner I noticed Triceratops had been put to clever use. Impaling cucumbers.
And a few weeks ago Eliza's front tooth was looking awfully loose. She'd been wiggling it for days. So I tucked this note into her lunch box.
She came home, glowing. Tooth in hand. Courtesy of the tether ball at recess. (She didn't see it coming.)
I could see that hole in her smile half way down the street.
Over the weekend, I noticed her shimmy into the bathroom with a bin of markers. Couldn't figure out what she was doing in there with the door closed. But I was getting ready to leave for the evening, so I didn't pursue the questioning. Five minutes later... Elphaba appeared.
Scared the tar out of me. Thank heavens for Crayola Washables.
And I have to include this picture because my Dad is the King of Funnies. And I love how happy he is here with his grandkids, celebrating his 65th birthday.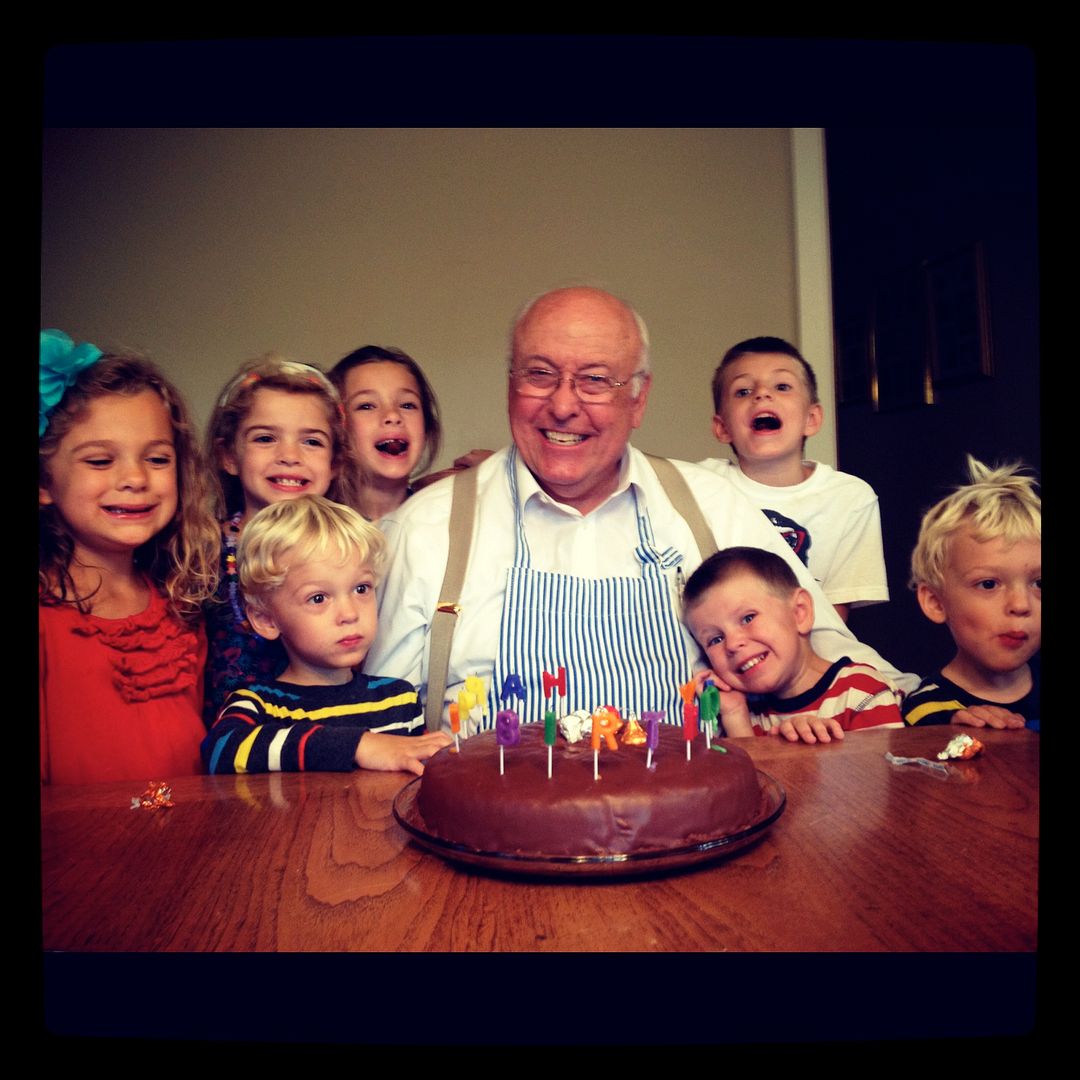 I had a whole post drafted this week about autumn stillness, and how we've been trying to breathe it in. But our mouse died a couple days ago. Went into shock, really. With sporadic episodes of revival. The spastic nature of said mouse put me into tech frustration, which led to screen deprivation. Which was both maddening and liberating all at the same time.
Thankfully, Doug made an emergency trip to the Apple store today, and we're back to mousing with ease. But I haven't the depth of spirit to work on anything soulful tonight.
Just a few weeks left until Doug is finished with fall deadlines. I am mighty lonesome for that man.
We're sharing plenty of happy moments, the six of us. But nothing about life is as full or whole when he is away. T
he occasional sighting of Daddy makes the kids giddy, me grateful. Grateful he has work, can work, and is lonesome for us when he works this much.
He's home now, so I'm off to recount the day. Tell him how Spencer took off his diaper in the backyard this afternoon and spent a good ten minutes swinging in his birthday suit until I could reapply his clothing.
Funnies are good medicine.