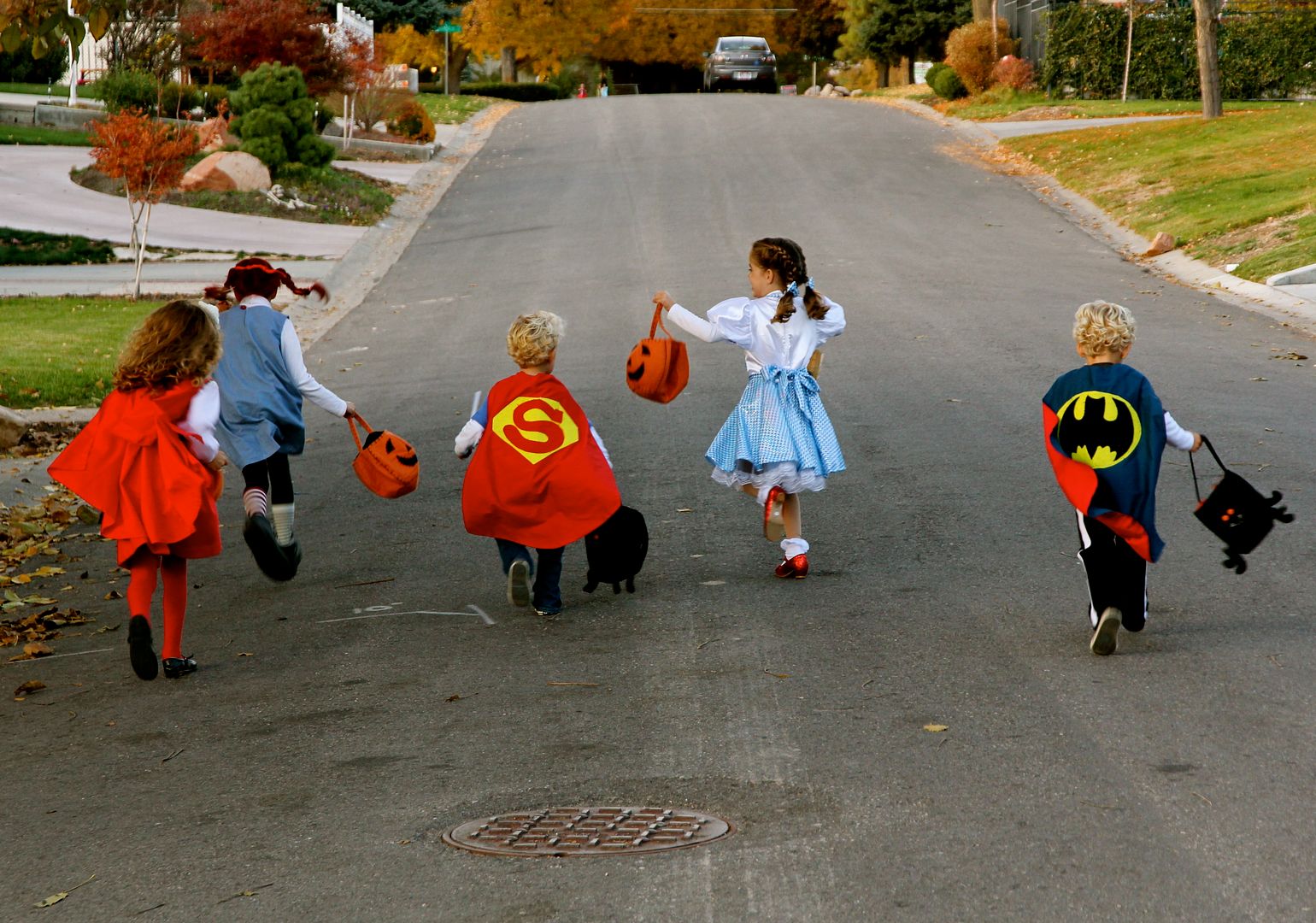 I love this photo, the perspective of it, the energy rising out of it. It reminds me of Halloween evenings when I was a child. So exciting. So magical. I can't decide which is more delightful. Being the parent or the child.
This year, the weather was generous and cooperative. We had warm temps, beautiful light, and everyone was old enough to carry their own bags!
We took a few photos, tried to corral, coerce, command the kids to stand still. But the sugar buzz was already in effect and they were anxious to hit the streets.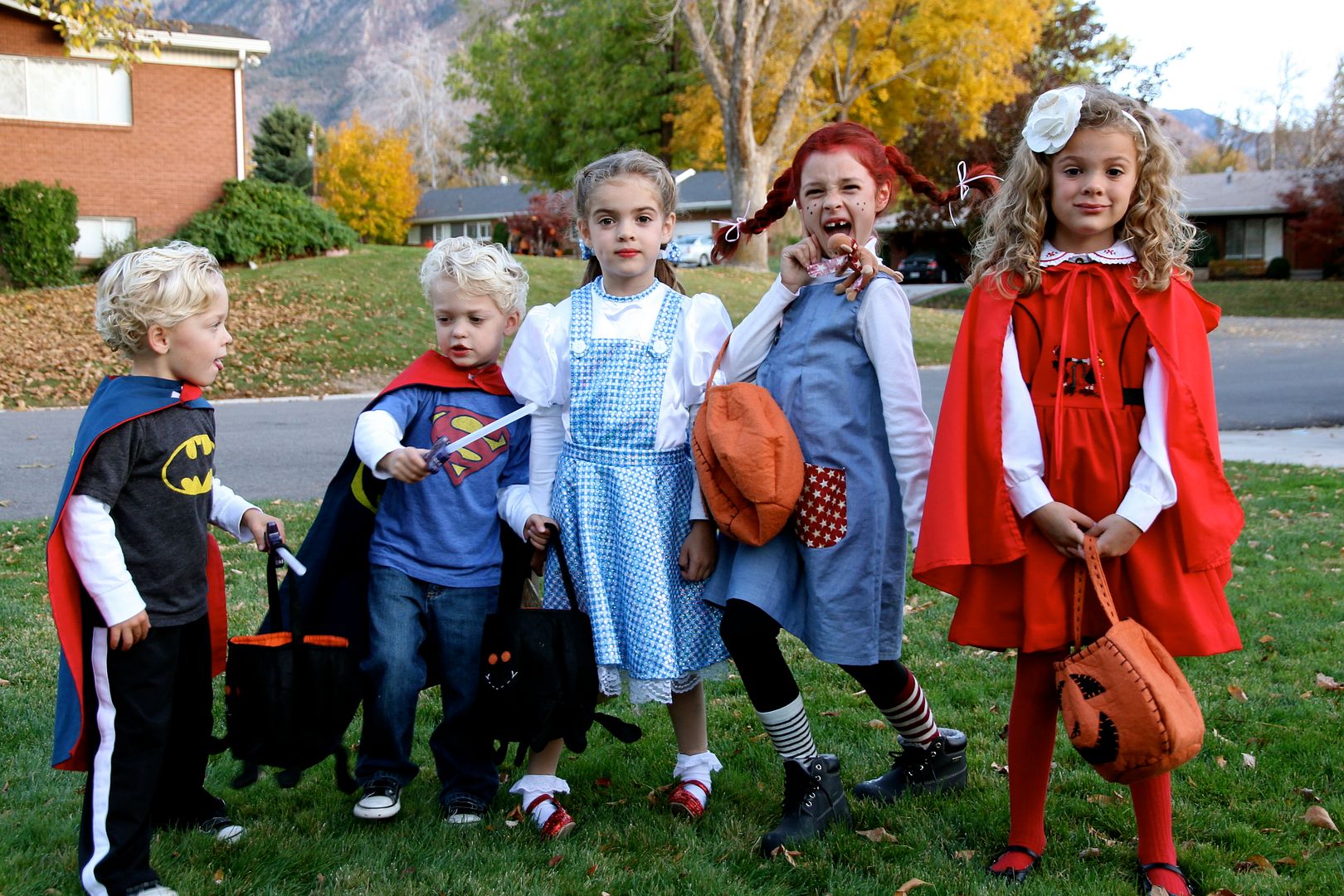 Eliza was in rare form. She kept striking crazy poses and rocking out. Those gaps in her teeth have me busting up every time she smiles.
Last year we read Pippi Longstocking together, and that was it. Done deal. She wanted to be Pippi. But n
o one can truly be Pippi until they have the hair. And pulling off the hair was tricky.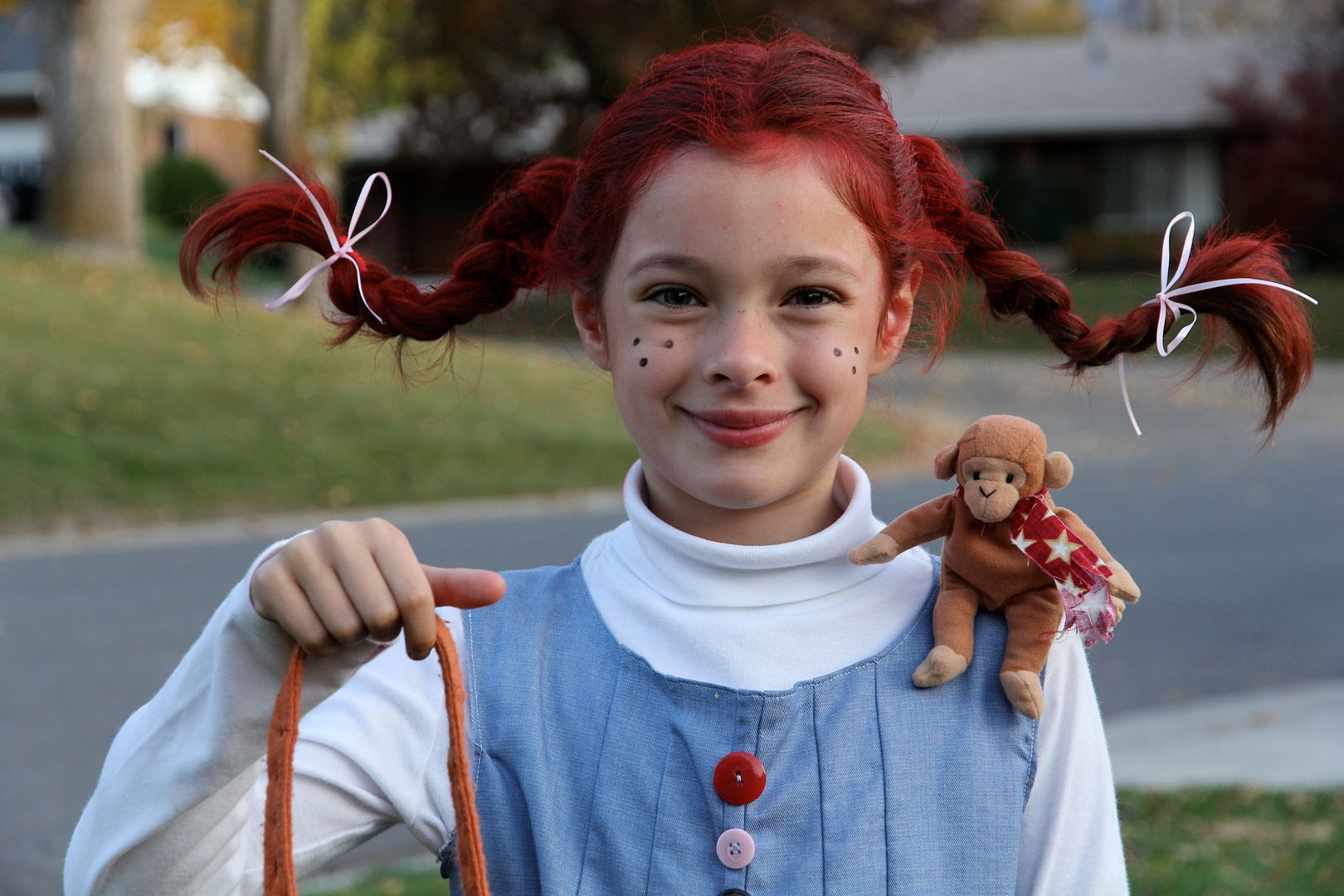 We tried a hanger, 18 gauge wire, gel... Doug was getting ready to whip up some egg whites when we decided to pick the omniscient brain of the internet. Surely, someone had figured this out already! And sure enough, thanks to a YouTube tutorial and some pipe cleaners, Pippi was ret to go - with Mr. Nilsson perched on her shoulder.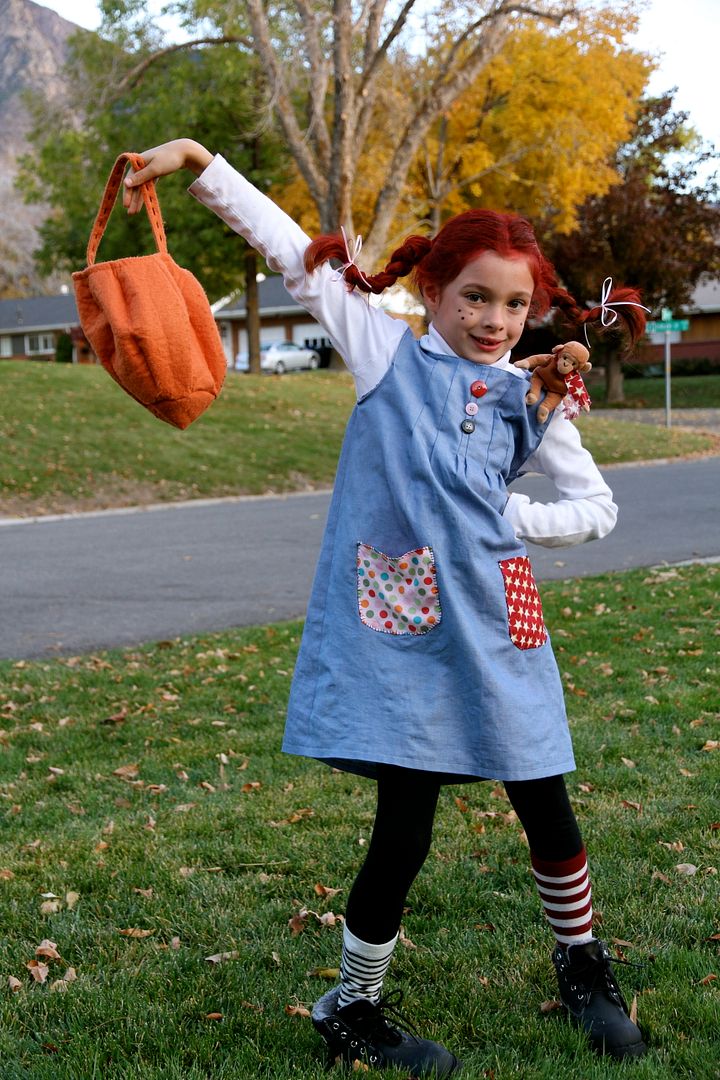 I sewed Pippi's dress. And all I can say is, good thing it was for Pip, because one side ended up longer than the other, I sewed the pleats inside out, and the pockets I whip-stitched on are already coming apart. I chopped the sleeves off the pattern to simplify things (per my sister's expert encouragement) so the arm holes are a bit skeewampus, but it worked.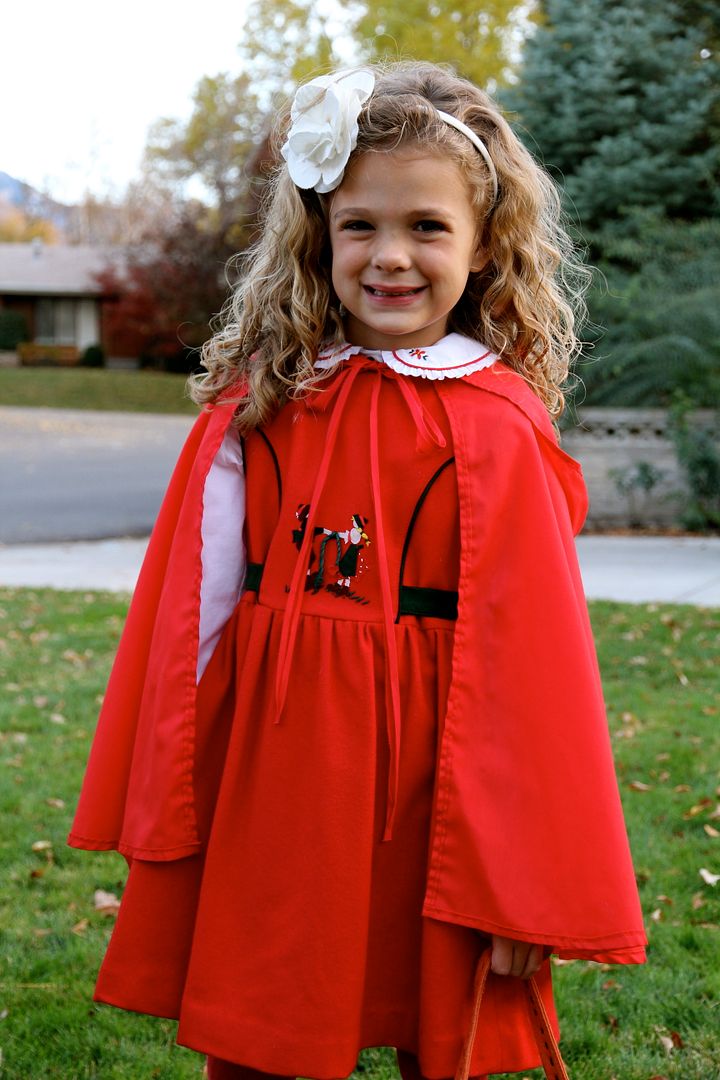 Ali went as Little Red Riding Hood. We borrowed the costume from my sister. I believe the dress is an authentic smock from Germany.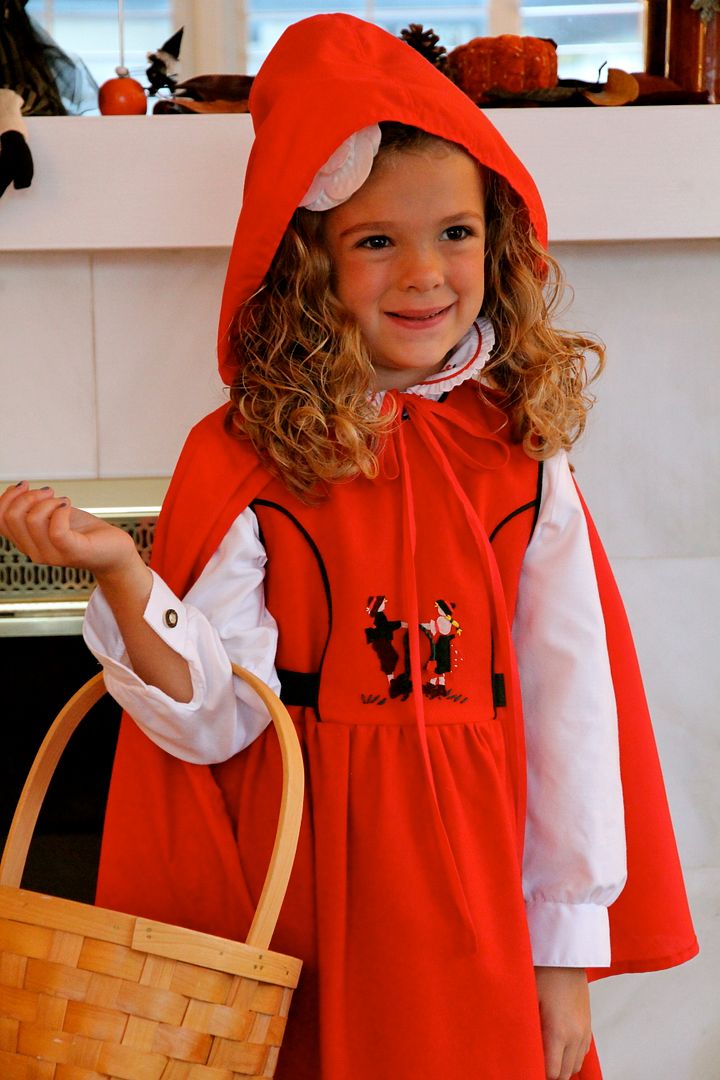 And, of course, a picture with her hood was a must. Sweet girl to oblige. I love my Ali.
Sami went as Dorothy. With Toto in tow...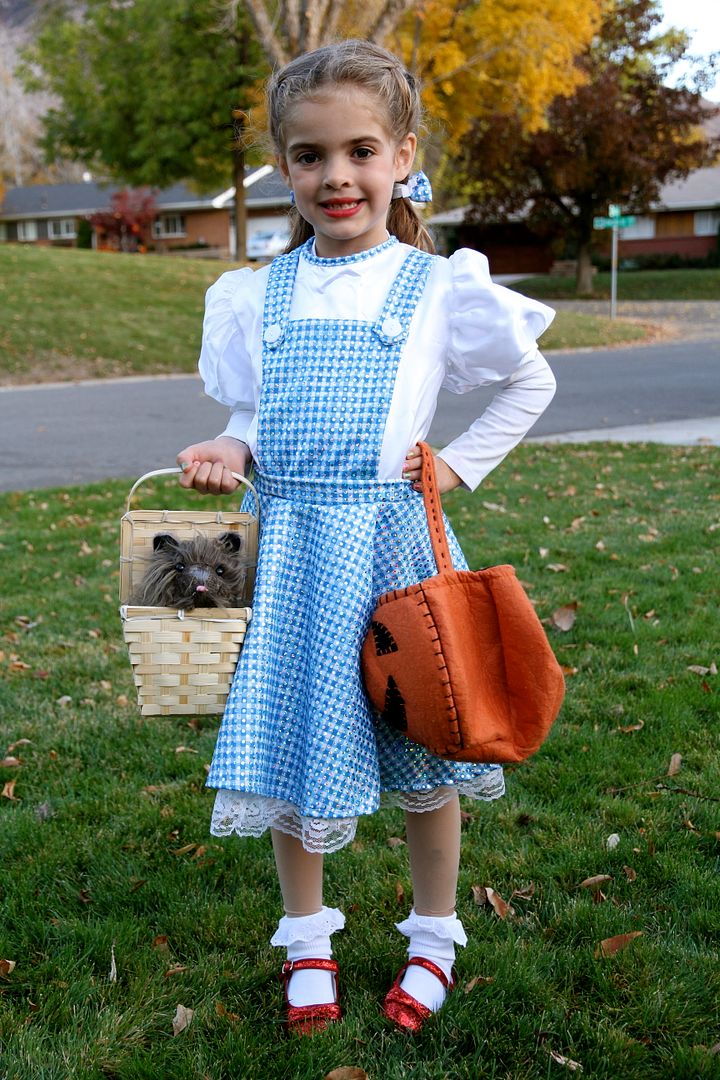 And ruby slippers, of course. We watched the Wizard of Oz twice in prep for this one. She loved clicking her heels and chiming, "there's no place like home..."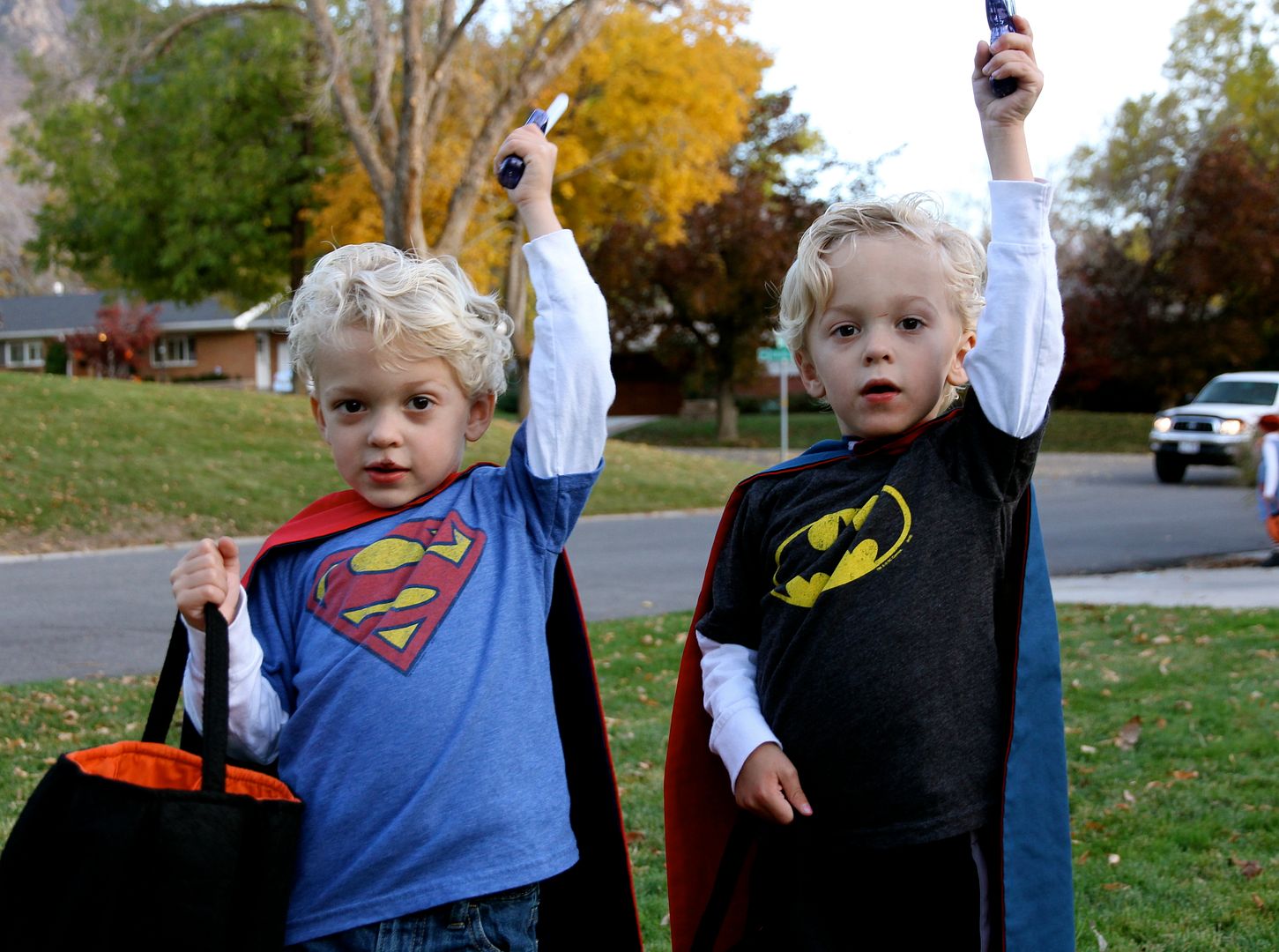 These two? Well, they're rather suspect of late. Constantly into trouble. (I just spent fifteen minutes picking gum out of Gordy's hair.) But on Halloween night they masqueraded as super heros.
Cheap and simple super heros. They wore reversible capes from Doug's childhood that his Mom made. The old velcro doesn't stick any more so we safety-pinned them. So classy.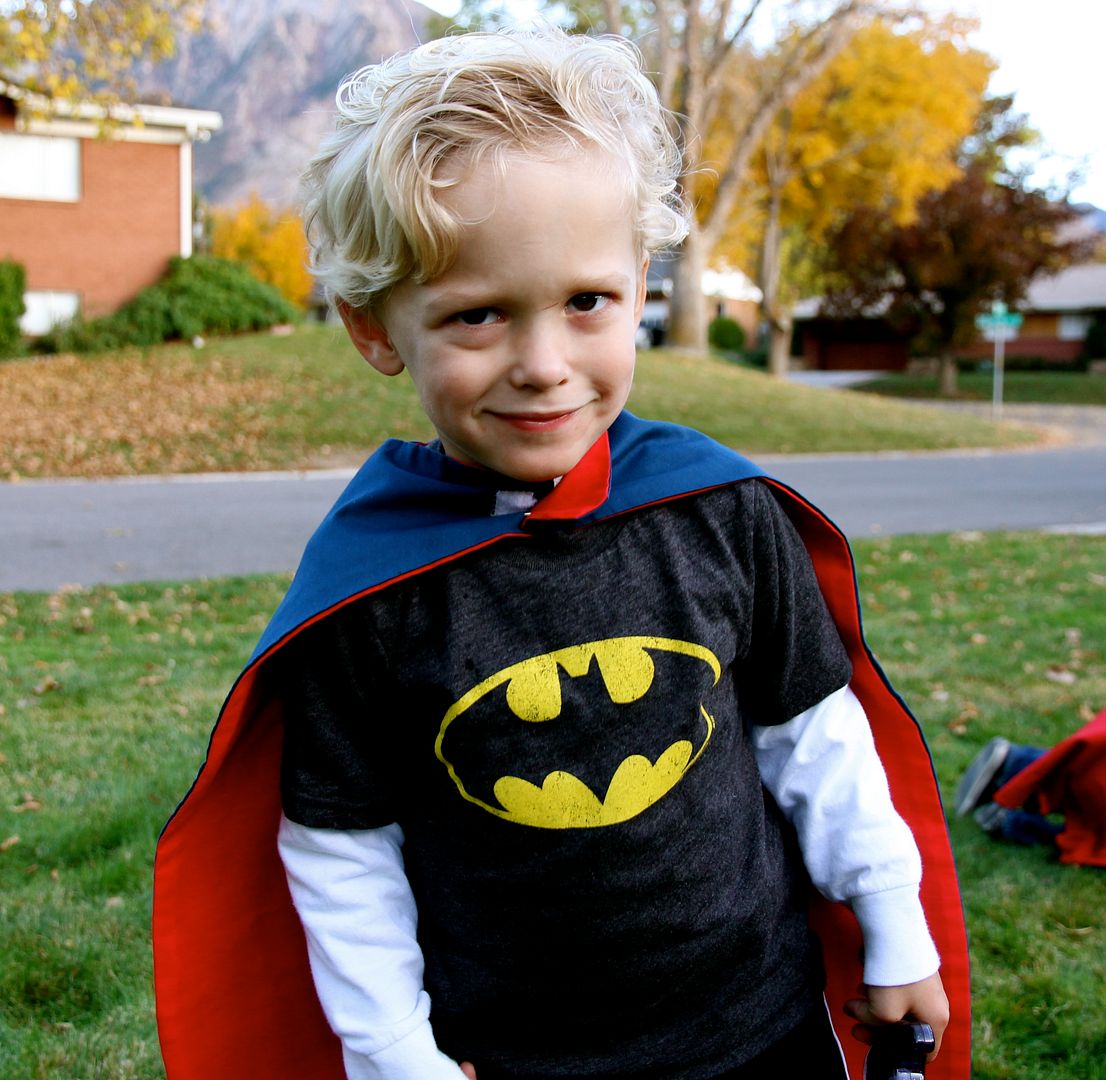 That is Spencer's bad face. Menacing, no?
Trouble in Gotham? He's on it.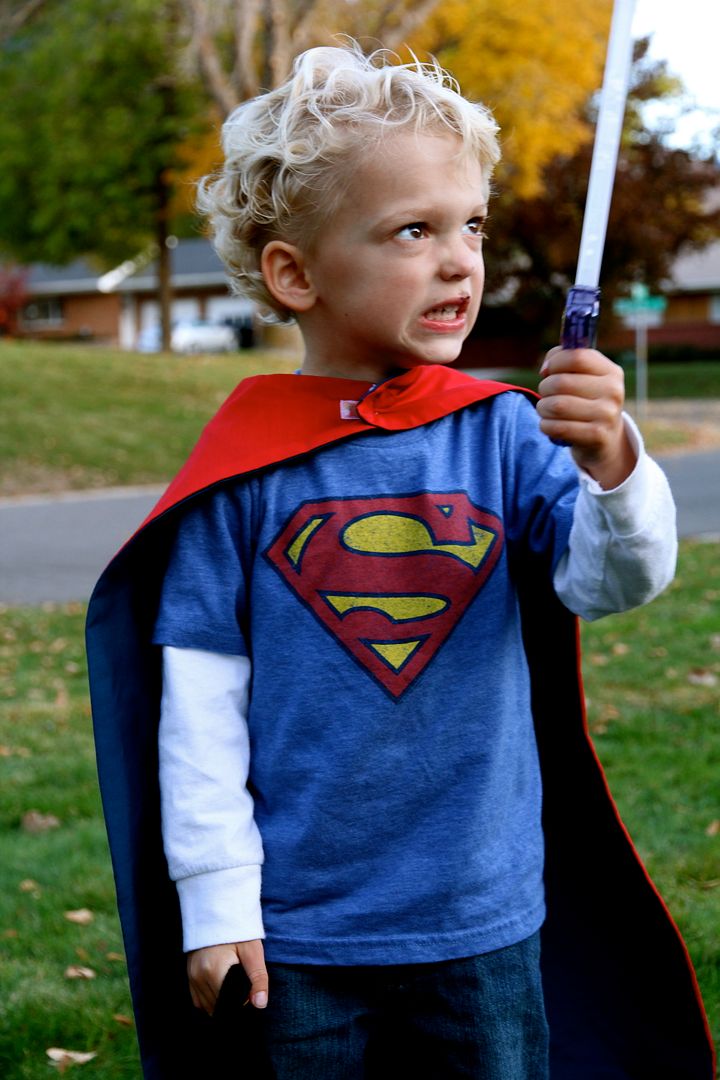 And here's Gordon, with his glow-sword pointed to the sky, ready to avenge his brother. Or gouge his sister's eye out. The boys have shown some serious aggression lately. So.... boy-ish. Pumping fists, clanging sticks, yelling at bad guys. Everything is suddenly transformed into a weapon. Crayons, forks, toilet bowl brushes. And we don't even have television! There's something in those little boy bodies that likes a good tussle.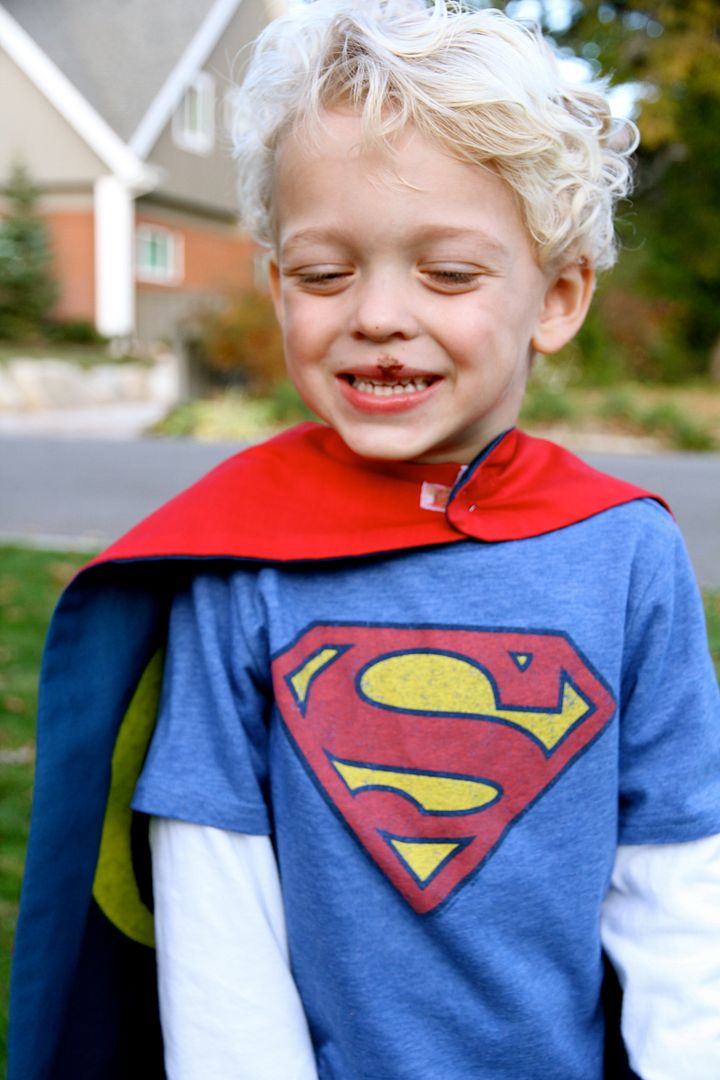 There's that sweet smile I love - spruced up with a nice big scab on his upper lip. He took quite the dive off his wiggle car while flying down the street.
* * * *
The night before Halloween, Doug put together a fun evening for the kids. All his idea. All his own work. He stayed up past midnight creating the menu, baking and slicing. All I did was set the table for him.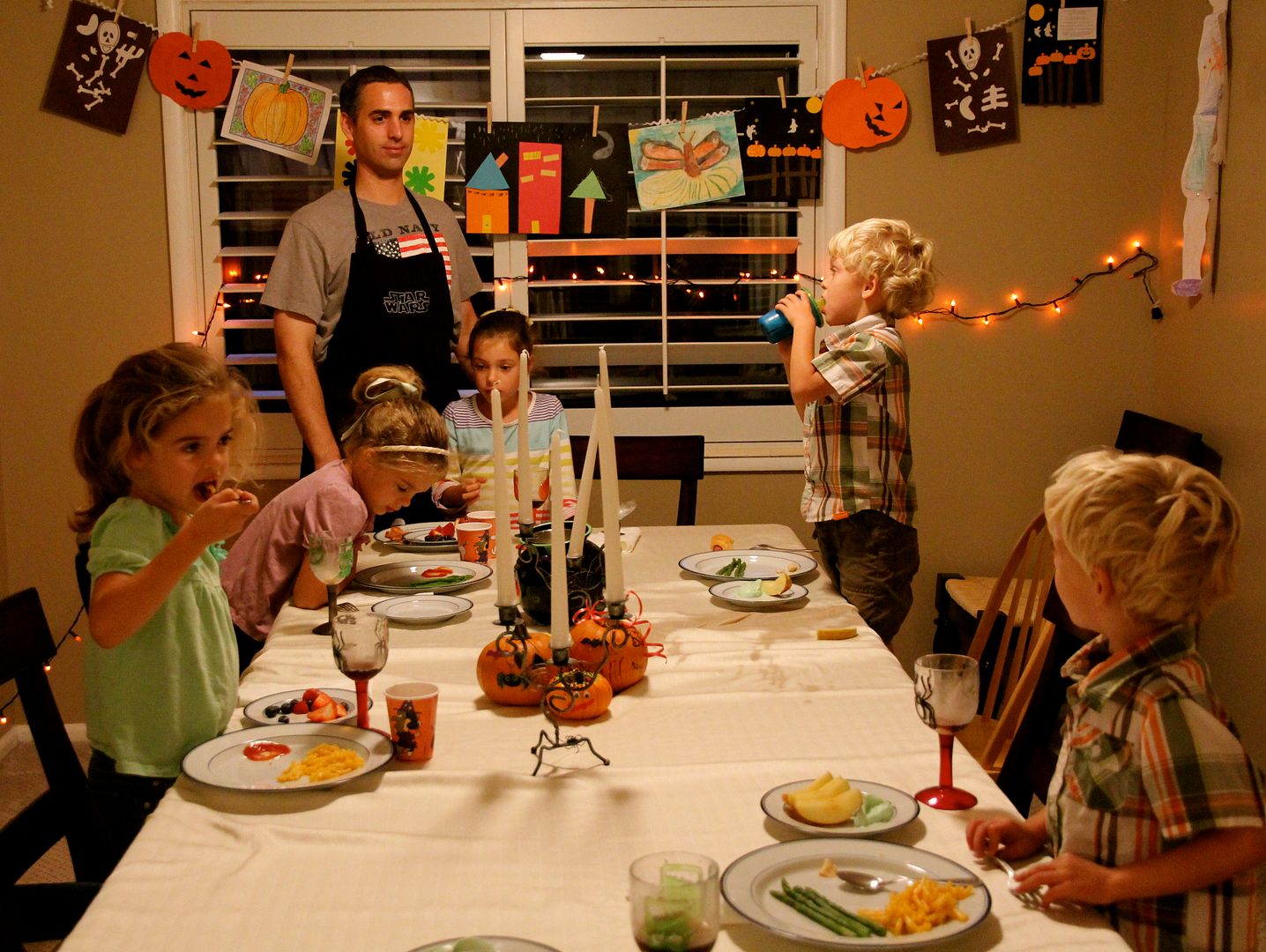 He turned down the lights, brought out a bubbling cauldron, and welcomed everyone to....
The Graveyard Grill.
(Note that Spencer is standing on his chair in EVERY picture. I don't think he knows how to sit down during a meal. Even after pointing out all the sitting people in a restaurant last week and asking him, "Do you see anyone else standing on their chair?" he continued to stand.)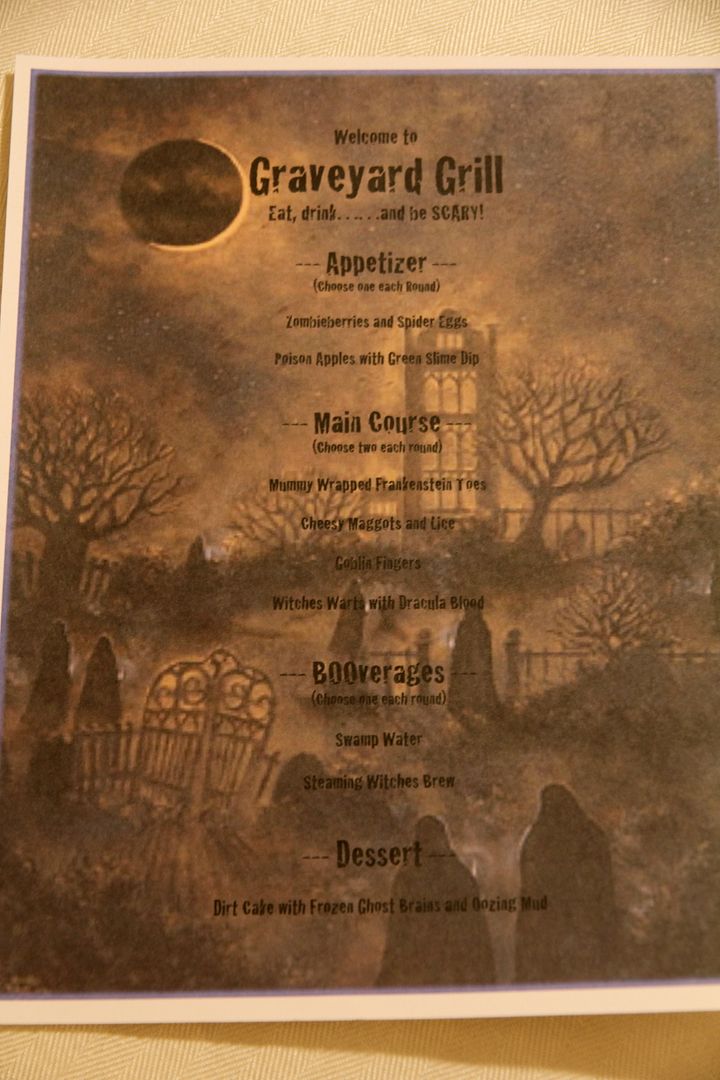 I thought Doug's menu was pretty clever. Gordon, however, kept pulling on my sleeve and telling me he did not want to eat SLIME! Nor was he going to have anything to do with poison apples! (They have seen Snow White.)
After watching his sisters eat, he finally eased back into his chair and tried a couple bites of food.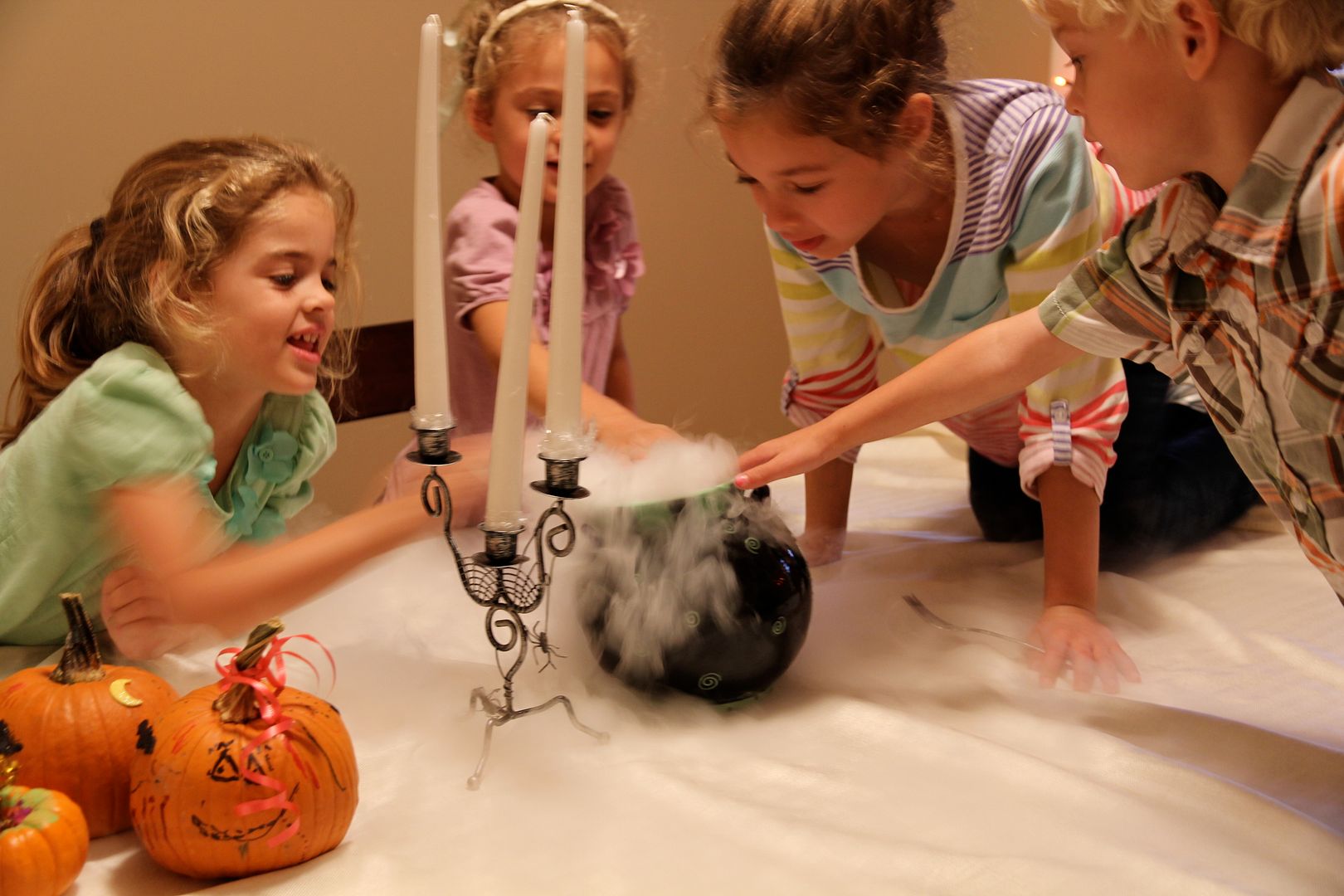 Dry ice is so fascinating. The kids loooooved it.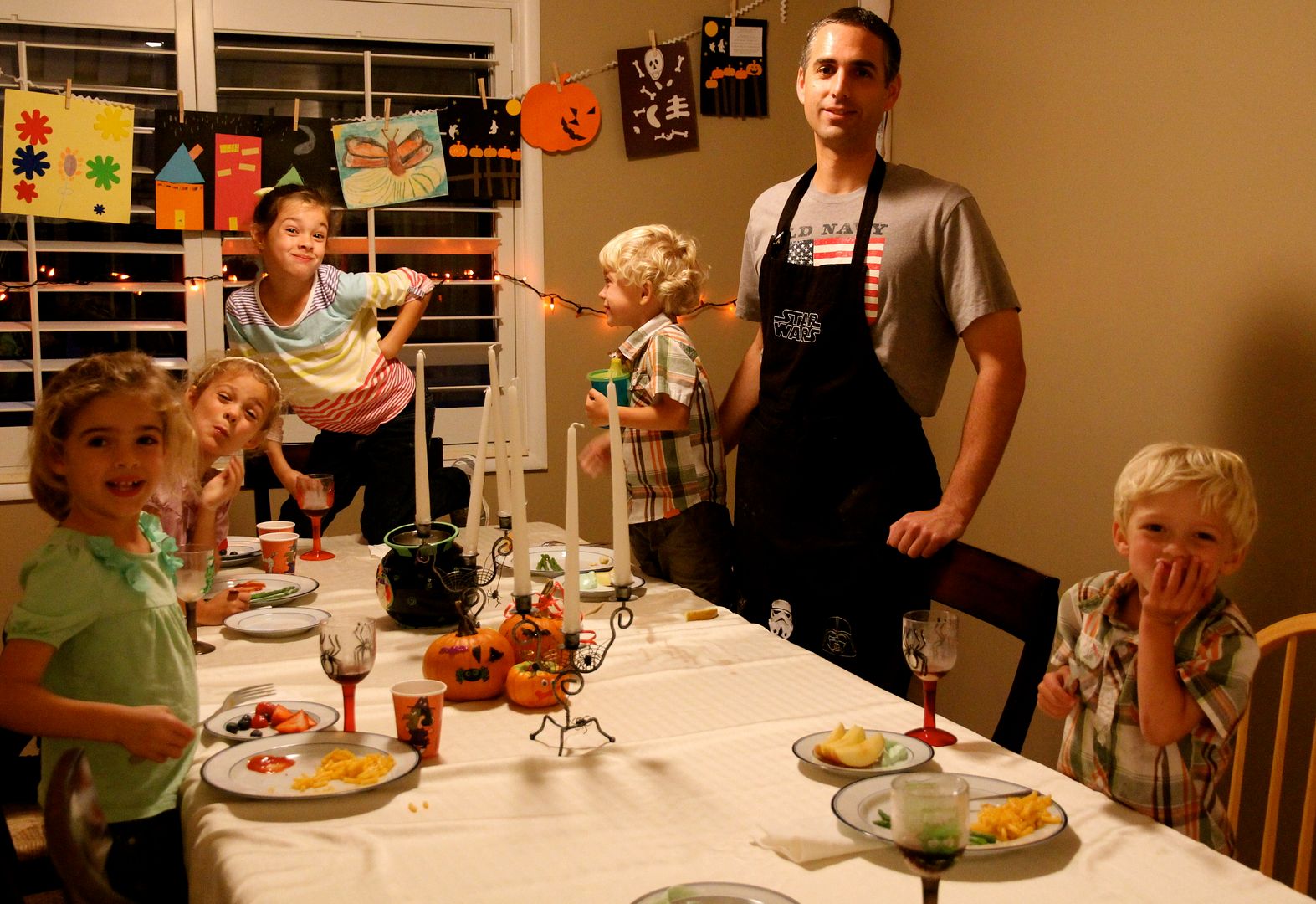 We were going to light the candles but realized that would be more hazard than highlight.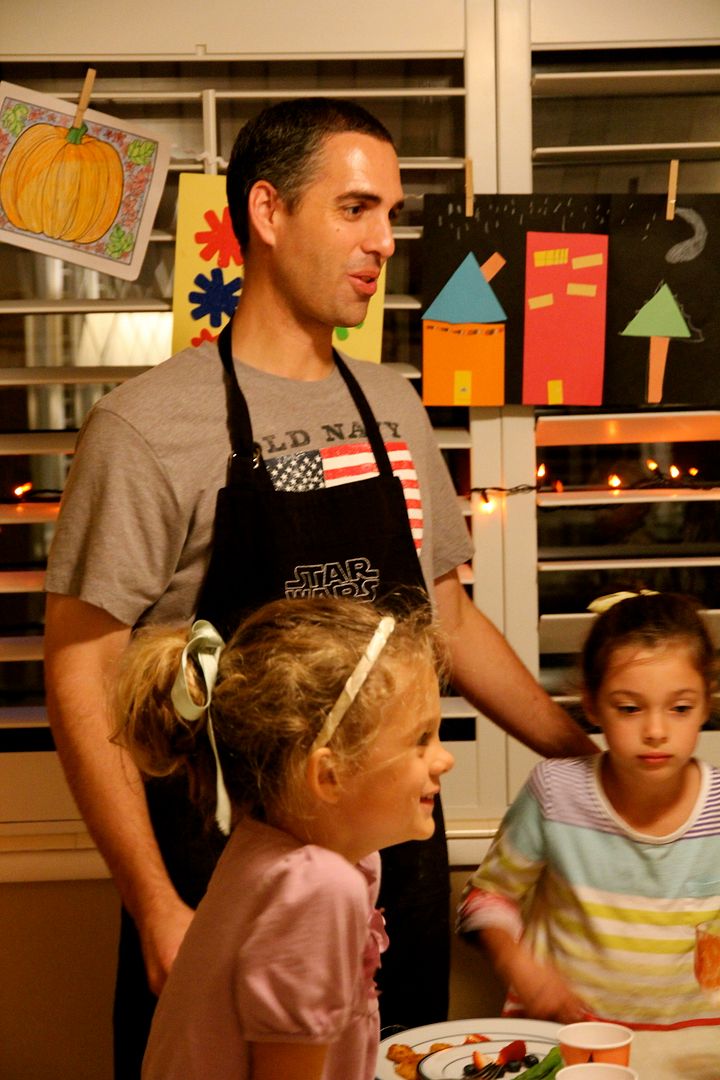 I adore Doug at times like this. Watching him love on his kids, serve them, tease them. I didn't have it in me to pull together a dinner that required this much work. But he did. And boy do I love him for it.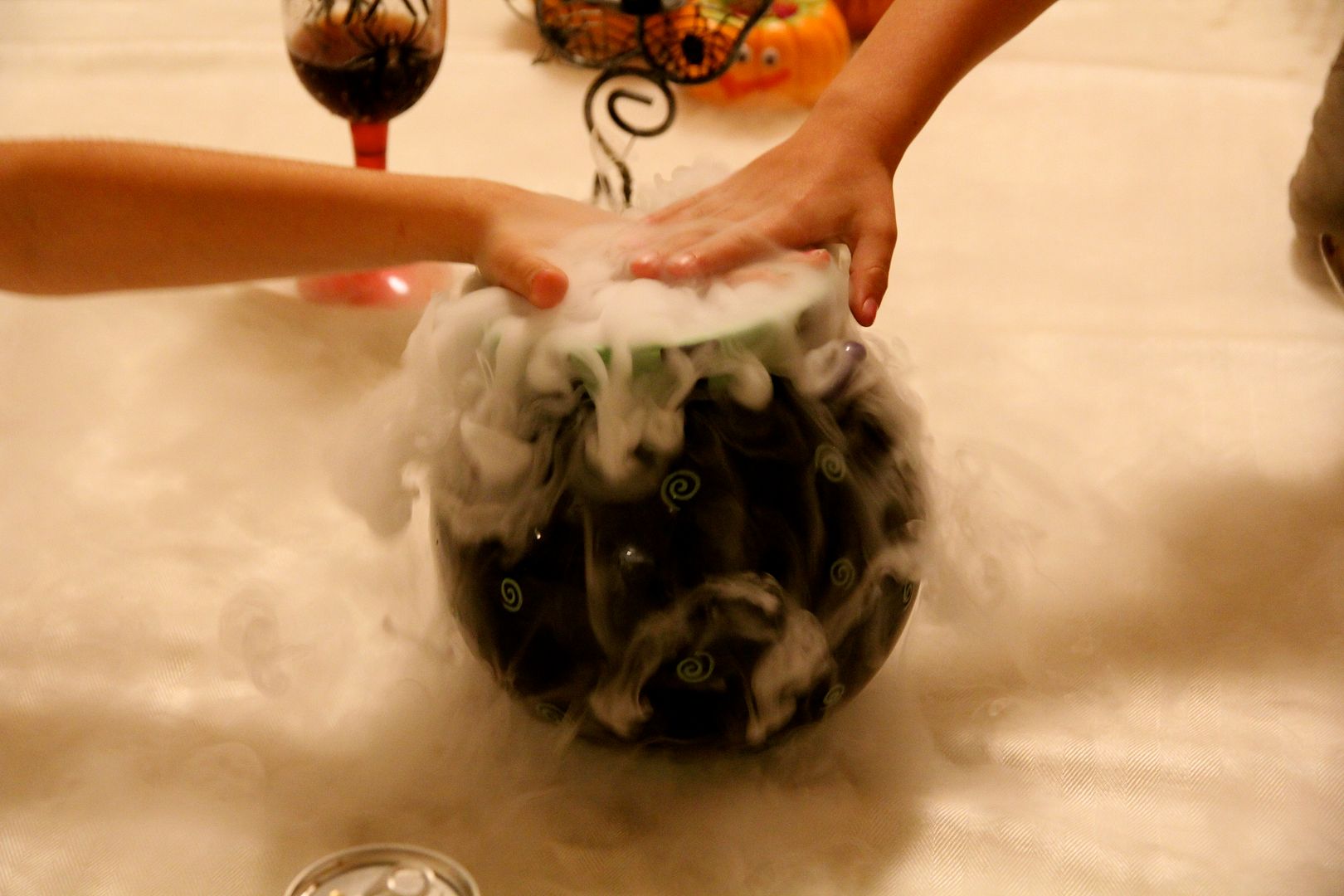 I'm afraid he has no choice but to replicate this next year. The kids have already started making requests.
Dirt cake with ghost brains was a total hit.
* * * *
Then there was my sister's annual Halloween party. Click

here

to see last year's pics. The costume contest is always a big deal. People take it seriously.
Here are our host and hostess, Deb and Will. They went as Olympic Medalists. You can probably guess Will is Michael Phelps. And Deb - I can't remember who you were (?) A sprinter I believe...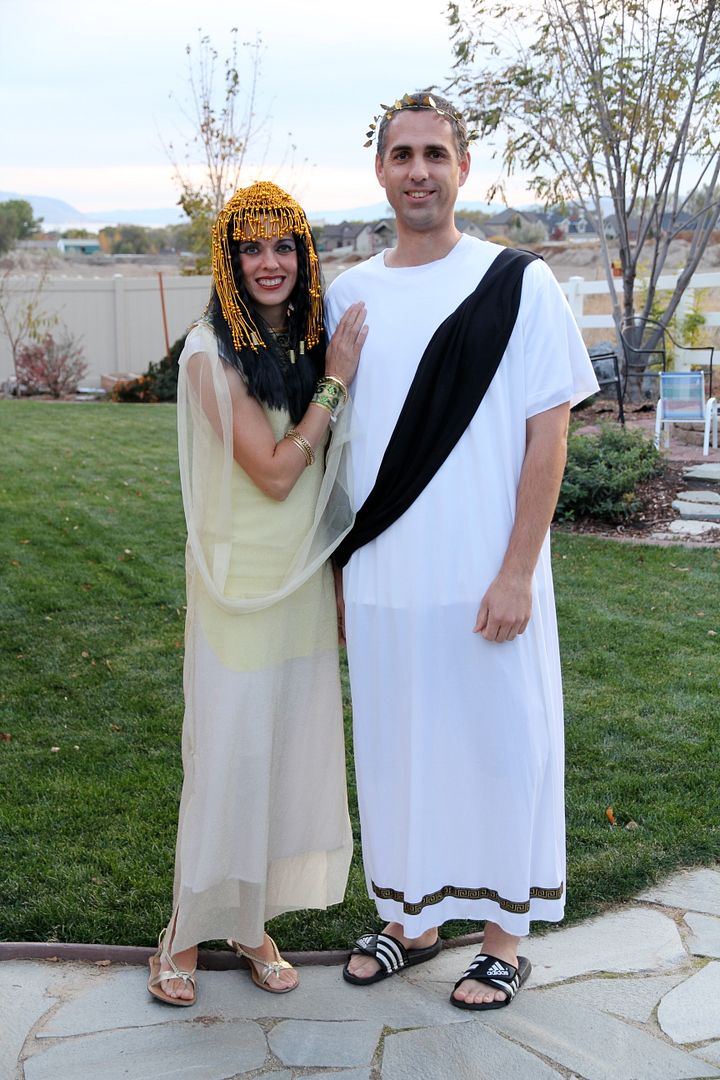 We went as Cleopatra and Julius Caesar.
Enjoy this moment of Doug in a costume, because it's not likely to happen again. The fact that he came with me this year (and dressed up!) was a Halloween miracle.
My cousin Liz and I both came as Cleo. First thing we said when we saw each other was, "Great minds think alike!" (Thought you'd like that Dad.)
I'm not sure why we're posing like Vannas on both sides of the piñata. Yes, that's a piñata. Meet
Lego Man, Will and Silas' creation. Each year they make a life-size piñata for the party. Lego Man was pretty impressive. They crafted him so well that when his arms or legs popped off, they could stick them back on.
Silas and Amy came as Ken and Barbie. I love that his pants are too short and his hair is plastic.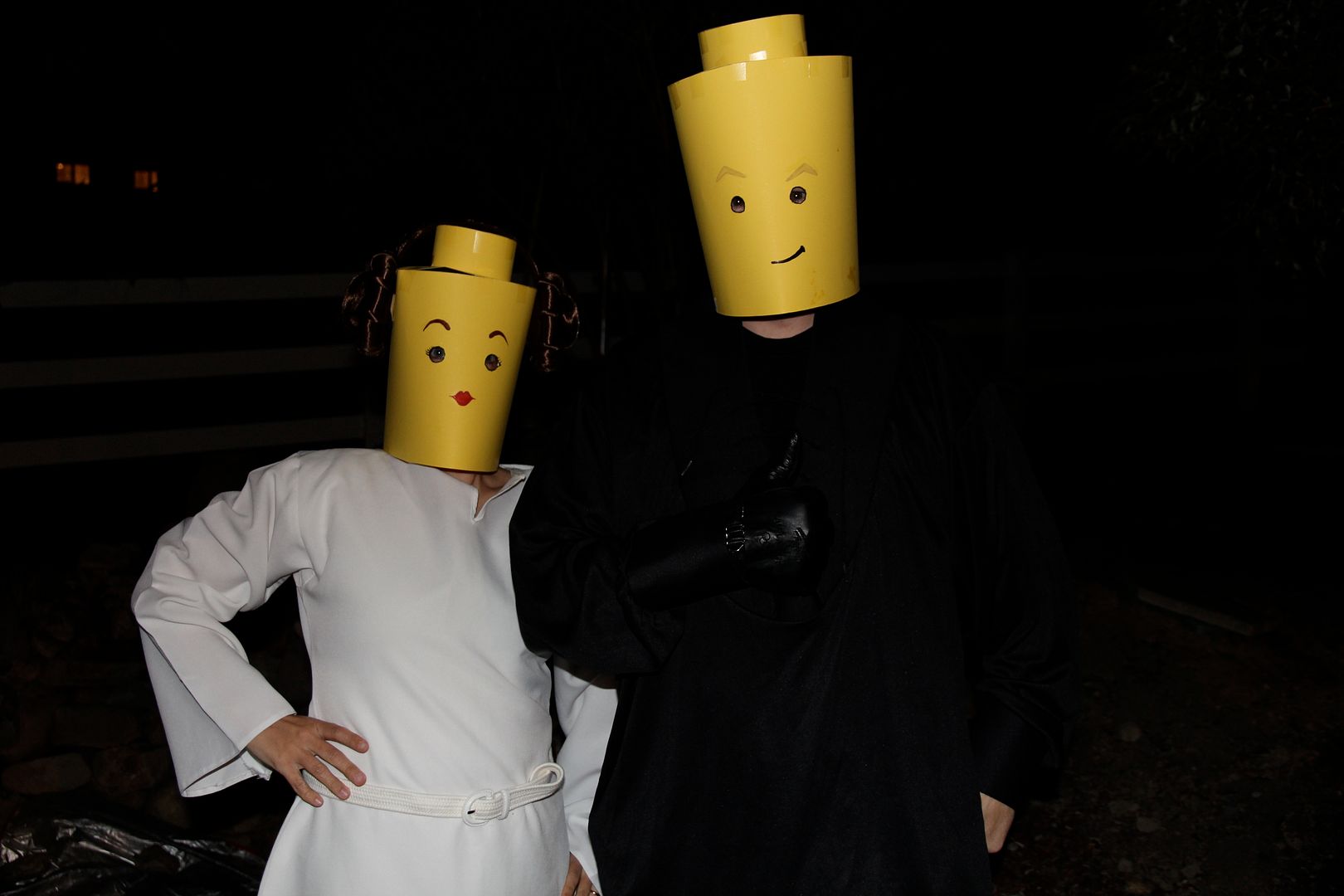 Lego Luke and Leia were also a great costume. They actually had no idea the piñata would be Lego Man.
But the winners??
The Three Amigos. Dusty, Ned, and Lucky. I showed this picture to our babysitters that night, and they said they'd never even heard of the Three Amigos. Sigh... we're getting old.
But check out those costumes. My sister Sarah is a master mind at costuming. They found black suits at a second-hand store, cut the jackets off and sewed them short. Then they did all the white detailing with... you won't believe it... PUFF PAINT. And stick on jewels.
Yup, there was no contest. Best costume. Hands-down.
Here's Doug getting ready for his turn at Lego Man. The rule is if you're new to the party, you take the first swing.
I think he lopped off Lego Man's legs.
But here comes Phelps to re-attach them.
It was a great party. A great Halloween. I hope your Halloweening was safe and fun too.
I'll generate a random draw for the Deliberate Motherhood books next week. Be sure to

leave a comment

by Sunday, November 4th if you want in.