I love these years of believing, of every child climbing into our bed, tugging on quilts and begging to start breakfast, of bursting into the living room with an energy to blow the rooftop.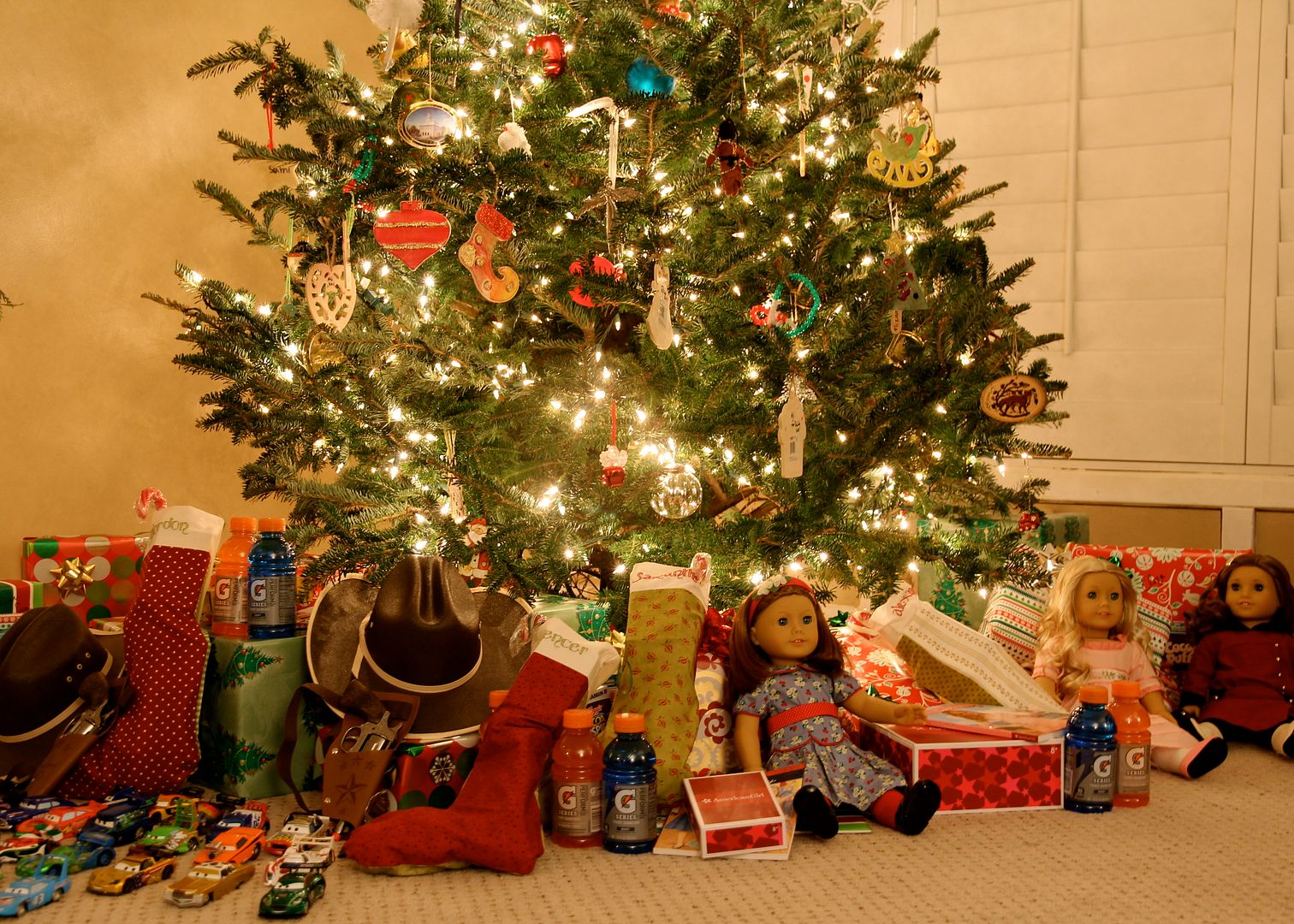 Too soon this season of parenting will be only photos and memories, and we will wonder how it slipped by so quickly.
We are holding the window of magic open as long as we can.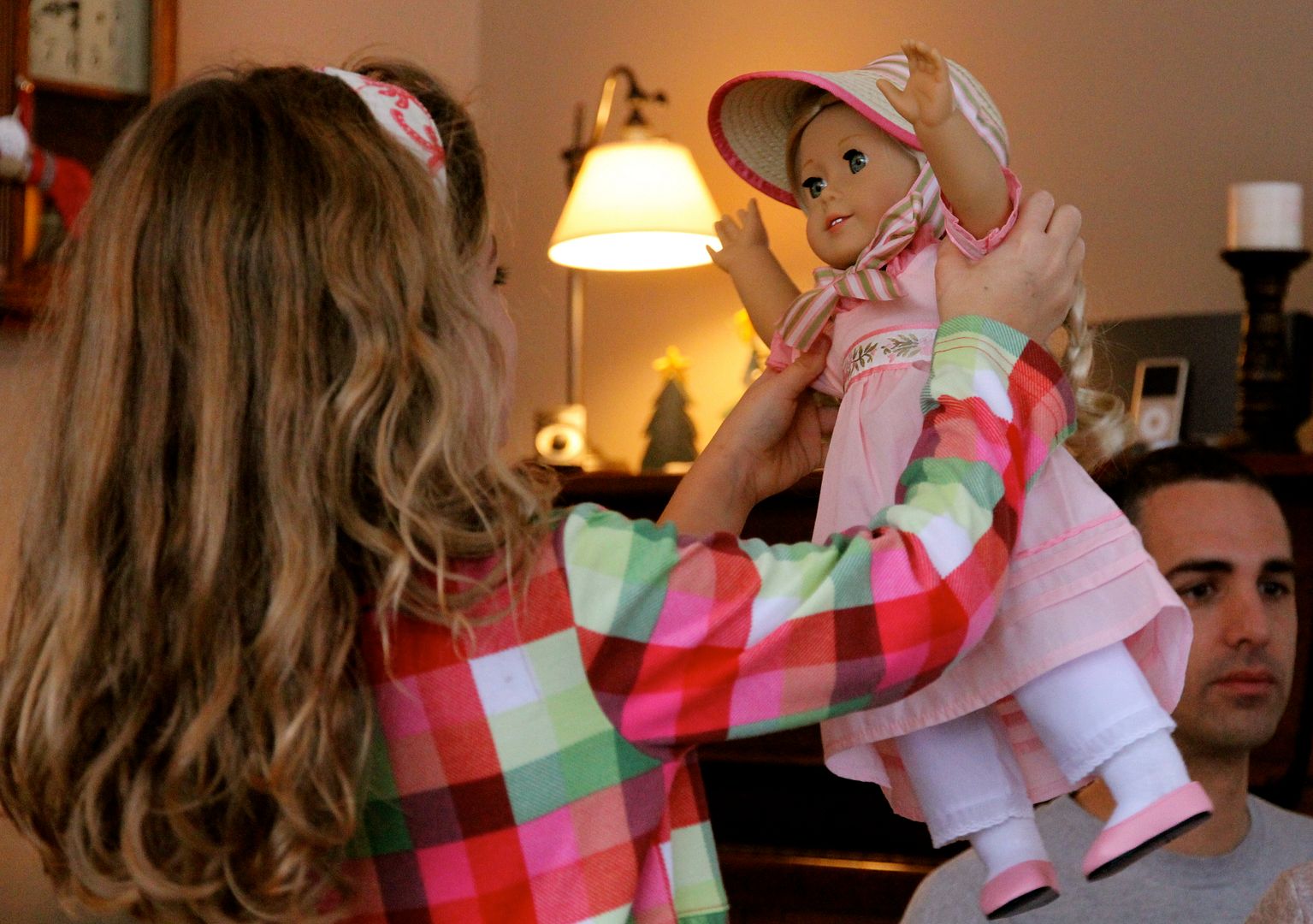 Doug used Deb's fort kit to curtain the living room so no one would peek.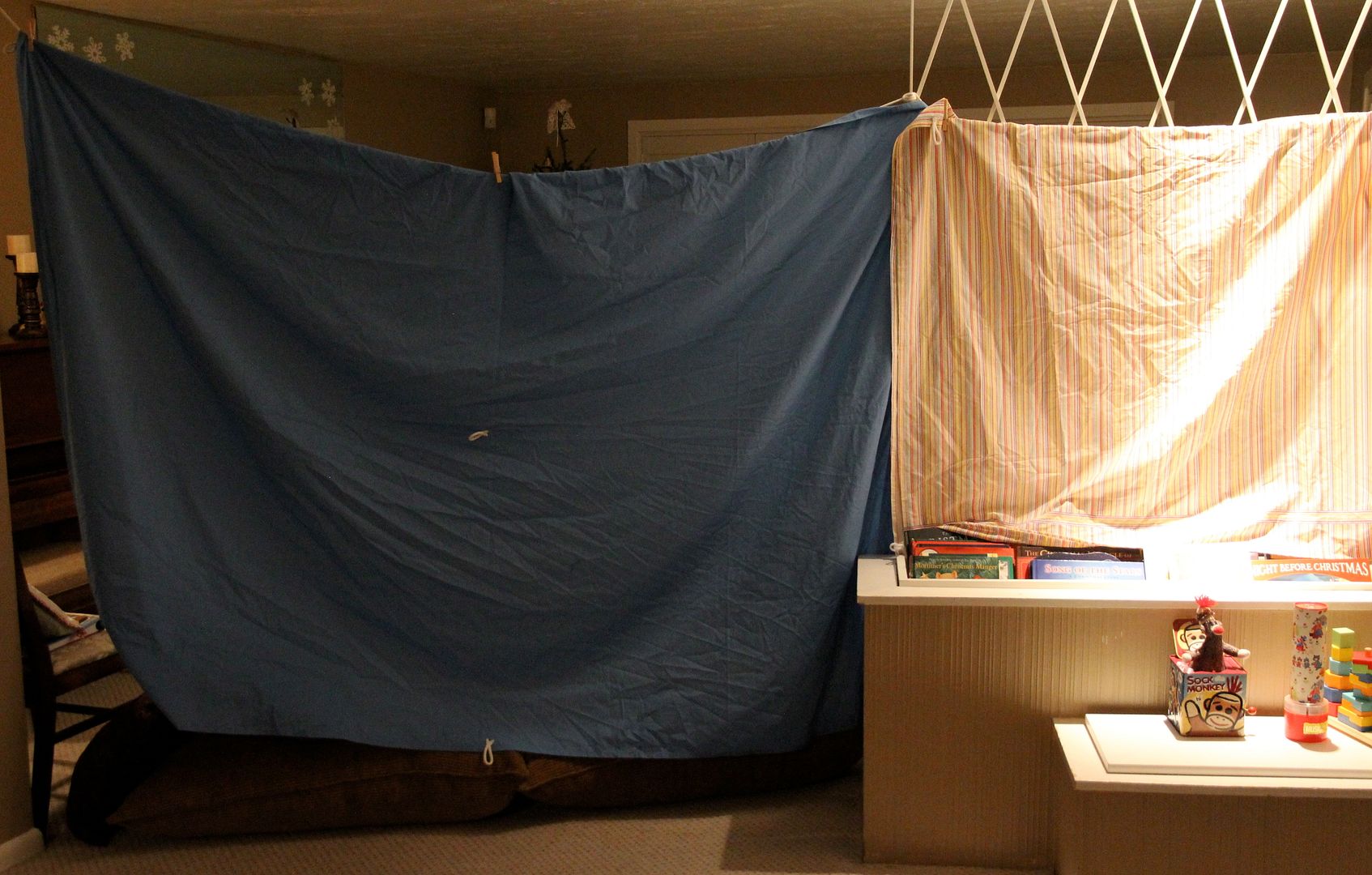 The kids scuttled past the hidden tree, into the kitchen for egg souffle' and orange rolls.
Breakfast before presents; that's the rule at our house.
We ate and chatted about the sound of sleigh bells in the night. Then, as Doug turned on the fire and lights, we sat in a circle on the kitchen floor and sang, "Here we sit like birds in the wilderness... waiting to go in there!"
My Dad sang this silly song as a boy on Christmas morning. His mother sang it as a young girl. I sang it with my siblings. And on goes the tradition now, four generations later. It's a great distraction when Mom and Dad need a few extra minutes to get things ready.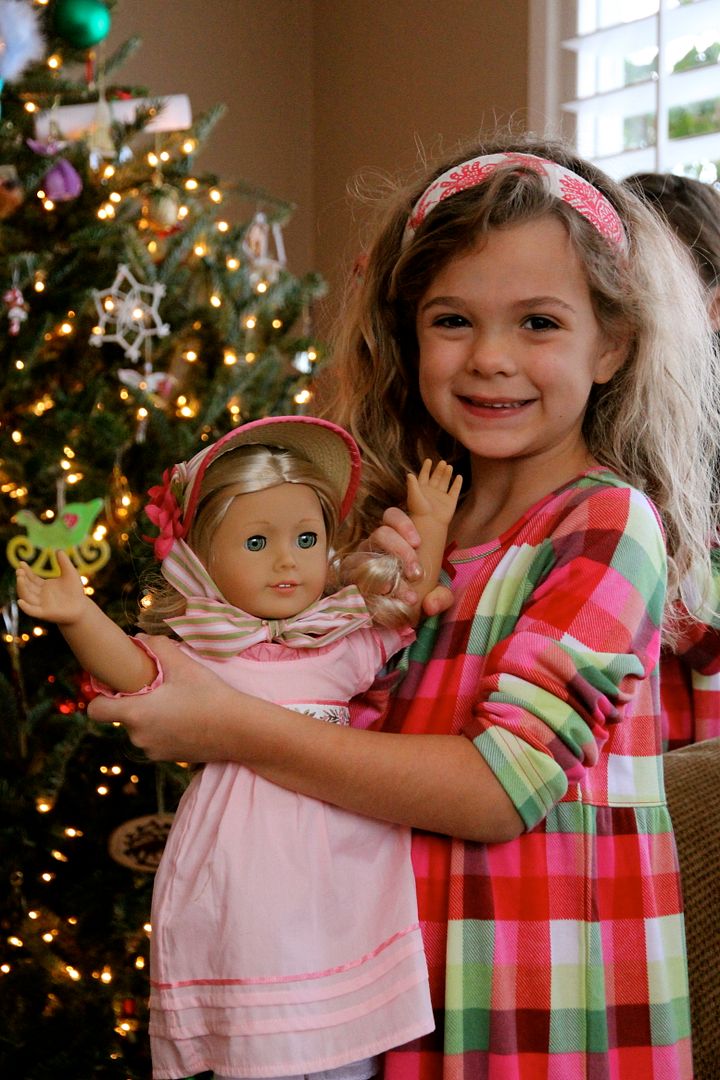 The girls were so excited about their dolls from Santa.
Ali asked for Caroline. Isn't she beautiful? I have to say I've fallen in love with American Girl Dolls, particularly the historical characters.
We started reading the American Girl books this year (thank you Michelle), and I'm amazed at what my girls have learned about the Depression, emigration, WWII, and other periods of American history.
Doug teases that the dolls are a diversion from college savings, and he's kinda right. But I agree with what my friend

Tracy wrote

. If dolls like this keep our girls young and using their imaginations, rather than asking for electronic devices, then heavens, I'm on board.
Spencer wanted Chick Hicks and Mr. The King. Santa went the extra mile and left him (and Gordon) a large assortment of vehicles from Cars 1 and Cars 2. He couldn't have been happier.
Gordon wanted a cap gun to "shoot bad guys." I figured it would be okay if we set firm parameters, like no whacking with said weapon or pointing at any persons. But once we put the caps in, the boys went running out of the room covering their ears. They were horrified by the sound. So the cap guns have spent more time on the shelf than in their hands. And that's okay. (I am fairly new to the boy learning curve, but over the past six months I've come to see that boys have this need to separate good from evil, to protect, to "fight." While I know they need guidance and correction, weapons of some form, I am finding, are inevitable.)
The boys also got their own cowboy boots and hats. Time to trade in their sister's pink Stetsons for brown, and pass their favorite boots back to Ali and Sami.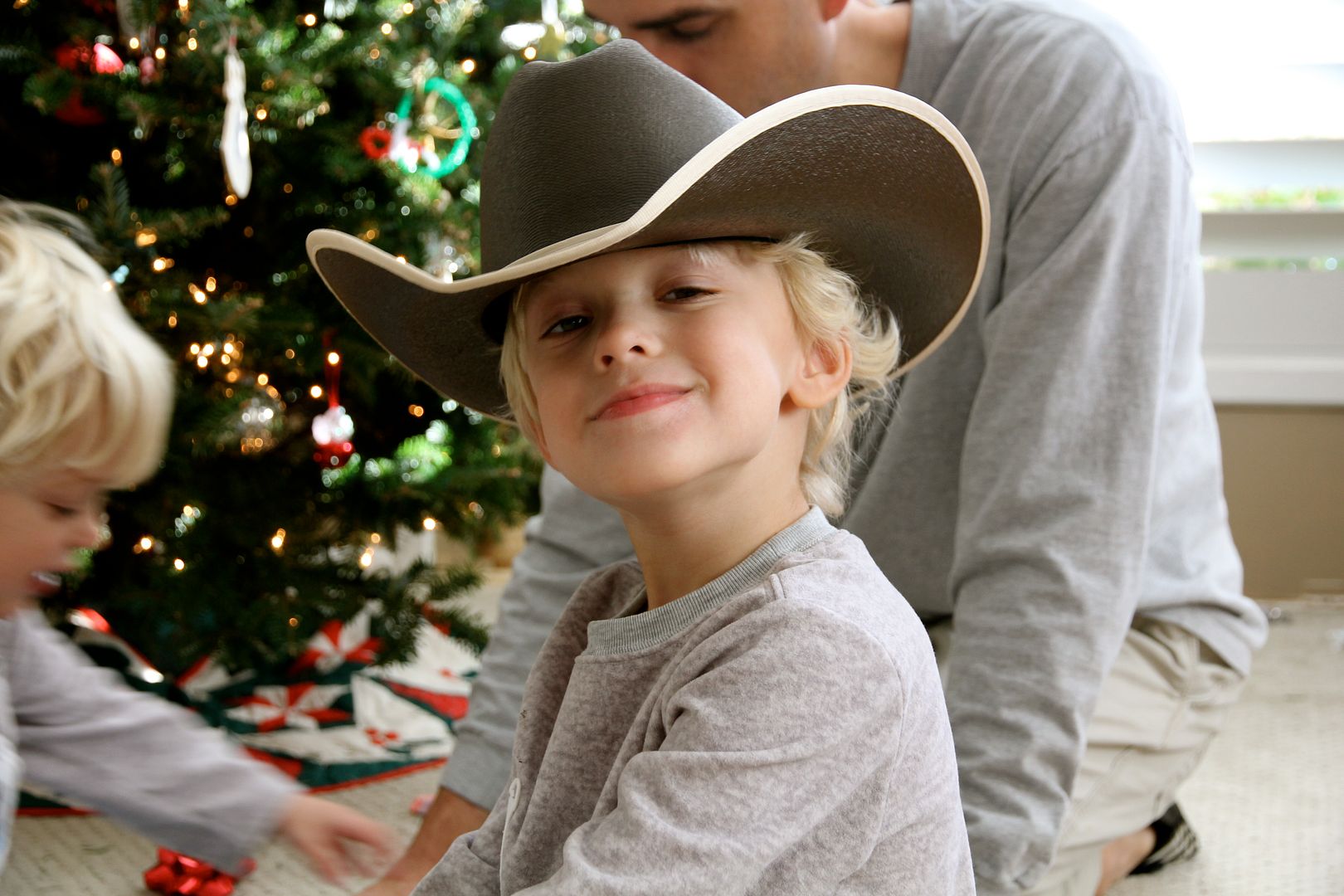 Howdy Tex.
Eliza didn't get her two front teeth, but she did get Rebecca.
On Christmas Eve, while I was tucking her in, she looked at the cut-out of Rebecca taped to her wall and said morosely, "I think I'm going to get coal from Santa. I haven't been as good as I could have been." Do you remember that feeling of worry? Of knowing your choices weren't quite up to expecation?
"I'll probably have to wait until next year to get Rebecca," she said as she hung her head.
She looked so sad. I took her hands in mine and told her how Santa considers the entire year as a whole. He knew of her poor choices, heard the words she shouldn't have said, the things she shouldn't have done, but all of us make mistakes. And when he looks at the whole year, he'll know what a good girl she has been, that she is trying. I told her to be happy and hope Santa will be kind.
He was.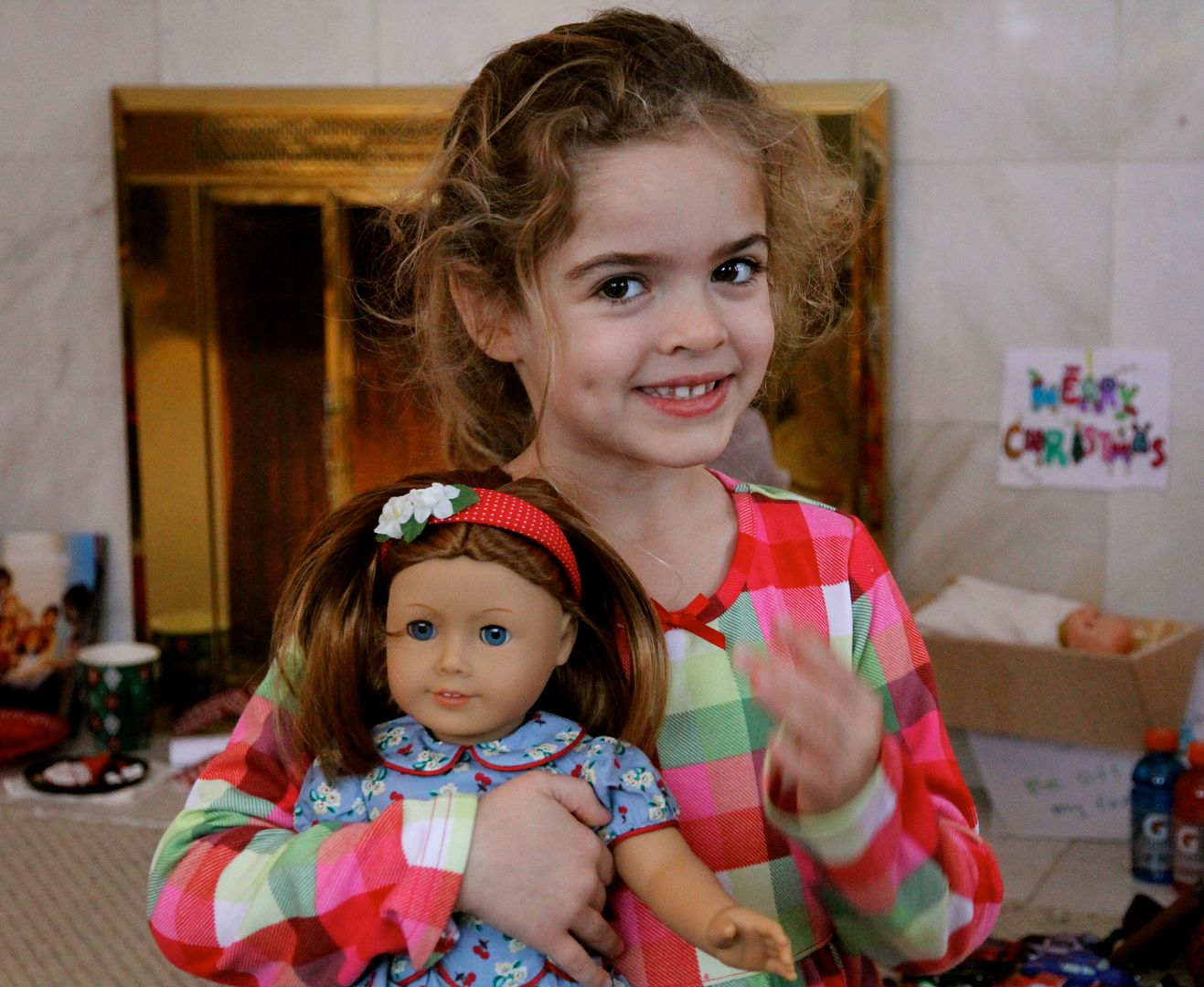 Sami asked for Emily.
Now the girls can play house together with their dolls. And at night we have three new sets of books to read!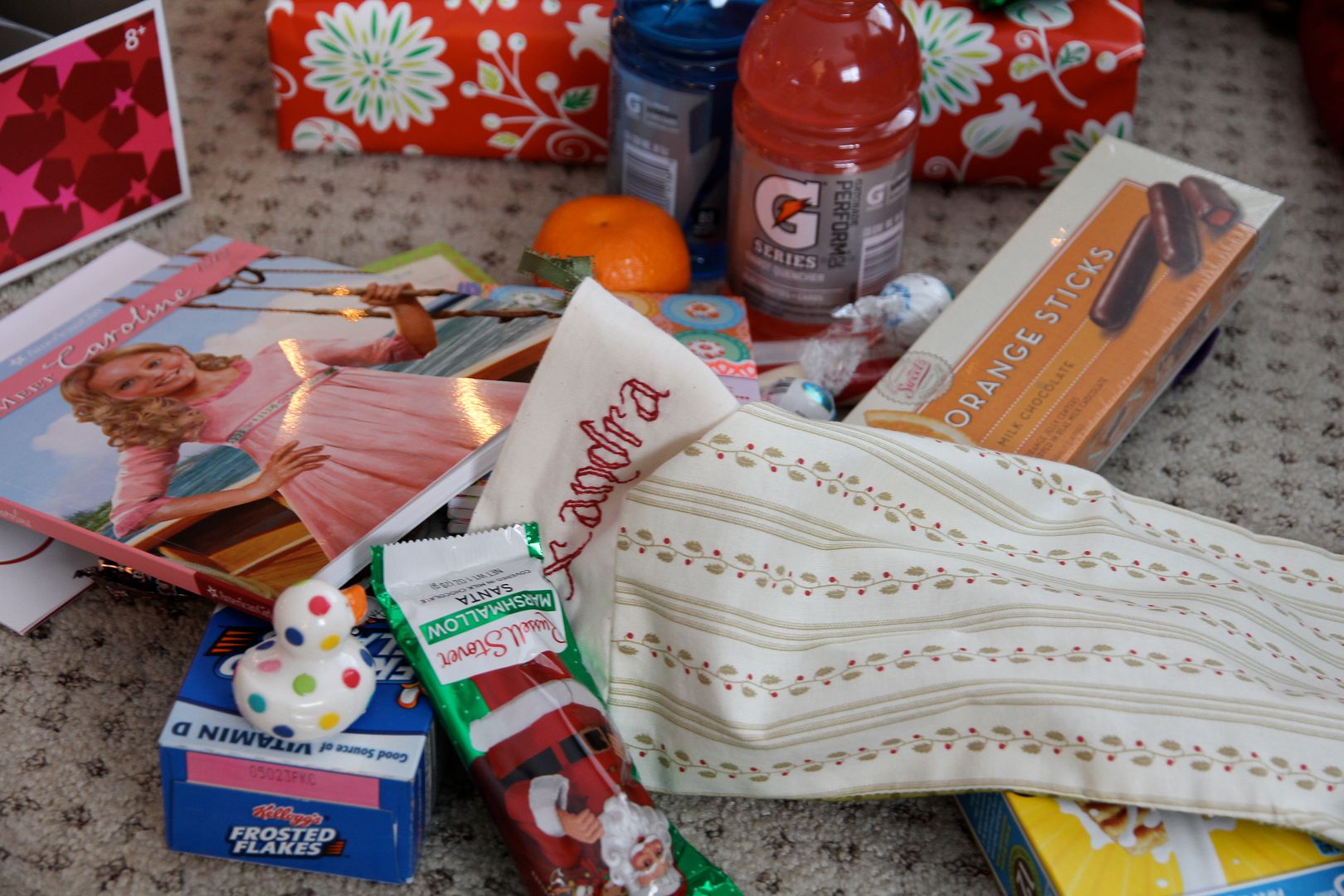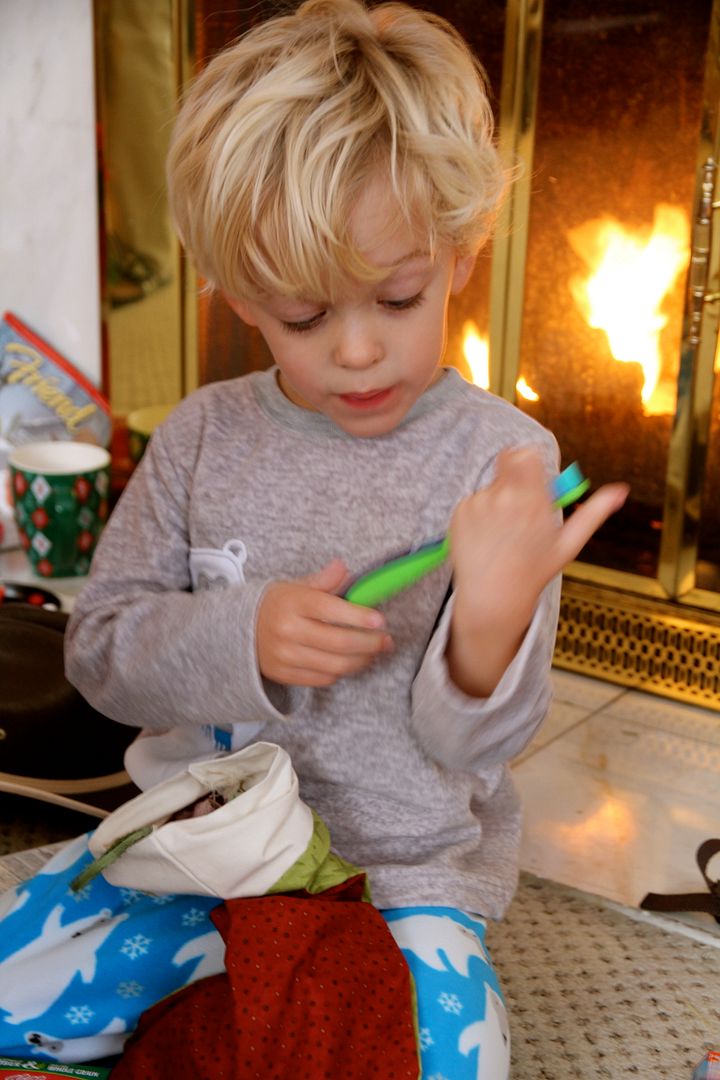 Hmmm.... a toothbrush? What every kid dreams of, right?

After the unwrapping, the girls moved to their rooms to share orange sticks and play dolls.
Eliza made a bed for Rebecca out of Amazon boxes.
Gordon put on his boots and settled into the couch with his new book about King Arthur.
Doug and I emptied our stockings, and felt grateful for the mess, the joy, and the blessing of being able to provide. No gifts for each other this year. The simplicity was nice.
The best parts of Christmas for me were watching the kids fly into the living room to see the tree, exchanging Secret Pal letters...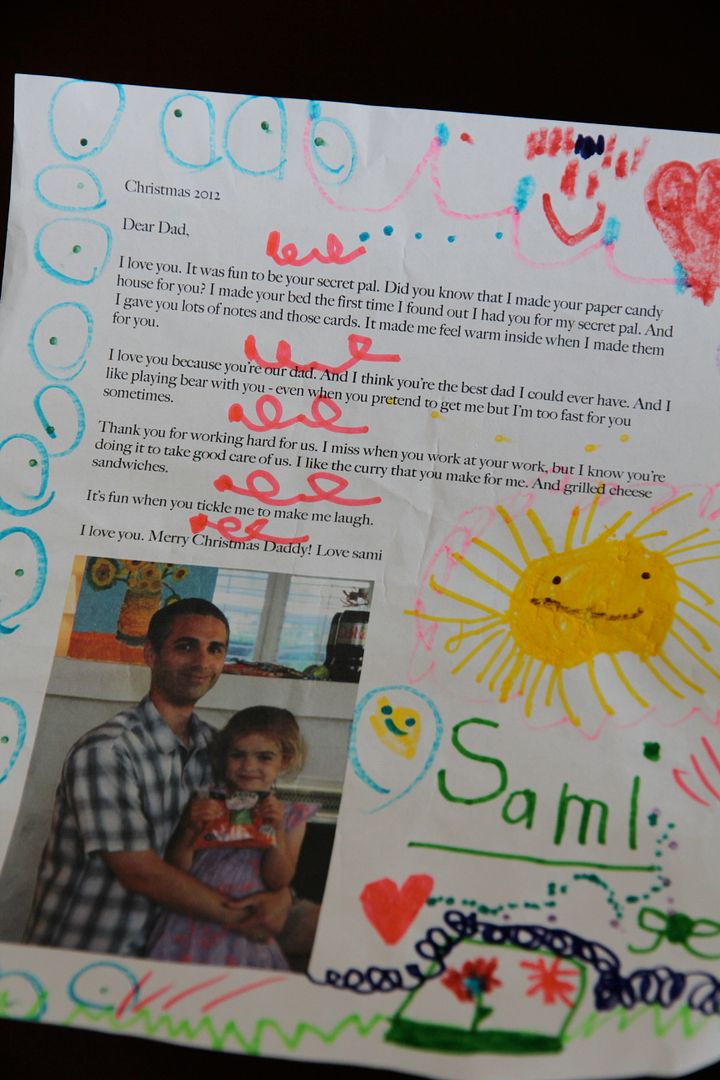 (Throughout the month of December, each person in our family acts as Secret Pal to someone else. Before Christmas we write letters to our pals, tell them why we love them, what we've done to serve them, and how we've looked out for them.)
... and skyping with Doug's parents who are serving a mission for the LDS Church in New Zealand. It was so good to see their faces, hear their experiences, and share stories. This picture was taken the day before they left.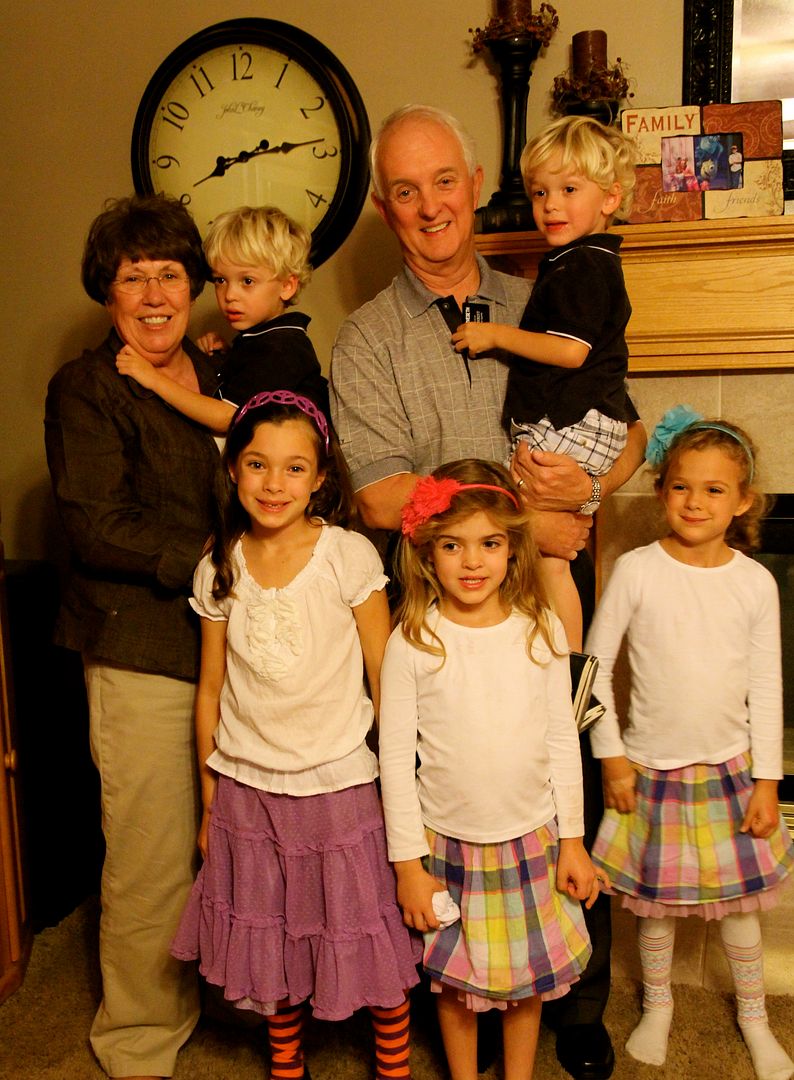 We're awful lonesome for them but they're doing a whole lot of good in that part of the world. Their selflessness is an inspiration to us.

My favorite gift of all?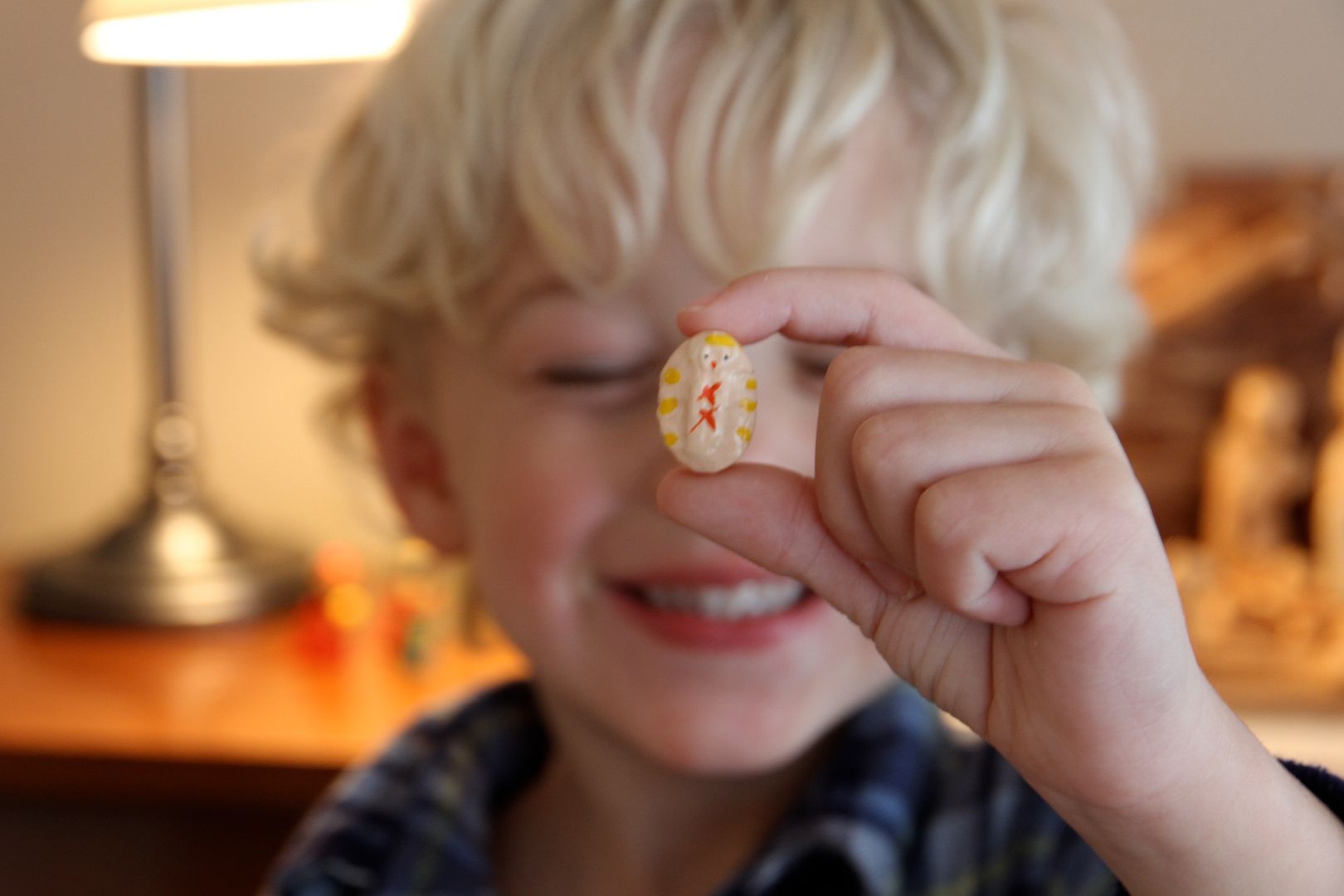 Spencer finding baby Jesus.
We went the entire month of December without baby Jesus in the manger. He's the size of a jelly bean so I was worried he'd been dropped into the trash, flushed down the toilet, or vacuumed up by accident. We d
umped out every toy bin, searched every corner, looked under every piece of furniture. Nothing.
I was devastated.
I've had this Nativity set since I was a little girl. I sent it to Doug when he was a missionary in Korea. My mother sent it to me on my mission. It has traveled the world. But what good is a Nativity set without baby Jesus? The incompleteness of it depressed me. It was just a thing, a tiny thing, but a big thing to me. Some "things" are that way.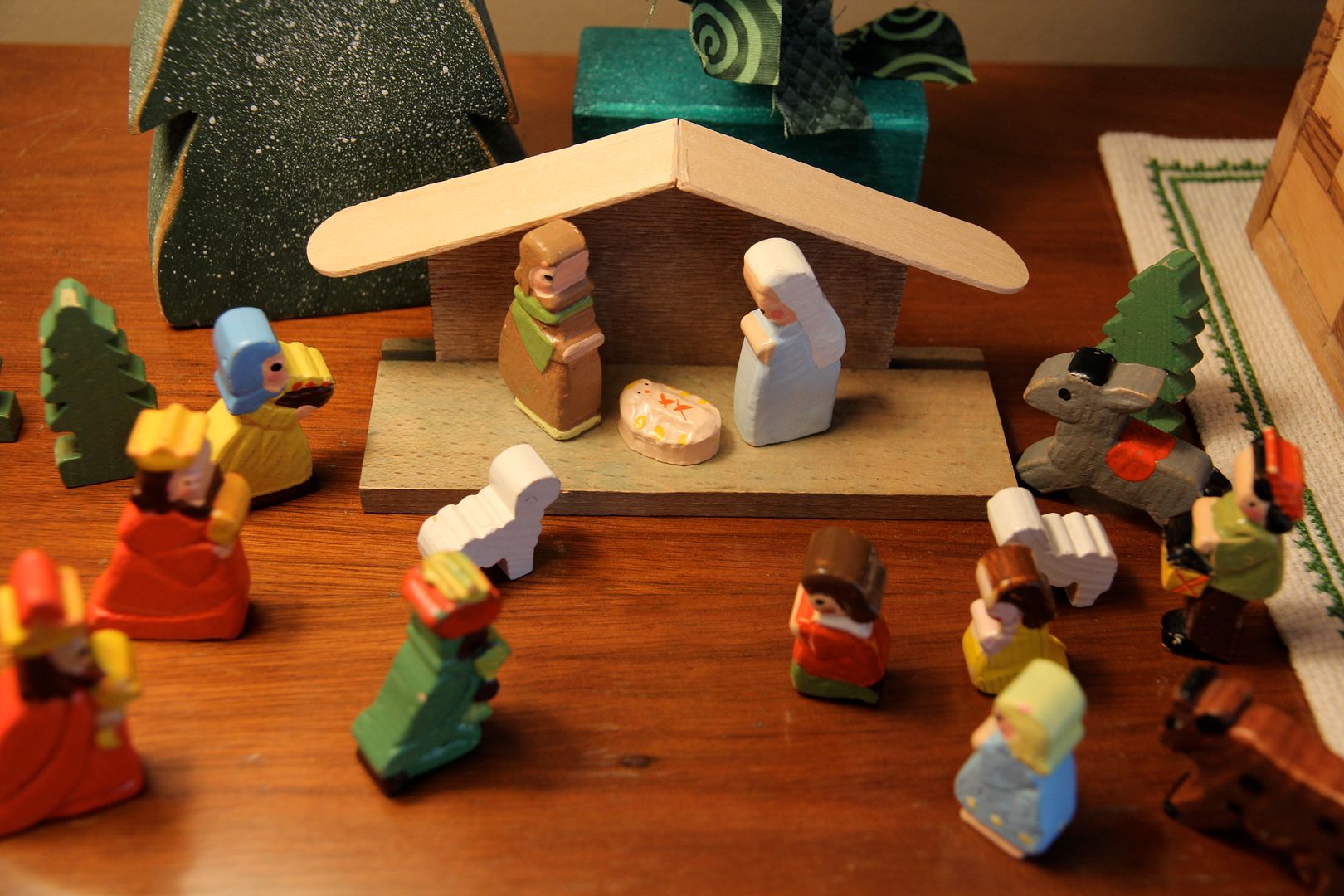 Yesterday, Spencer found him in the junk drawer and I could have turned a dozen cartweels!
Hooray for Christmas!
I hope you had a lovely week. Full of quality time with those you love.