What is Ragnar you ask?
Well, I signed up for the Ragnar Relay Race a year ago but only learned recently the meaning of the word. Ragnar was a Norse Viking from the 9th century. An adventure-seeking, conquering, tough-guy whose name literally means "warrior from the gods" or in swedish, "strong army."
The first Ragnar was created ten years ago by two boys from BYU. The Utah Wasatch Back. (Now there are Ragnars all over the United States. Want to find one near you?). We chose the Wasatch Back because… the Wasatch is our backyard.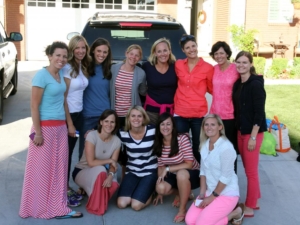 But let's be honest. In more urban terms, Ragnar really means a two-day, overnight race from Logan to Park City with eleven runners who are equally as insane as you are! The course is 198 miles, with each runner taking three legs. You run up mountain passes, around reservoirs, and in and out of small towns, never stopping. Daylight, moonlight, you keep going. Passing off the orange slap band at each exchange, hopping into the car, and leap-frogging your next runner.
See those beautiful crazies above? That was our team. And they were one "strong army."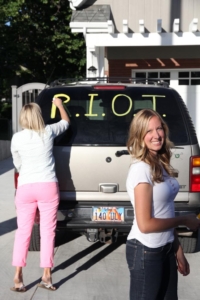 Here's the gorgeous Lynley. Our fearless Team Captain. If it hadn't been for her and this group of stellar ladies, I would never have signed up. You don't want to travel two days without sleep or shower in a car of strangers. Believe me; it's the kind of thing you want to do with people who will love you even if you forget your toothbrush, begin to murmur at 3AM, and have to make an emergency stop for Pepto Bismol at 5AM. (I write from experience.)
Lynley wanted to put together a team from our neighborhood. So we did. While Ragnar was grueling, totally miserable at times, and I cried twice, I'm so glad I said yes. It was an incredible experience.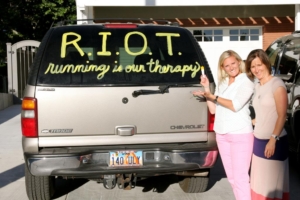 RIOT was the name of our team. Running is our Therapy.
By the end I wasn't sure if running was my therapy, or if it made me need therapy.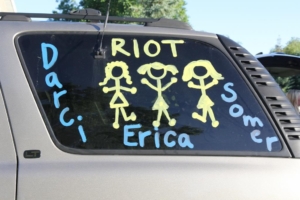 I was in Van 2 – Kim's dependable Tahoe, which she had serviced right before we left, to make sure the transmission didn't die on us at the top of some mountain.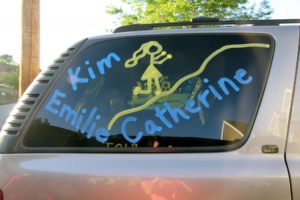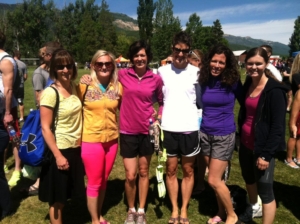 And here we are in Liberty, Utah, looking over the Ogden valley as we wait for our first exchange with Van 1 who left Logan at 6:15 AM.
Darci, Kim. Emilie, Erica, and Somer. Van buddies. In sickness and in health, for better and for worse. Together for the long haul.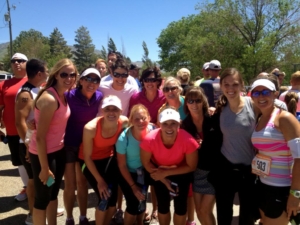 Here's the whole team at the exchange point. Amy had just come down Avon Pass and Somer was already heading through Eden.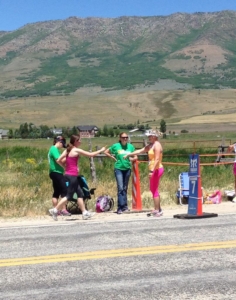 The first exchange. Somer to Kim.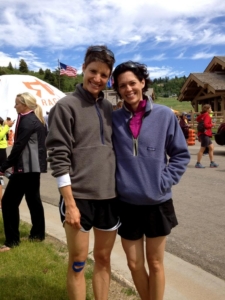 Emilie and me at the next van exchange in Snow Basin. We were waiting here for Erica to run her 7 plus miles up to Snow Basin. A difficult run and she did it without stopping!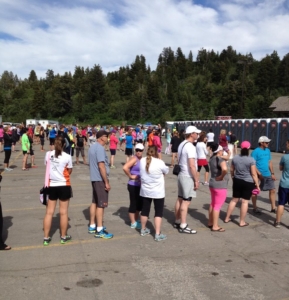 Had to take a pic of the porta-potties. Wouldn't have survived without those Honey Buckets. We kept an eagle eye out for them at each stop. And this was how the lines looked at the van exchanges. Long!
My best friends during Ragnar were Honey Bucket and Arnica. Have you ever heard of Arnica before? It's magic I tell you. Magic gel that heals sore muscles and flared joints.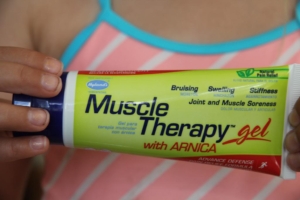 About a month ago, I ended up running 14 miles in an overcorrected shoe. It did murder on my IT bands and piriformis. A week out from the race I was wondering if I'd have to pull out. But Emilie's husband introduced me to this gel. It's all natural and comes in both oral and topical form. I did several ice baths, stretched, gooped on the arnica, and gave myself the week off. To my surprise, I ran Ragnar pain-free. Jarrod, I will forever thank you for bringing me Arnica. It changed my life. Seriously. You can find it at Whole Foods or online here.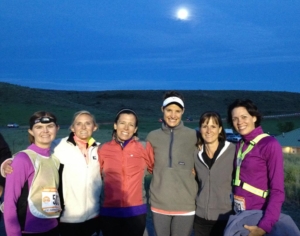 This is the East Canyon Road, where we started our night runs. Running in the light of the full moon was spectacular. It was crazy to run on no sleep but we all loved our night runs. We began around 10:30 and would run until 4AM.
I was super nervous about my night run. It was the longest leg of the race. 11.6 miles unsupported. I would say goodbye to my van at the exchange and not see them again until I finished in Coalville. It would be dark and mostly rail trail around Echo reservoir, which the map described as very rugged and rocky. "Pay Attention!" it said. And most concerning to me were my injuries. I wasn't sure if they would flare and I'd have to walk or take it slow. The unknown had my stomach in knots. I couldn't eat. So as a precaution, I took a couple electrolyte pills to pop half-way through.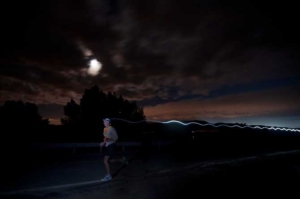 This gives you an idea of what it was like at night.
Thankfully, I felt great the whole way. An answer to prayers I'm sure. As I came around one of the last bends, about mile 8, Echo opened up wide like a mirror, moonlight bouncing off quiet ripples – large and shining, and white. I could hardly take my eyes off the water, but I had to keep them on the ground so I didn't trip. It was breathtaking.
By mile 10 or so, I began to feel like I was running on the moon. No civilization the entire run, and it was disorienting kicking up dust in the dark with only a spot of light on the ground in front of you and a few bobbing red lights on runners ahead of you.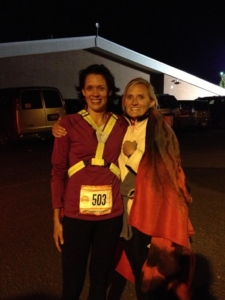 I ran my night leg in 1:40 and boy was I glad to be done with that one.
At this point, however, things started to go downhill (in the metaphorical sense.) A half hour later I got diarrhea from the electrolyte pills, which apparently, I didn't need, because I was plenty hydrated (even if I hadn't fueled myself especially well.) Is this too much information for you? I know, gross. But you have to understand the state of affairs to appreciate our last runs (no pun intended.)
Another teammate ended up in the same fix. At every exchange, we were bee-lining it to the honey buckets. Sometimes more than once. I wanted to curl up in a ball and cry on the side of a dirt road. I felt awful.
At 5AM, Kim was driving like a bat out of you know where to get us to our hotel in Heber. We booked two rooms there so we could shower and try to sleep a couple hours before our next big push up Guardsman pass.
It was so nice to sit in a tub for a bit, but I couldn't sleep because I kept trekking to the toilet every 30 minutes. It was at this point I started to curse Ragnar and his viking prowess, along with everyone else who ever told me this would be "fun!"
My last leg was going to be the hardest. 4.4 miles up Guardsman pass. An elevation gain of 2000 feet in just a few miles. I felt rotten. The thought of eating something made me want to vomit, and I honestly didn't know how I was going to do it.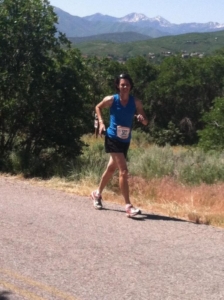 So that morning we pulled off the side of the road in Heber, and said a prayer. I prayed out loud for us. I could hardly say the words, I was so emotional. We'd covered such beautiful country. The mountains were magnificent. The weather had been perfect. And I was with the most supportive, selfless, and wonderful group of women. But we were all exhausted, and not at our best. We needed help.
After the prayer, I drank a Carnation Instant breakfast, chomped a few bites of bagel, and off we went to the next exchange, where I met Kim, who not feeling great, finished a tough push up to the Homestead. I took the slap band and headed towards the mountain.
When a map describes the difficulty level of your last leg as "You've Got to Be Kidding Me!" you know you have cause to worry.
I had trained on steep uphill. I wanted to run this last leg without stopping. That was my personal goal. And so I told myself, if I wasn't in pain, I was going to do it. I was going to push my way up the mountain, without walking.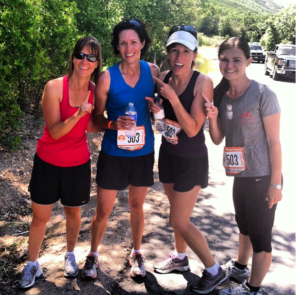 Our team met me every mile, to break my run into achievable lengths. Here we are with one mile to go to the exchange.
Darci joined me a couple hundred feet out with water and encouraging words. One guy, who was offering support for another van started cheering. Knowing I hadn't walked yet, he yelled, "Only 150 feet to go! Don't stop!"
It was crazy. The steep incline. The burn in my legs. But I didn't stop.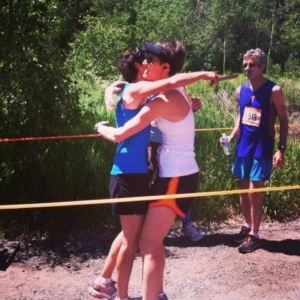 And here's the exchange. I was so happy to see Em's face. She gave me the biggest hug. I slapped the band on her wrist, turned and walked with her a few feet.
She would finish the push up Guardsman – another four miles with a similar grade.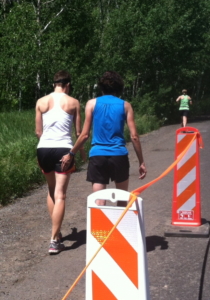 And there's the bum pat, as I said goodbye.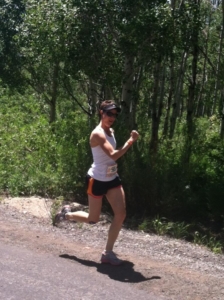 Em was amazing. Here she is high-stepping it up the hill.
She's a dancer. Fit in every way. And watching her run is like watching her dance. She's so graceful. Em pushed it all the way up the rest of the mountain. You can see the pitch of the hill in the picture below.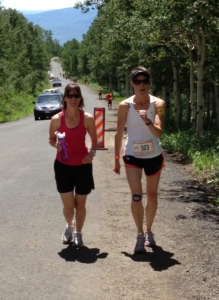 Now let me tell you about Darci. Darci was our rock. She could have run any of these hard legs herself, but didn't realize until right before the race that she'd been given easier runs than she had trained for.
So she took it on herself to run for anyone who needed it, and with anyone who needed it. She ran with Kim on her last mile up to the Homestead. She ran the last couple hundred yards with me. And she ran with Emilie to the top of the mountain. Offering water and tons of encouragement.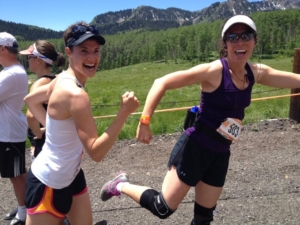 Here's the exchange to Erica, who ran over the top of Guardsman and down into Park City. A brutal 9 miles of downhill pounding. She did it in just over an hour. She's a super strong runner.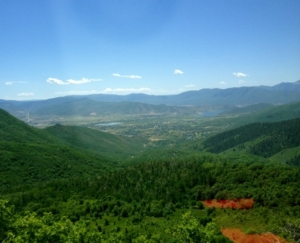 This is looking down into the Heber Valley from the top of Guardsman. Hard to believe Emilie and I ran up that.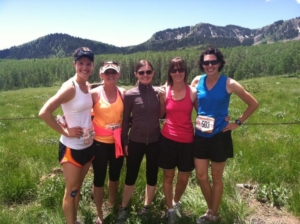 It was gorgeous at the top.
Sure love these ladies.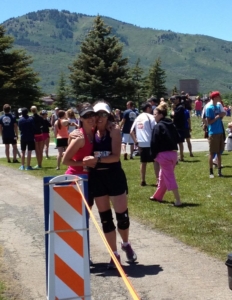 And here's our final exchange. Erica to Darci. Darci would run a 3-4 mile loop up into the mountains surrounding Park City High School, then she would meet us at the football stadium, where we would run in together. The whole team.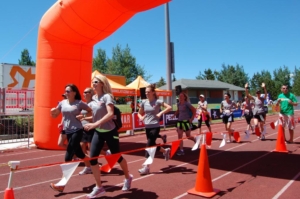 We cheered as Darci came into the Stadium. We made a tunnel for her to run through, then we all ran across the finish line.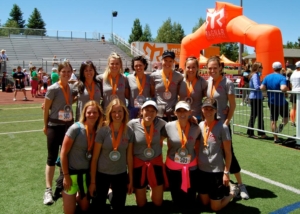 Finish line pics courtesy of Ryan Schatzer
Team RIOT. Every one of these ladies inspired me. Each one was encouraging, cheerful, positive, and cared more about the team than they did themselves. I love them so much.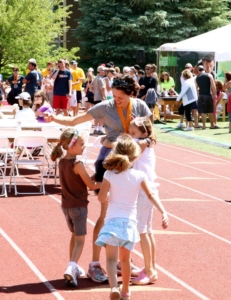 And this was the second time I cried. When I saw my girls and Doug walking into the stadium.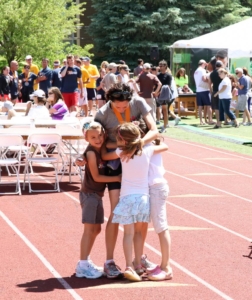 I was so tired. And the race had been so hard. Harder than any marathon I've run.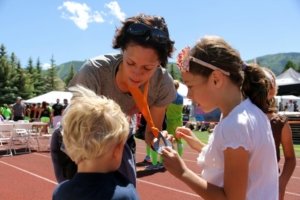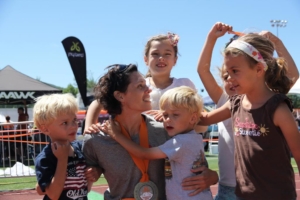 Bless Doug's heart. He brought all five kids up to the finish. They missed our big entrance into the stadium due to a potty accident and a long shuttle from the Canyons ski resort up to the high school. But they came. And I was so happy to see them!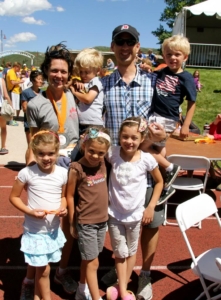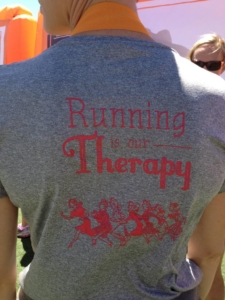 I ate an otter pop at the finish line and an ice cream sandwich. But that was it. I had zero appetite. I walked in the door, didn't open the fridge, didn't look in the mirror, didn't even think of showering. I just crashed in my bed, pulled the covers up to my chin, and slept. For three hours.
I got up in time to help put the kids down and take a shower, then I went back to bed, and slept all night.  So grateful for pepto, eleven lady warriors, and the gift of being able to close my eyes, worry-free.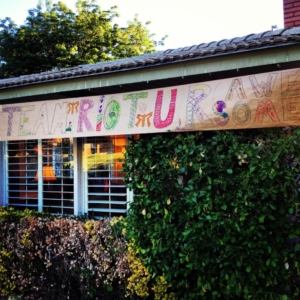 Doug and the kids made this sign for our team. It was hanging on the front of the house when we pulled in.
Team Riot, you were awesome. Crazy and totally insane. But awesome. And the experience was amazing. (Don't ask me about doing another Ragnar until at least 2015!)
We can do hard things. The human spirit is pretty unconquerable. A strong mind can change everything. And God? He was there. I know he helped us up the mountain, tempered symptoms, made our little army strong.