It is 9PM, a trace of sunlight lingers in the west, and the kids are begging for spider swings.
He obliges.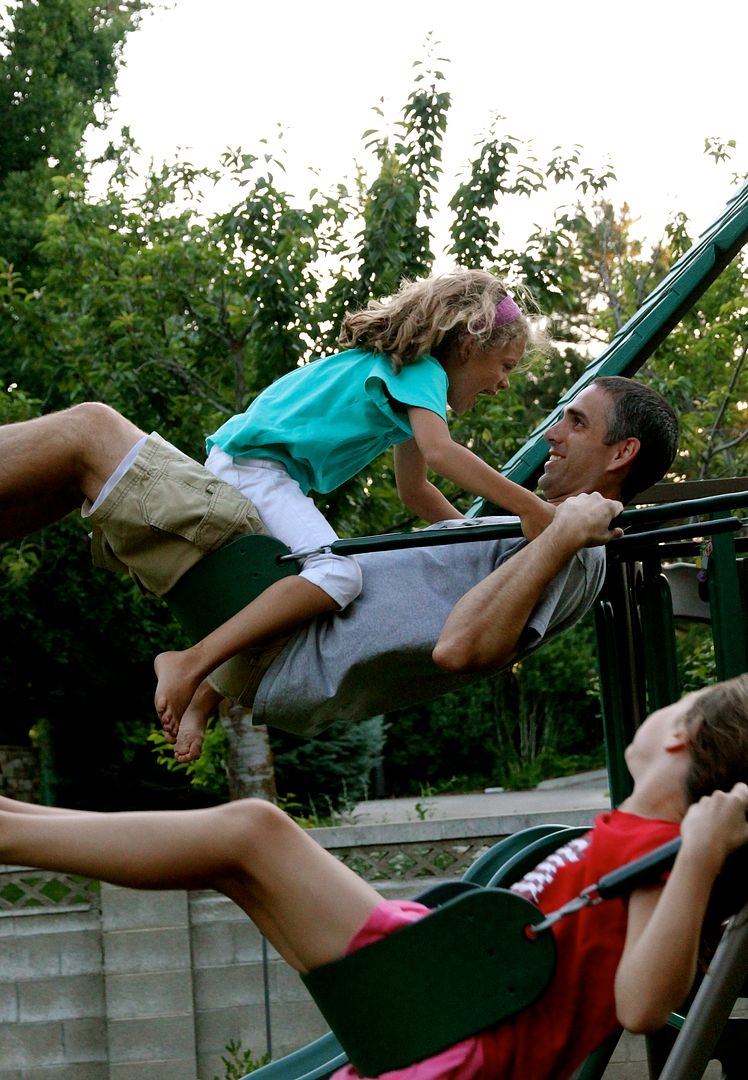 Ali screams as they tip higher and higher, eyes locked on each other.
Eliza asks to be next.
She giggles uncontrollably and Doug knocks his knees goofy, to keep his soles from skidding against the grass.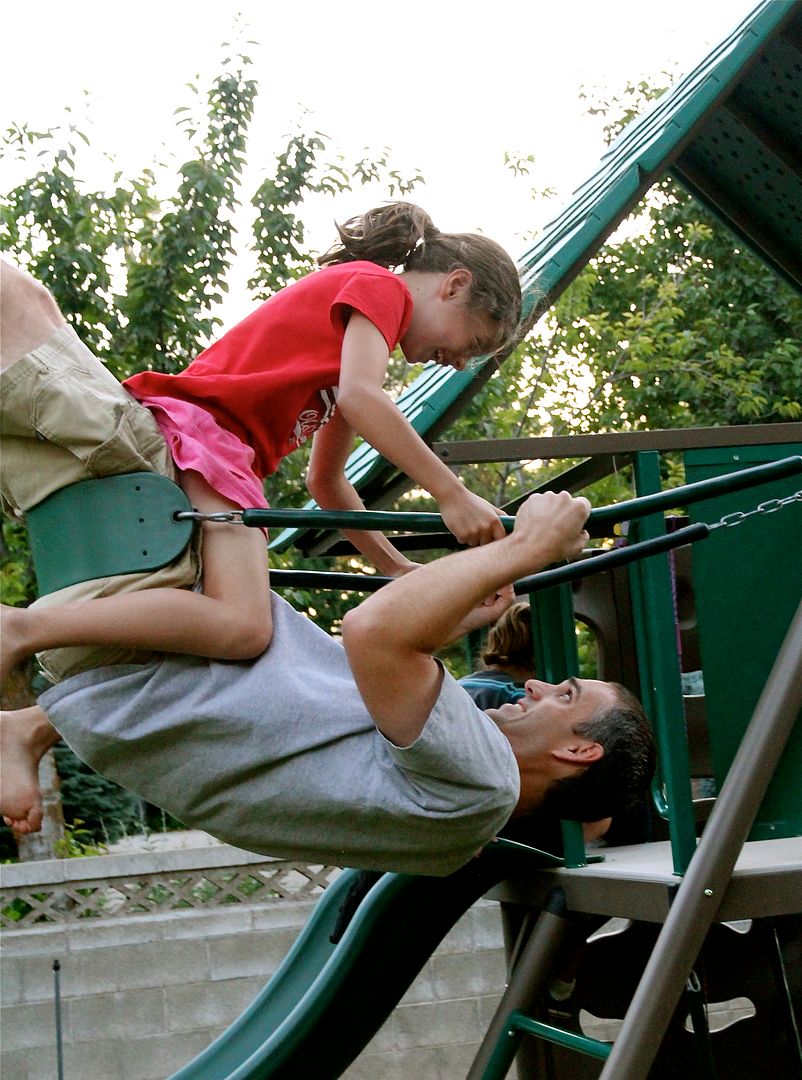 Her giggling escalates as he pumps them closer to the sky.
I notice the moon, half-lit and barely waking - watching us through the large honey locust.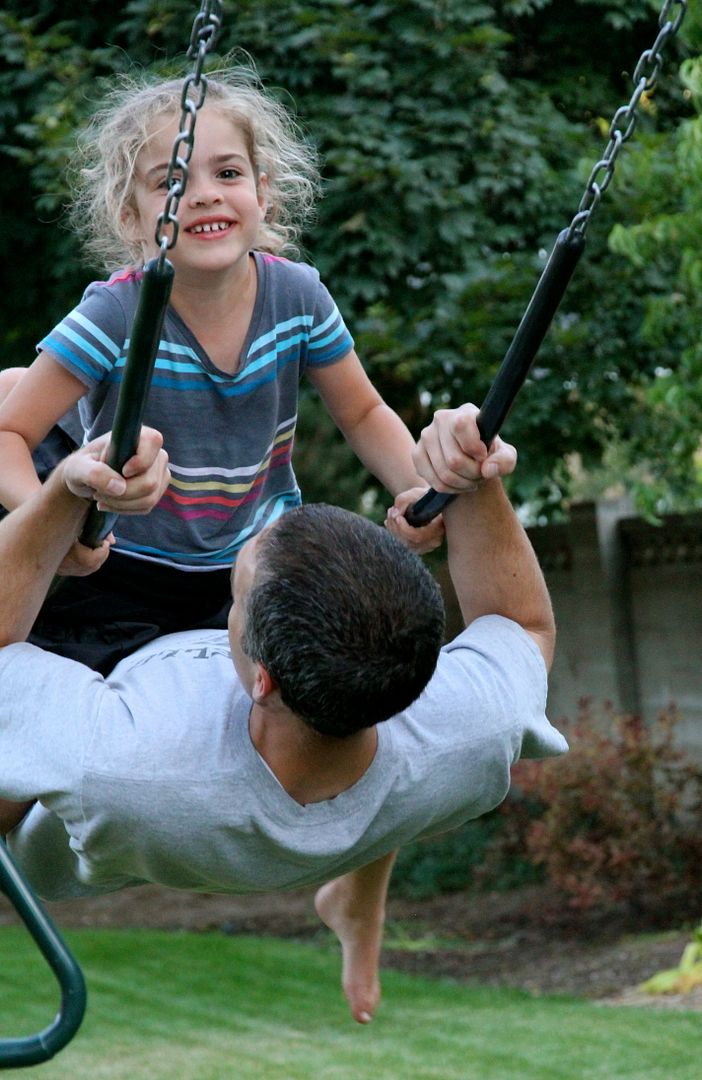 It's Sami's turn and she smiles enormous. Can't stop smiling.
They blur past my lens. Her wispy swim-lesson-curls spreading like a halo round her face.
Doug makes silly faces, lets out an occasional laugh, and flexes his arms against the pull of the swing.
In a matter of pumps they are soaring. Flying. And it's all for fun. All for the joy of being together.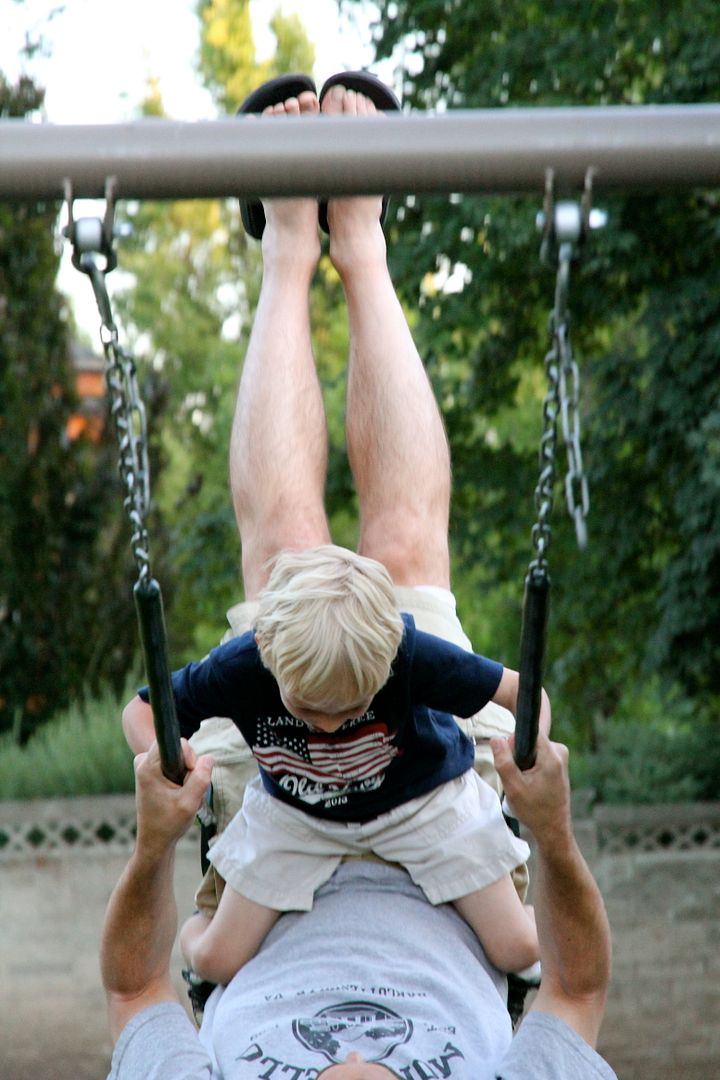 He leans back and points his toes upward, pitching Gordon parallel to the earth. Gordon screams.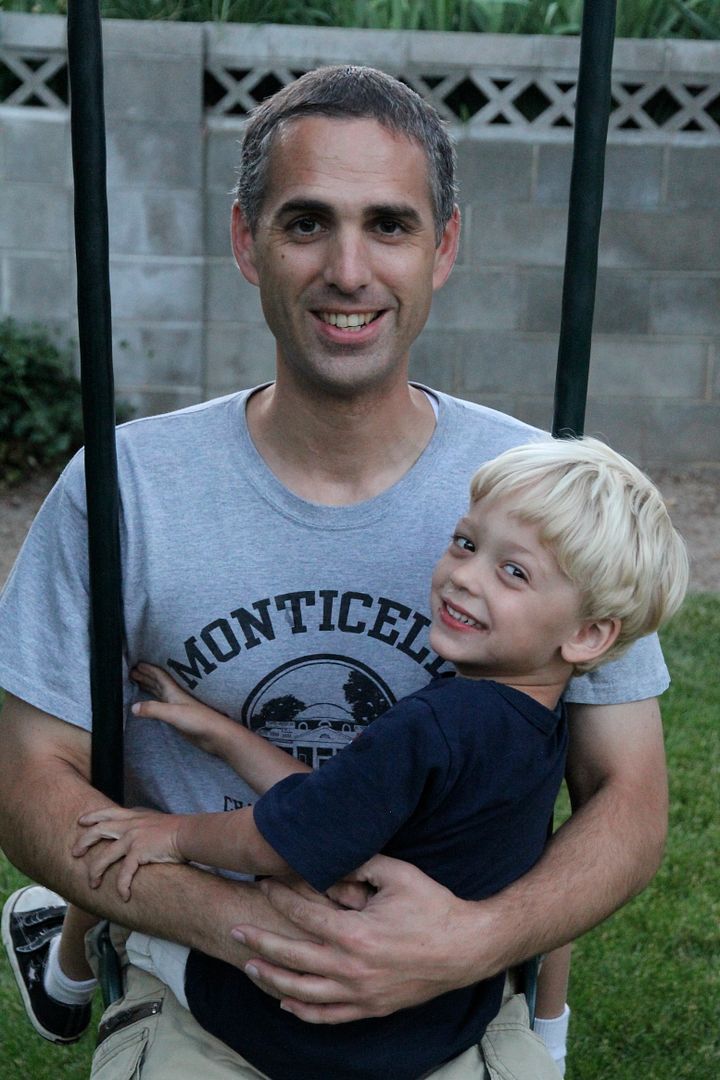 Mint ice cream still on his face, he is all grins as they glide to a stop.
Finally, it's Spencer's turn. He's been so patient lately. Sharing toys, taking turns, making peace, giving his lollipop to Gordon after Gordon threw his on the ground.
He's growing up. They all are. And in moments like this I wish we could stop the clock, hold on tight to now.
Spencer giggles louder and harder than the rest of them. The look in his eyes says it all.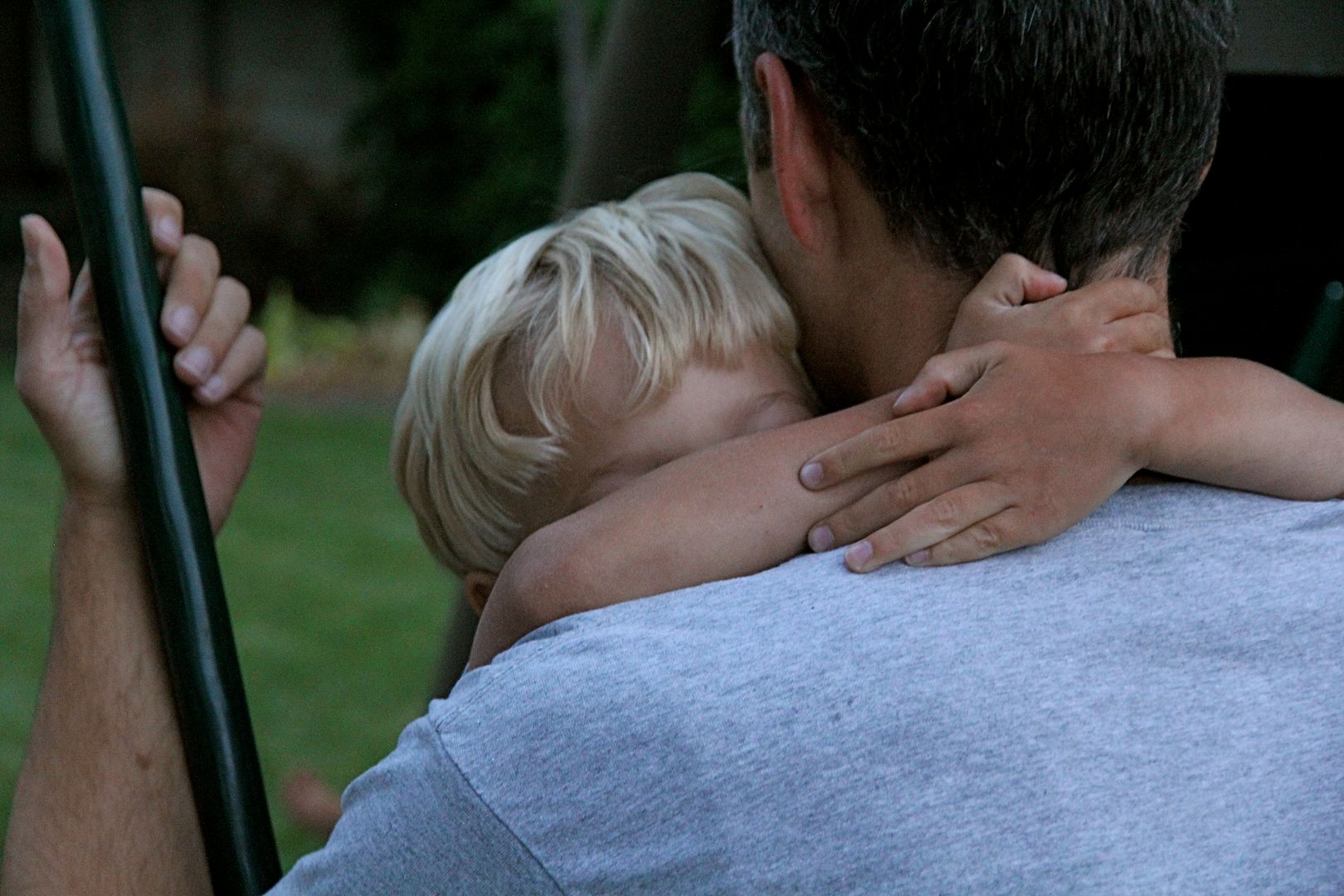 He wraps his arms around Doug's neck as they rocket back to earth, and I think of the great need my children have to feel the safety and protection of their Daddy.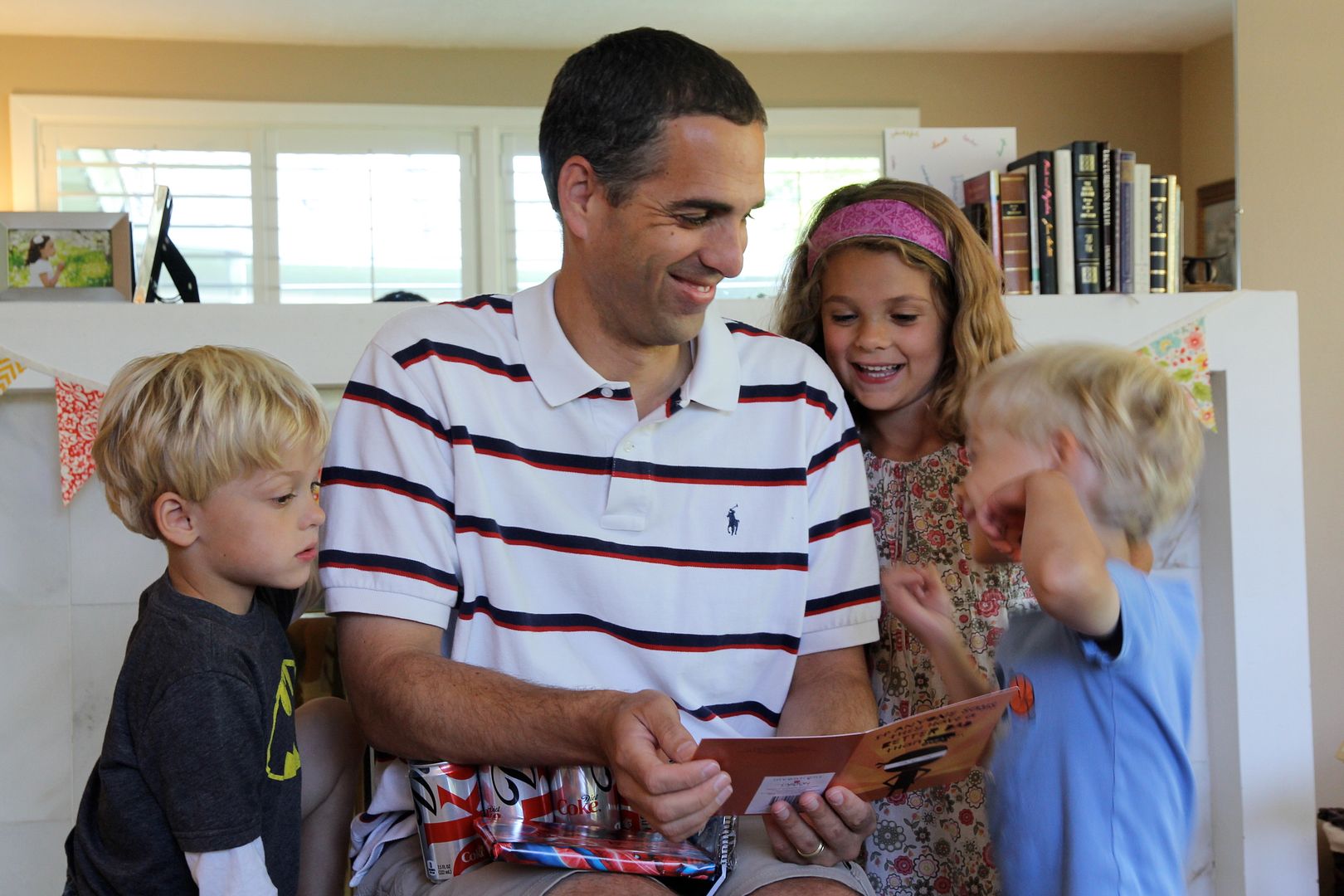 Doug gives our children things I cannot. He offers them an alternate perspective, a different kind of strength and playfulness, a wisdom and humor I tend to lack. And while I know not all of us have fathers in our homes, or even good men to lighten the load we carry, I have to say thank you this week to all the loving daddies that do care. They fill a crucial need in our society. They bring stability and balance to family settings. They matter so very much.
And where earthly fathers fail, walk out, or turn aside, I believe a Heavenly Father is especially vigilant. Caring for and watching over, working anxiously to fill the void. To offer a more perfect perspective, strength, and love.
Happy Father's Day Doug.
And to my own sweet Daddy, thank you for being there. You still make me laugh and I still need your hugs. I love you.