I can still hear the loud staccato of fireworks as I tap keys. It is late and my family has enjoyed Utah's Pioneer Day in full. We've cheered marathon runners down the original pioneer trail, we've barbecued with family, we've oohed and aahed over the glittered floats from the Days of '47 parade, and at the end of the night my five tired children cradled balloon animals home in the car.I love this commemoration of our Mormon pioneers coming into the Salt Lake valley in 1847. I love the pioneers of old, as well as the pioneers of today. Like sweet Noémi from Hungary – the first of her family to join the LDS church. She was introduced to the gospel through my dear friend Michelle. To see Noémi's face is to know modern pioneers are just as devoted, just as full of light. (Michelle's video is a must-watch.)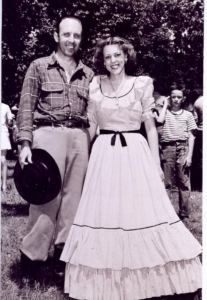 In 1947 my Grandma and Grandpa (Dick and Dorothy Keddington – pictured above) were asked to participate in the Mormon church's centennial reenactment of the great trek from Nauvoo, Illinois to Salt Lake City, Utah. They were talented singers, they sang with the Mormon Tabernacle Choir, and Grandma was one of two women asked to come along. She and my grandfather sang the 1947 company across the plains.  Aren't they a smashing couple?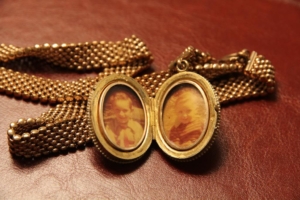 After she passed away, I inherited a gold locket on a thick mesh chain. My grandmother wore it during the reenactment trek. (You can see it round her neck in the photo above.) Inside were pictures of her two sons. My Dad (age 2) is on the right. The locket was given to her by her grandmother, Mary Wagstaff Clark. This treasure of a locket journeyed by wagon with Mary to Utah.
My uncle recently found a letter written by Mary to her husband who was serving a mission in Alabama. She was living in Sugar House at the time and it is dated March 19th, 1889. Their youngest son, Cyrus, died in June 1888 at the age of one and a half – just a few months after Lorenzo left on his mission.
I wanted to share with you a few stanzas of the poem she wrote for Lorenzo. It was a long awaited "answer" to a poem he wrote her, which he titled, My Mary. Too weak from sickness to pen a letter, she could do nothing but endure a disappointing silence between them for weeks. Finally, her words arrived in an envelope on the 28th of March in Helena, Alabama.
Excerpt from Mary's poem at Segullah today. In commemoration of Utah's Pioneer Day.