Alright people! Coming to you again from Island Park…. my favorite Kesler cousins! With their annual summer video!Prepare yourself for facial hair, wacked side burns, new water toys (where did you guys get that huge water trampoline?!), a little undiluted Queen, and some serious wipe outs. My kids always love the choreography. This year it was fun to see the younger generation starting to bust a move.
Hold on for the out-takes at the end. They're the best part! Brett, your window dance was cracking. me. up! You could give Jack Black a run for his money. And Cami, "dangit" I love you. The more I watch this, the funnier it gets.
For other Kesler summer videos, check out Kelsi's youtube channel. She's the mastermind behind these productions.
And watch for the full moon hanging in the sky at the beginning of the video. Amazing! Moon so big (or small) you could hold it in your hand!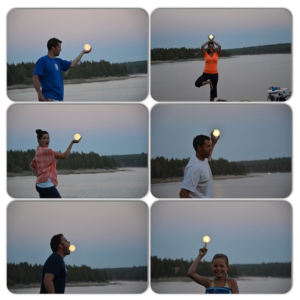 All right Keslers. Bring it.
Oh! And one more thing! I found a photo of my grandparents during the centennial pioneer trek I wrote about for Segullah. I added the photo to the original post. It's worth seeing. Look closely and you'll notice my Grandma is wearing the locket I wrote about.
Hope you're holding on to these gorgeous summer days. They're disappearing fast. xo