Doug and I were in charge of my family's reunion this year. A fiesta that typically consists of three days in Salt Lake City or some nearby get-away destination. This summer we made base-camp at my parents' house and ventured into surrounding areas for fun-filled action.Here's our crew, minus my brother Dave, who couldn't make it, and most of the out-laws. I mean in-laws. Who were snapping photos. Next year I need to remember my tripod.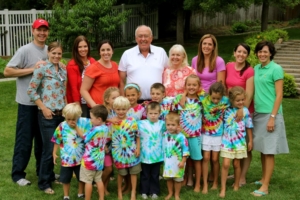 Let me say right up front, it would have been a sorry shin-dig without Doug's brilliant planning. For some reason, my brain was more than fried by summer and I was plumb out of good ideas. But Doug came to the rescue. Almost everything we did was his brainchild. And we had a blast!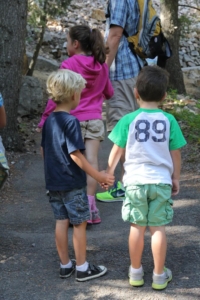 Day 1 we hiked to Timpanogos Cave. A series of three caves linked with tunnels, trail accessible from American Fork Canyon. Gordon and his cousin Ethen held hands most of the way.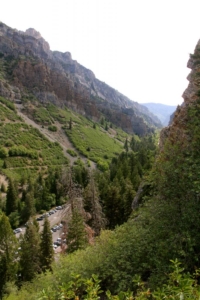 It was a fairly steep climb. This is the eastern view, part way up, looking down onto the parking lot.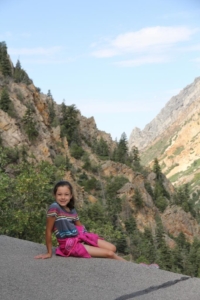 And this is the western view, with Eliza happily perched on the edge of the trail.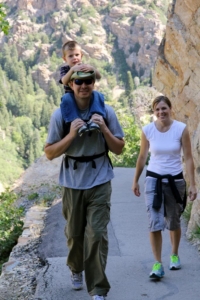 Here comes Becca and family.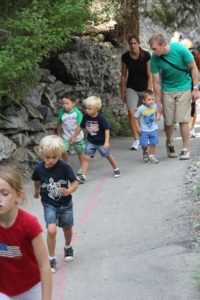 We were a busy stream of legs trundling up the mountain. You can see the grade of the trail in this photo. Adults played zone defense (and an occasional man to man) to keep small feet away from steep drop-offs. The kids did surprisingly well.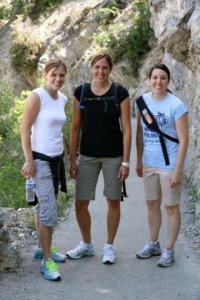 Meine schwestern. I heart these girlies.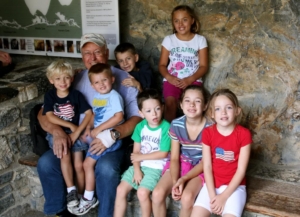 We gave my parents a head start. (They were worried they might be the last ones to the top.) But since the rest of us were rolling on kid-time, they beat us with a significant lead. It was fun for the kids to find them waiting for us.
Once everyone arrived, our tour guide took us in. To the cave. (Insert villainous laugh for effect.)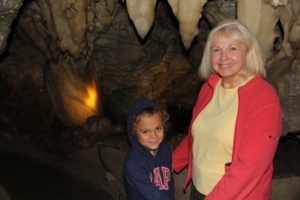 Ali and Grandma
I hadn't been in this cave since I was a little girl. It was phenomenal, beautiful. Its formations gnarly, stunning. And boy, was it dark inside! At one point the guide turned off all the interior lights. When I couldn't see my hand in front of my face I thought, I would go insane in darkness like this! It was so disorienting, paralyzing. Nowhere to look, nothing to focus on, no way to move safely. A spiritual lesson there, to be sure.
Do you remember your cave lingo? Stalactites hang tight to the ceiling. Stalagmites grow up from the bottom of the cave.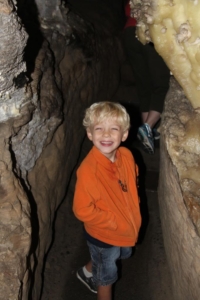 Gordy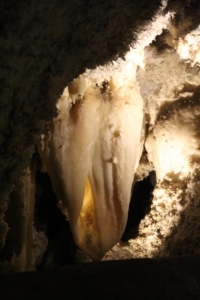 This gigantic stalactite is known as the Heart of Timpanogos. Our guide told us the legend. About an Indian princess, Utahna, who fell in love with an Indian Warrior, Red Eagle. Red Eagle was ambushed by other jealous warriors and knocked off the mountain, where he fell to his death. Utahna was so distraught by this news, she flung herself from the mountain. Sounds like Romeo and Juliet, no?
The god of the mountain, Timpanogos, then took mercy on the two lovers, carried their bleeding hearts into the cave and joined them together to form one great heart. The heart of Timpanogos.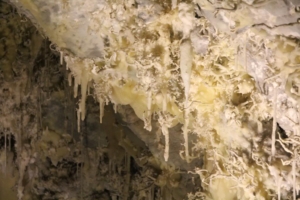 Helectites. That's what they call this stuff. My kids thought they looked like curly fries from Arby's.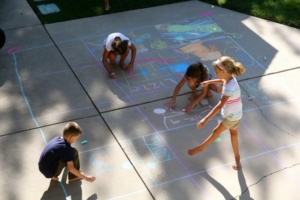 That afternoon we set up Exploration Stations for the kids in my parents' backyard.
Station 1: Chalk Art. Everyone decorated their own square to create our dance floor for the evening. A dance floor with original art!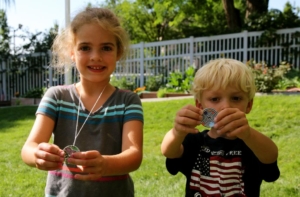 Station 2: Pioneer Yo-Yos.
Or necklaces, if you prefer.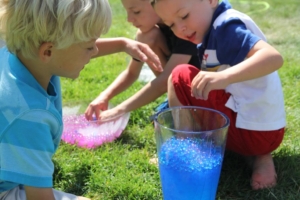 Station 3: Water Beads. Have you played with these cool, slippery gems?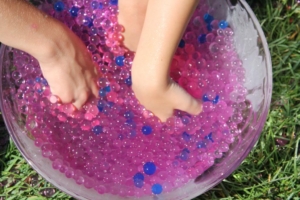 They are irresistable! We couldn't keep our hands out of them! Buy them at any craft store. They come in small packets with beads the size of a pinhead. Just add water and they grow to the size of a small marble. Take them out of water and they shrink right back. Loads of fun!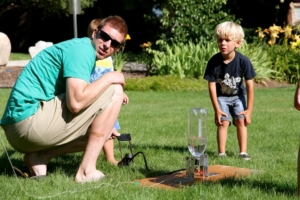 Station 4: Water Bottle Rocket. Courtesy of my brother Dave – the engineer – who couldn't make the reunion, but built the rocket a week earlier when he was in town. Lance skillfully manned this station.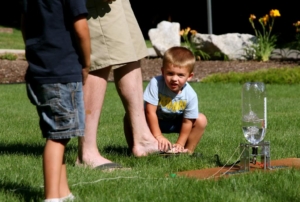 Just pump the half-filled water bottle full of air to pressurize the rocket. (Michael couldn't push the pump with his own foot, so he pushed Lance's.)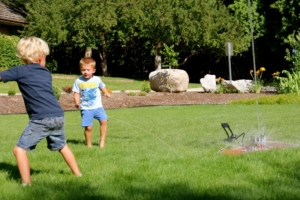 Then pull the string and watch her fly! 3-4 stories high! The little boys LOVED this.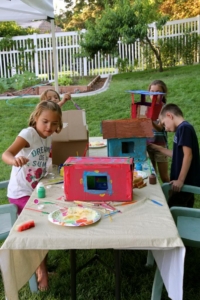 Station 5: Cardboard Box Crafts. This was Uncle Will's idea. He's a master piñata maker. He helped the kids make barns, birdhouses, and doll houses, which they then painted.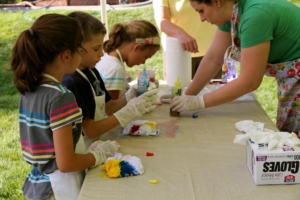 Station 6: Tie-Dye T-Shirts. This was easier than I thought it would be. I bought this kit which supplied us with everything we needed, except the shirts. My sister, Rachel, was the tie-dye queen!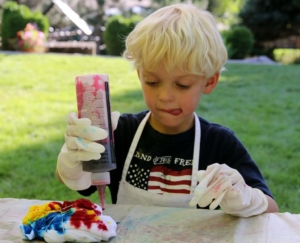 Love Gordy's concentration tongue.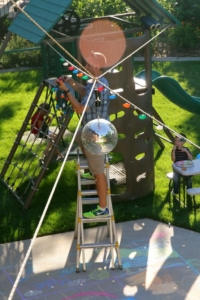 While we helped the kids through the stations, Doug began setting up the dance floor. Usually we have a family talent night, but Doug thought a Disco Dance Party might be a fun change. And it was!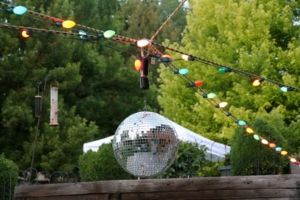 The disco ball? The Christmas lights? All his idea. He and Lance had to scale the roof, circle rope around the chimney and over to the swing set, then back again to the balcony to hang the disco ball. It required some serious engineering.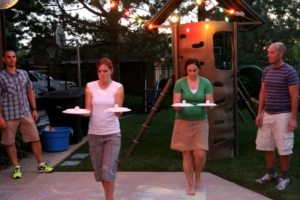 After dinner, we played a few games. Like hula-hooping, oreo-eating, and carrying the ping pong ball on a paper plate. Rachel, our resident waitress, put most of us to shame.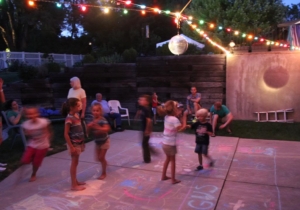 Then we broke out the tunes and the kids started dancing. Soon the adults joined in. We were groovin' pretty mildly, until this happened.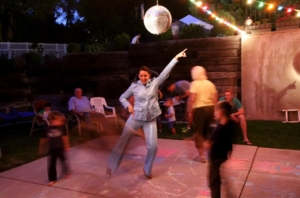 Sarah busted out of the downstairs sliding door in her blue polyester suit, strutting her John Travolta moves like nobody's business.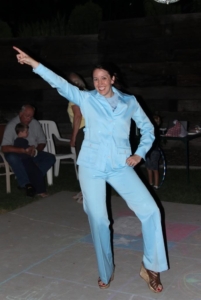 I could not stop laughing. No one knew she'd been planning to cameo in her tight, baby blue pants.
It was Sarah that got the real fun started. Everyone followed her lead and before we knew it, the whole family was gettin' down, inhibitions tossed to the wind.
There's nothing like family. Where else can you get your groove on, knowing no one will care one bit how you dance, what you look like, or how sweaty you get?
I have a couple videos for you. Here's Sarah in all her disco glory, my cute Mom mimicking her moves, and my Dad shakin' it with his famous twist.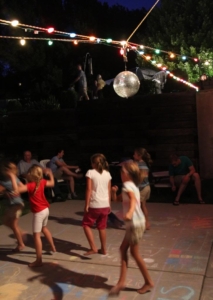 The kids didn't stop the whole night. And neither did the sistas.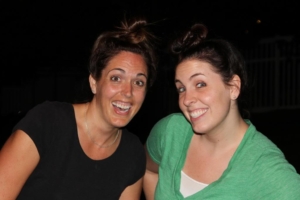 In fact, the later it got, the crazier we got. We pulled out the Electric Slide, the Roger Rabbit and Running Man. (Raise your hand if you know what I'm talking about.)
I haven't danced like this in such a long time. Haven't let go like this in… forever!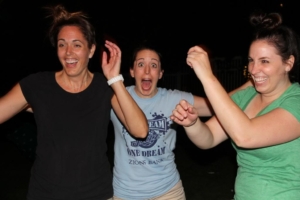 I was laughing so hard my sides hurt.
More moves. Mostly kiddos.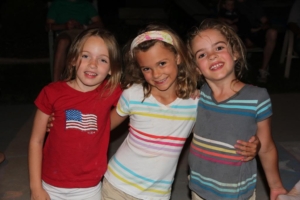 I love how "into their own world" the kids were. Dance like nobody's watching, right? And see how sweaty Sami is? That girl won the award for most continuous creative dance.
After 10:00 the kids slowed down but the sisters kept rockin'. I don't know what got into us.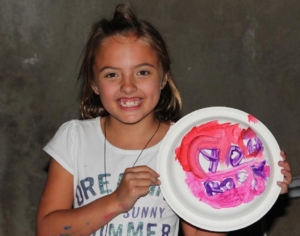 Eliza and Lizzie made these signs to cheer us on. Ha!
So we kept on jammin'. And jammin'. Until it was late enough I got worried the neighbors might call and ask us to turn off the music.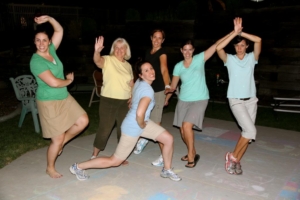 The next morning, I felt like I'd been hit by a train. We all did. My hips were sore and my head felt like a thick brick. We were one bleary-eyed, quiet group for breakfast. When I looked at my sister Deb, I said, "I feel hammered. And we don't even drink! Can you imagine if we did??"
That night goes down in Keddington history as one of the best. For sure.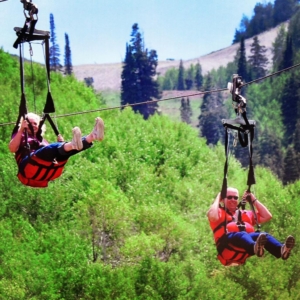 Day 2 was spent in Park City.
My parents did the zip line. (My Dad was afraid he wouldn't fit, but lookee there!) Such good sports.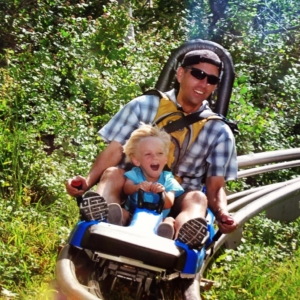 Doug and Spencer
The Alpine Coaster was a favorite. Hands-down.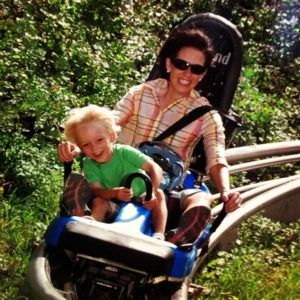 Gordon was my coaster buddy
Gordon laughed the entire way. We ate dinner in Park City, then came home for a movie and popcorn.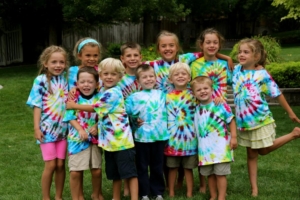 Day 3 we took family photos, had a family discussion, a family history lesson/teaching moment from my parents, and handed out silly awards.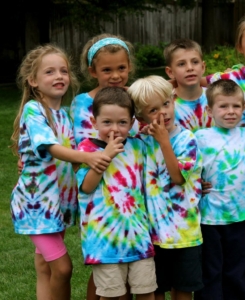 These two thought it was hilarious to stick their fingers up their nose. Boys!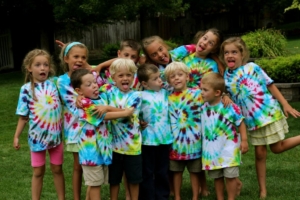 And we closed the reunion with some crazy outtakes.
I adore all these cousins. Love my family.
While I was totally pooped by the end of this madness, I knew we'd made some great memories. (Disco Night was at the top of the list!) I'm so glad my kids have this wonderful group of people they can call home.