How is it that these two are four? How is it that diapers and binkies have been replaced by spiderman underwear and big boy cups without a lid?
How is it that a mother loses herself in all this growing, so much that some days she forgets to breathe, to lay down the dishrag, the calendar, and haul her eyes up from the toys on the carpet to see what's really happening. See her babies becoming boys.
After switching off lights and brushing my own teeth I sneak into the boys' room, kneel by their beds and lay my cheek against theirs. It's my secret routine.
Gordon never wakes. Spencer stirs. But most of the time I rest there, my skin on theirs, and remember how we were.
A threesome, all folded into each other. Two tiny boys dependent on milk from their mama, their silken cheeks warm against my neck after a feeding.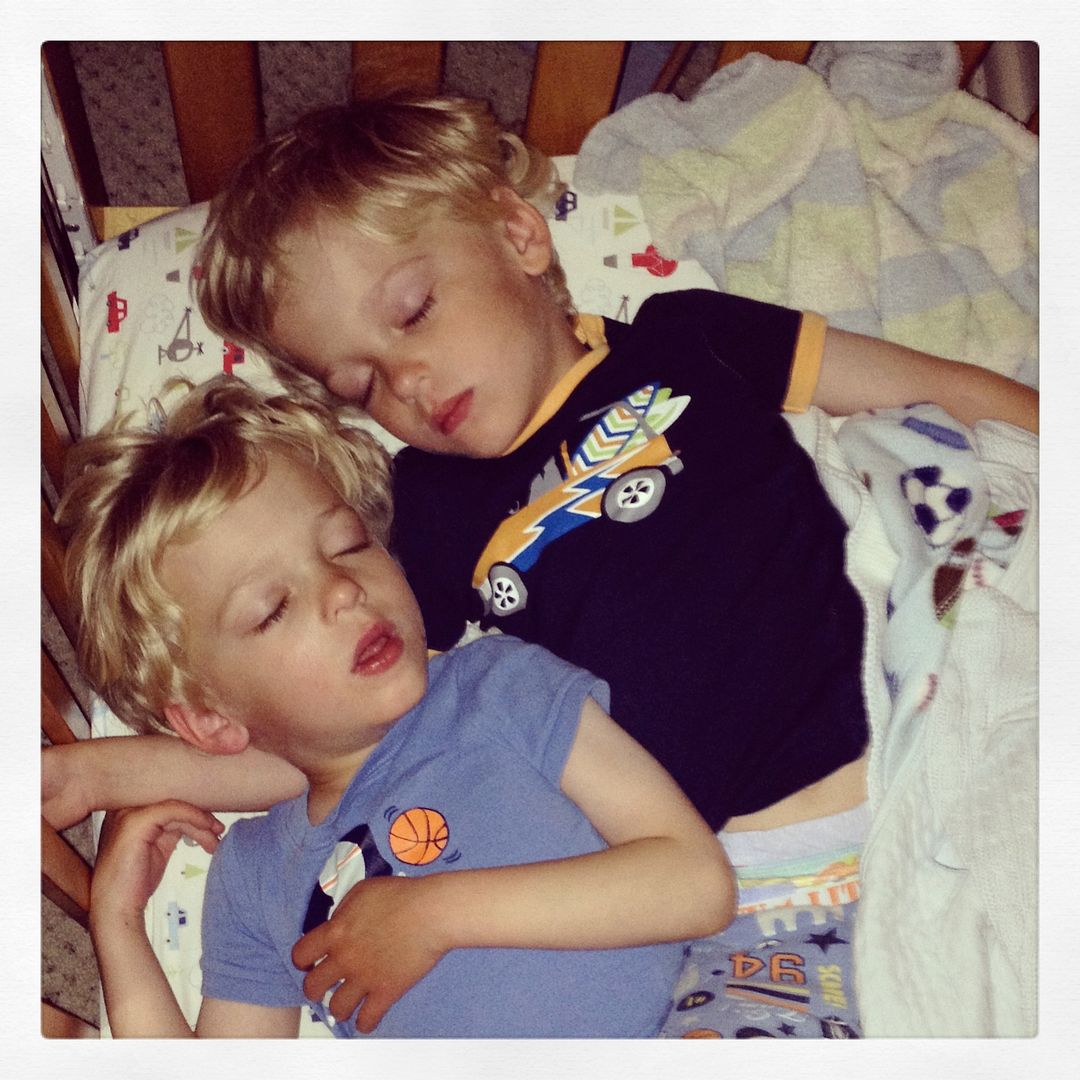 Gordon climbs into Spencer's bed almost every night
Those cheeks haven't changed. So I am holding onto their softness, stealing quiet moments with my boys before midnight. Moments when busy limbs finally stop flying and sleep stills their stretching bodies.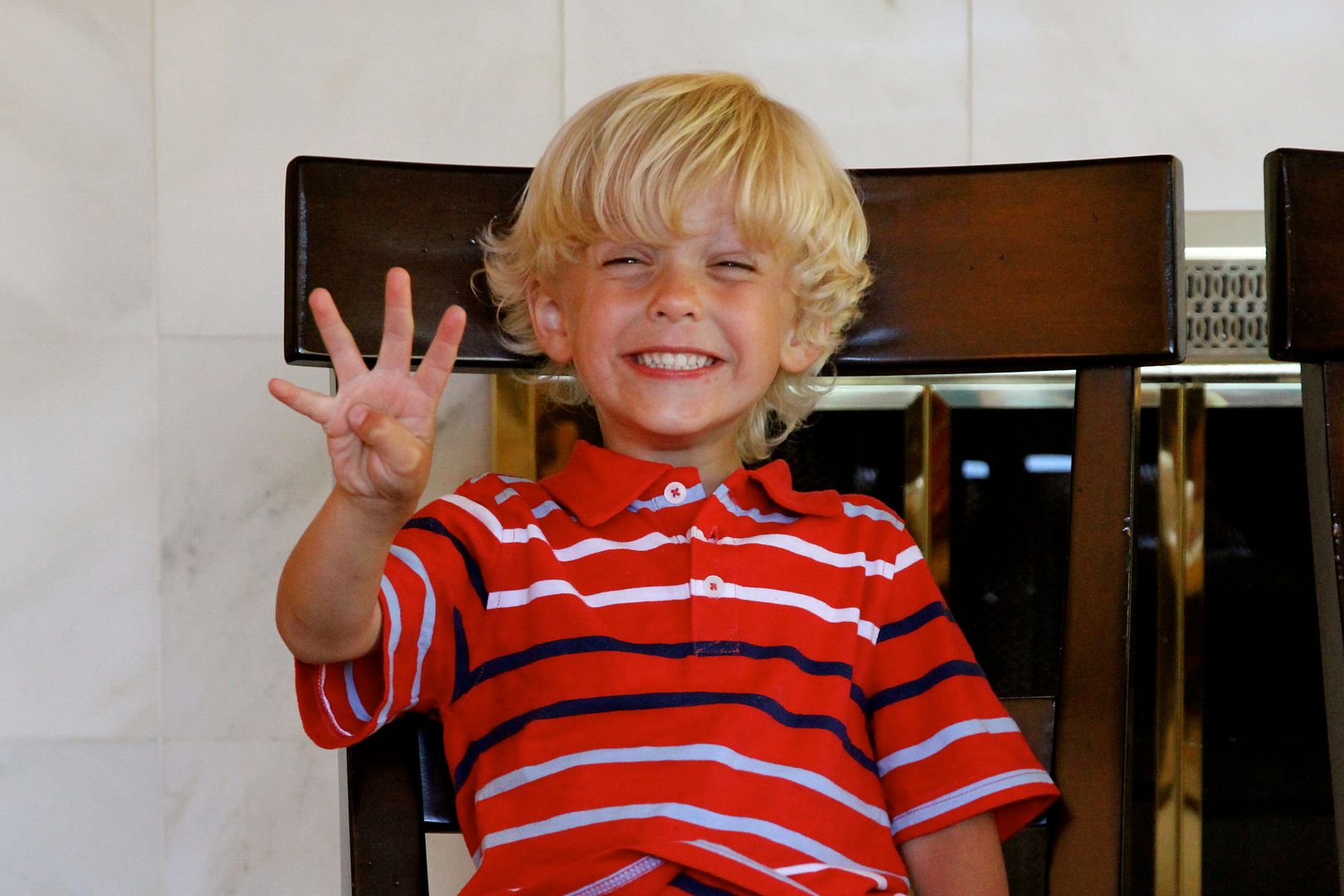 They were pretty jazzed about turning four. (I let their hair grow long. It's the Cali surfer look. But I like it.)
The girls decorated the dinner table for them with dinos and cards. "Sir Spencer... Happy Birthday!" said the Allosaurus.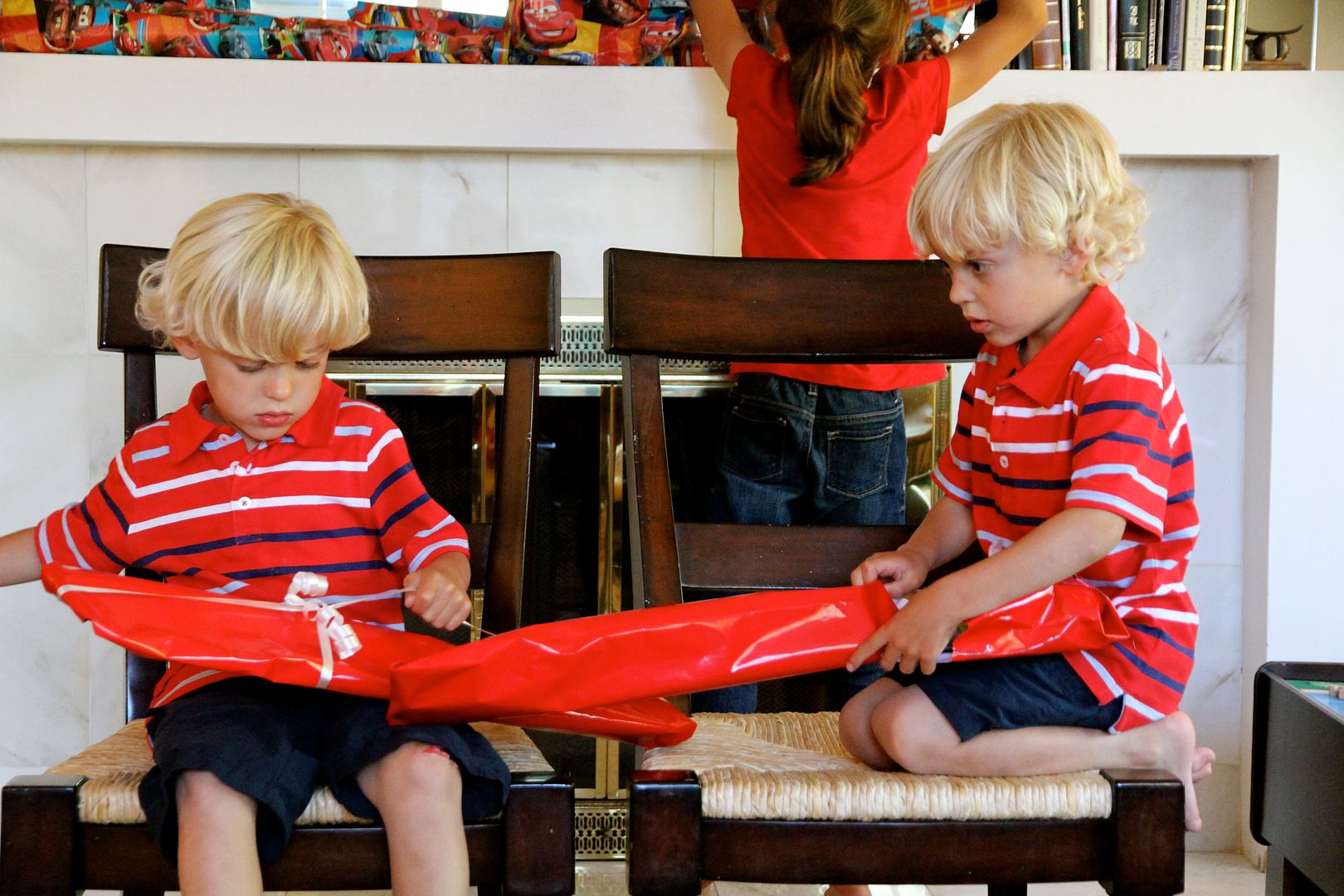 We bought them bats, balls, and gloves. Both are lefties (with Gordon dabbling in ambidexterity). Could prove to be a lethal baseball duo.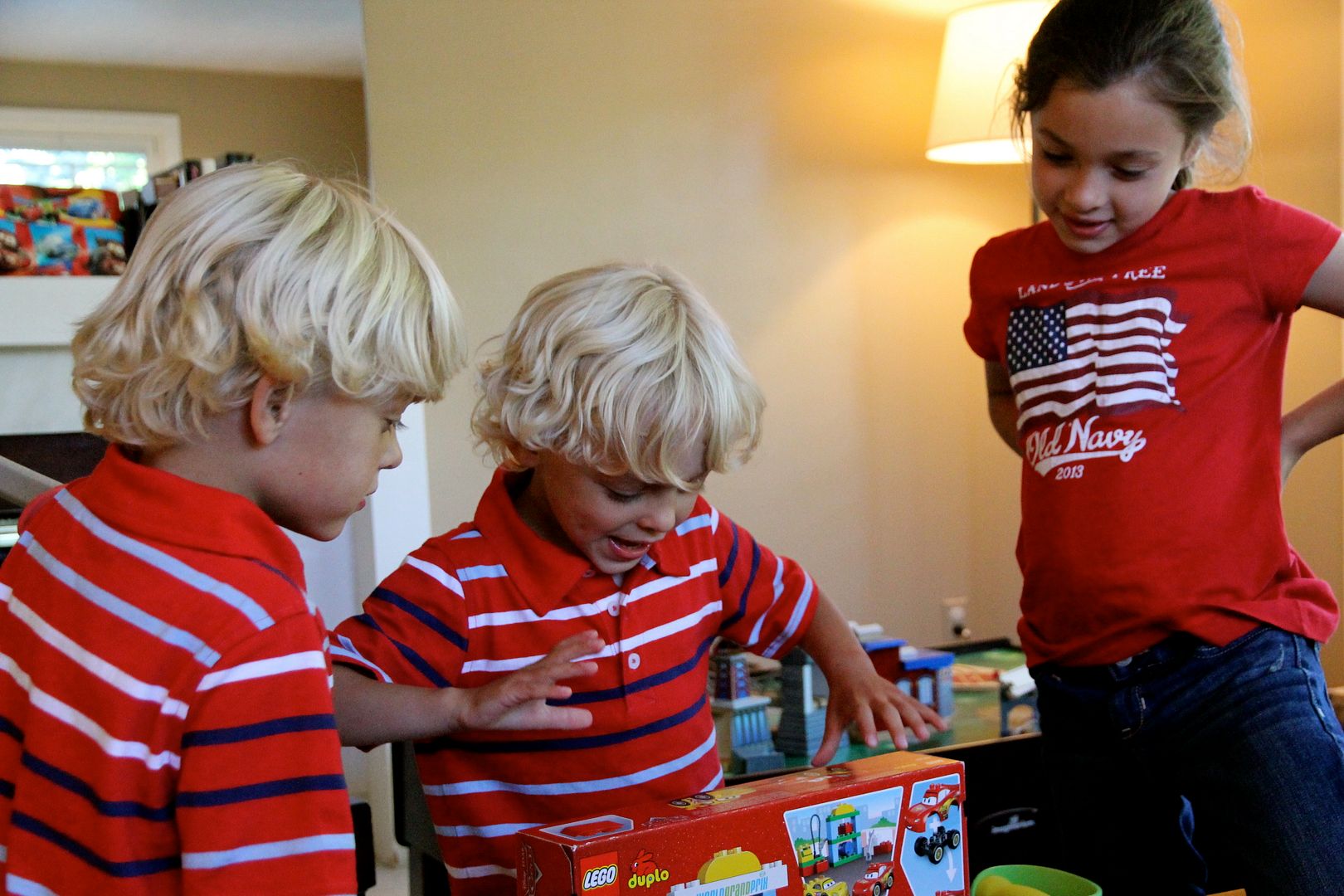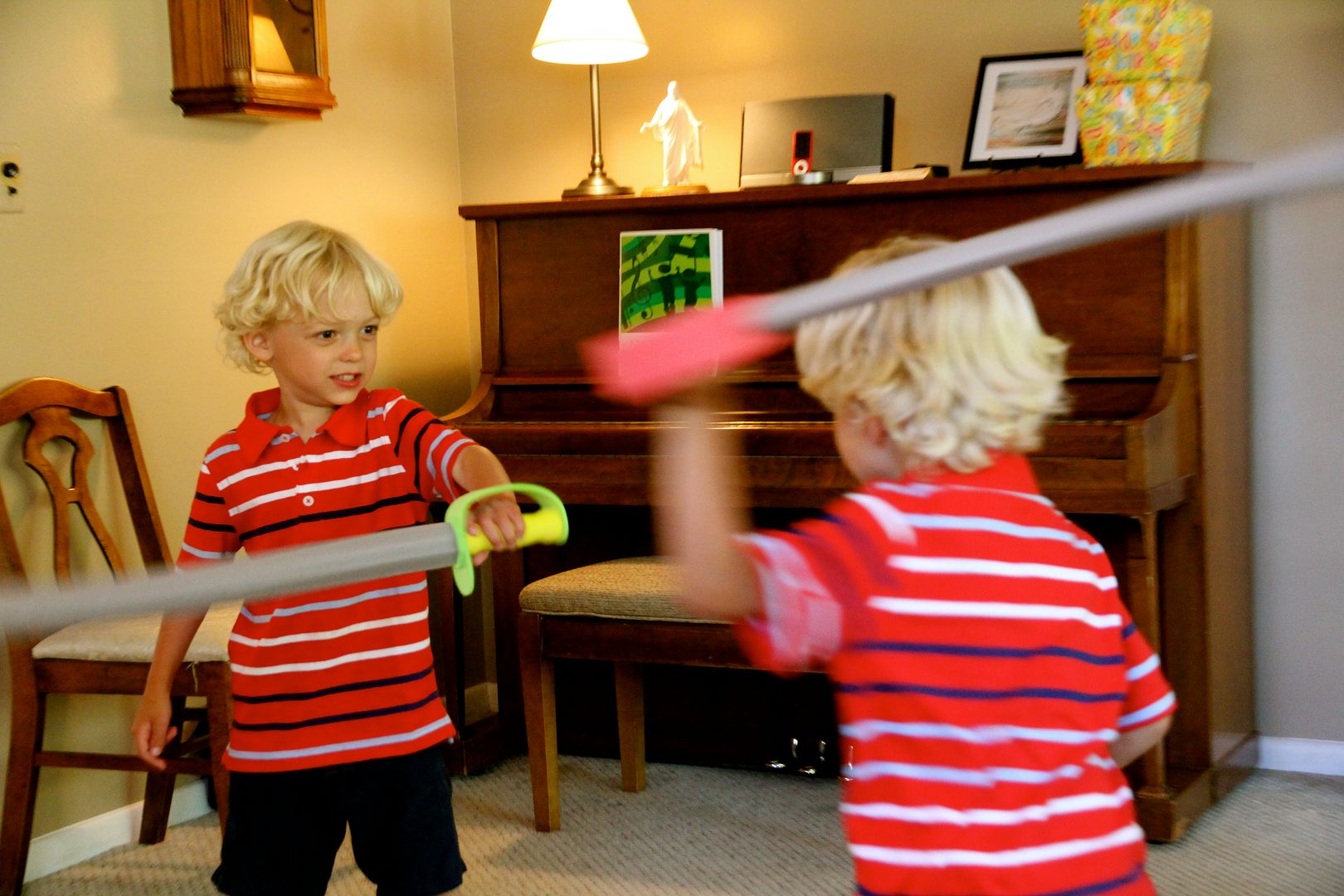 Foam swords were exciting but lasted less than a day before I had to pitch them into the trash. Note to self: buy boys sturdy fighting weapons.
And the smash hit of all birthday presents? The Home Depot tool kit from Grandma and Grandpa! (Did you know Toys R Us now has a Home Depot aisle?)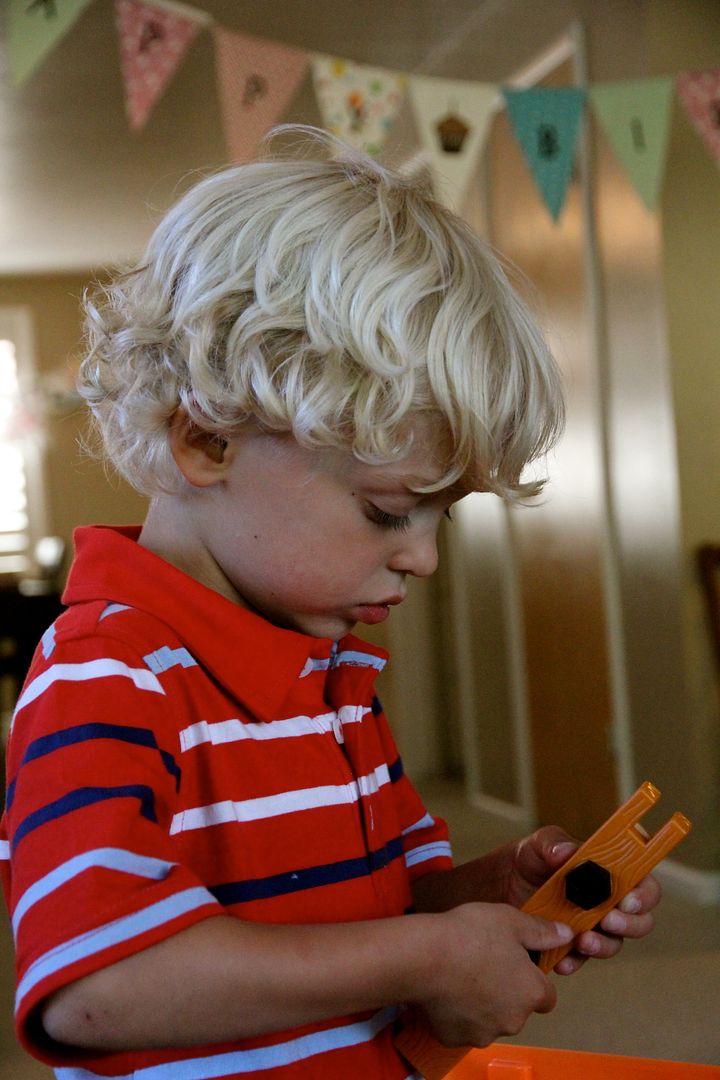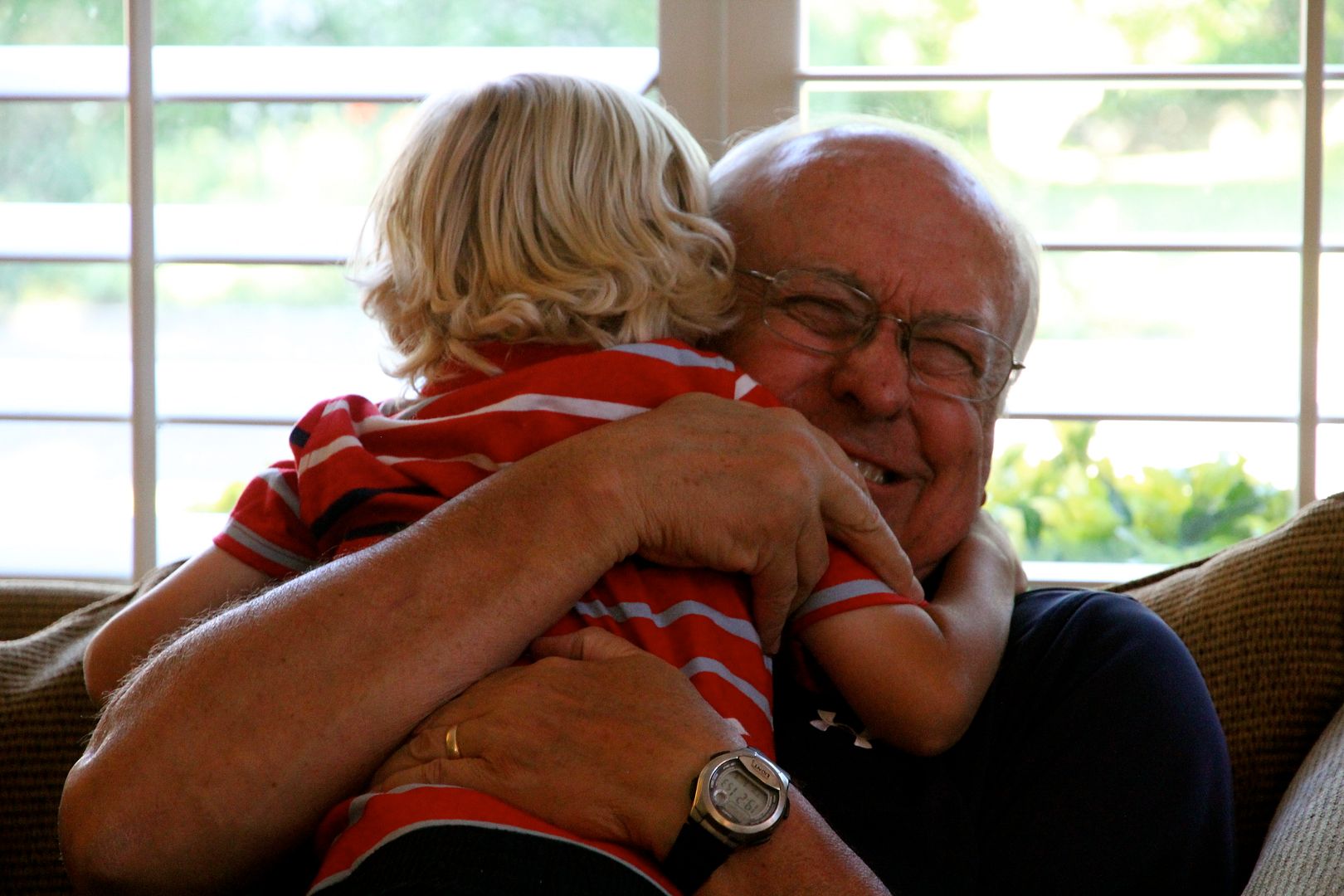 "Thank you Poppa Bob!"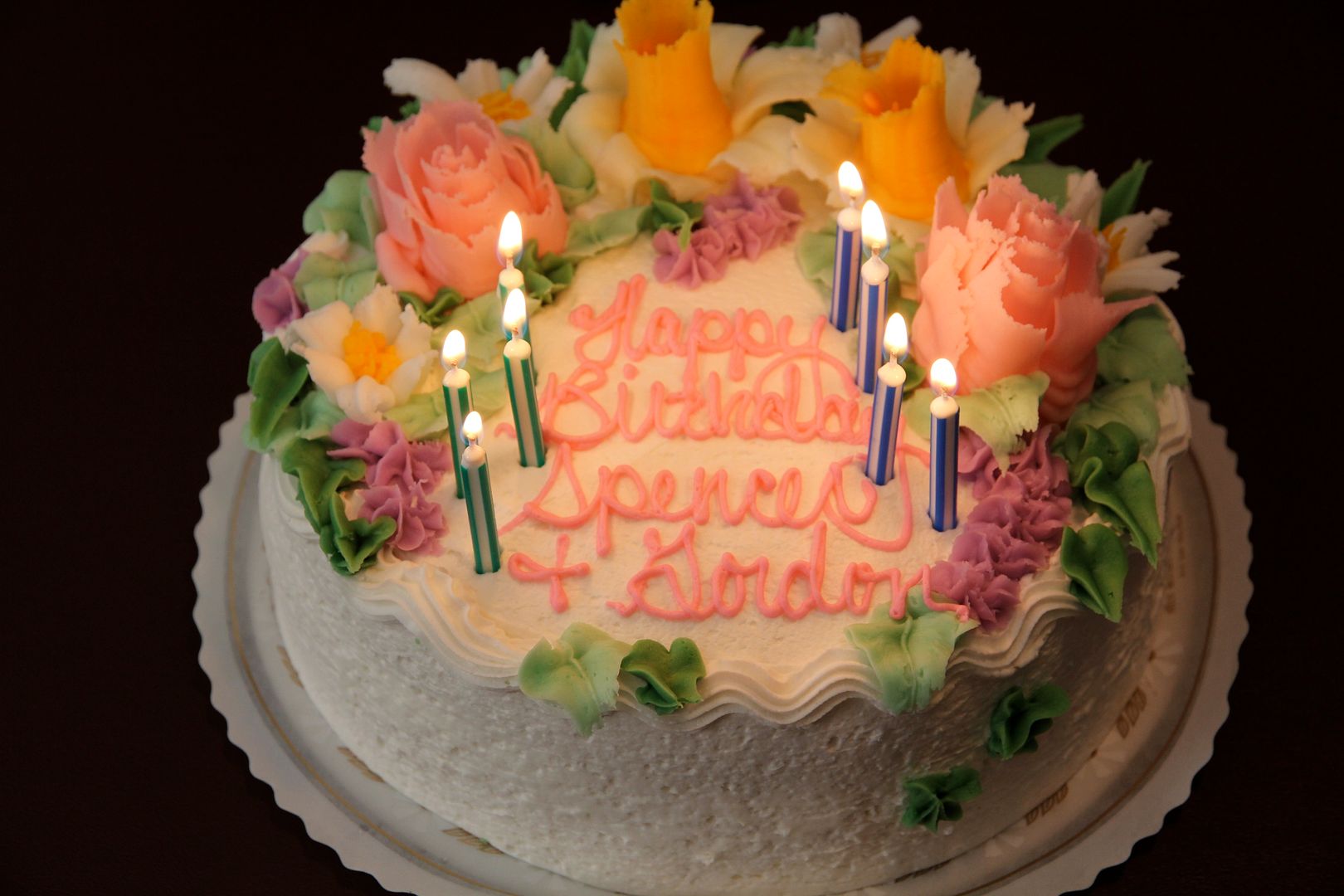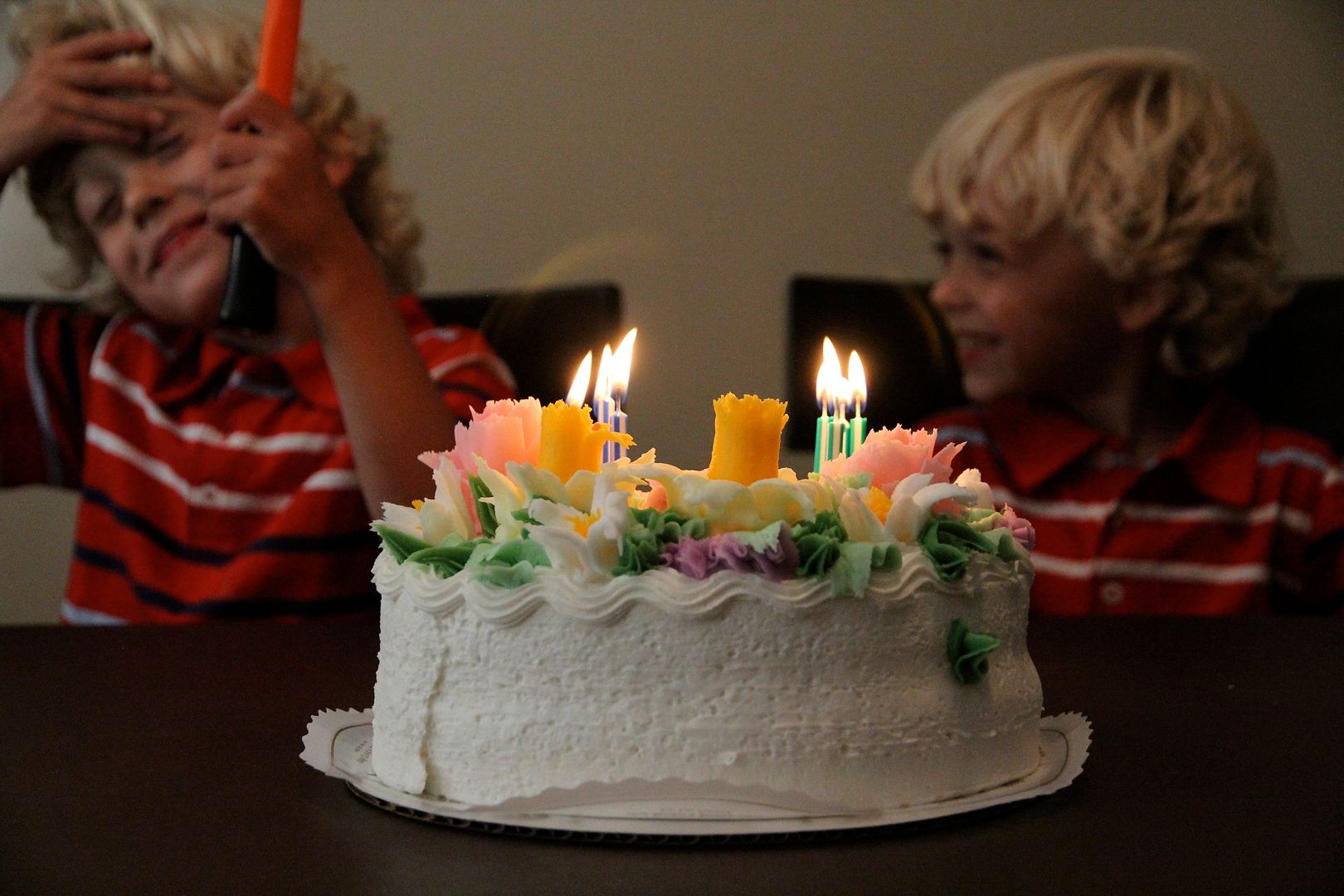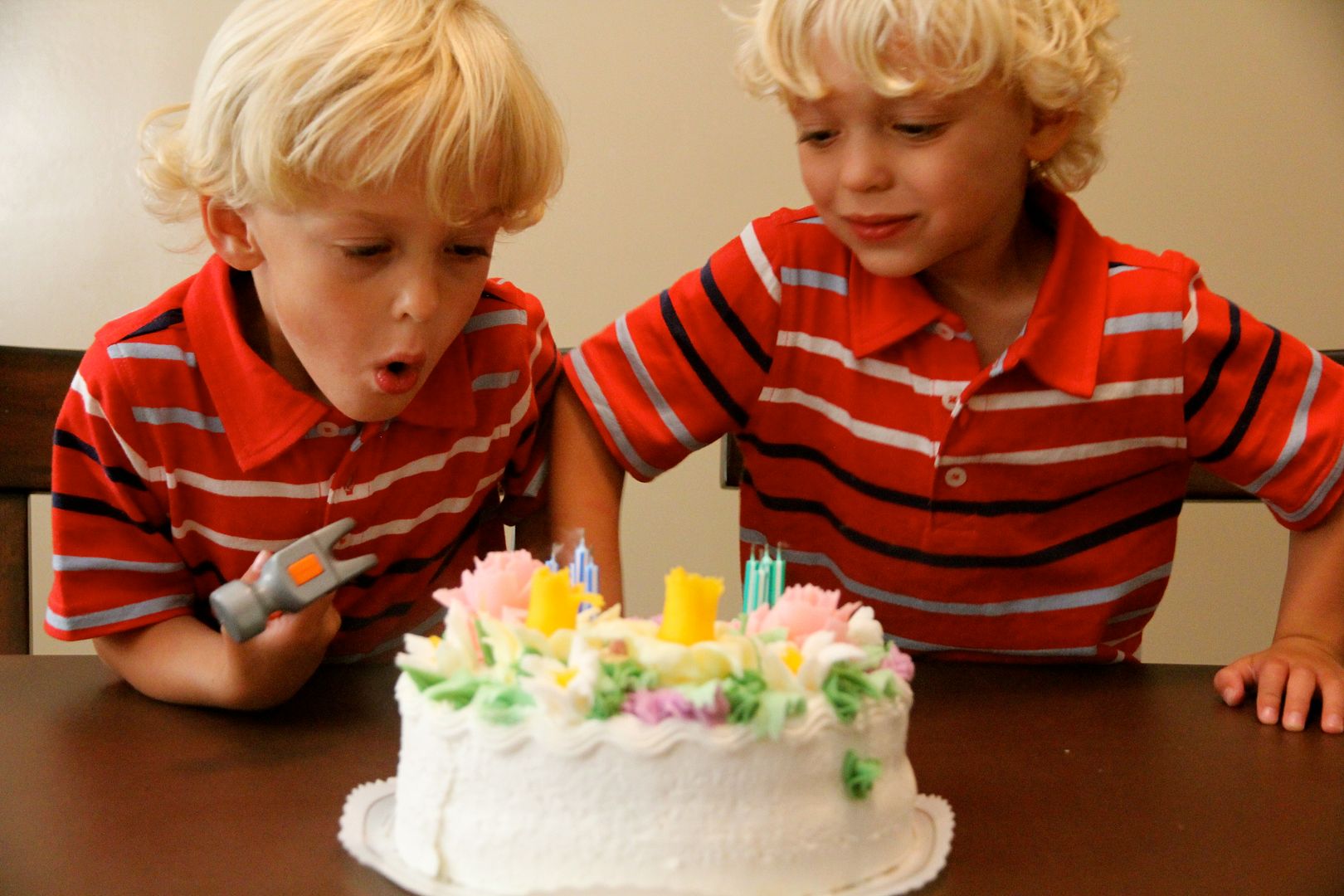 And out went the candles. With hammer in hand.
Four candles each. In their favorite colors.
One day I saw Spence outside, the football tucked intuitively under his arm. Neither Doug nor I had taught him.
Always together. An inseparable pair. They are quick to defend each other, grab a piece of licorice for their brother before themselves, or voice concern if it appears I am going to leave one of them behind.
How would it be to have someone like that on your side?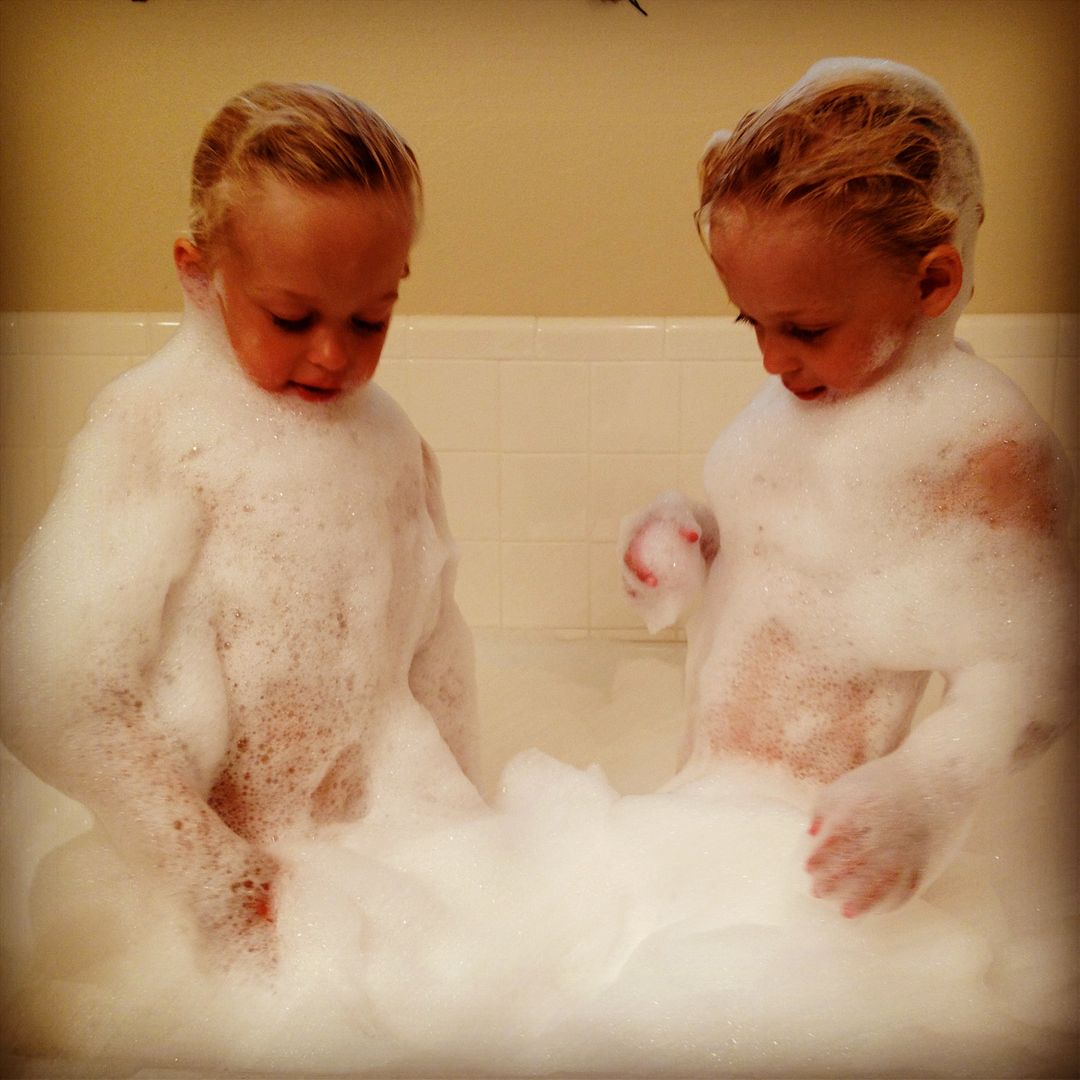 Abominable bubble men.
Skinny legs and tan lines
In addition to graduating from diapers and dressing themselves (who knew boys would have an opinion about what they wear?), they've learned how to pump...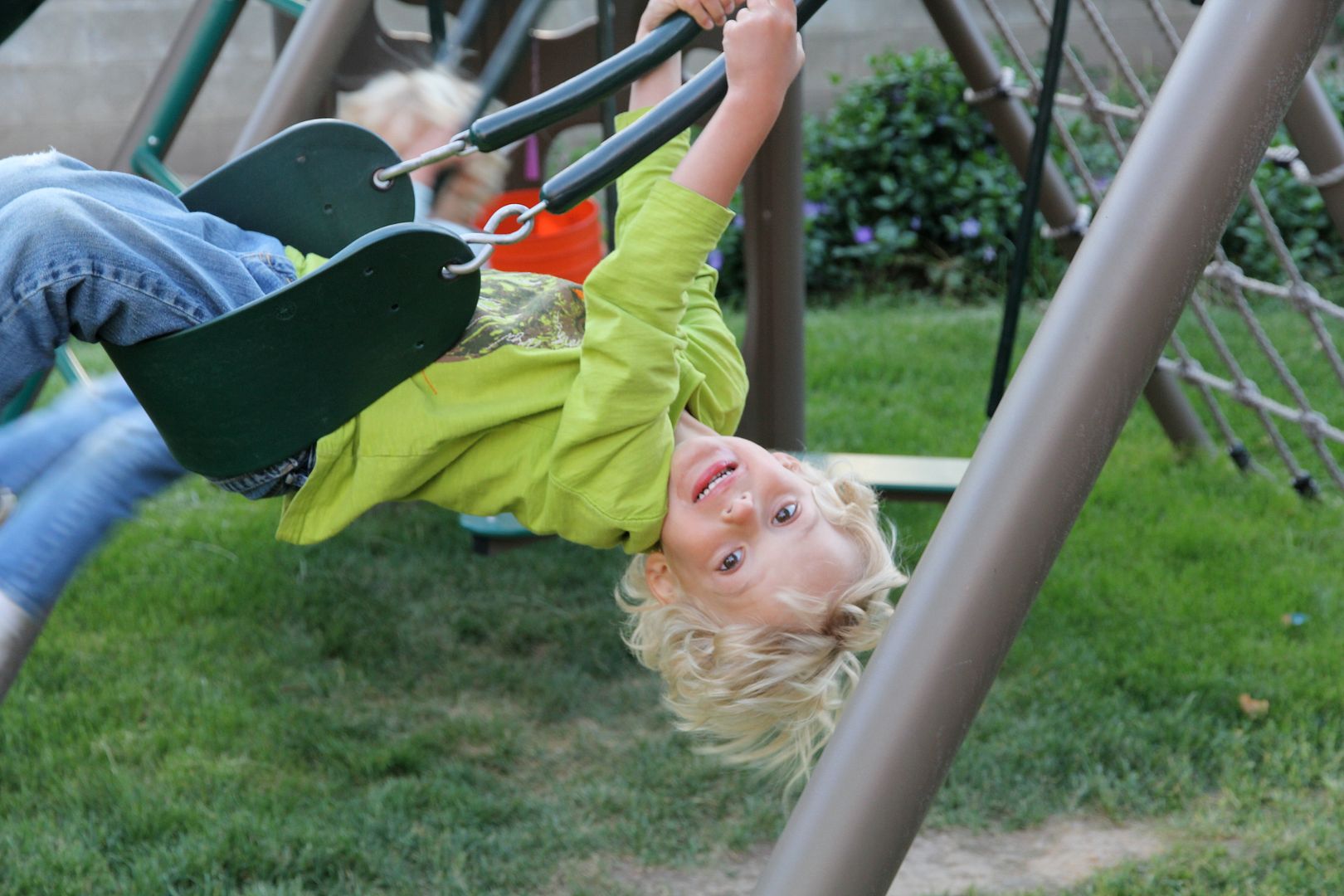 Often I look out the kitchen window and find them on the swing set, pumping slowly at first, then generating speed as they work their small bodies back and forth, all the while chatting happily to each other. It makes me smile to see them out there doing something so grown-up, so independent.
If you don't get seasick with them sailing in and out of the frame, you might enjoy their conversation.
Spencer (on the left - giving the choke hug) has the most contagious laugh. Once he starts to giggle he can't stop. He makes us laugh every day, can groove to a beat, and chooses Batman over Superman every time.
Gordon is still my snuggler. When I pick him up, he circles his legs around my waist and squeezes tight.
Best leg-hugger I've ever known. Gordy always chooses Superman and is pressing Mom hard for light sabers that glow in the dark and make clashing sounds.
These boys are super adventurous together (more on this in my next Twinspin). As a team, they know no bounds. I've spent a considerable amount of time this summer, rounding them up from more desirable backyards in the neighborhood (usually those with dogs).
But every night I express gratitude that they came to our family. Together.
Four's gonna be a big year. I can feel it.