Kinda startling when a friend texts you to say, "Hey! We just read your article in the Deseret News!" And you think to yourself, "Yikes! Which article? And what was it about?"
I had no idea our local paper had published an excerpt from the chapter I contributed to Deliberate Motherhood. You can read the entire article

here

. But it was great PR for the book. And they put in a nice plug for our Book Signing event at The King's English. Which (HEADS UP!) has been rescheduled from October 24th to November 7th.
So, if you had plans to join us, please note the change on your calendar. Book Signing:
THURSDAY, NOVEMBER 7th @ 7PM.
The King's English Bookstore. 1511 S. 1500 E. Salt Lake City.
This week I am giving away an Audio version of Deliberate Motherhood. For those of you who'd rather listen to the book while driving, folding laundry, or washing dishes... Isn't there a nice sense of satisfaction when you can multi-task like that?
Just leave a comment on this post and I'll do a draw at the end of the week.
Autumn here is going quickly. The leaves at higher altitudes are mostly down, and yet along our street, the honey locusts are turning a bright yellow and the big walnut next door is rattling. My guess is that tomorrow it will lose its leaves. They come down, most of them, all in one day. We can hear them. Clattering to the concrete, large and thick, like corn flakes into a ceramic bowl.
More about our Fall Break soon, but here are a few pics.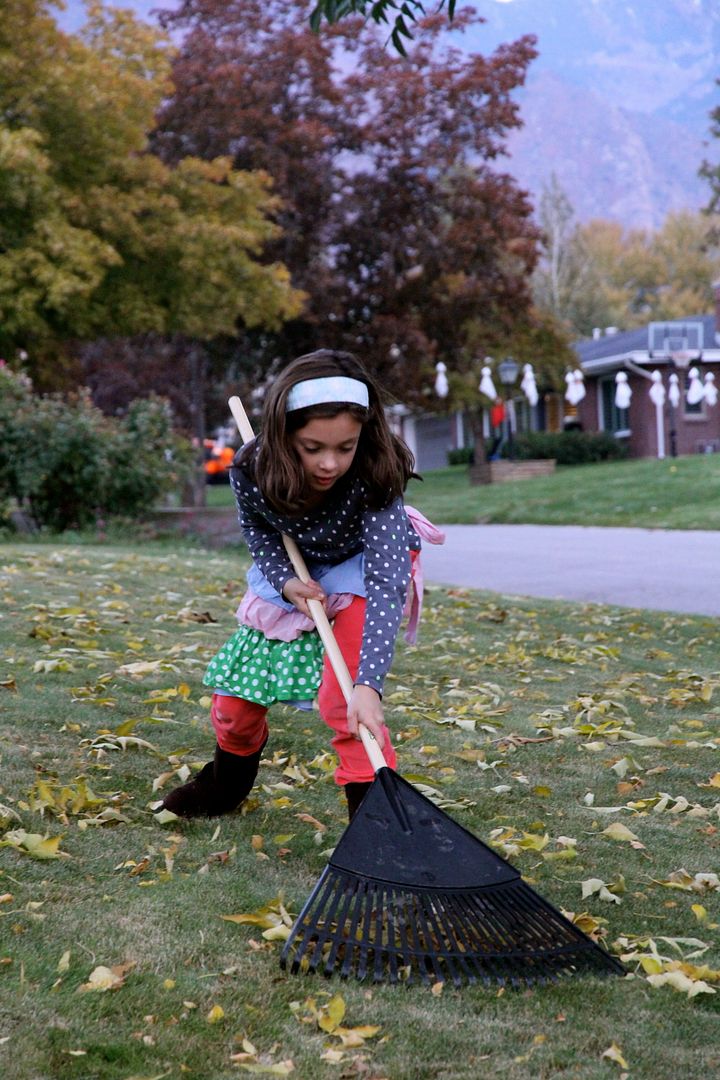 One evening the kids headed across the street to rake leaves for our elderly neighbor, Bette. Their own idea. Because really, it's fun to rake leaves and jump in them, and roll, and rake some more.
They stayed outside until the moon rose over the snow-dusted mountain. A large harvest moon. Round and luminous behind a wisp of gray cloud.
I can't get enough of these days. Just warm enough to live most hours outside.
I had to bribe the boys tonight to come in for dinner. While trying to talk them out of their favorite bouncy place, I took to laughing. Their hair was going crazy.
We decided to call this one Trampoline Mohawk. Cute Spencer. He's electric.
And for more laughs...
I tend to voice text a fair amount in the car, including punctuation. Example: "Darci (comma) Sorry I missed you (period) I'll phone you when I'm home (period) Thanks for your help (period)" So last week, while engaged in such an endeavor, Spencer piped up: "Mom? Is Period your friend?" I laughed out. loud.
A few days ago Gordon asked me, "Mom? Will you text Santa and tell him I want that elephant with the soft blue ears?" Text. Santa. But of course! Only logical, right?
And from Eliza today... out of the blue: "Mom! Did you know the earth is warming and pandas are dying!!?" Me: silence... then audible laughter... then more audible laughter. Not sure why this environmentally loaded conversation-starter struck me as totally hilarious. Because I really do care about the environment. But... wow. So I finally said, "Yes... yes... I did know that." And we sat down for dinner.
Laughter really is good medicine.
Wishing you a happy week,