The tree is finally lit. Never mind that we can't run the vacuum cleaner, the dishwasher, or turn on the bathroom light when tree and outside lights are blazing. One whole side of the house goes black if we do. Fuse officially blown.Ah… ye old wiring. In ye old house. The charm!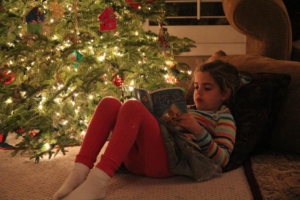 So we are careful to keep one lamp unplugged after dark. And the kids know, before they brush teeth or take a bath, they have to douse the outside lights.
I had to flip the breaker three times last night as we adapted to this new surge on the house. Ali had to bathe in the pitch dark for about five minutes.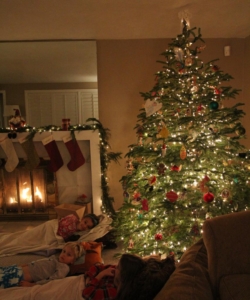 But it's worth it.
For this.
Five kiddos waiting by the tree for stories.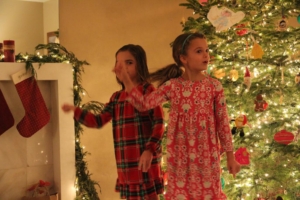 Ali and Sami singing their school songs. With actions. "You better watch out…"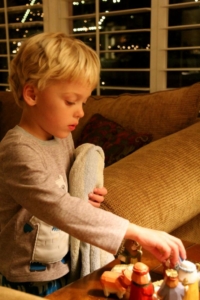 Spencer organizing the children's nativity.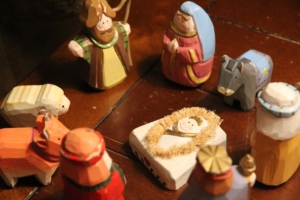 And miracle of miracles, baby Jesus hasn't gone missing yet. We have a spotless track record. Every season at least one baby Jesus is lost… and eventually found.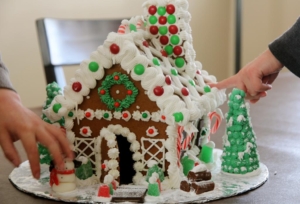 Kristie's gingerbread house, which we plan to eat the week of Christmas, is on the dining room table. Little fingers still end up snitching, despite reminders that her masterpiece isn't quite up for dibs. Not yet.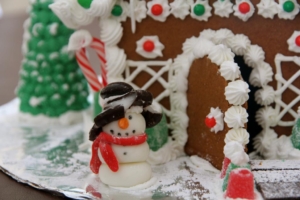 Poor snowman looks more like Paddington Bear after Gordon visited him.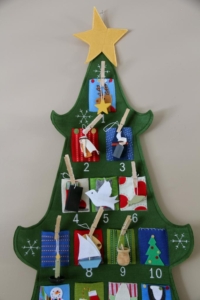 We're doing our daily Advent readings I put together a few years ago. Verses of scripture that tell of the Savior's birth in both the old and new world.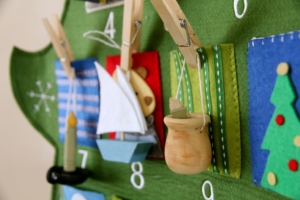 But this year we're trying something a little different. Something my sister shared with us. We're supplementing with stories from Jesus' life, compiled by the 25 Days of Christ website. A site that offers a kit of ornaments – a symbol a day that represents Jesus. You don't have to buy the kit to do the readings. Just click on "The 25 Days" and read along. Or link to short video clips from the Savior's life.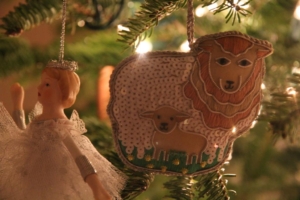 We hung our New Zealand ornaments on the tree. Symbols for two of my favorite things there. The sheep.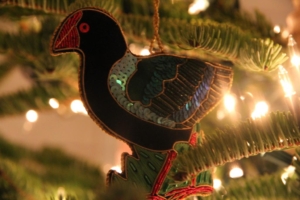 And the birds. (My NZ posts will have to wait until after Christmas. Too many landscape photos to sort through and I don't want to miss the crazy joy of right now.)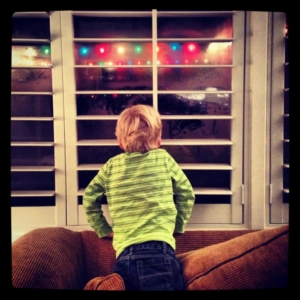 Last weekend we had our annual Arveseth cousins party. Snow started falling – thick flakes, soft and steady. I caught Gordon looking out the window mid-chaos, to watch. Isn't snow magical?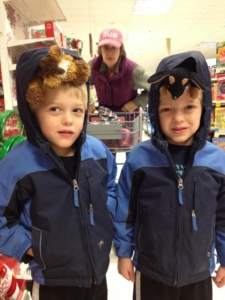 The next Monday, while trying to light the tree, we had to make two trips to the store for extra lights. On our second trip I told the boys they couldn't take their animals in, but when I opened the door to let them out of the car I saw a small puppy paw sticking out of Gordon's hood.
"Is that Hawkeye in your hood?" I asked.
"Yes, it is," he said. "And I'm gonna take him inside like this!"
Spencer quickly jumped on board.
We walked through the grocery aisles, the two of them laughing so hard every time they looked at each other, that I started laughing. Harder than I have in weeks! So I got out the camera to record the moment and started videoing the two of them when Spencer accidentally knocked a reindeer mug right off the shelf and it smashed into tiny pieces all over the floor. (I have video of this but can't get it downloaded to my desktop for some reason. It's pretty funny and I'd love to show you.)
The mug was $16.99. Rip. Off! (And you gotta love this lady barreling down the aisle behind us. I jumped up because I was afraid she might not stop.)
The next day my sister in law posted a photo of the infamous reindeer mugs, priced at 40% off.
Of course.
As a friend of mine said, Christmas is not for the faint of heart.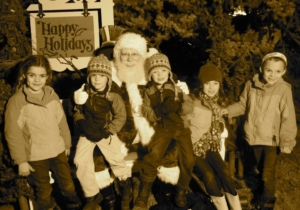 We visited Santa at the neighborhood Pine Tree party. He was so sweet with the kids.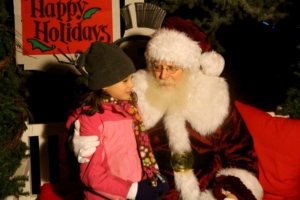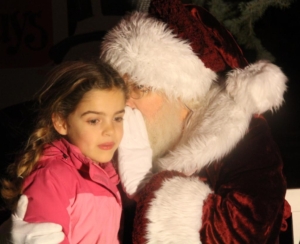 He had a secret for each of them. Which they haven't disclosed.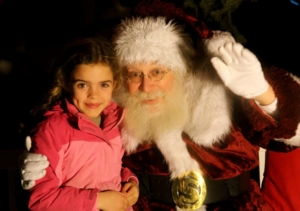 And he was so great at waving right into my camera.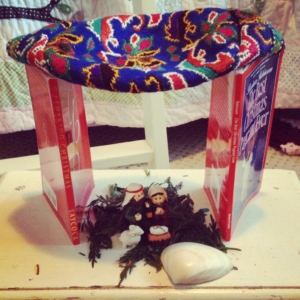 One morning I found this créche in Sami's bedroom. A stable made of Christmas books and a hat I bought in Jerusalem. Shelter for a sea shell, pine trimmings, and the holy family. Made me stop, kneel down, and think the words, "For… unto us… the Son was given."
I'm trying not to scrooge through the kitchen while finishing homework at 9:30 PM, trying not to lose it when the girls can't wake up in the morning and we're on for carpool, trying not to care that food keeps getting trekked all over the house, and at night the girls are so silly they can't focus on their spelling words.
One minute I feel like Scrooge, the next I'm looking at my brother's christmas card – seeing the words "For unto us a Savior was born," and I'm biting my lip as a lump swells in my throat. Sometimes a simple truth like that jets right into your heart, stirs it, leaves you remembering the reason for all the glitter and gold.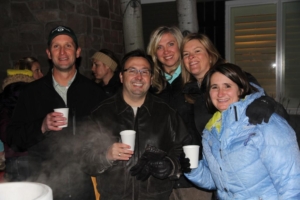 We held our third annual Pine Tree Neighborhood giving night, where we collect donations for the Utah Food Bank in lieu of neighborhood gifts. Last year we collected enough funds to feed four families of four for one year. Did you know 17% of Utah's population doesn't know where their next meal is coming from? Every November, I think how glad I am we started this tradition. It simplifies the season, allows us to combine resources and give to those with real need.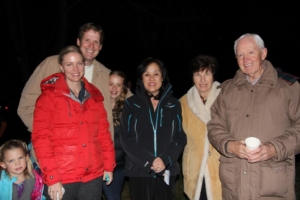 I love all these good people.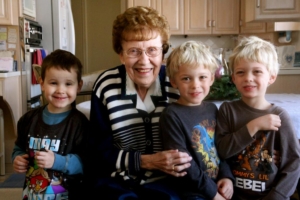 Then on Tuesday, for Joy School, we sang to a couple widows in our neighborhood. This is Ella Rae. Oh, how we adore her. Everyone does. She's been organizing meals for sick families and new move-ins for eleven years now. She knows everyone's name and is one of the first to greet every new family.
The boys sang Jingle Bells for her. And Merry Christmas. She told them about some of her traditions and gave them each three quarters to give to charity.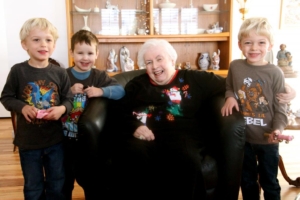 Then we sang for Barbara, who rides her electric wheelchair to church (she's the envy of every little boy), and plays the organ beautifully.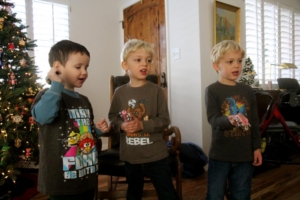 The boys sang for her.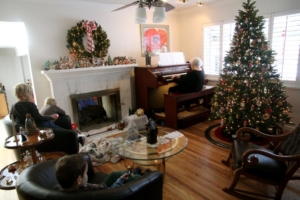 Then she played for them.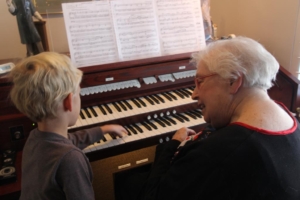 She even let the boys try out the chimes on her organ. It was like ringing all kinds of tiny bells.
This is one reason I love Joy School. It's not just about making the child feel confident and special. It's about helping the child look outward and recognize others. It helps them learn how to communicate with and care about others. And in that they find their greatest self-worth.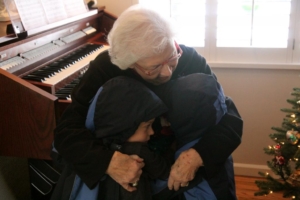 So it was that day – the day we visited Ella Rae and Barbara – that all of a sudden it felt like Christmas. Not because of the tree, or the lights, or Santa. All of which I love. But because in one small way, we were trying to be like Jesus. Do his works, love his children.
It's personal ministering that changes us from the inside, pulls us into the light.
Though Christ a thousand times
In Bethlehem be born
If he is not born in thee
Thy soul is still forlorn
 – Johanne Scheffler, 17th century mysticSo this is Christmas.
And although I still have shopping to do, a list of activities we probably won't get to, and occasionally the uglies come out, I do want Christ to be born in me. I do.
And the winner of Global Mom is Janene! Hello old friend. Please email me with your mailing address (cath.wildnprecious@gmail.com) and I'll get Melissa's book to you! Merry Christmas! xo