Shhhhh.... I'm about to let you in on a secret. And I'm serious when I say, if you like holiday treats, this popcorn will rock your world. (I don't say rock your world very often.)
I started making Kay's popcorn four years ago, but I've been eating it all my life. And I can't share the recipe without sharing her story.
Kay Coles lived just a few houses down from us on Valley View, where I grew up. She was the loveliest lady. A grandma with grandchildren back east and a heart that could hold the world. At least everyone she met in it.
We fondly called Kay, "Candy Coles" because every time we rang her doorbell she'd welcome us into her living room for colored sour balls. Or if it was just me and my sister Deb, she'd take us into the kitchen for milk and chocolate cake, followed by a trip downstairs to her toy room to play with her baby dolls and the beautiful cradles her husband Bob made in his wood shop.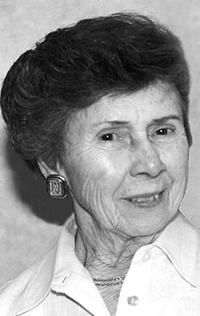 I remember each time my Mom had a baby, Kay would bring us a gorgeous homemade apple pie, with a thick piped crust, perfectly golden brown, unlike anything I'd ever seen. She was an extraordinary baker.
And every Christmas she'd walk up the hill to bring us her baked caramel popcorn. She would hand us a ziplock bag with a red bow, packed tight with popcorn, and we'd inhale it in a matter of minutes. Down to the crumbles.
You see, Kay's caramel popcorn isn't sticky and gooey like most popcorns. It doesn't cement your teeth together. It melts in your mouth. You have to eat it to believe it. And once you start munching, you can't stop.
So we asked for her recipe. Again and again. But she never divulged.
"I can't give you the recipe," she'd say. "But I'll make you another batch." And she would.
The year I moved back to Utah, Kay passed away. Her grandchildren lived near us in Virginia and during one of her last visits there, she and Bob stopped by to meet our new baby girls.
I am so grateful for this memory with them. Eliza was almost two.
At the funeral, Kay's son mentioned that many people over the years had asked for Kay's popcorn recipe. My sisters and I shared a knowing smile. Then, to our surprise, he announced that he had made copies for those who wanted it after the services.
That Christmas I made bags and bags of popcorn for all our new neighbors. On each bag, I tied a tag that read, "Made at Christmastime in memory of our friend, Kay." I told everyone about Kay. Funny enough, the food editor for the Tribune lived in our neighborhood and she loved it so much she asked if Kay's recipe and story could run in the local paper. I asked Bob for permission and he said yes.
Kay's popcorn is wonderful for parties, movies, gifts, or to devour right off the pan. Don't be embarrassed if you find yourself greedily scooping up
the last of the crumbs off the pan and eating them right out of your hand. We do. Every time.
So here's what you need: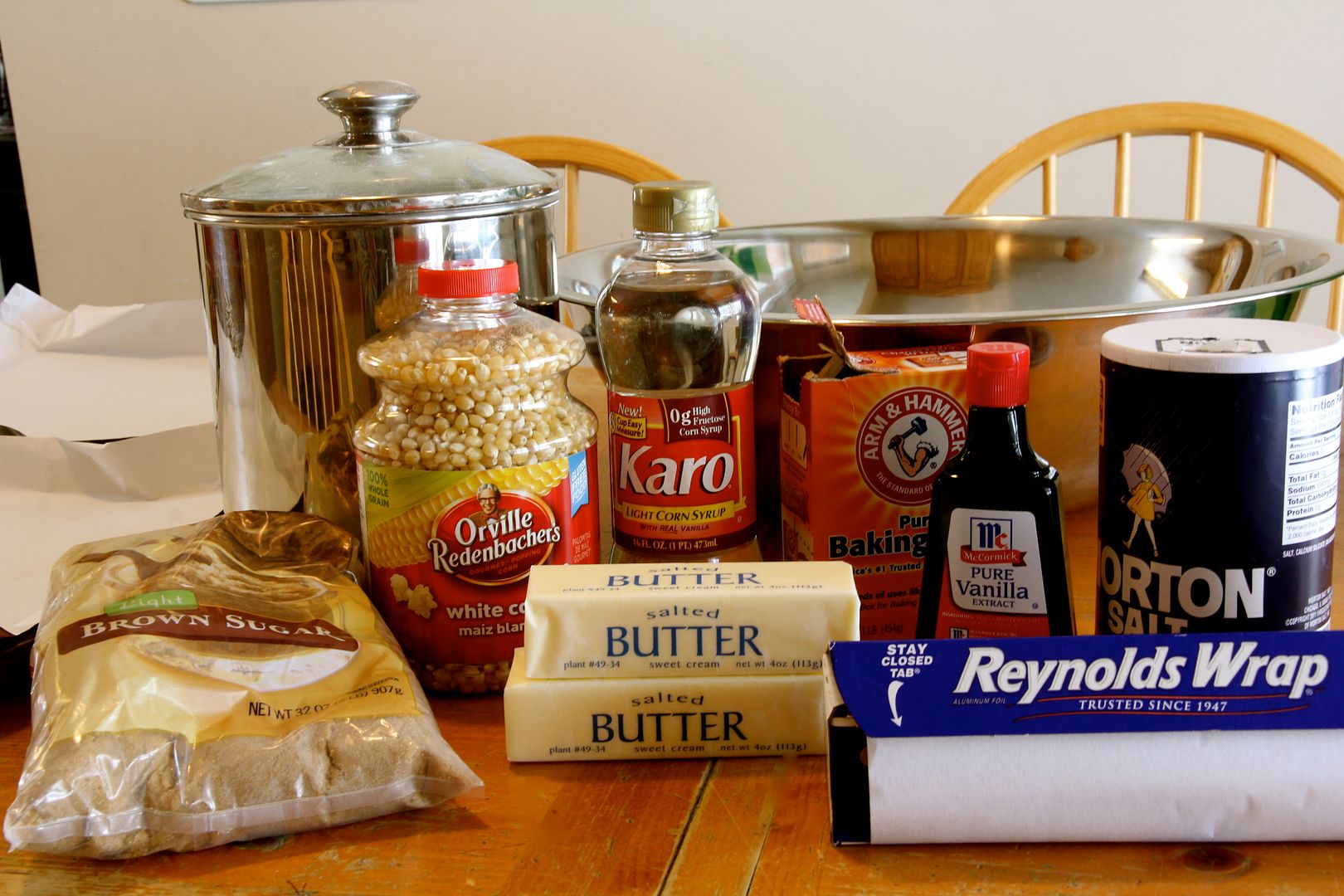 Kay's Famous Baked Popcorn
6 quarts of popped corn (2-3 scoops of kernels into your air popper)
2 sticks of butter
1 cup of white sugar
1 cup pack brown sugar
1/2 cup light corn syrup
1/2 tsp salt
Melt butter in saucepan and add other ingredients. Bring to boil stirring constantly. Reduce heat to medium and boil 5 minutes without stirring. (This is where you need to be precise. Don't boil longer than 5 min.) Remove from heat and add: 1 tsp. vanilla and 1/2 tsp. baking soda.
Stir to blend well. Pour over popped corn and stir to coat. (You can use a large bowl - but it has to be quite large. Or I've made lots of batches in a large, paper shopping bag. Just put the popped corn into a clean paper bag, pour caramel over the popcorn and stir with a long-handled spoon.)
Spread on 2 large cookie sheets covered with parchment paper. Bake for 1 hour at 250°. Stir every fifteen minutes. Cool and enjoy.
Recap: Use a large b
owl or shopping bag. Both work well.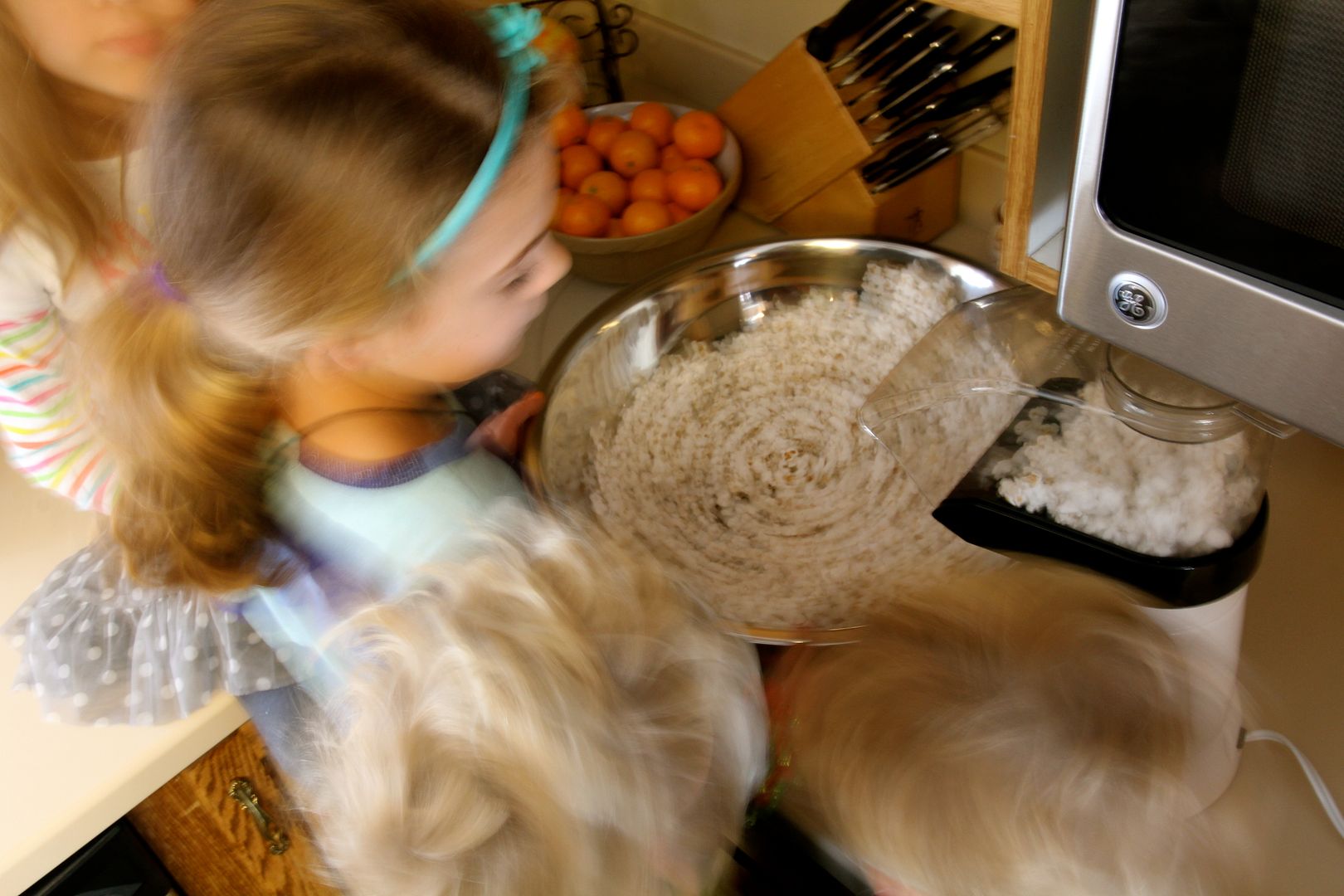 Pop 2-3 rounds of kernels. 3 is almost too much because you can't spread the caramel throughout. 2 1/2 is just right.
Making popcorn is always a family affair.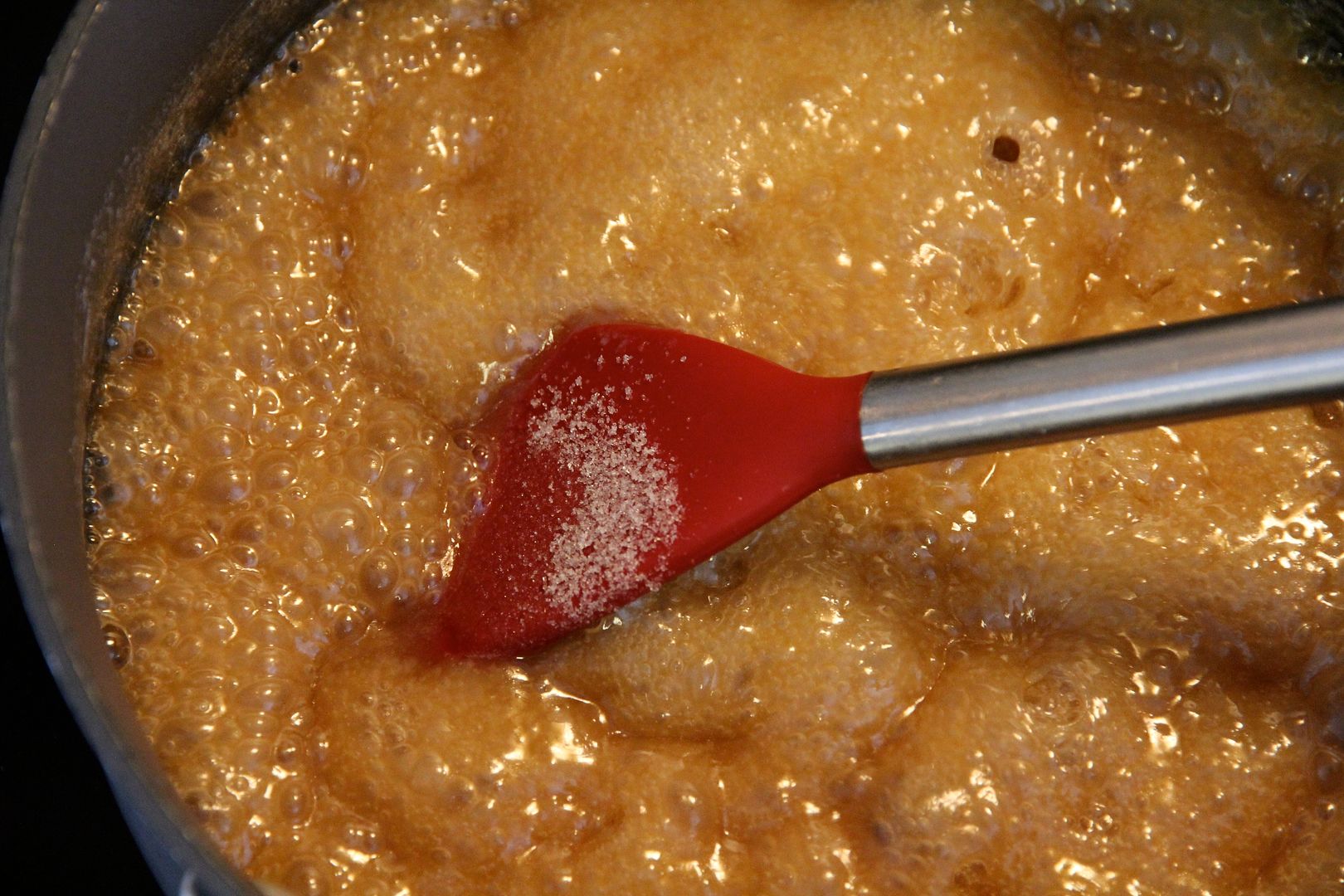 This is how the caramel should look while boiling the five minutes without stirring.
Coat as thoroughly as you can. Work quickly while the caramel is hot and soft.
Resist the temptation to nibble before the popcorn is baked. It's too chewy. Wait for the caramel to cook and harden in the oven.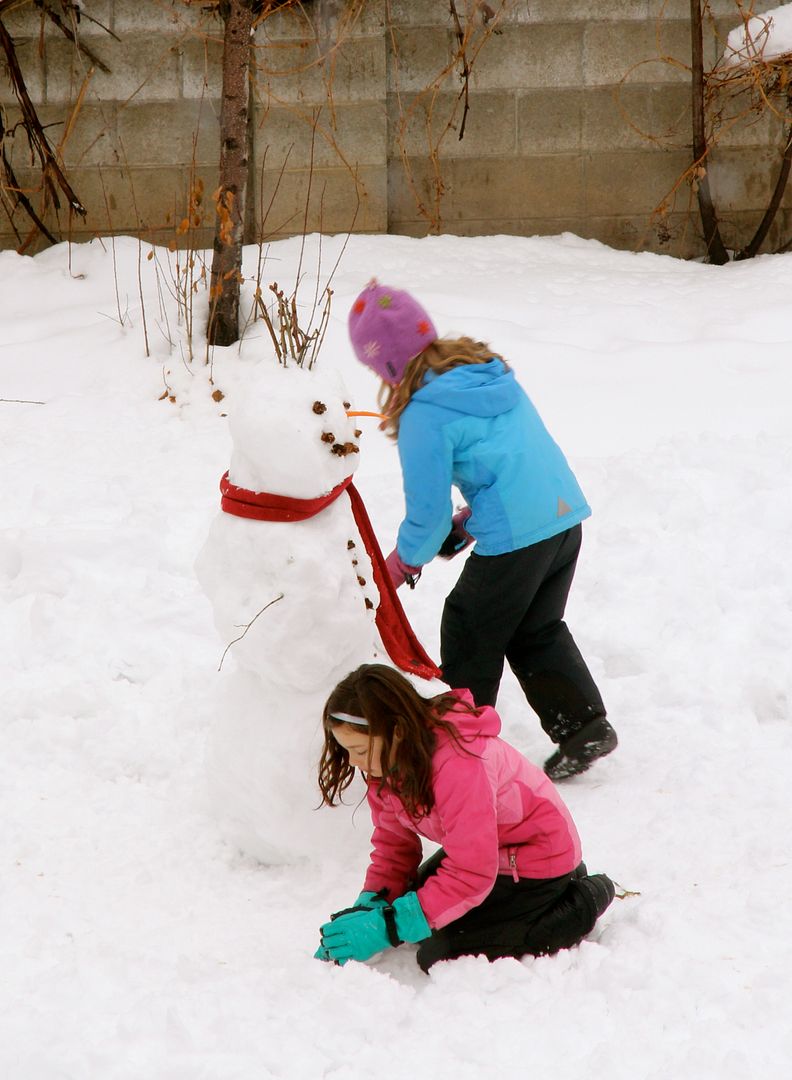 By batch two, send the kids out to play in the snow. (While waiting for the second batch to cook last week, I noticed this fun scene outside our kitchen window.)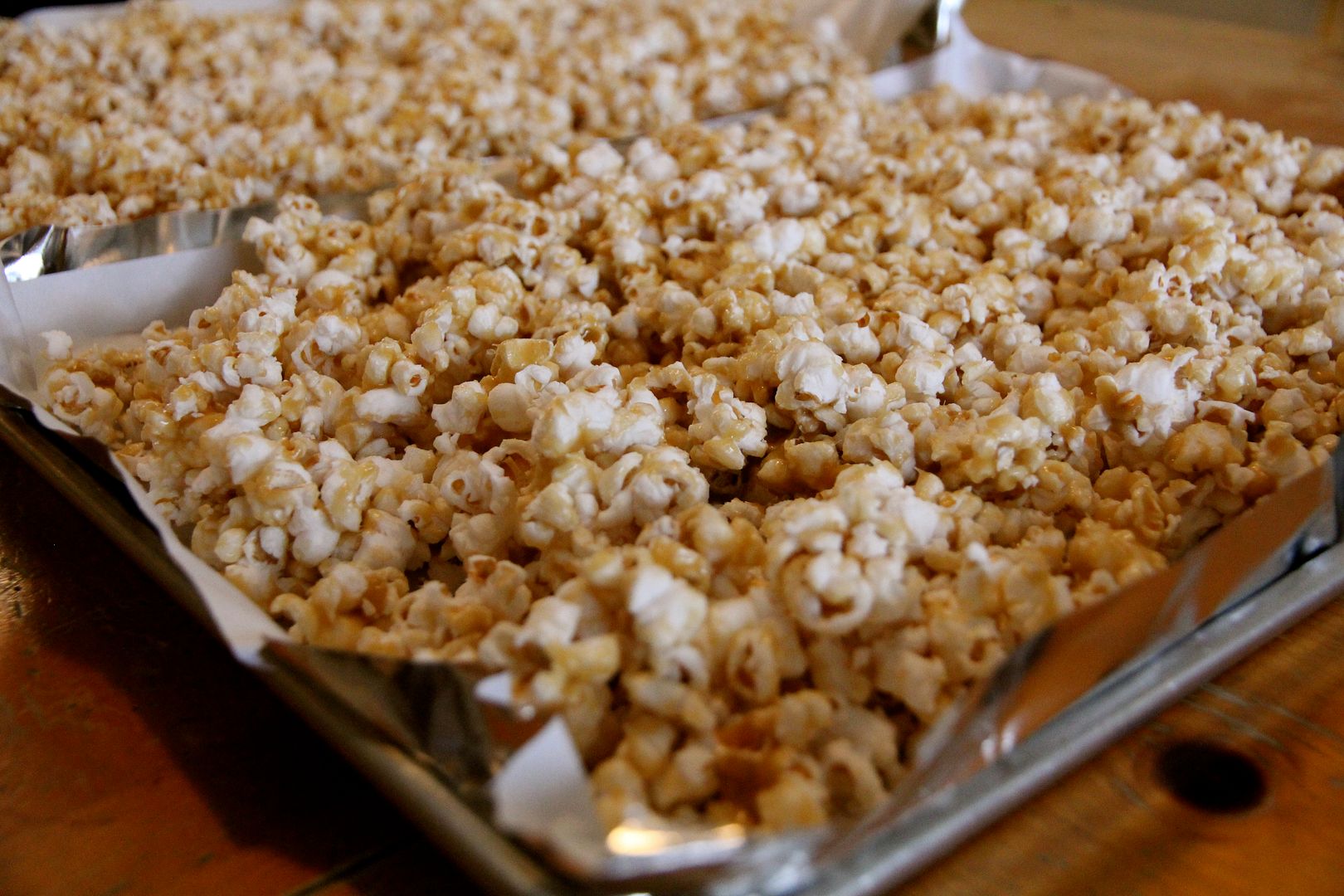 Stir every fifteen minutes. Simply break the popcorn apart with a spoon or spatula, turn it over here and there. Don't be afraid to use your hands to keep it from coming off the pan. (I alternate the pans between upper and lower rack each time I remove them from the oven.) Then cool and enjoy!
I h

ope you can tell what a treasure this recipe is. Kay perfected it. And now it's yours to share with your family.
I think of Kay every time we make her famous popcorn. So do my sisters. We will be forever grateful for her magnanimous heart - her desserts, her letters, and her love. I can't wait to see her again. Where reunions are sweet and her popcorn, I believe, will be served by the handful.