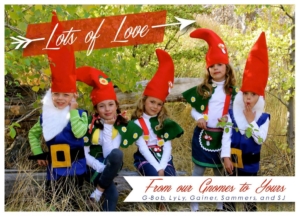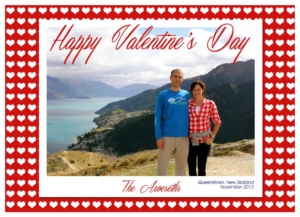 Tucked into envelopes, stamped, sealed and sent off to many of you around the globe. This was our annual Valentine. With an insert titled, "Little Gnome Facts."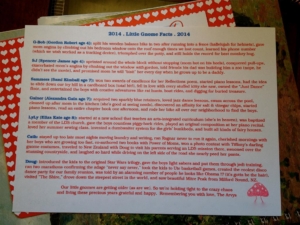 Which I thought was kinda clever. But then I started thinking, Maybe this isn't clever. Maybe it's corny? Oh, well. Out it went. (And for laughs, you can read all the antics, escapades, and embarrassments of last year with a magnifying glass.)
Usually our card doesn't require explanation. But this year? It warrants some backstory. Since you're probably raisin' an eyebrow and wondering… Gnomes? Here's the story.
One day in October, my friend Tiffany stopped by with five darling gnome costumes. She had made them for Willa's Fairy Festival but didn't sell all of them. Tiffany is one of those generous, lovely persons I wish everyone could know.
She placed a stack of boxes on our table.
"Do you think your kids would have fun with these?" she asked.
I laughed as I picked up the red hats with toadstools stitched to the base. "Ummm… yes! I think they'd love them!!"
So that night the kids tried them on and we couldn't stop giggling. Particularly over the boys and their fuzzy white beards.
Then I had an idea.
My sister works for Modern Display, a decorating company, and they were having a Halloween photo contest. Simply take a photo next to their bigger-than-life Headless Horseman and submit it online. $100 prize. I asked the kids if they were game and they said yes.
So one afternoon, five little gnomes tiptoed onto the front lawn of Modern Display, which happens to be at one of the busiest intersections in Salt Lake City. Walkers gawked. Drivers honked. No doubt we were quite the sight. But guess what? We won!!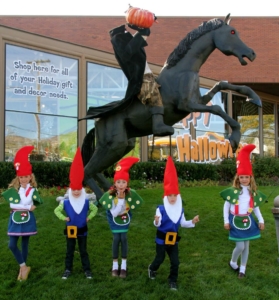 This is the photo we submitted. With a caption that read something like, "Maybe the gnomes know what happened to Ichabod." (Now, don't be impressed. There were less than ten entries. But the kids thought it was way cool we won something!)
Afterwards, since they were all dressed up with nowhere else to go, I thought we'd take a stroll up the nearby canyon and try to get some photos in the woods. You know, wood gnomes.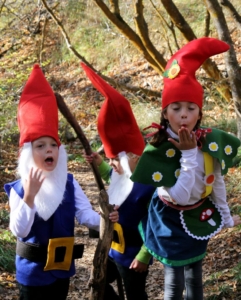 And here's what we got. A bunch of out-takes. With a few solo shots I'll put in their books. But really, it was a hoot. Traipsing through the trees, following this brood around.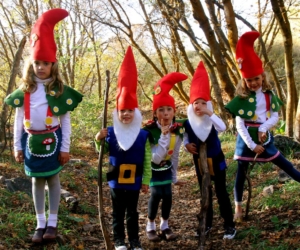 Sam wasn't thrilled over the idea. (Can you tell?) But later she warmed up and gave me a smile.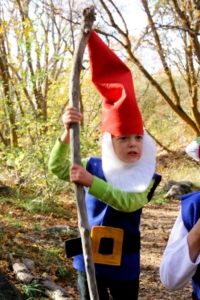 G-Bob carried a big stick. Don't mess. Looks like gnome rage to me.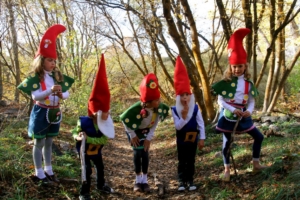 Spencer sported the "O" face in almost every photo. I was afraid his face might get stuck like that.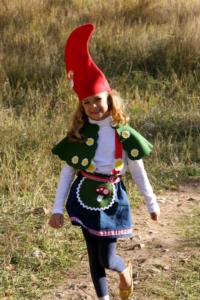 I let the kids explore for a while before trying to get a group shop in the afternoon light.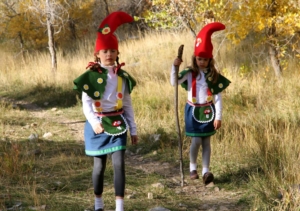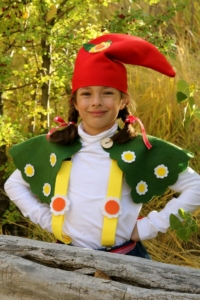 And now for the nicknames. Here's LyLy.
Pronounced "lie lie." A name given her by the boys when they couldn't pronounce Eliza. (All nicknames on card are veritable and used with frequency in our home. Although it does make them sound like gnome gangsters.)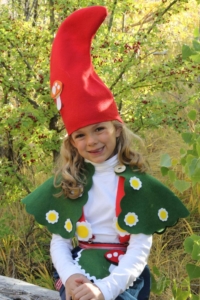 Gainer.
Gain is a family surname. Ali's middle name.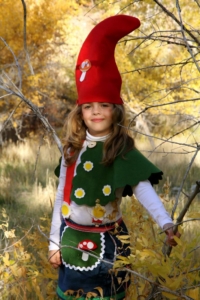 Sammers.
I love Sami's smile here. Hard-earned but worth it.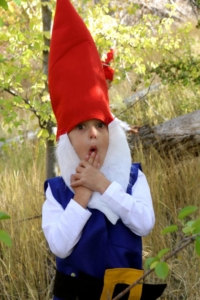 SJ.
Spencer James. Still sporting the "O" face.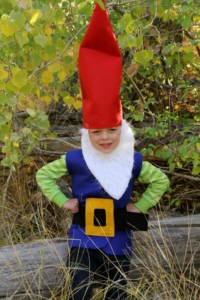 G-Bob.
Short for Gordon Robert.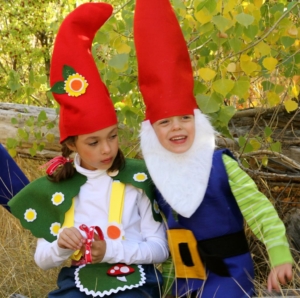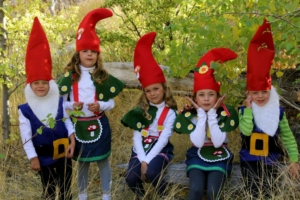 And my favorite out-take…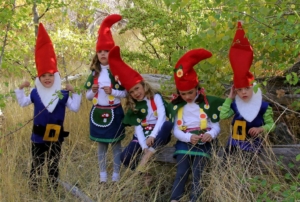 SJ in muscle pose. Sammers still totally unamused. Gainer itching intensely due to the weeds. LyLy asking, "What's that on the bottom of my shoe??" And G-Bob, trying to hold up his beard because the velcro sticker peeled off. Look back and you'll find him holding it in place for most photos.
From our gnomes to yours…
Happy Valentine's Day! xoxo
(card design by my talented sis-in-law, shirlee)