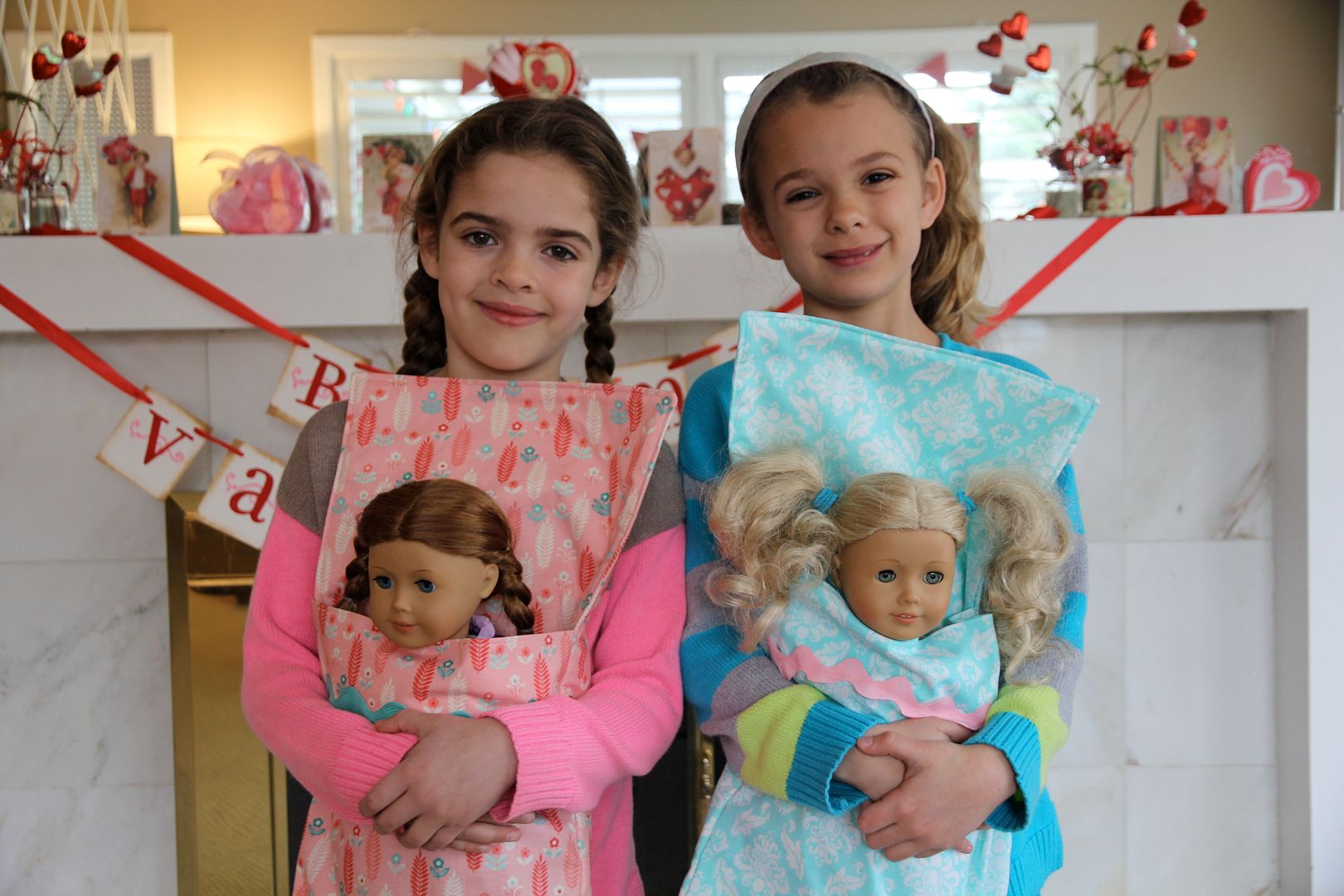 Birthday parties are a chance for me to create a little magic, make some wishes come true, be creative. I look forward to it. I enjoy it. If it stressed me out, I wouldn't do it. But since our birthday party years will be relatively short, and most birthdays in our house are double, I like making a big deal.
After age 8 we simplify. No presents, a small invitation list, and a fun activity. But before then I let the kids invite anyone they want. We don't cap numbers. We're all about inclusion, magic, and fun.
This year Ali and Sami wanted to do an American Girl doll party. Not wanting to make it american-girl-exclusive we simply asked each girl to bring their favorite dolly, whatever size or style they wanted.
We played games, made valentines, and watched the Saige American Girl movie. And for party favors, I made each of the girls a dolly sleeping bag.
Now this was a project!
In my head, I thought I could do a simple single seam bag with quilted fabric. But when I consulted the expert (my sister Deb), she had a better idea. And while it was more work, her pattern/creation was much cuter than my slap and stitch plan. And bless her heart, Deb helped me. She cut all the fabric, taught me what to do and how to piece it together. Once I got in the groove, it was actually pretty fun. Crazy to take on, I know. But fun. And I'm not a seamstress.
If you're interested in a tutorial for the sleeping bags, please leave me a comment and I'll put a post together with dimensions and instructions. If I can do it, you can too. And probably better!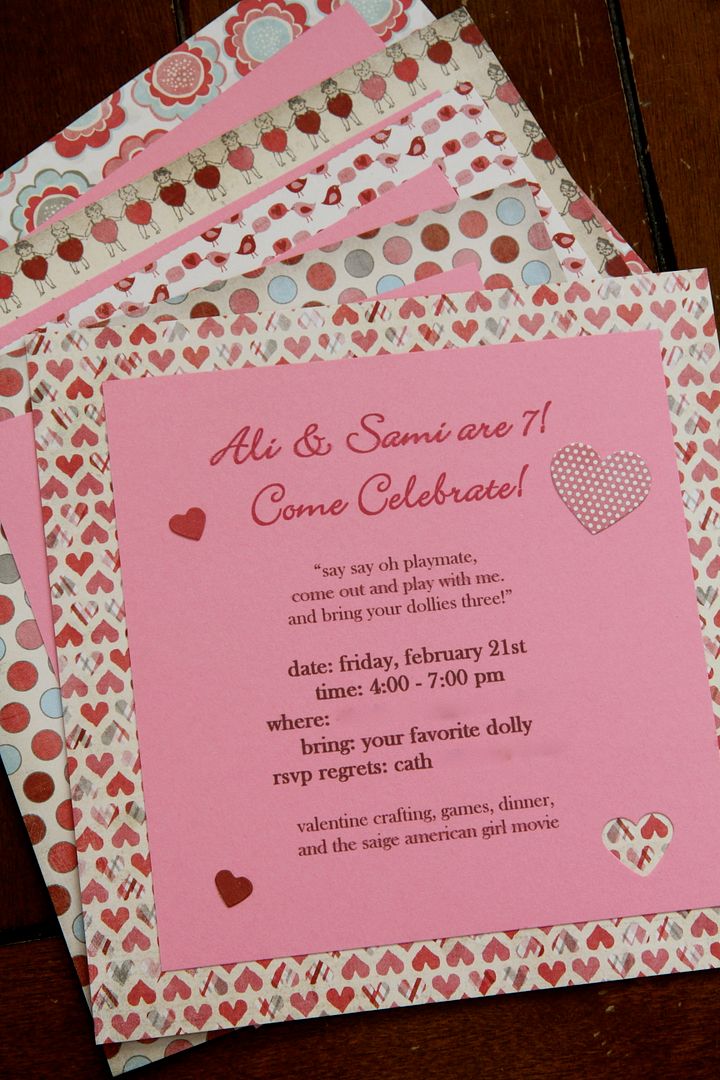 My stand-by yellow cake recipe. Three layers with pink buttercream frosting and red fondant hearts.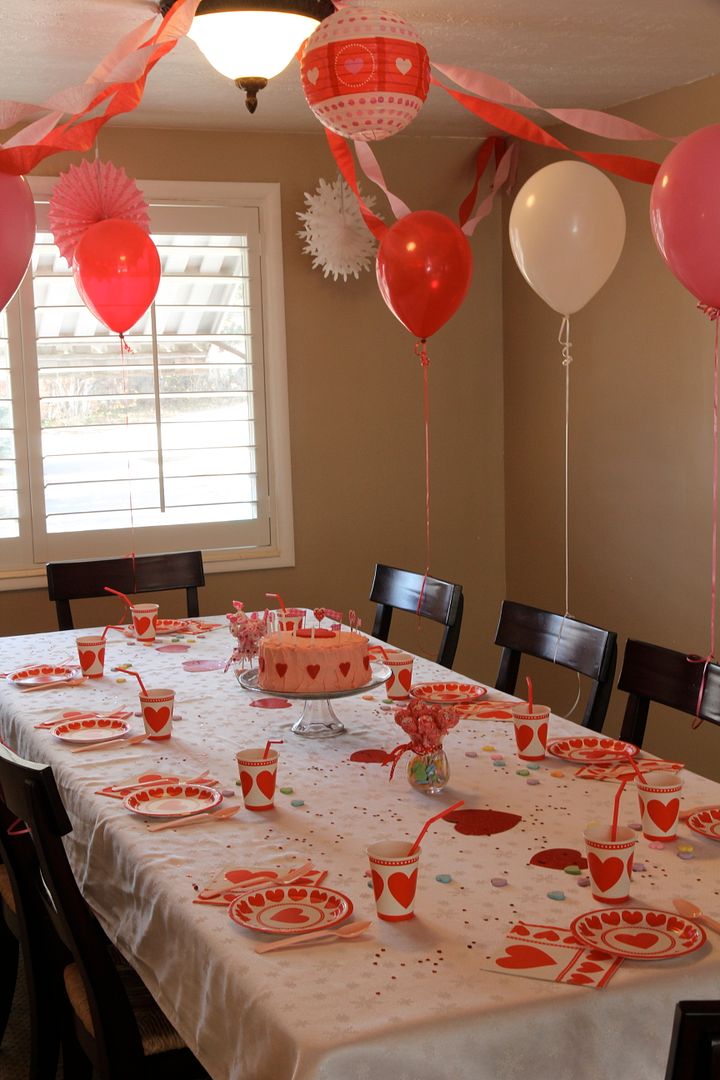 We always set and decorate the table. Kids love the anticipation.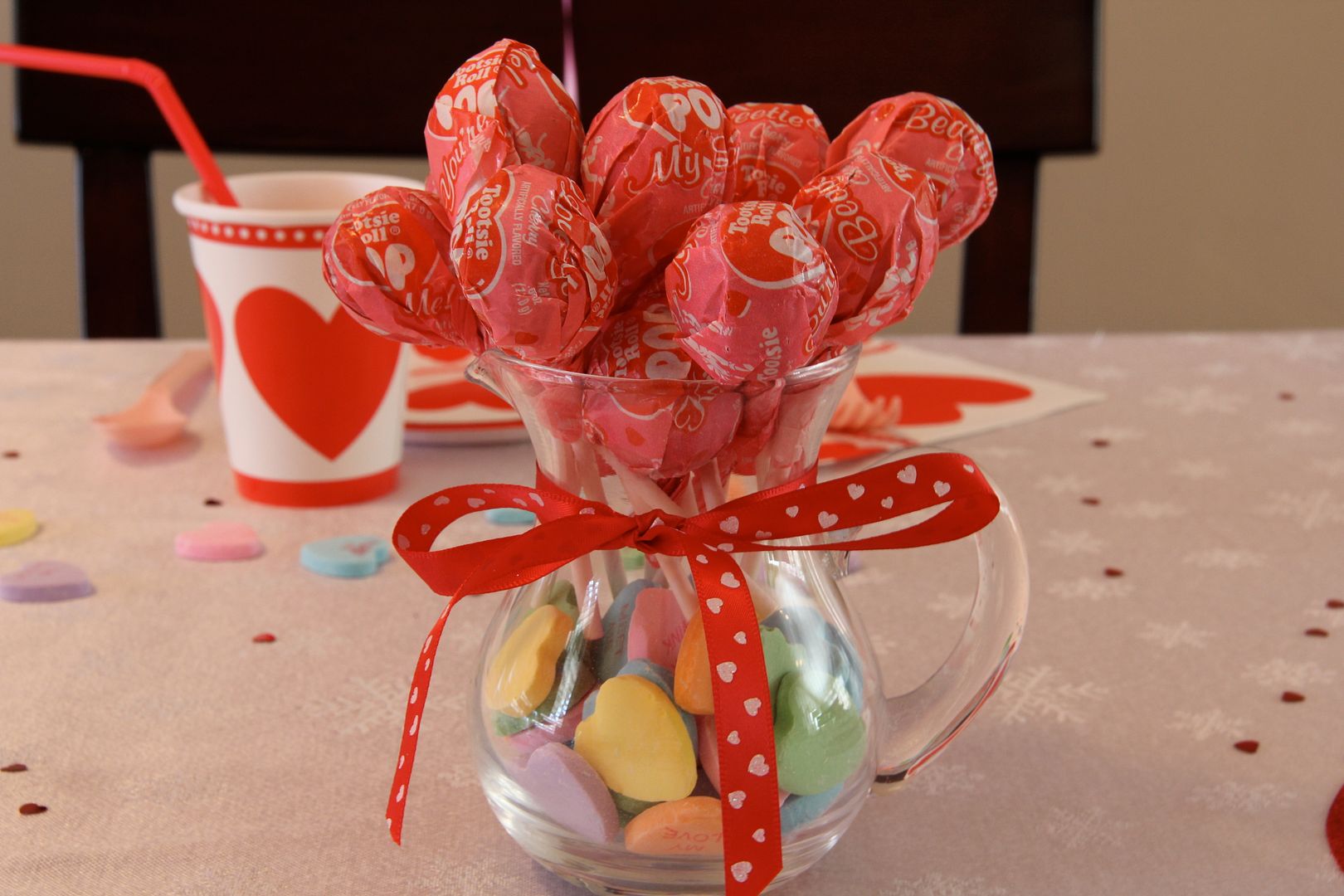 And because we have never done a Valentine party for Ali and Sami (even though their birthday is right before Valentine's Day), this year we stocked up on Valentine decorations and went with a pink and red heart theme.
I've fallen in love with these vintage postcards by

Cavallini and Co

. Take a peek. They have them for every holiday, every season, and more.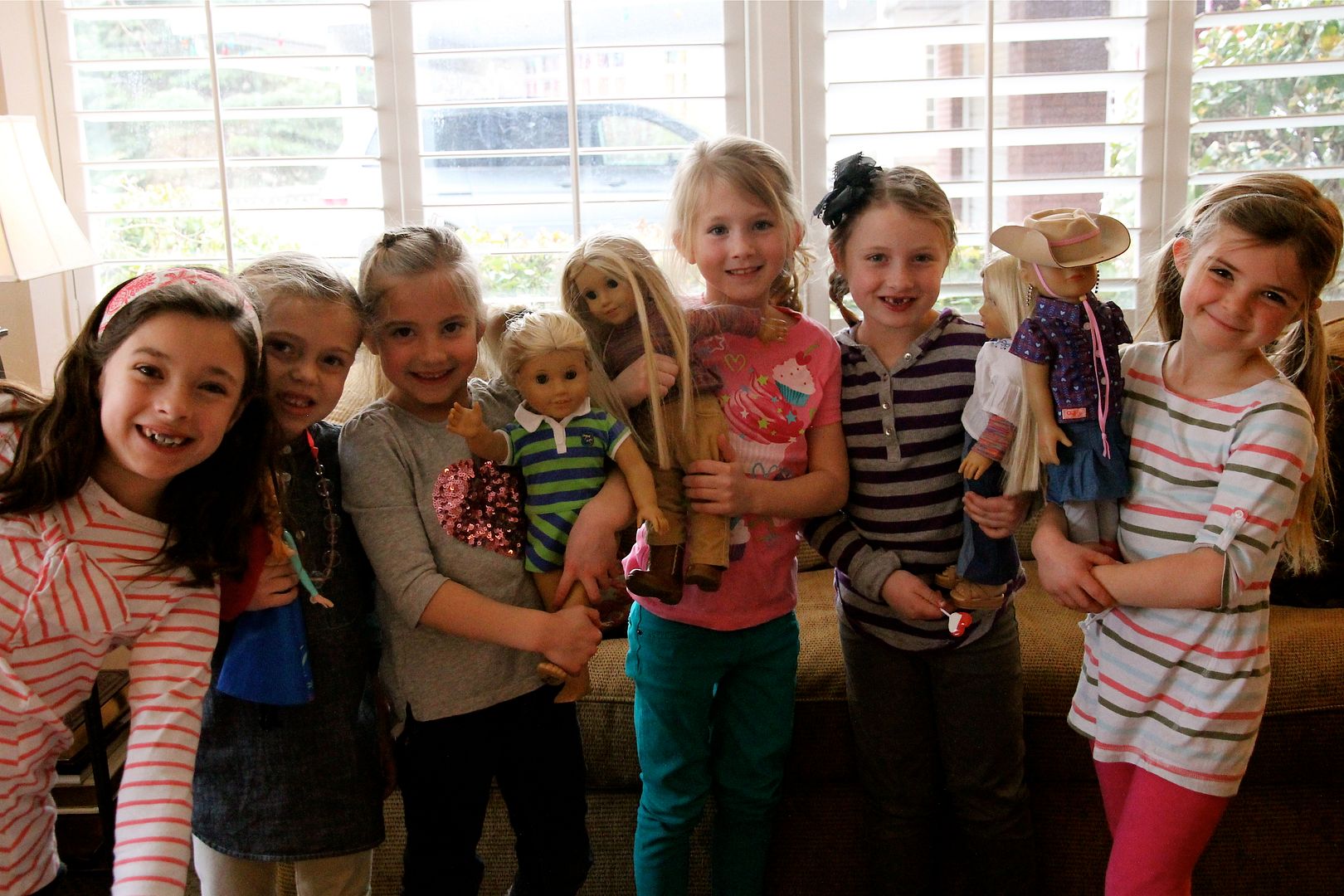 When the girls arrived we put their names into a bowl for a drawing. They drew names so they could make valentines for each other.
Three Julies arrived. As well as
Ana and Elsa from Frozen, an assortment of American Girl dolls, Barbies, and Rapunzel. I
loved the variety.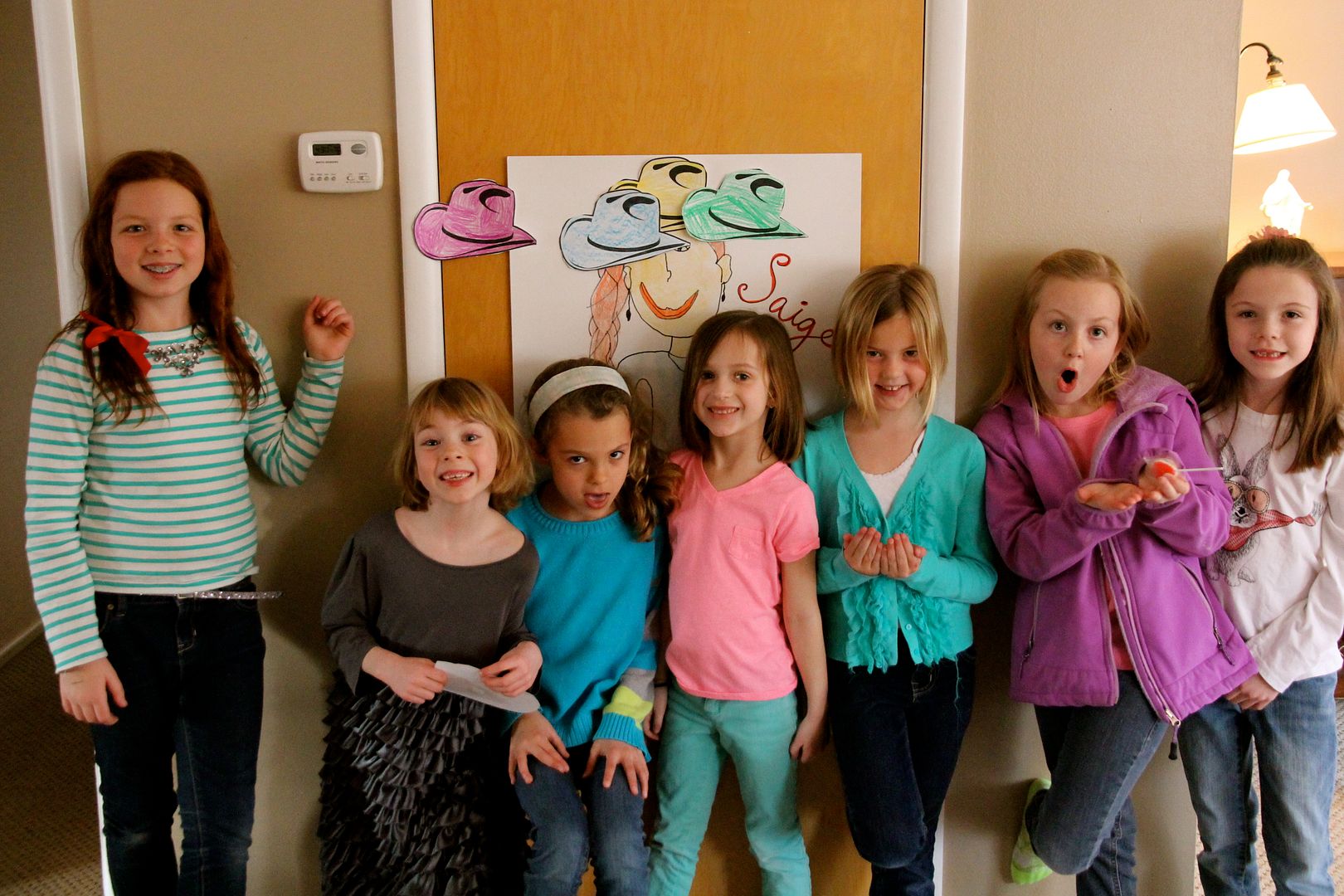 Alice (far left), Callie (craft table) and Abby (bingo table) were my helpers - darling girls from our neighborhood. They were invaluable help. So polite and sweet with the little girls. Responsible, observant, and they made the party enjoyable, not just for the girls, but for me. I promised them a sleeping bag in turn for their help. I love that at ages 10 and 11, they're not too old for dollies.
Eliza drew Saige for the party. (Didn't she do a great job?) We blindfolded the girls and played
pin the hat on Saige.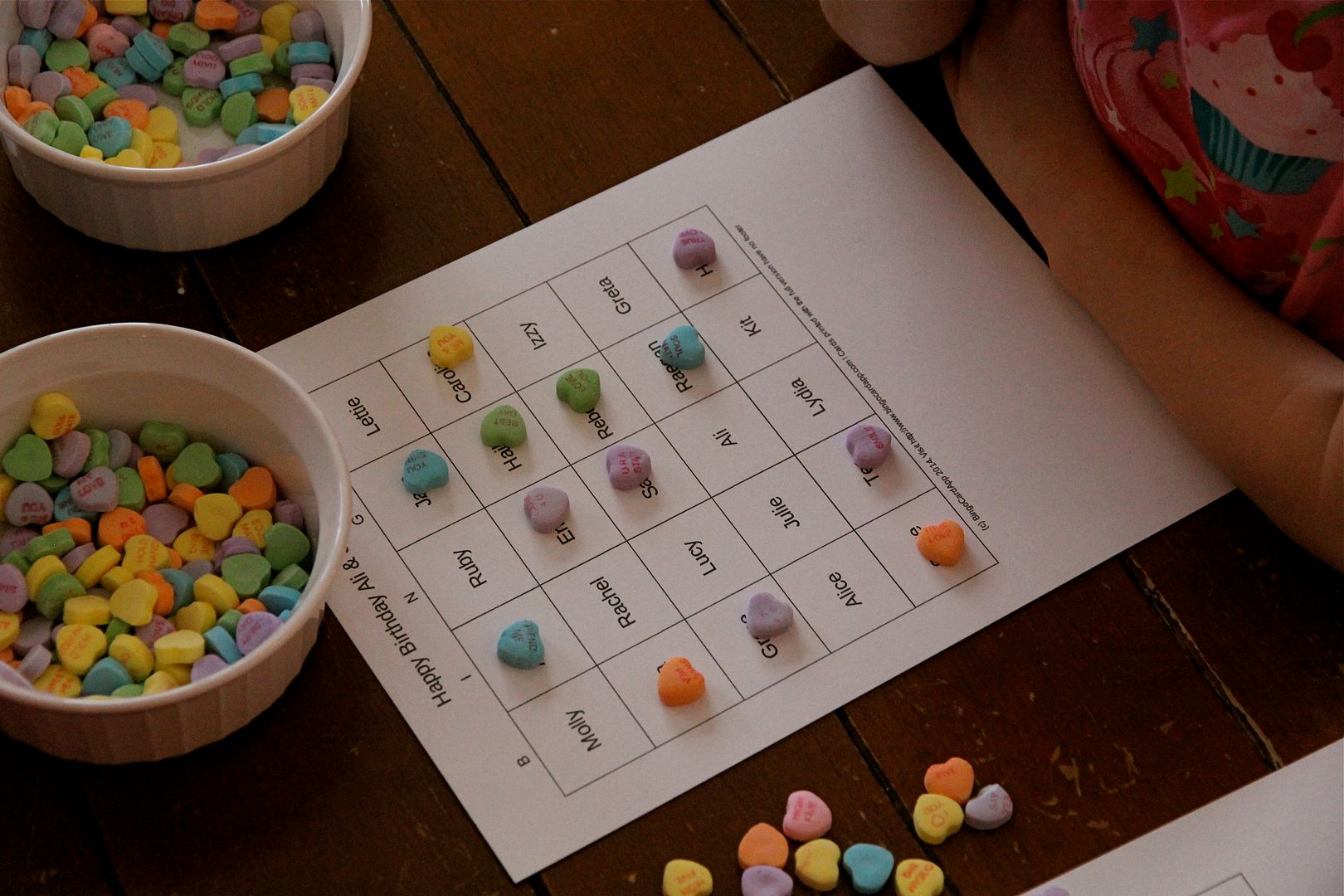 I used Michelle's idea for

make your own bingo cards

and generated bingo cards with all the girls' names on them.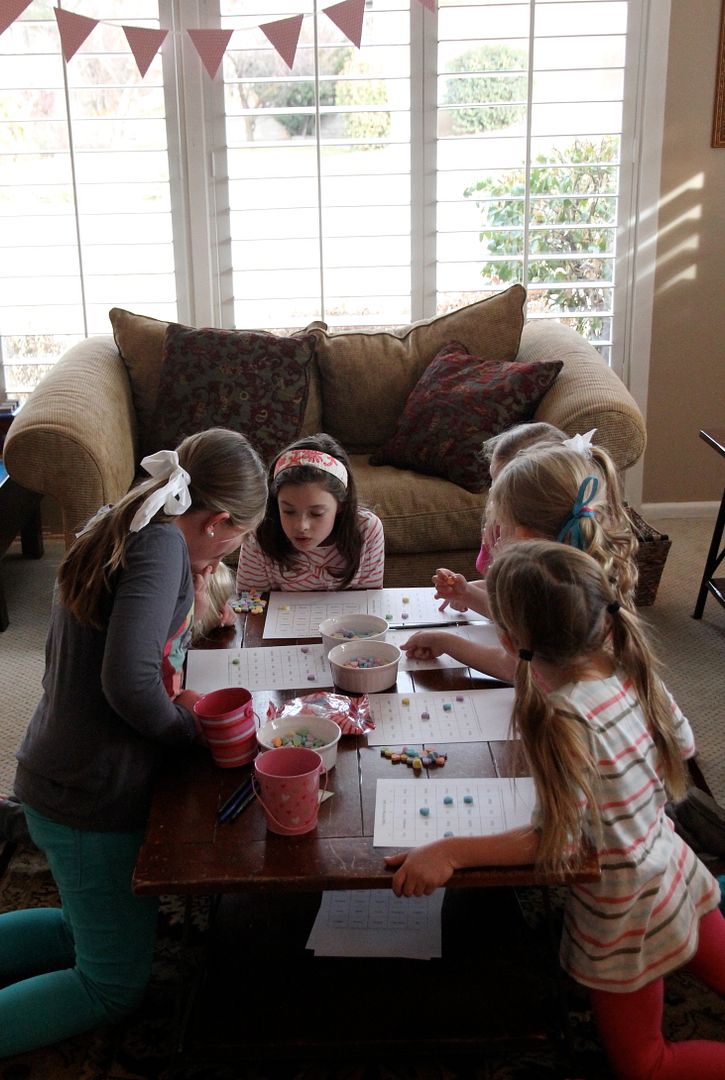 There's Abby, directing bingo traffic.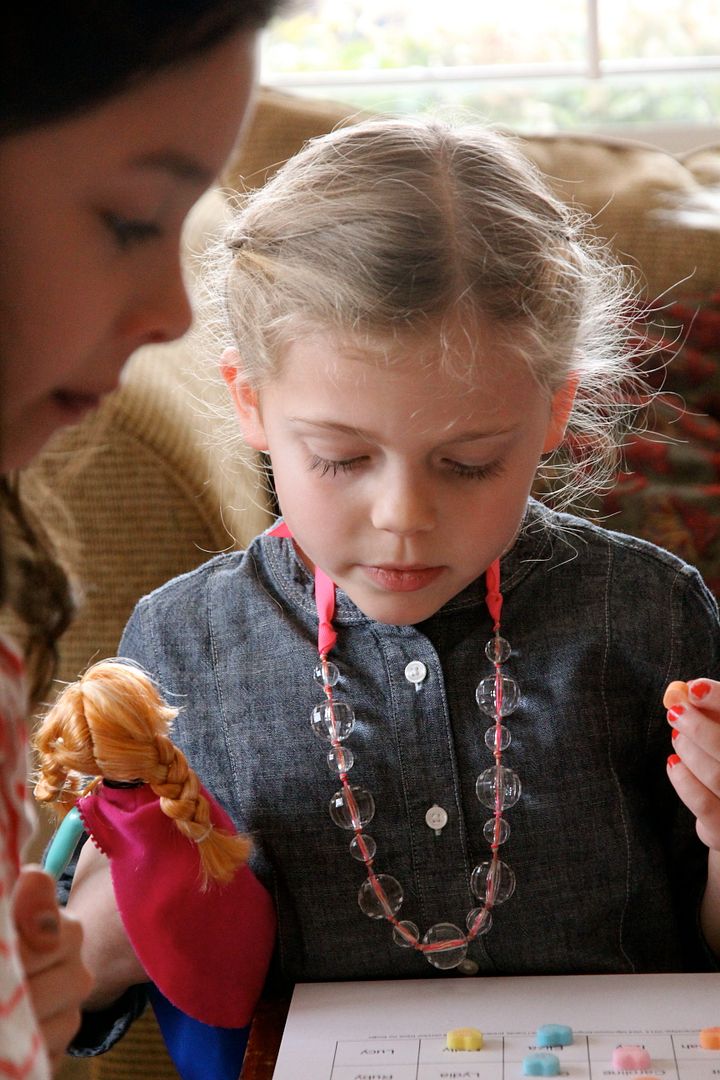 Eliza helped sweet Greta, who is still learning to read.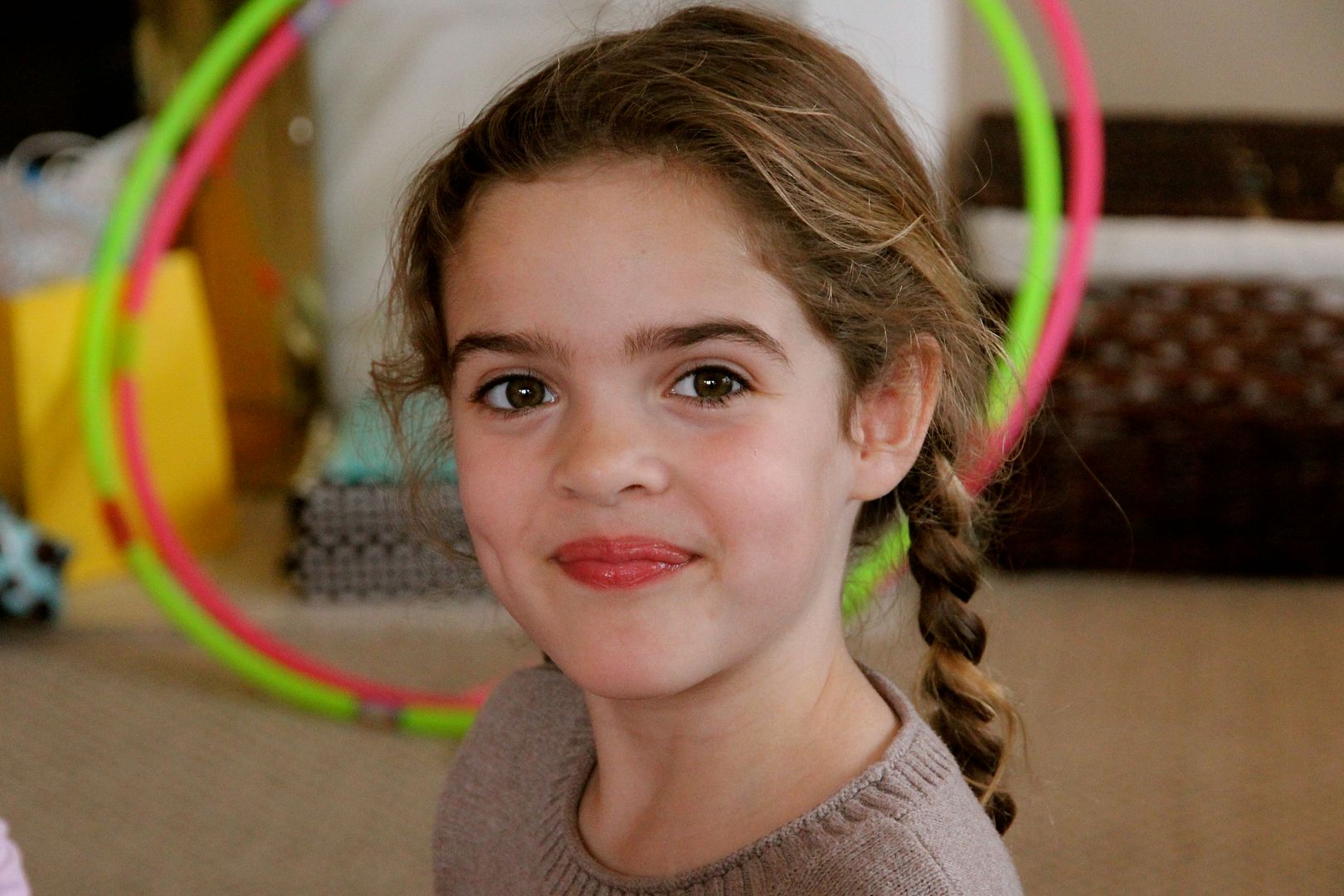 Birthday girl Sami.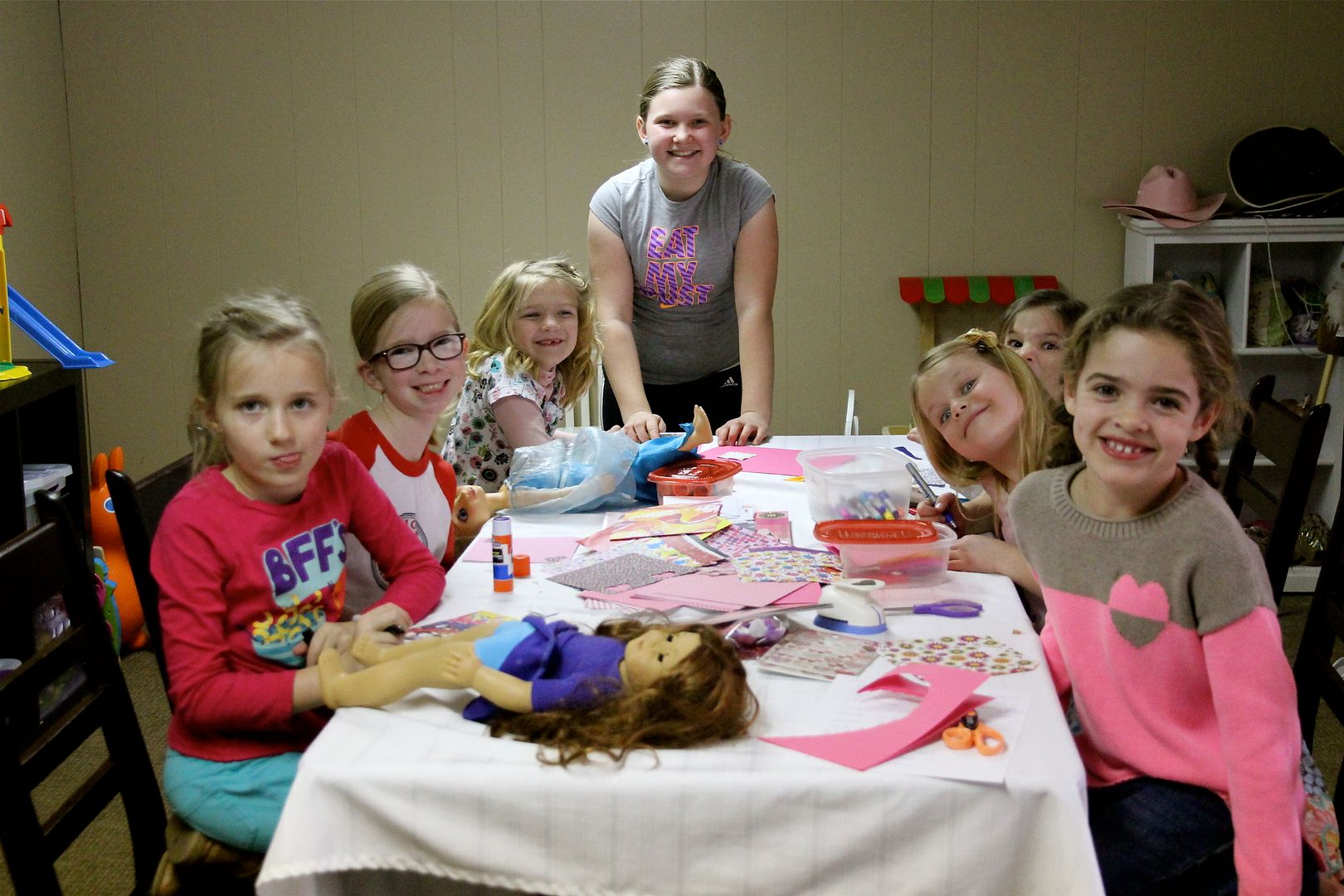 We broke the girls into three groups and they rotated through three stations. The last station was Valentine crafting. We set up a table downstairs and the girls made Valentines for the friend's name they drew. Dollies included.
"To Ruby and Julie. We love you. You guys are awesome! Love, Sami and Emily."
Birthday girl Ali.
Dollies three... four, five, six, and seven.
Candle-blowing, followed by cake and ice cream.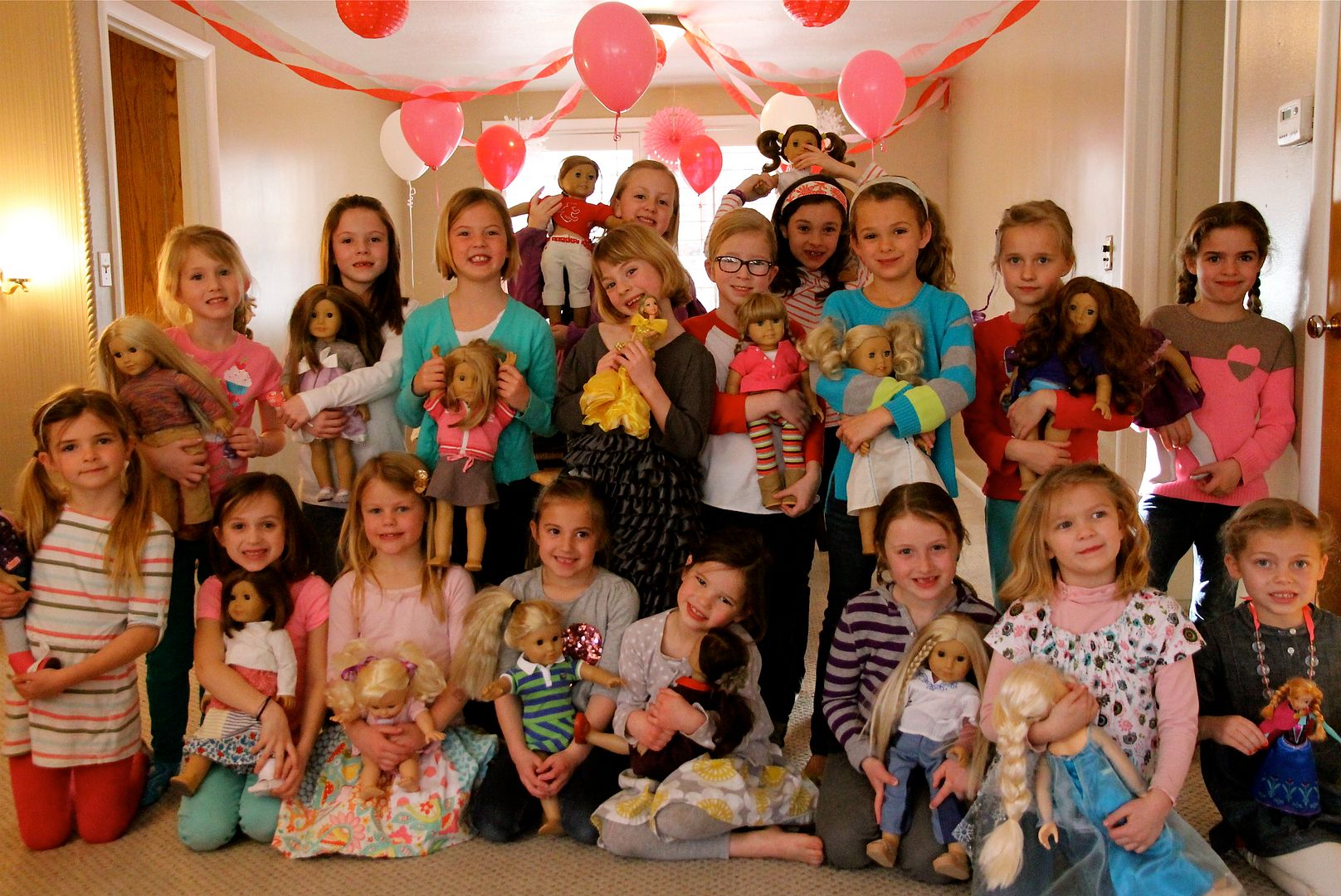 Group photo.
I adore all these girls. One of the greatest blessings of living where we do is the darling group of friends my children have. It's a delight having them in our home.
After games and cake, I passed out the sleeping bags and we started the movie.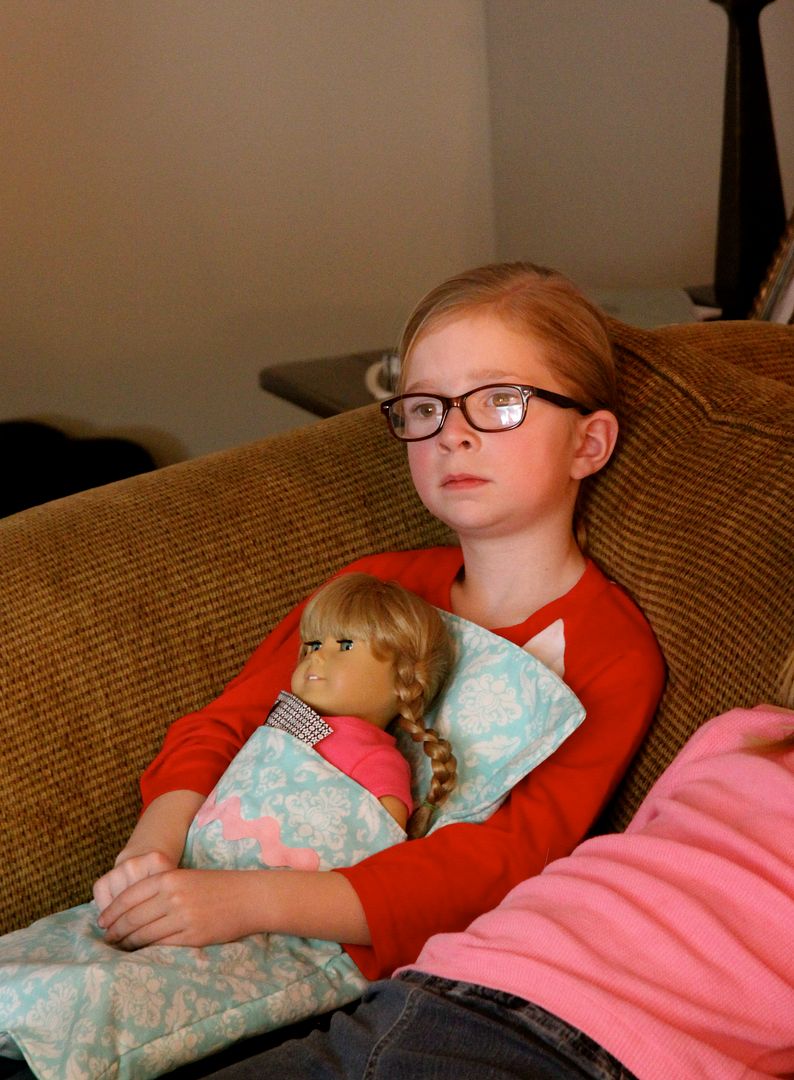 Cute Jane, with her dolly snuggled onto her lap, made me smile.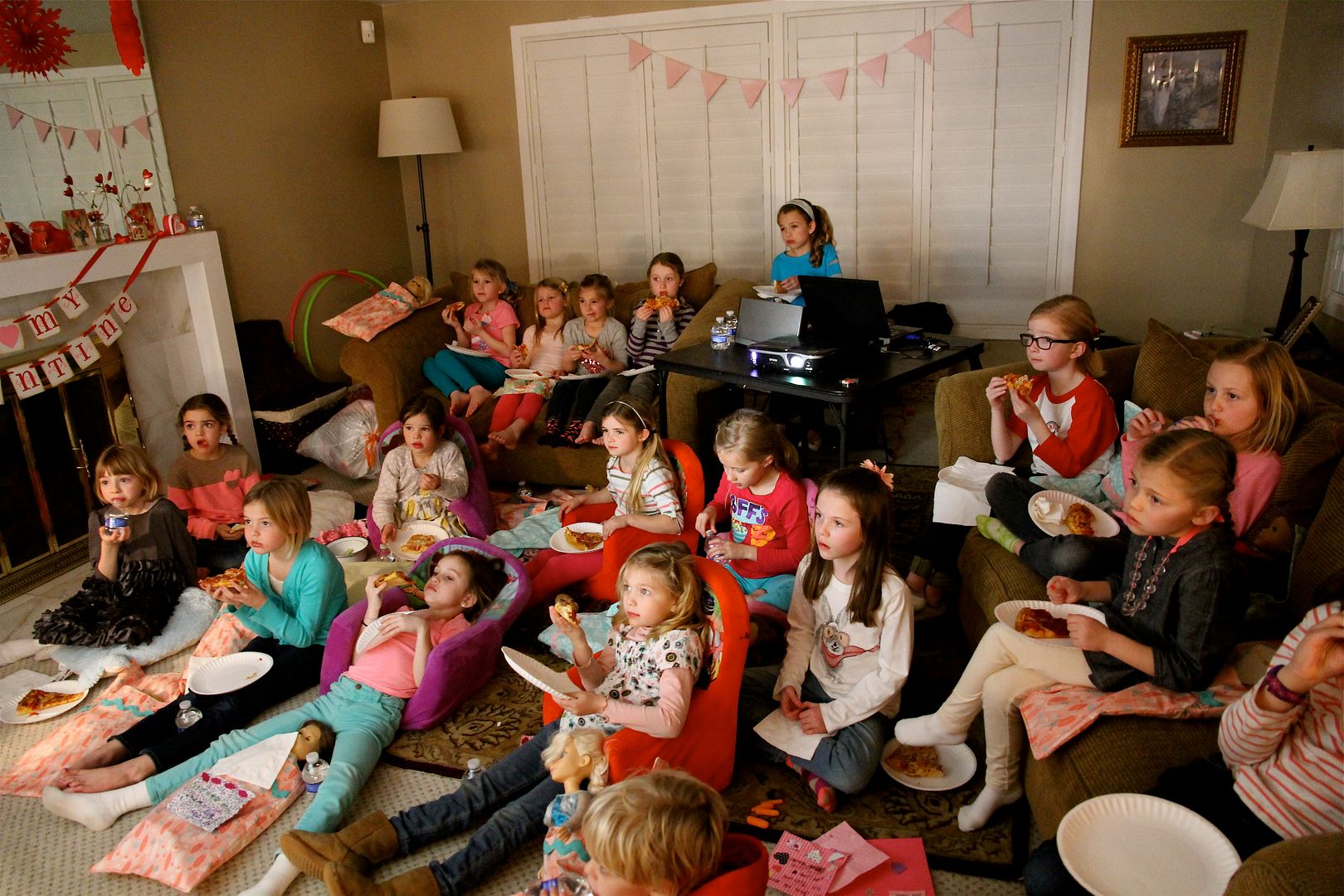 Believe it or not these girls downed five pizzas and two bowls of carrots and celery.
As the movie ended, Greta (who is in Kindergarten) said to me, "Is it 8:00?"
"No, I said. It's 7:30."
"Phew!" she said. "8:00 is my bedtime!" I nearly laughed out loud. She was so darling. I love rule-followers.
And that's the party run-down. Next time, a few words about my Alexandra and Samantha. And the joy it is to have them in our family.
Let me know about the sleeping bag tutorial. And happy weekending tomorrow. Can you believe February is melting into March?