Hilariously enough, it's snowing as I type. For the first time in weeks.
A true jest by mother nature because February and March have been wonderfully mild. So mild I was a tad mournful that her big winter storms passed us by. You know, the ones that pounded the eastern states and kept kids home from school? I love shut-down snow storms. And
Utah usually gets several. But not this year.
Yet when I looked out the kitchen window and saw that flash of familiar yellow in Martha's front yard, my heart skipped a beat.
Crocuses!
I whispered. Spring!
It happens every year, and still, there is something thrilling about the first sign of spring. Petals opening in pools of light as children race outside, toss jackets, and turn their faces to the sun.
That first glimpse of color knocks at my ribs, cracks me open. And hope slides in.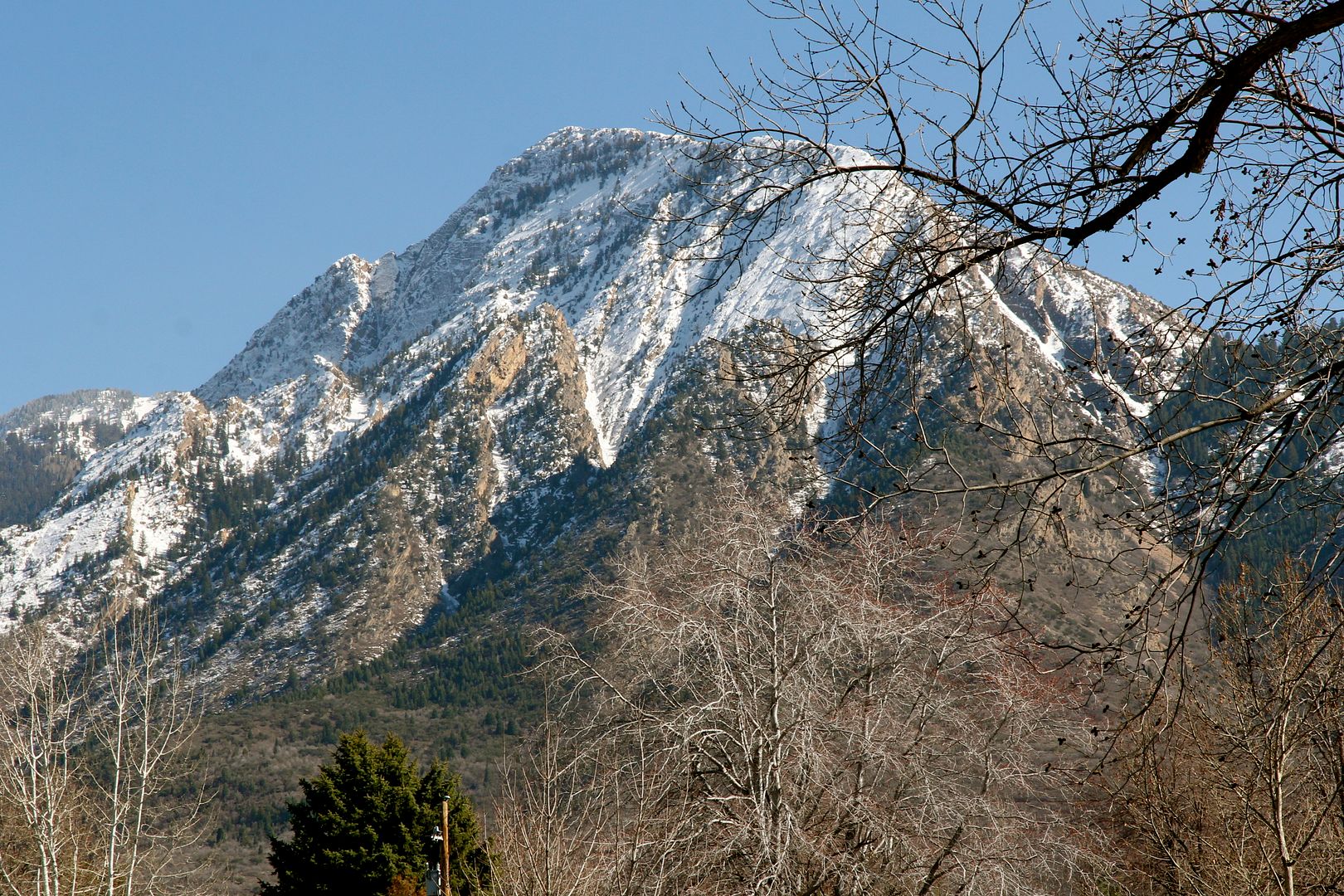 Even the mountain is warming. Slipping off her heavy, winter blanket, filling the streams and lakes. Dripping, sighing, melting.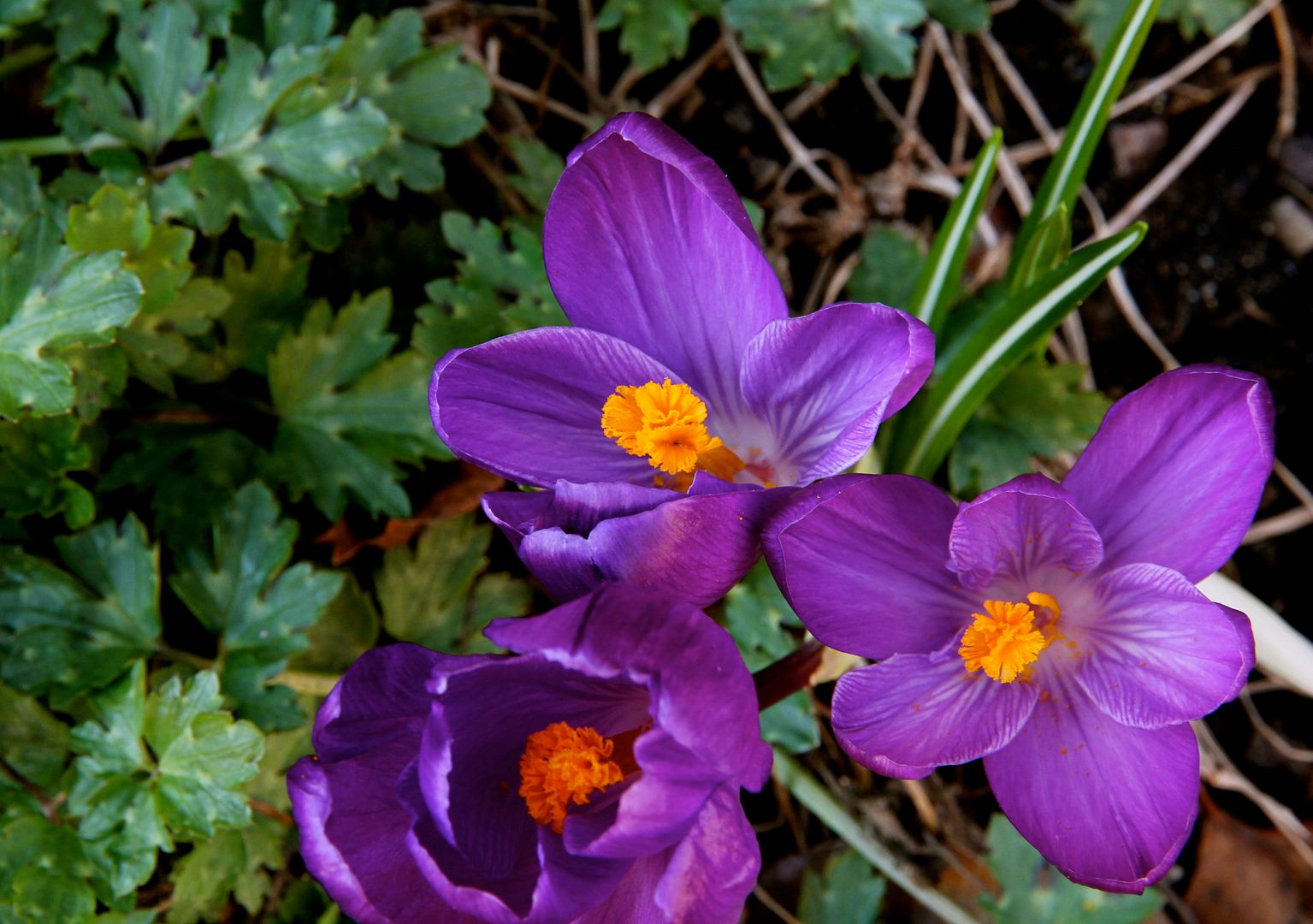 So Saturday we were out of doors most of the day. Searching for signs.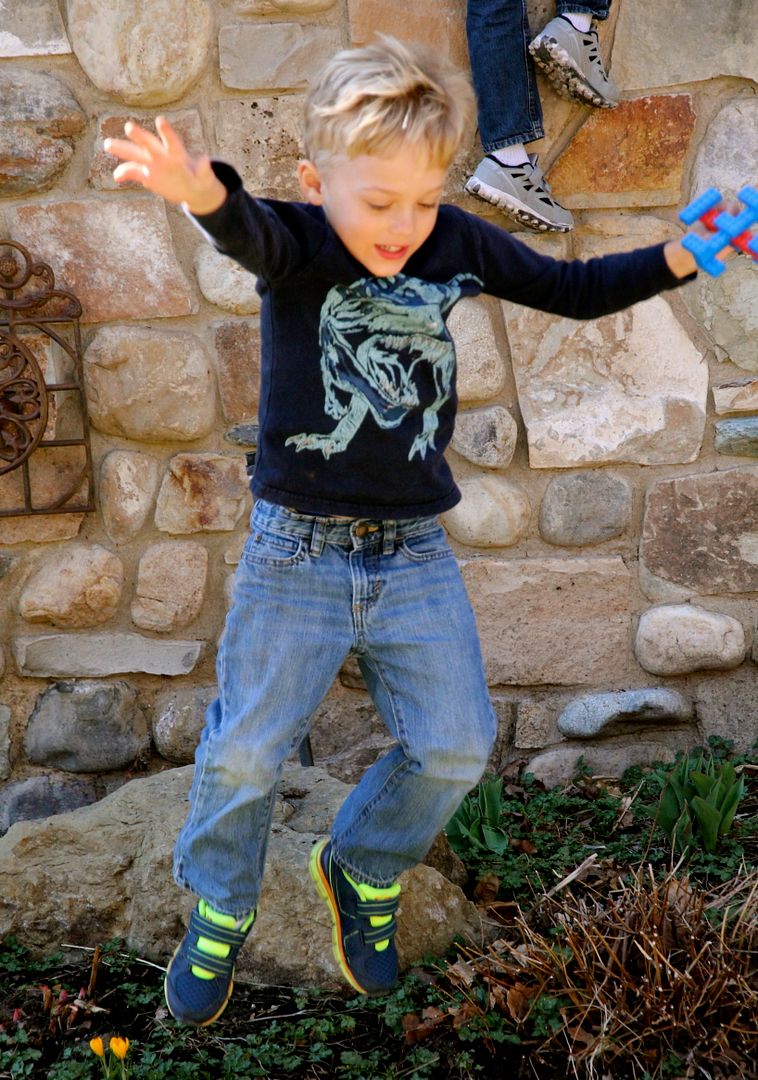 We found most of them in Martha's yard.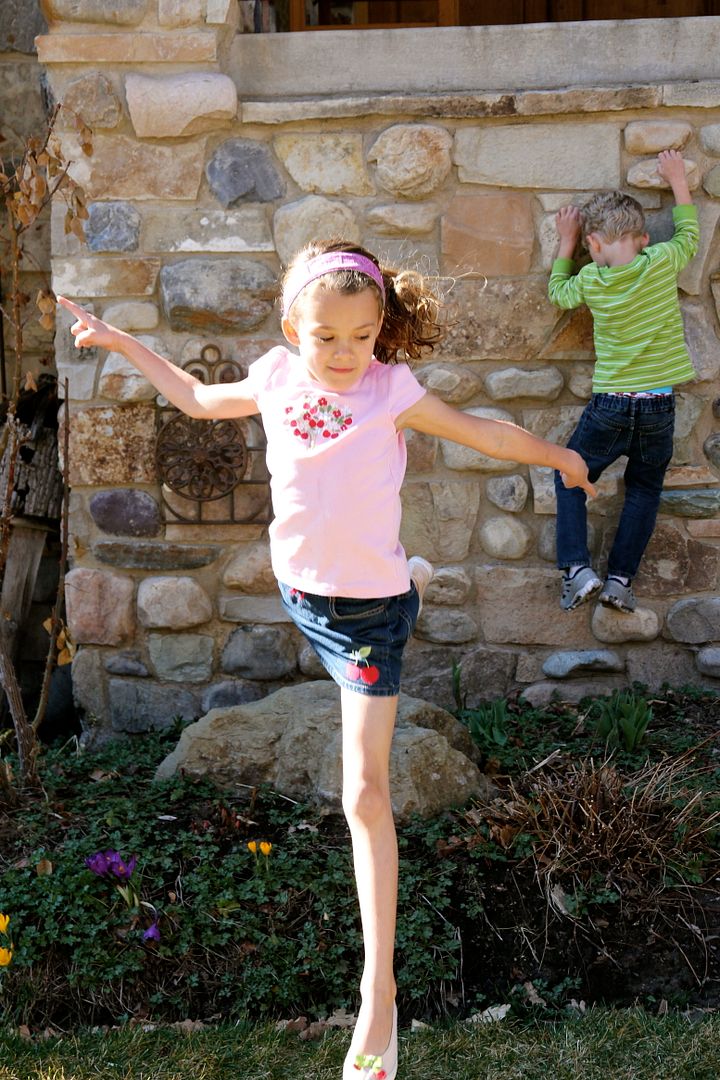 There was leaping, dancing, and (our apologies Martha), some climbing. As evidenced by Gordon in the background.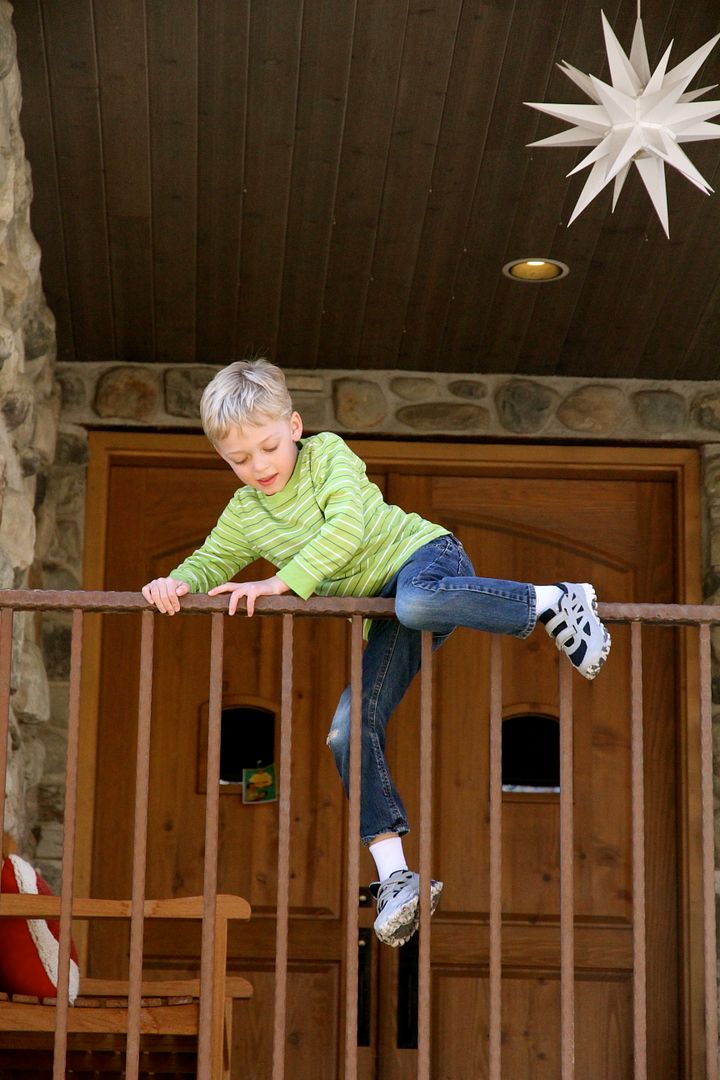 I promise that was the only time he climbed your rock wall.
I noticed the boys' pants baring skin at the knees. Also a sign. Signaling a year of wear and tear, and a Mom determined to make all denim last until Summer.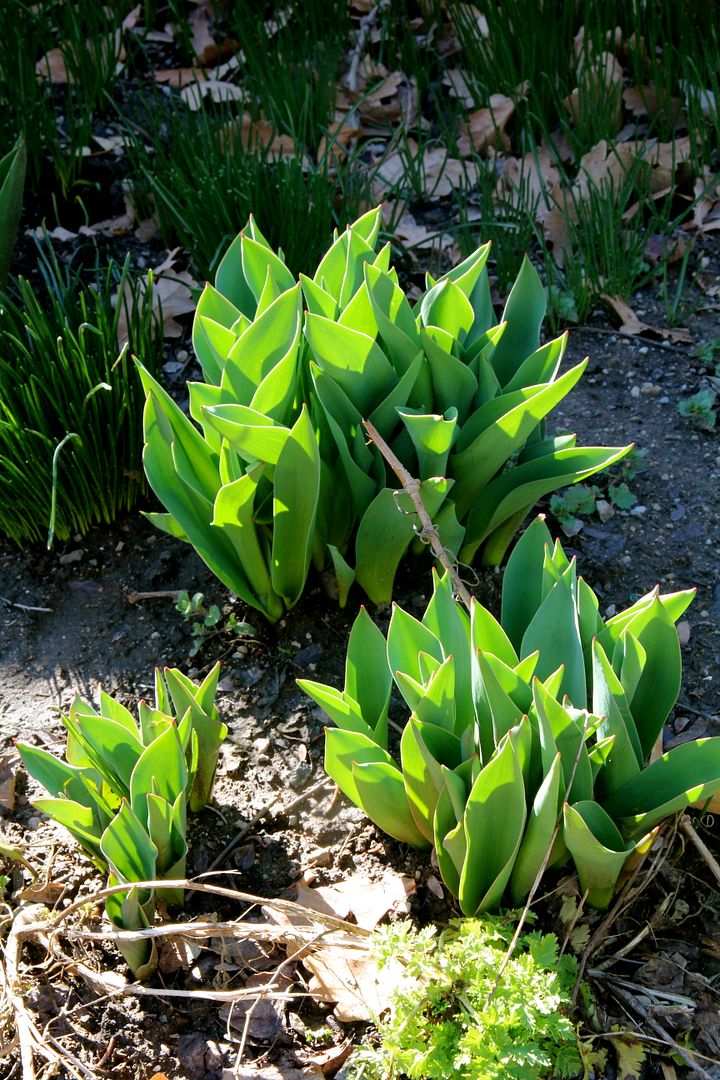 I surveyed the clusters of tulips shooting up from the earth, sat on the bench, and let the warm sun tingle across my back.
The past month has been hard. Tax season is always hard. And in so many ways it's getting easier. But as the kids get older, their wills seem stronger. They push back harder, and some days I feel like I'm regressing as a Mom rather than progressing.
January 23rd I got this text from Doug. A sentinel message on the screen.
And since that day he's been working Saturdays and evenings, with Sunday being our one golden day as a family.
May becomes the horizon month for me. A far-off place on the calendar when Doug and I will finally chat before 11PM. When we will set the table for seven instead of six. When we will reconnect, play, love.
I worry that this lifestyle is taking its toll on our children.
After 8PM my patience thins. I get snippy if I'm not careful. And all the happy presentations of this craft, this dance, or that special story, trail out the window unfulfilled. Because I can't do it all. The hustle after dinner to help kids bathe, finish homework, practice this or that, read out loud, and find clean clothes, often feels insuperable.
I know in the rush I am missing moments.
And every night, as I wash dishes in a silent kitchen, I wonder if my kids would
feel more loved, more confident, more secure if they had a parent who could stop at their bedside and listen to all their stories, spend more time with them each night. Because by the time I'm tucking the last one in, it's 9:45 PM and I. am. spent.
I scoop suds onto a pan and look out the dark window, my reflection peering back at me, and I play the day over. How can I move us along faster? How can I do it better?
And the words come to me. "Be calm. Be grateful." I know they are good words. If I can stay calm and stop looking at the clock as I move us towards bedtime, they will be okay; they will know I love them. If I can see this mess of a house with all its busy children leaving a wake of learning and living behind them, my heart won't knot into discontent. For this life, gloriously undone, is the life I longed for.
And that's the magic of gratitude. Suddenly, I see the scene differently. I am okay.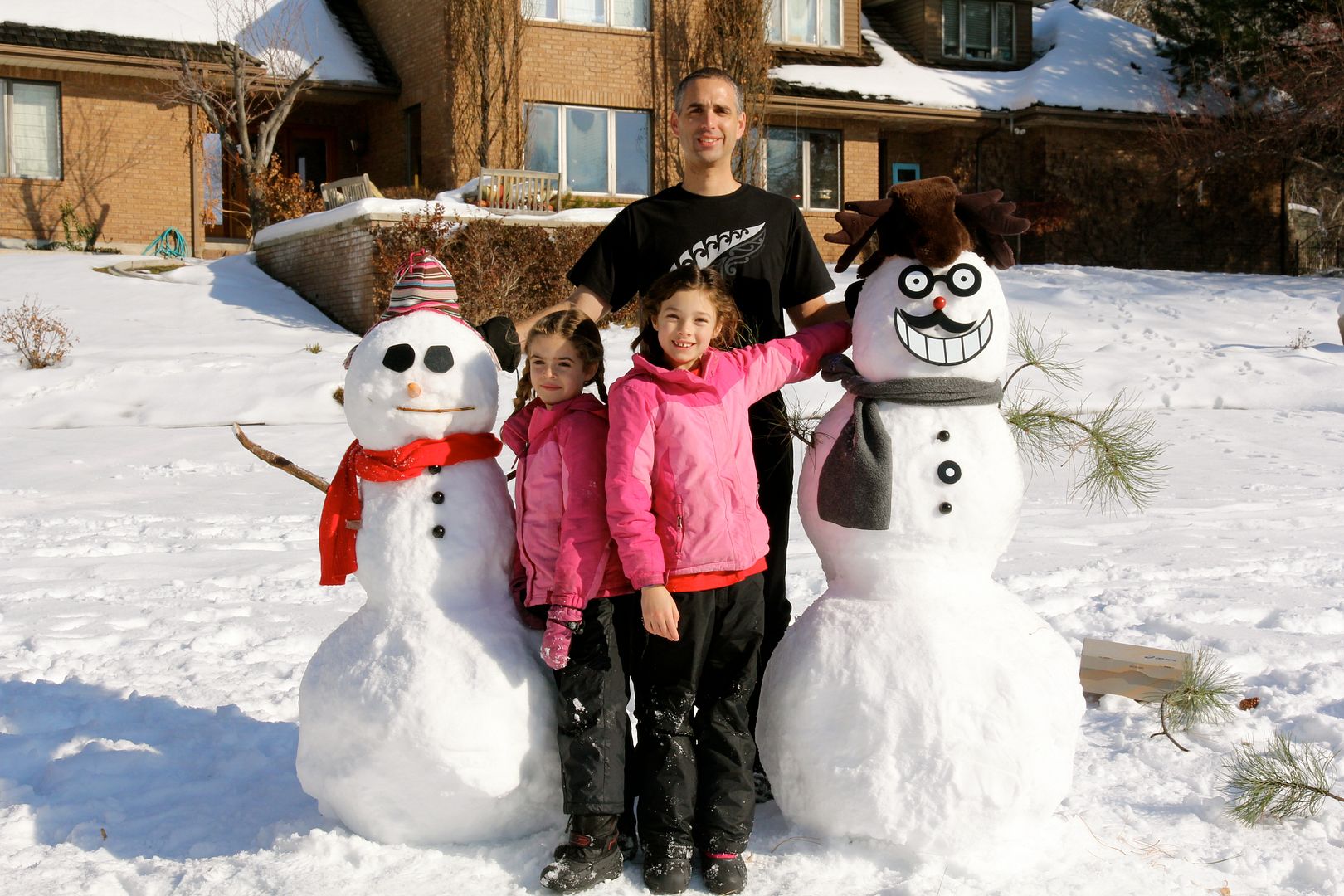 So, as we say farewell to winter, here are a few photos. And some video. A look at how we weathered the winter.
We built snowmen.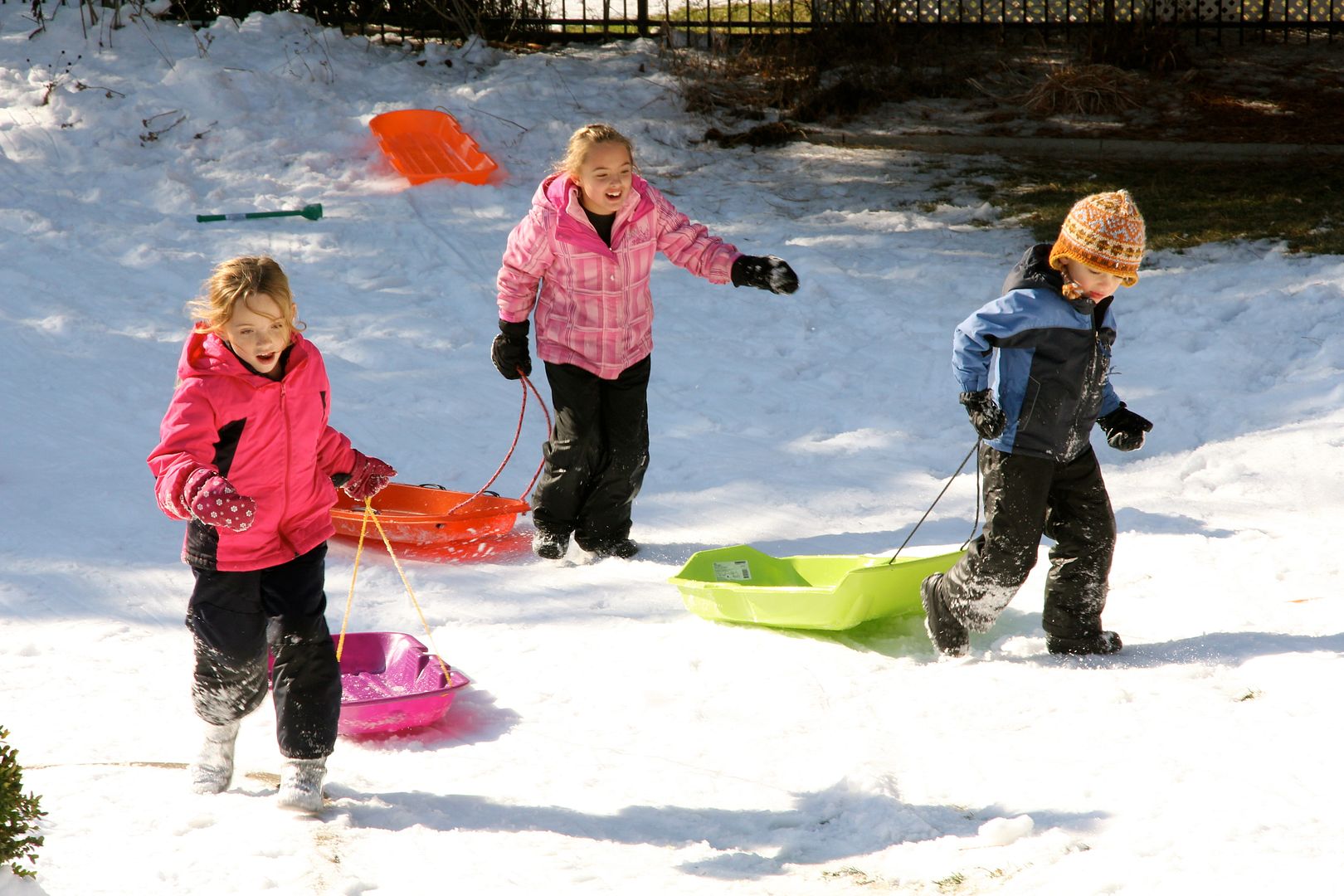 We went sledding in Grandma's backyard.
Gordon tried the stand up descent.
And every day I sent the boys outside to burn off energy. Snow or shine.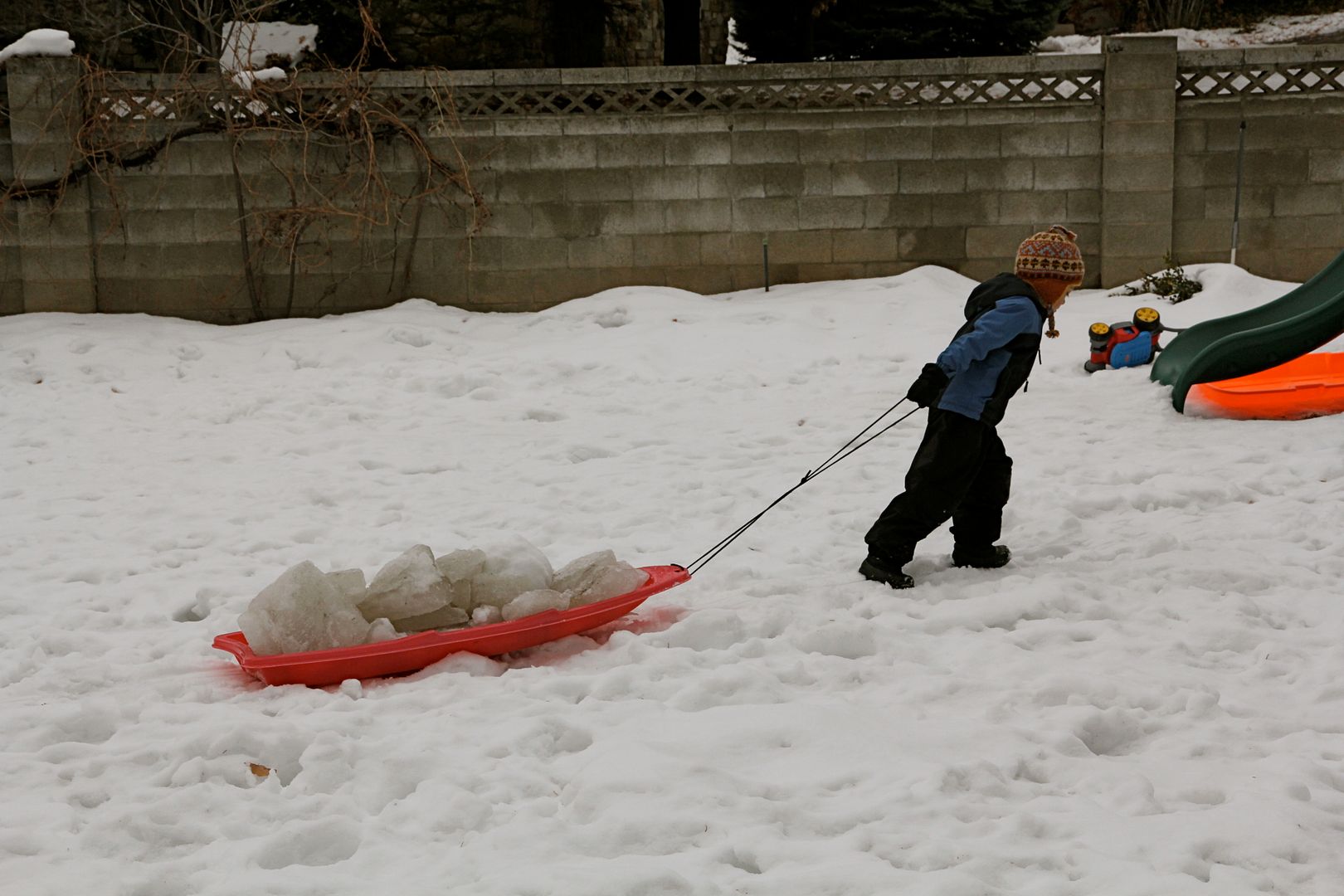 Once I found them hauling chunks of ice over to the swing set. It looked like the opening scene from Frozen.
Can you hear it?
Beautiful! Powerful! Dangerous! Cold!
Ice has a magic, can't be controlled
Stronger than one, stronger than ten
Stronger than a hundred men!
They were using the ice chunks as bricks.
To make an ice fortress.
Their creative industry made me smile.
Most of December and January, we had a HUGE sheet of ice on the side of our house. A stretch of slippery snow that made for great ice bricks and a fantastic luge (video at end of post).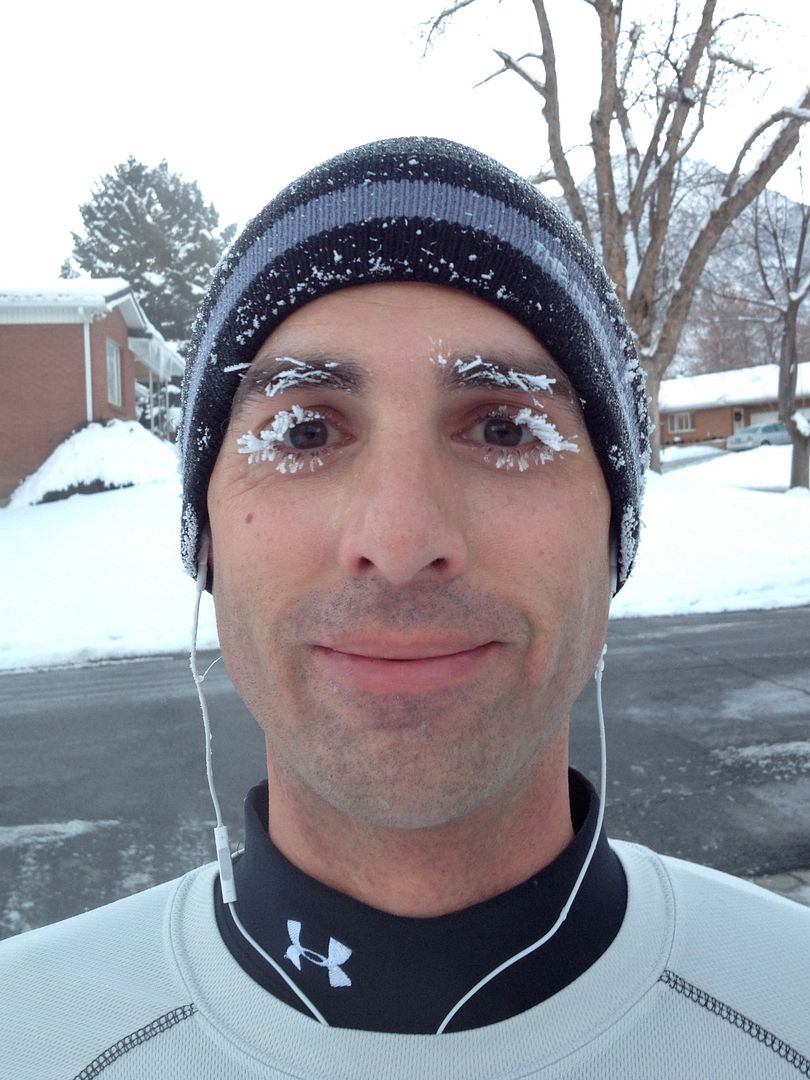 This is what Doug looked like after running in single digit temps. It was 4° this particular morning. I've always loved his long lashes, but these were especially stunning. We thought he looked like Kristoff.
Another day, in search of open space, we went to the State Capitol and let the kids run around.
We raced around the fountains.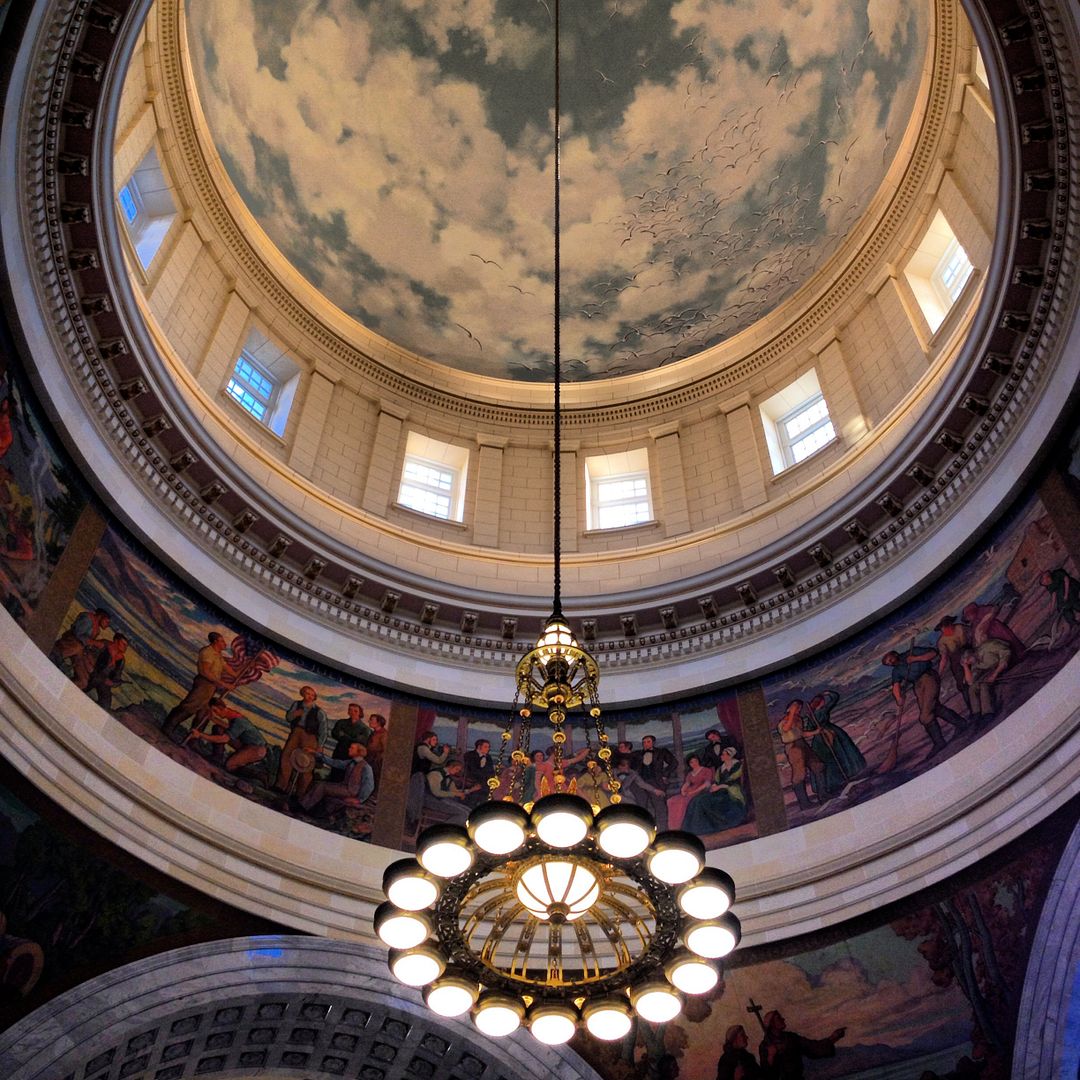 And took in the gorgeous art and architecture inside. Can you see the seagulls on the top of the rotunda? Utah has a miraculous history.
Now, for your entertainment, here's some footage I considered sending to the US Olympic Luge team. We missed our chance in Sochi. But we're hoping for
Pyeongchang, 2018.
First, the boys. Who needs a sled?
And second, luge via cardboard box. This was Sami's idea and oh my goodness, it was a blast. Word spread quickly, and soon we had a mob of neighborhood kids vying for a turn. I stood at the bottom to make sure no one hit the honey locust tree. :)
Makes me laugh every time.
Winter, I'm grateful you came to visit. Because I would miss you if you didn't. But I'm ready to welcome Spring. Ready to step outside more, shed some layers, and let the sun loosen my stiff, achey soul.
This weekend I'll post some great Mom resources, as well as info about our new Power of Moms book that will launch April 8th!
Until then, I'm hoping you've found yellow blooms of your own.