I love these girls.
Two in one has been a whirl of joy. A multiplied happiness.
Double birthday candles. Double smiles. Double hair-bows. Double hugs.
Look how lucky they are. To have each other
.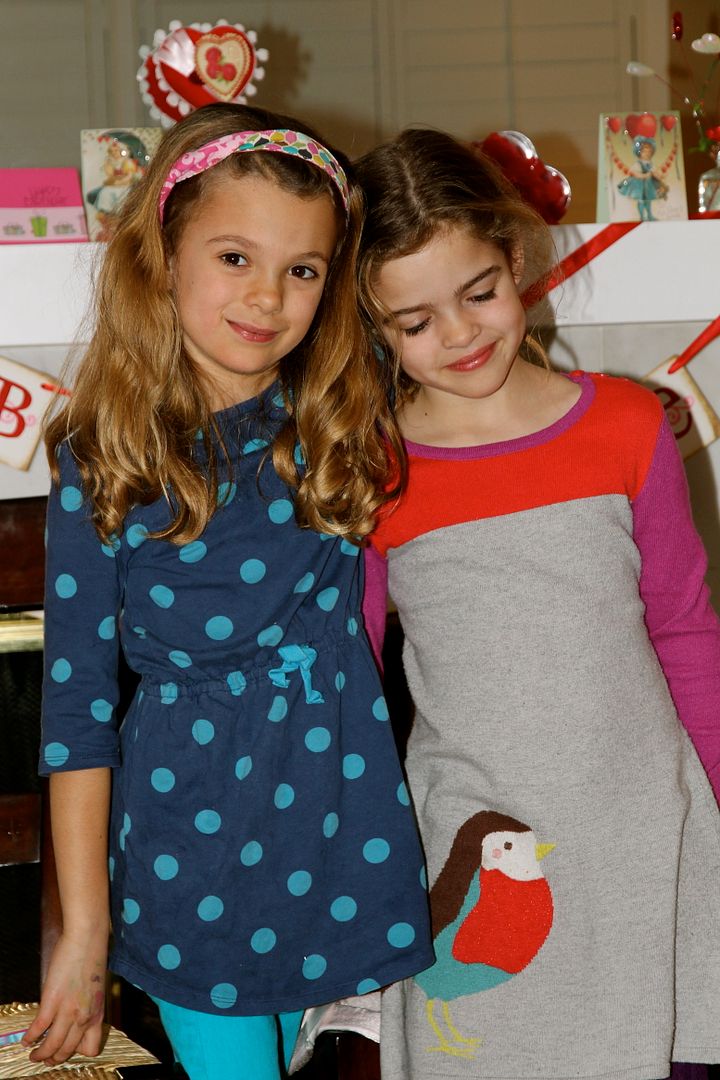 Of course, it's been a multiplicity of other things too. Like diapers, baths, clothes, back-to-back piano practice, and sometimes bickering. But so far, the togetherness of twins has outweighed the hardness.
Some moments, I stop on the gladness of it. I hear a giggly conversation behind a bedroom door. I look out the window to find them playing in the backyard - swinging, making homes for Raccoon and Rabbit. I notice Ali has made Sami's bed. Or Sami has found something at Target she knows Ali will love. And every morning I watch them walk to school together, backpacks bobbing in unison. There is confidence in being a team.
Being a twin is special.
But it also comes with unique challenges.
Sometimes the togetherness is it's own hurdle.
For the first time this year I've heard things like, "I wish I weren't a twin." "I want us to be in different school classes next year." "I don't want my hair to be like hers."
Recently I asked their 1st grade teacher how they interact at school. (They're currently in the same class.) I was surprised at her answer. She said they play with different friends at recess and they barely talk to each other in the classroom. She asked me how they get along at home.
I said they get along wonderfully.
They have their moments of door-slamming and fighting. That's to be expected. But her observation
made me realize how much they need their space. Especially as they get older. Space to be different. Because they are different.
They want (and need) an identity independent of the other.
Granted, it would be hard to always have someone next to you. To not have much that is your own. To suddenly slip into the shadow of someone else. To not shine. To not be noticed. To be compared. I've seen it. The shadowing. The comparing. And it makes my heart ache.
So I'm watching with careful curiosity how twinness is handled in our home.
I want my children to succeed. I want them to have good relationships with each other. And I want them to be happy with who they are, independent of their twin.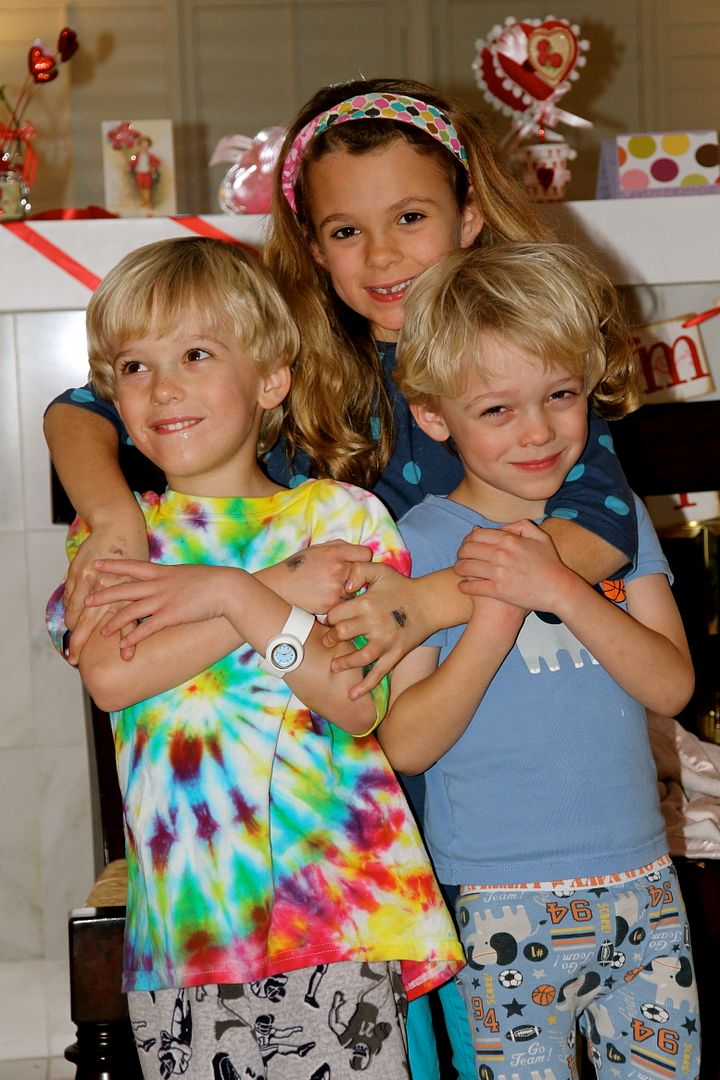 With two sets of twins under the roof, I've been watching for differences between fraternal and identical twins. Our girls are fraternal. The boys identical. And it's funny, the boys are closer in many ways. Their likes and dislikes are more similar. They play together more easily, more naturally. They never leave each other. And when they're apart from each other, an absence is felt.
Just Saturday I had to bathe Gordon without Spencer because Spencer ran off to jump on the neighbor's trampoline. Gordon sat rather dejected in the tub and mourned, "But I wanted to play boats with Spencer!"
This might be a matter of personality, or gender. And maybe genetics is a factor too. It's hard to say. But you can bet our study of twin dynamics will be ongoing.
Now, about Alexandra. What do I love about her?
Ali is my helper. She's my buddy. Every day she sees a need and tackles it, without being asked. Sometimes it's toy clean-up, setting the table, helping the boys find a lost stuffed animal, or cleaning up after me in the kitchen. The other day I was preparing dinner and she had half the food items put back in the refrigerator before I had a chance to use them!
Ali is very astute. She doesn't miss a thing. She listens when others are talking. She's aware of people's feelings. She leaves me little notes on my bed at night. She's shy in many respects, but growing in confidence all the time. She's cerebral, wise, and trustworthy.
And I love that she still likes to sit on the couch and snuggle with me.
I think she's beautiful. Which is the one thing she's not aware of at all. I tell her how much I love her long, curly hair, but she prefers it in a pony tail. She wears all things blue, all the time, even if they don't match. And that's fine by her.
We love this whimsical girl who dances through the living room, sings songs to herself, and does her homework without being asked. That's our Ali-girl.
And Samantha?
She might be one of the most fun people I've ever hung out with. She's all about experiencing life. It doesn't matter if it's dirty, wet, muddy, or messy. She's there. Right in the thick of it. Oblivious to any hand-washing, laundry, or bathing that might be necessary afterwards.
Sami is as pure as water. Things roll off of her, pass through her, and don't leave her feeling hurt. She's a peacemaker. Ocassionally, I've noticed a few burs under her saddle and she pushes back. But really, she has a heart of gold. She's a defender of all things living. She includes everyone. And she's a pied piper to her little brothers.
Often, when things get too quiet and I wonder where the boys are, I'll zoom through the living room to find them sidled up next to Sami on the couch while she reads them a story.
Or I'll hear her whispering to the boys when they're arguing over a toy. "Now, Spencer. If you let Gordon have a turn, you can have a turn right after. And while you're waiting, we can make a little house for your elephant." She's works magic with the boys.
Sami is full of light, full of spirit. She's the first to give me a hug when she sees my temperature rising. The first to say sorry. Her laughter makes us all laugh. And I think she's beautiful too. I love her long lashes and big brown eyes. I love the way her hair curls around her face when it's wet, and I love her toes. They still look babyish to me.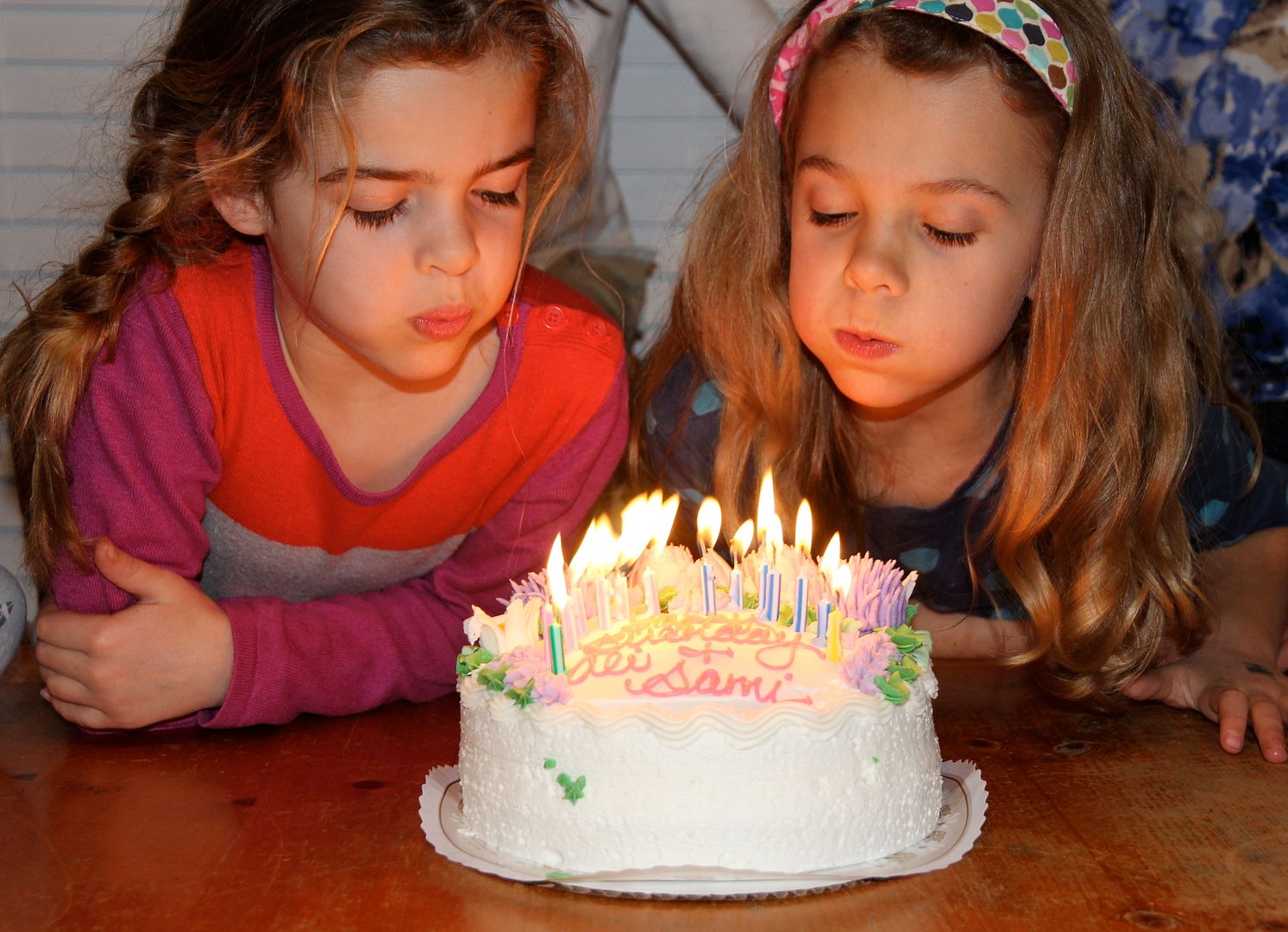 So. A few thoughts on how to help twins develop confidence and an identity of their own. Keep in mind, I'm no psychologist, but I have some field experience.
1. Point out their strengths. Privately. And in front of others. Celebrate them when they do well. Identify their gifts and guide them in developing those gifts through lessons, projects at home, and conversations. Remember it's okay for them to choose an interest different from their twin. Because they are different. It's good for them to have something (an activity or talent) they can call their own.
2. Help them understand the importance of individual progress
. This year, one of my girls was ready to advance to a harder spelling list than her sister. The girls and I had a long chat. I explained how important it is that they progress at their own pace so they can become their very best self. I mentioned how important it is to learn to be happy for others. That we are not diminished by another's success or joy. I set up a pretend scenario to illustrate the need for everyone to progress when they are ready. I explained that their teacher's job is to challenge them and give them new work if they are ready for it. I reminded them that school isn't a competition; they don't need to compare scores with each other. What matters is that they work hard and do their very best.
They've done well with this. Even when one has had a harder spelling list or scored better on a test. I do think, however, that next year, we will honor their request to be in separate classes.
3. One-on-one dates. Outings alone with Mom or Dad have helped us know our children better. When we take them out of the family mix, our kids open up about life. They share concerns, happiness, and just stuff. We love to hear them talk. We bond. And every outing we come away knowing better what that child needs.
Outing with Ali (age 5) to the painting store.
4. Never compare. Especially out loud. For example, "Why can't you be like Ali?" Gah! It's so bad to compare any of our children with each other. It only increases sibling rivalry. And to make one twin "the smart one" or "the nice one" or the "hard one" is ridiculous. Any twin parent will understand what I'm talking about. I will never know
why people are so bent on pegging twins into certain holes by asking something like, "Which one is the outgoing one?" I always respond, "They're both outgoing. In different ways. They're both smart. They're both fun. They're both very sweet." Because it's true. And even if it wasn't, labeling won't help them progress.
5. Listen and Love. Listen to what they have to say about being a twin. Listen with your eyes. Listen with your ears. Listen with your heart. So you can feel what is right. Trust them. They know themselves. They know what interests them, what they want, what they need.
Time working together and playing together is the best way to strengthen family relationships.
When a spirit of love abides in the home, children naturally grow in love towards each other. The way we treat our children, talk to them, talk about them, and show our love for them, will be the ways they show their love for each other.
Now it's your turn my dear twin parents. What are your observations? I'd love your thoughts here.