It's late Tuesday evening and I just said goodbye to my parents who were kind enough to watch the kid-crew tonight. As always, my Dad put his arm around me and gave me a tight hug before he slipped out the front door.
Always a hug. When we greet and when we part. He is the most tender Dad a girl could have. The older I get, the more I appreciate who he is. Kind, committed, and consistently able to draw a laugh. I better appreciate the challenge it must have been for him to financially provide for a family of eight, to work a very demanding job with no predictable schedule, to offer years and years of church service as a young father, and to do it all (as far as I can remember) cheerfully.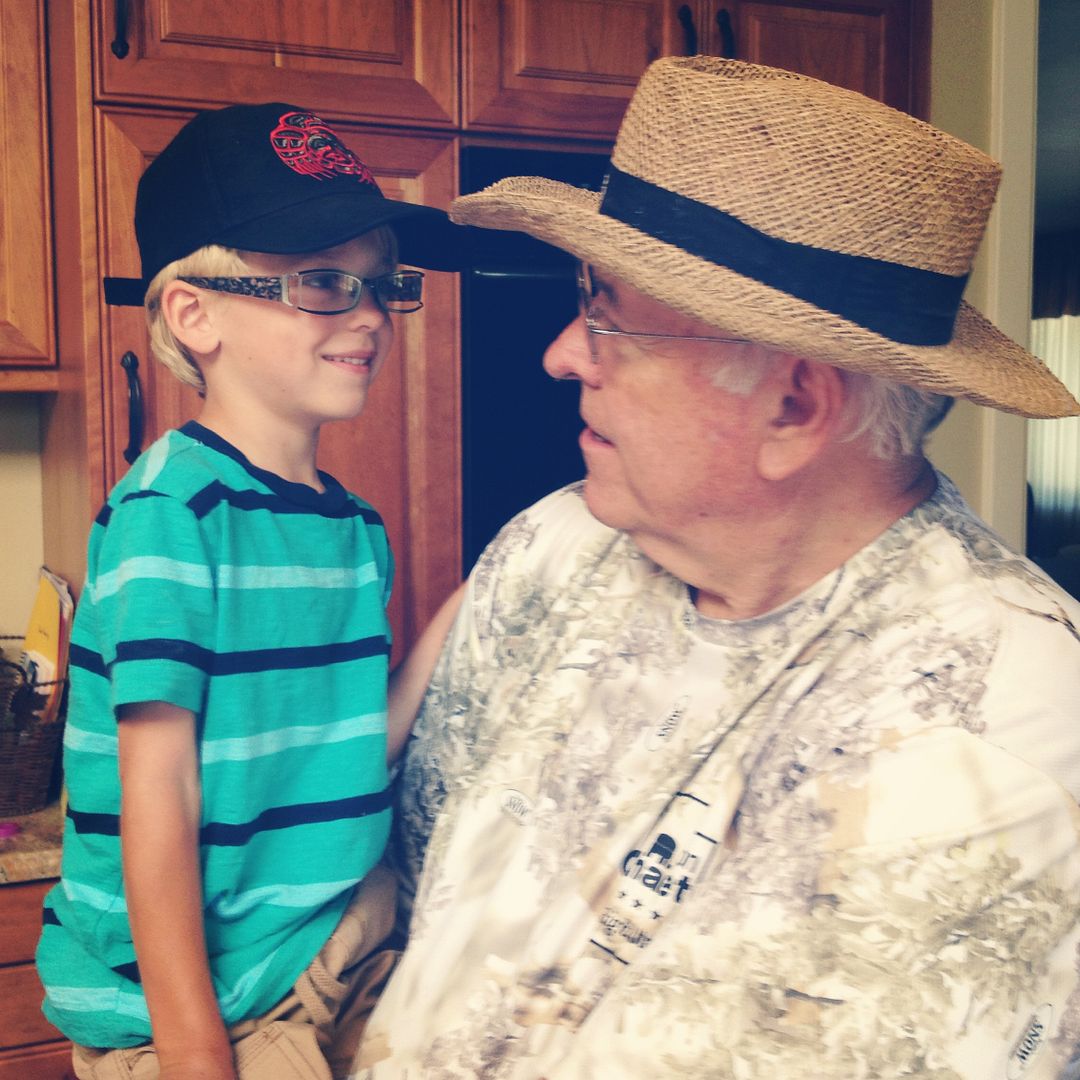 Gordon with Grandpa, trying on Grandma's reading glasses
He's the most cheerful guy I know. Something I believe he learned, or inherited, from his parents.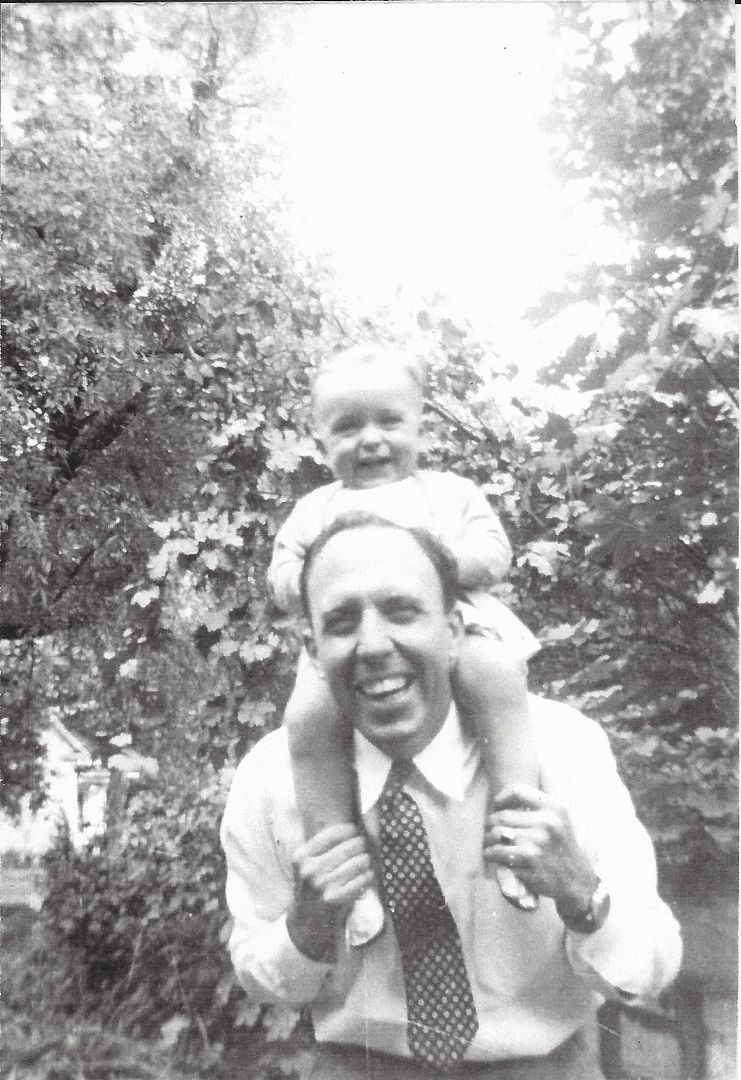 Baby Robert (my Dad) catching a ride on his dad's shoulders.
This photo of my Grandfather always makes me smile. I've mentioned in a previous post that he died before I was born - before my Dad finished medical school. I wish I could have known him.
My life, and the lines that fueled it, are filled with good men. Good men who tilled the earth for a living, knew periods of unemployment and hardship, cultivated their talents because it brought them joy, and unfailingly loved their families.
My Mother, as a small girl, with her daddy.
This black and white photo shows my other Grandpa in his prime. Strong arms wrapped around his little girl. Look at my mother's smile. She loved her Dad. We all did.
And then there's this good man. When I'm too serious, he cracks a joke. When I'm beyond spent, he rescues. When I'm slightly irrational, he is a sensible voice of reason. He offers playfulness, perspective, and an example I simply can't offer my children. I am so very grateful for him.
This Father's Day had me considering the influence of good men.
I know not every family has one. Not every child has a Dad they revere and love. Not every mother has a husband she can count on. Not all Dads are worth celebrating. But those
I know who are courageously living without will be the first to tell you, it is not ideal.
Sometimes I worry, that in all the recent attention over issues like gender inequality, or a media bent on demeaning those who defend traditional marriage, we, as a society, are believing the subtle and flawed message that men are dispensable. That Dads, are dispensable.
And I disagree.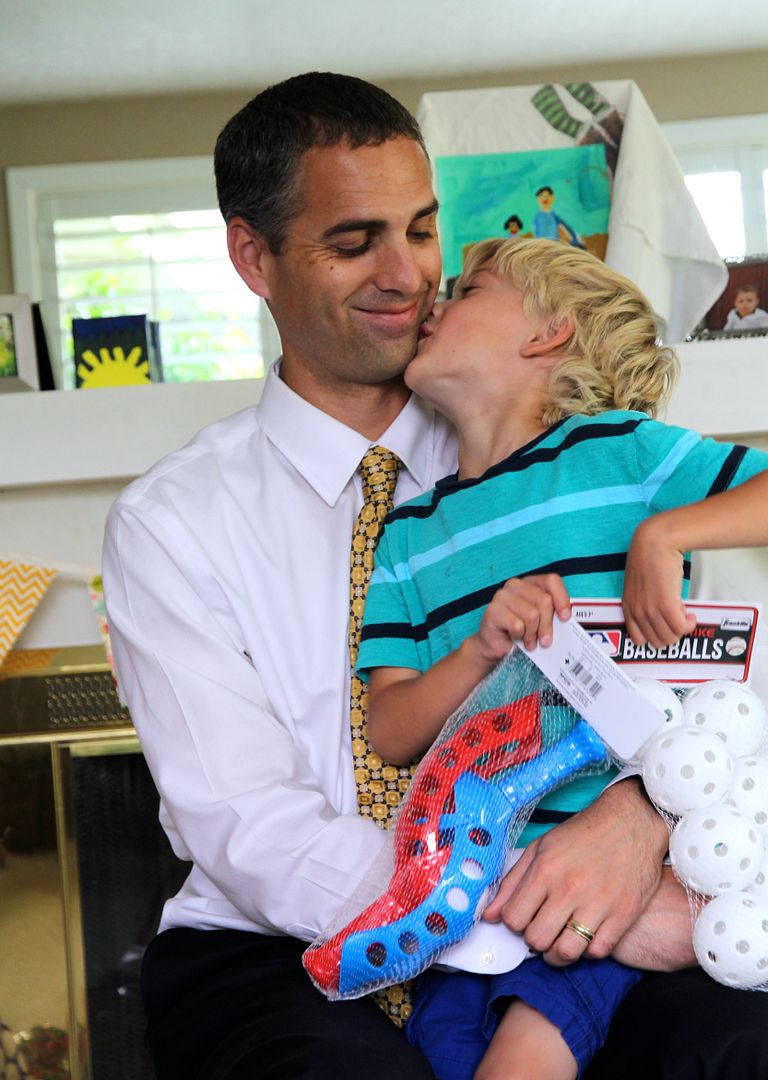 W. Bradford Wilcox, the director of the National Marriage Project at the University of Virginia, says that studies show

quite the opposite

.
He writes,
"The view that men are superfluous in today's families is dead wrong. While it is certainly true that some children raised without fathers turn out just fine (I did), on average, girls and boys are much more likely to thrive when they have the benefit of a father's time, attention, discipline and especially affection."
Dads are the ones that usually initiate play. They are more likely to encourage their children to take risks, try new skills, do something hard. They offer an element of protection that often helps teenage daughters choose safer environments. And they discipline differently. Studies show fathers are more firm in enforcing discipline, while mothers are likely to be more flexible and reason with their children. Together, both parents offer a balanced approach to discipline.
On a slightly different but somewhat related note, if you are reading much news, you're familiar with the publicized movement of a group of women (Ordain Women) who are pressing for priesthood ordination within the LDS church. The excommunication of their founder, Kate Kelly, has caused a great stir among Mormon bloggers. And much of what has been published on the topic has been critical of the church and their stance.
I am usually hesitant to chime in on heated issues, but I have been feeling the need to say something here. In this safe, less conspicuous place. While I appreciate the conversation that is going on, and I have compassion for these women and their experience, I do not support the movement.
I believe the matter has been carefully considered by our prophet and the leaders of our church (both men and women), that they are very much aware of the situation and open to hearing the opinions of its female membership. But when it comes down to it, the principle is a matter of revelation. And it has not been revealed that women should have the priesthood, at least not in the way this group is seeking it.
I am okay with that. I trust the leaders of our church. I trust the process of revelation.
What bothers me about the issue, as well as certain discussions on gender and same-sex marriage, is the sentiment that men and women are equal - meaning identical. Thus, one of them is dispensable, or not necessary.
And that is not how God designed families.
Both mother and father bring unique and essential gifts to the rearing of a child.
I believe they also bring these unique and essential gifts to the teaching and leadership of our church.
During all the years I have been a member of the LDS church, and served on various leadership councils, I have never felt undervalued, dismissed, or discarded. I have developed tremendous friendships in those circles of leadership, learned from both men and women, and always, I have felt heard and valued as a woman. I am thankful for that.
Unfortunately, I think the Ordain Women movement has been counterproductive in promoting equality between men and women. Because it has perpetuated the belief (in major publications like the NY Times) that women in our church are considered less than, that they are mistreated and misunderstood. I am not naive enough to say that doesn't go on. No church is a church of perfect people. But it is not the doctrine or structure of the church. And the men I have worked with have always been exceptional, good men, who esteem women and genuinely care about their needs.
For more depth on this perspective, read

Ashley Isaacson Wooley's piece

in the Deseret News. Ashley is a faithful member of the LDS church, has a master's degree from Harvard Divinity School and a JD from Stanford Law School.
Doctrinally,
we believe

men and women are absolutely equal in value, status, and purpose. Different, however, in abilities, divine gifts, and roles.
I am so grateful for Doug and the unique gifts he brings to our family life. We cannot dismiss or underestimate the influence of good men. We ought to seek them out. Find them for our children. Thank them for their love.