You should have seen my face when he pitched the idea.
Doug (sometime back in January): "So I was thinking we should have a big end of school party in our backyard this year. A dance party. We could do hot dogs, games, dancing, watch an outdoor movie..."
Me (both eyebrows raised after looking at him for several seconds in silence): "Really? That sounds... um... big."
Doug: "I think it would be fun. I've got it all planned out."
Me (still wondering if this is really my husband talking): "Ooookaaaay. Sounds fun. But it also sounds like a lot of work. Why don't we revisit this discussion in a few months?"
So we did. And Doug had every detail, down to the disco ball, figured out.
Together, we executed the plan, passed out invitations (that Doug made), and threw a Summer Kick-Off party for over 70 Kindergarten - 3rd graders in our neighborhood.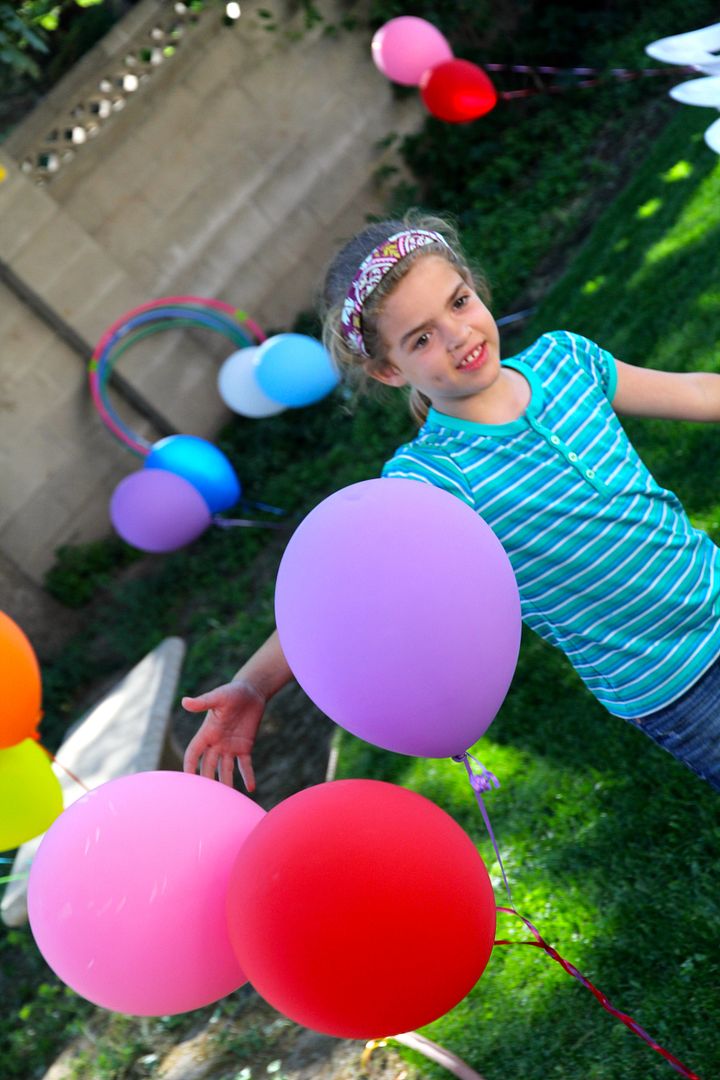 With so many great families around us, it was hard to keep it small.
We had no idea how it would turn out. I worried there might be too many kids to manage, not enough adult help, not enough food or entertainment.
But guess what? It went off beautifully. And Doug was right. It was a blast!
Doug took the day off from work to clean up the yard and handle the technical set-up.
Remember

the disco dance party

he did for our family reunion last summer? He went for a similar effect here. Colored lights strung across the yard, disco ball at one end, sound system, and screen/projector for the movie.
I handled the aesthetics and organized five different activities for kids to visit in both the front and back yard.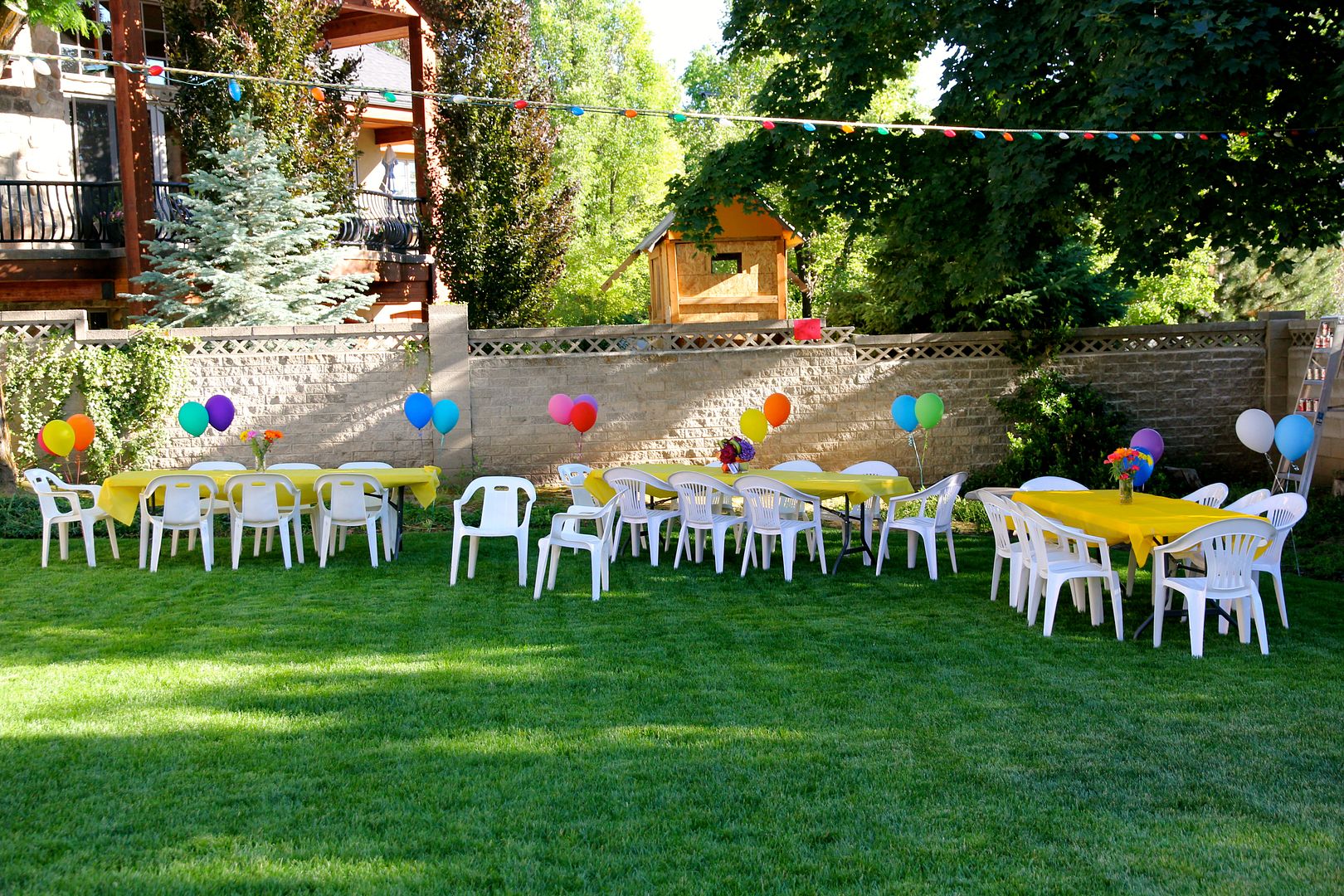 This was the calm before the storm.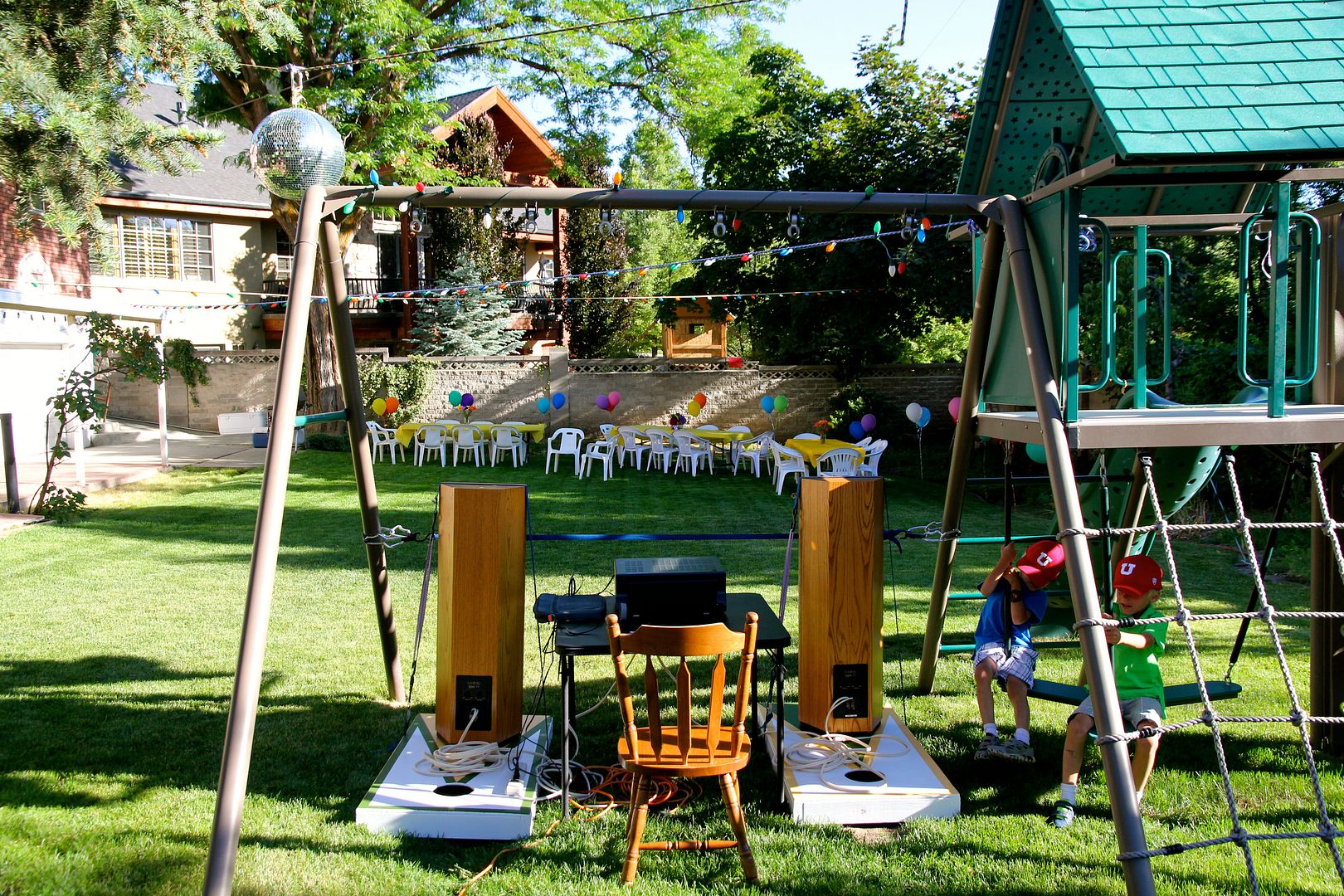 SG watching Doug set up the DJ station.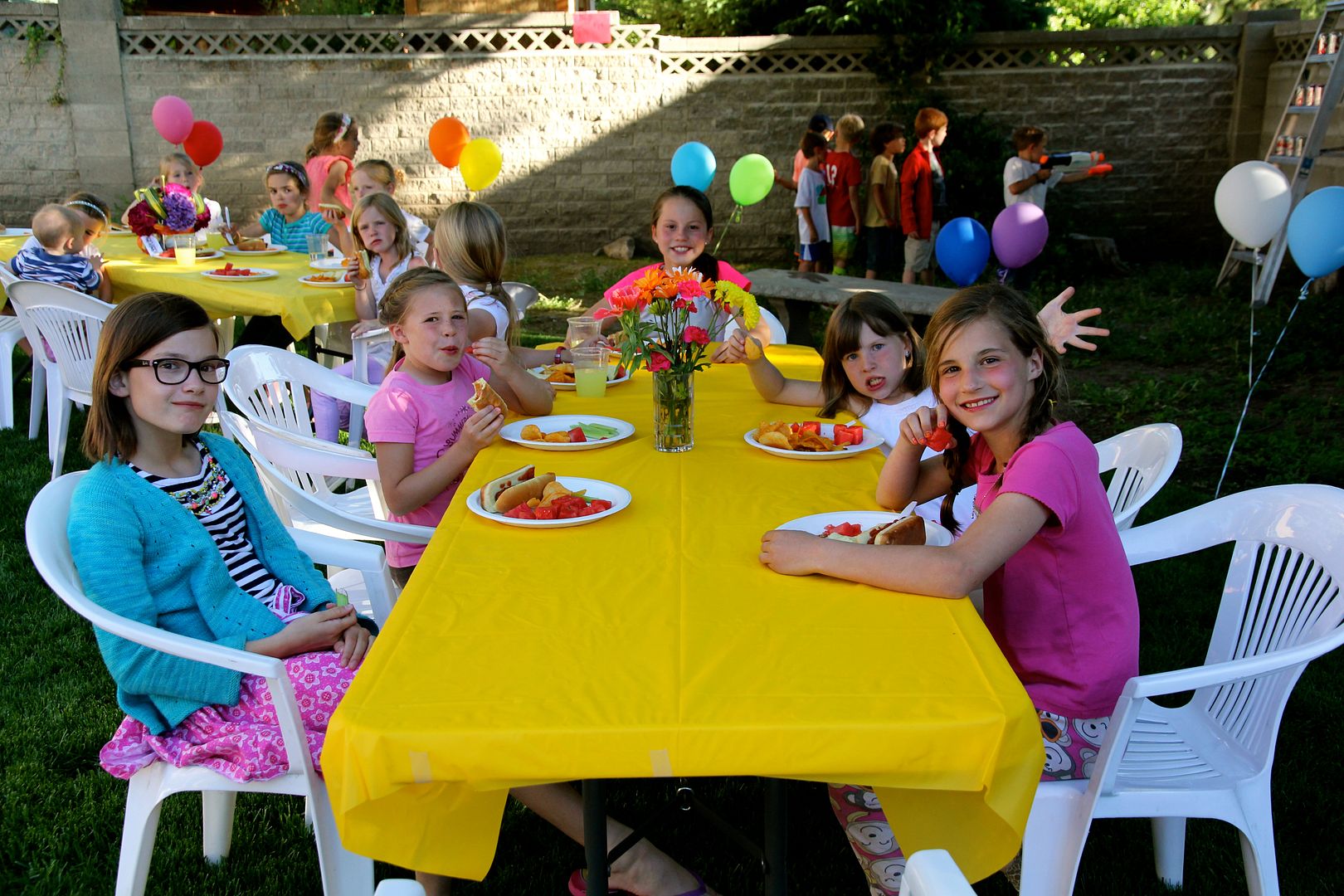 And then they arrived.
For one wide-eyed moment of panic, 60-plus kids filled the backyard, hot dogs weren't ready yet, and Doug thought, "They could overthrow us if they wanted. There could be a mutiny."
But there wasn't.
The kids were wonderful. And once I explained the activities, there was happy, organized chaos as the kids made their rounds.
We couldn't have done it without the amazing help of our neighbor friends who managed the different activities and brought food. Wish I'd thought to gather them together for a photo, but we were all so busy!
We had a hula-hooping contest.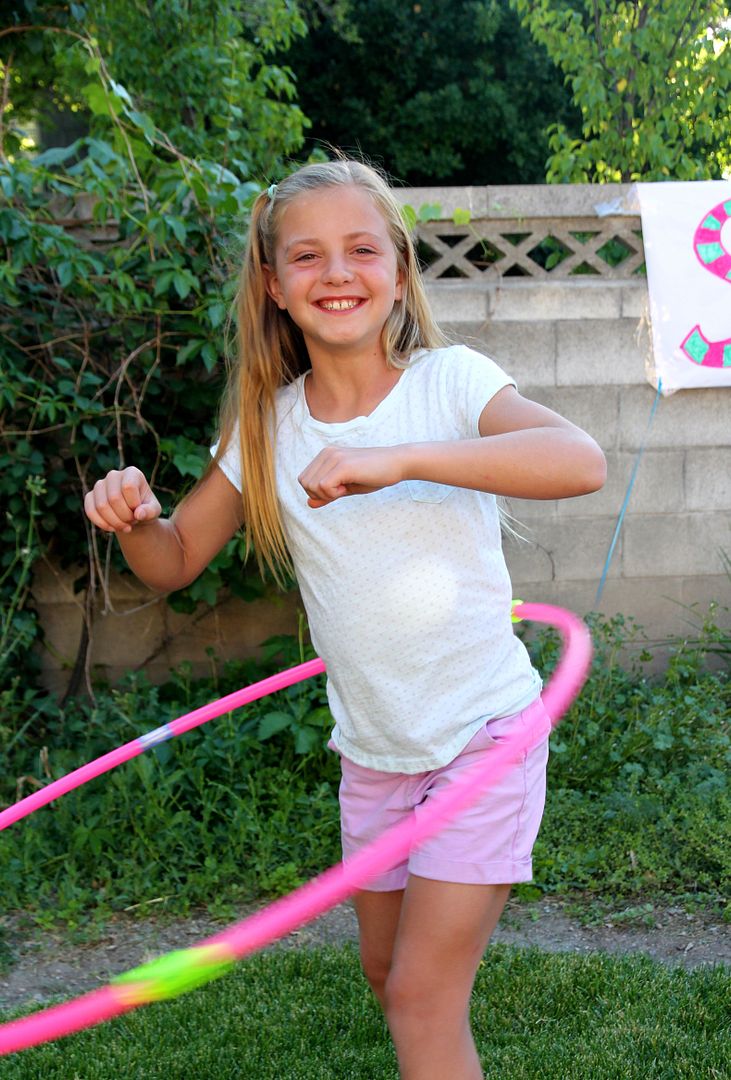 Gracie set a record no one even came close to breaking. Are you ready for this? She hula-hooped for 17 minutes and 50 seconds. Go Grace!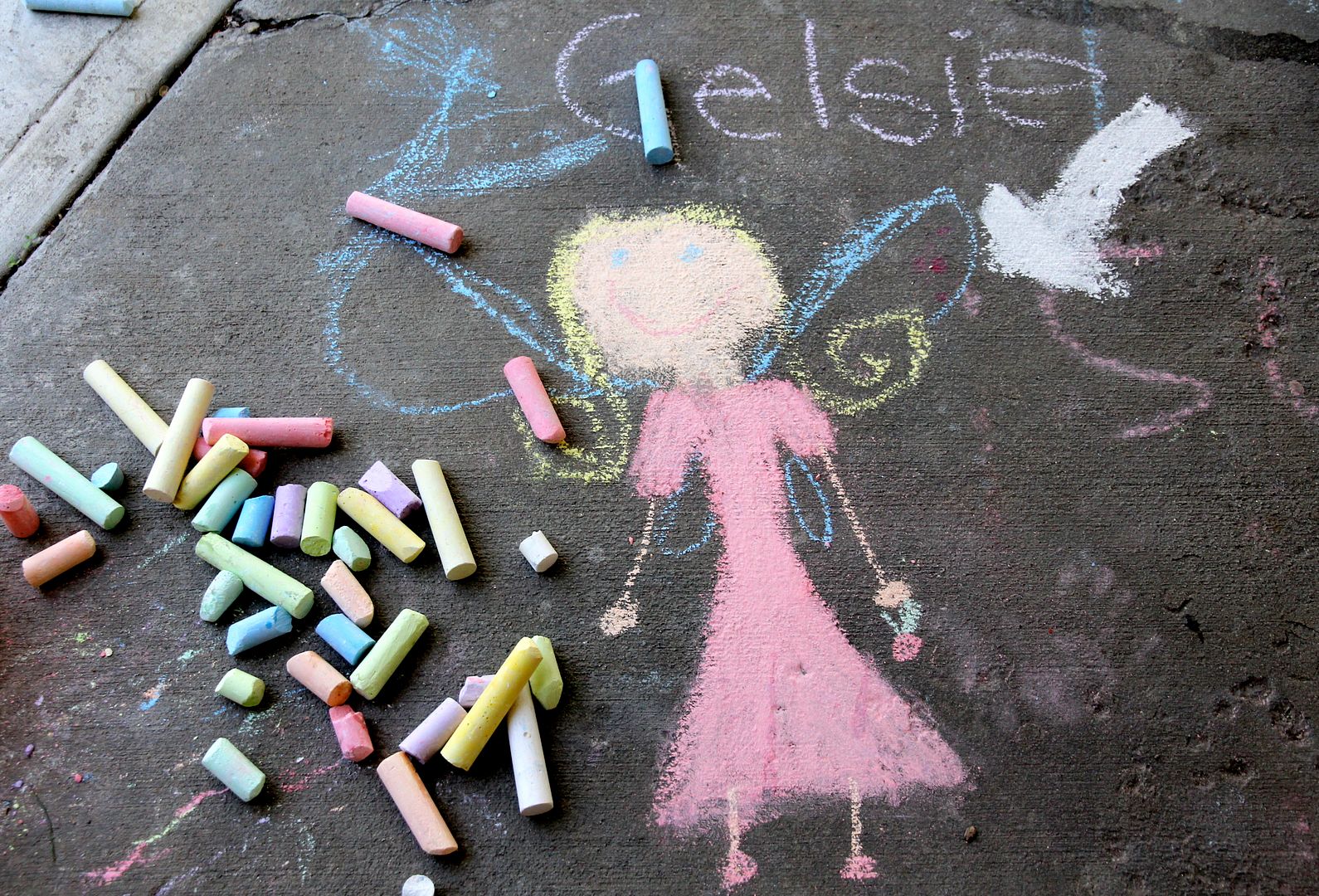 We did chalk art on the driveway.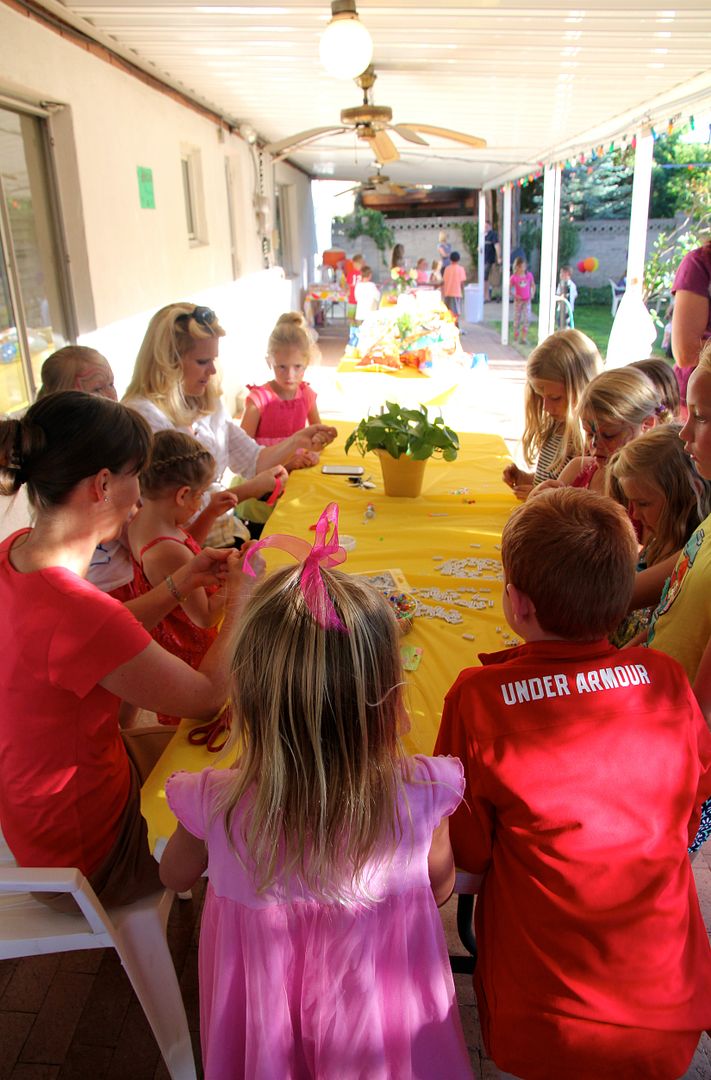 And beading. The kids made necklaces or bracelets. They are wearing some of the fun jewelry they put together in photos below.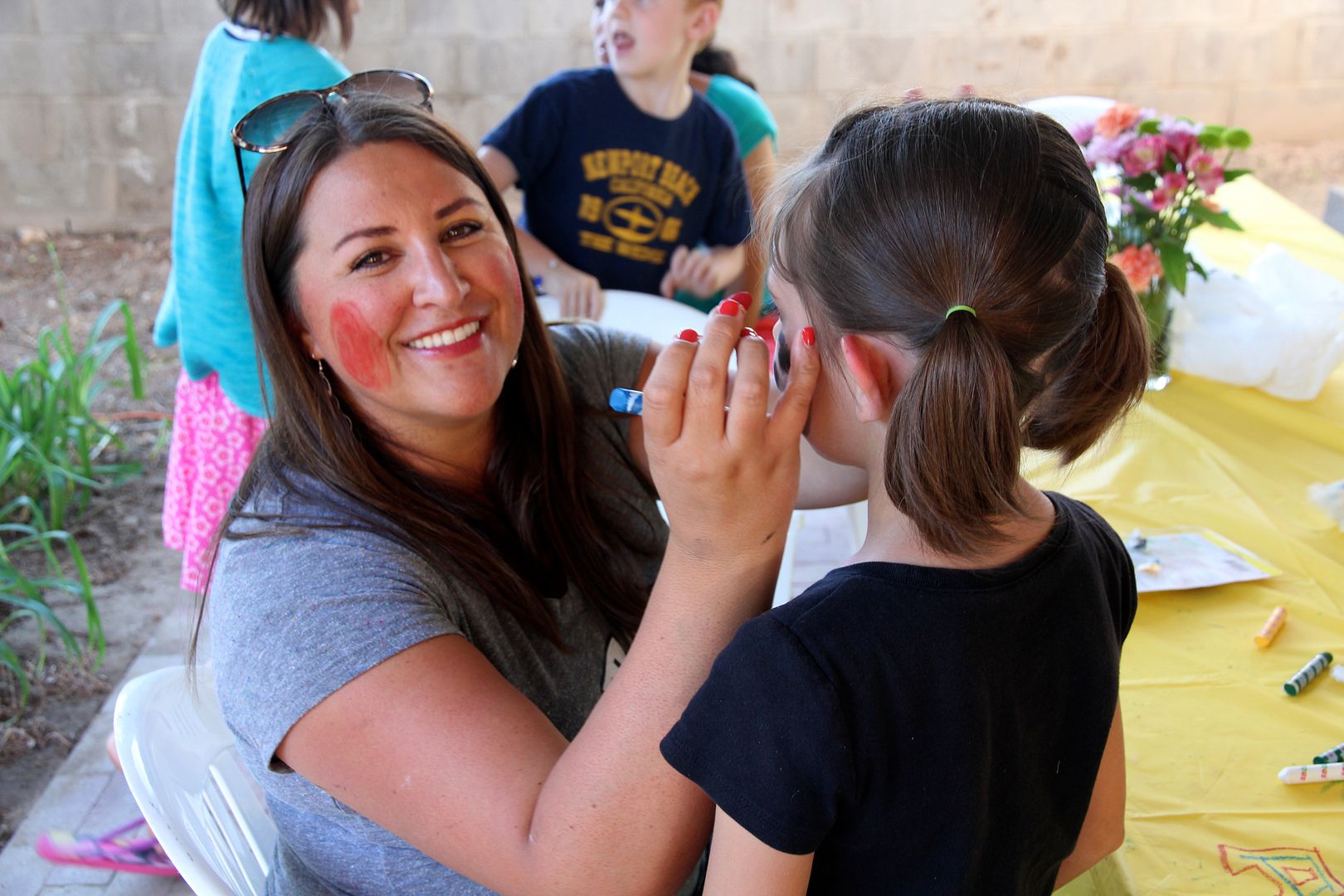 Three awesome moms, Lindy (above), Erica (below), and Janae, did face-painting. Pics below to show-off their talented artwork.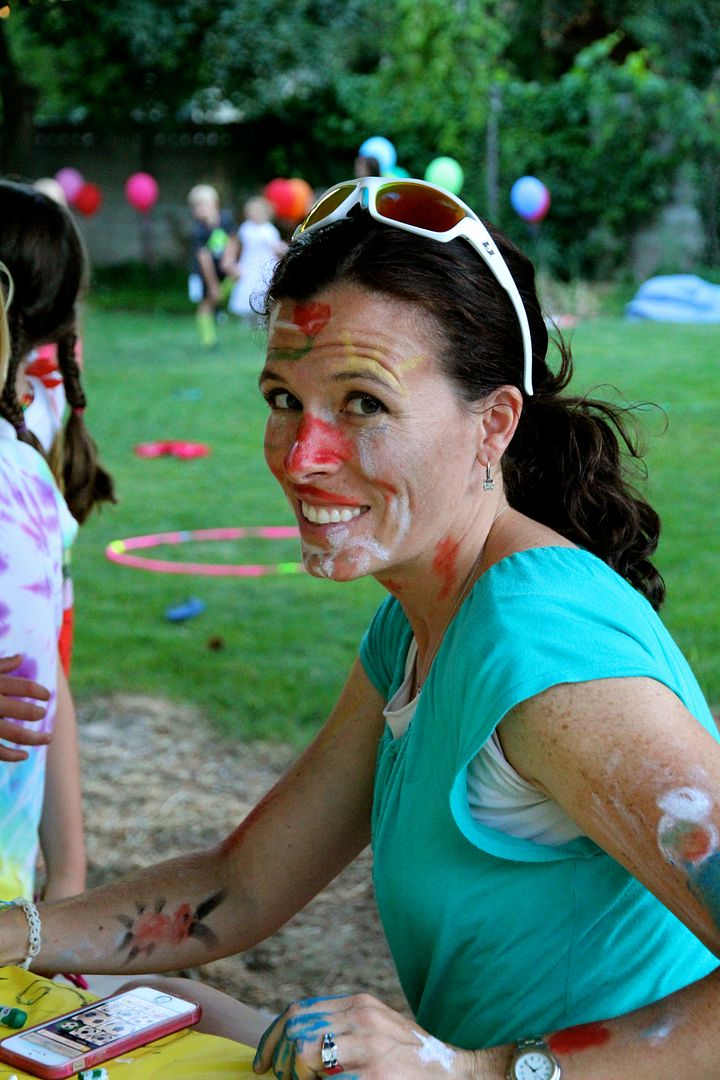 Erica, bless her heart, let the kids paint her face!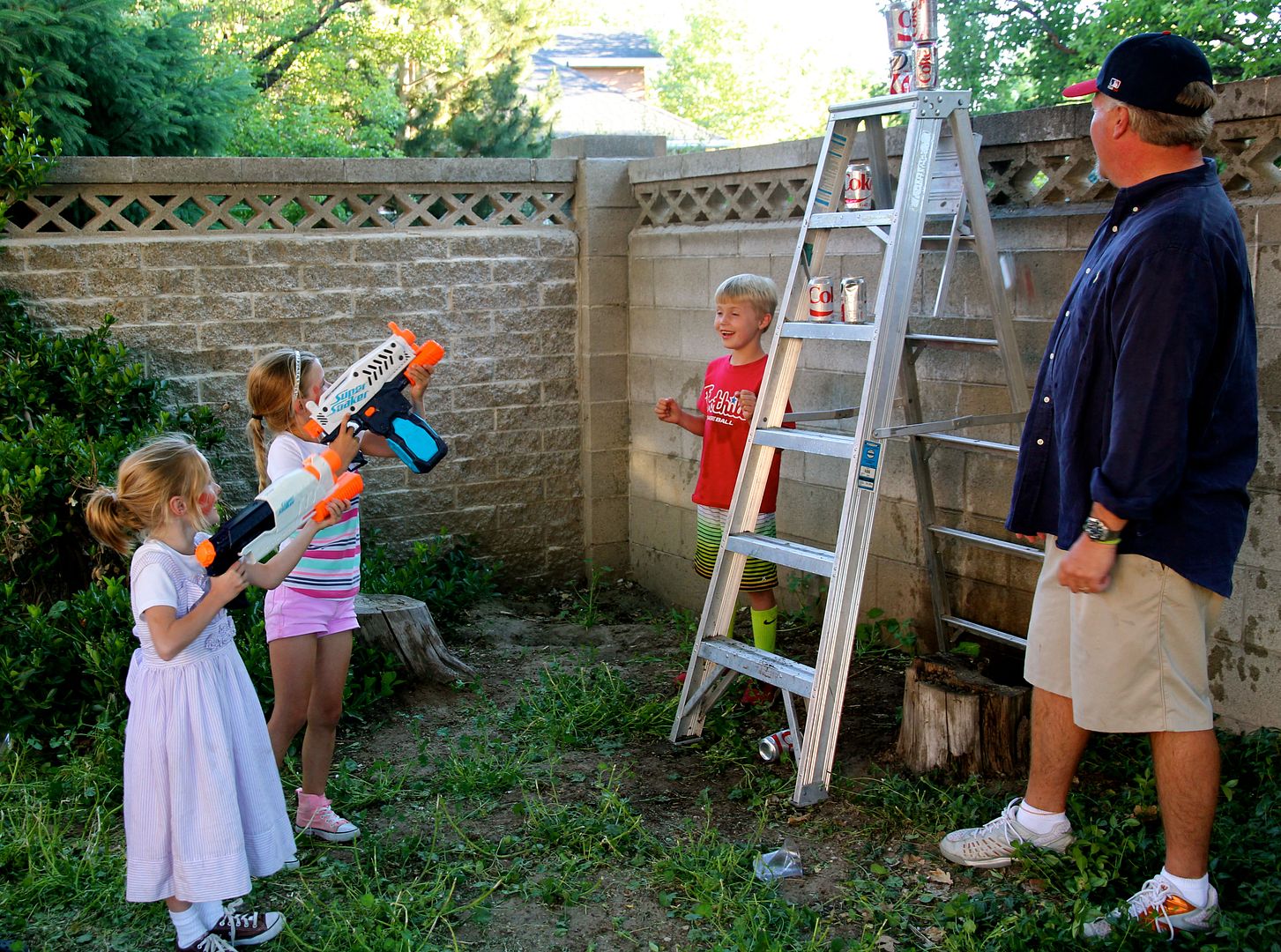 We set up a "Dead-Eye" station, mostly for the boys to practice shooting down soda cans with water guns. (This got a little crazy when the third grade boys commandeered the Super Soakers. But all in all, it was pretty controlled.)
And look! The girls were not to be outdone.
We also set up a "Take a Photo" area, where the kids could put on various hats and accessories, then have their picture taken.
I could post a dozen more pics of these silly kids with their stellar face paint and funny props.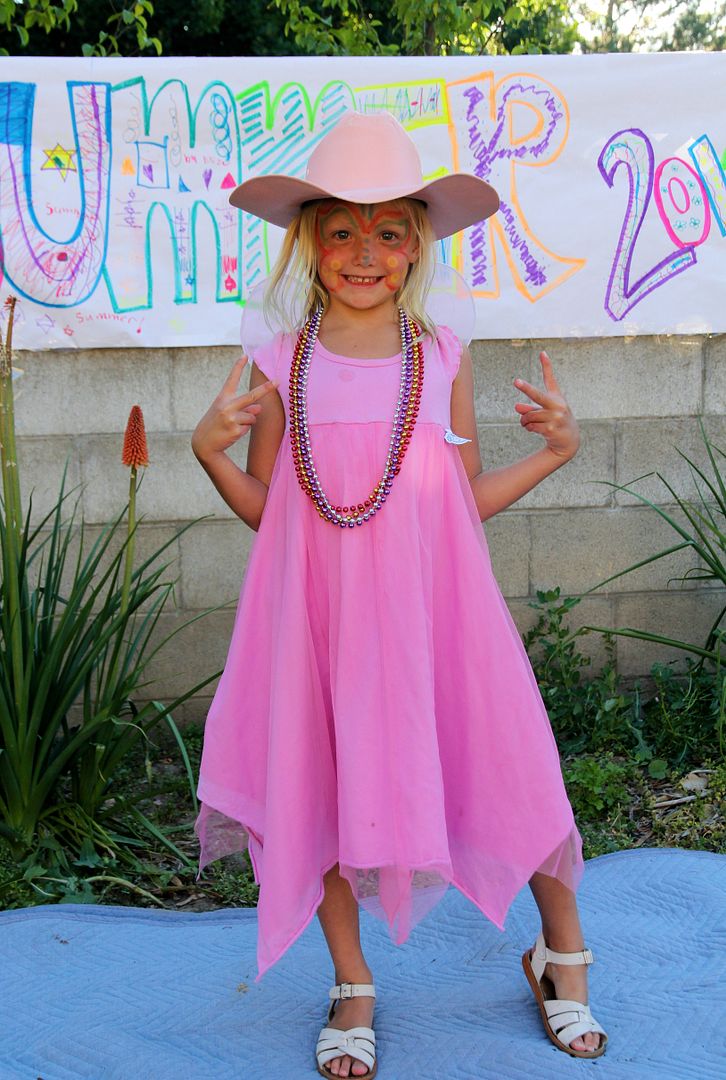 Meg, the butterfly cowgirl.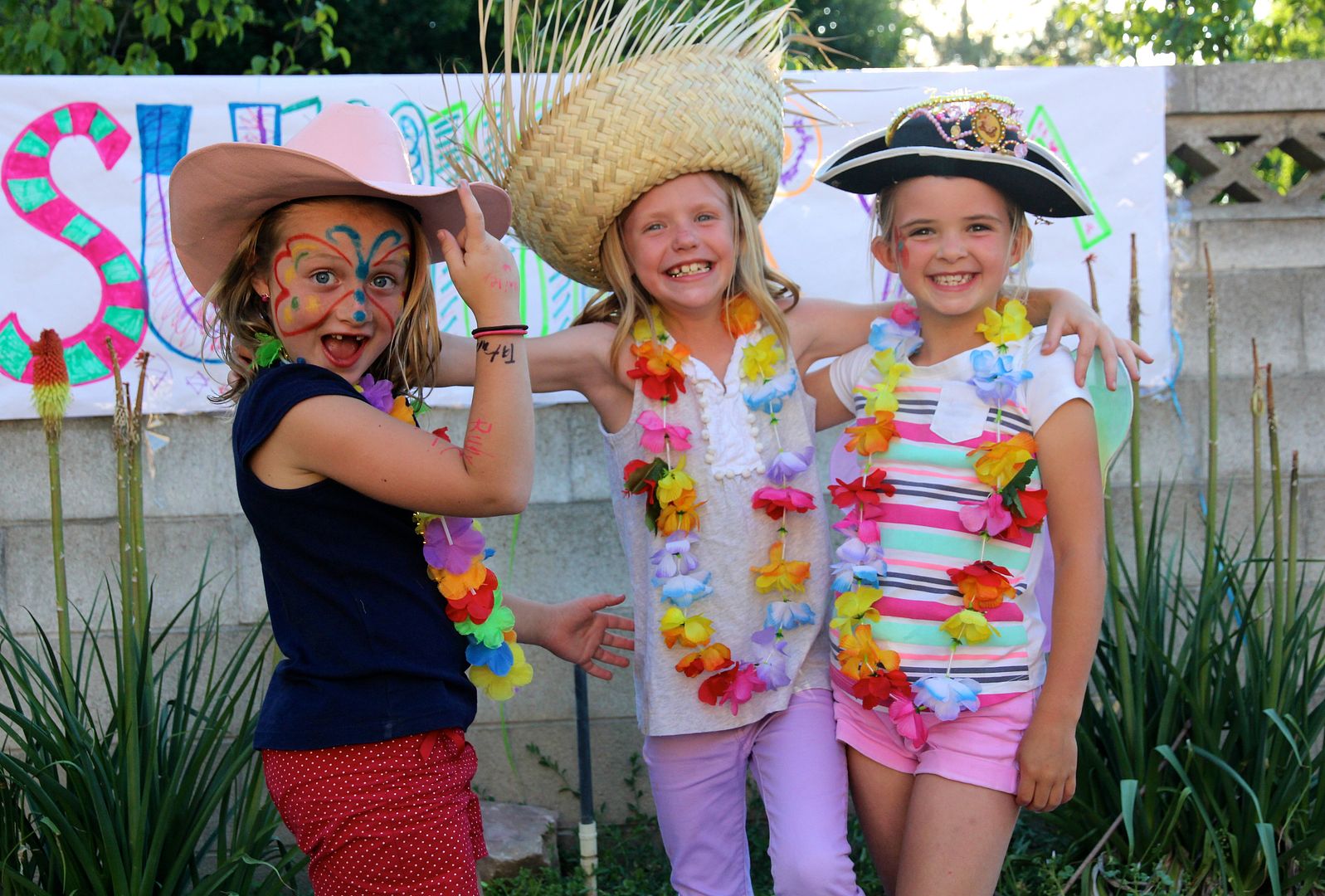 Giggles and more giggles.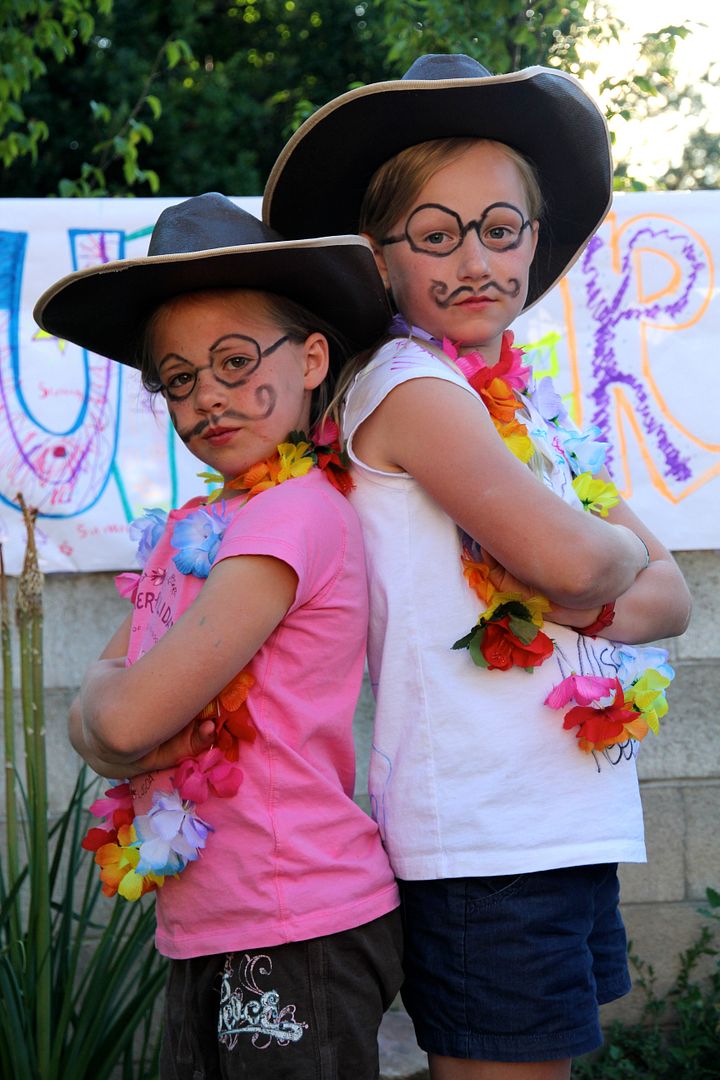 These two outlaws. Wanted dead or alive.
Alex, showing off his bracelet and our handsome hombre, Nick.
The darling preschoolers, who came with their mamas.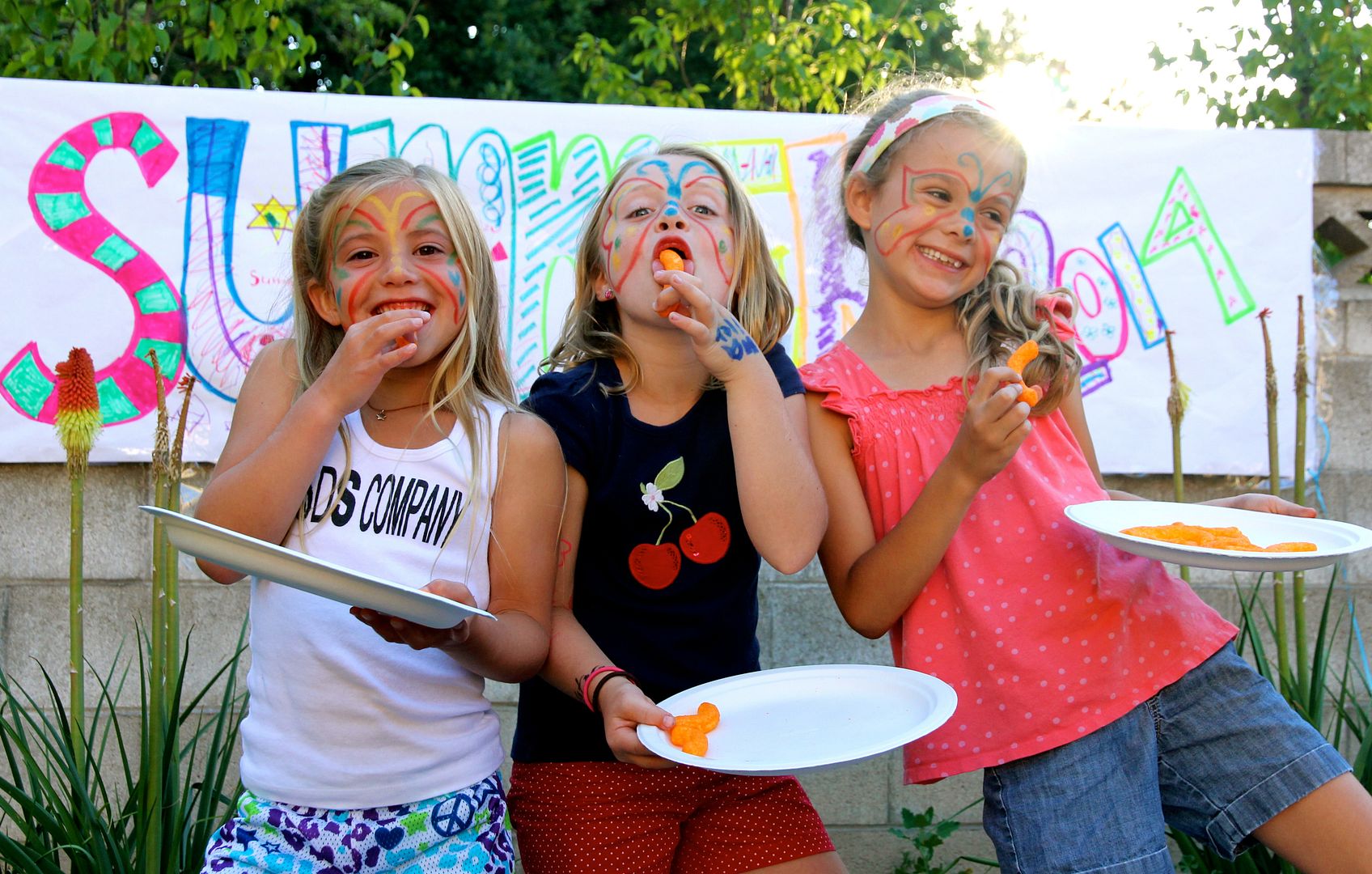 Three Cheeto Puff girls. (Sami, not pictured, told me afterwards that the best part of the party was being able to eat as many Cheetos as she wanted. Endless Cheetos. Who knew she was so easy to please?)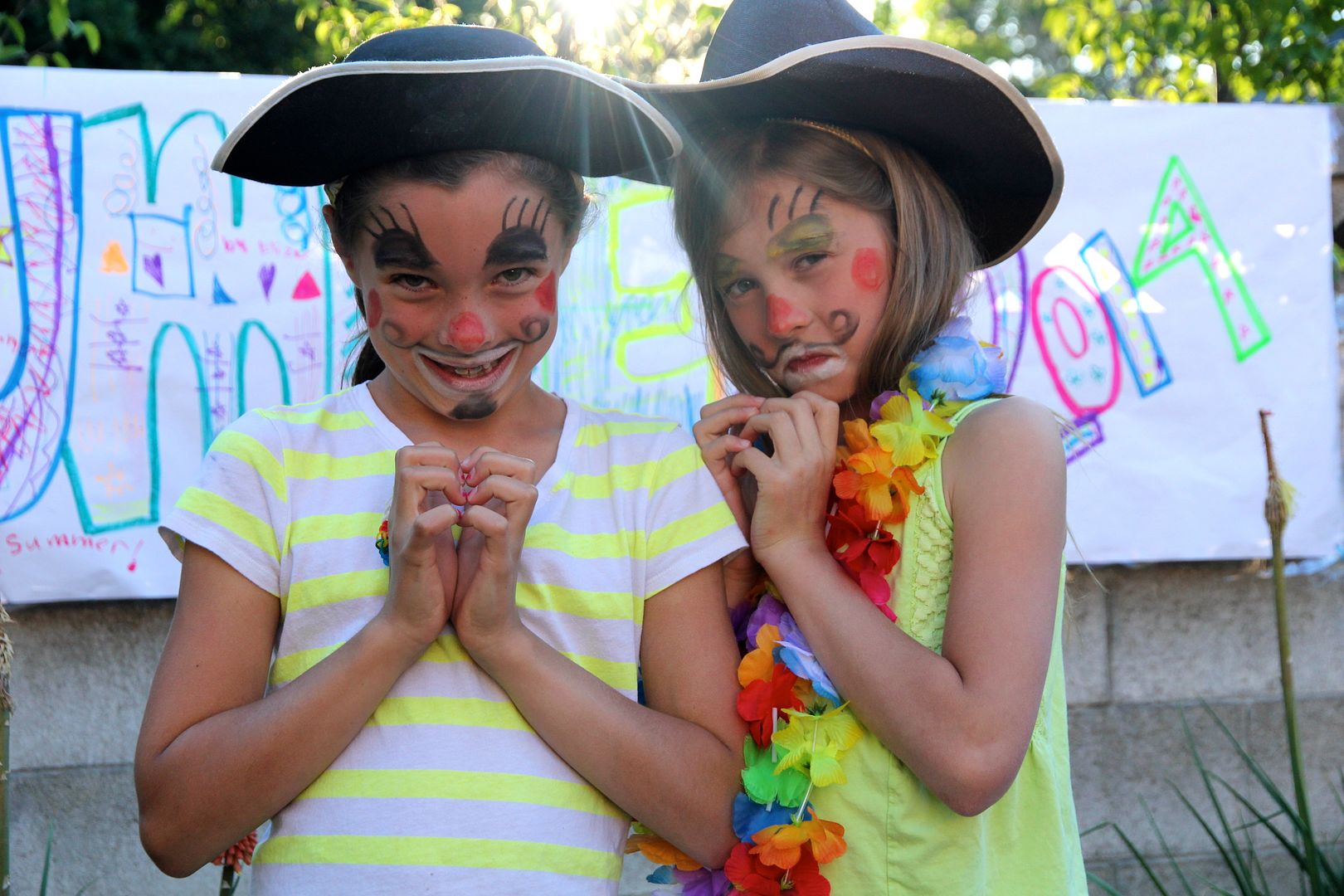 You might not recognize these two clowns. Eliza and her friend, Katherine.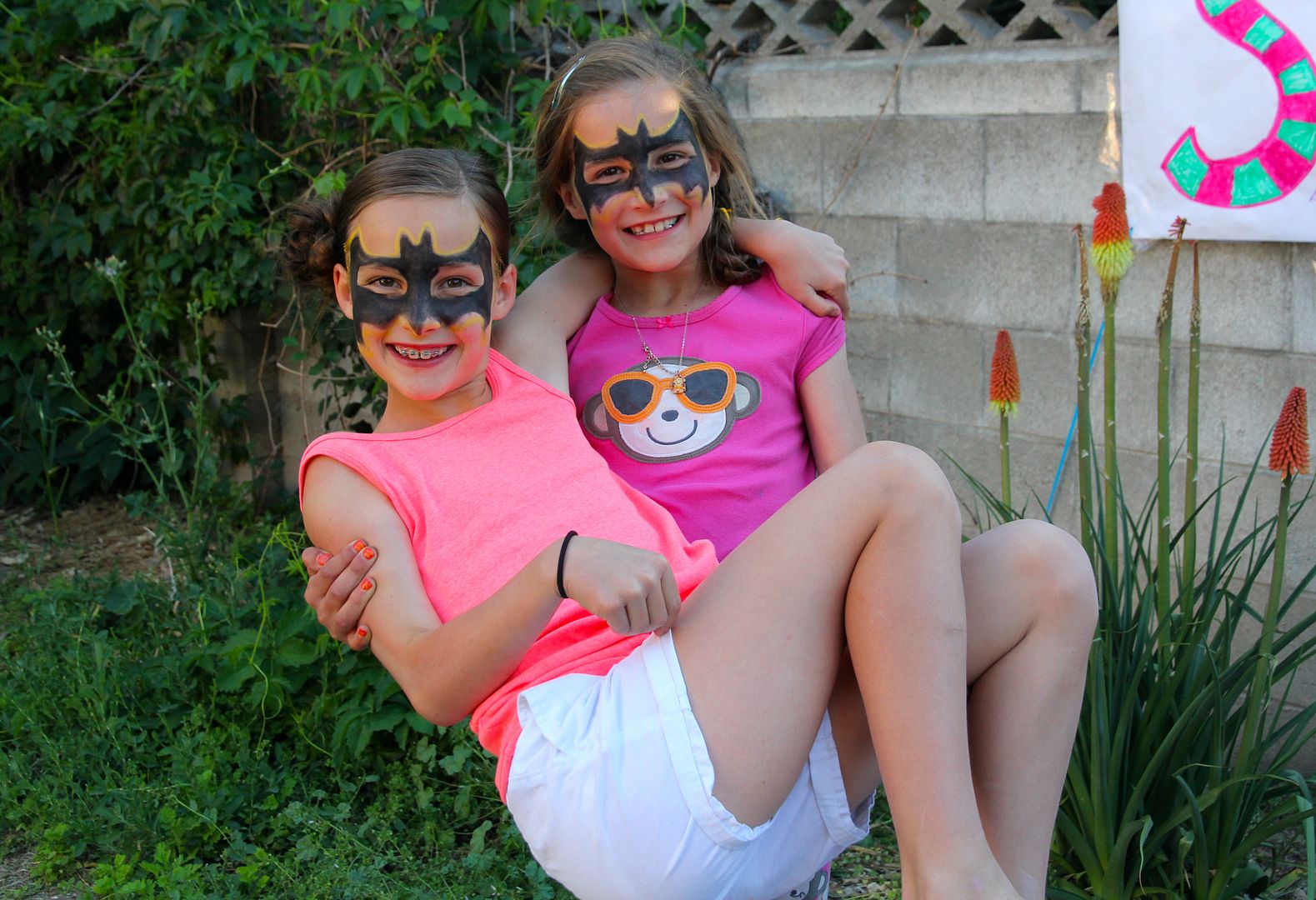 The Bat Twins.
Diva Sistas.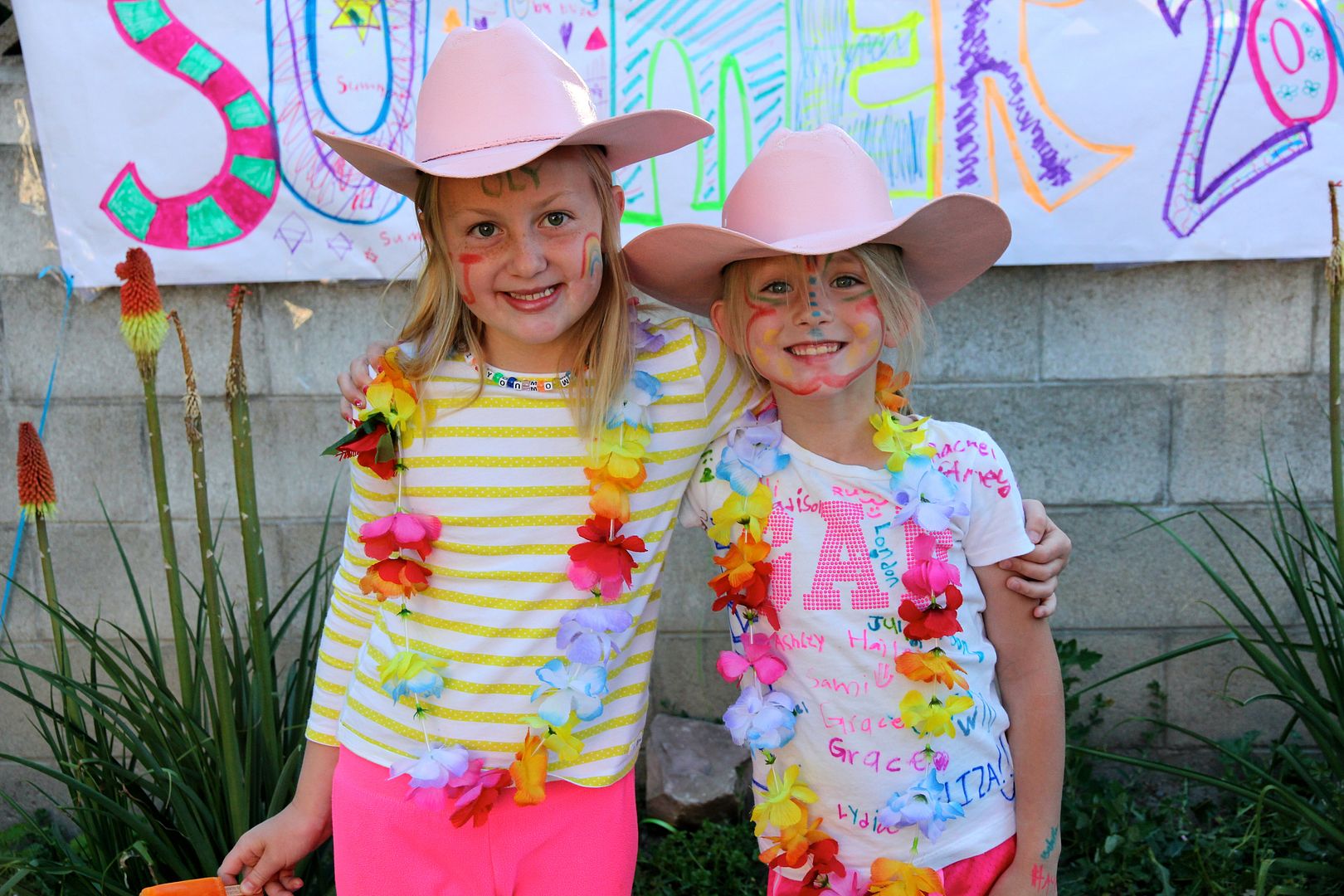 Popsicles and pink hats.
Sweet Summer. Yes, that's her name. So, of course, I had to include her.
And Gordon and Spencer, with their bike brigade.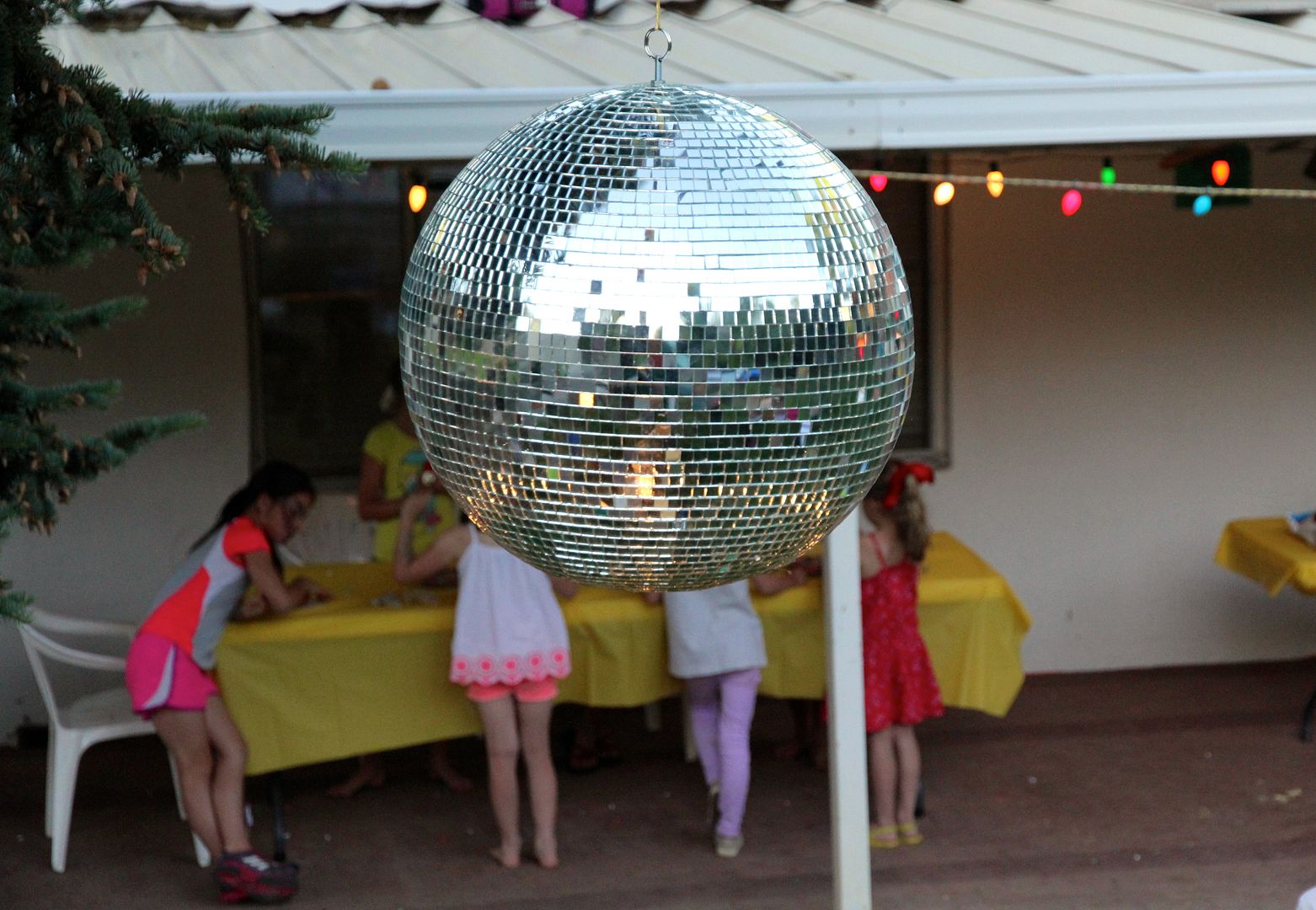 After activities, we broke down the tables and made room for dancing. Doug had been working on a playlist for a couple months.
We started with the hokey-pokey, I led them in the Electric Slide, and then they started jamming on their own.
The older girls were cracking me up with their moves.
And hey! It's never too late for another hot dog, right?
View from the playhouse.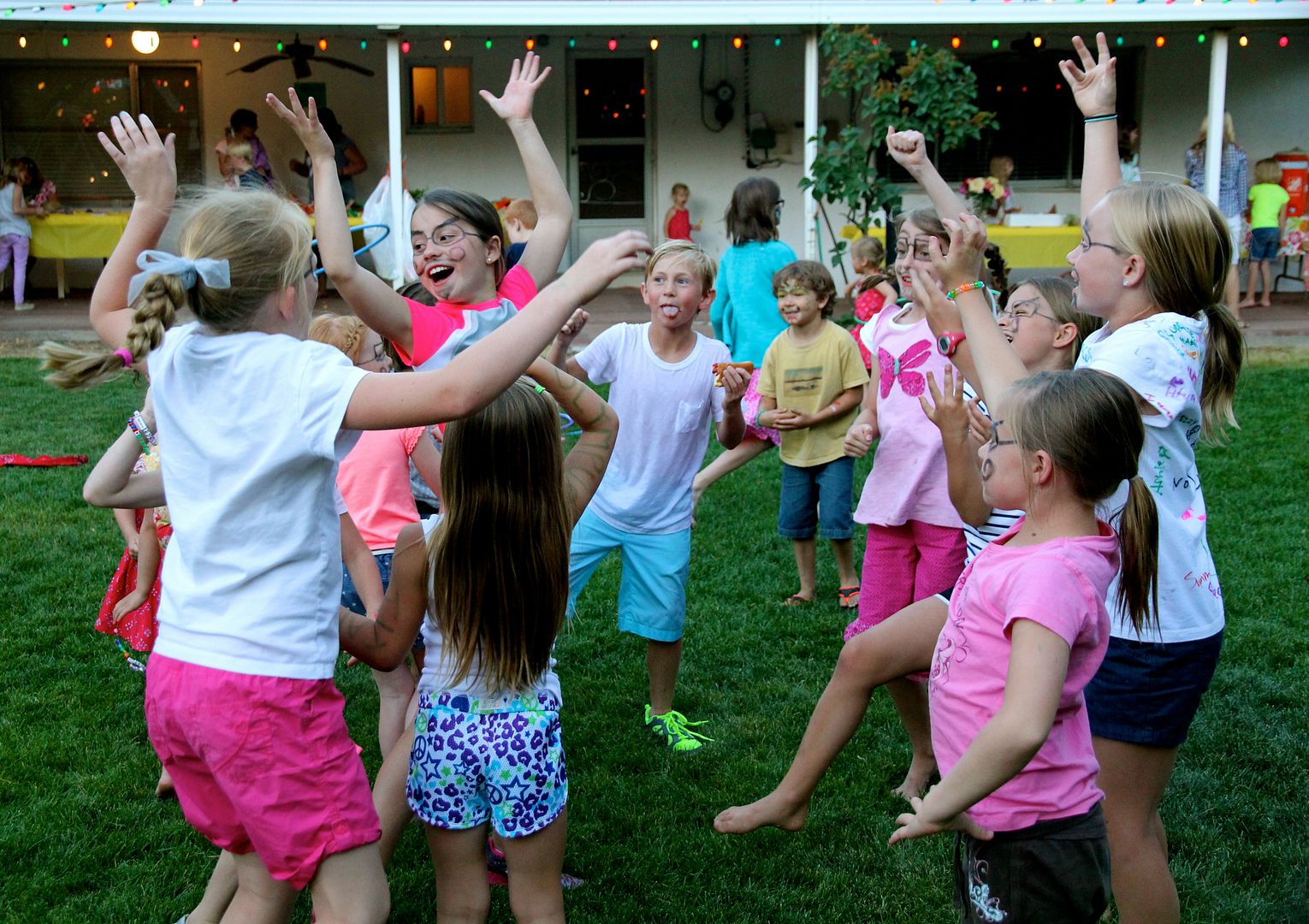 Put your hands in the air...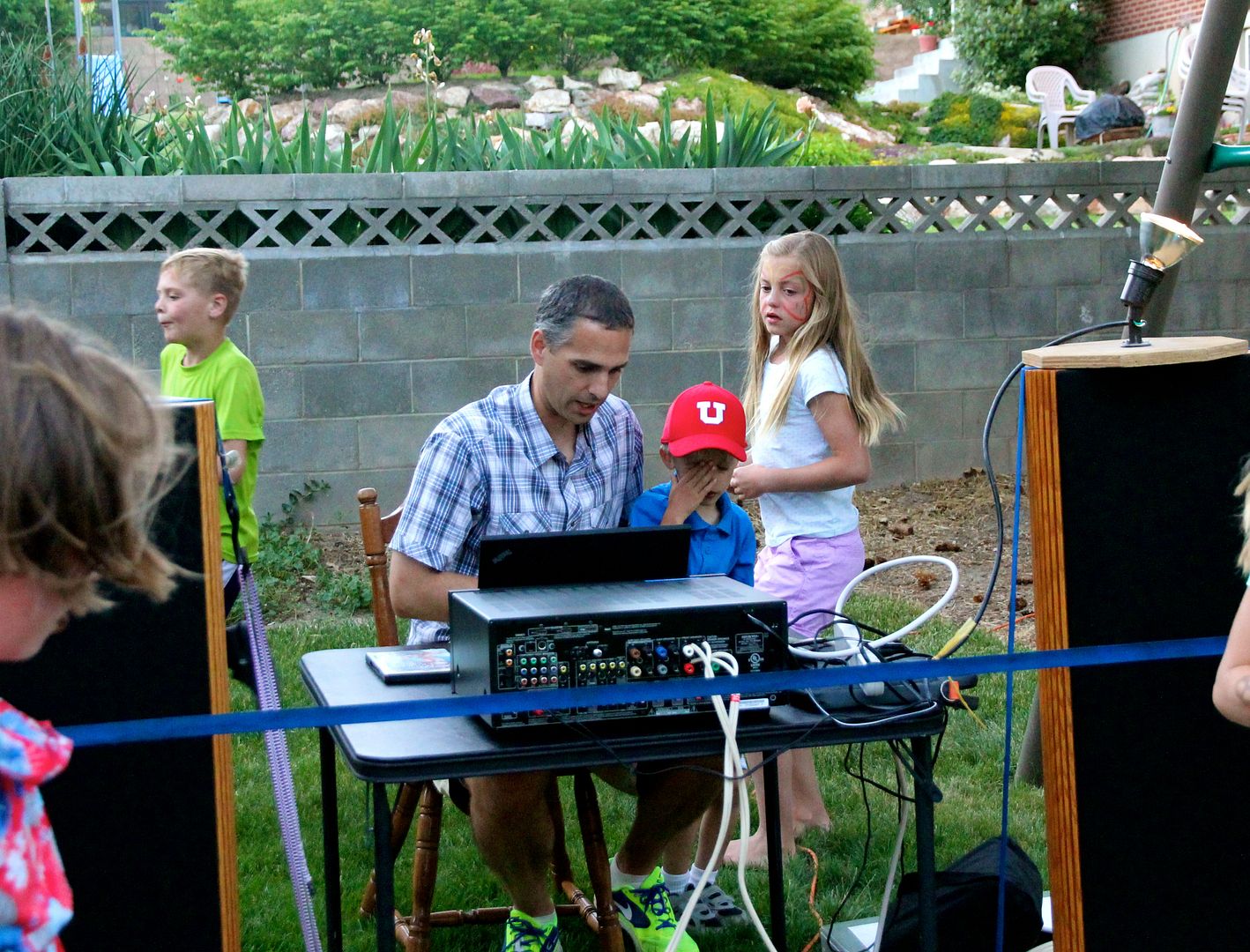 Doug the DJ.
At one point some of the girls started doing gymnastics tricks.
Little Lilly, totally unaware, ran right across the line of fire as Lexi was driving down the yard with a series of back handsprings. How they missed each other I do not know. A miracle.
Because we made it through the entire night with only one band-aid applied to a scraped elbow.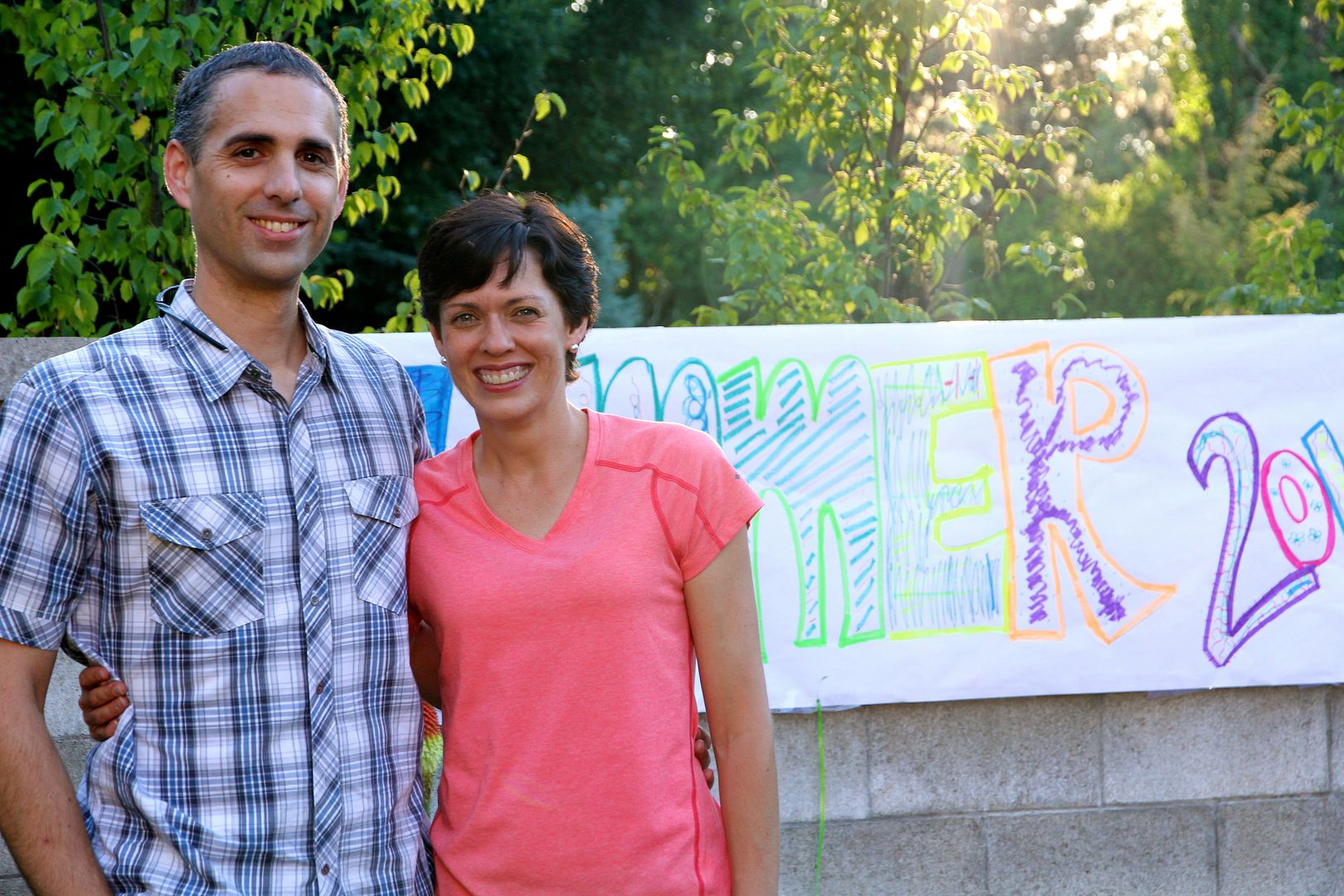 I look at this photo and laugh. This was the only moment we stood next to each other the whole night. But in retrospect, I think we made a good team.
As the sun went down, Doug set up and the screen and started the movie. Princess Bride. A first for most of those kids.
We had popcorn, licorice, and treats that friends brought to share.
After everyone went home, I crashed on the couch around 12:30 AM, but Doug stayed up until 2:00, picking up garbage, washing out coolers, taking down equipment.
He was the energizer bunny that day. I'm still in awe that he/we pulled it off.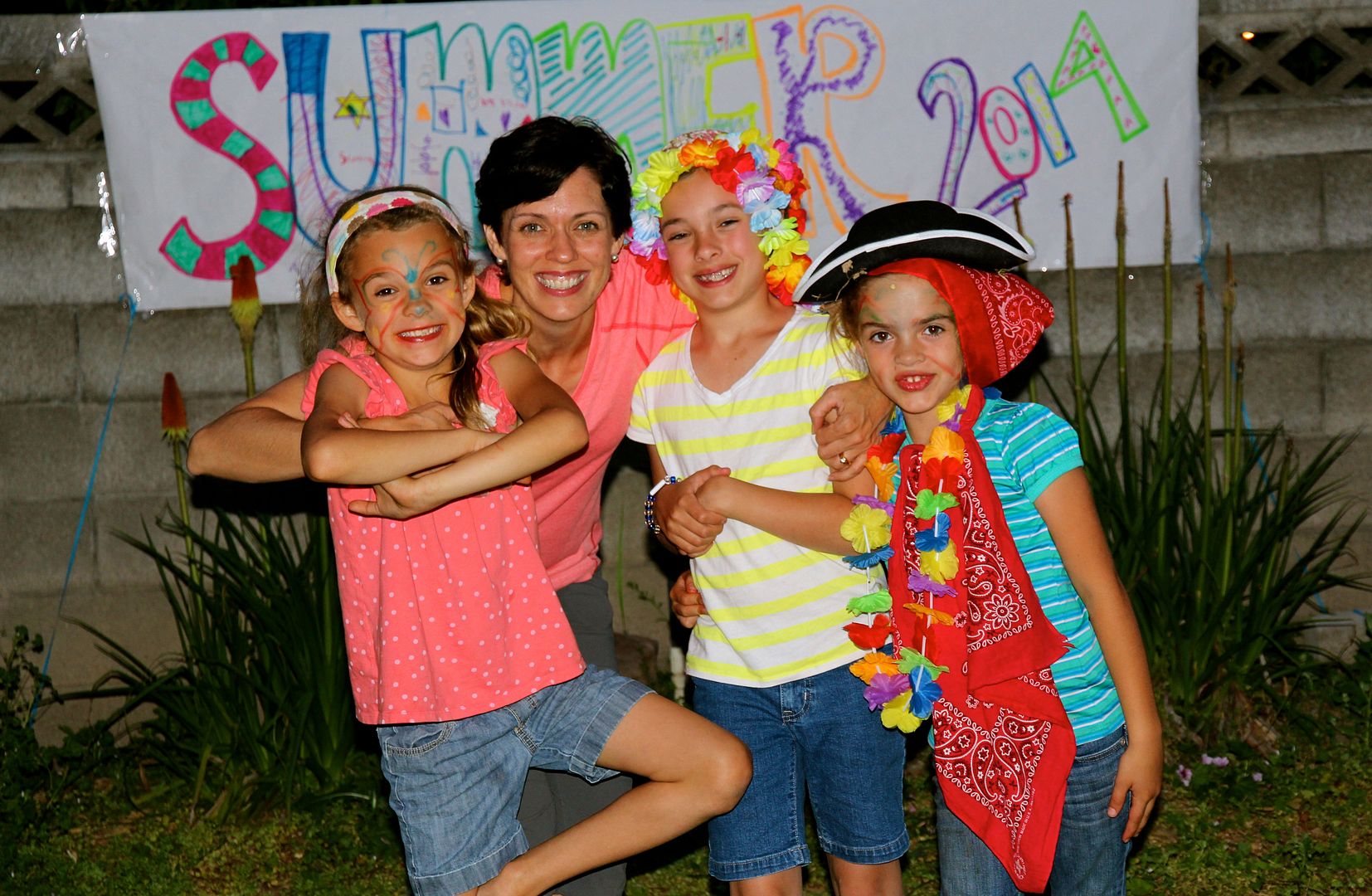 How we survived the onslaught of birthdays, anniversaries, book events, recitals, and various parties the last thirty days of our existence remains a mystery. But we did. Now, r
eady or not, it's Summer!
Weeks ago, the thought of no homework and no sack lunches made me giddy.
It would also make me hyperventilate. A little. The prospect of kids home. All day. Every day. For 80 days.
But we're three days into Summer now and I am pleasantly surprised. The kids are falling into our new routine of chores, reading, and journaling with more ease than I anticipated. They have been (fairly) cheerful. And we are gladly enjoying a slower pace.
It took us two days to recover from the party, but I think we're back on the rails again. Heading full speed ahead into a warm and glorious Summer.