A week ago I gave my last scheduled presentation about Motherhood Realized. It has been a busy two months - speaking about the book, gathering with all kinds of women to talk about motherhood, and encouraging them in their varied life contexts. The real joy of it was meeting so many exceptional mothers. Each with her own gifts and challenges.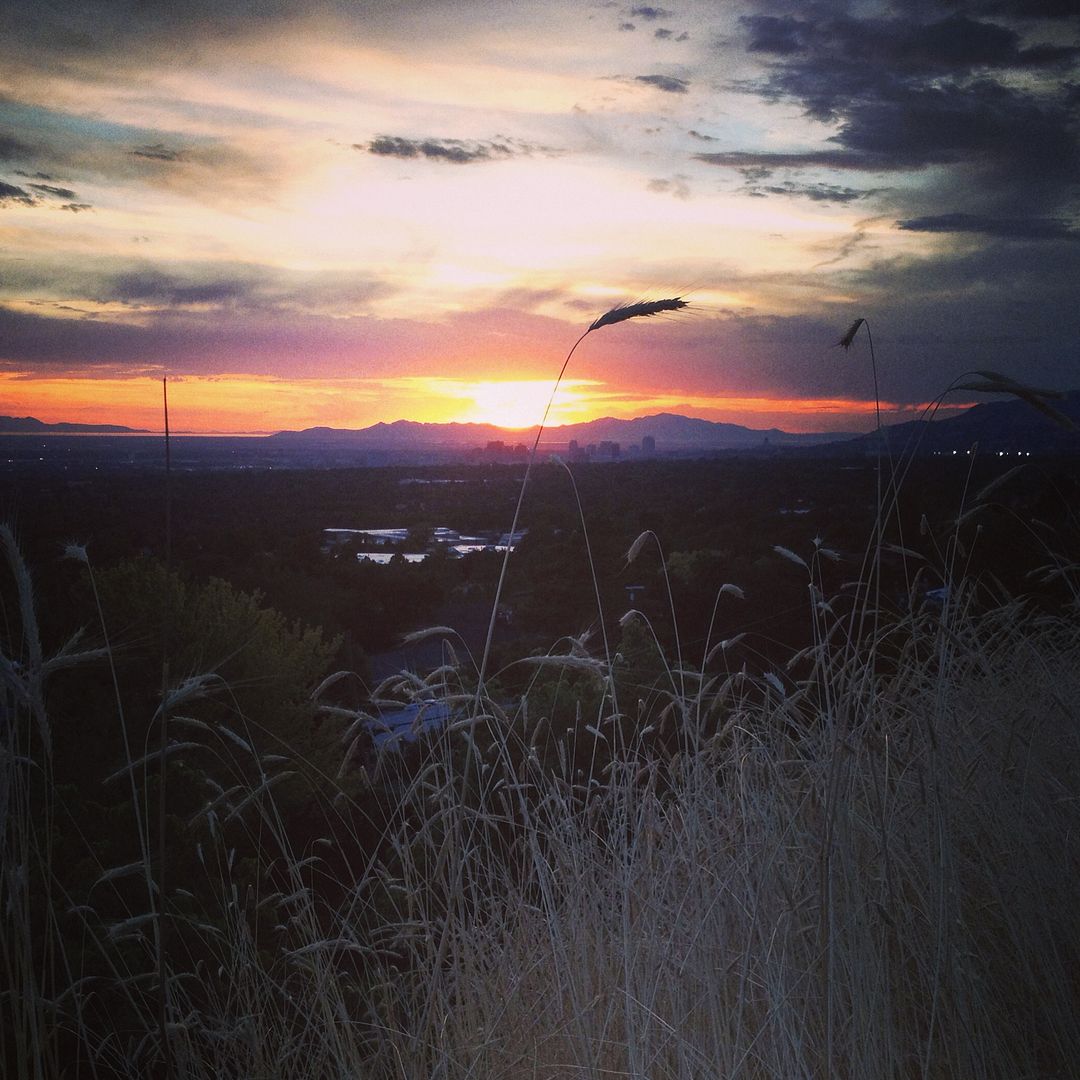 This last group I met with was a church group. We talked about the challenges, not just of motherhood, but of life. We talked about love and how we can use it to reframe any difficult situation. We can ask ourselves, "What would love do now?" That answer will always be the right one.
We talked about life being holy, and touched by God. And we talked about grace. A divine power that will help us do more than we could do if left to our own means.
As I drove down the steep streets of this neighborhood carved into the foothills, the sun was lowering behind the city skyline. I had to stop for a photo. I think Salt Lake City has some of the most beautiful sunsets in the world.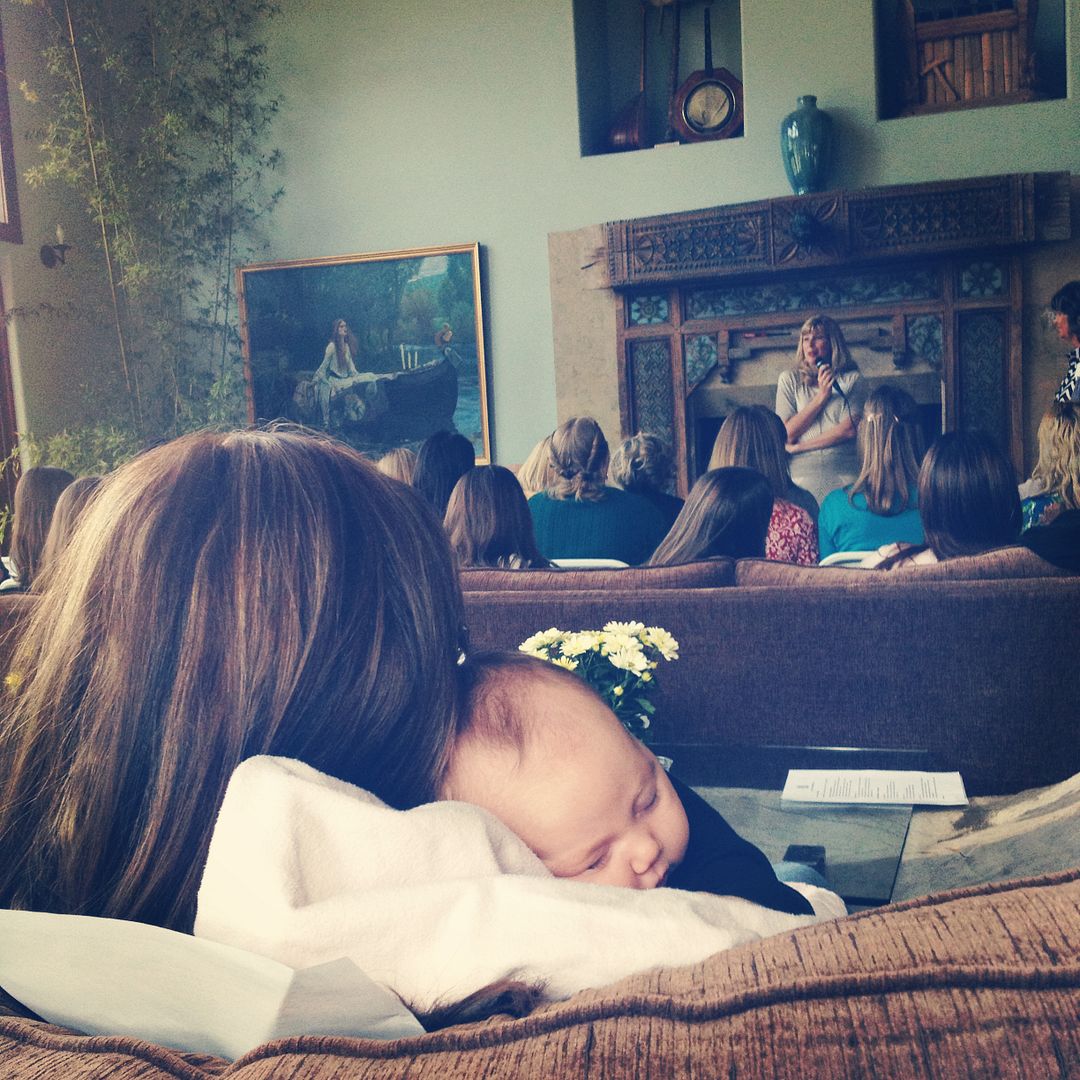 In early May, we had our annual Power of Moms retreat at the Eyre's home in Park City. If you have never been, you really should. Look ahead to next May and give yourself the gift of signing up.
This was my view for the first hour. I sat right behind this darling mother with her newborn and listened to Richard and Linda Eyre talk about parenthood. Her sweet baby seemed the perfect stage for what they were saying about family, and hope for children in a world that is losing its grip on certain values.
Richard immediately established the "no guilt" rule. Eyes forward, not back, as we look for ways to improve. I loved that.
Richard then described the women present as "foot-soldiers for motherhood." Women who care about improving the world. Because "a mother's improved performance improves the planet."
Linda encouraged mothers to recognize their passions and their children's passions. To pursue something outside of motherhood, that brings you joy. She said, "The best way to be a better parent is to be a better you."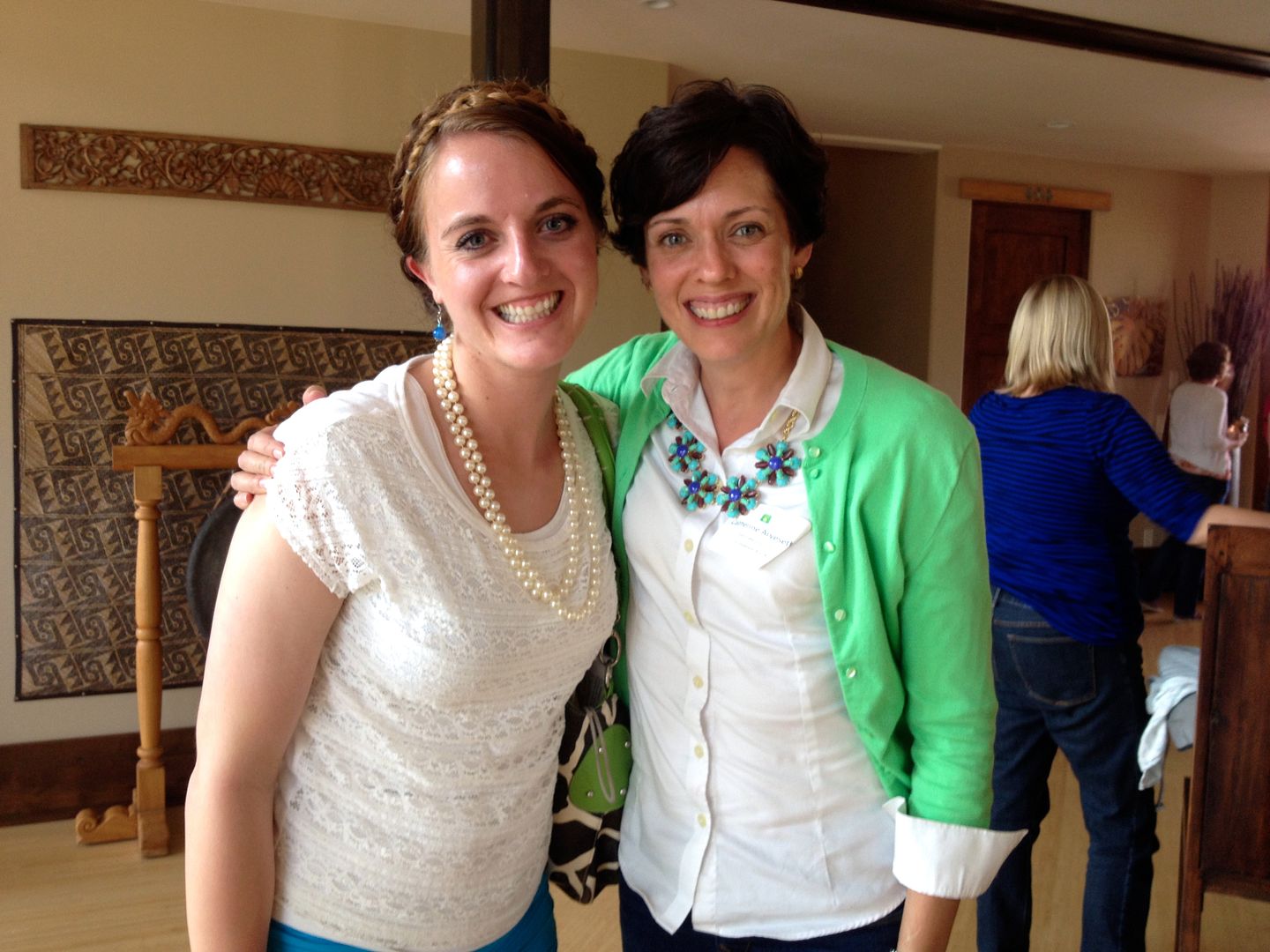 It was a happy surprise to sit down next to Monica, who has twins of her own. We met a year ago at a different Power of Moms event. I've really appreciated her encouragement and input on various twin pieces I have written.
I learned a great deal from all the women here, especially April, Saren, and the Eyres. I learned tools for effective discipline, ideas for establishing a strong family culture, and how to develop intrinsic motivation within children. Those were my take-aways.
Here is the Power of Moms board. So many incredible women. Each her very own important cog on the wheel that keeps Power of Moms moving.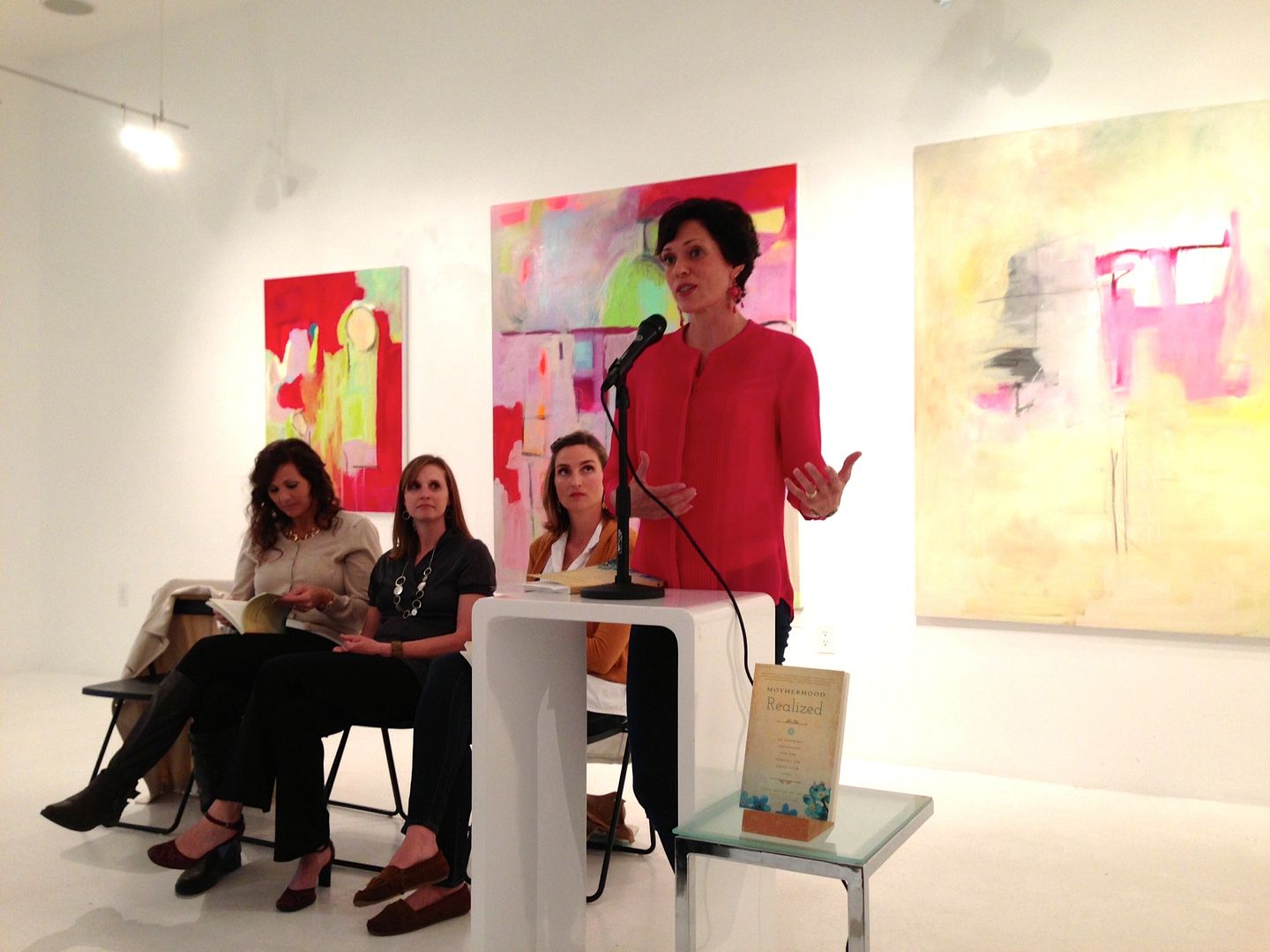 Right before Mother's Day, we held a book signing at The King's English bookshop in Salt Lake City. Readings were held in the 15th street gallery next door. Look at this beautiful venue. The art (

by Holly Addi

) was worth looking at more than I think we were worth listening to. (Hopefully, the combination of both made for a nice evening.)
Motherhood Realized authors: Tauni Bradshaw, myself, Aubrey Degn, and Margaret Anderson. To those of you who came to this event, thank you again. It really was so wonderful to have you there.
Then there was the Costco signing. This was such a funny experience. Allyson Reynolds was there with me the first hour. Thank goodness. She was the real curb appeal. We had a number of people
stop and talk, and we sold quite a few books. But as soon as she left, not a soul looked my way. Most shoppers avoided eye contact with me, put their head down and bulldozed their cart past. You know the drill. Maybe you've done it too? Geesh, I've done it! Can't look over because you're afraid that person at the table will rope you into a conversation you don't have time for?
The Blendtec guy across the way was kind of enough to share a smoothie with me, and conversation, so I didn't feel so conspicuous.

Also funny (and fun) was being on BYU radio with Matt Townsend. Tiffany Sowby and I joined him for a special Mother's Day re-cap. Have you listened to him before? He's pretty hilarious. And so was Tiffany. She was very entertaining. I was the dud of the hour. But a good experience nonetheless. If you want to listen, my favorite part is actually at the end of the show with another guest they had. A professor who talked about research she's done on what makes Moms happy.
Here's the podcast,

if you'd like to give a listen.
I'm off to get us packed for a camping trip in the middle of central Utah. Unfortunately, Doug can't join us. Praying I bring all five children home alive.