Prepare to be amazed people. I'm about to take you on a tour of a dairy farm. Run by a wonderful family in Idaho. The wife's brother is married to my sister. (Did I lose you there? I'll explain more in a minute.)We traveled north for a short visit right before school started. And now, when I pour a glass of milk, boy-howdy, do I have a new level of appreciation!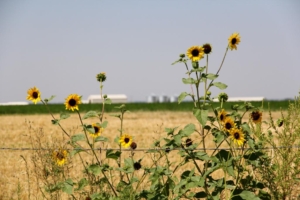 End of August we decided to take a sisters' trip. It wasn't official because three of the six couldn't make it. But by definition – still a sisters' trip. Me, Deb, and Sarah.
Sarah's husband, Lance, has a sister that lives in Declo, Idaho. Outside of Burley. Her husband is a dairy farmer. They've been running this farm for 9 years.
Half a mile down the last dirt road we saw their farmhouse, white slat board, perched on a hill. In front of it stretched fields and fields of alfalfa.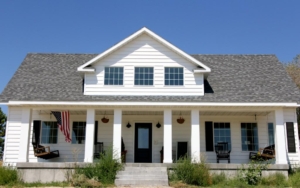 Isn't it darling? I fell in love.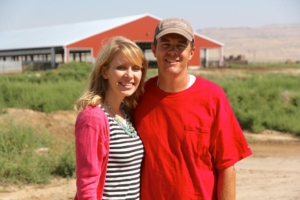 Meet Robbie and Ben. They (with their 6 children and 13 employees) keep the place running like clockwork.
They love what they do. They are good, good people. Generous and kind. And their kids are equally good. I was so impressed. They are well-behaved and hard workers. Their two oldest sons were Grand Champion and Reserve Champion (basically 1st and 2nd place) in the Holstein show at the Cassia County Fair. Pretty big deal.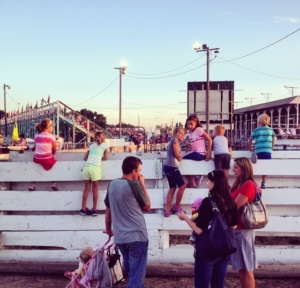 Here we are sneaking a back-door peek at the Cassia County Rodeo the night before.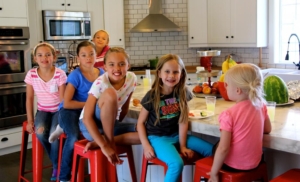 Robbie had a delicious lunch prepared for us when we arrived. Ham and cheese sliders, watermelon, veggies from her garden, and a bottomless jar of lemonade.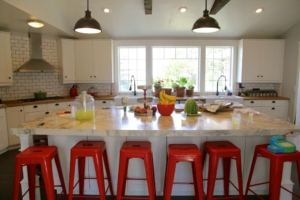 I was pretty smitten by their darling home. The kitchen with six red stools, their busy family, the feeling. I loved it all. My Mom used to get a magazine when we were young called Country Magazine. The tag line read, "For those who live in or long for the country." That would be me. Long for.
I love Robbie's style: colorful country that is welcoming and practical.
Robbie put two dishwashers in their new kitchen (which they DO fill), an enormous fridge/freezer. Definitely functional. And she has filled the home with furniture and decor she made herself.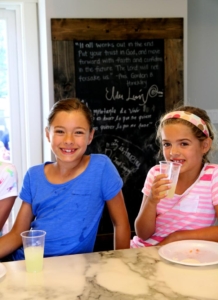 Not only is Robbie a great cook, she's also a gifted photographer and talented woodworker. All the cute chalkboards in the house? Robbie made them.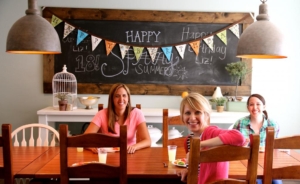 The gorgeous white hutch behind the dining table? (Wish you could see it better.) She made that too.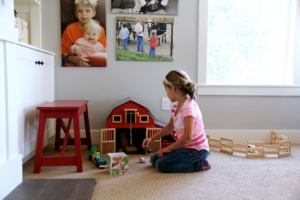 And all her photographs, which hang in most rooms of the house, tell of real life. Very few are posed. Most are life in action. A baby with marker all over her face, kids laughing, eating, or taking care of chores.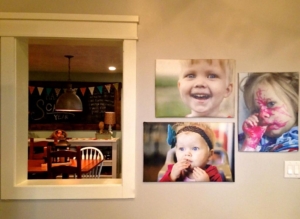 It was obvious to me. She sees the beauty in a messy kitchen, dirty kids, and a house full of children.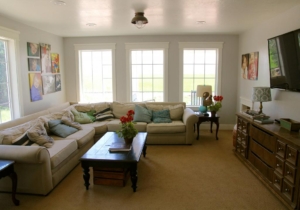 This living room looks west across the alfalfa fields. A better picture of the view in a minute.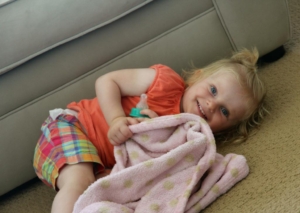 Cute Kendall gave me a smile before snuggling with her blanket and bottle for nap time.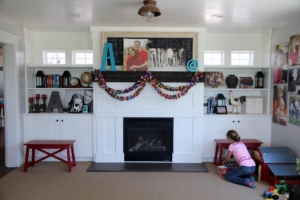 Sami had so much fun with the toy barn and wooden animals.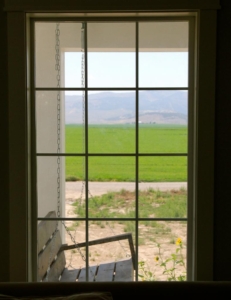 Here's a better view from the living room window.
Oh! And the porch swings? She made those too. Along with the flower boxes. Seriously. She is amazing.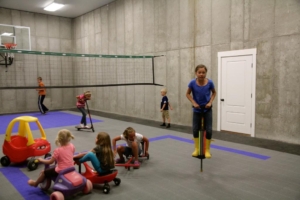 Highlight of the home for the kids was the gym they built below the house. Robbie and Ben's boys love basketball and during the winter they wanted a place to play. So they dug out the gym.
Also perfect for pogo sticks, wiggle cars, and scooters.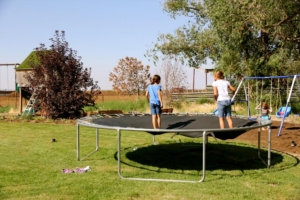 Plenty of space for outdoor play too.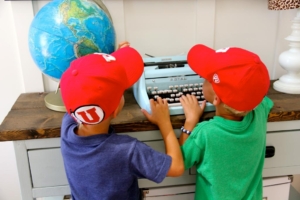 Spencer and Gordon were fascinated by this old typewriter. I learned to type on one of those things. Ha! And now it's an antique.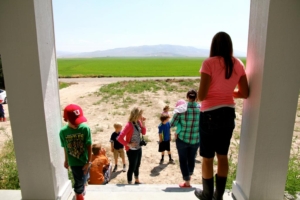 Loved this view. Total quiet.
There was such a restful feeling here. Robbie was embarrassed about the unfinished yard, but I liked the weeds. They were growing large by the house and starting to look flowery. What's not to love about cheap, easy landscaping?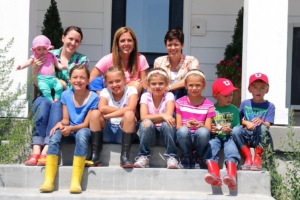 Here's our crew of travelers. Except you can't see Michael. One of these days I'm going to get him to smile for my camera.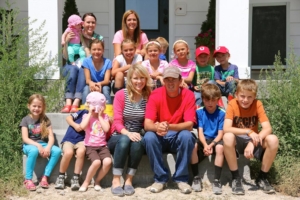 And the whole bunch of us. Minus baby Kendall who went down for her nap.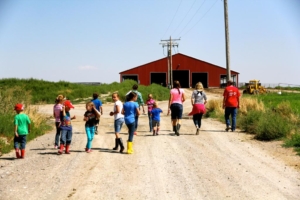 Next, we trekked out to the big red barn. To start our dairy farm tour.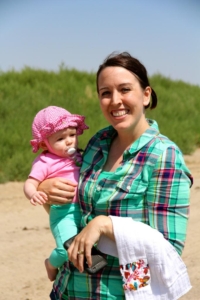 Baby Hana was her usual happy self.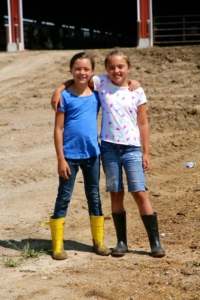 These two girls headed straight for the mud puddles. And later, the manure piles. (Did you know manure doesn't wash off like mud? Yup. Some of our boots are still sitting on the back porch, waiting for a good scrub!)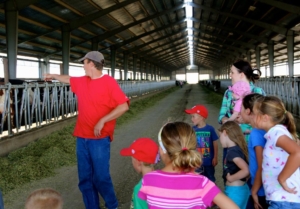 Then the learning began.
Their farm has over 1600 milking cows and 1100 heifers.
I don't know why this never occurred to me before, but let's state the obvious. Only cows that are lactating (who have birthed babies) can give milk. So a huge part of dairy farming is fertilizing cows and knowing exactly where they are in their fertility cycle.
Some cows need to be lactating and giving milk, other cows (like these ones) are in heat and ready for insemination. Cows who are no longer lactating are considered "dry" cows and are put out to pasture for a period of rest. And the unlucky cows who get sick or develop mastitis, hang out in the "cow hospital."
Now get this: They do IVF for cows here. It's pretty incredible. Ben believes in a cross-breeding through artificial insemination. A method that has increased productivity. He uses Holstein, Montbeliarde, and Viking Red breeds.
A veterinarian collects the unfertilized eggs from their heifers, does in vitro-fertilization, then puts the fresh, fertilized eggs back in the heifers. It's a newer, successful method, that is getting attention. Ben has traveled across the globe to teach other dairy farmers about it.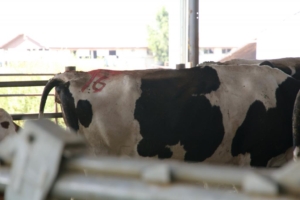 This cow right here, numbered in red, is ready for insemination. Once a week, the cows that have been inseminated are given a manual pregnancy test. Usually this is done by a vet, but Ben does it himself because he received special training in this area. Can you imagine? Being vet, farmer, and fertility doc, all in one day?
As he was explaining this, I felt a sudden kinship to these bovine ladies. Truly! We have more in common than I thought! Fertility or the lack thereof, IVF, lactation, mastitis, babies. We could all hang out in the nursery and talk shoppe.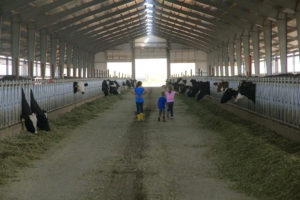 This is the new barn. Posh living quarters for the soon-to-be mamma cows.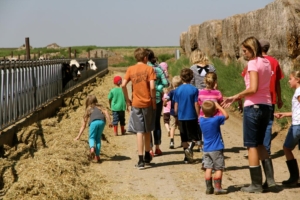 Here we are walking past the "dry" cows.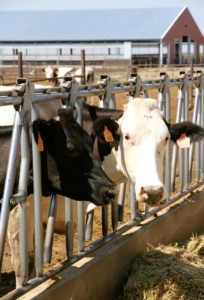 Mooooooo…. (We all did it. At least once. Couldn't resist.)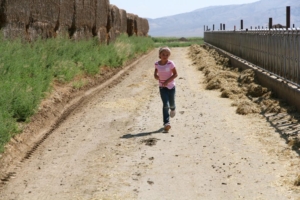 Sami, running to catch up. She could have stayed all day in that barn, petting and feeding the cows. I can see her growing up to be a vet. Or a wildlife biologist.
And finally, the part we were waiting for…
The milking parlor.
Check out this system. The milking parlor runs 24 hrs a day. Every minute of every day there are cows in here, pumping out gallons and gallons of milk.
The men who do the milking are fast. As new cows mosy in, they clean the udders with iodine, put on the milking pumps (I had a scary flash-back to all those hours breast pumping), and within 5-7 minutes, they're done. Each lactating cow is milked three times a day.
The milk is then pumped into a glycol cooling system. Milk comes out of the cows at 108 degrees, and in a matter of seconds, is cooled to 38 degrees. We felt the incoming pipe  (warm), and the outgoing pipe (cold). Amazing.
At the end of the day, Ben and Robbie's cows fill two big tanker trucks, and generate a total of 13,000 gallons of milk!
Yep. Holy. Cow.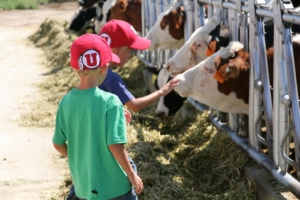 Spencer wanted so much to pet a cow on the nose.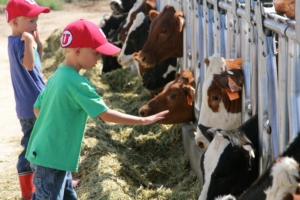 Gordon too.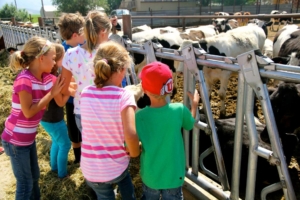 Then everyone joined in.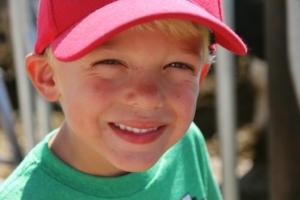 It was an experience I still think about every time I bring in the milk on Monday mornings. So good for our kids to realize milk isn't made at the store. So valuable for them to see the journey of it, from cow to Cheerios.
Driving home, I thought of a favorite line from Mary Oliver's poem, Song of the Builders. 
"Let us hope, it will always be like this. Each of us going on, in our own inexplicable ways, building the universe."
Thanks Robbie and Ben. For sharing your part of the universe, with us.