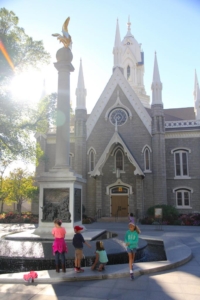 Friday afternoon I took the kids downtown to meet Doug at Temple Square.Salt Lake City was built around Temple Square. It is the heart of the city. A busy gathering place for members of the Church of Jesus Christ of Latter-day Saints year round, but particularly the first weekends of October and April. Because during this time, the church meets for a General Conference in which all church members participate. No matter where they live in the world. And currently, church membership is over 15 million.
Local leaders from countries everywhere come to Salt Lake City the week before general conference for instruction with respect to their local communities. Then, on Saturday and Sunday, men and women who lead the church give talks to the general membership. Their talks are broadcast across the globe via internet and satellite. This weekend, live broadcasts were translated into 102 languages, with transmission to 170 countries.
I think that's incredible.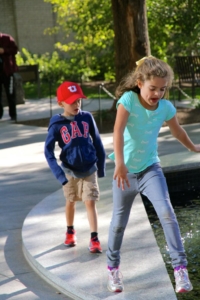 When I hear the church statistics, I marvel. I really do. That I, or anyone for that matter, has the opportunity to be part of something so grand.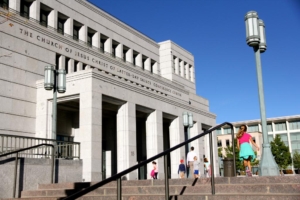 I was hoping we could take a tour of the Conference Center – where conference sessions are held. But I didn't call ahead and to our disappointment, the Conference Center was closed. In preparation for the large crowds that would enter Saturday morning.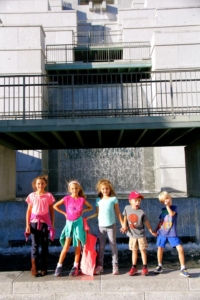 So we took a few photos. Despite the thrown-together outfits and uncombed hair from hurrying out the door. Wild children. With the boys striking dramatic poses. Nice.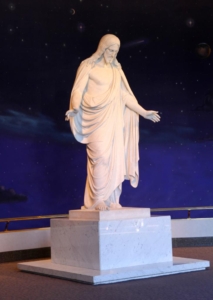 We stopped at our favorite place on Temple Square. The Christus statue.
Two Korean sister missionaries were taking a small group on a tour. So they played the Christus message (Jesus' words from scripture) in Korean. Sweet for Doug to hear, since he served an LDS mission in Pusan, South Korea.
Sweet for me too. I cannot visit the Christus without thinking of my own mission. And the countless times I shared my testimony of Jesus in front of a statue similar to this one.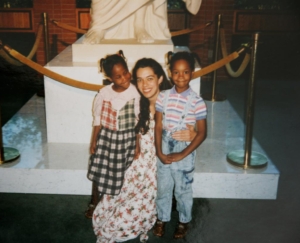 Nauvoo Illinois Visitors' Center. Summer 1997.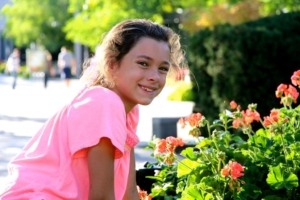 While we weren't able to see the inside of the Conference Center, I hoped some of the energy and feeling of that dedicated place would soak into the hearts of my children. I want them to learn the gospel, be committed to it, and remain open to the message God shares through his servants, the prophets.
We watched all four sessions. Two on Saturday. Two on Sunday. It might seem like overload. But in truth, we long for this weekend. Most members are thirsty for the words of our leaders, whom we sustain as prophets, seers, and revelators. We believe them to be men and women who are not only qualified, but inspired, to share words from a loving Heavenly Father. A God who wants his children to have wisdom and knowledge as to how they should navigate this world, just as it is. Right now.
The kids played lots of legos and the girls took a few notes.
Some of Sami's notes while listening to President Monson: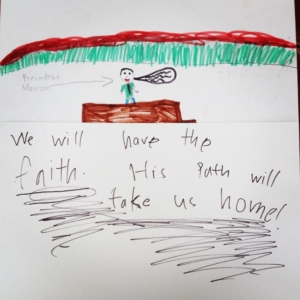 I believe this truth. That the Lord's path will take us safely home. Underlined and exclamation point.
Here are some of my favorite quotes from the weekend: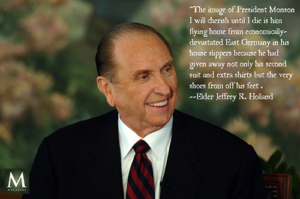 This is how Elder Holland (one of the twelve apostles) described our prophet, President Monson, when talking about kindness and the need to care for the poor.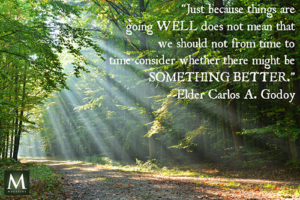 This Brasilian man gave his talk in portugese. A landmark change for general conference this year, which allowed non-native english speakers to give their remarks in their own language. With english subtitles on the screen.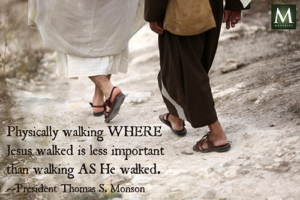 And this beautiful mantra on how to live. From President Monson.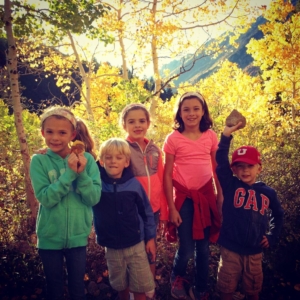 Following the last session we drove up Little Cottonwood canyon for a hike. The kids were like rubber bands that had been pulled taut, ready to fly. They ran up the trail with not so much as a glance backwards. Conference was a long time to sit.
But it was important for us to make these words, these messages, the focus of our weekend.
This morning I read in Genesis about Abraham. A man who was relentlessly tested. A man who made covenants, pleaded with God to spare others, and who held not only the title of prophet, but of friend. He was known as the friend of God (Isaiah 41:8).
Listen to how God describes Abraham in Genesis 18:19,
"For I know him, that he will command his children and his household after him, and they shall keep the way of the Lord."
What a tribute of trust. God knew him. God knew Abraham would teach his children the ways of the Lord. What if God could say that of us?
Everyone (member or not) is welcome to listen to General Conference. You can watch video of all the talks here. Or you can download audio versions/read written transcripts at the same link.
I believe truth, not matter where we find it, is for all. And if you are not a Latter-day Saint, you've got to listen to this darling story told during conference by David A. Bednar, about why Mormons are so eager to share.
If you have any desire to learn more about the church, you can contact missionaries in your area by visiting mormon.org. Or you can contact me. Just send me an email. I'd love to answer your questions, tell you more.
Onward and Upward! Wherever you are!