Let's start with the cute. Here's our crew. Decked out and ready to trick-or-treat on Halloween Evening. Sami as Little Bo Peep, Ali as Indian Girl, Eliza as a French Painter, Gordon as Captain America, and Spencer as Batman.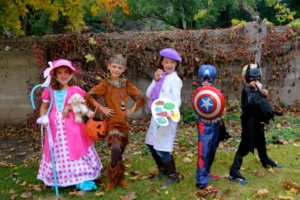 Here's the not cute. In fact, it's flat out unbecoming.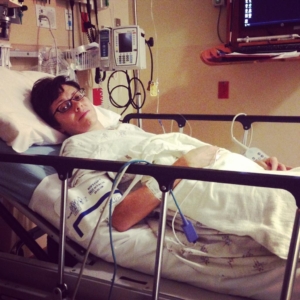 This is Friday, Halloween morning, about 3 AM in the ER. After waking with excruciating pain in my stomach and back. Followed by nausea. A repeat from Thursday morning when I experienced similar symptoms after taking the kids to school.
I was literally writhing on the floor while Gordon knelt by my head and said, "I'm going to say a prayer for you Mommy." His prayer worked. Because I lost my breakfast in the toilet and the pain subsided. Weirdest episode ever. But since I felt better, I just went about the normal day. Didn't even tell Doug about it.
By midnight however, I knew something was wrong. Considering the pain in my back, I wondered if it might be a kidney stone. I've never had one before so I got online, did some reading while I squirmed in my chair, then phoned my Dad. Bless his heart. He had just come off a midnight shift. But he was totally coherent when he answered the phone. "Hi dear," he said. "What's going on?" I told him I could hardly breathe I was in so much pain. We discussed details and he said, "Yep. Sounds like a kidney stone. I'm coming over. Wake Doug and tell him you need to go to the Emergency Room."
Thankfully, the ER was quiet. We got right in and after a significant dose of morphine and tordal, followed by a CT scan to confirm the stone, we left with scripts for percocet and zofran, and instructions to moderate the pain, strain all my urine, and wait 48 hrs for it to pass.
Worst timing. I love Halloween. It's my favorite holiday. The kids had their Halloween parade that morning, I was supposed to help with class parties. I had 25 mason jars in the car, plus supplies, all ready to go for a class craft. And now? I was going to lie in bed miserable, trying to get a handle on the incredible pain this miniscule stone was causing me.
I'm sorry if this grosses you out. But really, I've got to document it for posterity. My family likes this kind of stuff. (My grandmother kept all my Dad's baby teeth until his 50th birthday. We're weird like that.)
Look at that stone. Geesh. I passed it about 48 hrs later, Saturday evening. My Dad said, "Well, after such a hard delivery, are you going to give it a name?" I took one look at that sharp prong protruding out of it and said, "Yes. Barb."
So Barb is the newest member of our family.
I suffered through Halloween, and finally, after doubling my dose of percocet, was able to step outside and take a few pictures.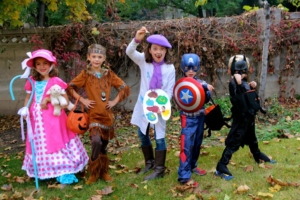 Eliza was dying to strike this javelin pose with her paintbrush.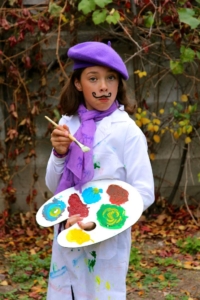 She put her costume together herself. I thought she did a great job.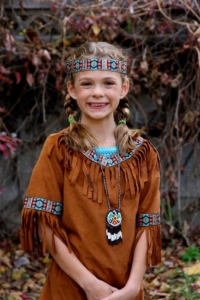 Beautiful Ali. She wrote me this letter at school on Friday. She was especially disappointed that I couldn't be there to help with her class party so this note meant a lot to me.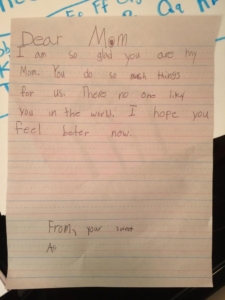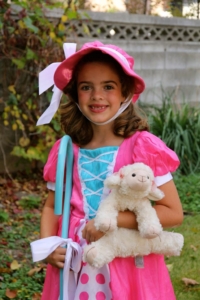 Sami loved carrying her lamby around with her. This was the perfect costume for her.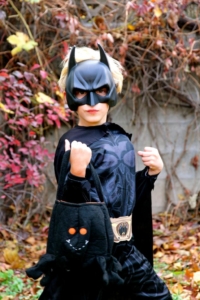 Batman pulled out his best moves. My favorite line? When he put on his costume and mask, then walked into Doug, who was working on his laptop, and said, "Deal with me, Dad."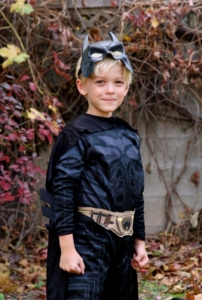 Doug couldn't look at Captain A without chuckling. I think it was the mask. He though it looked like Gordon was wearing underwear on his head.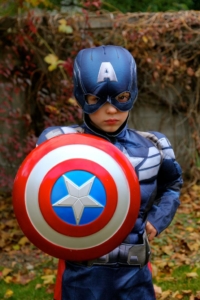 I thought it was endearing. How much he loved his costume. Especially when he made his tough face.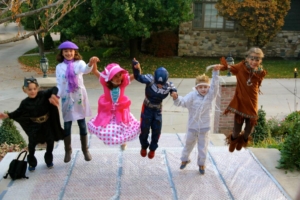 The kids were first to start popping Miss Marion's bubble-wrapped stairs. Best place to begin their rounds.
We love Marion. She's the kind of backyard neighbor everyone needs.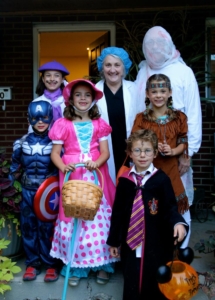 Our other favorite neighbors? The Greenwoods? Getting their scary on.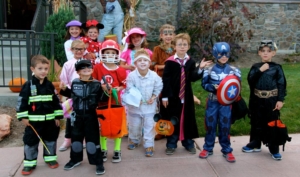 Halloween definitely had its great moments. And… it's not so great. A kidney stone was quite the trick. I hadn't planned on being treated with pain meds. Would have preferred milky ways and kit kats. But so it went. Tricked and Treated. And I am SOOOO glad it's over. I have a whole new, magnified empathy for anyone who has passed a kidney stone before. No small victory.
Hope your tricks and treats were sweet ones.