Or in English, Welcome Christmas!
I am sitting her typing all by myself (wondrous quiet), listening to Bring a Torch Jeanette Isabella, and looking out at cool sunlight as it drenches the dry grass of our yard. Not a flake of snow and unusually warm, but it sill feels like Christmas to me.
Saturday evening we enjoyed Christkindlmarkt, Salt Lake's German market, set up in Deseret Village, next to the This is the Place monument.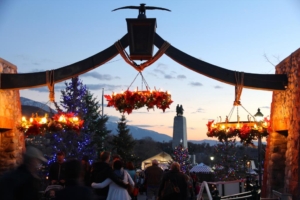 Can you see the monument in the background? It marks the canyon from which Brigham Young sat up in his wagon, looked down into the valley and said, "This is the right place. Drive on."
Two other men stand next to Brigham on the monument. One is my great-great-great grandfather, Heber C. Kimball. The kids love to find Grandpa Heber on the north side whenever we visit. And this night was no exception. They happily gave Heber a wave.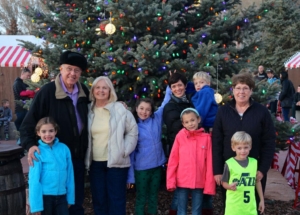 All four grandparents joined us. Making for a happy group. (Sorry we missed you, Jim. I think you were browsing. And Liza, I love those bunny ears!)
Spencer and Gordon wore their new basketball jerseys. They are extremely excited that Doug is coaching their team. (First organized sport experience for them.) Forget a Christmas countdown. These two are counting down until their next game. Truly. Straight out of Spencer's mouth yesterday.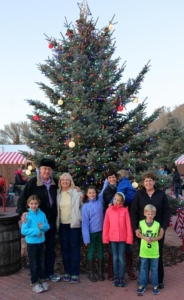 Eliza performed in the Tannenbaum parade with her school. So we went early to eat german food and check out the shops.
Blitzen was there. And Donder. Cute furry fellas.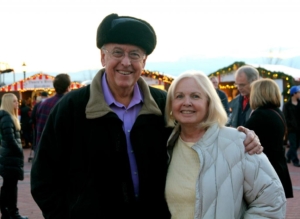 It was so nice to be with my parents. Both of them speak German. My dad served and LDS mission in Austria and my mother majored in German. So it was especially fun to have them along.
We ate Bruges waffles while they ate weinershnitzel, rotkohl, and spaetzle. Wish I'd stood in line for Siegried's schnitzel. It smelled heavenly.
The girls kept warm by the fires.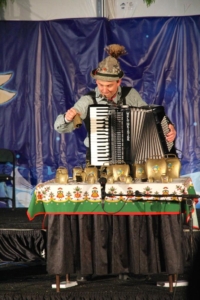 Then this guy took the stage. Amazing. He could play anything on both accordion and cowbells. And sometimes (as pictured here) at the same time! If we hadn't already been standing, I would have given him a standing ovation. He was fabulous.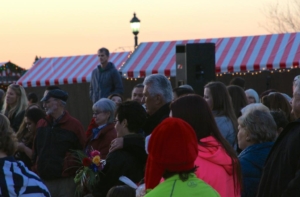 At one point we were standing right behind President Dieter Uchtdorf and his wife Harriet. President Uchtdorf is part of the First Presidency of the LDS Church. Second counselor to our prophet, President Monson. He's a favorite among church members for his endearing German accent, ability to identify with all people on matters of the heart, and well, let's face it, for his handsome looks.
We were too shy to tap him on the shoulder, didn't want to keep him from enjoying the show. (He had lots of "fans" asking him for photos.) So I took this shot from the tables where we were eating. With his arm around Harriet, the two sang along to a cello performance of  "Stille Nacht."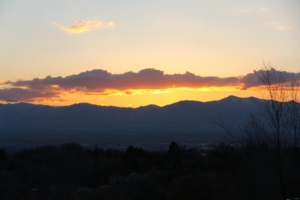 It was a sparkling, magical evening.
The sunset was magnificent.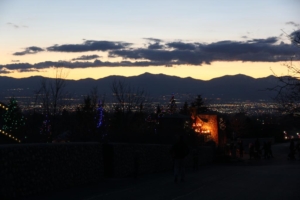 And I couldn't get enough of the city lights.
On a crisp, clear night, there's nothing like the view of this wide valley with its expanding, winking lights.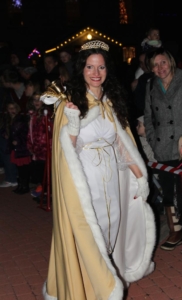 It was so dark I missed Eliza as she came singing down the parade route with her green ribbon from the Tannenbaum pole. But I did catch the Snow Angel.
Then we enjoyed their performance of christmas songs and dances on the stage.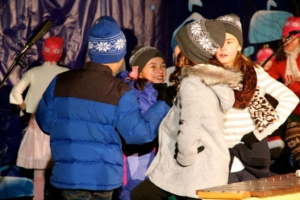 Eliza couldn't keep from smiling.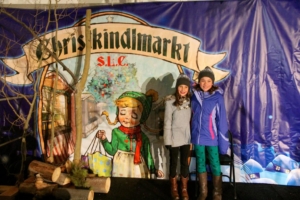 We love her sweet friend Ellie.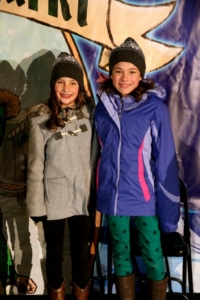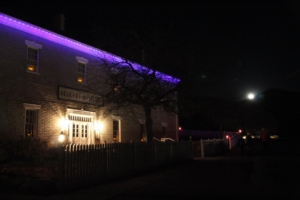 After the performance, as we were hustling back to the car to warm up and head home, we noticed the full moon, rising bold over the mountain.
The kind of moon that stops you in your tracks.
Brightest light of the evening.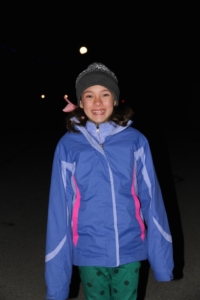 Except maybe for this girl. Light splintering from her face. I can feel her love for simply being alive in this photo. Every day she wraps her arms around this glorious world and the new experiences it is handing her. She is brave, good, and optimistic. Being with her makes me happy.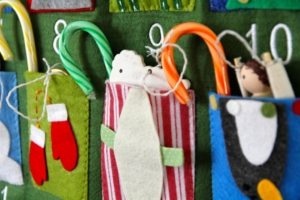 November was a difficult month, riddled with unexpected challenges, one very exciting joy, but also great sorrow for others. Already this new season feels brighter and kinder.
I have bought zero presents. The tree is soaking up water in the corner, unlit and undressed. But secret pals are at work in our family, our advent pockets are filled so that each day we can read from scripture, discuss a symbol of Christ. And…  #24DaysofGiving is broadening our hearts, changing our focus, and surprising us with an incredible amount of love. I will share stories sometime during the month.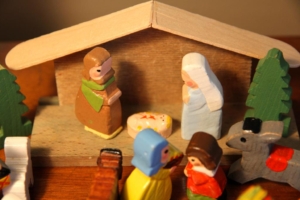 So wir begrüßen Weihnachten. In allen Lichts und der Schönheit. Und denken Sie daran Christus. Er ist das Geschenk.
So we welcome Christmas. In all its light and beauty. And remember Christ. He is the gift.