Looking for a Christmas read that will make your soul feel merry and bright?
Let me introduce you to Candy Canes and Christmastime. Compiled by the lovely Linda Hoffman Kimball. This is her newest book, out just in time for the holidays. Full of insightful, uplifting essays, that remind us how to live. How to navigate all the hustle, bustle, grabbing and giving, of Christmas in the modern world.
I am honored to have my name tucked into her list of authors. A short essay I wrote on spiritual poverty and our need for a Savior. Other more notable contributors you might know: Kel George, Kristine Haglund, Claudia Bushman, Louise Plummer, Shelah Mastny Miner, and Jessie Christensen.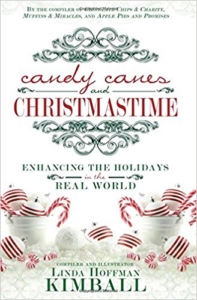 Linda's book offers healing, comfort, traditions, wisdom, and even a few recipes. A chorus of voices sharing different Christmas experiences. All in the name of loving and living for Jesus.
I'd like to give away a copy here (yes, one more giveaway!). Just leave a comment at the end of this post. I'll choose a winner Tuesday morning and send your book out right away. So you can enjoy a few chapters before the big day.
Now. Speaking of Candy Canes…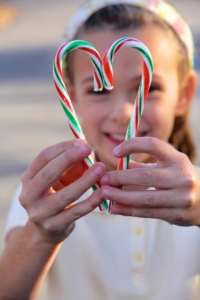 One of our 
#24DaysofGiving
 was to pass out candy canes. So that's exactly what we did after school on Wednesday. We live on a main thoroughfare to/from the elementary school. 100+ kids walk home past our house each day. So we thought it would be the perfect place to share candy canes. And a little bit of love.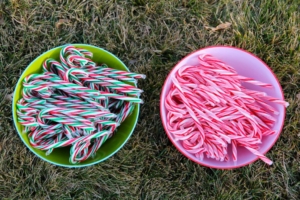 We tore open the boxes and poured peppermint sticks into bowls…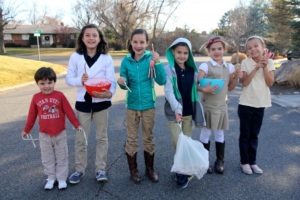 Recruited our neighbors, the Sorensens, to join us. Then waited for the troops to come.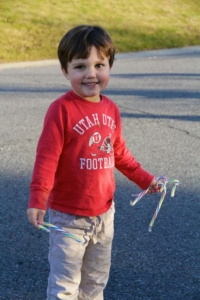 Cute Cole gave me some of the best smiles. He was so excited to be a part of the magic.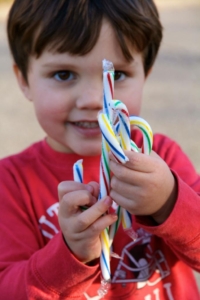 I mean who wouldn't want one of his floppy candy canes? Already loved and ready to go.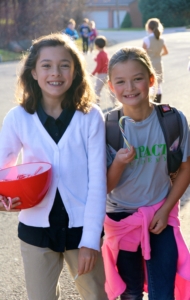 Emma did.
Yes, they came. All our favorite neighbor friends.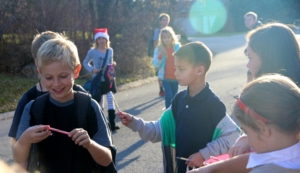 Ones we know well, and ones we don't. Familiar or not, the smiles spread, backpacks jostled and jangled, and the kids came running.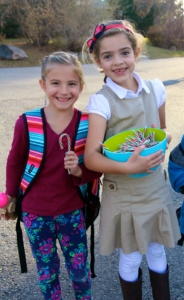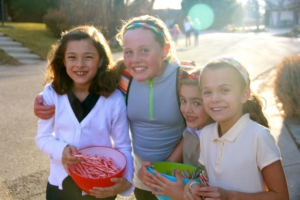 Our darling neighbor (and babysitter) Abby, put her arms around all three of the girls and gave them a big squeeze.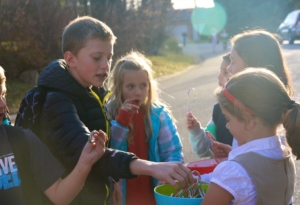 "Can we take two?" the older boys asked. But of course.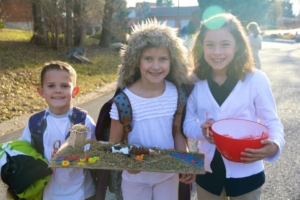 It was a warm, glittery afternoon. So unusual for December.
By 3:30 PM, the sun was already low, slanting across the street, leaving circles of light in my lens.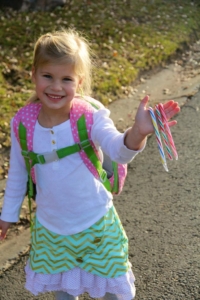 And sweet, sweet Lucy, who usually brings up the rear, couldn't believe her luck. One of each flavor!"Whenever we are neighborly and welcoming, whenever we learn to overlook differences and decide that love is better than judgement,we celebrate Him." – Libby Boss, Candy Canes and Christmastime
If you're doing the #24DaysofGiving, we'd love to hear about it. And don't forget to leave a comment if you'd like a chance to win a copy of Linda's book. I'll even include a candy cane!
Christmas love,

P.S. Elissa! You won the copy of Good Pictures Bad Pictures. Send an email with your full name and address to cath.wildnprecious@gmail.com and I'll send it out! And if you entered the drawing at Power of Moms, check the thread. Winners were posted Wednesday!