I'm a Kershisnik fan. You may have guessed that by now. I love his work. Mostly for the deep emotion it portrays.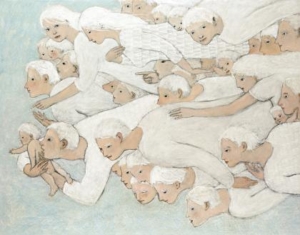 Can you feel the excitement, the anticipation? Of watching precious baby Jesus be born? Not to king and queen in Herod's palace. But to Nazarenes, tax payers who could find no place to stay. Only a dirty manger among animals.
I can almost hear the hush, the whispers, the awe. As they watched a God, divine and omnipotent, Creator of this very earth, come down to dwell with us, heal us, know us. As only one with a human mother could.
I heard an interesting comment yesterday that I can't stop thinking about. If you've read the account of Christ's birth in the Book of Mormon, you know that on the other side of the world, the sign of Christ's birth was not just a new star in the sky, but first, a night with no darkness.
On the evening before his arrival, the sun set, but darkness did not come. It was "as if it was noonday."
A woman I love mentioned that there was no darkness because Christ himself, the Light of the World – the force that fuels all stars, worlds, and galaxies – was coming. But also because angels – multitudes of them – literally covered the earth and filled it with light. As they celebrated, sang, and rejoiced.
That thought makes me weep.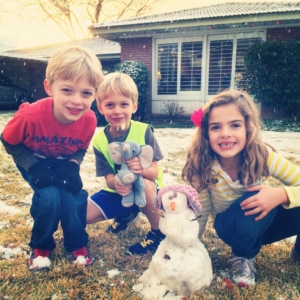 Three of my angels, in their own realm of glory.
First snow of the season. First snowman. Snowflakes amid sunshine.
So if you haven't seen this glorious live Nativity yet, you must. Paired with the song, "Angels From the Realms of Glory" written by James Montgomery in 1816, it is performed by the Piano Guys, David Archuletta, Peter Hollens, and the Mormon Tabernacle Choir.
It is the largest live Nativity ever accomplished, breaking a Guiness World Record this fall when 1039 participants met in Provo, Utah to pull it together. It happened in just a few short weeks, with lots of miracles, and the collaboration of some very talented people and incredible sponsors.
My heart leaps when the angels come walking down from the hills.
I can't stop singing the words. As I drive about town, wash the dishes from lunch, and pick up my girls from school today.
Angels from the realms of glory

Wing your flight over all the earth

Ye, who sang creations story

Now proclaim Messiah's birth

Come and worship, come and worship

Worship Christ the newborn King
Would that I were one of those angels, come to celebrate Jesus with us. The babe of infant, infinite light. Born to comfort, even me. He is my mentor, my King.
All the best answers I find in Him.
Joyous Christmas! Hope your last days of preparation are truly happy.
cath
p.s. Meredith, you won the copy of Candy Canes and Christmastime! I'll bring it by. xoxo