Last month we took the boys to the happiest place on earth. Nope, not Maui. That would be my happy place. Yup, you guessed it. Disneyland.
The boys are five. They'd never been to Disneyland. Their sisters told them plenty of stories. But this was a first for them. A maiden voyage into the world of life-sized cartoon characters, ice cream sandwiches shaped like Mickey, and rides that make your cheeks rattle and eyeballs bulge.
We had a ball.
But you should know some context. Before we packed our suitcases, the sewer backed up into our basement, the dishwasher flooded the kitchen floor overnight, we woke to a cracked kitchen window one morning (!?), our vacuum cleaner went kaput, I saw a urologist Monday, and had an MRI of the lumbar spine Tuesday.
The adage is sometimes true. When it rains… it pours.
Happiest place on earth? A little California sunshine? Beam me up Scotty.
So we left Grandma and Grandpa with our three girls, lots of dish soap, and the carpet torn up in the basement. Off we drove. Down the interstate. Away from our problems.
It's kind of nice to drive away from your problems. Not a solution. But… nice.
Two days later we were sliding down Splash Mountain and cruising through Radiator Springs. Slowly, my shoulders unhinged from my ears. I squeezed my boys' hands as we walked down Disney's Main Street. We rode every ride, shunned all things princess (because we could), and the joy of being with just our boys – something we've never done before – felt so unusual and wondrous, it could only be described as magical.
While waiting in line for our fourth Grizzly Rapids ride (we brought ponchos for the boys to wear while mom and dad graciously got soaked), this conversation happened.
Spencer: "Mom! I am NOT wearing a nacho this time. I WANT to get wet."
Me: "You're not what? You're not going to wear a nacho?!" I stifle a laugh.
Spencer: "Nope! I don't even care about getting wet. But you can wear my nacho if you want!"
Me: "Well, thanks Spence. I think I will."
I don the clear plastic poncho, because my backside is throughly saturated, all the while picturing how utterly hilarious it would be to really wear… a nacho. Chips, cheese, the works.
Teenager passing by: "Cheater! Cheater!" He's pointing right at me. I guess because I'm wearing a nacho. I mean poncho.
Spencer: "Is he calling you a cheater because you want to wear a nacho? That's kinda rude. Mom, I think it's okay if you wear a nacho."
At this point I can't hold back the giggles any longer. I erupt into laughter.
Just then Gordon pulls off his poncho and holds it out to the masses: "Anyone wanna wear a nacho?"
One of the best moments of the trip.
It felt so good. To laugh.
"Laughter is the sun that drives winter from the human face." – Victor Hugo
So when your house (and your 40 year-old body) fall apart, and you can't drive away from your problems, find something or someone to make you laugh. It's the only way to get through life.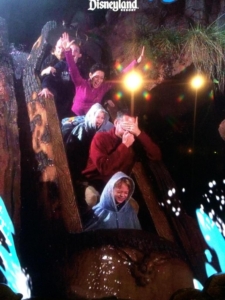 As for everything beyond the nacho moment, here are a few pics.
I'm so glad we had this time with just the boys. It was truly magical.
Splash Mountain 6 times. Everyone's favorite. We packed in a bunch of rides our first night because that part of the park closed down the next day for maintenance.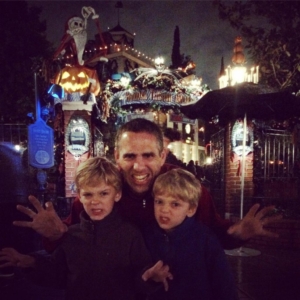 The Haunted Mansion. Still decked out for Jack Skellington's Scary Christmas. Very impressive.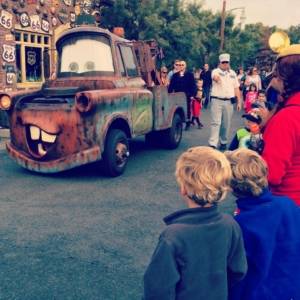 Cars Land. If you have never been and you have children… heck – even if you don't have children, you have GOT TO GO. We were amazed. The Radiator Springs ride was incredible! I wish you could feel the magic in this photo – this moment when the boys saw Mater. He came rolling down the street, yammering away, like it was no big thing. But it was a BIG thing to them.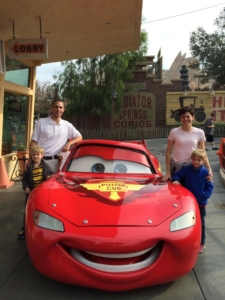 Photo-op with Lightning. Ka-chow!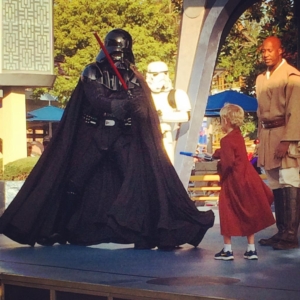 Probably our favorite experience of the whole trip was Jedi Training.
Doug can die a happy man now that he's seen both his padawans become Jedis. When the Jedi Master was picking students, I had to become obnoxious Mom. I had to jump up and down, pointing at both of my boys, mouthing the word, "Twins! Twins!" I was so worried one would get picked and not the other. The Jedi Master, pictured above, got my drift, and nodded. Then he called both boys up to get their light sabers and robes.
Darth was huge. 6'8″ Doug and I figured. He's not in full stance in this photo. I couldn't believe how brave Spencer was. I would never have done this as a kid. Not in a million years.
Vader: "Ah the force is strong with this one," (in full-on James Earl Jones voice) as Spencer approached. "But he is not yet a Jedi."
Jedi Master: "Aw, come on! It's his first day!"
Spencer inched forward, extended his saber like a Harry Potter wand, and boom, they dueled to the finish.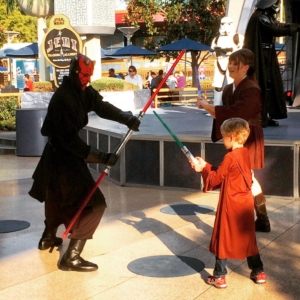 Poor Gordy had to fight Darth Maul. He was one scary dude. With full make-up and seething looks as he paced the crowd, even I was creeped out. I worried Gordon might turn tail before it was his turn. But he was fearless. It took him about 10 seconds to get his light saber activated (I was sweating bullets), but once he did, he busted some Jedi moves and Darth Maul gave him the "you haven't seen the last of me" glare.
Doug and I were cheering and hooting like crazy. So glad we didn't miss this!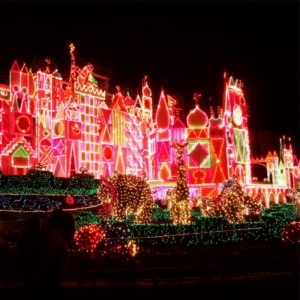 It's a Small World. An amazing world. Especially ablaze in Christmas lights.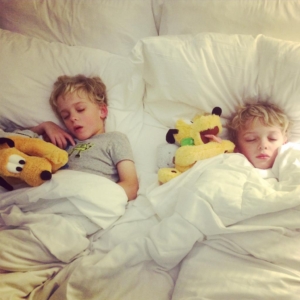 Day Two. This pretty much sums it up. Pluto (their favorite character) and pooped.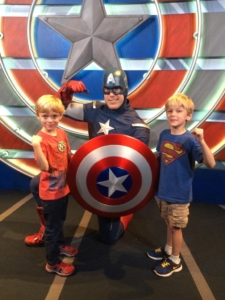 Captain America was the real deal man. He played the part perfectly. When he found out Gordon had dressed up as Captain America for Halloween, he said, "Did you bring your shield with you?" Nope, we didn't. "Well next time, bring it and I will sign it for you." Now that would've been cool!
When he asked Spencer who his favorite super hero was, Spence said, "Batman." Captain America said "Hmm. I don't know him. Is he a good guy or a bad guy?" Spence said, "A good guy." "Well, then we are on the same team," replied the Captain.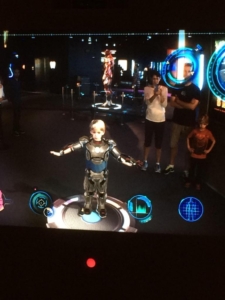 Spencer, virtually suiting up with Ironman.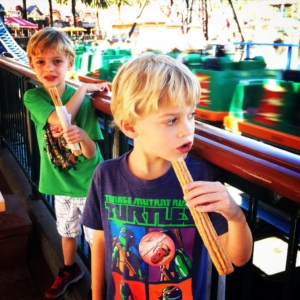 Eating churros while waiting for Doug to ride California Screamin'. This was our favorite treat of the trip. I could eat these by the dozen.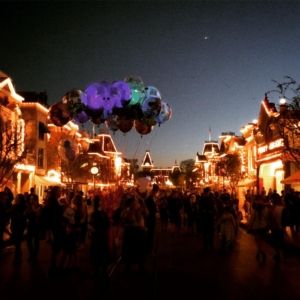 "When you wish upon a star…"
Last night at Disney. Walking down Main Street.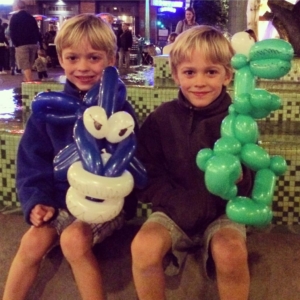 Downtown Disney. Balloon animals!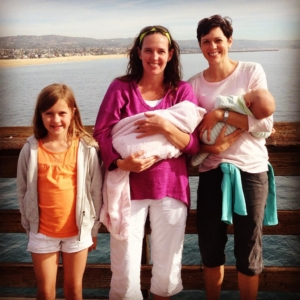 And on our drive home, we stopped in Newport for a couple hours to introduce the boys to the beach, see Kara and family, hold babies, and eat lunch at Ruby's on the pier.
I know. Explanation needed. Babies? Yes, babies. All is explained in a post I've drafted but not yet finished. Kara had her second set of twins in November. I have photos and an amazing story to tell you, which I will try to get by month-end.
Look at her though. Gorgeous mommy with baby in arms.  I love her.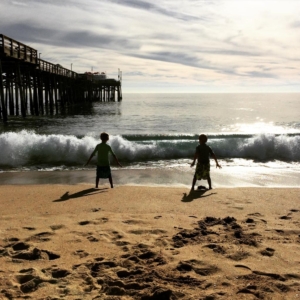 The two hours we spent at the beach might have been as good as all of Disney combined. First time at the ocean for the boys. I warned them before they went barreling into the water, that it's not a pool. So they obediently waited for the waves to come to them.
The first wave rolled up. As it surrounded their ankles and licked their knees, they slowly went sailing backwards. Imagine a tree when someone yells, "Timber!" Just like that. I didn't think to warm them about shifting sand or the retreating pull of the water. We had a good laugh.
But they were up in a flash and ready for more. The waves were coming in tall sets for a while, which the boys called "Tidal Waves." We couldn't get them to leave. Here they are… waiting for the big one.
Newport, you were lovely, warm, and calming. Just the sound of your ocean gave my heart a lift.
And Walt, you were a visionary man. Disney is quite the place. Thank you.