Half our valentines we sent on time. The others we did not.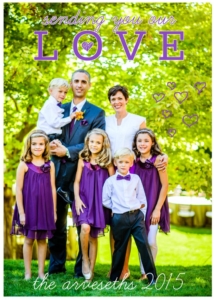 Kinda like this post. Belated.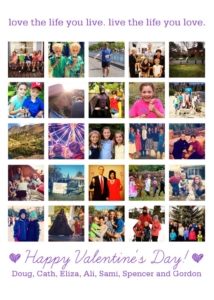 But that's okay, right?
It's the love that counts.
Valentine's Day began with sunlight pouring in the windows, children slowly rolling out of bed and coming into the kitchen for heart-shaped pancakes… that didn't quite turn out.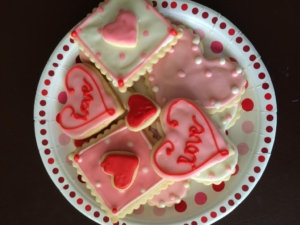 But our neighbor Kristie brought us gorgeous homemade cookies (she's the gingerbread lady, the cookie queen) and they tasted just as good as they looked! Which kind of made up for my pancake fail.
After doing a few jobs, the kids raced outside to play. It was another gorgeous 60 degree day. So unusual for a Salt Lake winter.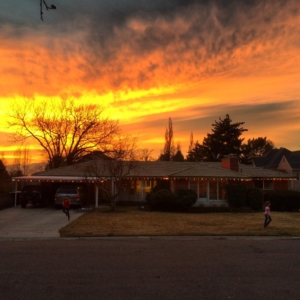 But look at these amazing sunsets we've been having! This was Valentine's Eve.
Then we got a phone call. Gordon was hurt. Badly enough that Miss Betsy (our dear friend and Eliza's piano teacher) didn't dare move him. The boys and Sami had wandered down to her house and were jumping on a nearby trampoline.
It helps if you jump ON the trampoline, rather than on the springs. Especially when jumping from a rock several feet above the tramp. But Gordon likes to be different. You know, try new things.
Sami and Spencer were with him when it happened. One leg went through the springs as momentum catapulted him forward. The other bent on top. Hard to know exactly what happened. But once Sami could tell Gordon was really hurt, she sent Spencer home to tell Mom and Dad.
Luckily, Miss Betsy was out walking and saw Spencer heading up the street by himself. She asked, "Where's your brother?" (Unusual to see him alone. They're like Butch Cassidy and the Sundance Kid. Always together.)
"He got hurt," said Spence.
"Where is he?" asked Betsy.
"By your house," Spencer replied. So she hustled down the street and could soon hear Gordon screaming.
Doug brought a very tearful Gordon home in the car. He was clutching his knee and wailing in pain. I called my Dad. (He thinks he's retired. But he's really on the Keddington Family Rescue Mission.) He came right over.
After a thorough examination, he finally got Gordon to extend his knee and felt there probably was no major bone damage. At least not that he could detect. No obvious fracture and the femur felt stable. But Gordon was still in a lot of pain and couldn't activate his quadriceps. Couldn't do a straight leg raise or press the back of his knee into my hand. So both my Dad and I were worried about a patellar tendon rupture or a tear of one of the supporting ligaments.
My Dad ordered an MRI. But it was President's Day weekend and unless they called someone in, there would be no chance for an MRI until Tuesday.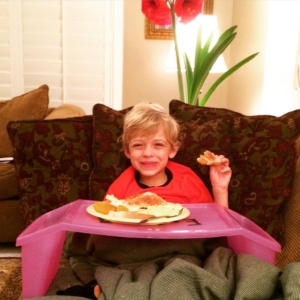 So we shuffled through the weekend, carrying Gordon from the couch to the bathroom and back, icing his knee, filling little cups with Ibuprofen, and making toast and eggs at 11PM because he couldn't sleep.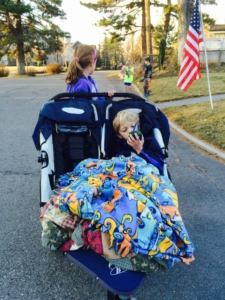 By President's Day, he was getting antsy. So we wrapped his leg and covered him with blankets to venture out for a spin around the neighborhood.
Ninja Turtle walkie-talkies made for fun communication as Spencer and their buddy Will darted in and out of bushes, trailing us from behind.
Now, enter Erica.
I've mentioned her before on my blog. Erica is my second cousin, more like first. Because my Dad and her Mom are like siblings. The Kimball family is tight. And lucky me, Erica lives two doors north of us. She works medical imaging at Primary Children's Hospital so I asked her Sunday if she thought she could get Gordon in for an MRI sooner rather than later.
And bless her heart, she worked a miracle getting him onto their packed schedule Tuesday.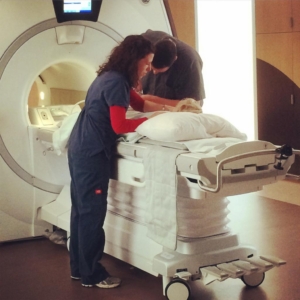 That was the first tender mercy.
When you see God's blessings in your life, you have to write it down. You have to. Because sometimes you forget how aware He is. Sometimes you feel forgotten, like things will never work out. But when you return to stories like this, you remember. A knowing washes over you. An understanding that He sees your life and is a part of it.
To our delight, Erica was called in to help with their busy schedule and ended up being Gordon's nurse. Here she is prepping him for the MRI.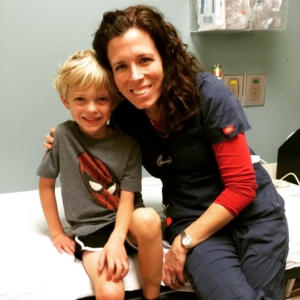 I wish you could have seen Gordon's face when he saw this pretty lady coming to get him in the waiting room. He lives at her house when he's not at ours, and he was grinning ear to ear.
Mercies continued to fall into our lap that day. And we have Erica to thank for putting them in motion.
We came to the MRI with Gordon fasting, planning that he would need sedation. But when we got talking about the IV, Erica had the thought that maybe he could do it without. Even though they usually sedate for 7 and younger. She was inspired. She spoke to the radiologist, told him she knew his temperament and suggested he watch a movie. She thought he could hold still enough for them to try. The radiologist said yes.
And he did! He held still as a statue while watching Despicable Me through super cool video goggles.
Results? There was a fracture. Distal femur, posterior side. Greenstick fracture. Which pointed to a hyperextension injury. It's a good break to have. Very stable and hard to detect. Which is why my Dad didn't find it in his initial evaluation.
We were relieved to know the patellar tendon was intact, with minor damage to both tibial condyles and possibly the ACL. But all of that would heal on its own with non-weightbearing.
A break? I thought. No surgery!? We can handle that!
More mercies.
Just then, the orthopedist phoned from upstairs. One I had been trying to get in to all day. They asked where we were and I said downstairs, just finishing the MRI. They said, "Bring him up as soon as you're finished. We can see him now. Otherwise it will be a week before we can get him in."
Because he hadn't had sedation we were able to wheel him right up to the 4th floor to see the orthopedist, who issued an immobilizing splint rather than a cast, making it much easier to bathe.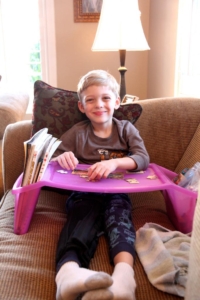 So little bro here has four weeks of non-weightbearing to go. Make that 3 and a half. He's been doing puzzles and sticker books, drawing, watching more movies than usual, and writing thank you notes.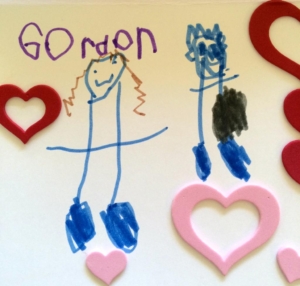 This is his card for Miss Erica. Erica with her curly hair on left, Gordon with his broken leg on the right. Pretty cute.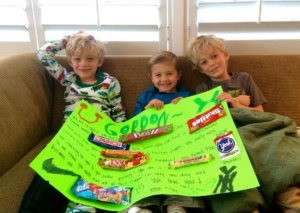 His buddy Luke brought over this darling candy gram. (Thank you Rebecca!)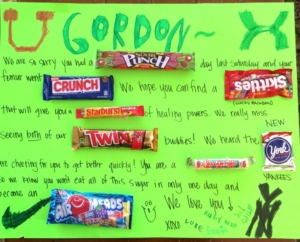 Spence was kind of lost for a few days without his brother. He was going to preschool without him, church without him, and one morning I found him playing cars downstairs by himself. When I knelt down by him he said, "I miss Gordon."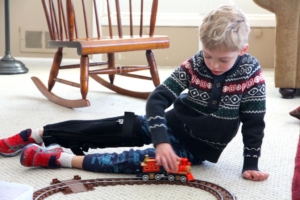 But everyone has adjusted to Gordon's new norm. Including Gordon. He's scooting around on his tush, getting to the bathroom by himself, going to preschool in a stroller, and even climbed on the counter yesterday. His sisters have been carrying him here and there, thinking of what he might need or enjoy. They read to him, bring him special treats, play with him.
He's had some frustrating days, but on the whole, I've been impressed with his happy spirit. His resilience. And his ability to adapt to a challenging situation.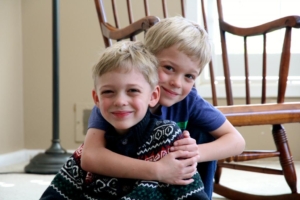 And Spencer decided it is more fun to play with Gordon, even if it means not biking or running through the neighborhood. They've done a lot of hanging out on the couch, lincoln logs, and looking through books. Pals through thick and thin. I'm so grateful they have each other.