She stands on our porch and hands me a vase of tight buds. Still green and bound together. Like an unwrapped gift on the mantle, waiting. The same way we wait for a sunrise. For the wind to change. For things to go our way. I place them on the windowsill and by morning several are open. By mid-afternoon, the whole vase is blossoming sunshine. And all I can think is how happy these blooms are, how much I hope they are an omen for better days. We need a change, a new wind, something to set a new course.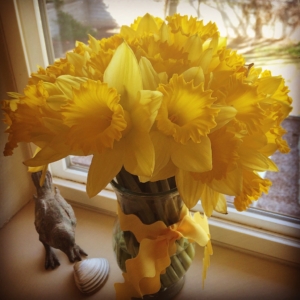 With every pause at the window, I think of the woman who trimmed these daffodils, gave them water. Is she feeling like me? Desperate for a hard wind to blow something in or out of her life? She celebrated the birthday of her only son this week. A son she lost three years ago. Too soon. Too hard.
Gaylyn knows the only way to survive misery is to look wider than the hurt. She has not allowed her suffering to become everything. She has not narrowed her focus. She still sees miracles, needs, and light. I admire her. And the courage with which she greets every morning.
She stopped by the day after I had surgery last week. Minor surgery. But a day down, with discomfort, healing, meds, and a wait for biopsy results.
That same day Spencer moved from fever to vomitting which lasted two days. Then his brother started. And we are just barely, barely, turning the corner today. Sweet Gordon (who has actually been a very ornery buckaroo) had a five day struggle to keep anything down, come and go fever, plus an earache today.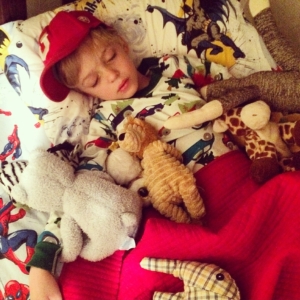 No fun with a broken leg to boot. And just this morning, when I thought we might be past it, his sister complained of stomach pain and stayed home from school.
After pulling sheets, starting another load of laundry, opening windows, and bathing the boys, I climbed into the shower and let the hot water wash it all away. The smell, the germs, the worry. The weight of trying to climb out of this hole of ill health we've dropped into.
Under the water, all was quiet. Under the water, I could pretend none of it was real.
This week I wanted to cry uncle, toss up my hands and give in. I'm done. I'm finished with doctors appointments eating up our days, with phone calls and scripts. I just want a healthy body, want to care for my family, want to do the usual mom things with ease, comfort, and joy.
The last five months have been dominated by unusual health concerns. Thankfully, only a few major hurdles are still ahead, and I think we're moving in the right direction. Biopsy results came back clean. And as I hiked trail on the weekend, I realized how heavy that worry had felt. I believed the whisperings that everything would be fine. But once it really was, I felt lighter, freer, more myself.
Have you noticed this pattern in life? When you're about to cry uncle, when you know you can't handle one more thing, life shifts. A friend knocks on your door with Tillamook ice cream and home made hot fudge. A boy keeps his toast down. A daughter colors you a picture of a tiger and tells you what she's learning about India. You get good news. The day warms. Things change.
Misery is a loss of perspective. And when things are hard, our view can become myopic. All we focus on is the pain in our back, the splinter in our finger, the hurt in our heart.
But peace comes from seeing the whole.
And I want to concentrate on the whole. I haven't had time to write or process much over the last few months. But when I look back at the whole of it, the whole round of our life, it is still my promised land.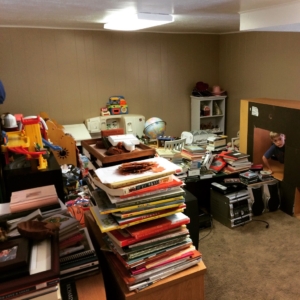 This might look like a disaster. But really, it's a symbol of of love and selflessness.
I must have cried Uncle subconsciously, because one evening there was a knock on our door. And it was my Uncle Roger and his wife, Leslie. We were expecting new carpet to go in the basement on Friday. But Ali and Sami were being baptized Saturday morning and we needed to feed 60 people in our home following the service. Friday was the only day they could get the carpet in if we wanted it before the luncheon. So we said yes.
Thursday evening I wondered how we were going to move everything out of the basement area by morning. Enter Uncle and inspired Aunt, who had a prompting and just showed up.
"We're here to move the stuff out of your basement area," she said. "So let us in and show us what needs to be done!" They finished the whole thing in a couple hours. While Doug and I took care of kids, baths, homework, practicing.
They came like angels, out of the clear blue. And I was undone by their service.
I love you Roger and Leslie.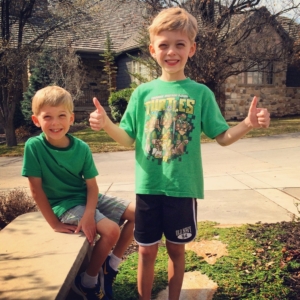 On St. Patty's Day, Gordon got the green light to start walking. Must have been the luck o' the Irish. Because this kid did a fair amount of galloping and adventuring on that leg, despite instructions to be non-weight bearing. But we couldn't find small enough crutches and I just couldn't keep him down.
New instructions: no running or jumping for six weeks. Oh me oh my. But having that splint off is mighty nice.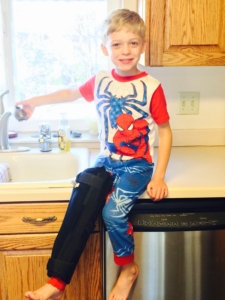 Over the last month he developed some impressive one-legged skills. Like climbing up on the counter, hopping himself all over the house, and jumping (of all things) on the neighbor's trampoline! I put my foot down on that one.
He tried to hang with his buddies and keep up, but the reality was, we did a whole lot of this. Poor kid has had more screen time in the last month than he has his whole life. I've bought more apps than ever before. I think he was the last boy in America to discover Angry Birds, and we streamed an absurd amount of Wild Kratts, Clone Wars, and Disney from Netflix.
But we survived!
And last night Gordon said to me, "Mom, I really like walking."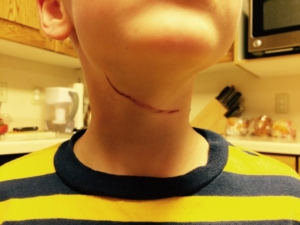 Spencer, not wanting to be left out, gave himself a nice rope burn around his neck. He was standing in the kitchen window with the strings to the blinds around his neck(!?) when suddenly he fell, and ziiiip-zang, sliced his neck like a noose. He and I were both traumatized after that one.
Out of anger though, he returned to the blinds a day later, and snipped them. Yup. Cut the strings right in half. For a week, we couldn't put the blinds down.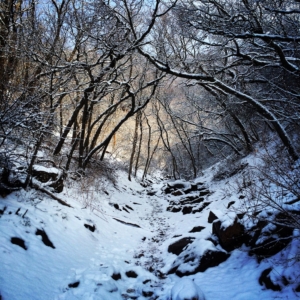 I can't run because of the disc injury in my lumbar spine, but I can hike. And I've been making my way up into the canyon each Saturday, for sanity. It definitely beats the recumbent bike.
A few weeks ago, it was snowing lightly and I had Annie Dillard on my mind:
"The gaps are the thing… the spirit's one home. Go up into the gaps. If you can find them. Stalk the gaps… and unlock the universe…" (Pilgrim at Tinker Creek).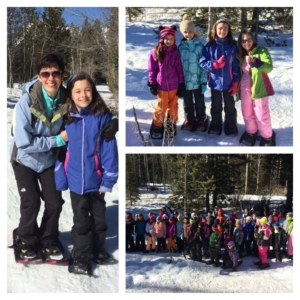 And I can snowshoe. Even though we haven't much snow in the mountains. I accompanied Eliza's class on a field trip, where a Watershed Ranger (did you know there was such a thing?) took us on a trail to discuss water conservation, water science, and identified tracks of coyotes, ermine, snowshoe hares, squirrels, and birds. Did you know it only takes 24 hrs for the water in a canyon stream to come out our bathroom faucet? Amazing.
Eliza and I also had fun this week identifying a tin of rocks, fossils, and artifacts that belonged to my great Aunt Mary. Before she died, she gave her rock collection to my sister. Deb let us borrow it since Eliza has been doing a geology unit at school.
Our favorites were the snowflake obsidian, the turquoise, and the moonstone that shines like soft moonlight when you put a flashlight beneath it.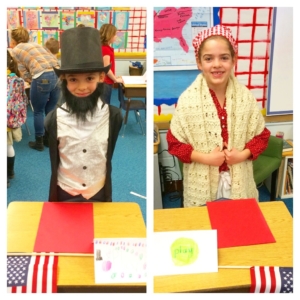 Ali and Sami memorized the Gettysburg address in February. No foolin'! (Bonus: After all that practicing, now I have it memorized it too!). Wow, am I impressed with these second graders and how their teacher believes in them! Here they are at the Civil War wax museum. Press their button and they will tell you all about Abe Lincoln and Harriet Tubman.
Ali and Sami turned 8!
Here is Ali with her new favorite stuffed animal, made by her new favorite friend, Ellen. Who read here on my blog that Ali was struggling a bit. I didn't say it but she knew it; Ali needed some additional love. So she started writing to Ali. Sending her postcards, notes, little gifts. I wish you could see how Ali lights up when something from Boston arrives.
Love from someone she hasn't even met. Love that makes her feel special. Thank you Ellen. You have become part of our family.
(And I have to hand it to Sami, who has understood all of this and been excited for Ali with each package or card. Never once has she complained or felt left out. "Look Ali! she cheers. "Something from Ellen!")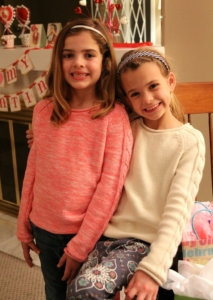 We celebrated with grandparents and a few gifts.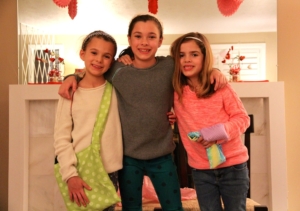 Eliza sewed a purse for Ali, and a headband and rice bag for Sami.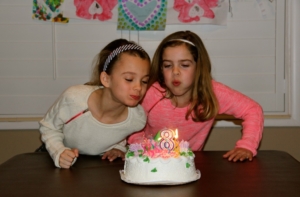 And of course, there was cake.
I adore these two girls and who they are becoming. I will write next about their baptism. It was such a happy day.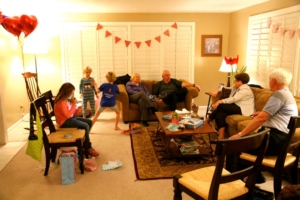 So that is, in part, the whole.
When you cry uncle, sometimes he comes! Or other angels, listeners. Because as a friend told me recently, God has a pretty great ground crew.
And I am thinking…
Who are we to not be given challenges? Who are we to expect we should pass through life without adversity? Without struggle?
Our family's challenges of late have been so compact and unexpected it's been comical. For months I just laughed and jested. Until one day, the tears leaked out and I felt put upon, maxed, hexed.
But self-pity is just that. Inward, selfish, narrow. I am a slow learner. But the people I mentioned in this post are teaching me. Experience is teaching me:
Make your life wider than your hurt. Expect challenges and try to live them gracefully. Look for miracles. And when adversity comes, don't turn away from the One who saves. Keep your commitments to Him. For He will guide you to joy. Like a small flame in the wilderness.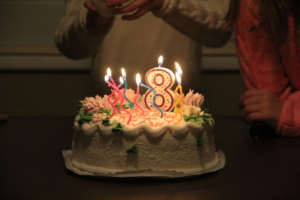 "I will be your light in the wilderness. I will prepare the way before you. And inasmuch as ye shall keep my commandments ye shall be led to the promised land; and ye shall know that it is by me that ye are led" (1 Nephi 17:13).