Oh my goodness. It's been a long time!
I've missed you. I've missed this space. This place to dump words, figure out life, and hold onto joy.
How are you? Are your children back in school? Maybe YOU are back in school! I know many of you have traveled far and experienced new things. Some of you have added babies to your family. Some of you have lost family. I've mourned with you, laughed with you, smiled at your life.
You've grown. And so have your families.
We've been growing too.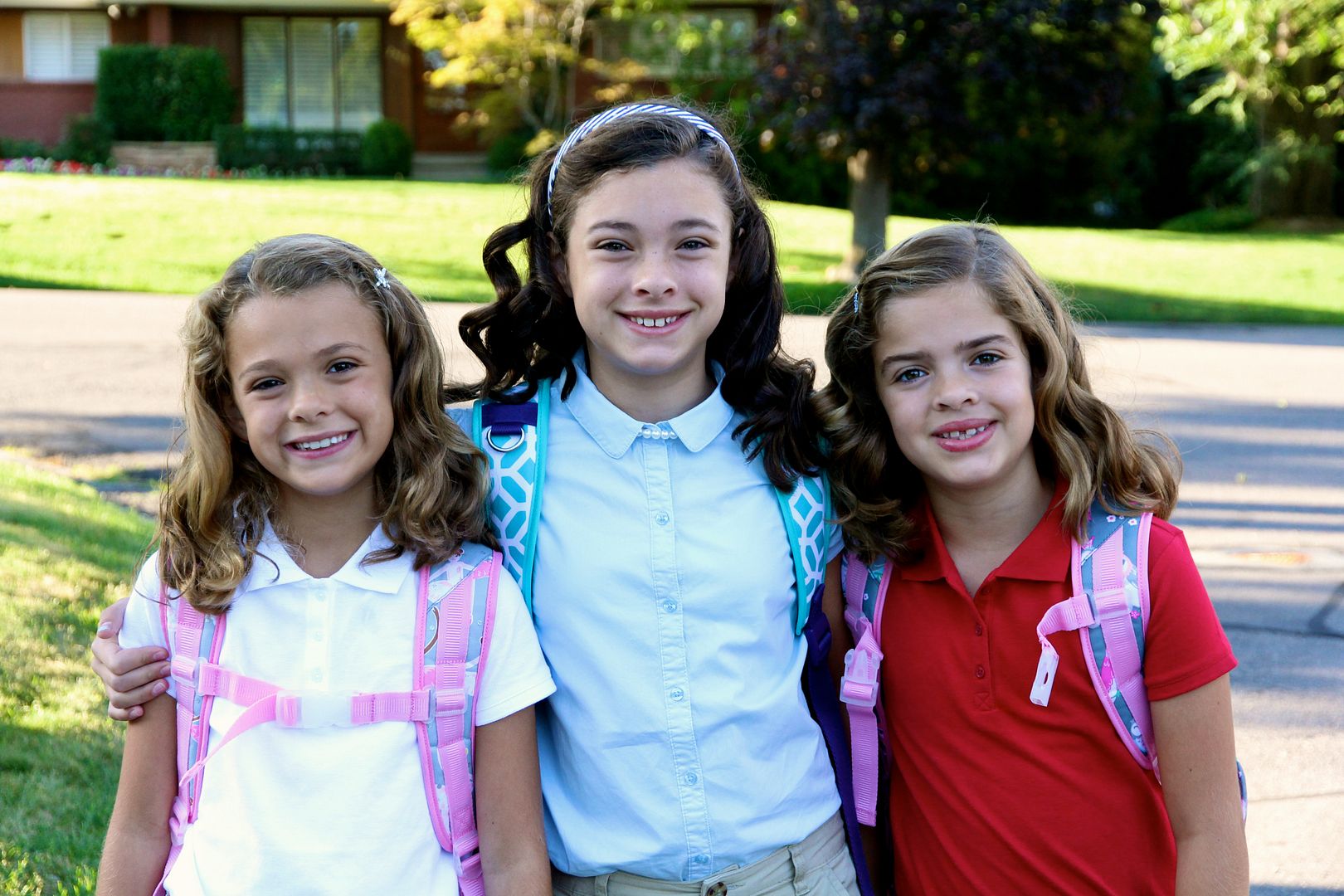 First day of School. Ali 3rd, Eliza 5th, Sami 3rd.
Gordon and Spencer, Kindergarten.
Not just in inches. (Although Eliza did grow FOUR inches last school year! What?)
My goal this summer was to grow us in other ways too. In spirit, in intelligence, and in our relationships.
But a few weeks into summer I realized I wasn't going to write about it. I wasn't going to get anything written. For a while... maybe the whole summer. And that had to be okay. I could have jammed it in somehow, put off my children, paid a babysitter. But I didn't. I paid a sitter so I could grocery shop instead. You know. Priorities.
I could tell, almost immediately, this summer was going to be different. My kids were going to need me to be fully present. And I wanted to be. I wanted to use those unstructured weeks to be with my kids not just in body, but in mind and spirit. I wanted to teach them to work, to take responsibility for tasks without reminding them, to see needs. I wanted to help them academically, work with them in areas that needed support. I wanted to take them to new lessons so they could try new things. And I wanted to play with them.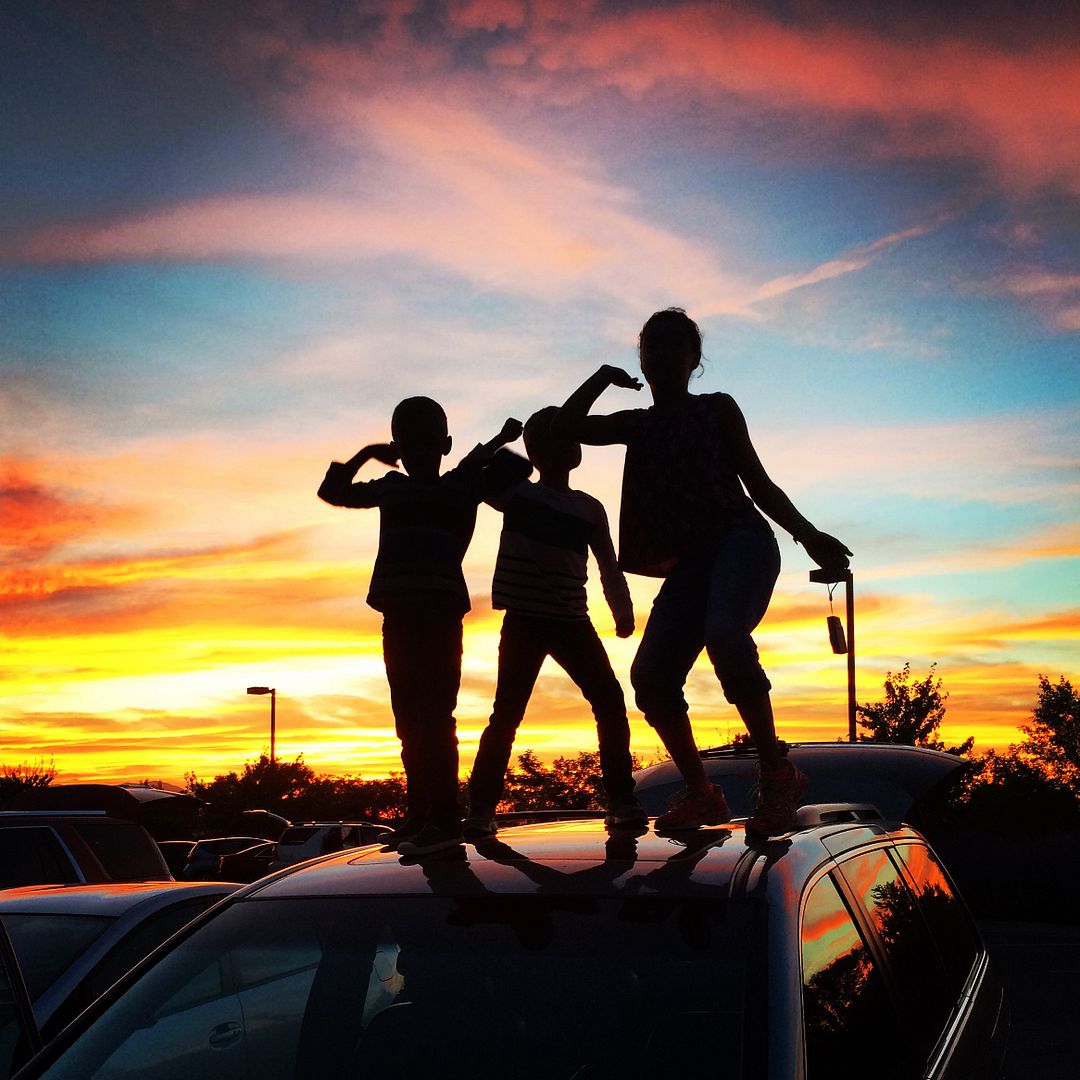 Silhouettes on the Sunroof
So that's what we did. And honestly, I couldn't find a minute. Not a single minute to even think about writing. I read zero blogs. I didn't get on Facebook. And the only books I read were the ones we read aloud.
My girls needed me to be emotionally available. They're getting older, discovering things about themselves and how they fit into the world. My boys are getting older too. Needing me to work on reading and writing with them. Needing someone to teach them self-control, bed-making, and how to empty the dishwasher by themselves.
So if I could sum up the summer for me, it would be teaching and being present. The kids would say their summer consisted of work, swimming, tennis, and Disney World. They didn't love the job situation, and they didn't love tennis. But they did get better at tackling things without my nagging.
And most days, after jobs were done, we played.
Every night, if we made it out to our little chairs to read before dark, this is how I felt. I could barely keep my eyes open.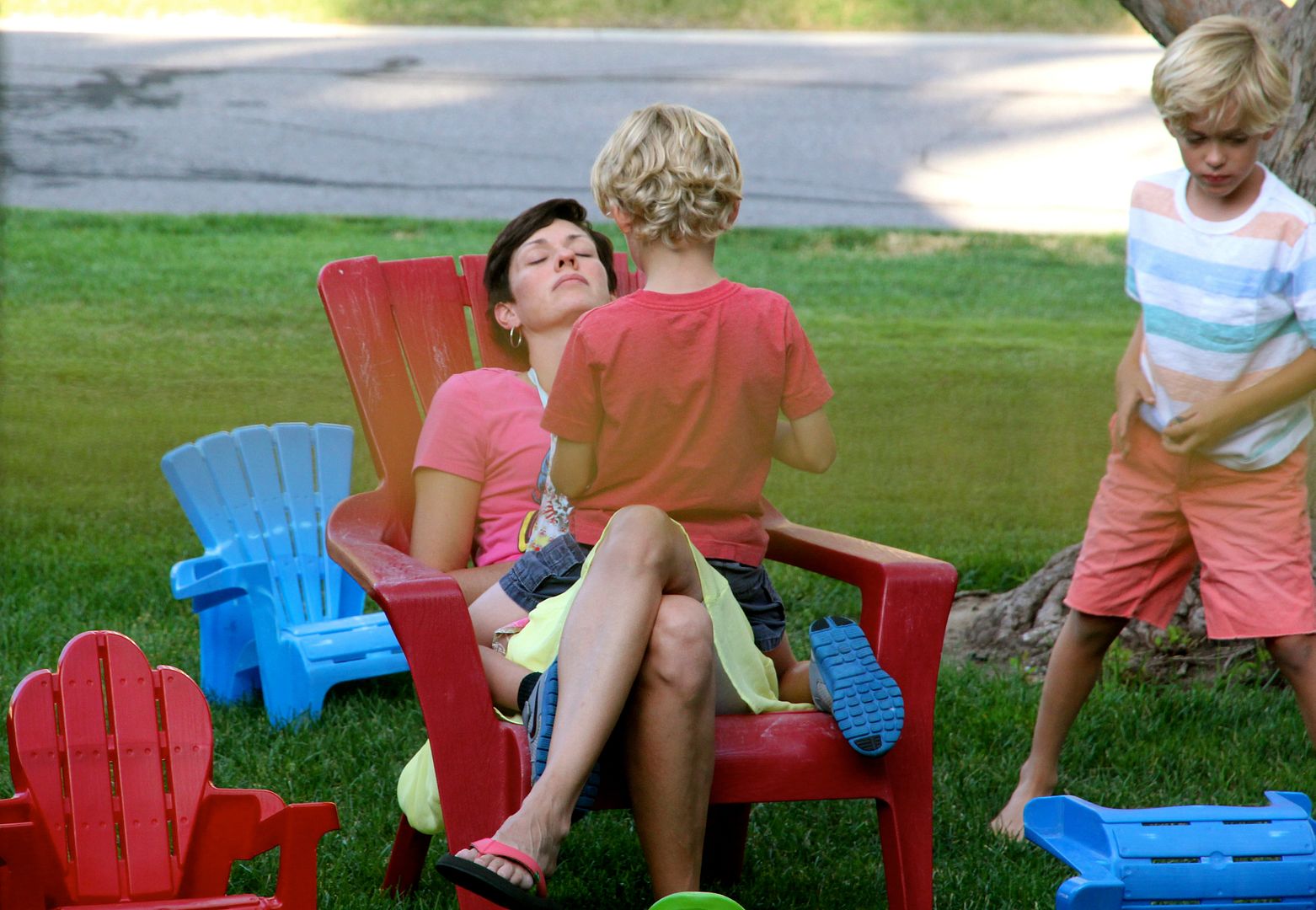 It was a good summer. I felt happy. And I hope we grew
. If we did, the changes were small, because
most of the time it felt pretty crazy and out of control.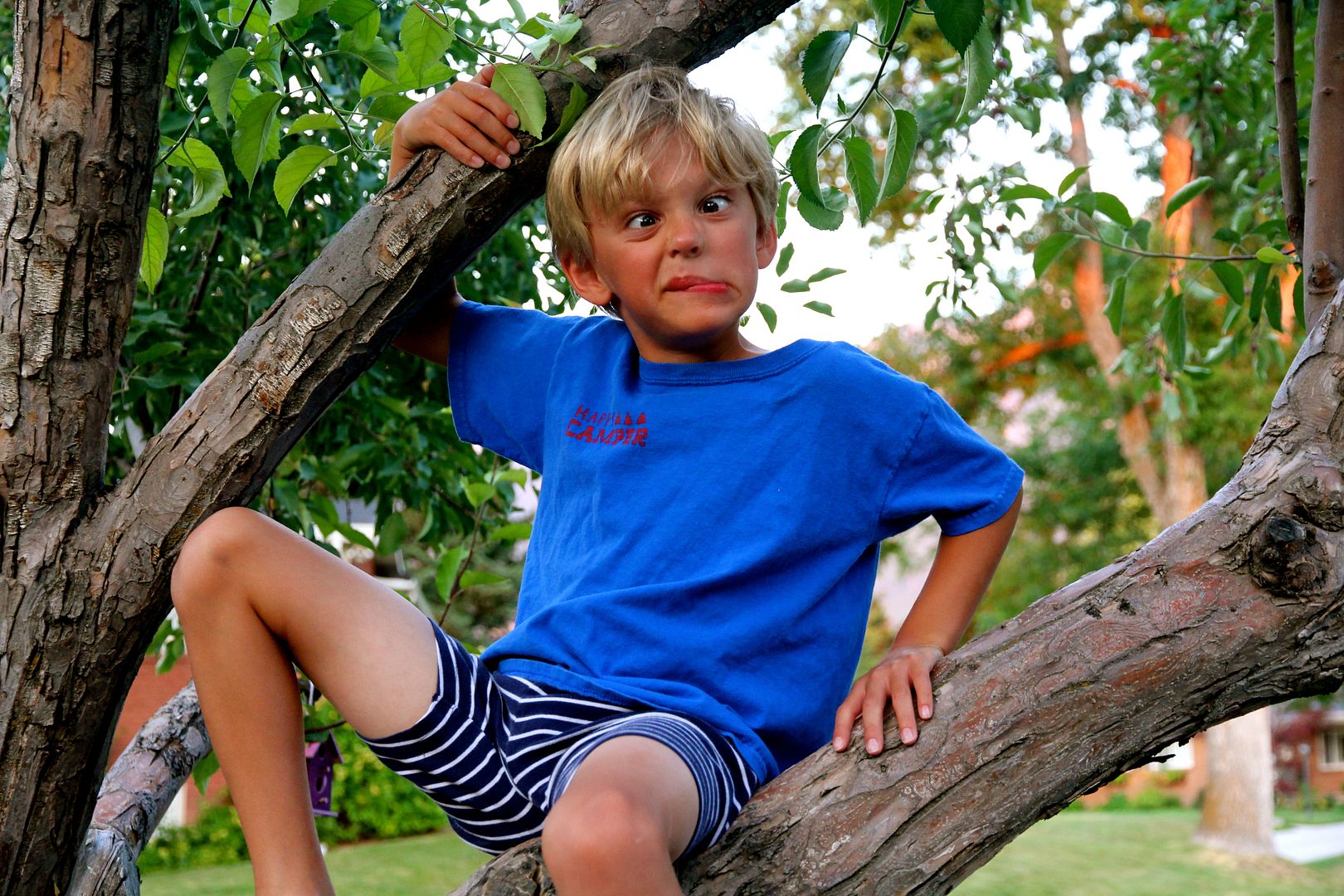 On our family trip to Florida, there was a moment when Doug and I wanted to abandon the kids and leave them on the curb at Animal Kingdom, see who might claim them. Because they didn't want us for parents anymore! And we weren't sure we wanted them!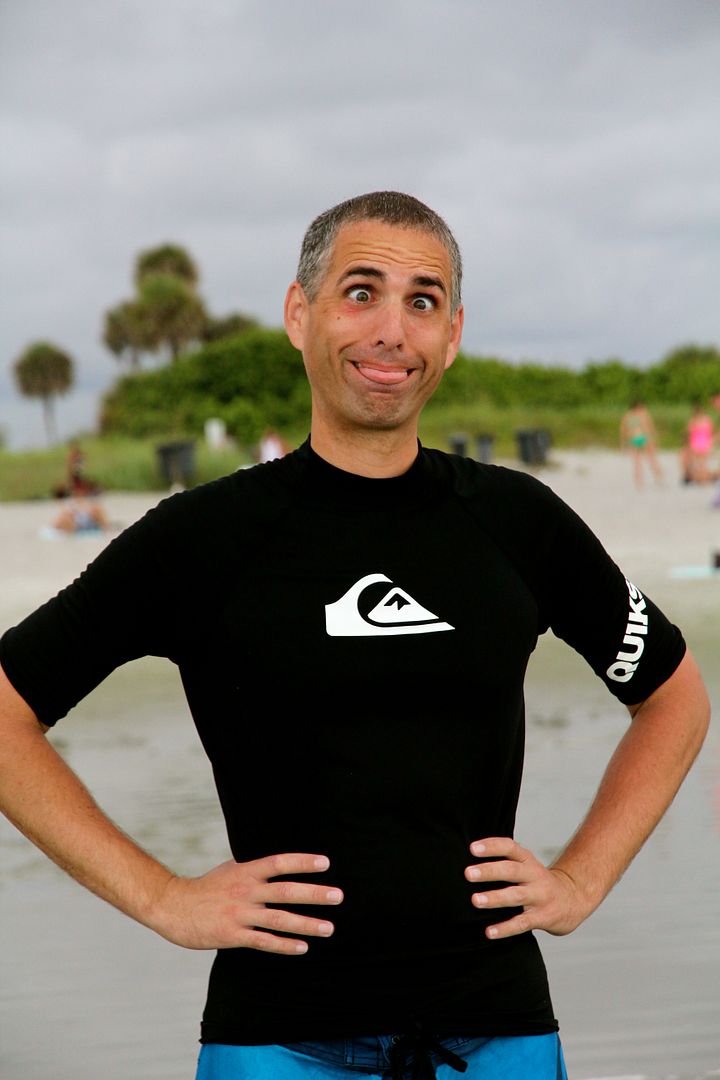 But we had a glorious day at the beach. First time swimming in the ocean for all five of our kiddos. And they were so brave!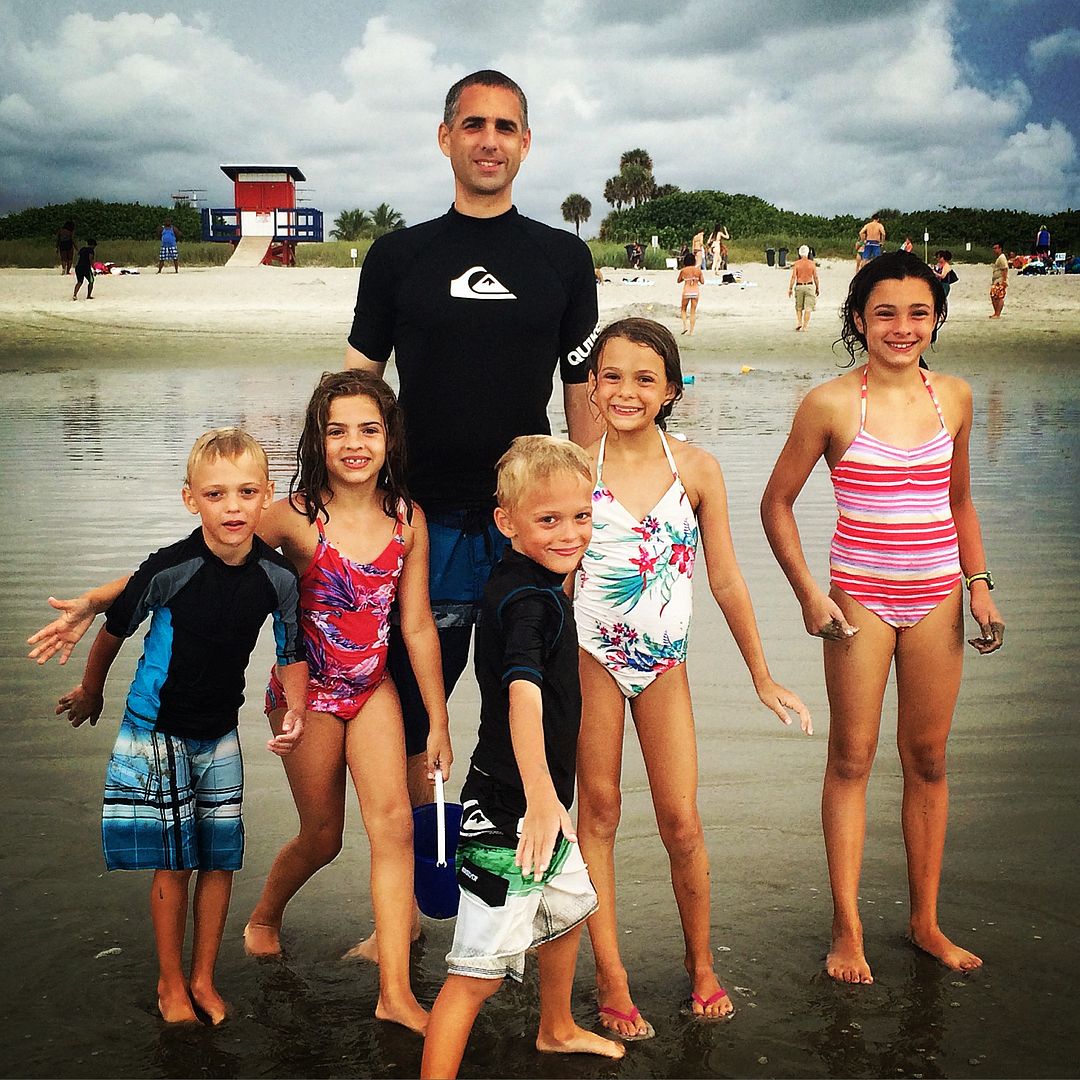 After a couple hours, we had all five of them out beyond the surf with us, treading water, reading the waves and diving under. It was rather remarkable. I thought... holy moly... we have arrived!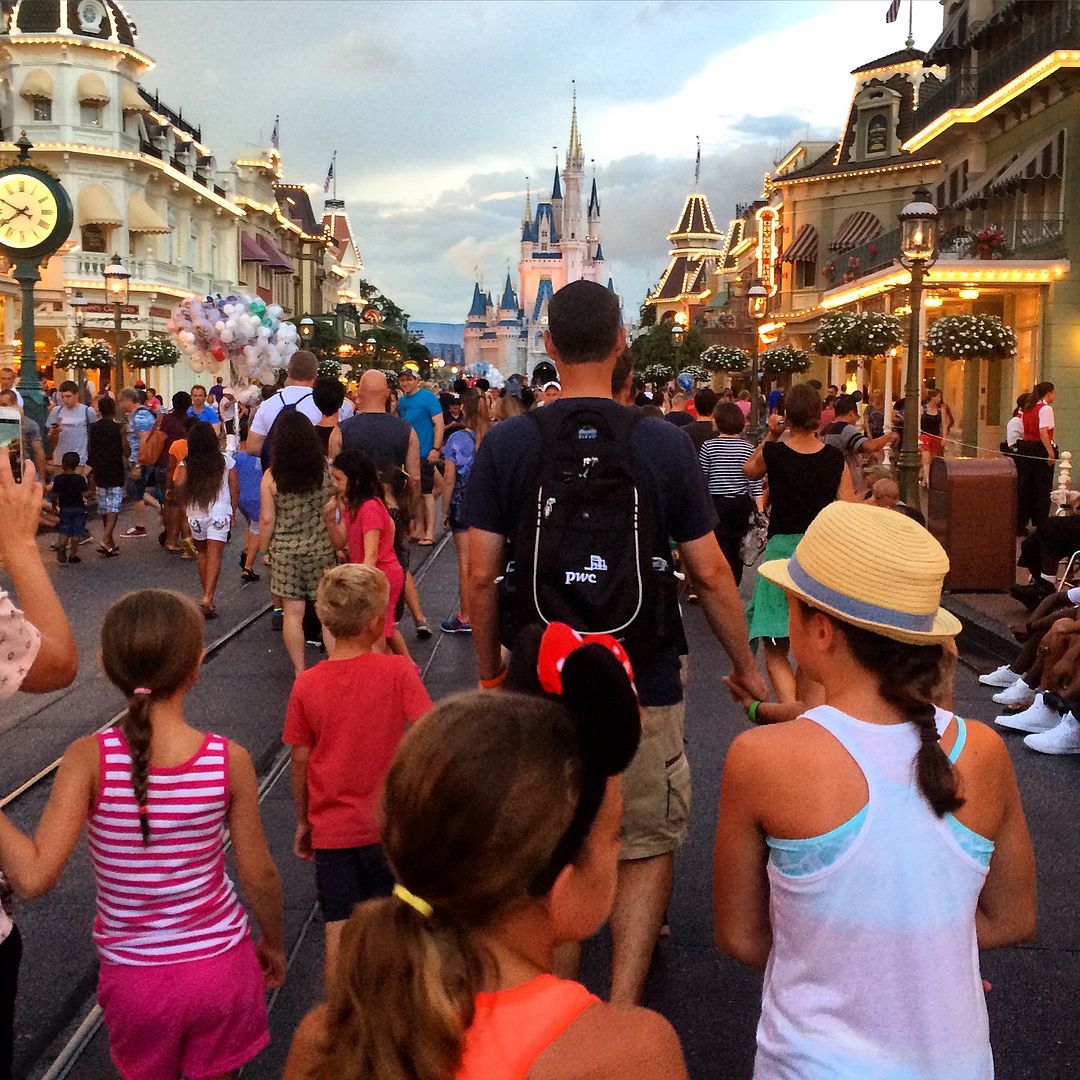 Doug had meetings in Orlando, so we tacked on a trip to Disney World. We got an awesome deal. It was very fun and very hot. More pics to come...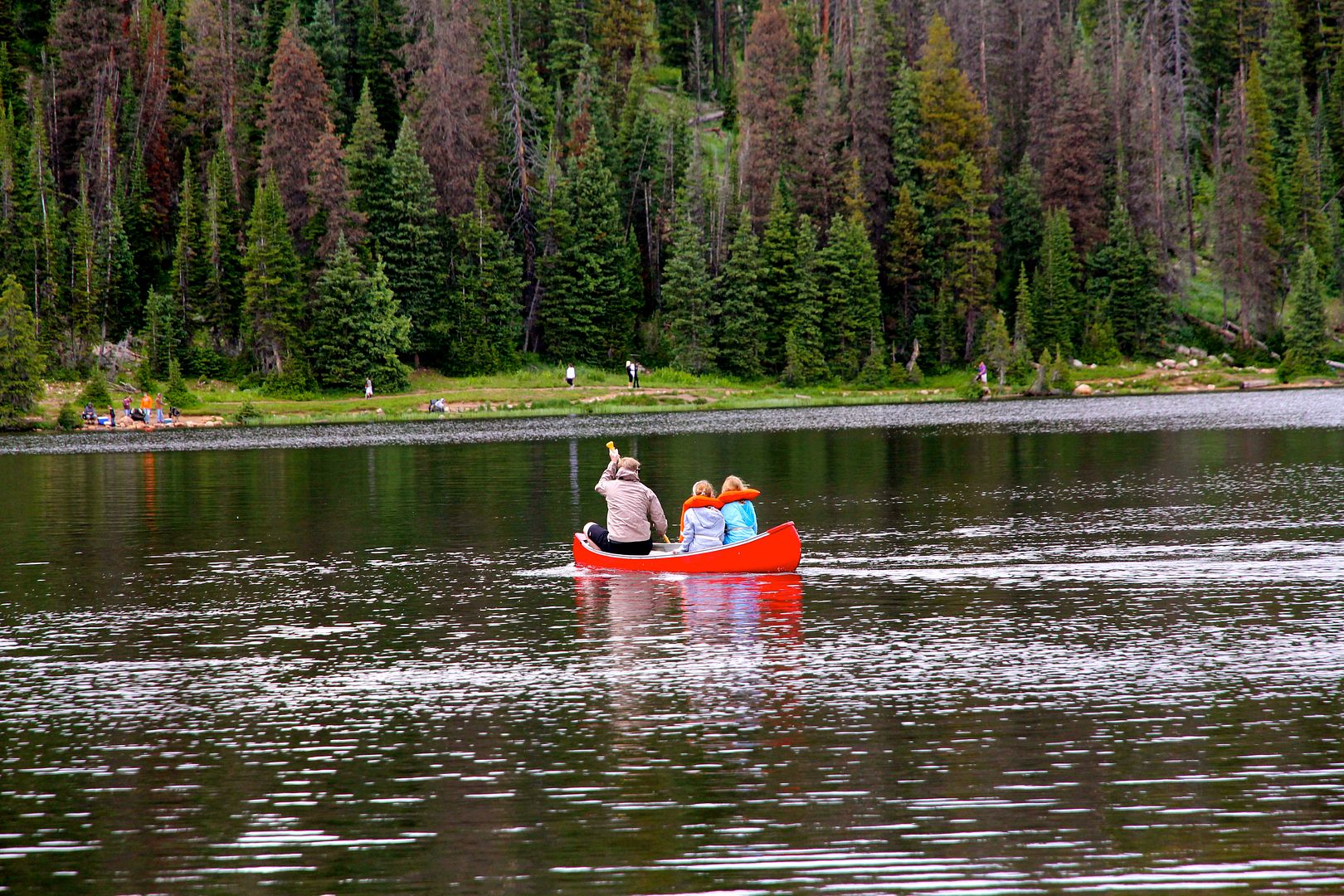 There were lots of reunions. With family, friends, Israel students, and more friends.
During the Keddington reunion, we spent a chilly day in the mountains.
Canoeing and fishing were the big highlights! Thank you Lance and Dave!

Swimming lessons were actually enjoyable this summer... for everyone... including me! I didn't have a bit of anxiety this year. Everyone was swimming well enough I could actually sit at the pool and... drumroll please... read a book!
Yes, I'm telling you. We. Have. Arrived!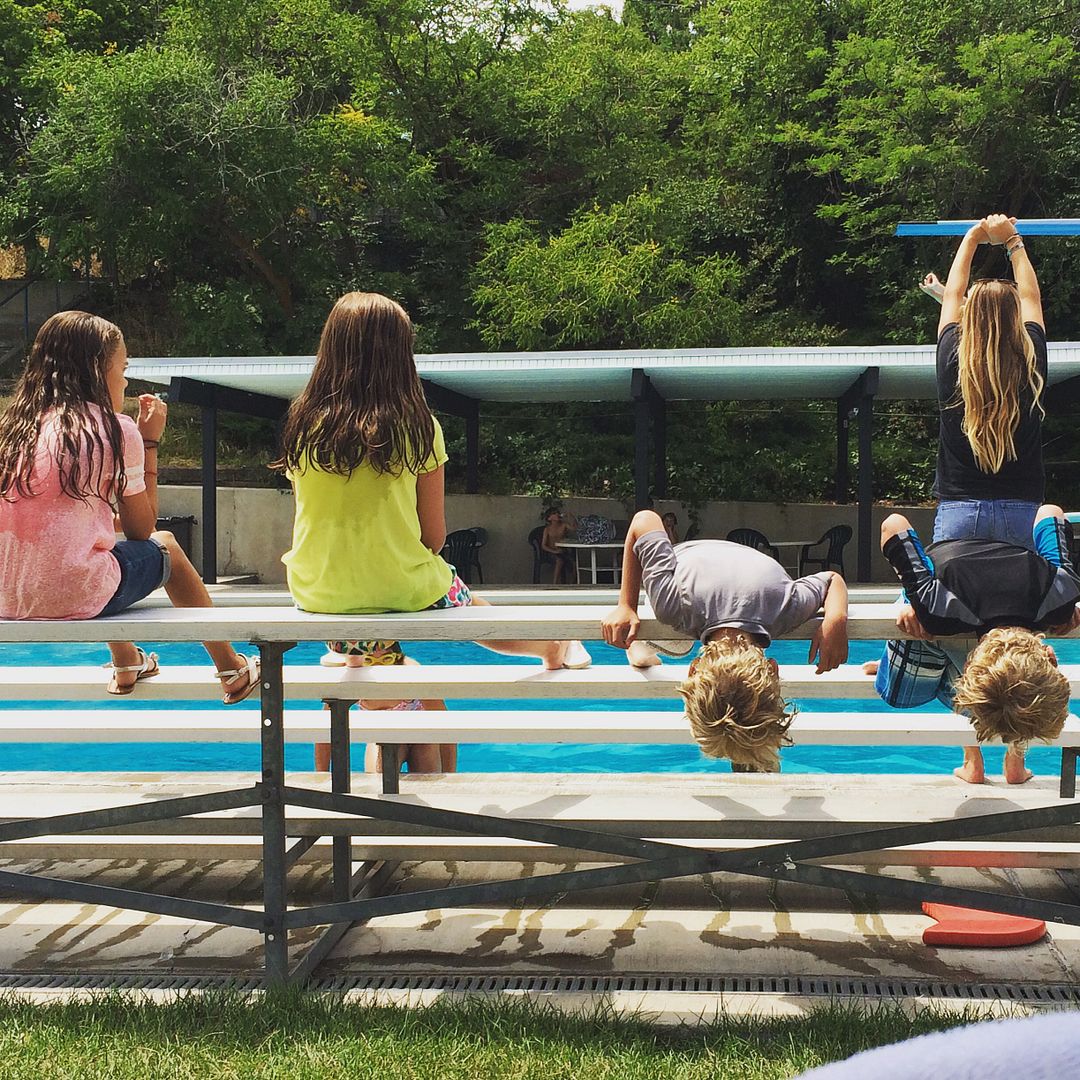 Life in symmetry. It's all about perspective.
Eliza tried diving this summer. She is fearless. It was a good fit for her. Maybe she'll do it again next summer.
This picture, caught while we were watching her lesson, made me laugh. Seeing the four twinsies, almost identical in body language.
Eliza also hiked to the summit of Mt. Olympus with Doug. Olympus is the big peak that dominates the Salt Lake City skyline. It's the mountain I always write about, that rises right outside our front window. I wasn't sure she was ready, but Doug thought she was. And he was willing to go her speed.
So they started early. 4:30 AM so they could beat the heat. With headlamps. And they summited in 3 hrs. Not much slower than Doug does it solo. He was super impressed. And I was elated talking with her via cell phone from the top.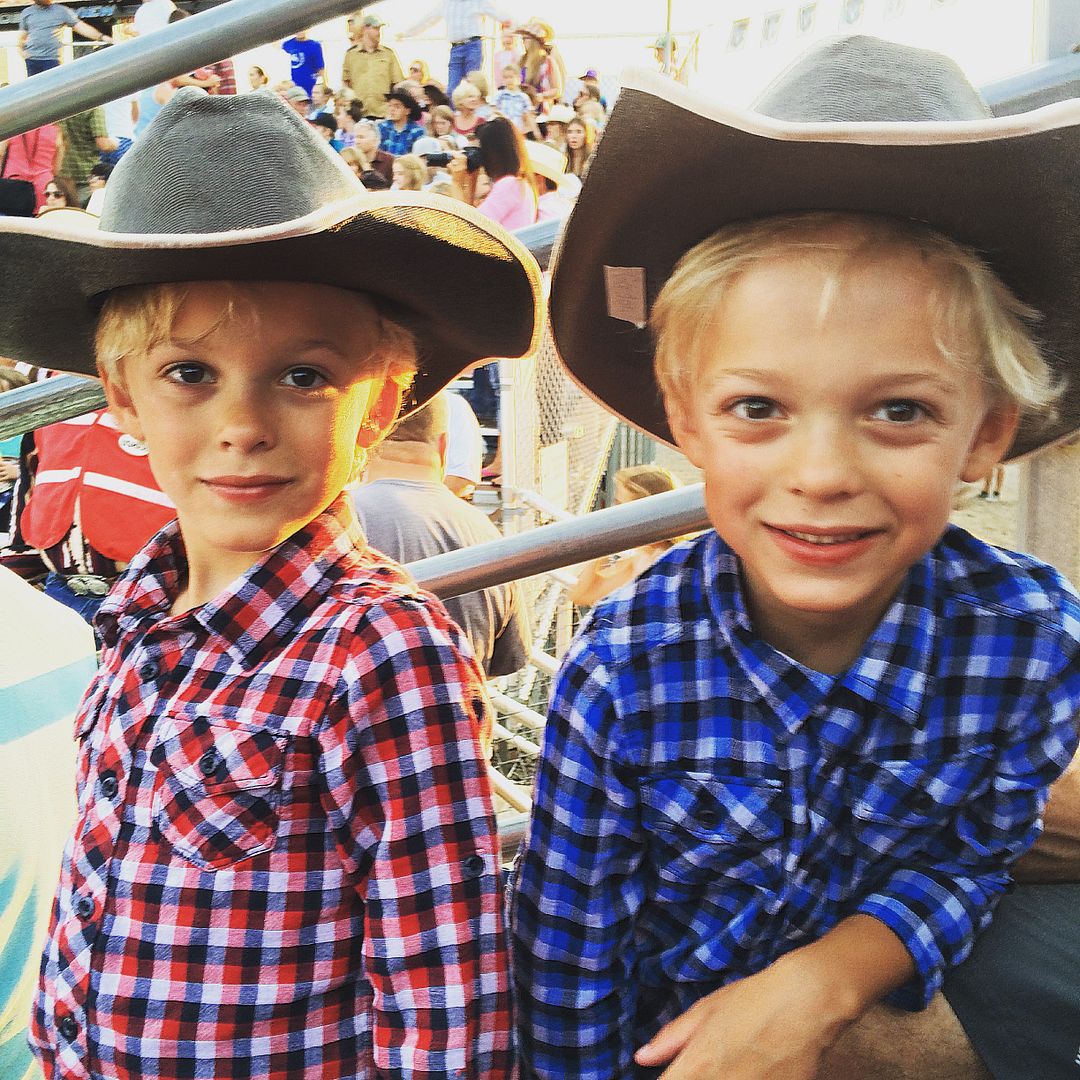 There were rodeos. And a trip up to Kara and Dave's cabin.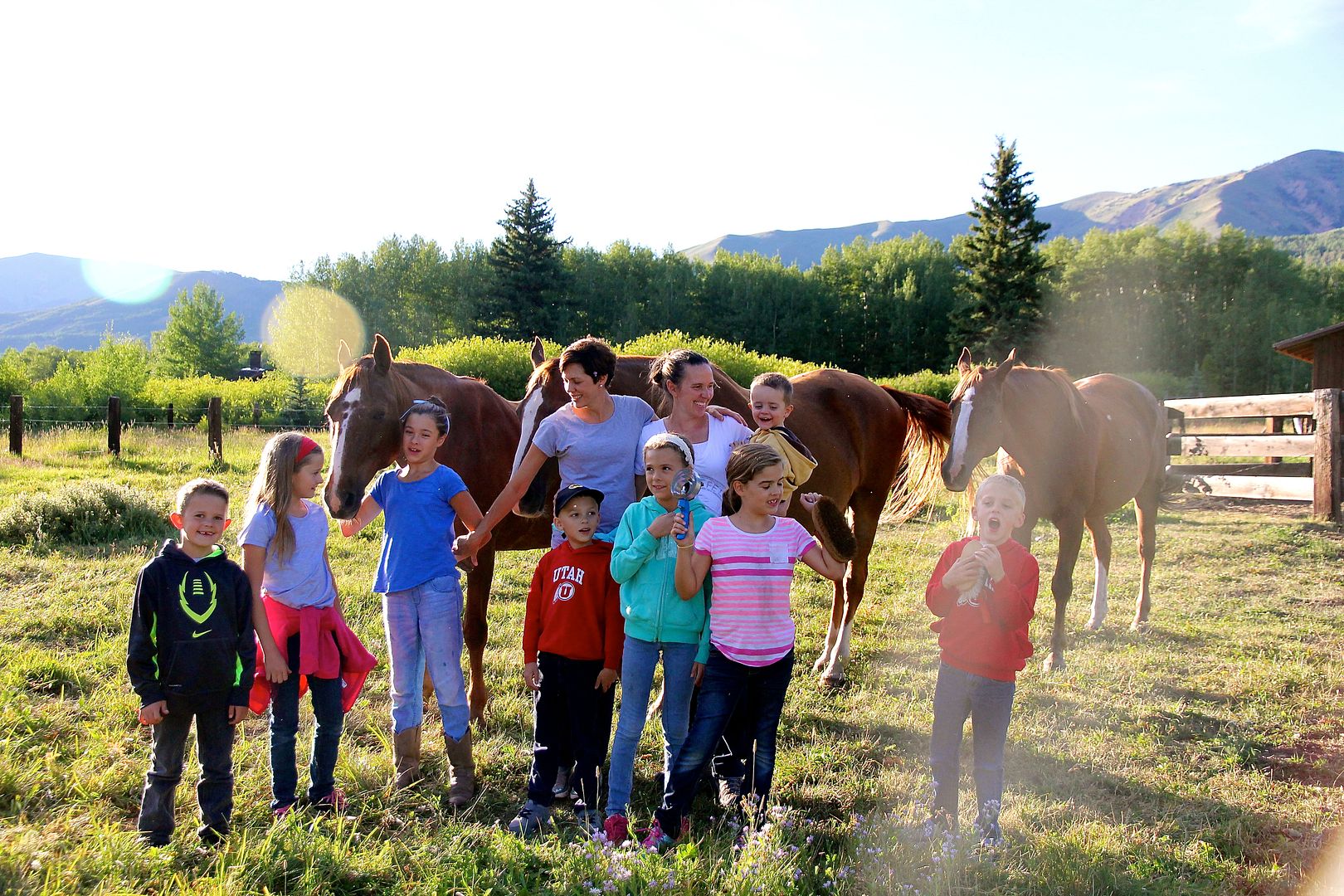 Heaven on earth.
More pics coming soon on this too...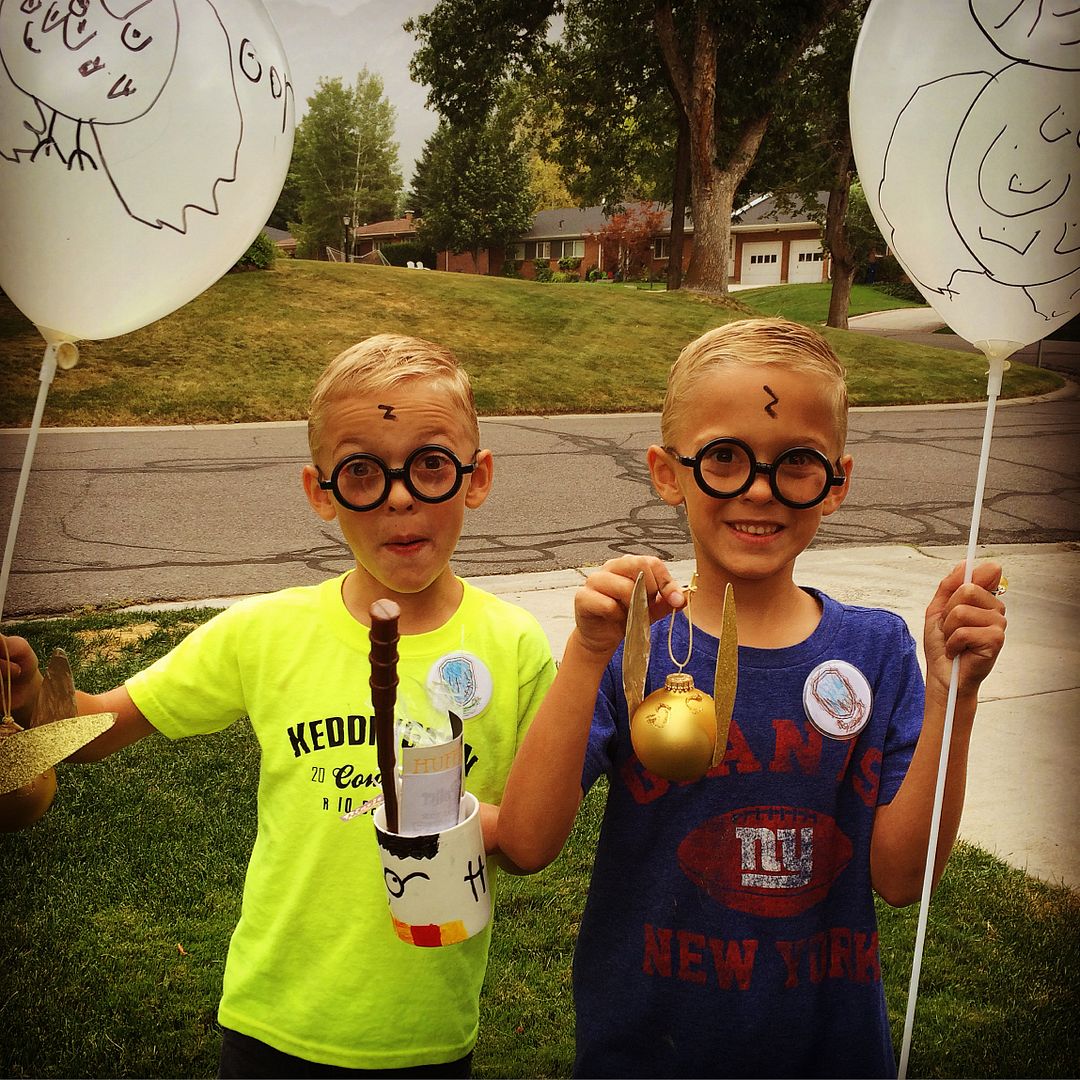 The boys got haircuts. Very momentous. Here they are after their first day of Adventure Camp with the Palmers. It was "Harry Potter Day" and Gordon kept saying, "I am NEVER going to forget this day!"
And we celebrated my Mom's 68th birthday. With a family pool party.
She got all teary sitting poolside with this gorgeous view. The valley, the trees, her children and grandchildren. She said to me, "This makes me so happy."
It was a beautiful setting. Thanks to my parents' neighbors for inviting our family to use their pool.
As an update, my Mom started her triple drug chemo several weeks ago. 1 IV drug, 2 oral. The IV drug was causing increased neuropathy. So they have discontinued it and hopefully some symptoms will abate. She is walking better than she was a few months ago, still working hard to use her left hand, and is fighting nausea and exhaustion. But she is happy when we come to visit, always inspiring to talk with. And we feel so grateful each day for her life, and her love.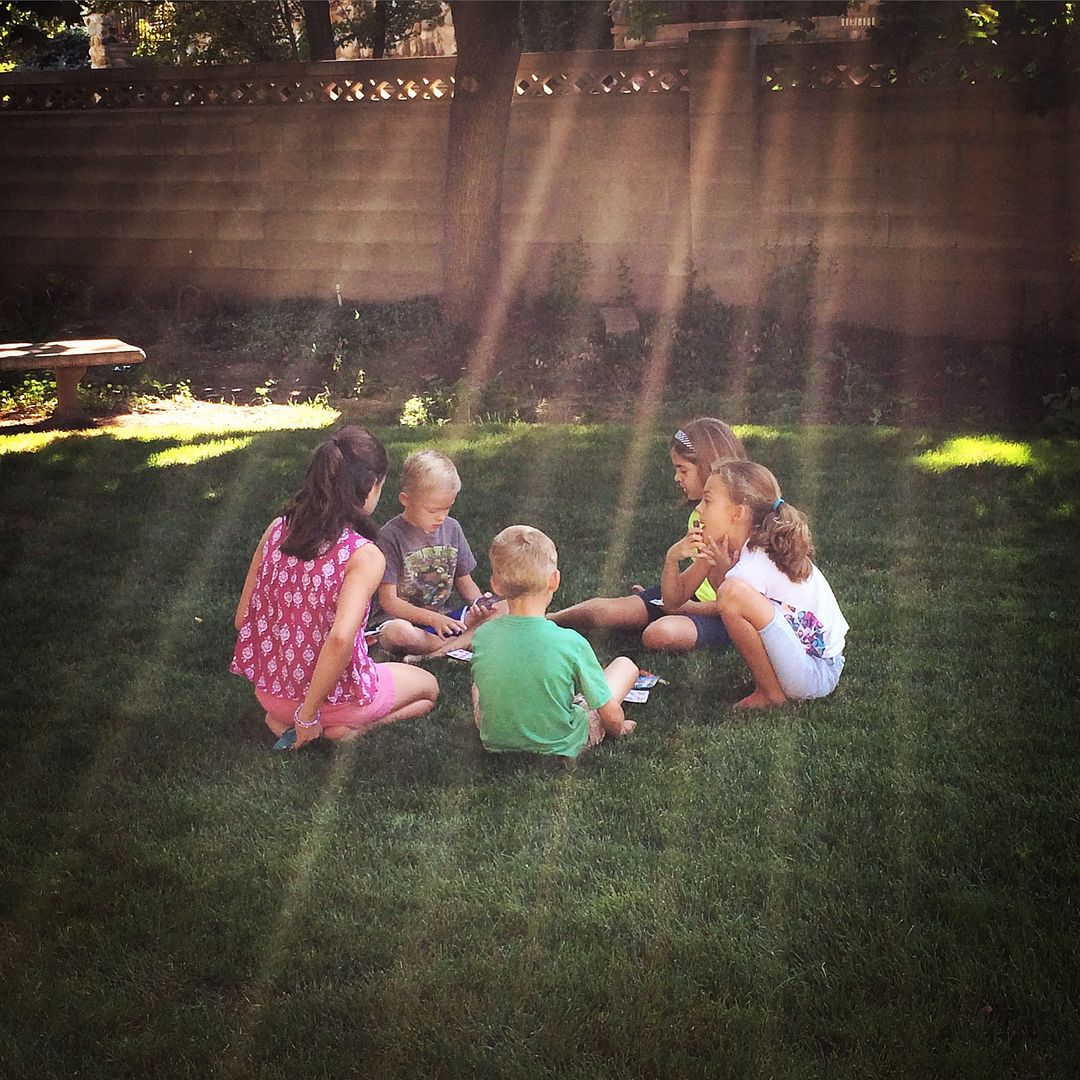 And these ones? Playing cards together on the back lawn? They are my sunshine. My friend Saydi calls those rays of light angel slides. Perfect.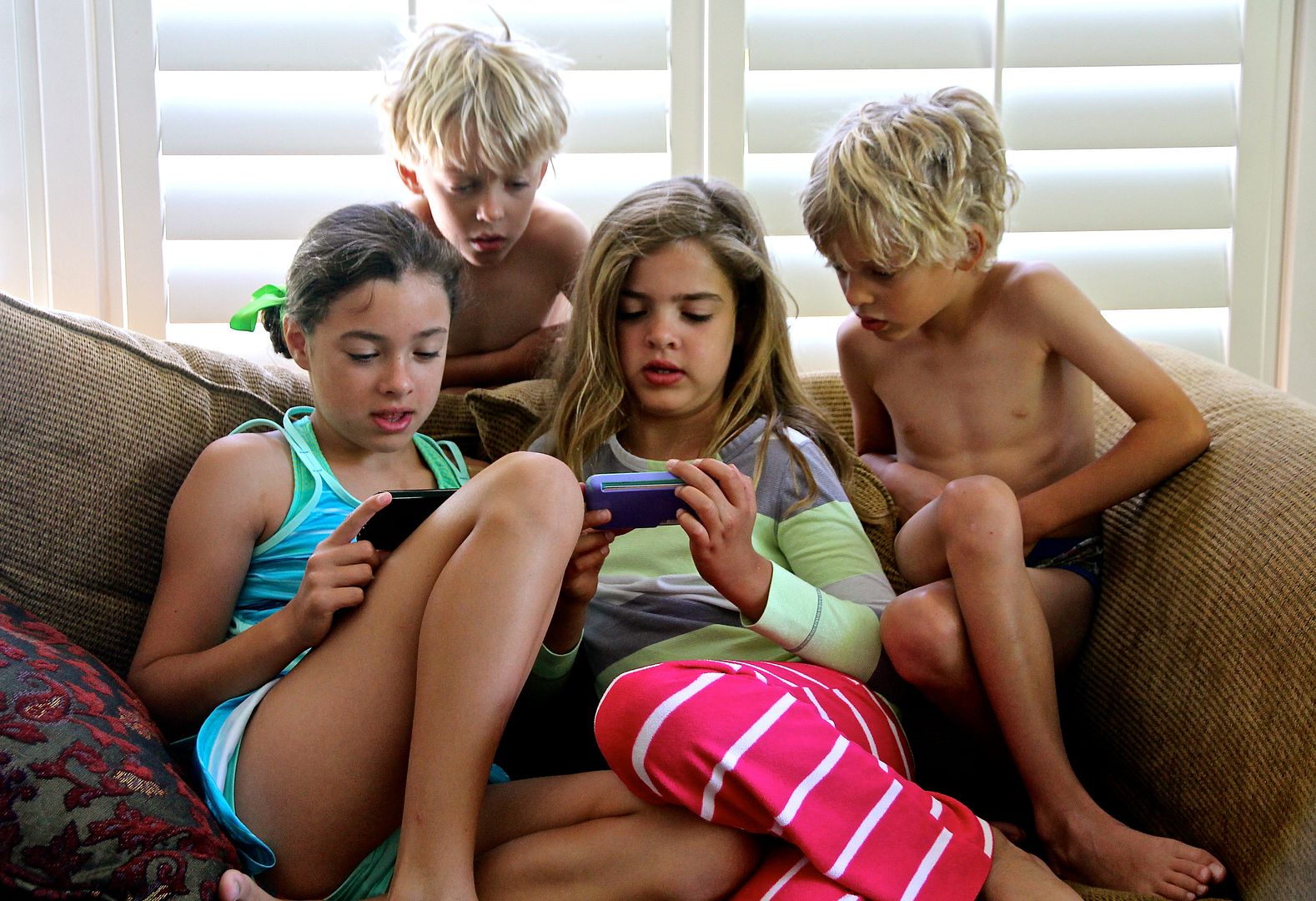 I have loved the crazy morning hair, the slower days, and the brown bodies folded into couches.
Now, we're back to the routine of homework, dance lessons, soccer, piano practice. And that feels good too. With the boys in half-day Kindergarten I have a few hours every day of quiet. It's marvelous. And it helps me rise above the intensity of home and all we are doing. Lets me hover above our life and see it with a little distance. That? That feels really good.
Even if I'm just moving laundry and rinsing dishes, it's quiet. I can think. I can hear. I can prepare my heart. I can plan.
So, as a fun finale... how 'bout some cousin time with our favorite Kesler clan? Here's their annual summer music video!
Kelsi said this year was all about channeling their inner Disney. And they do it well. Enjoy!