I refuse to move past Summer without documenting a few more things. Like our Keddington Reunion. Please indulge me the next couple posts, as I wrap up summer. We gathered on the 4th of July weekend. Seems so long ago now!
The photo above makes me laugh for all the wandering eyes. It's a bird… it's a plane.. nope, it's… a drone. We were trying to take an aerial shot and no one was quite sure where to look for the photo.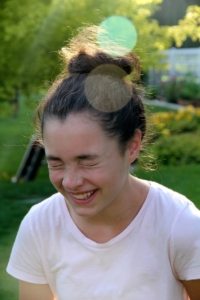 Liza, laughing in the light.
Sarah, posing for a pregnancy picture. I made her do it. And she couldn't take me seriously…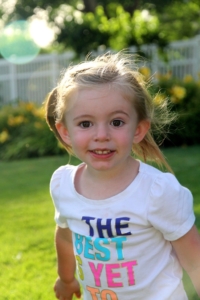 But darling Hana was happy to pose for the camera.
With baby brother on the way, I think her shirt says all.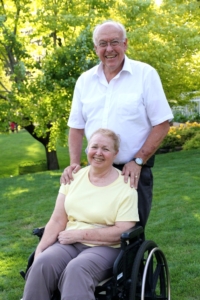 My beautiful parents.
Laughter keeps them going.
In July, an MRI showed two new spots on my Mom's brain, possibly new tumor. This was discouraging since she is no longer a candidate for treatment, surgical or oncological, and new cancer will mean palliative care. But a perfusion MRI in August showed the spots were most likely necrosis (dead tissue) from radiation.
Talk about relief. I could hardly think of anything else that day as I waited for them to return from seeing the neurosurgeon. That afternoon, while driving carpool, I was talking with my Dad on the phone, and sank back into the front seat to say a silent prayer of gratitude.
I just wasn't ready to go down that road again.
So, we are feeling blessed. Despite the challenges of caregiving.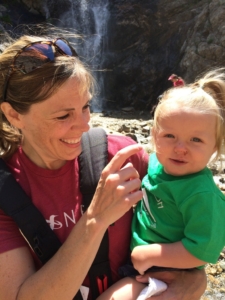 My sister Bec, and her husband Neil, were in charge of the reunion this summer. They did a great job planning everything and staying central to my parents' home so my Mom could participate. First day together, we hiked up Adam's canyon. (Mom and Dad sat this one out.)
Above photo was taken right before I fell backwards over a rock and pulled both Bec and baby Ada down with me. Luckily, we were all okay. But not a pretty landing!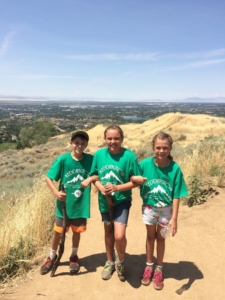 Cousin Trekkers. In their Keddington T-shirts that Shirlee made. Thank you Shir!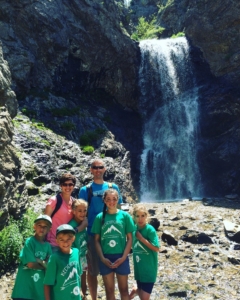 Waterfall at the top of Adam's Canyon. Gorgeous spot!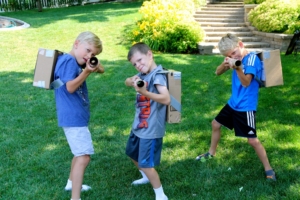 Shirlee made the boys these awesome Ghostbuster backpacks. Kept them busy for a good afternoon!
And one the best parts of the weekend was zorbing. Have you tried this? It's hysterical! And so much fun!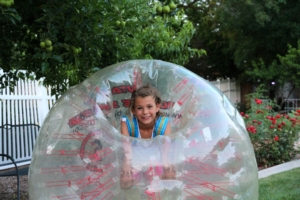 Ali, ready to roll!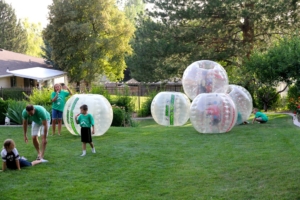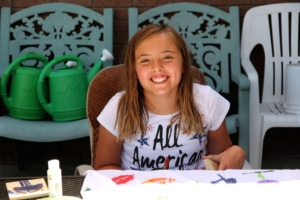 The kids decorated pillow cases. Love this pic of Lizzie.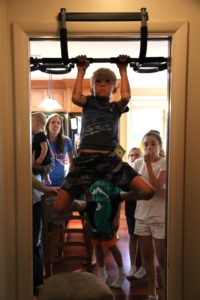 We had a pull-up contest. This is Gordy going after it. Note the dollar bills sticking out of his pocket. This was his second attempt at breaking his record. One crisp dollar for every pull-up. It was hilarious. And the bandaids on both elbows are classic. I've said this before but we burn through waterproof bandaids like loaves of bread around here. And these tough strips are the only kind I buy.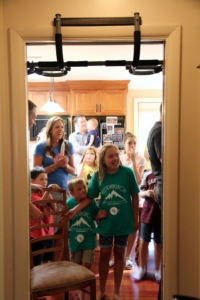 And we had a great time cheering everyone on. Adults included.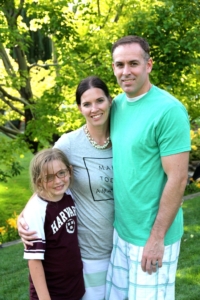 We love it when my brother Dave and his family are in town. On Sunday, we went to church, all of us together, to the chapel we grew up attending, and sat on that same second row.
We listened as both my parents shared their feelings about Jesus, about our church community and their kindness, about family. In the Mormon faith, we call it "bearing testimony." It's an opportunity the first Sunday of every month to stand, or in Mom's case, sit, and tell what you believe, and why.
Dave stood to represent our siblings, mentioning that he's probably gone to church in that chapel, with those people, more than anywhere else in the world. He said thank you to all the good, good friends there, who continue to love and serve our parents. It was a tender hour to be together.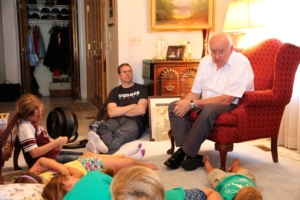 Sunday afternoon Dad and Mom told stories about their parents and grandparents.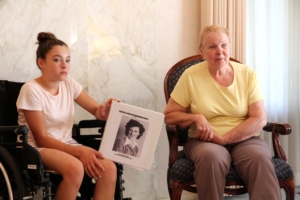 It's so important to tell these kind of stories.
So they can live on in younger hearts. Forge a connection between generations.
Oakley Rodeo was on the schedule. Always a favorite.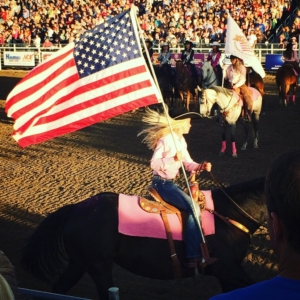 The red, white, and blue. Gallantly streaming.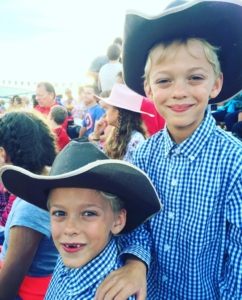 Toothless cowboys.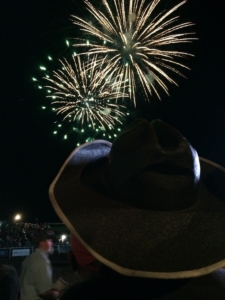 Fireworks.
Sunday night, I slept out with all the kids on a tarp in the backyard.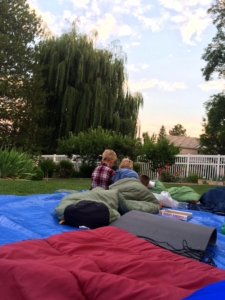 It's simply unfun to realize you are in your forties instead of fourteen. I woke every hour trying to get comfortable, rolling from side to side. And my back! Took me all morning to get it moving again!
As kids we would sleep out there lots of summer nights, with just a sleeping bag, until sunlight spread over the mountain or we woke to the sound of the sprinklers.
On this morning, I woke at 6AM (rather opened my eyes) to the boys playing Candyland. Neil and his boys woke to the sound of sprinklers and made a mad, sleepy dash for dry ground. We had a good laugh.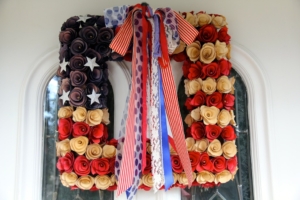 On Monday the 4th, my Dad gathered the kids for a flag raising ceremony.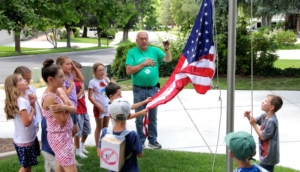 We said the pledge of allegiance, hands over hearts.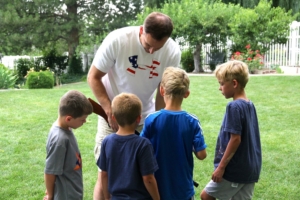 Dave taught the boys how to shoot a bb gun.
Bless his big Texan heart. He was so patient. And taught them all about gun safety.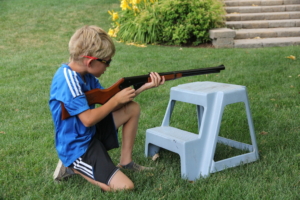 They were so into this.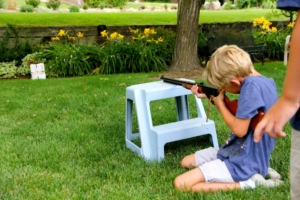 Then we finished the day with a piñata. And fireworks.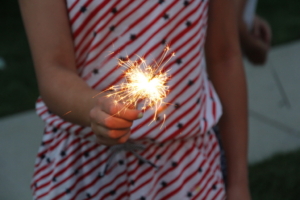 So grateful for this land of the free. Where families can worship according to their heart and conscience. Where we can gather in safety. Where our tables are full and we have beds to sleep in (especially after sleeping outside on a tarp). Where we can honestly say, life is beautiful. Life is good.