This year, with the help of a wonderful team of volunteers, I managed our elementary school's art contest. The theme was "If I Could Change the World." A good friend of mine introduced me to Malala Youfsafzai's children's book, "Malala's Magic Pencil" and we used it as our jumping off point. We read it to the students in each classroom to help inspire them, get them thinking.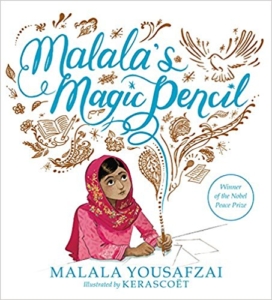 In the book, Malala tells how she dreamed of having a magic pencil when she was a young girl. She writes about what she would do with her magic pencil. How she would draw food onto a plate if she were hungry, dresses for her mother, and schools for all children, especially girls. You know, of course, the brave work she's been doing for years. Fighting for education in her home country of Pakistan and other places in the middle east.
We asked the kids to think about two questions. "What would you draw into the world? What would you erase from the world?" I wish you could have seen the way their eyes lit up when we talked with them. The wheels began turning and when the contest rolled around, they produced some incredible art.
They painted food bombers, cures for cancer, adults who only spoke kind words, children including other children, families taking care of Mother Nature, explorers finding a new inhabitable planet, kids saving the bees, kids saving polar bears, and one beautiful watercolor simply titled, "Pureness."
I had pictures of all of these art pieces on my phone, but unfortunately they now rest with my other digital casualties that were part of the great phone crash of 2018.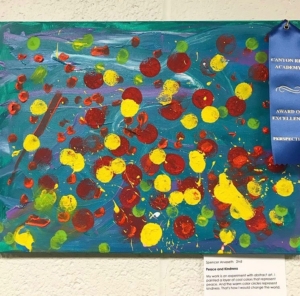 This is Spencer's experiment with modern art, texture, and color. He called it Peace and Kindness.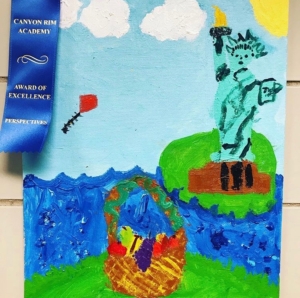 This is Gordon's art. He wanted everyone who comes to America to have healthy food. He called it, "Give Me Your Hungry."
Ali choreographed and performed a dance she called, "One Act of Kindness," in which she danced down a street, seeing needs and giving away everything she had. Her sweater, her book, an apple, her joy.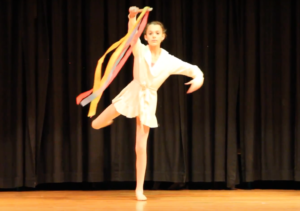 And Sami titled her piece, "Changemaker."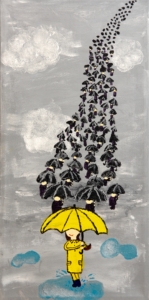 This was her description: "My art represents the courage to change. I want to give people, especially children, courage to believe in their ideas, to do something different or hard and make an impact in the world." She said she likes the girl in this piece because she is leading the way and you can see the splash she is making with her dreams and changes.
Sami's piece won the Falcon Legacy Award, which is an award for a piece of art that best represents the schools values and mission. It was purchased by the school for permanent installation, which is awesome, but I'm a little sad to let it go!
Below is a photo of Sami with our amazing PTO presidents, Michelle and Jill, who came up with the theme of "I can change the world" not just for our art contest, but for all the school events this year. And our awesome principal, Mr. Fuller.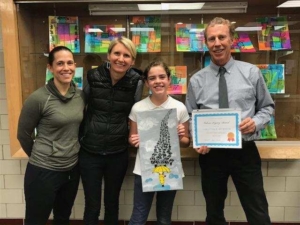 My friend, Emily, who introduced us to the Malala book, loved Sami's piece and wondered if she could include it in a project she was doing with local elementary schools called the Malala project. It was very similar to our school's art contest in which kids drew pictures of what they would change in the world. The project was Emily's brain child and much of the art was on exhibit at the Millcreek Library for a few weeks.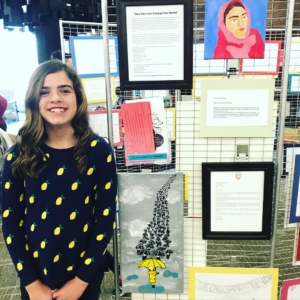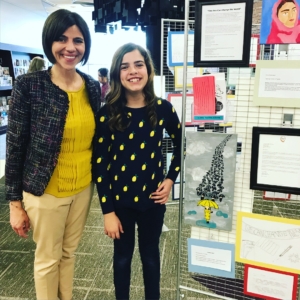 Here is Sami with Emily. Emily is a changemaker. Always looking for ways to improve, shift, or move education and people into better places with better results. She's amazing, connected, and very in tune.
KSL News picked up the story and interviewed some of the artists, which was fun. You can watch the clip here.
"You can find your magic in your voice, writing or art." – Malala
During the exhibit at the library, there was an evening of talking about the art in which several students from each participating school talked about their art. We were there with my Dad and all five of our kids. Sami was the final student to speak. One by one the students talked about their art. We were absolutely undone by a sweet boy from Lincoln Elementary, Alex, who spoke Spanish and was in their ESL program.
He had drawn a picture of a Dad. In broken English, with sobs that stole his breath away, he said he wished kids like him could have a Dad. "So he could play with me and help my Mom to work. So she wouldn't have to leave us and work so hard for us." By the time he finished, there were tears round the room and the painful silence of heartbreak. It was a moment I never want to forget.
My kids left feeling so grateful they had a Dad, grateful for their lives, thankful for their blessings. Emily was inspired when she thought to include Lincoln Elementary in this project. Lincoln has the largest ESL program in Salt Lake City. Over 50% of their students are learning English as a second language, with 148 speaking Spanish as their native language.
After the Malala project we continued to think about those kids at Lincoln.
One day our family had the idea that maybe we could gather supplies for their art program. We saw the art teacher at the library evening and she showed so much understanding and love for her students. Our school district has no budget for art so we assumed maybe Lincoln could use help getting the supplies they need. I reached out to Emily. Who reached out to the art teacher, Sheryl, who was blown away by the offer. She sent us a list of everything she needed and we went to work.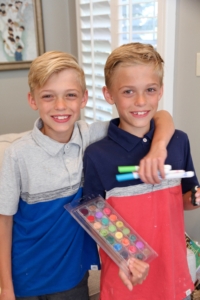 Spencer and Gordon were encouraged to do a community service project in their 2nd grade class, so I put them in charge. They made a video we put on social media (part informational, mostly comic relief). The boys handed out flyers at school and to families in our neighborhood. The girls helped them make signs, and we choose a date for donations to be dropped at our house.
The following Friday we made loads of cookies, filled a cooler full of popsicles, and hoped people would stop by with their donations then enjoy a treat.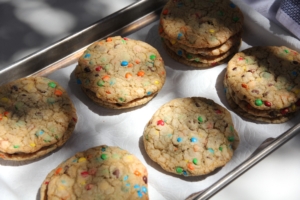 Doug made his famous monster cookies.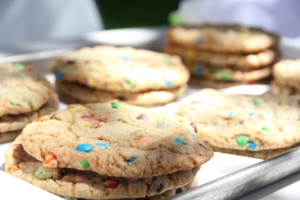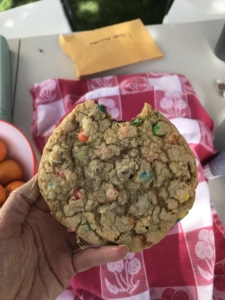 I had to laugh when everything was over. There was one cookie left and it looked like this. Monster Cookie sampled by an itty bitty cookie monster. That little monster must have taken one bite then moved on to sample the rest of the goods. 😂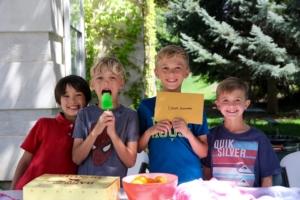 S & G's friends had fun hanging out and dancing to the music.
Check out this vid. They "floss" whenever they're standing still. On the baseball field. In class. And when I ask them to brush and floss their teeth. (They think they're so funny.)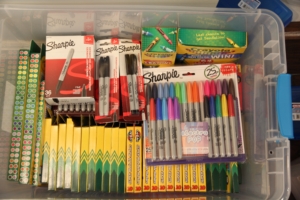 In the end we gathered four large bins full of needed supplies AND $650 from generous friends and neighbors who donated via Venmo, cash and check. Everyone was so incredibly kind.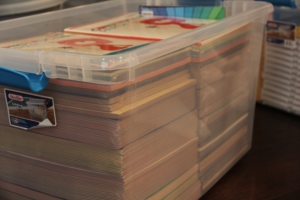 Two weeks later we took everything down to Lincoln Elementary and officially met the art teacher, Miss Sheryl.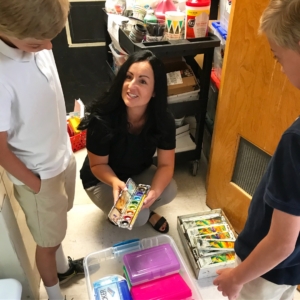 She showed the boys her box of watercolor paints. Almost all of the paints were used up. She said if a paint tray had purple (or another color besides black or brown) the kids would crowd around that one paint tray, taking turns putting purple on their paint brush. We had a bin half-full with new watercolor sets for her.
She had one ziplock bag of washable markers left, and a few stacks of green paper. We were so happy to fill her art closet with new supplies.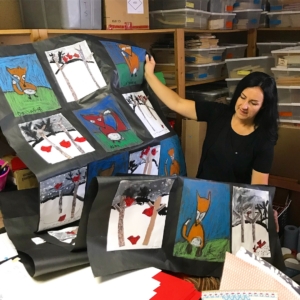 She showed us some of the artwork she has been doing with the kids.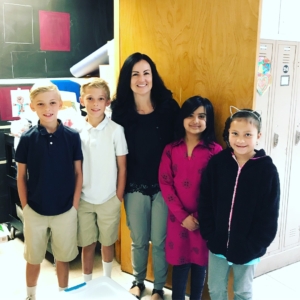 And we got to meet a couple of the students. These darling girls saw all the supplies as they were walking by and asked with wide eyes, "Are those for us?" Miss Sheryl smiled and told them that yes, they would be using some of those supplies in class. The girls said, "We love art class." And Sheryl said they really do. Teaching at Lincoln is especially fun for her because the kids don't have any sense of entitlement or expectation. Everything is new to them. Some have never used more than crayons or pencil for art. The first day she pulls out clay she has to give the kids a few extra minutes to handle it and mold it in their hands; it's such a new sensation for many of them.
Helping Lincoln was a great experience for Spence and Gordy, and for all our family.
Now… it's Summer! School is out and we're barreling into the warm months of sunshine, travel, popsicles every day, and soft light in the mornings as we water the vegetable garden.
Here are a few pics of the kids with their fabulous teachers this year.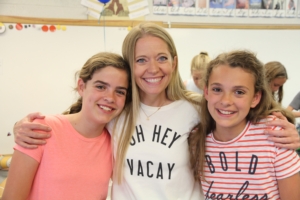 Ali and Sami with Mrs. Lowry. Boy did they learn incredible things from this lady. She is so on her game. What a marvelous year they've had with her! I just love her.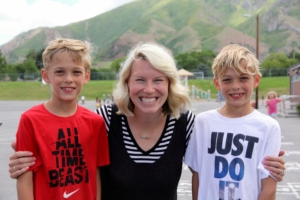 Spencer and Gordon with Mrs. Spittler, who has the most gentle way about her in class. Her voice, her mannerisms. She's a magic worker and a gifted teacher that inspires wonder in her classroom.
No pics of Eliza with her teachers. She finished 7th grade at the junior high. But it was an awesome year for her as well. Despite her dyslexia, she managed to make high honor roll every term. She worked so very hard and wowed us with her diligence, her effort, and organization.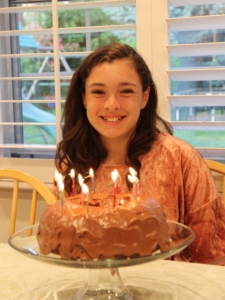 She turned 13 a few weeks ago and will be joining me and Doug in an exploration to part of the world none of us yet been. 🇫🇷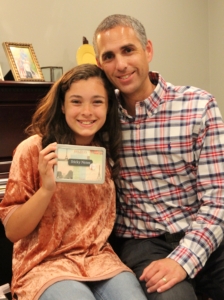 This year has convinced me more than ever that one person, one idea, when put in motion, really can change the world. Change happens slowly, in small and quiet corners, imperceptible or unnoticed sometimes. But Sami has helped me see we can all be changemakers. We can be movers, shakers, wherever we are.
I am full of optimism as I consider the future. Bright, intelligent, and compassionate children are leading us there. They are your children. They are my neighborhood children. They are children all over the world, who are not content to leave things as they are. Yep. I think we can change it. We will make the world better.
For needs and service ideas near you, visit justserve.org.