It's a rainy Palm Sunday with dark clouds sweeping in from the west. And I am remembering this exchange from Lloyd C. Douglas' book, The Robe.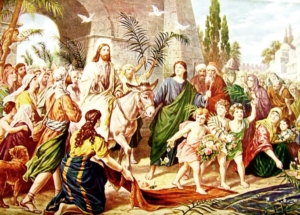 Demetrius, a Corinthian slave on assignment in Jerusalem, sees Jesus making his way into the city. For one instant, their eyes meet, and Jesus' gaze "communicated some sort of stabilizing power that swept away all such negations as slavery, poverty, or any other afflicting circumstance."Knowing Demetrius had caught a glimpse of the Galilean, he is questioned by a visiting Athenian.
'[Is he] crazy?'
'No.'
'King?'
'No,' muttered Demetrius, soberly – 'not a king.'
'What is he, then?' demanded the Athenian, piqued by the Corinthian's aloofness.
'I don't know,' mumbled Demetrius, in a puzzled voice, 'but – he is something more important than a king.'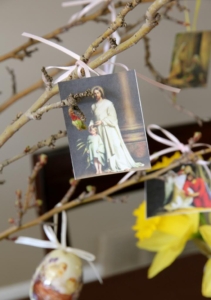 More important than a king.
So we are making preparations for Holy Week. Pulling out our Easter lanterns, considering the last week of the Savior's life, planning our Easter walk, and finding the right branches for our Easter tree. (More on our traditions here.)
Hard to believe yesterday the sky was blue and I was thinking of Wordsworth. The thousand blended notes he heard, the birds he saw hopping and playing, the budding twigs he noticed, spreading out their fans.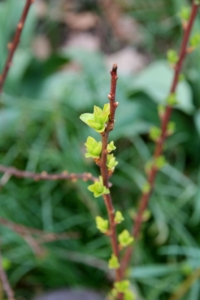 Reclined in a grove, he thought about what man had made of man.
What has man made of man? Such a question. And I have something to say on it. Thoughts I've been trying to find the courage to say for a long time. But now is not that time.
So I won't wax melancholy. There is too much leap-happiness in the air. Too much color and newness. Today, I want my lines to be about the goodness of man, and all the beauty Wordsworth saw in early spring.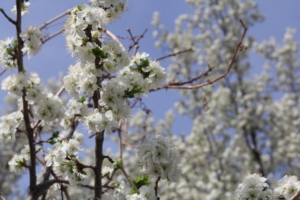 The same beauty I see here.
In our yard.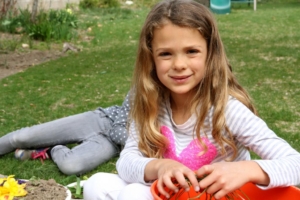 On the faces of my children as they burst out of doors.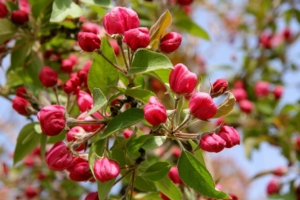 In the trees, as they puff blossoms pink and white.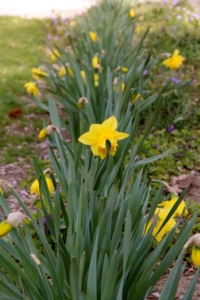 The daffodils are unfolding.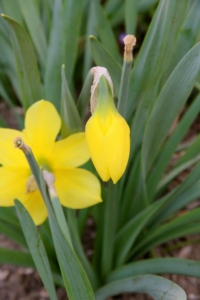 Some still nodding like lemon drops.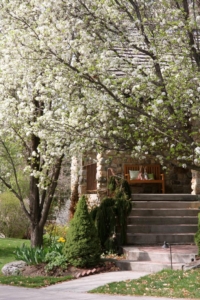 Martha's bartlett pears are glorious. An explosion of cloud-white petals.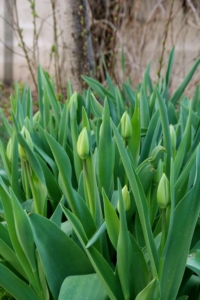 The yellow tulips are crowding, reaching, with so much anticipation.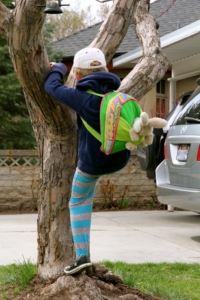 And this little guy zipped into his footies, with converse shoes on top, hoodie tied tight, and backpack with bunny dangling behind, has been cracking me up. His baseball cap reads, "I love Mommy."
"I'm adventuring," he says.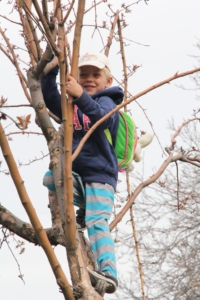 And up he goes. To the top of the crabapple tree. Gordy's favorite perch of late.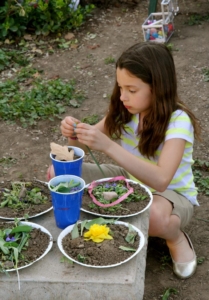 Friday Eliza and her friend Katherine (who sadly went home before I got out my camera), made a dozen mud pies. And mud shakes.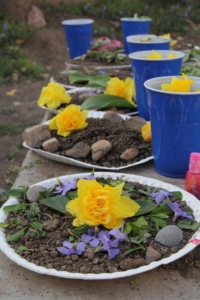 Prettiest mud pies I've ever seen.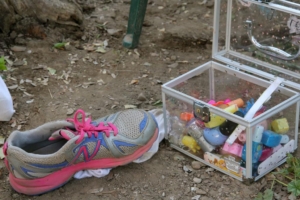 At one point, all the girls were crowded into the corner, painting toe nails.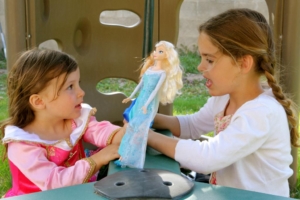 Sami and Lilly sang Frozen songs and danced with Ana and Elsa.
I love Friday afternoons. No homework. Nowhere to go. Just an open window of time. To play with friends. To explore. To be.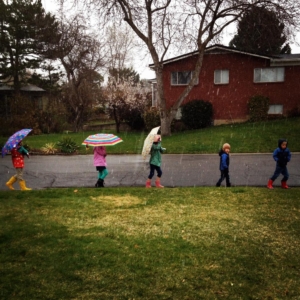 On April 1st (the week of our Spring Break), it rained and snowed, and rained some more. I woke with a fever that lasted 48 hours. (April Fools on me). But we made the best of it.
I told the kids after lunch, "I have to lie down. My body is shutting down. Just don't kill each other. Okay?" And then I crashed.
When I woke up they were donning rain gear and stomping out to the gutters, happy as could be.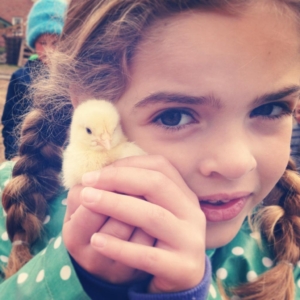 By Thursday I was starting to feel human again, and it was obvious from the bickering and complaining that we all needed an outing! So we went to Deseret Village for Baby Animal Days. It was love at first sight for Sami.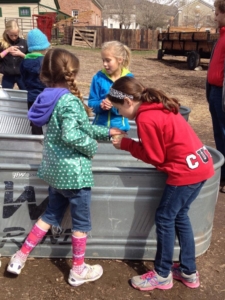 The baby chicks were our favorite.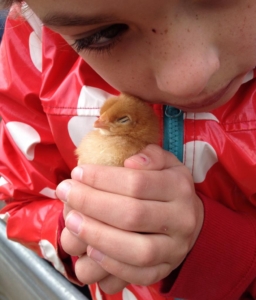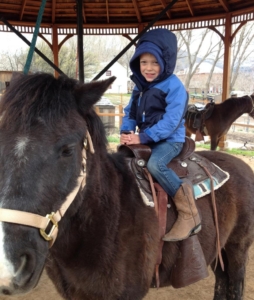 Pony rides were a close second.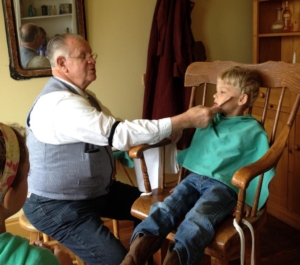 A shave at the old-fashioned barber was third. This is Spencer, being very brave.
And friends who studied in Jerusalem with me, do you recognize the barber? It's Brother Bawden! Sweetest man. Still taking tours for the LDS church, and still as kind as you and I remember him.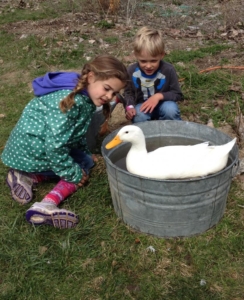 Otis the duck came in fourth. But not by much. The kids were enamored by all the animals.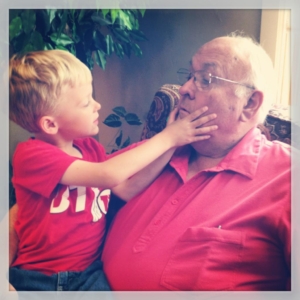 And now for a bit of an update.
A few weeks ago my Dad decided to check himself into the ER for chest pain. Thankfully, he didn't wait. An angiogram and one stent later, he was lying in the recovery room, having dodged a whizbanger of a bullet. 95% blockage in one of his arteries.
Good thing he's an ER doc and recognized his symptoms immediately. Funny enough, he has practiced emergency medicine for so many years now, everyone on staff (at a hospital where he doesn't practice) had worked with him at some point or another. The ER doc, the nurses, the cardiologist, the heart surgeon. All of them knew Dr. Bob.
So grateful he was in good hands. And so grateful he listened to that quiet voice that encouraged him to go in.
Can't even begin to think what we would do without him.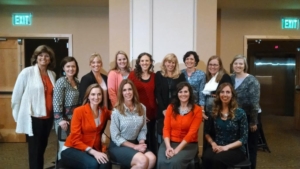 And last Thursday night, I read at our Motherhood Realized Launch event. We had over 70 women there. All devoted, good mothers with unique skill sets, circumstances, and challenges. Conversing with them was by far the highlight of the evening.
If you haven't heard yet, our book did not make the NYT bestseller list. We think it was fairly close as our goal was to sell 7000 copies by March 29th and we sold just over 6000.
This was a learning experience for all of us. No one really knows how to get on this prestigious list. But we did the best with what we knew. Only the really big publishers seem to know where the NYT will pull numbers from on a given week. It's not necessarily total sales they use, but how well stocked your book is in various brick and mortar stores. And our publisher was working tirelessly all week to do just that. We were up against some tough competition though, including What to Expect When You're Expecting and all the diet and how-to books.
But we are thrilled with the success. Amazon.com and bn.com are becoming their own bestseller lists. And we topped the charts on Amazon: #1 in Motherhood, #1 in Parenting, and #27 in books overall. That's pretty fabulous.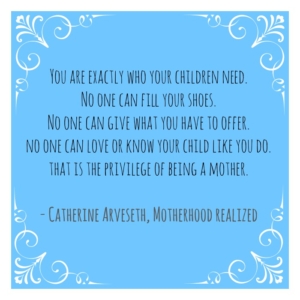 One lovely lady who attended the event, made this poster for her blog. Read Taralyn's recap of the event here, including her thoughts on the book.
Kinda weird to put my own quote up there, but she was hoping others would repost it. Taralyn, thank you for this, and for your kind words.
Wishing you holy days this coming week. Days of insight, spirit, and light.
As I sat with my primary class in church today and listened to Martha teach about the Atonement, I thought again about the miracle of Christ's suffering for us. That he can literally take our sins from us and put them on himself, remove the disappointment and angst we feel when we've made a mistake. Free us, give us liberty to move on, gift us complete understanding.
Where else will we find such a champion? Yes, much more important than a king.