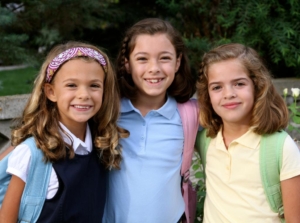 First Day of School
I'm starting to sound like Wendy on the movie, Hook, with Robin Williams. (Weren't you sad to hear he was gone?) Remember when grown-up Peter and family travel to London to stay with Wendy? And she tells his children, "There is only one rule in this house. No growing up." They look at her with wide eyes. "So stop," she says. "Stop right now."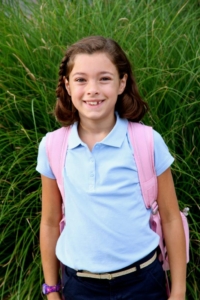 Eliza
That's how I feel these days. I want my little people to stop growing. Not forever. Just for a while. So I can squeeze every ounce of joy from this season.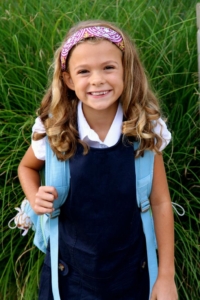 Ali
They came so quickly, a windfall of bundles into our arms. Which means they are going to leave quickly. Like birds, ready to fly the nest before I've figured out how the nest works best. Sigh.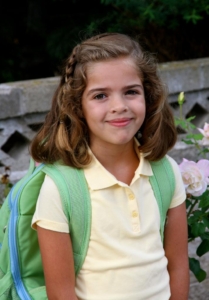 Sami
Occasionally I find myself staring at a young mother, new baby curled over her shoulder, bitty fingers clutching her shirt. I ache for that closeness, those dented knuckles and chunky thighs.
But we can't stop the clock. They don't want us to. And really, look what they grow into. Helpful people, who can read books, write love notes, and sing so sweetly I stop in the hallway to listen.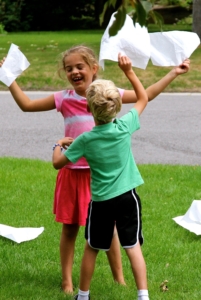 Since we can't stop time, I figure, at least we can stretch it out. Childhood, that is. We can keep our children innocent and young. Encourage silliness, imagination, and wonder.
There's no need to hurry up the maturity. They'll get there too quickly on their own.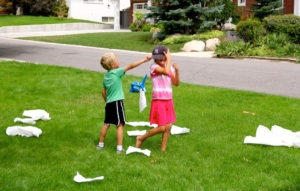 Sure, they need responsibilities at home, consequences so they learn, and structure. But those things will rule them the rest of their lives.
They are only children once.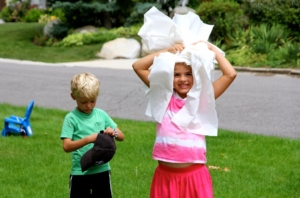 Which is why I say yes as often as I can. Why I send them outside to play every afternoon. Even if it costs me a roll of paper towels.
Now, in full disclosure, I admit, we were ready for school. All of us. Ready for routine and some space apart. I have a list a mile long of things I want to do with my few hours of freedom each week now that the boys are in preschool.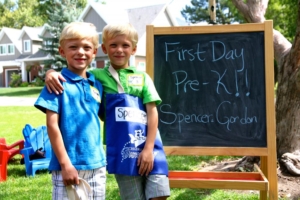 But look at these two. It's my second day with them gone and it's oddly quiet. I keep thinking I will hear them swinging outside, that they'll come clash-banging into the kitchen with their swords.
I feel a little sad each time they climb onto my lap because I have to puff-blow their hair out of my face as it tickles my nose and their heads bonk into my chin. The baby stage, while hard, really did go fast. Too fast.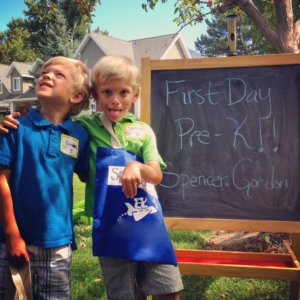 So I was sitting at Back to School Night, listening to Ali and Sami's teacher talk about the year. (All three girls are now together at a charter school and I couldn't be happier with their curriculum and teachers. When you ask them how they're liking school, they have one word. "Awesome!" They're loving it.)
I was surprised to learn the charter school is doing something different this year. They're pulling away from homework packets. Homework will be focused on reading 30 minutes at home every day and practicing math facts (for 2nd, 3rd, and 4th grade). Homework pages will only be sent home as needed, if a topic or principle needs practice.
At school, expectations for performance and involvement are high, but after they go home, they want kids to go to their piano lessons, soccer, dance, and simply be kids. Ali and Sami's teacher quoted Einstein who said,
"The greatest form of research is play."
She then said that 98% of children age 5 exhibit creative, divergent thinking. That number plummets to 2% by age 25. (Research by Sir Ken Robinson. Listen here to his TED talk about how schools are undermining creativity.)
Then she showed us a video made by a group she works with called Kidnected. They believe in the value of exploration and imagination. They call it Wonderment.
By the end of the video I was fighting tears, a little embarrassed I was hunched over my daughter's desk, wiping my eyes because her teacher feels the same way I do about childhood.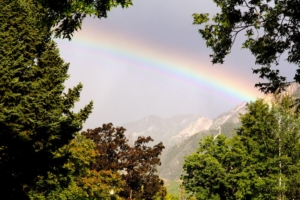 So here are a few Wonderment images of our own. Followed by the video she showed, which you will love.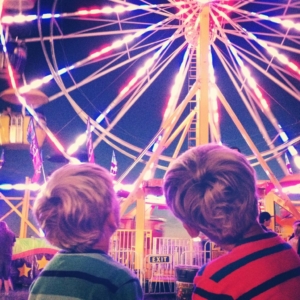 The boys. Waiting for their first ride on a Ferris Wheel.
(Cassia County Fair)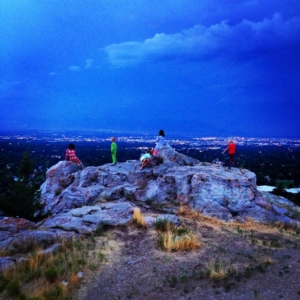 Watching lightning in the western sky as the city lights turn on.
In their pajamas.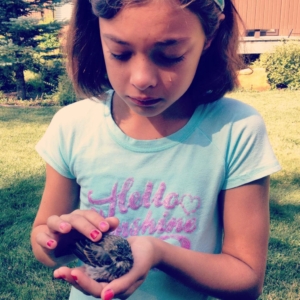 Eliza discovering "Little Birdie" who couldn't fly and realizing there wasn't much she could do. So she built birdie a safe home, said a prayer, and let go.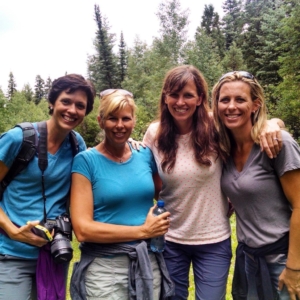 A hike into the clouds with these beautiful ladies
and 14 imaginative kids.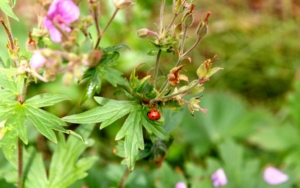 Ladybug with four black spots.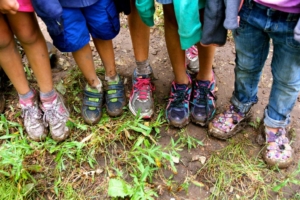 Mud-covered shoes.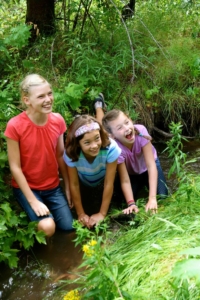 Eliza, Eliza, and Hazel, lying down in the river. Just for fun.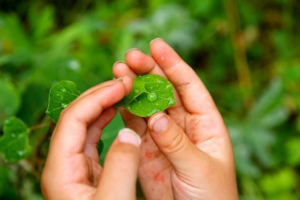 Raindrop, held together in perfect cohesion, on an aspen leaf.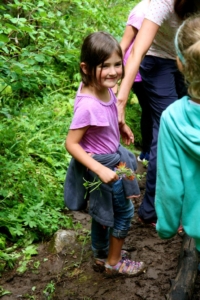 Emmeline, smiling at her fistful of wildflowers as Saydi helps her down a slippery trail.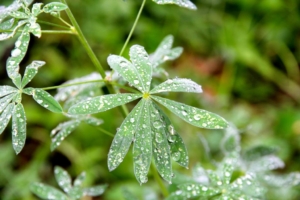 More droplets. Suspended. Glistening.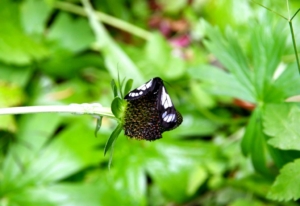 Butterfly on a cone flower.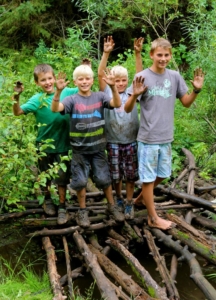 These boys, dragging logs out of the forest to build a bridge.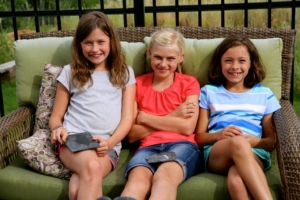 And these girls, three peas in a pod that day, finding slate rock, which they used to write on and play school.
We didn't entertain anyone that day. The kids entertained themselves. They explored, they built, they laughed together, played dress-ups. And we talked. (Thank you Saydi, Saren, and Jen for the loveliest day.)
This short Wonderment video will make you want to keep your children young. Make you want to stay young.

The Wonderment from The Wonderment on Vimeo.
I love that place, that moment, that spark in each of us. When we know things. Beautiful, wild, essential things. That moment when we discover… wonder.