Some dreams hang out there in the ether. Like a unicorn in the forest. Uncatchable. Unattainable. 🦄
It's a risk to pursue the unicorn. You could fail. You might not even catch a glimpse of her — never hear the sound of her breath, the stamp of her hoof, see her sparkles in the air. ✨ You might come close — only to have her mane slip slowly through your fingers as she disappears into the mist.
That's how dreams drift. They dwell in a place of do or don't.
Can I? Could I? What if I did? Maybe I shouldn't.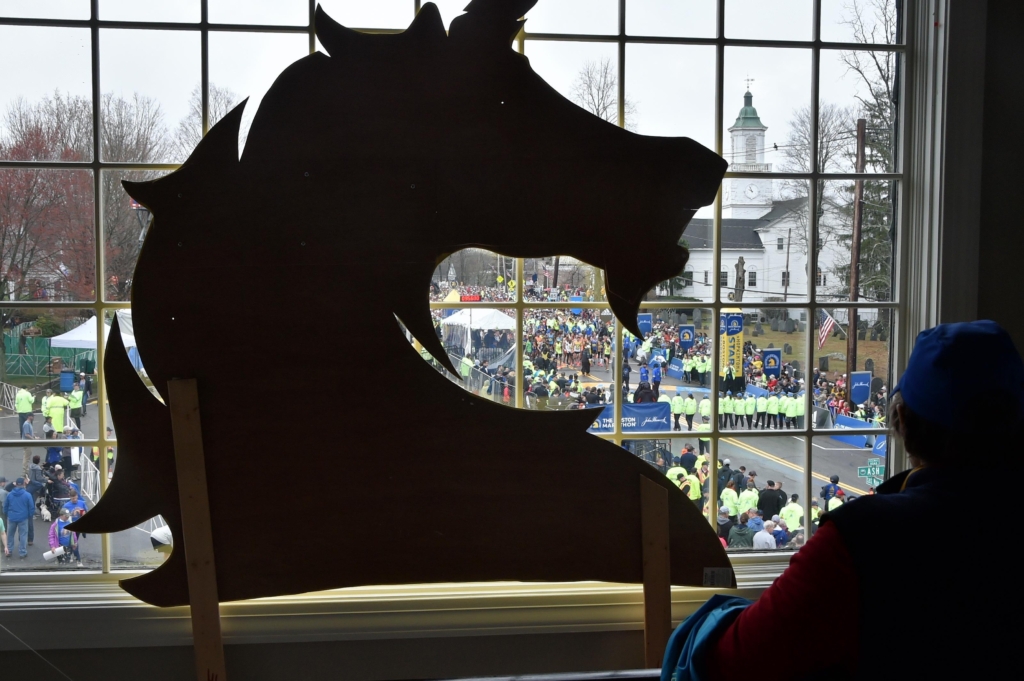 For years I have felt that way about the Boston Marathon.
Way back in the early 90's I ran my first marathon. I knew then I wanted to run Boston. But it wasn't until 2001 that I qualified. I was 26 yrs old and we were moving to Washington DC that year. Only a day's drive from Boston. I thought for sure I would run it then.
But that September, 9/11 happened. The very week we moved into our Virginia apartment. The world suddenly came to a stop. The country felt unsafe, changed, like we wanted to just stay put. Doug and I started new jobs, got busy, and I reluctantly let that unicorn gallop by.
I continued to think about it though. I wanted to return to marathoning after our infertility/baby/toddler years, but I didn't want to train long during that season of life. Our babies were too hard to get here and I couldn't risk losing them. They were my most important unicorn.
Fast forward then to 2017 — 15+ years later. I ran the St. George Marathon with these lovely, amazing ladies ⬇️ and the three of us qualified. We trained together for St. George. And I knew, if we trained together for Boston, we could make it happen.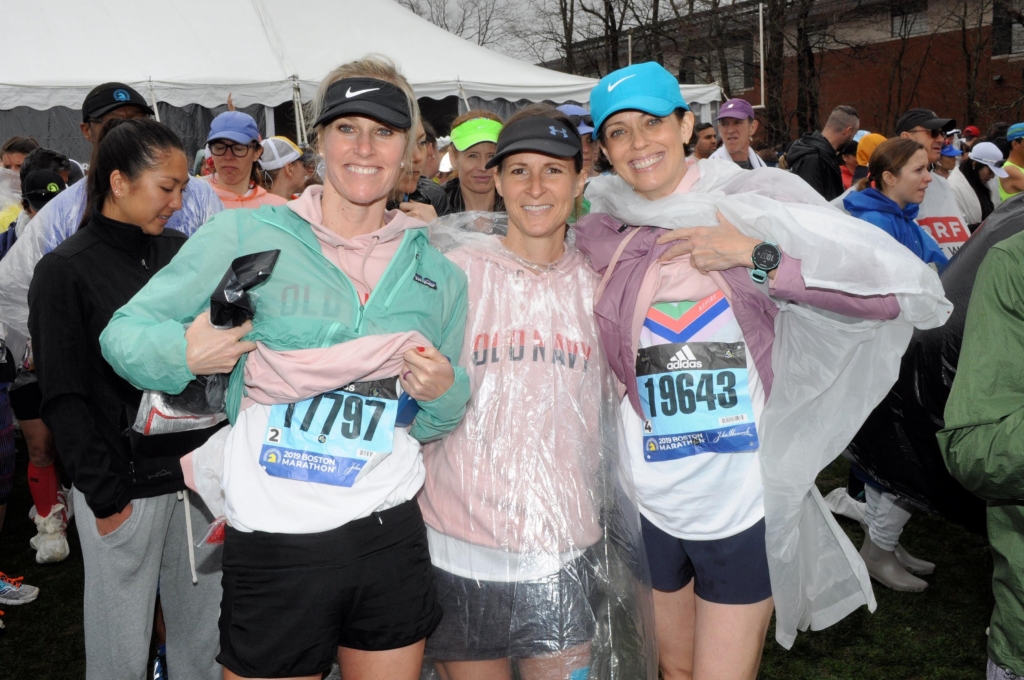 Now. A funny thing. . . Did you know the unicorn is the symbol of the Boston Marathon?!
On the plane to Boston I started wondering about that little yellow icon. Was it a unicorn? I hadn't looked at it very closely. Surely it was Paul Revere's horse. The race takes place on Patriot's Day. That would make sense. But a unicorn . . . I thought. That makes zero sense!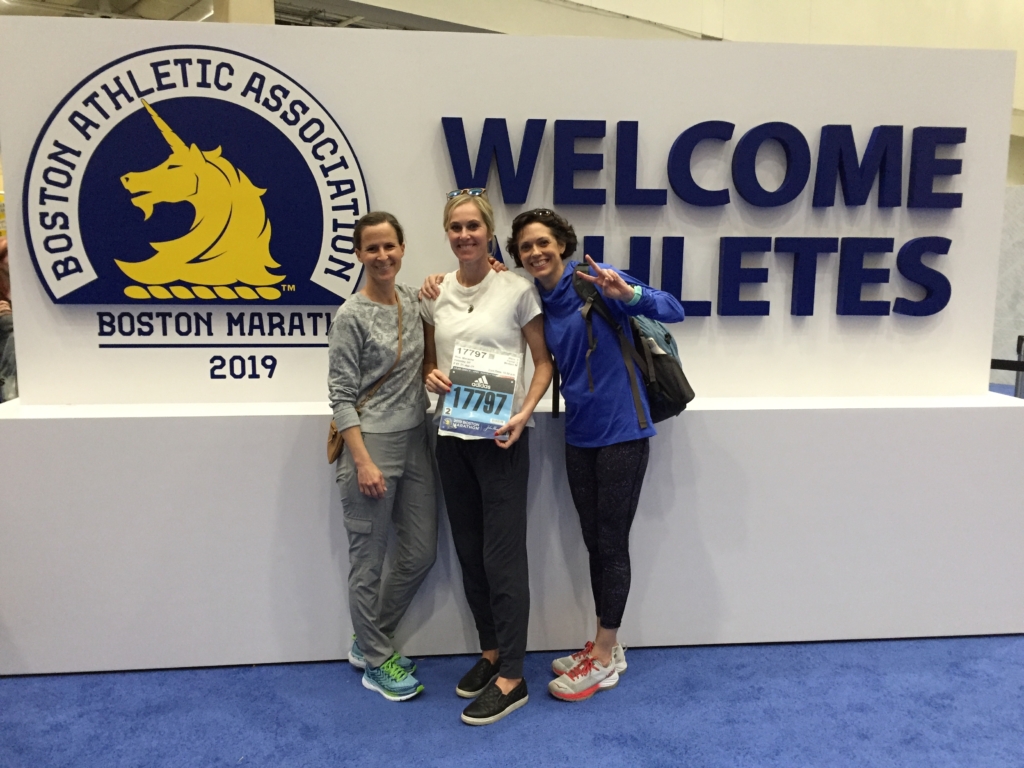 But I was wrong. When we arrived in Boston, the symbol was everywhere. No foolin'. It's a straight up UNICORN! 😂
They were selling unicorn headbands, unicorn t-shirts. Unicorns were on every kind of running accessory you could want. So I started asking the volunteers, "What does the unicorn mean?" None of them knew. So I "searched it up" (as my kids would say) and found that the unicorn symbolizes the uncatchable dream, the striving to achieve what seems unachievable. One shirt I saw summed it up this way: "Always Chasing Unicorns." 🦄
I kinda liked the motif. It grew on me. And by race day, I was feeling some serious unicorn power. I felt like putting my hands in the air and shouting, "I believe!"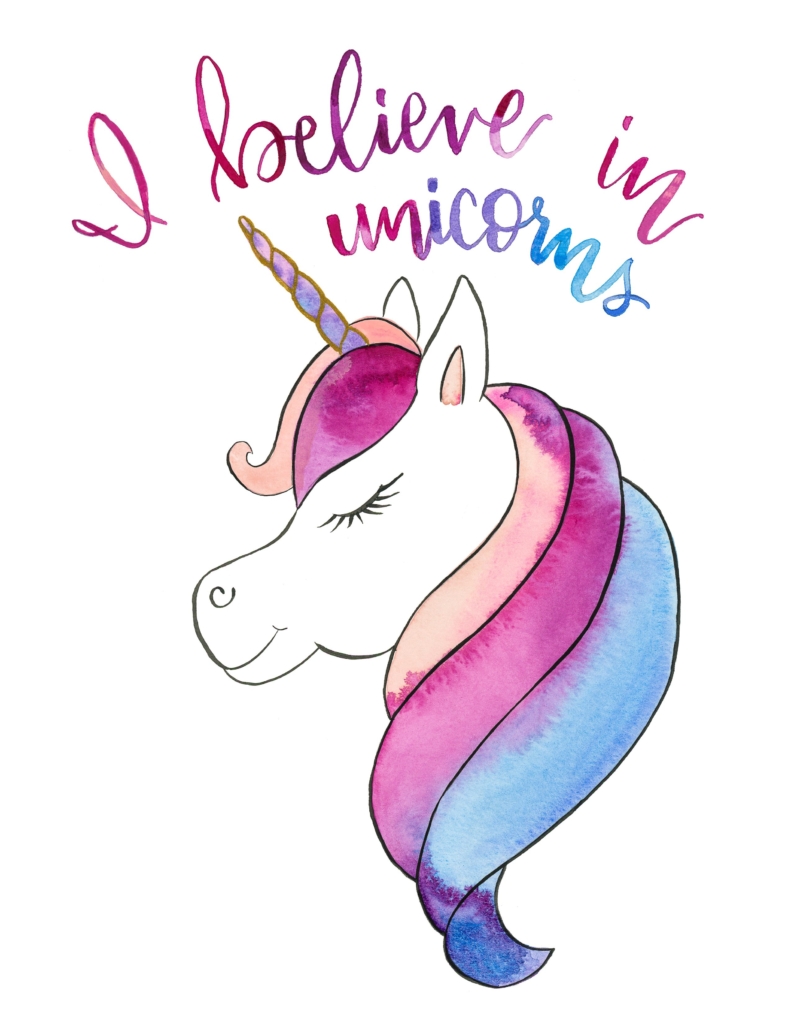 Boston taught me some pretty important lessons about unicorn power:
I learned it's not necessarily something inside you; it's the people around you. The ones you take along on your dream path. The ones that join your journey, even if you didn't invite them, because they're that good. Your pit crew, your support staff, your peeps who cheer you on, even if they're cheering from the other side of the nation.
Going it solo is tough. I never could have survived our brutal Salt Lake winter, training alone. Every long run seemed to have us sloshing through sleet, packing down a new layer of snow in freezing temps, or sporting a weatherproof jacket as rain soaked us right through.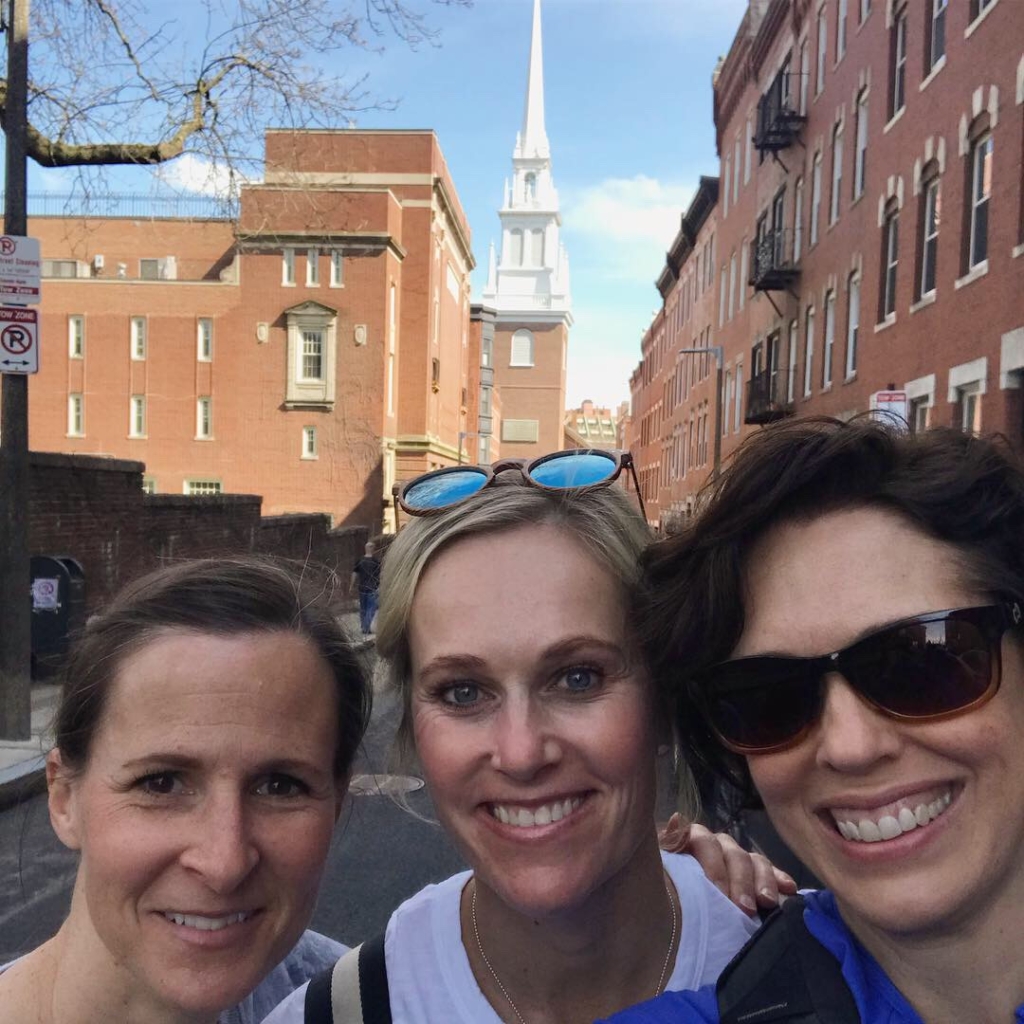 We kept each other going. We woke early because we knew the other two would be waiting for us. We talked, shared stories, believed in each other. I love these two gals more than I can say.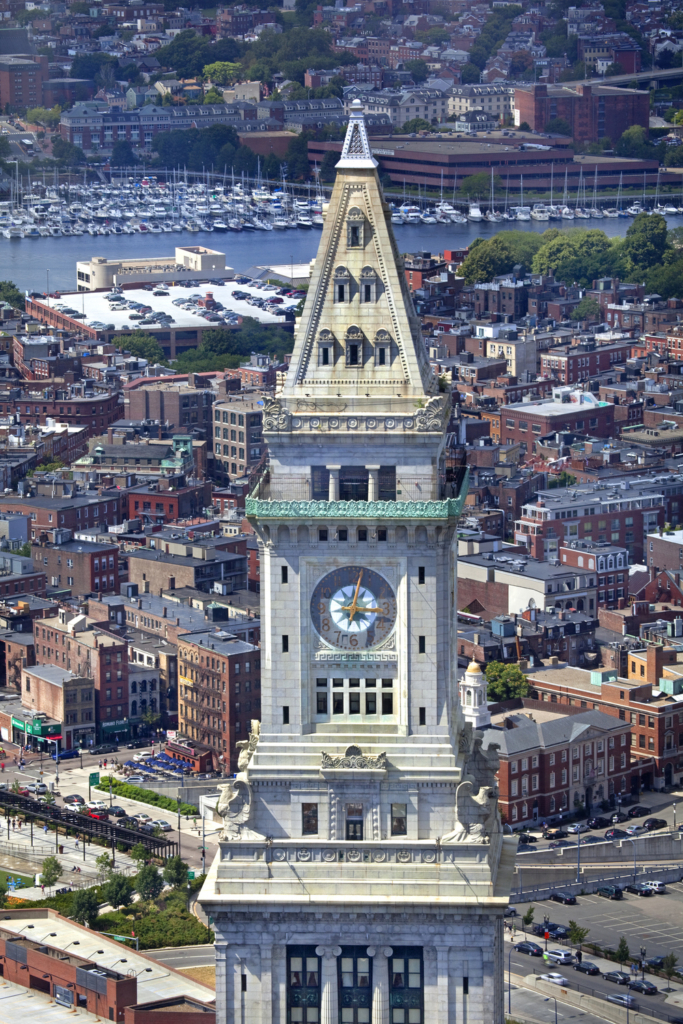 Through a connection Molly had, we were able to stay in this amazing historical building, known as the Custom House. The clocktower was added in 1915. But at the time of the Boston Massacre (1770) the building stood on King Street next to the Old State House.
We stayed on one of the upper floors and had an incredible view from two different balconies.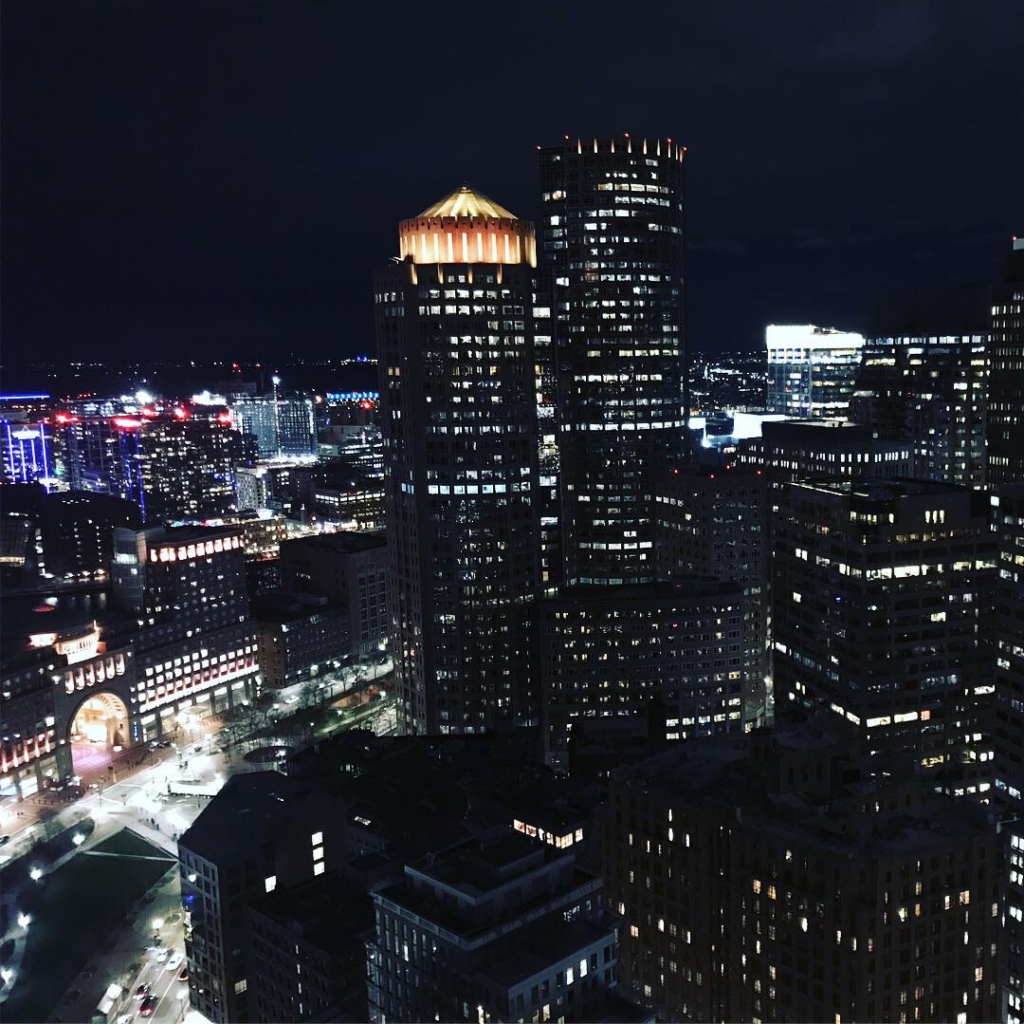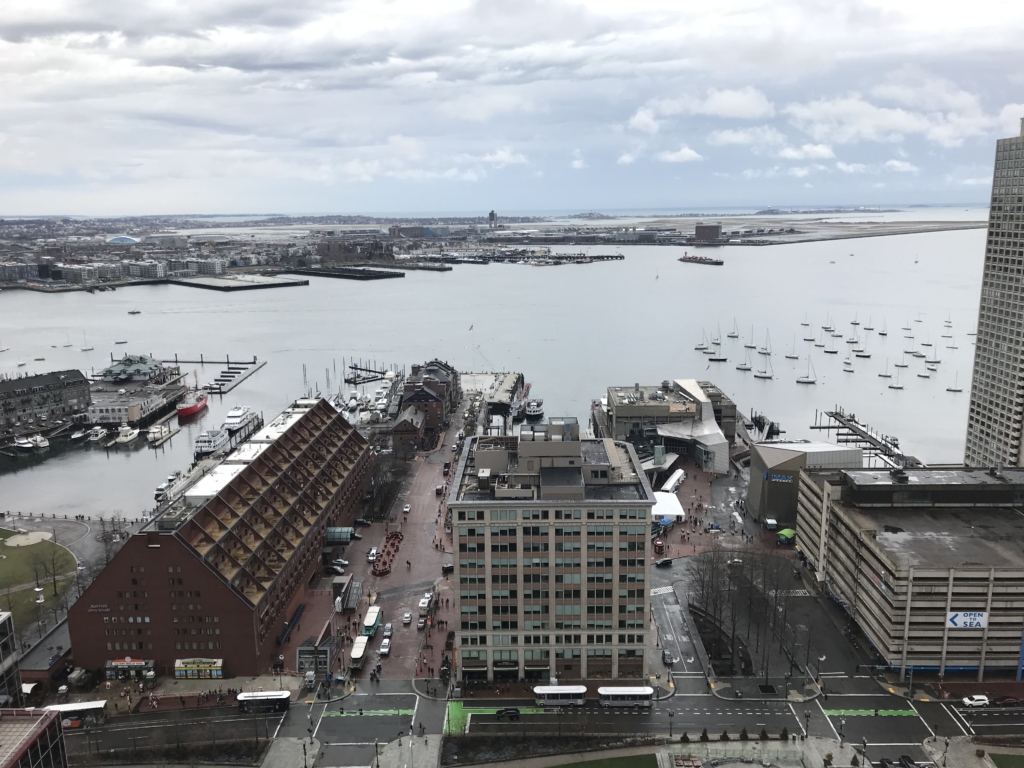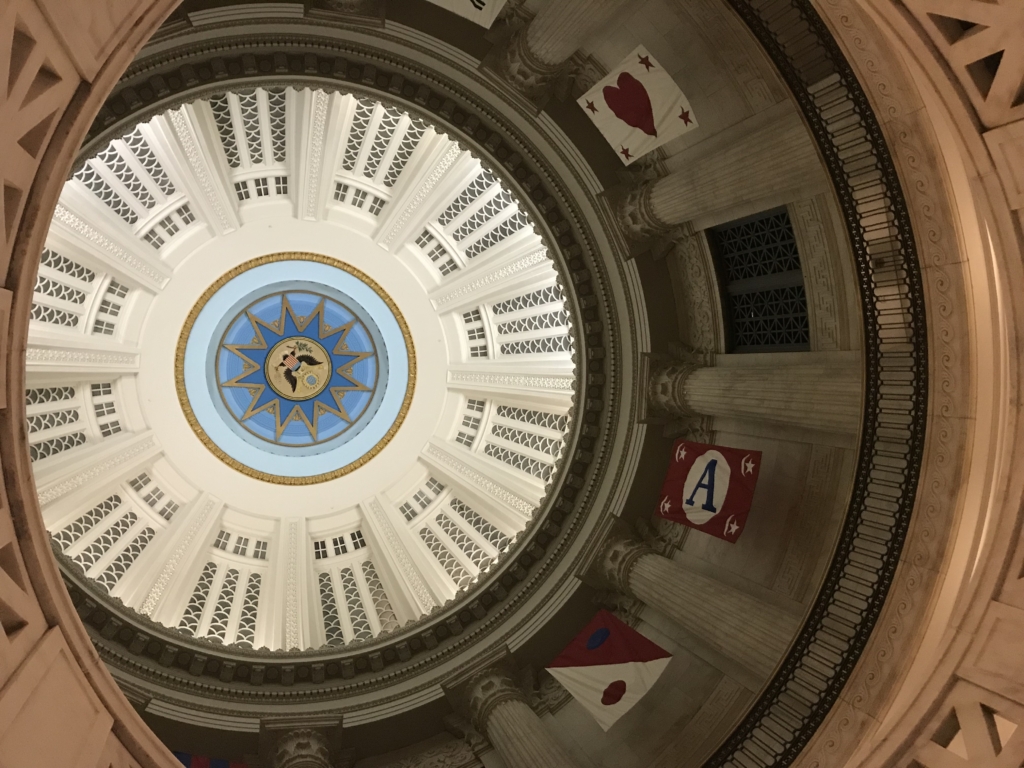 Accommodations were roomy, comfortable, and right next to Quincy Market. So convenient and nice inside, it felt too good to be true.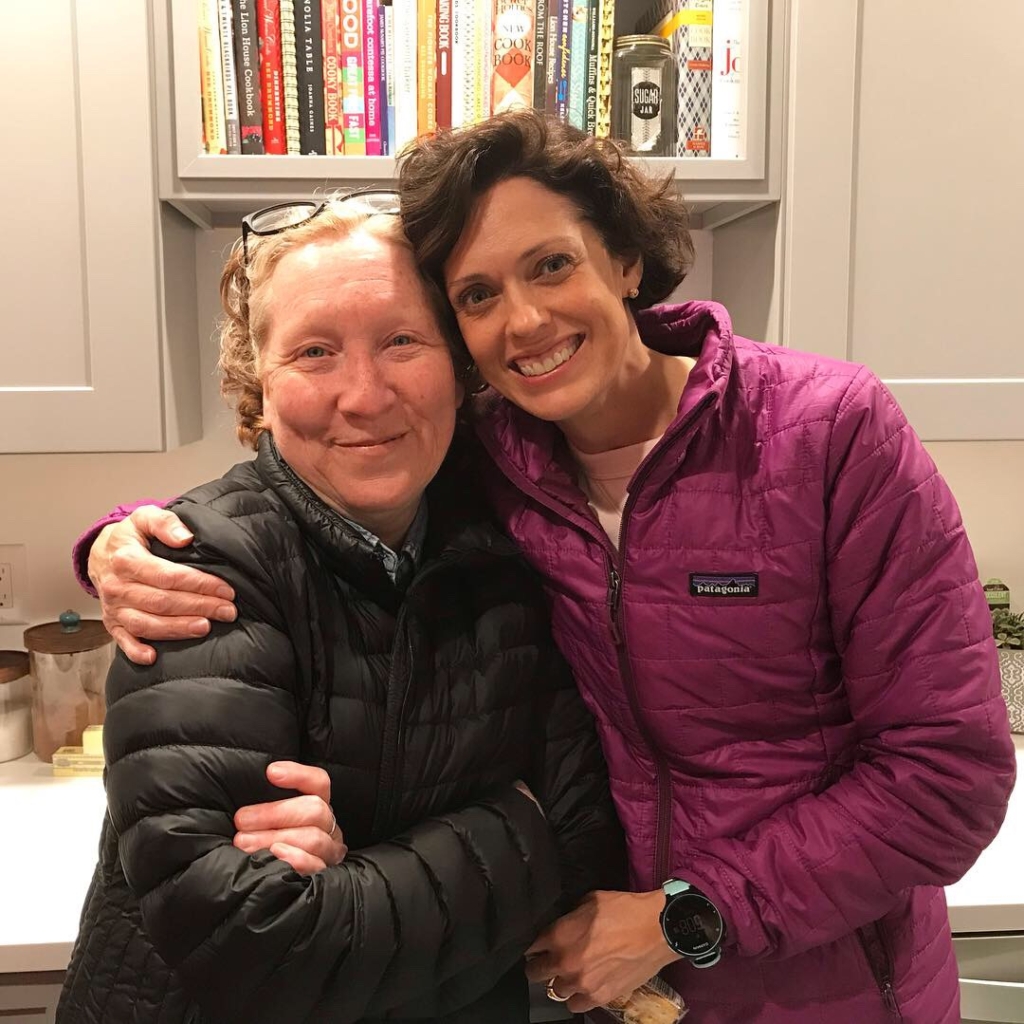 Friday night we metro'd out to Cambridge to meet one of our family favs — Ellen. Ellen works at MIT and waited for us after getting off work. She drove us to Lexington to see her apartment, which used to be an old school, with amazing windows, nooks, and decorative molding.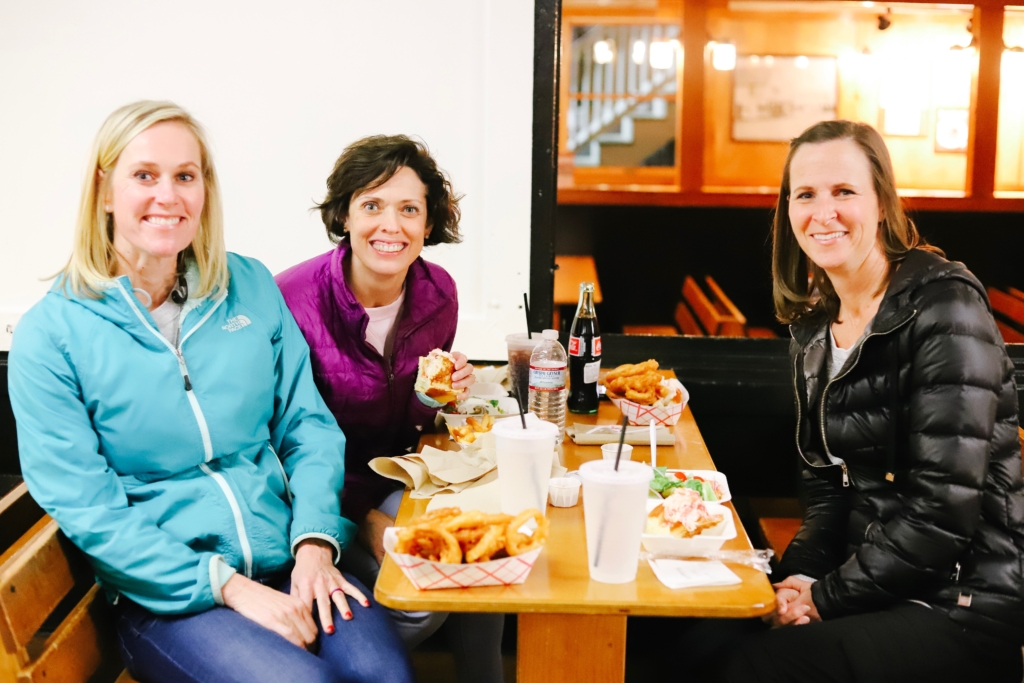 Then she took us for lobster rolls at the best place in northern Mass. Woodman's in Essex.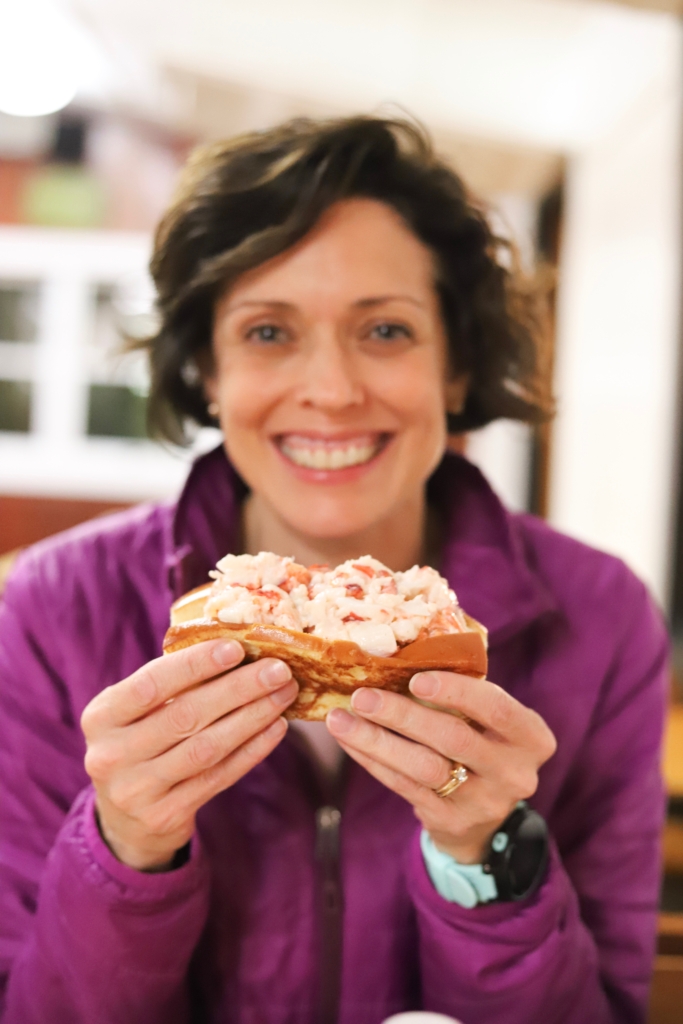 I'd never eaten a lobster roll and they were as good as she promised. Then she drove the race course with us so we could get a feel for the terrain and gauge the incline of "Infamous Heartbreak Hill." Bless her for taking such good care of us! Love you EP!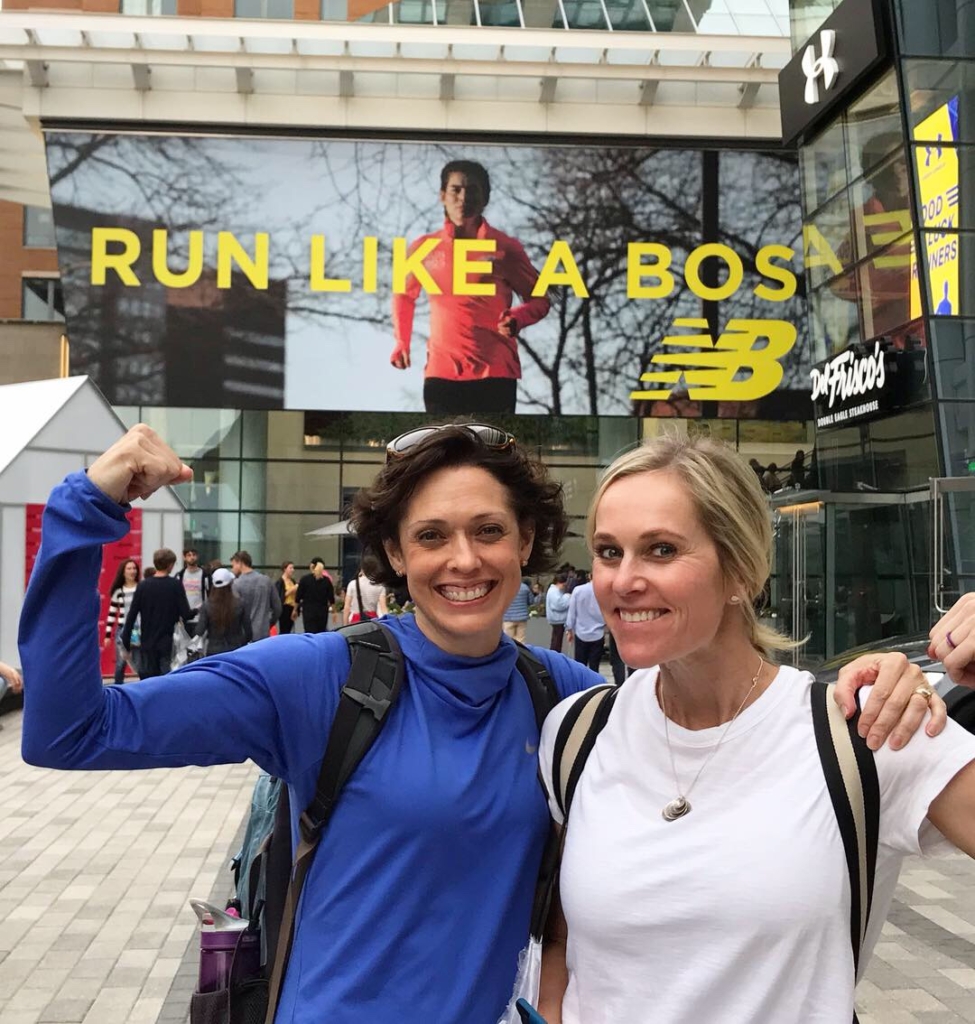 Saturday we walked part of the Freedom Trail, visited the Old North Church, Paul Revere's home, and spent some time at the Marathon Expo.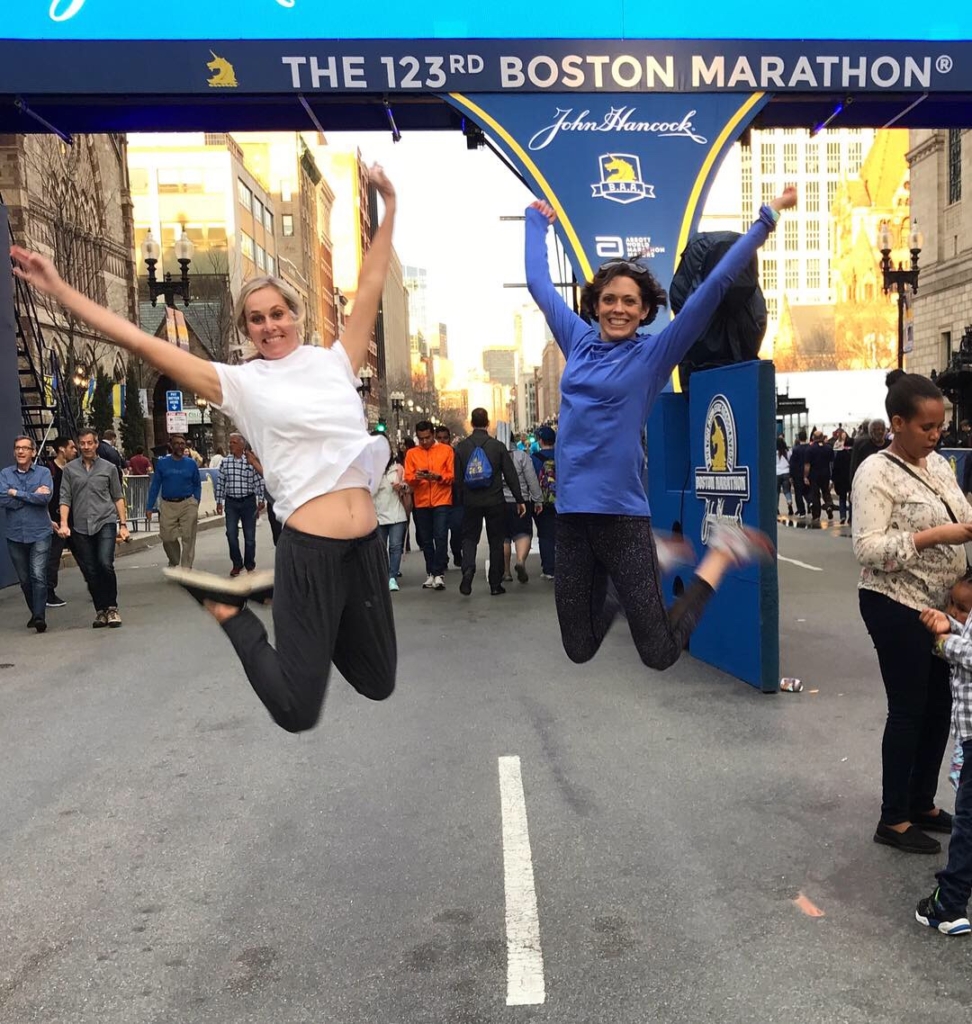 Friends told us finish line pics were best taken before the marathon, because there would be so many runners coming across on race day. And who knew how we'd be feeling at that point? 😜 Pretty sure there'd be no jumping after 26 miles.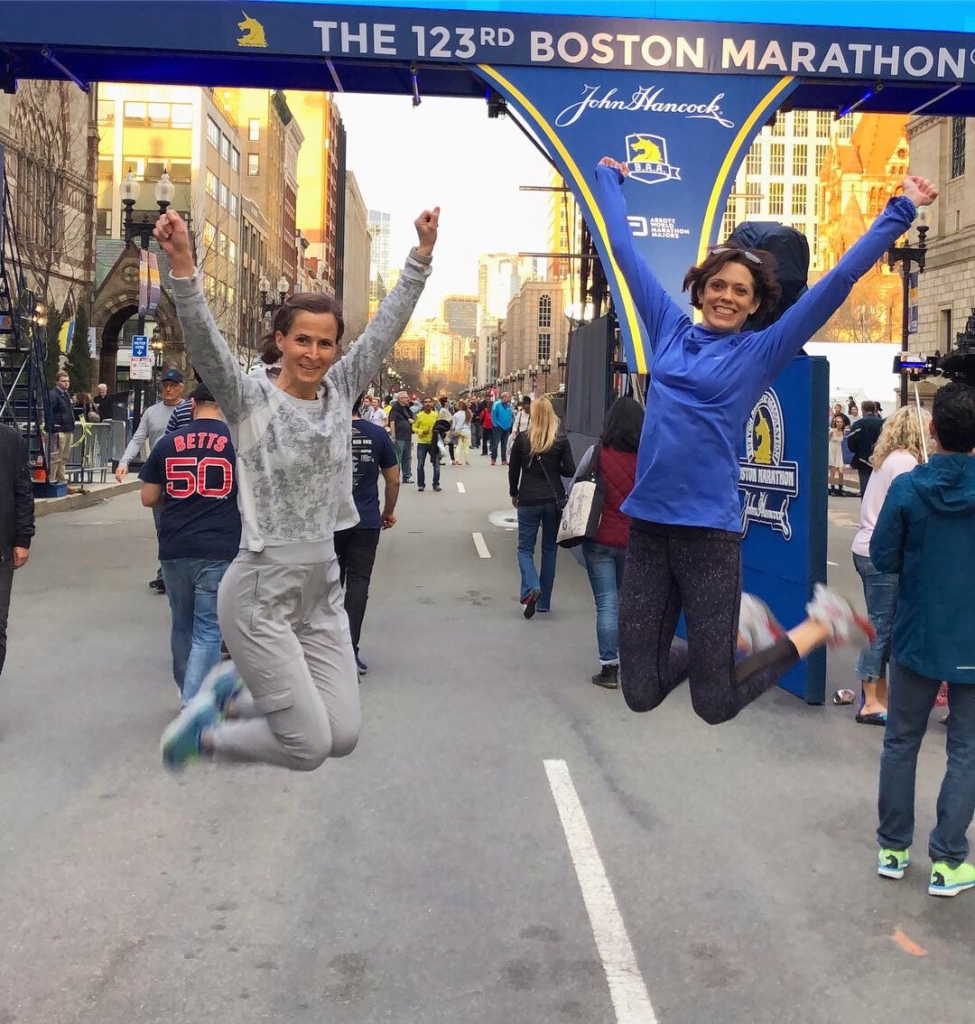 We tried to get our jumps synced up so. . . many. . . times. 😂 What a spectacle we were. I love Darci's cute cheerleading jump.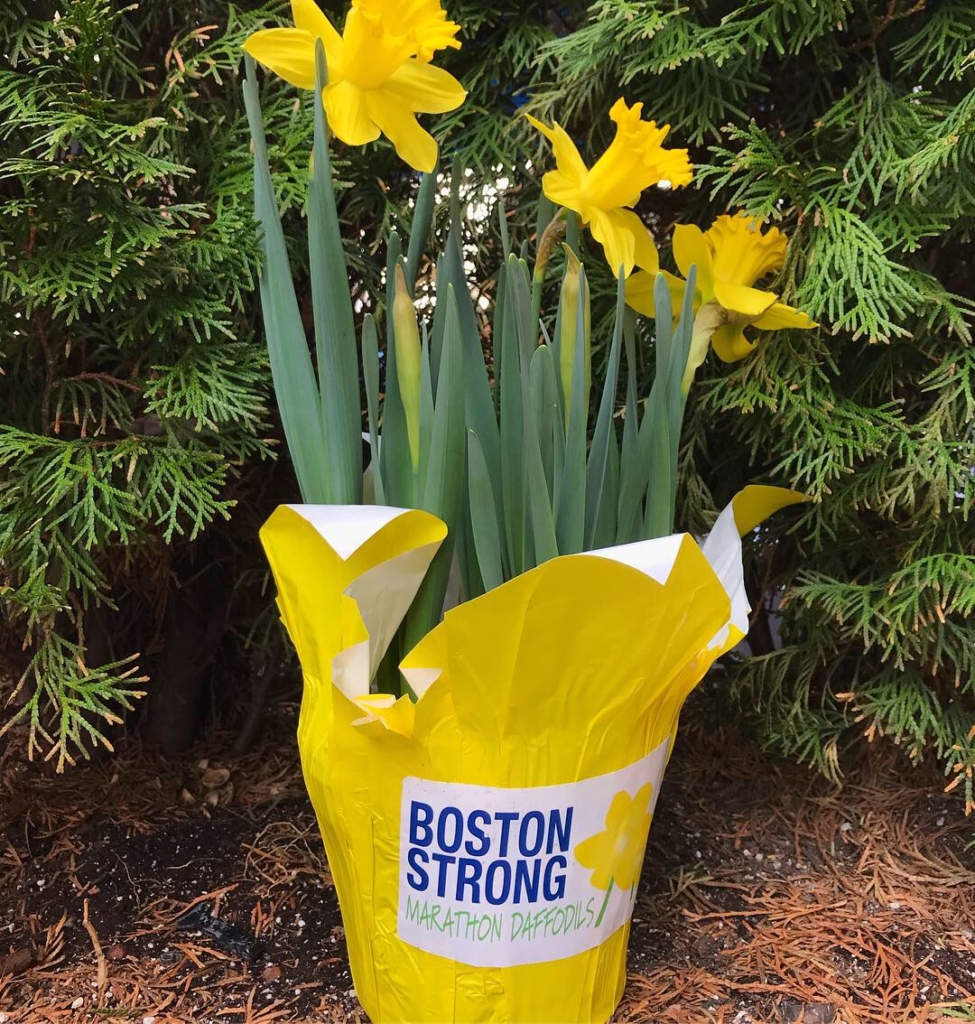 These daffodils lined all the businesses along Boylston street where the marathon ends.
Sunday morning, which happened to be Palm Sunday, we attended a special "Blessing on the Athletes" at the Old South Church near Copley Square. If you ever run the Boston marathon, you MUST put this on your list. Next to running the race itself, this experience was the highlight for us.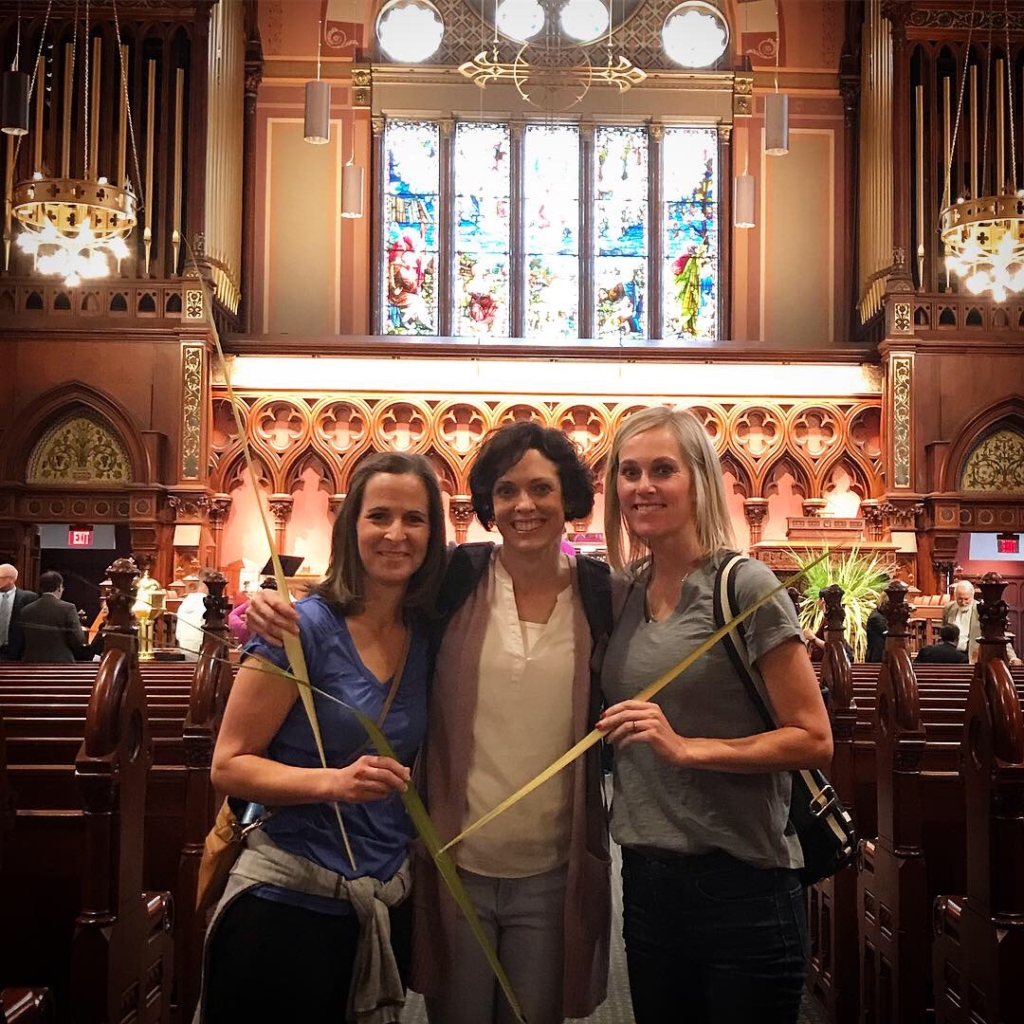 Bostonians call this gorgeous cathedral the "Church of the Finish Line." And every year, on "Marathon Sunday," they offer a Blessing on the Athletes. It was doubly special to have it be Palm Sunday. 🌴
I cried through most of the service; it was so very touching. It brought the whole congregation together. All of us, broken in some way or another. Pushing through pain or injuries, trying to make it safely over all kinds of life hurdles.
I felt so united with everyone, as we threw our hopes up to heaven, in anticipation of tomorrow's race.
The pastor who spoke said that just as Jesus made his way on Palm Sunday into a city to be welcomed, "You will make your way into our city tomorrow. And we welcome you with open arms, with cheers of encouragement and love, as you run your race for your own personal reasons."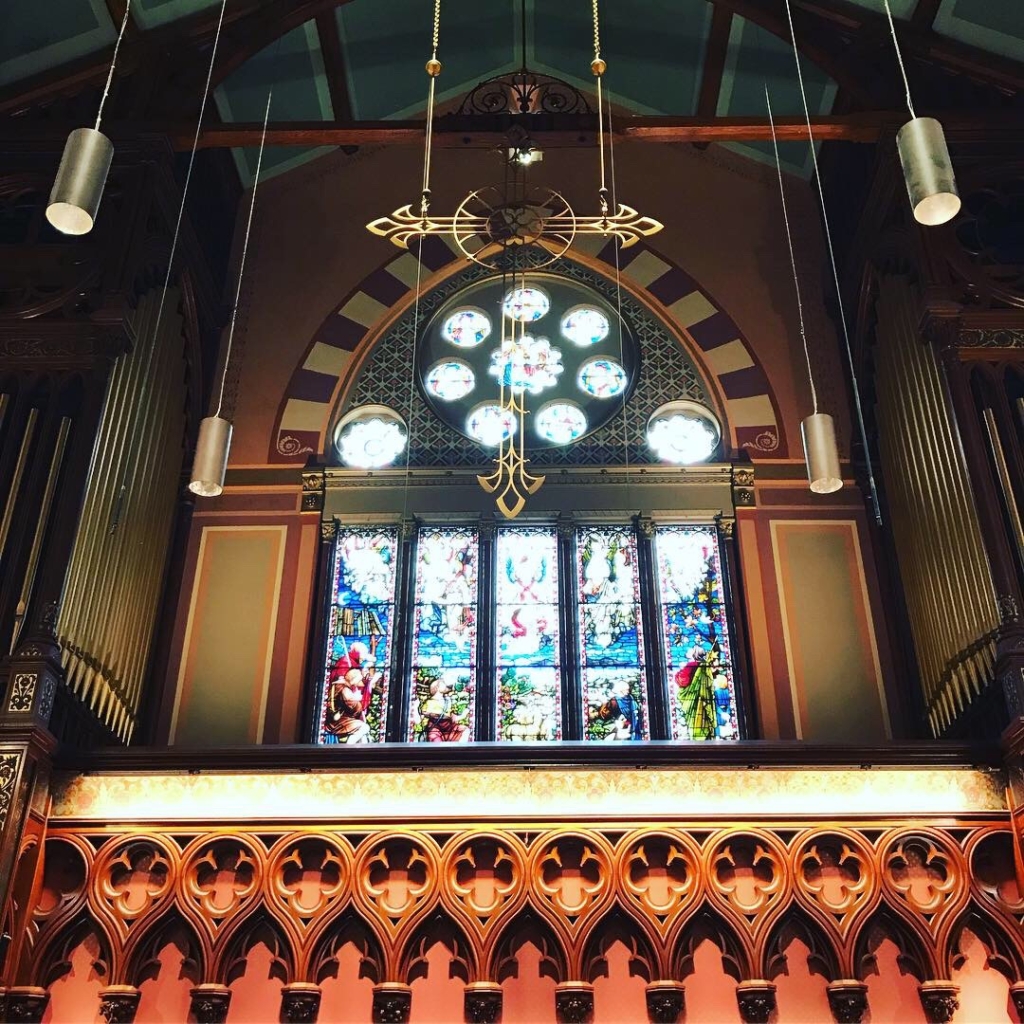 Then we were asked to raise our right hand for the blessing of the athletes. And these are the words that were said: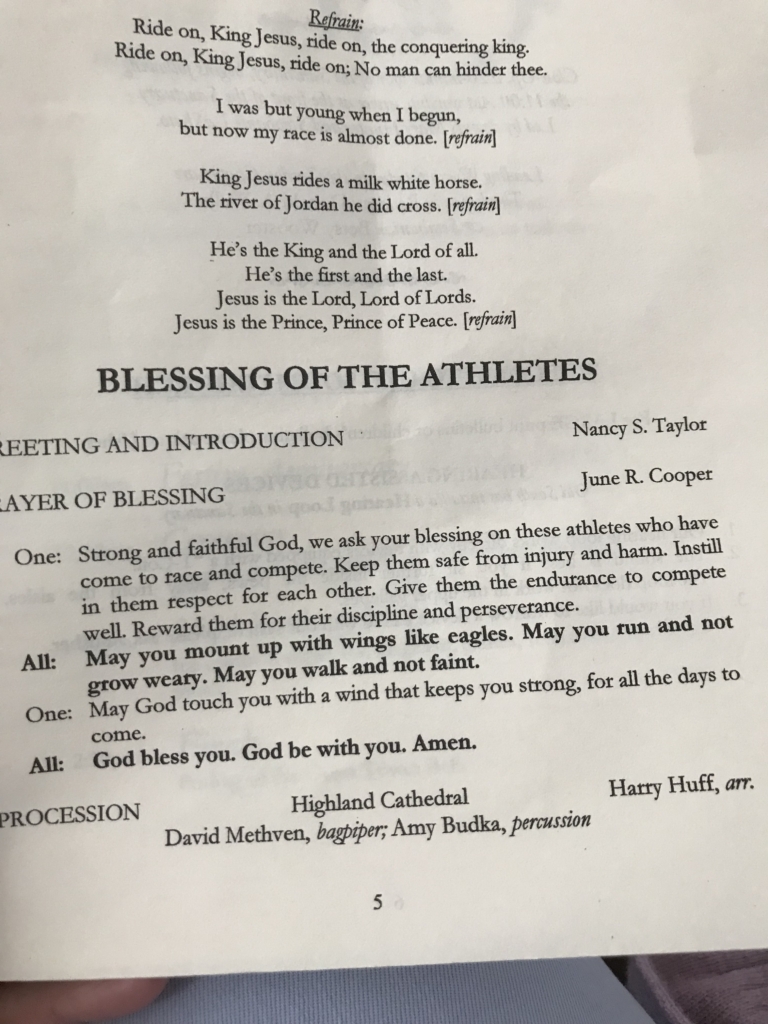 It was powerful beyond explanation.
We visited with people around us, hugged, heard some of their stories. One couple was running their 21st and 22nd Boston. Others, like us, were running their first. One man was running his 48th! Each person was inspiring to me.
As we walked out onto Boylston Street, I felt so much lighter. We had just experienced an enormous, communal lift, of camaraderie, closeness, and goodwill. I thought to myself:
Come what may, it has all been worth it. We did the best we could to prepare, and tomorrow, we'll leave it all at the finish line – everything we have to give.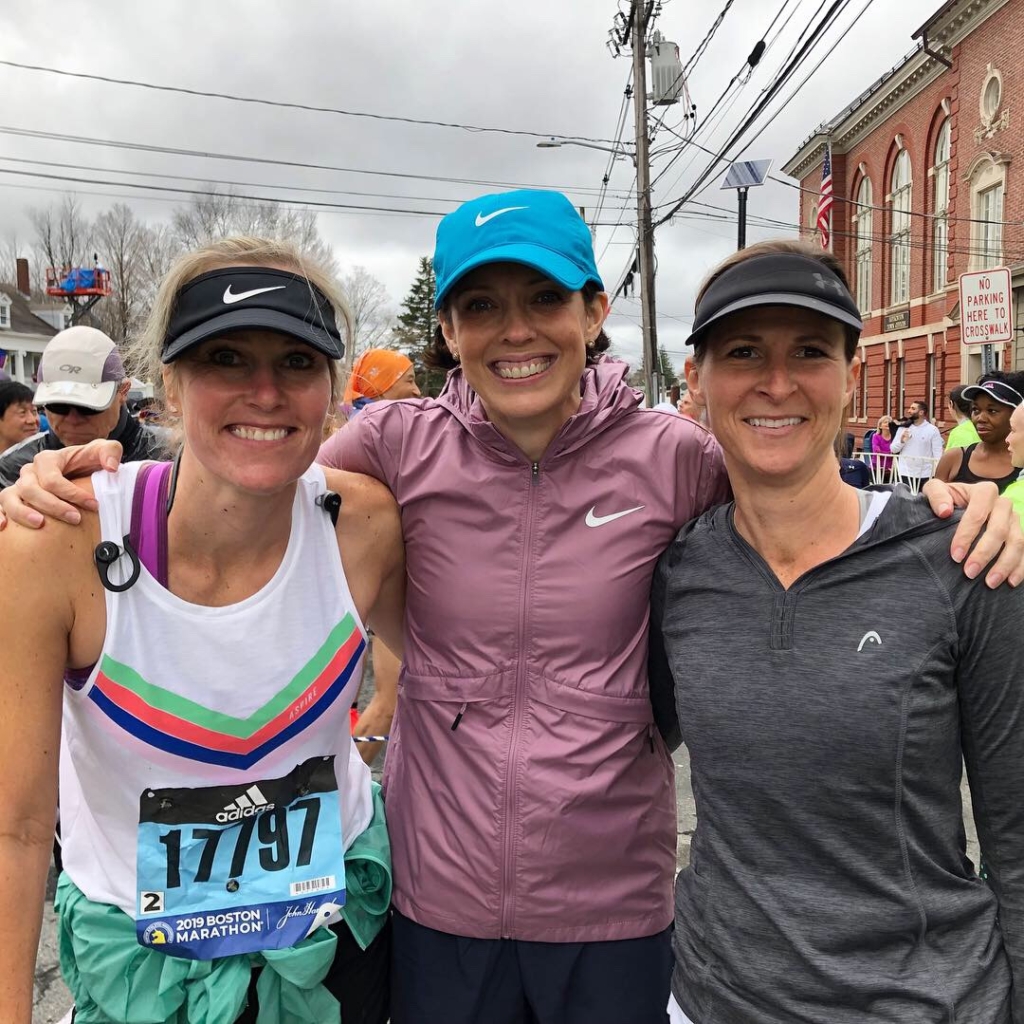 Monday morning arrived cold and rainy. Even race morning, we were still trying to figure out what to wear. That was the conundrum — the topic that sucked up too much of our conversation days before. The weather had been so finicky, changing by the minute. But that morning, forecast showed heavy rain until start time and running temps in the 60s. So we settled on a matching tank top and shorts, with rain jackets we'd tie around our waist.
Doug said we ought to use the hashtag #rundmc (run darci, molly, and cath. So clever. And a fun throwback.)
It was a monsoon of wind and rain as we walked in our ponchos to the buses, grocery bags tied over our shoes. It rained and rained as we drove out to Hopkinton. But just as we were arriving, the rain eased up.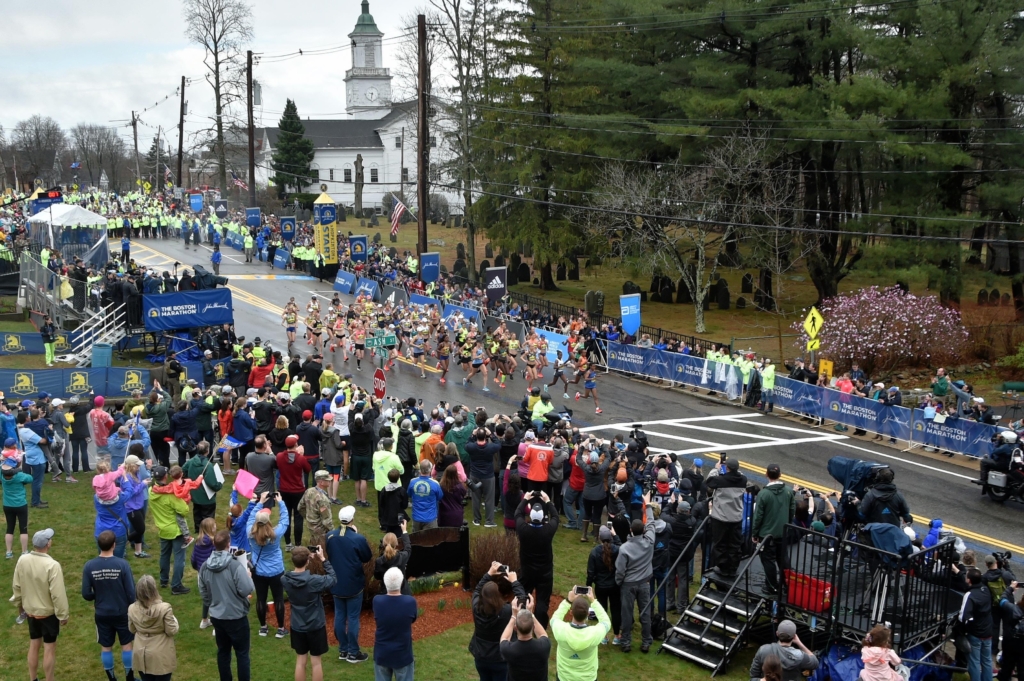 This is the start of the elite women's group! ⬆️ Holy moly, they are fast!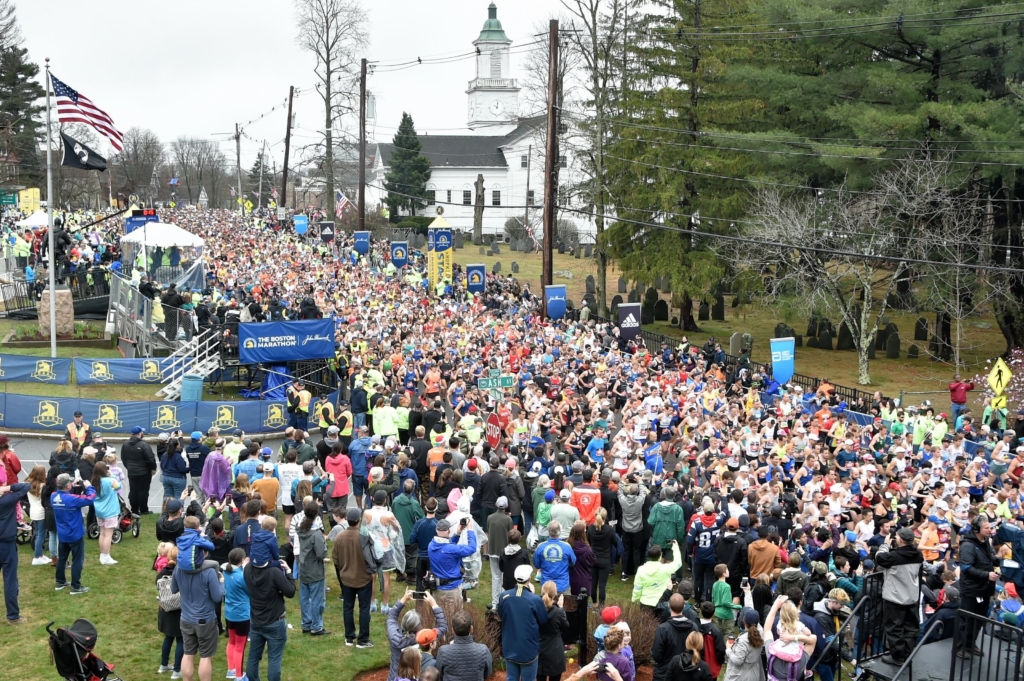 And then it was our turn. A large banner over the corrals read:
"There's only one Boston. And it all starts here!"
This photo above is our wave taking off. Crazy how many people were packed onto this road. A total of 30,000 runners this year, with over 26,000 finishers.
But here's the thing about Boston that makes it so different from any other marathon I've run. There are people lining the ENTIRE race route from start to finish! People cheering for you every step of the way. It's absolutely electric! Unlike anything I've ever experienced! While it wasn't our fastest marathon time, it felt like the fastest race we've run because the miles ticked by so quickly!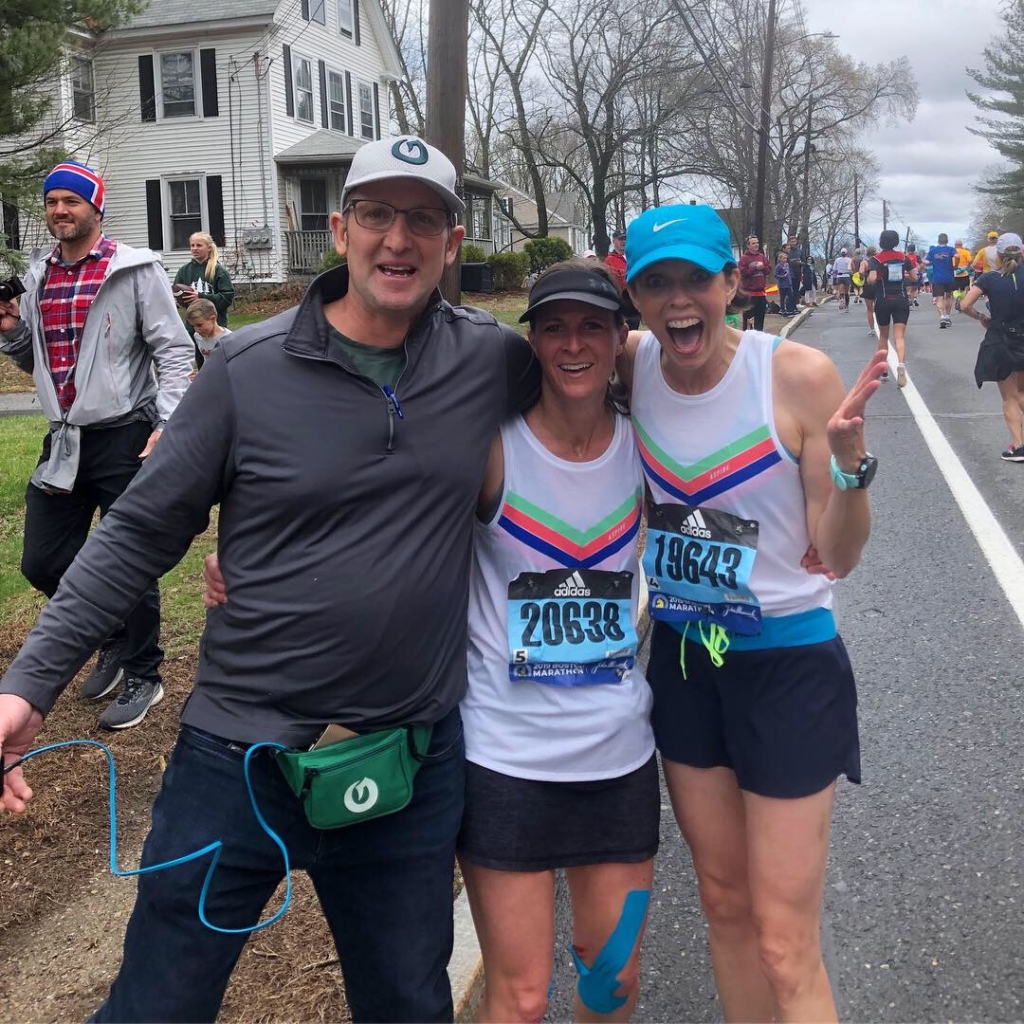 Come Mile 8, we were completely surprised by Darci's husband, Vaun. 😱There he was, standing on the side of the road cheering, and none of us had planned on family being there!
Darci had an inkling he might come, but she hadn't breathed a word of it to us. Can you imagine our shock when we saw him hanging out at mile 8? It was such a huge lift and we couldn't stop laughing. He had taken a red eye fight the night before, metro'd out as far as he could, then taken a train, and had been waiting for us since 6:30 AM. We didn't run by until about 11:20! What a dutiful hubby. He wasn't able to cheer Darci across the finish line of her other races, so he decided there was no way he was going to miss this one!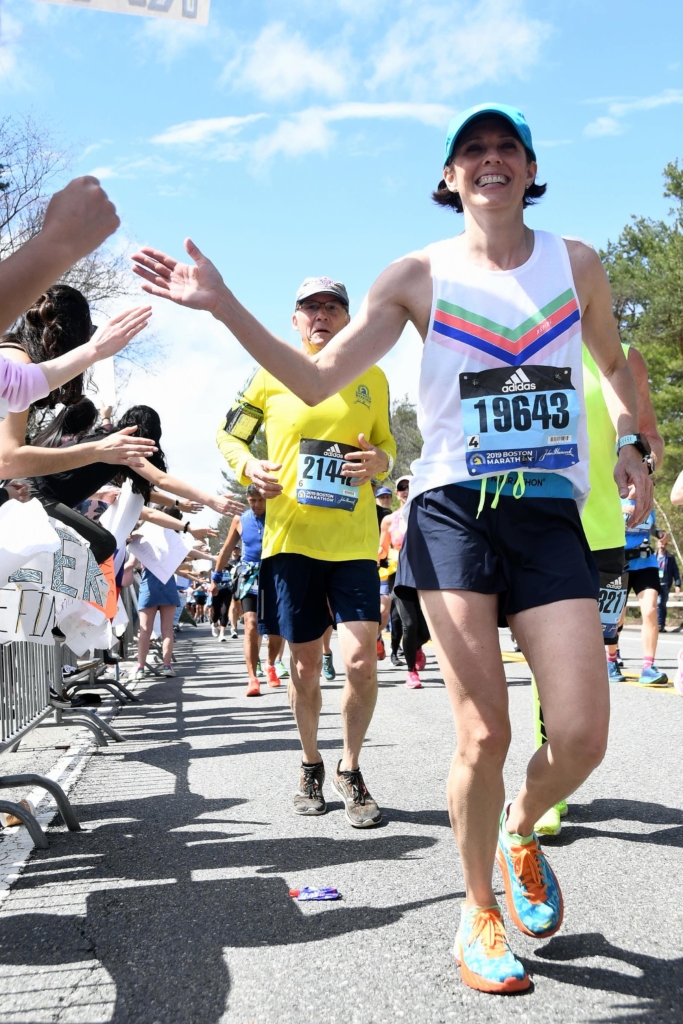 This is the town of Wellesley. Mile 13.
I think we must have hit a couple hundred hands. The route runs right by Wellesley College and all the girls come out with signs. They hang over the fence, reaching for any high fives they can snag, and tradition holds that it's good luck for men who are running, to kiss a Wellesley girl! Coming through this gauntlet was a huge rush!
Every now and then we'd pass someone with a sign that said,
"Unicorn Power. Touch Here!"
We'd zip over to tap their poster. The little children were so excited to give us a high five. They were jumping up and down with their signs, cheering for everyone who passed.
If the course started feeling hard, all I had to do was look into someone's face. They would feel you, look right back, lock eyes and cheer, "You got this! You're doing awesome! You go girl!" And they did this for everyone. Not just the fastest. Or the strongest. Or the one with the cutest shoes. Boston's crowd mentality was, "Cheer for everyone. Everyone needs you. Get them through this race!"
The constant encouragement from people we didn't even know was so humbling, we found ourselves choked with emotion again and again.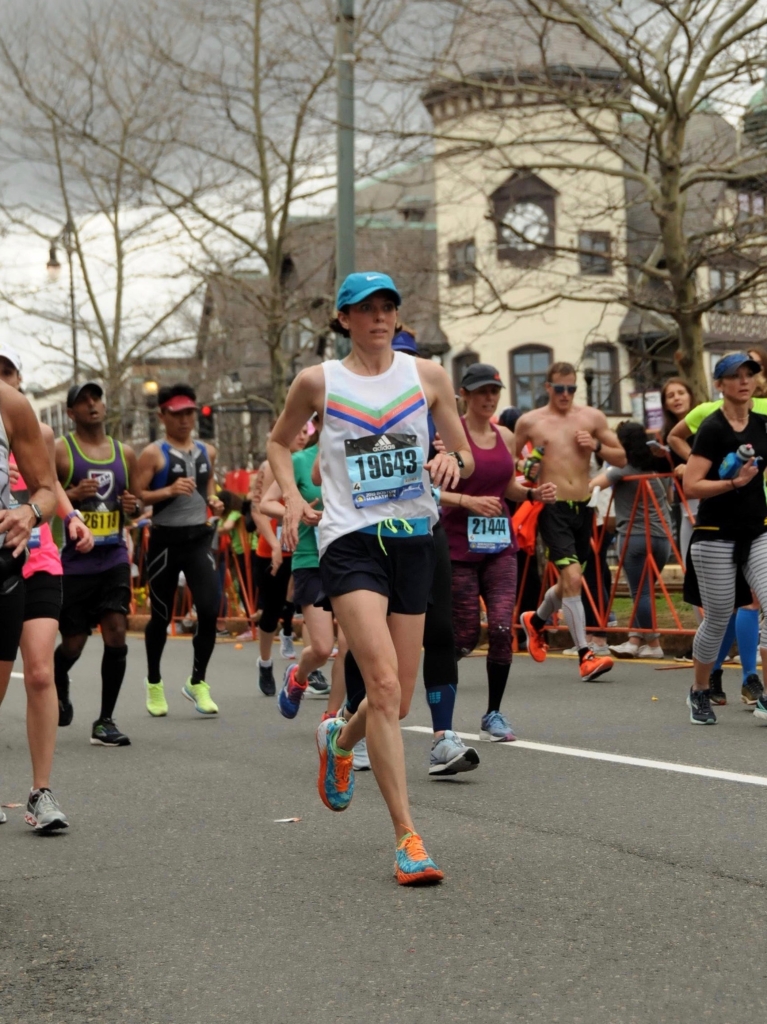 As we ran on, it got harder and harder to stay together. There were so many people! We kept getting separated. So around mile 15, we decided we had to just run our own race.
Boston is a relentless course. There's a little bit of downhill at the very beginning, a lot of flat, and some steady uphill from miles 17-22.
After getting through the four Newton Hills, I started looking for our beloved Ellen (pictured earlier). She always camps out at mile 19. But somehow, someway, we missed each other. 😩 I knew she was supposed to be right before Heartbreak Hill, but I never found her! And that was the "heartbreak" for me.
I kept trekking on, wondering how I missed her, determined not to stop on any of the hills and before I knew it, I saw a big inflatable blow-up that read, "You conquered HeartBreak Hill!" Hallelujah, the hardest part was behind me.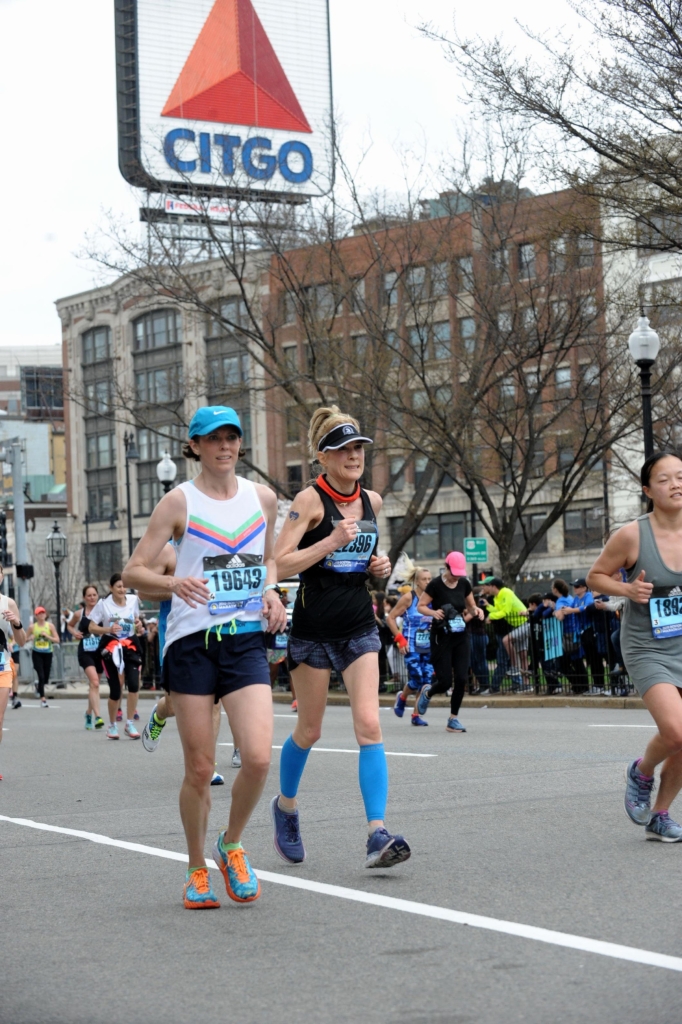 Next big milestone was the Citgo sign. You can see it for a good mile, as you slowly make your way down Commonwealth Ave. It was somewhere along here, around mile 24, that I saw Vaun again. He was yelling my name so loudly. But with all the crowd noise, I almost missed him!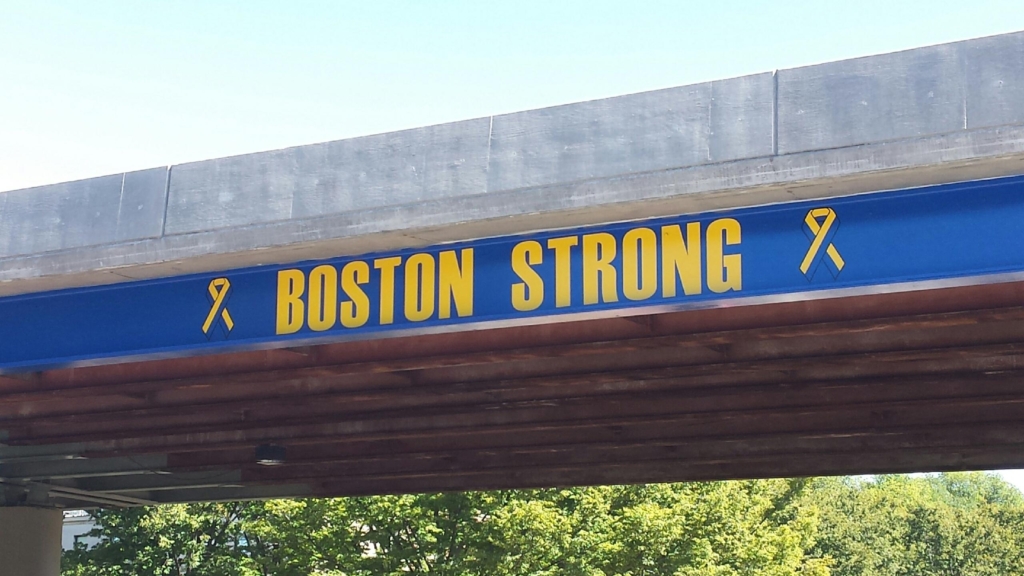 This awesome reminder of the bombs at the 2013 Boston, was painted on an overpass at the end of Comm Ave. At this point you're looking for any kind of inspiration to keep you going. This display of remembrance and love pushed me on. No stopping now.
One of the t-shirts we saw at the expo read, "Right on Hereford, Left on Boylston." Those are the last two turns of the marathon. You keep repeating those words in your head as you approach Hereford.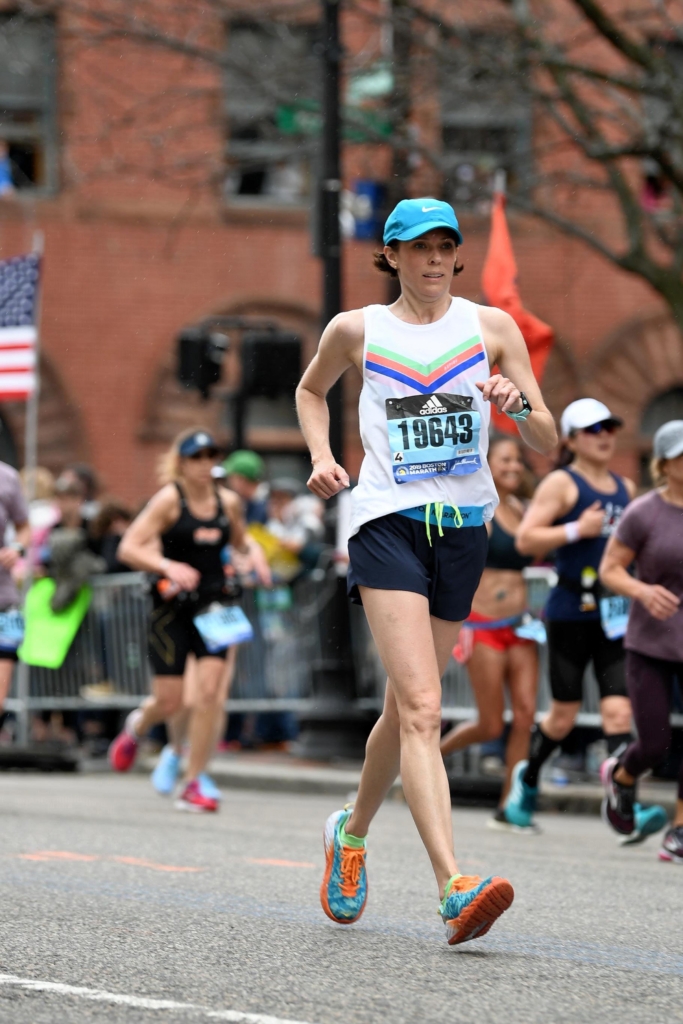 Then there you are – looking down the home stretch.
With the finish line in sight, a light rain began to fall.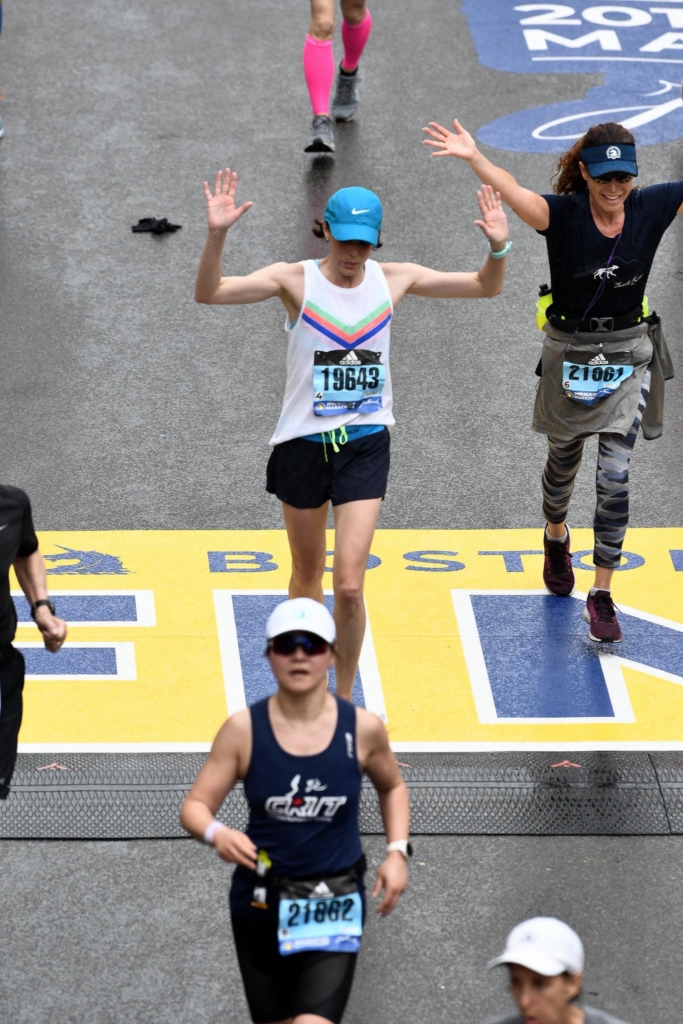 A few more steps. . . Hands in the air. . . Done!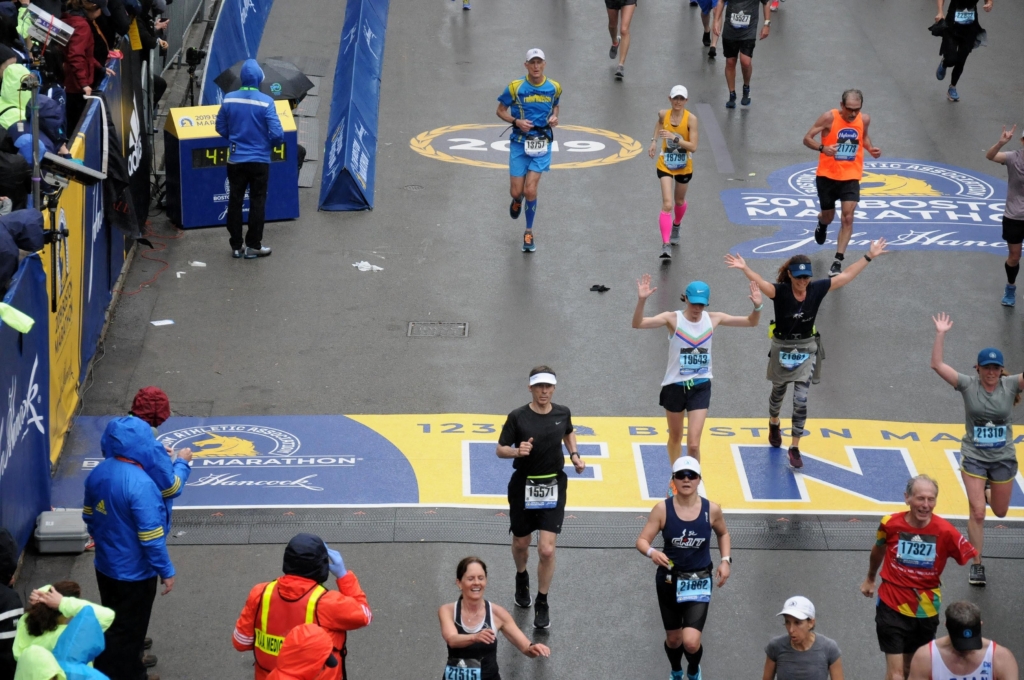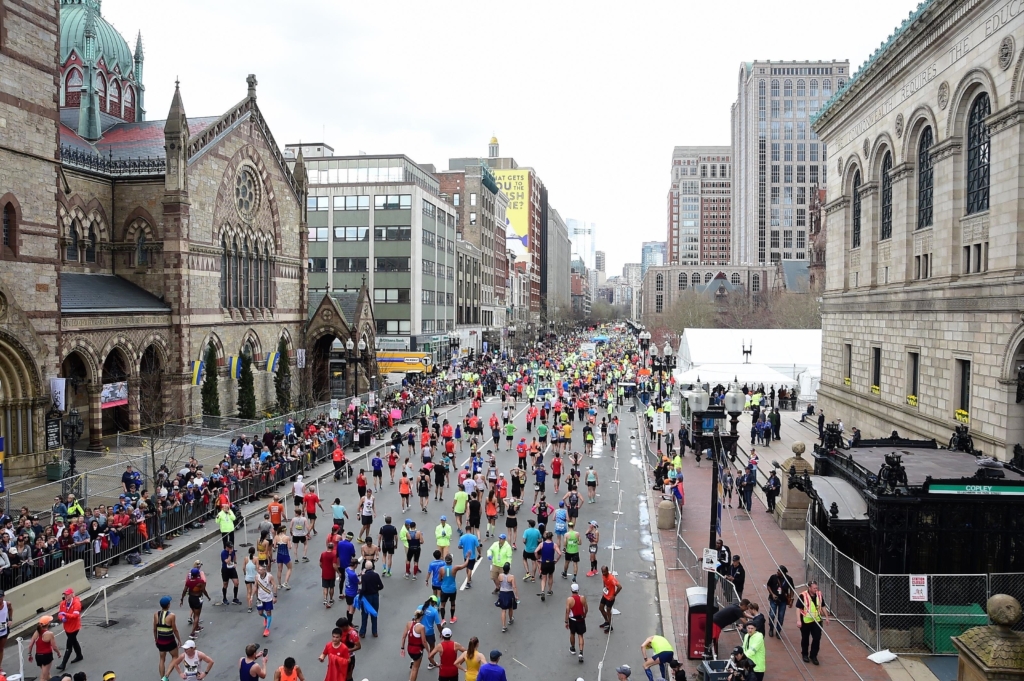 View down Boylston, of runners who finished.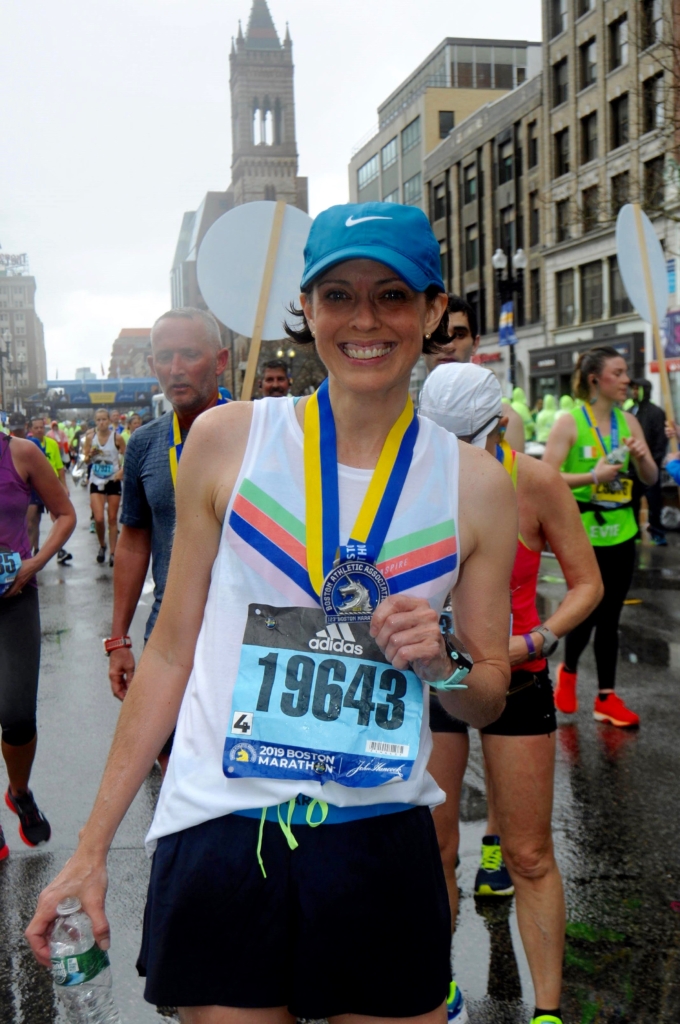 And there's the unicorn I finally caught.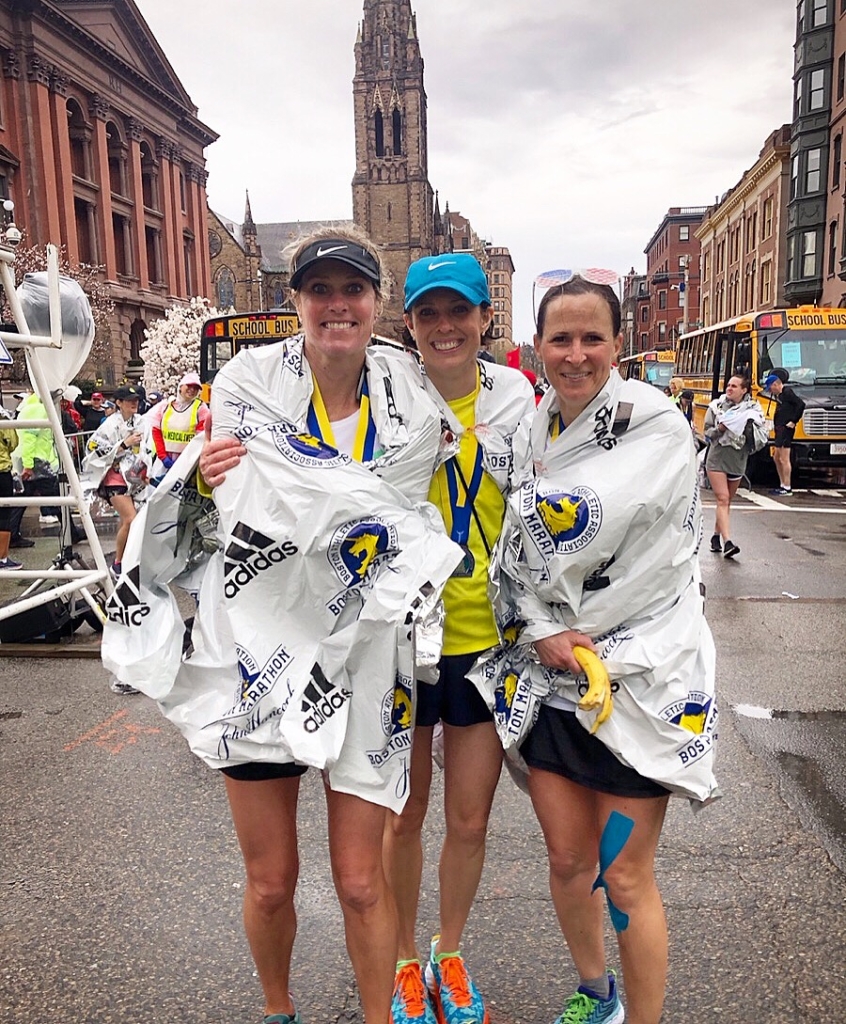 Soon the rain really began to come down and the wind picked up. After some wandering, saying a quick prayer, and borrowing a nice lady's cell phone, we found each other and huddled for a happy photo.
These women. What can I say? They were my unicorn power. Vaun was our unicorn power. Ellen was our unicorn power. Our families were our unicorn power. And all the amazing people lining the route were our unicorn power.
God was so good to us. He kept us free from injury, gave us sunshine most of the way, and placed amazing runners by our side — people we didn't know who made us laugh. Blind runners with guides who brought us to tears as they courageously took one step after another. Volunteers all along the way with water, gatorade, oranges, otter pops, blankets, and always a word of encouragement. Always. They were incredible.
Boston knows how to show up! Boston doesn't hold back. Boston makes you feel #bostonstrong.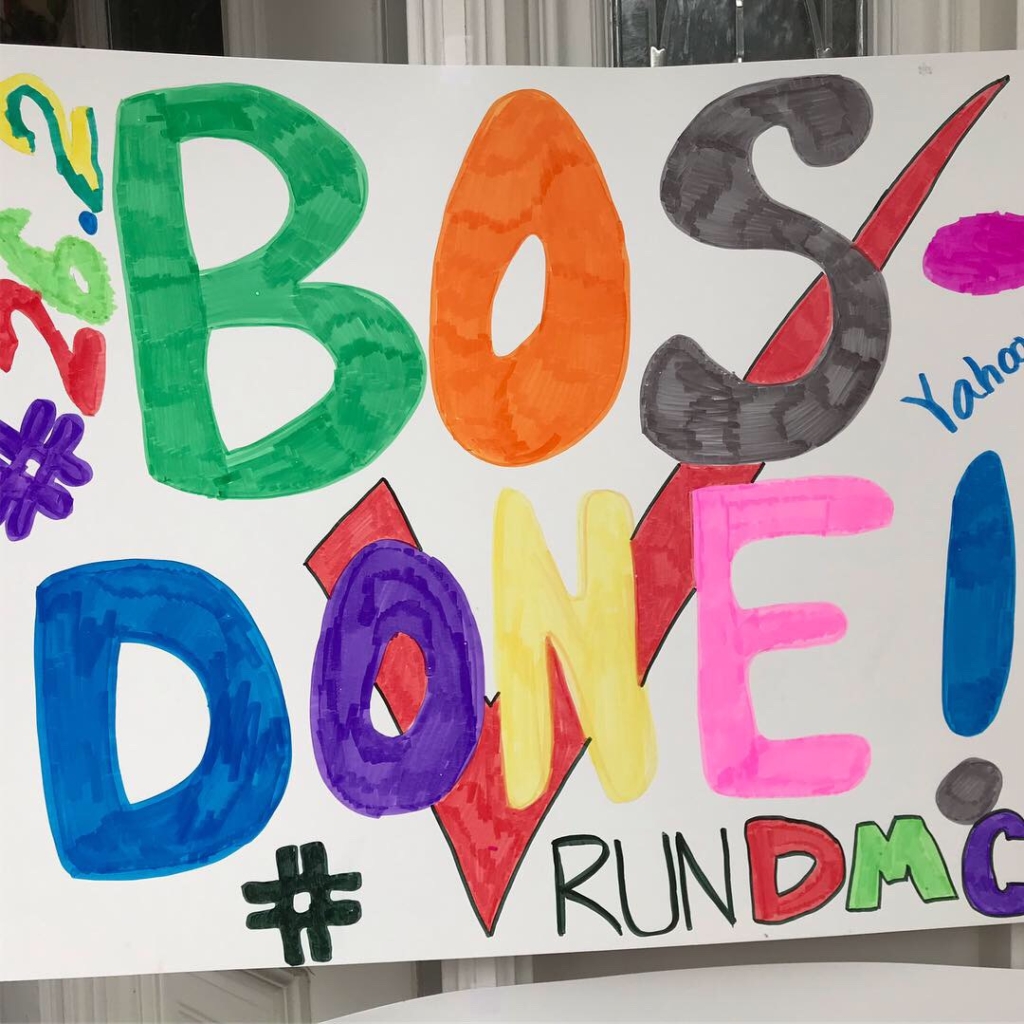 This clever signage was made by the best pit crew ever: my family at home.
Bos-Done!! 🙌🏻
So maybe this is the truth from Boston — the kind of truth we ought to settle into our bones, fan out to our communities, and practice in our families.
Unicorn Power is not just the months of training you put in or the deep drive you have to compete or accomplish something. It's the cumulative force for good around you that enables you to do what you do. An invisible connection between humans that lifts and fuels us across our finish lines. It's a spirit to spirit energy, not set aside for the few, the fast, and the fantastic. No. It's available to all of us. No matter how well we are running our race.
We have to be that Unicorn Power for others. Every single runner (or human) needs encouragement. Even if on the outside they appear to be in perfect stride, gliding along like nothing could go wrong. Look deeper. Look around. There is always someone who needs you. Someone who is hurting. Someone longing for a high five and a "you can do this!"
We can live our lives, but we cannot live them alone.
Not if we want to catch our dreams. Not if we want to hold onto the kind joy that lasts. Not if we want to live a meaningful and deliberate life.
Thank you for teaching me Boston.
Unicorn Power forever! 🦄 💫 ✌🏻