Easter Weekend was a lot of things. From festivities to milestones, here's a re-cap.
It was Egg Decorating.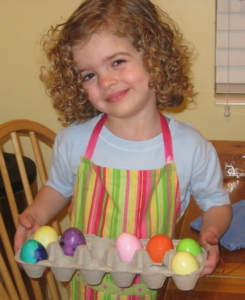 I'm coming to love this tradition. We only colored a dozen eggs but the girls could have painted all night long.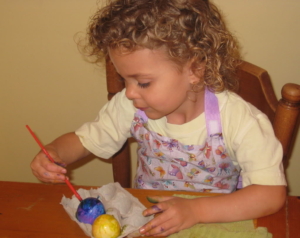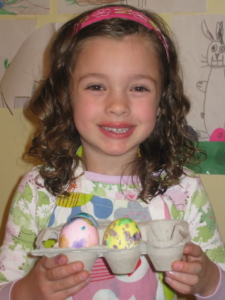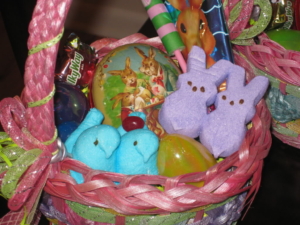 And Easter Baskets. I fell in love with these vintage nesting eggs from Williams-Sonoma. The girls had a great time hunting for their baskets.
Easter Weekend was
General Conference
for the LDS Church – which I always love. But I'm definitely going to have to return
here
for a listen – since I didn't get much out of it with all the coloring, crayon snatching, shouting, and BINGO games:
"Mom! Mom! He said scriptures! Can I get a candy?"
Yes. Mormons bribe their kids to watch Conference. We even contrive little games like
BINGO
to keep them interested (
click
for the version we found). It worked.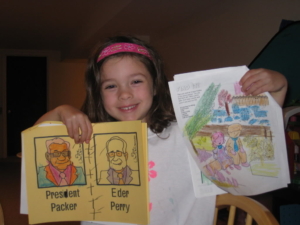 And then there were all the potty trips and snack requests.
But I did hear
Julie Beck's talk
about Mothers (after gluing my face to the screen and tuning out the extra noise). I heard every word. Loved it. And need to hear it again.
My favorite moment? When she quoted
Eliza R. Snow
(Mormon poetess 1804-1887):
"Women should be women and not babies that need petting and correction all the time. I know we like to be appreciated but if we do not get all the appreciation which we think is our due, what matters?"
Ka-Pow. Good stuff.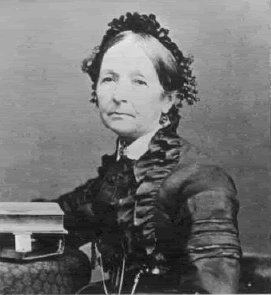 If you are wondering if our Eliza is named after this fine lady, the answer is YES!
Easter Weekend was Snowy (No
Easter Walk
this year. We'll have to try for next year!)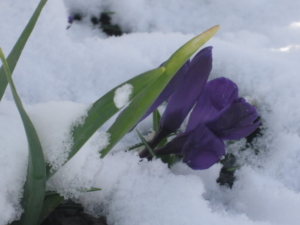 It was Spencer's First Crawl!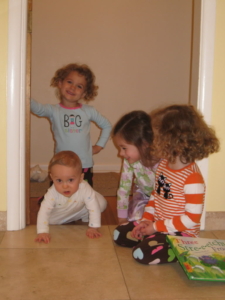 Look at his cheerleaders! I love how Eliza is grinning at him. I grabbed the camera when they told me he was headed for the kitchen and took this picture just as he rounded the corner.
We didn't get the actual "first crawl" on video. But here's a clip from a few days later.
It was also Spencer's First Wave (see above).
And Gordon's First "Blubber Lip" (anyone know what else to call this?)
Still holding out for his first crawl, but hey! A blubber's a milestone too, right?
Easter Weekend was Family.
Family dinner and Easter Egg hunt with the cousins on my side.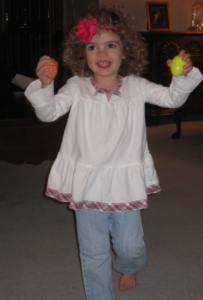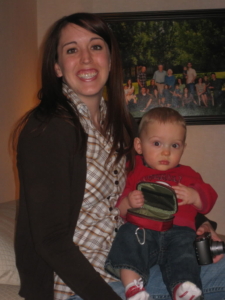 Here is my Sister Sarah holding Gordon.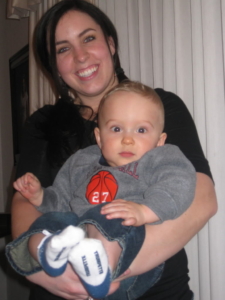 And Rachel holding Spence.
(It's actually great that my littlest sisters don't have children of their own right now… because I always seem to need their help. Someday I will hold their babies while my kids get plates of food for themselves!)
Finally. This Easter was about Service.
One day my Aunt Leslie and her daughter Mary called to see if they could take the girls up to
Deseret Village
for an Easter Egg hunt. The boys had a cold and were fussy so I needed to stay home with them. But when Leslie arrived and discovered them peacefully napping she said, "Get your coat. You're going with your girls. Mary will go with you!"
I burst into a sob. It was the end of a long week. I didn't even know I needed to get out until she said it and I caved. I whimpered half of the way there telling Mary how great her Mom was – how thankful I felt.
We were too late for the Easter Egg hunt and we missed the train ride. But we entered a coloring contest, got some candy, and saw the Easter Bunny. The girls had a great time.
I came home to folded laundry, a clean kitchen, toys picked up, and two happy boys who had lots of love from an amazing Auntie. I love you Leslie. Thank you.
And Mary – love you too!
It was a good weekend.
Today, the last few patches of snow melted, the sun rose big over the mountain and spilled across the breakfast table, welcome. All around us I could feel the excitement of Spring working its way into the corners of the earth, lightening my soul, pulling our feet outside.
I think we're ready. Yes, definitely ready.
How about you?