A slivered moon drifts in the sky.
Another glorious day gone by.
You're nearly there, almost asleep.
Rest your head, a vigil we'll keep.
Smoothing your hair, I stroke your brow
I can't believe it's here. Somehow
I must find the words to say goodbye
But nothing comes. I only cry.
I say I love you, squeeze your hand,
Kiss your forehead then stroke it again.
This love you sang of – a very light thing?
Whispy-white smoke and dragon fly wings.
Twirling and twirling, curling around.
Whispering by without a sound?
Well, it's heavy tonight upon my breast.
I hear it pounding in my chest.
But I can feel the others waiting
Wiping tears and celebrating.
They're ready for you. Dearest, you can go.
Close your eyes. I love you so.
It's time to sleep. The morning's nigh.
We'll sing again. Where there are no goodbyes.
Dorothy Clark Kimball Keddington Dyer
February 16, 1915 – April 13, 2010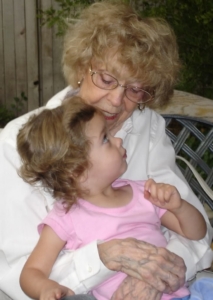 My sweet Grandma passed away Tuesday morning, 12:50 AM. I will link to her obituary when it runs. She was elegant, talented, witty, and wonderful in every way. A soloist, actor, pianist, painter, teacher, revered mother, and beloved Grandmother. She was admired by all. And the truest friend to me.
I love this picture of her with Eliza (Age 2). Her long slender fingers, holding, always nurturing and always teaching.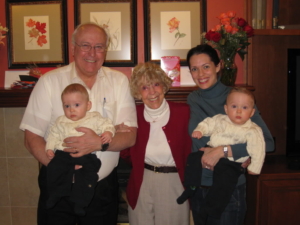 FOUR Generations linked. Arm in Arm. My Dad with Gordon, Grandma, and me with Spencer.
This is the last picture I had taken with Grandma (Age 95). February 2010.