Summer is officially gone. The Fall equinox brought rain, sweatshirts, and the most glorious color spilling itself across the Wasatch Mountains. I will write about it soon, but for today, one last glance over the shoulder, at summer.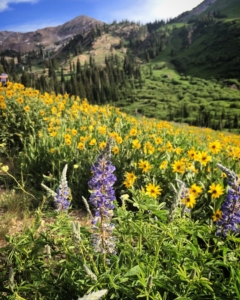 Living in Utah means mountains. Every season. And for so many reasons. For exercise, for family time, for gathering in groups, for nature, for cook-outs, for adventure.
I love our mountain home.
Albion Basin dazzled us with her wildflowers, per her usual style.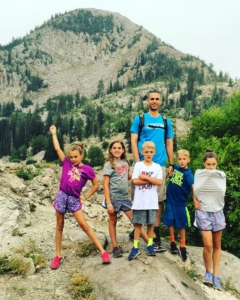 We did a Friday night hike on as many Fridays as we could. Sometimes everyone was game. Sometimes not. I'll let you decipher that from the photos.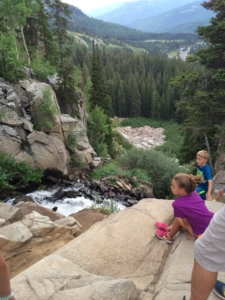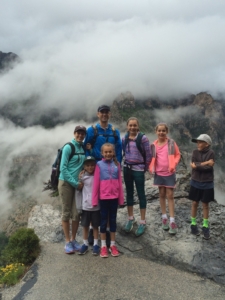 We hiked up to Timpanogos Cave on a rainy, cloudy day.
Rainy hikes are chilly, but they always make for the prettiest scenery. The clouds were magical, wispy, floating over and around us.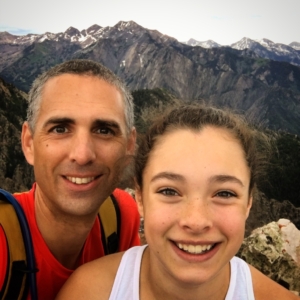 Doug and Eliza summited Mt. Olympus again. 9,026 feet.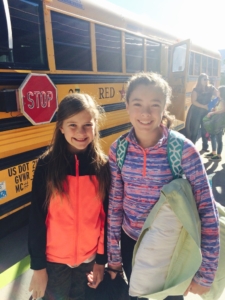 Eliza had her first big "stay away from home." She and Katherine went to Mill Hollow. A three-day Summer Camp for 4th-6th graders.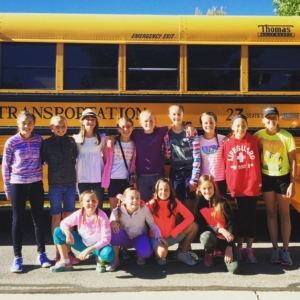 Darling group of girls they bunked with. And she didn't miss us a bit. 🙁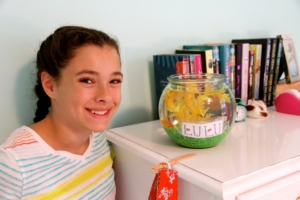 Summer Piano Camp yielded a goldfish for each of the girls. This small gift from their teacher, Miss Betsy, absolutely made their summer.
I guess salamanders for half a summer didn't fulfill their pet need. Darn.
Eliza named her fish LuLu.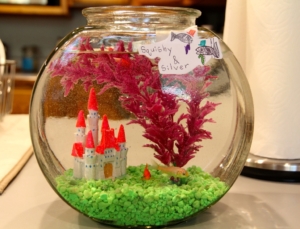 Sami and Ali named theirs Squishy and Silver.
"I shall call him Squishy. And he will be mine. And he shall be my Squishy." (We said that a lot.)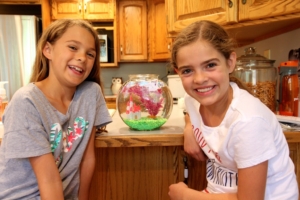 I know goldfish are supposed to live in a tank with a filter system and all that jazz, but honestly, I wasn't convinced they'd survive that long. Guess what tho? They are still alive. And thriving. Sami takes good care of them. And we've added a few new friends. At the Country Fair a few weeks ago, the kids came home with three new goldies. Now it's a goldfish party in our kitchen!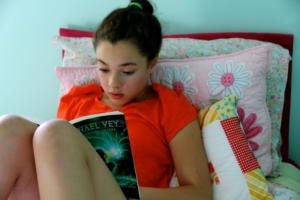 Summer also meant books. Lots of books.
Eliza plowed through the Michael Vey series in a matter of weeks. She is proud to call herself a "Veyniac" and couldn't wait to order the 6th book that came out end of September.
I listened to the first book, to get a feel for the story, and while it's not fabulous writing, it's a gripping story. Clean. And kids her age are devouring Evans' books.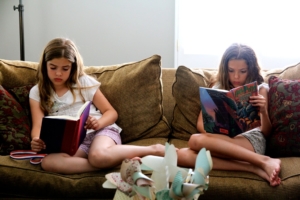 Ali and Sami made their way through much of the Harry Potter series this summer. Sami even started reading the first book aloud to the boys.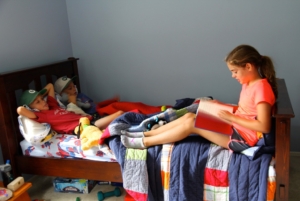 I think the girls have two books left.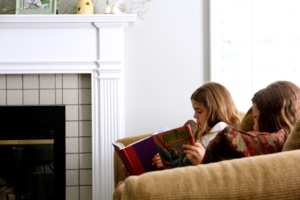 Other books we have been enjoying for read-aloud, or young/pre-teen readers: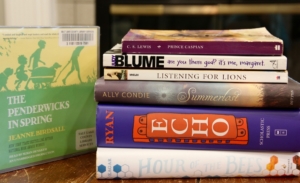 Narnia Series (Yes, still reading these aloud. We finished Prince Caspian and oh, we had the most powerful experience reading The Horse and His Boy.)
Little House Series (Still reading these aloud too. We finally made it to Little Town on the Prairie.)
Echo by Pam Ryan. Newberry Honor book. Fantasy, magical, incredible weaving of stories.
Hour of the Bees by Lindsay Eager. Tender story about a girl coming to know and understand her grandfather.
Listening for Lions by Gloria Whelan. Looooved this book about the strength of the human spirit, compassion, dreams, all while learning about Africa.
Summerlost by Ally Condie. When it comes to YA fiction, Ally Condie is one of the best authors out there. She is simply a great writer. I love her prose.

Are You There God? It's Me Margaret by Judy Blume. Remember this one? From when we were young? I have been reading this with Eliza as she is "coming of age," and navigating all the awkward self-awareness that goes with this part of growing up. We have laughed and laughed and laughed together. It's so good to laugh about things we sometimes take too seriously. Highly recommend this for pre-teen girls.
Penderwicks Series by Jeanne Birdsall. We finished the last one this summer. And sigh… I love, love, love those Penderwick girls. Each book gets better and better. It's like Little Women in modern times but without the technology and unsavory issues of our day. Pure joy. Even our boys have loved these reads. I wish Birdsall would write more.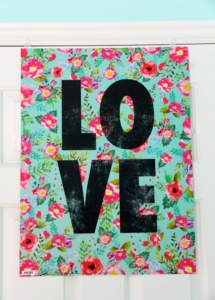 We did a lot of talking about Love this summer. What would love do now? What does it mean to have charity? To not be easily provoked? To not be puffed up? It's an ongoing conversation at our house.
Sometimes I worry, when these kids are about to kill each other, that they'll grow up and never be friends. But I'm holding out for love. I pray, that in the end, that is what they'll feel and remember and see, when they look back.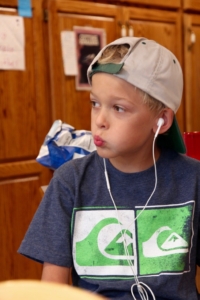 Spencer makes me laugh. He likes "borrowing" Doug's iPod and plugging in.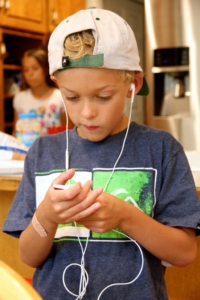 He listens to his favorite. Boston.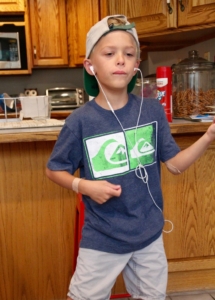 And plays air guitar around the house.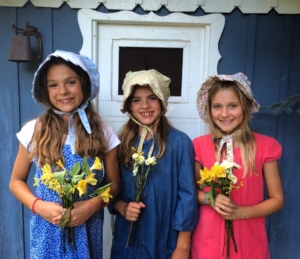 One afternoon in July, these girls wanted to play "Pioneer." Perfect, as we were about to celebrate Pioneer Day.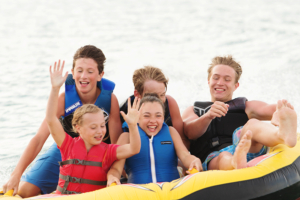 Eliza went with the wonderful Lehnardts to Lake Powell. Such a fun trip for her! And so kind of them to invite her along. Go to Lake Powell once and you're hooked. She's hooked.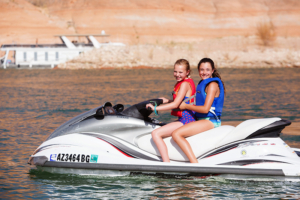 Love these two girls.
At the end of the trip, a sweet lady bought Eliza a t-shirt she wanted at the marina. Eliza was a few dollars short and as she started to walk away, this generous lady said, "Oh, I love that shirt. But they didn't have one in my size. Let me buy it for you!" And she did. Don't you love nice people?
Hop over to Michelle's blog for the rest of her Lake Powell pics.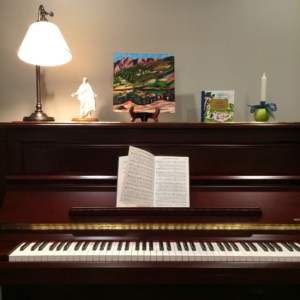 Our new piano has been such joy. It feels like we added another sibling to our family. It brings us together, sends a sound of happiness out into our home. Everyone likes to gather in the piano room.
One quiet Sunday evening, Doug was outside with all the kids and dishes were done, so I just sat at the piano and played. Hymn after hymn after hymn. And I sang. Something I haven't done in so long. It made me happy.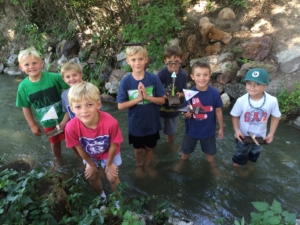 There was lots of wading in the canal. One afternoon I got out old wood, hammers, and nails, and made boats with these cute little sailors.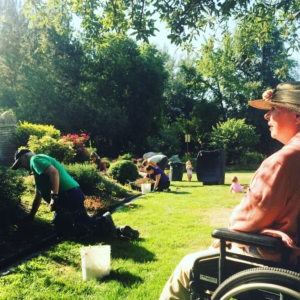 We had a family work day in my parents' yard. My Mom watched from her throne, Queen of the Garden, and gave us instructions.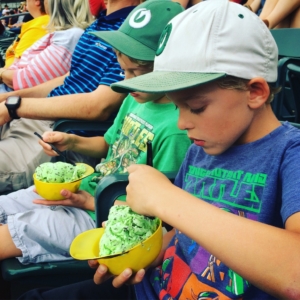 We took the boys to a Bees baseball game. They had been asking for "ice cream in a hat" for weeks. Dream come true.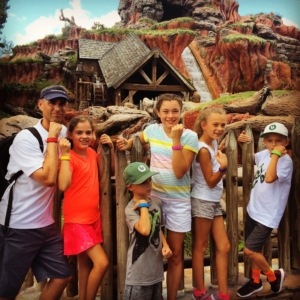 And our last hurrah of Summer was a trip to Disney World. Right before school started. "Magic Band Power!"
Doug was already there for work, so we flew out a few days later and spent the week together in the parks. We did this last summer as well.
Unless you're a die-hard Disney fan, I wouldn't recommend two summers in a row. Man, were we exhausted after seven days.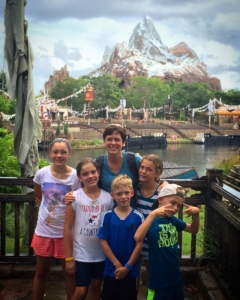 We road the Yeti ride five times in a row. Until my head hurt. Definitely a favorite!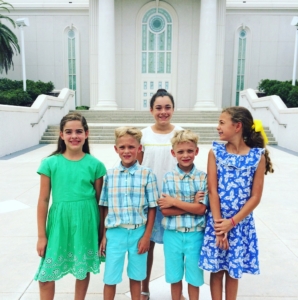 We walked around the Orlando Temple after church on Sunday.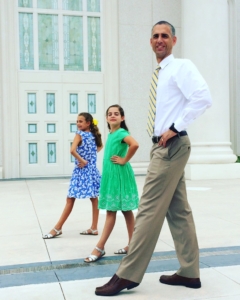 Handsome lineup.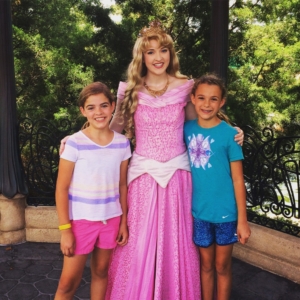 There was no line at the French Pavillion to see Sleeping Beauty, so we stopped for a visit. She was lovely.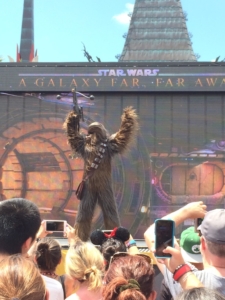 We loved all the Star Wars hoopla. Two shows with an army of storm-troopers, all the characters, even BB8. The boys were out of their minds excited!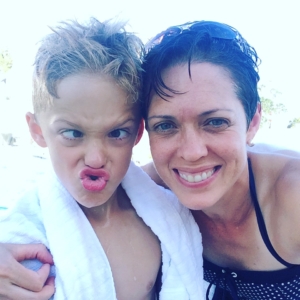 We survived the sweltering afternoons by heading back to the hotel for a swim. Goofy Spence.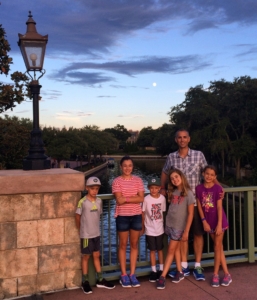 The moon was large and full one night. So gorgeous.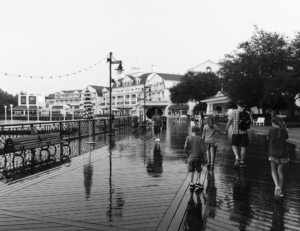 And there was rain. But we didn't mind.
Rainshine on the boardwalk. Kinda beautiful.
My friend, Saydi, always talks about the "glistening whole." How in the middle of family trips and travels, or just trying to live out life in a busy home, there are hard moments, awful moments, ones we wish could slip out of memory. But in the end, if there is enough love, what rises to the surface, will be an experience that glistens.
I love that.
I count on that.