I love Summer mornings. I open the shutters and light spills into the kitchen, wild and boisterous. Most days I've already been out on a run and done the watering. No one else is up yet (except Eliza who was dropped off at the pool at 6AM) and I have a little pocket of time that's all mine.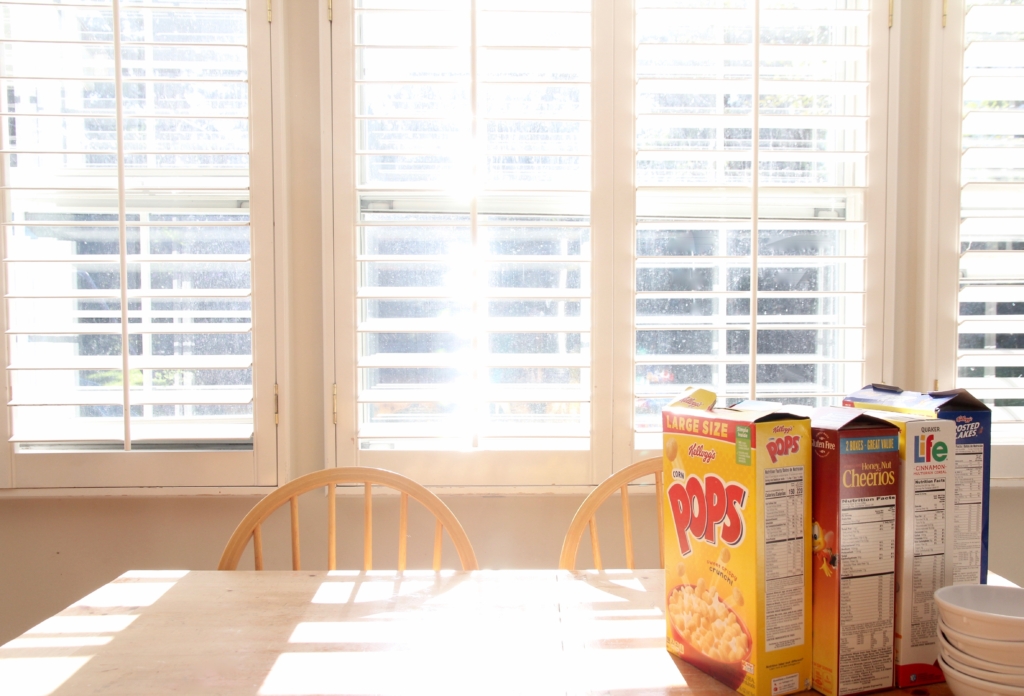 The sun rising over the mountain feels loud and large, but the house is still quiet. I organize myself, read scripture for a few minutes, and eat breakfast outside under the big elm.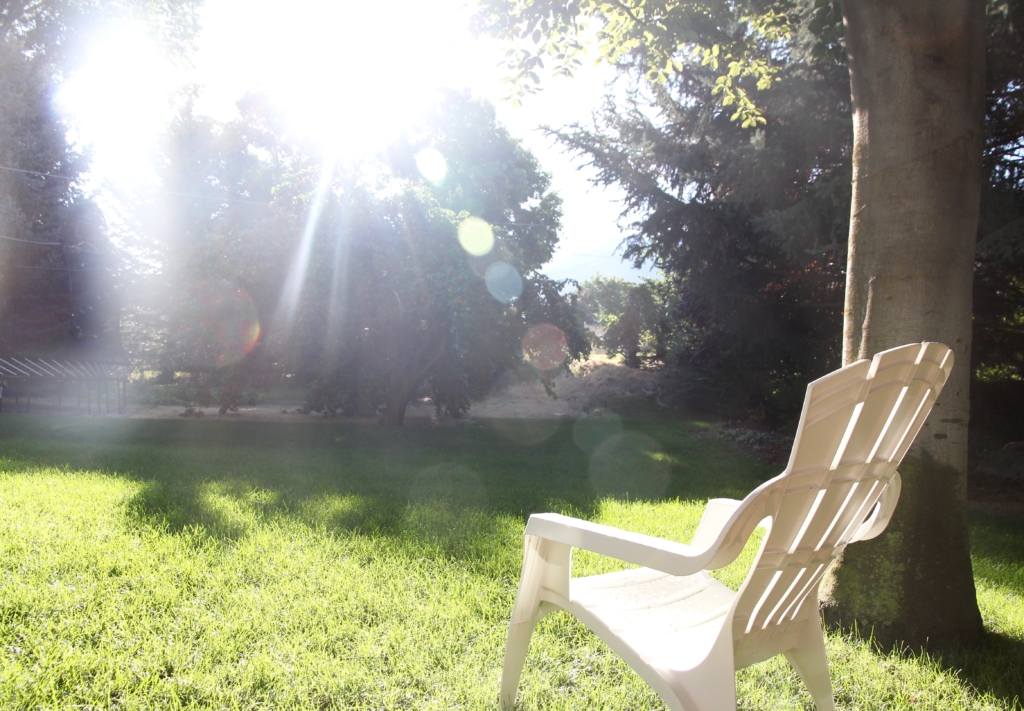 Then it's time to rouse all four tween-twins and the day begins. This summer I've spent more time in the car driving children to various activities than ever before. While they have slimmed down their activities, those interests have intensified, become a little more competitive or involved, and it's got me seriously hopping. This summer has felt busier than any other and I'm mourning those chill summer days at home.
Our bodies are only allotted so much energy in a day, right? I find mine is best utilized in the morning. By evening, I'm happy to collapse onto the couch to watch a movie with the kids, or let them play outside until it's pitch black then corral them into bed so I can follow suit.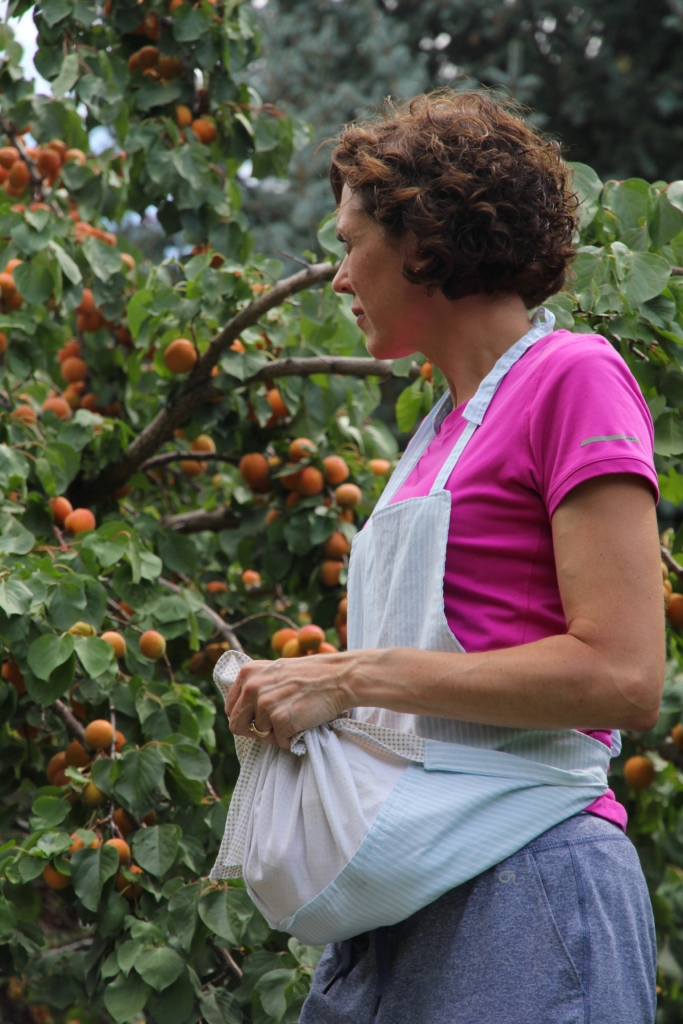 It's apricot week at our house and man. . . we had a super crop this year!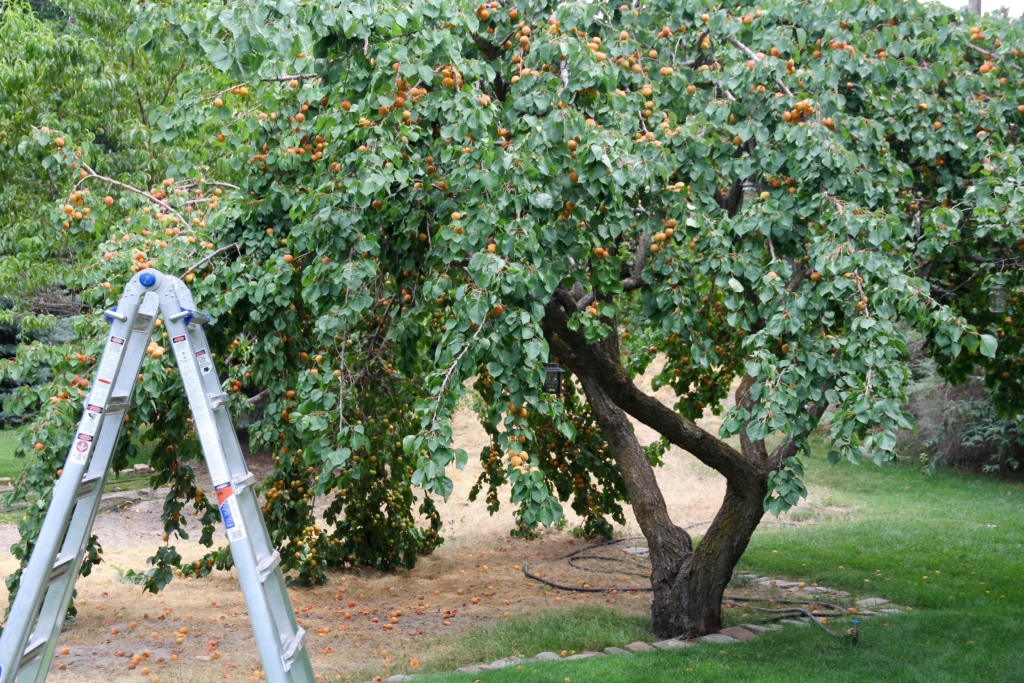 The branches runneth over. Literally. They are touching the ground they're so heavy with fruit. We should have pruned more but I couldn't reach the top of the tree very well.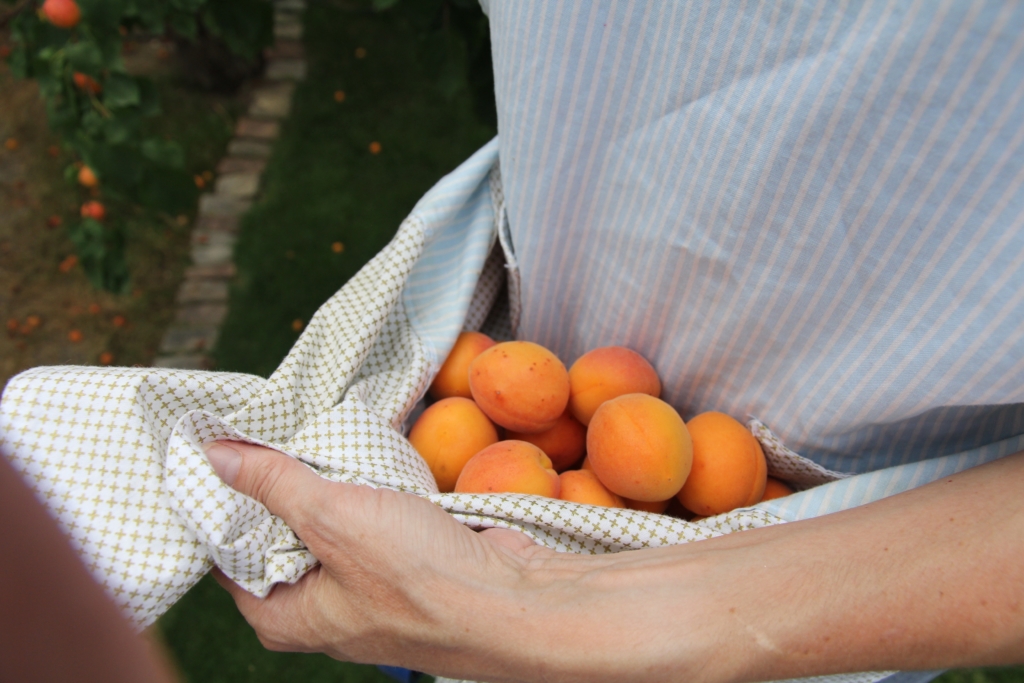 Every day we take turns on the ladder, pick, fill, cut, pit, blend, and use up.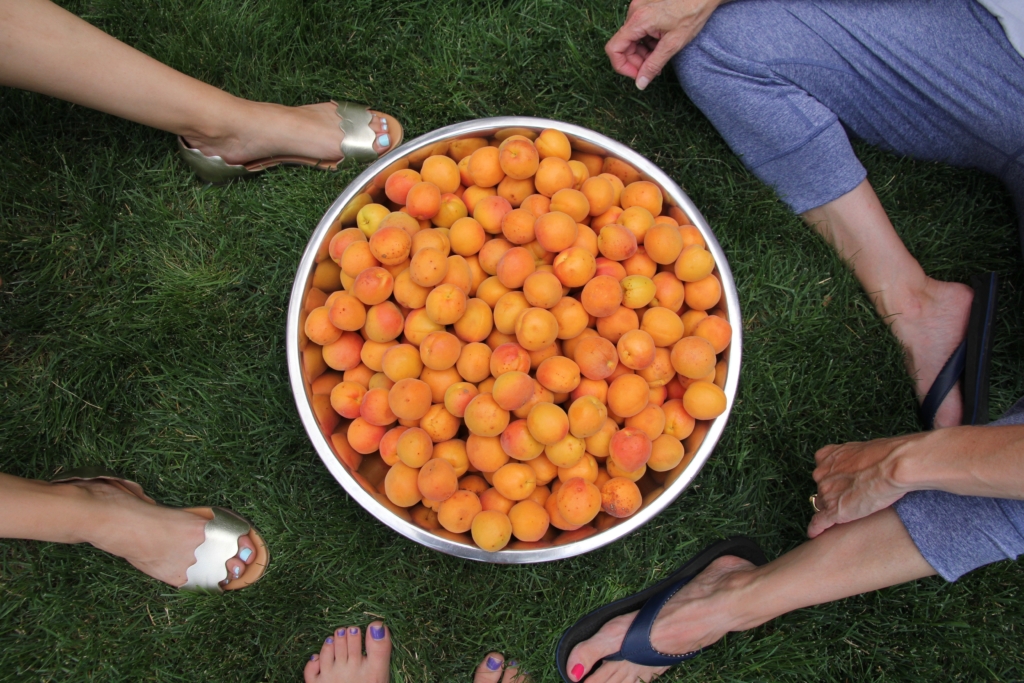 We've been giving apricots away by the bushel! If you live local and you want some, pleeeeeeeease bring a bag or bowl and come pick! Ladder is out!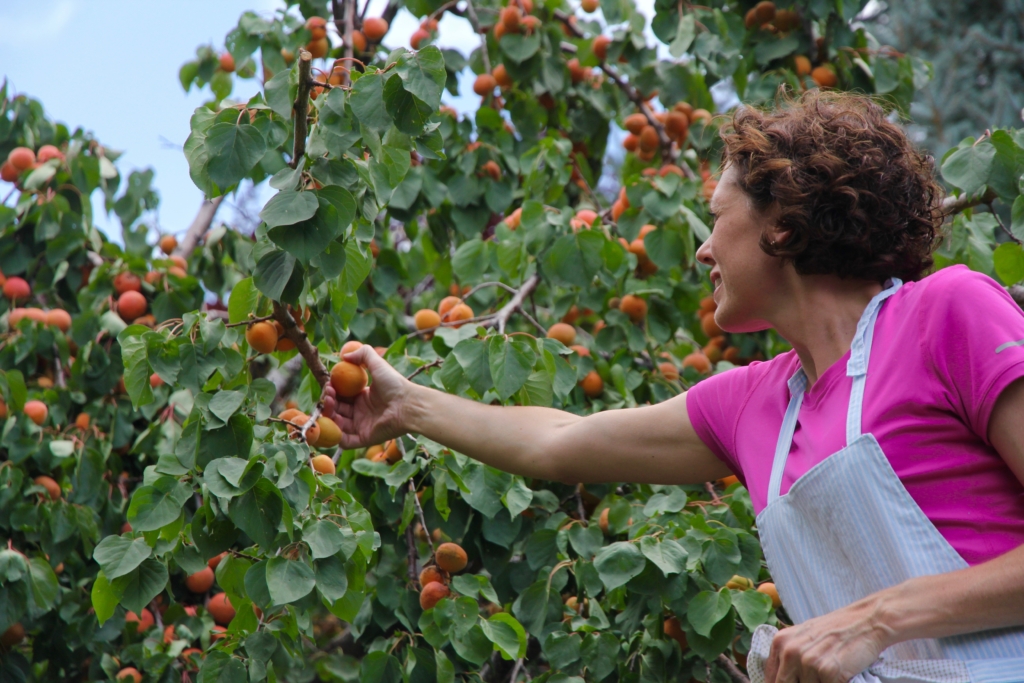 And if you are apricotting too, 🍑 here are our favorite recipes.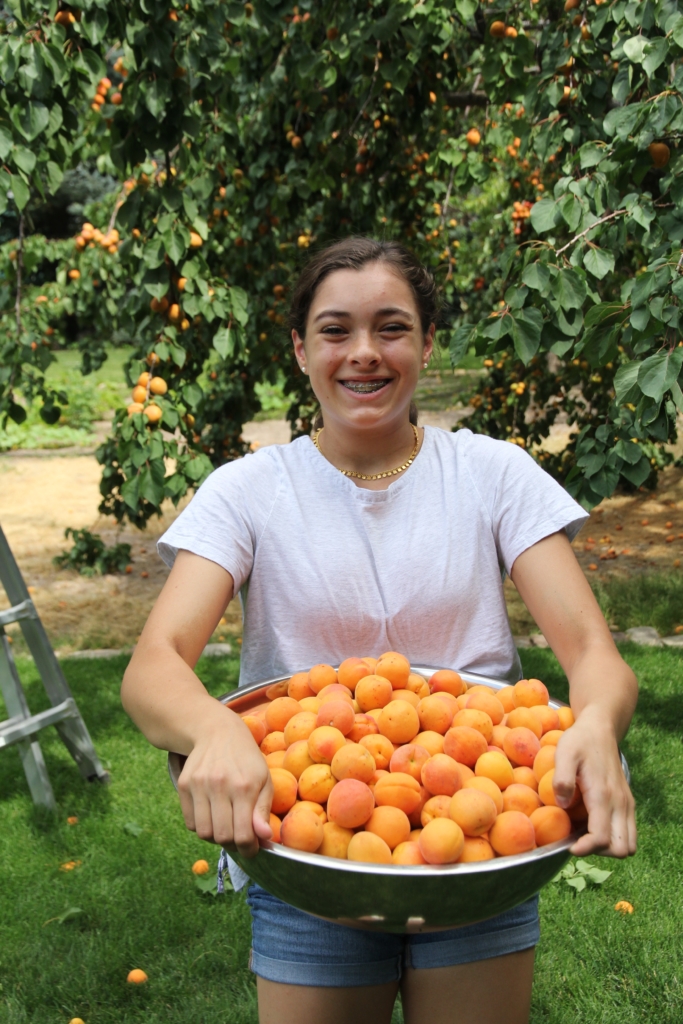 Truth be told, by August, some of my summer get-up and go has got up and gone. I'm running out of patience refereeing kid-warfare and I find myself checking the calendar to count how many days until school starts.
So here are a few tips I've put together that made summer more manageable for us. Funny thing: I started this post at the beginning of summer and the title was, "Summer Survival Tips." But it took me so long to write I had to change the title to "End of Summer Survival Tips." Some of you friends in Arizona are already returning to school! But, oh well! You know me; better late than never!
Now, let me be clear: I LOVE long summer days. There's nothing like Utah summer evenings and wide open afternoons to make our own plans, but I ain't gonna lie, summer can be exhausting! So maybe these helps will make the final stretch more enjoyable.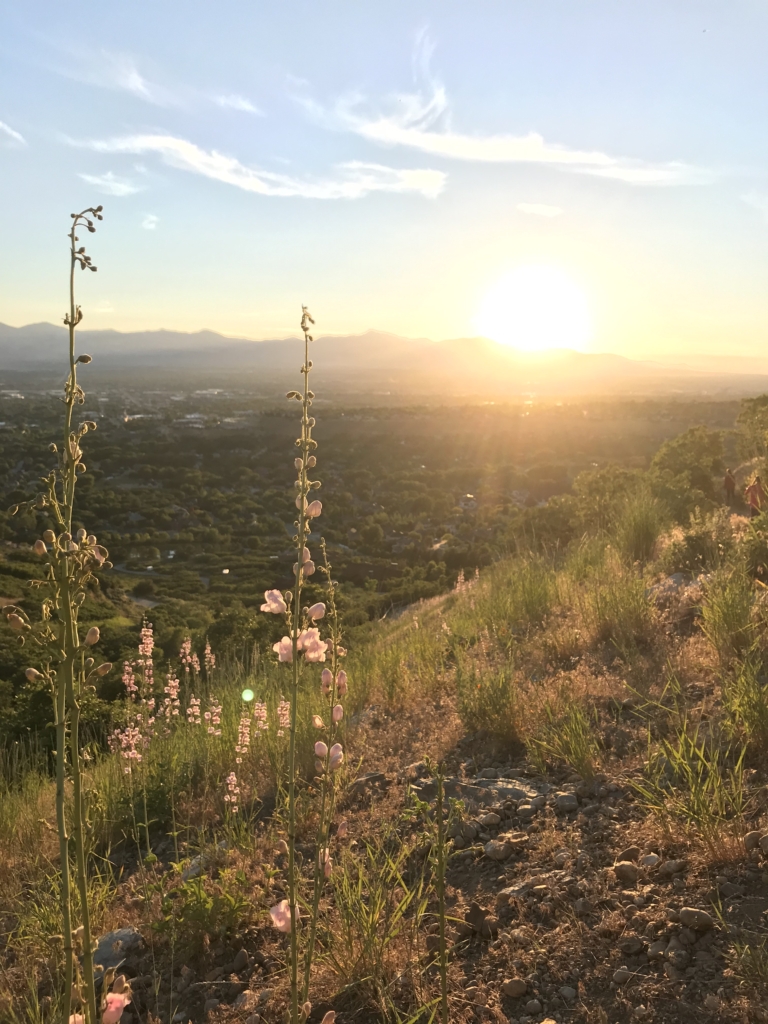 Make Dinner Easy!
You know that sinking feeling at 6PM when you have no idea what you're going to make for dinner? Or you suddenly have zero energy to make the meal you'd planned because it will take another hour to get it on the table? (And the thought of going to Subway makes your stomach churn?)
Well, this summer I purchased and downloaded Our Best Bites Simplified Summer meals. Worth every penny! All the meals we've made have been delish! And none of them require an oven. They're fast and yummy. Shopping lists are provided in the download, along with a host of 50 fun things for kids to make or do. Check it out here.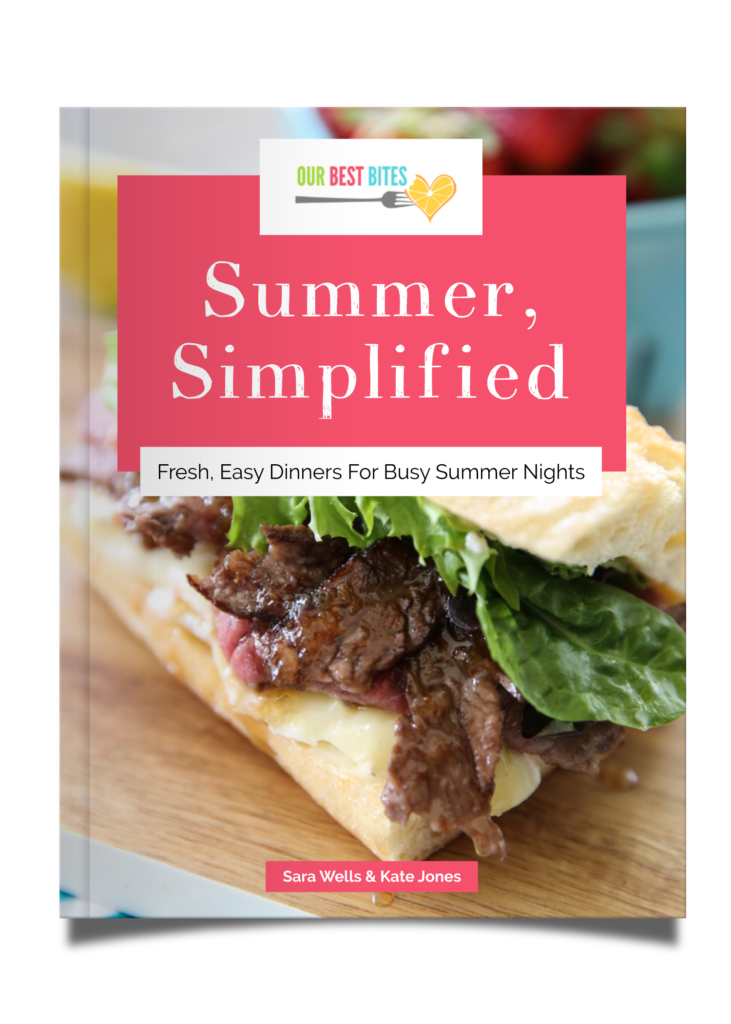 Sami printed all the recipes and put them in a binder so we can pull it out next summer.
Use Your Gift Cards!
Another way to make meals easy is to dig out those gift cards you may have forgotten about.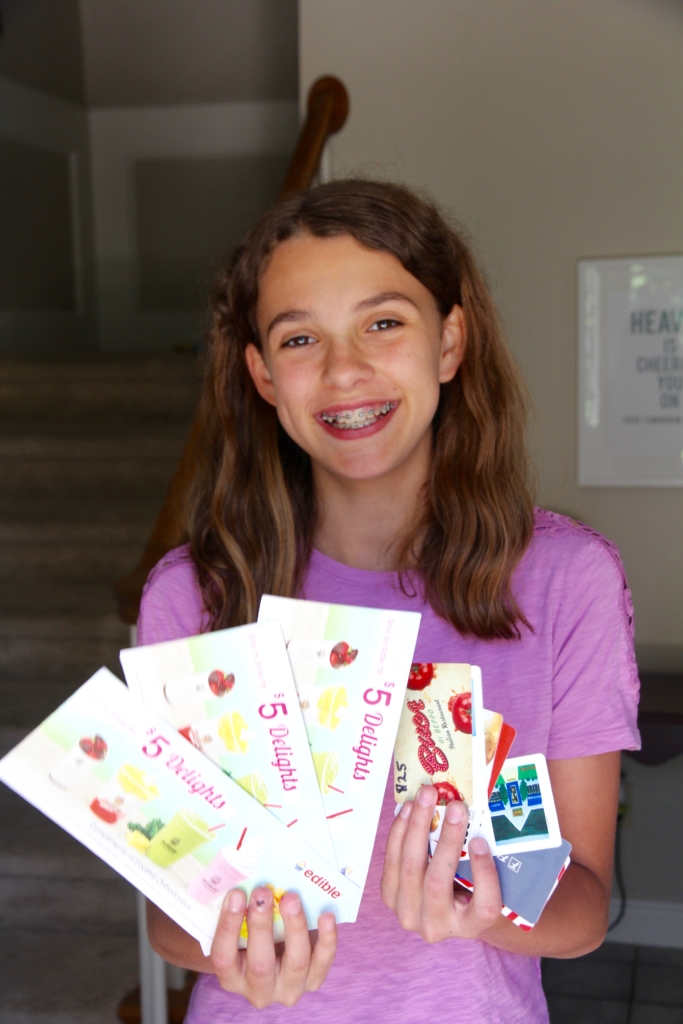 I keep a bunch of gift cards in an envelope in my purse. I usually think about them after I've purchased something at a given store/food place where I could have used them. Plan a meal to utilize your gift cards. We had a bunch of $5 McDonald's cards, so we grabbed lunch at the Golden Arches one day and ate it at the park.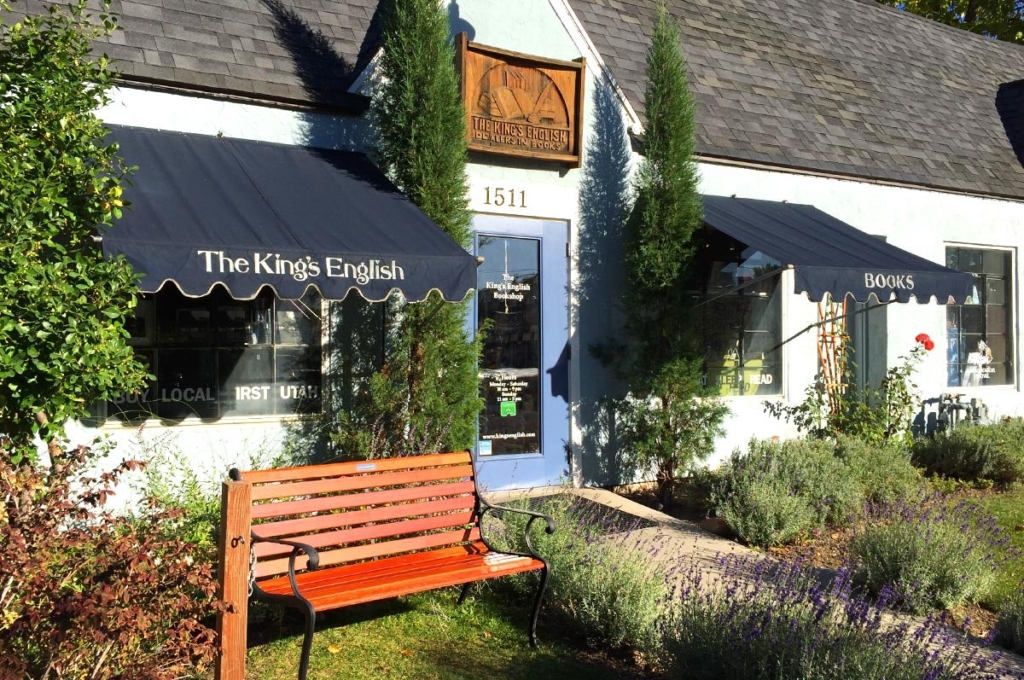 We also took some gift cards we'd received to our favorite book store, King's English Bookshop, and bought new books for everyone to read on our summer road trip. (If you live local, this little shop is the best in town. They are experts at helping you find the right book.)
We made a special trip to Menchie's for frozen yogurt, and Roxberry for smoothies. Slowly using up our gift cards.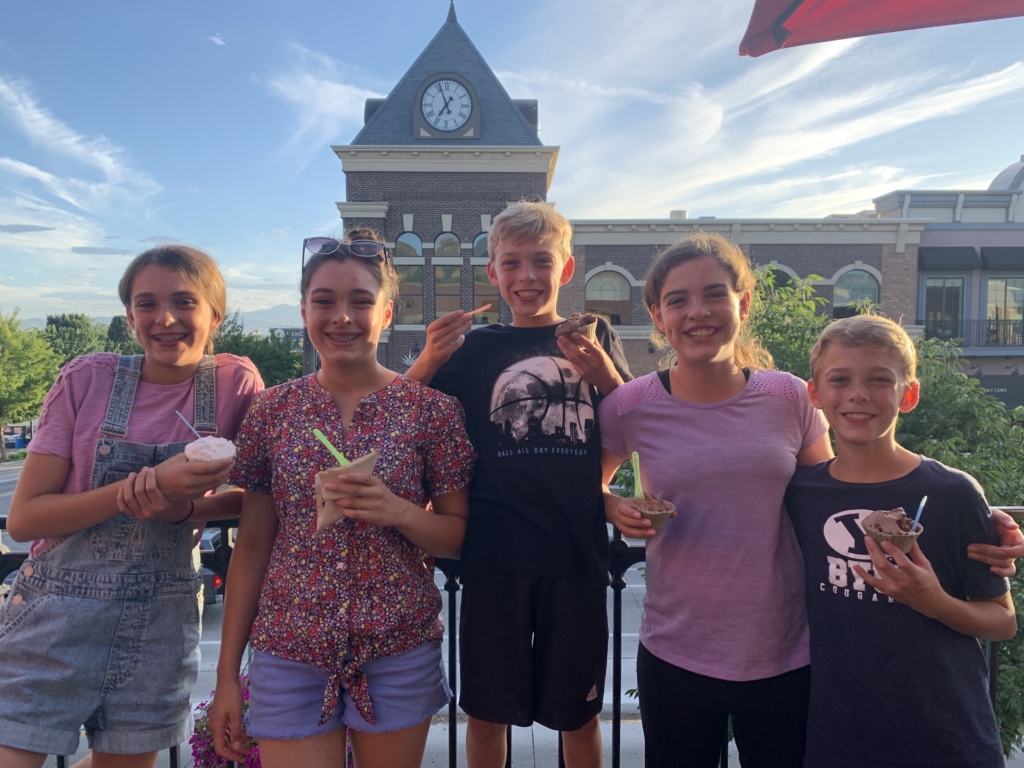 Make a "When You're Bored" List
This idea comes from my awesome Virginia friend, Michelle. I took her list and then added a bunch of my own ideas to it. Post this (or your own list) in the kitchen where kids can find it. Michelle titled hers, "Looking for something to do? LOOK HERE!" 👀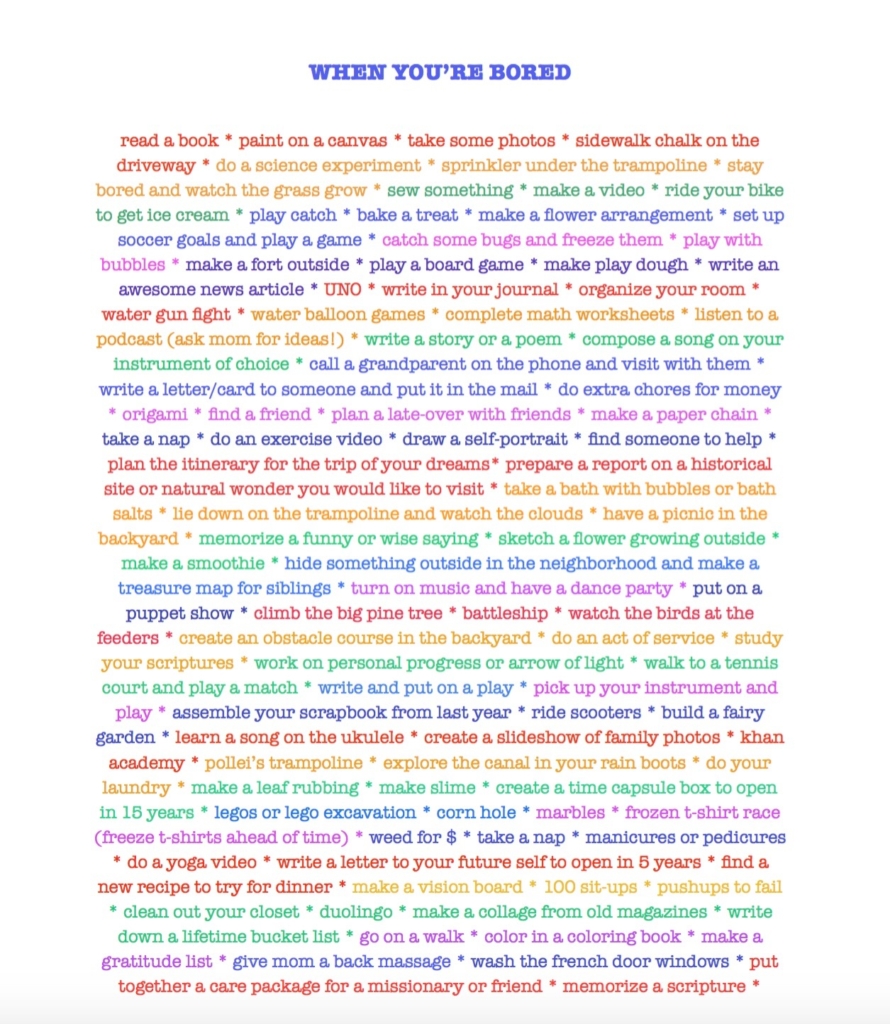 You can print ours if you'd like! When You're Bored — printable here
"Restaurant" at Home
We've been doing this since the girls were old enough to set the table. Sometimes, like a tiny flash of inspiration, I remember how fun it is and I call out, "Who wants to take lunch orders?" Pretty quick a waiter/waitress (or two) jump up to help. Someone offers to set the table in a fun way. And others offer to help me as "chefs." The older girls like it even more now, because they're more skilled in throwing a special lunch together.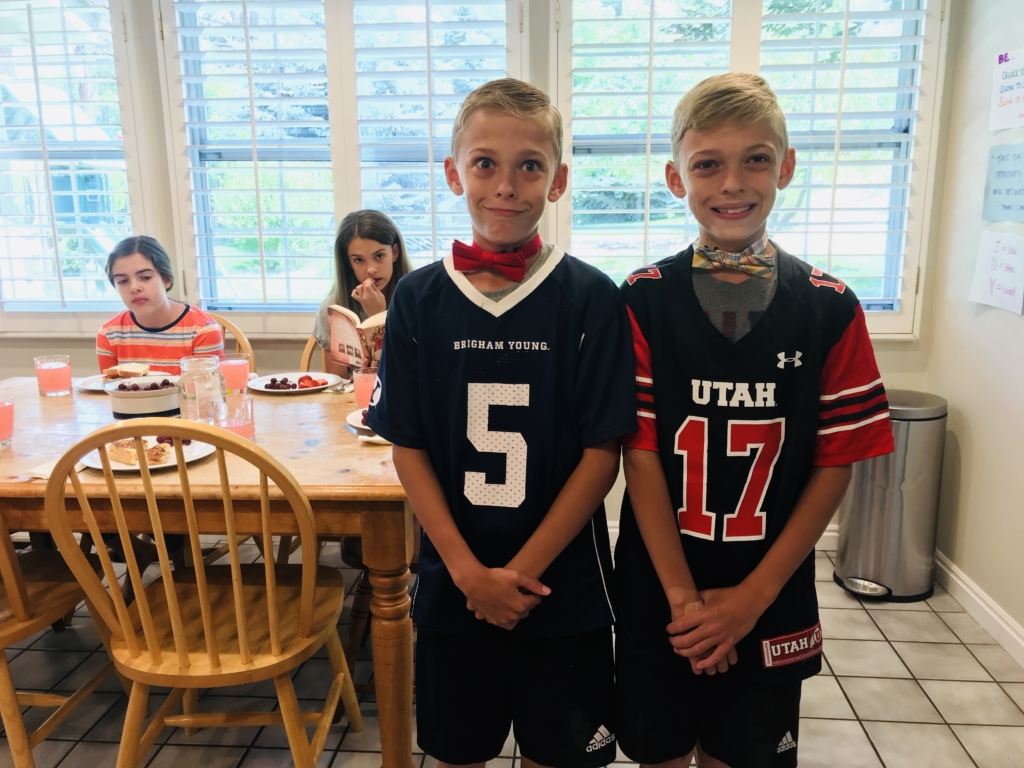 A few weeks ago, Spencer and Gordon led the affair. They made an "open/closed" sign for patrons. The girls set the table. And the boys happily played maitre d'chateau arvy and serveur.
It's fun to make the plates pretty, create fancy name placards, throw together a special drink or treat to complement the meal. Just an easy way to get everyone involved, ensure you eat a meal together, and have fun doing it.
Khan Academy /Favorite Math Worksheets
I'm kinda throwing in the towel at this point when it comes to keeping skills sharp. But if you've still got some gusto, these have been our "go to"s for staying up on math skills.
1 – Set up an account for each of your kids on khan academy.org. They can manage their account themselves, but if you include your email, Khan will send you an email each week about their progress. You can start them on their grade level, or the year before for refresher work, then let them advance at their own pace. Sal Khan's video tutorials are genius. He's an exceptional instructor, and they can watch all the videos as often as they need to master a concept.
2 – Our friends, Michelle and Erik Lehnardt, launched a new website and podcast this year: Build Your Teenager. It's absolutely AWESOME. They attended classes at the Life Coach School and have started helping other parents build, love, and lift their teens.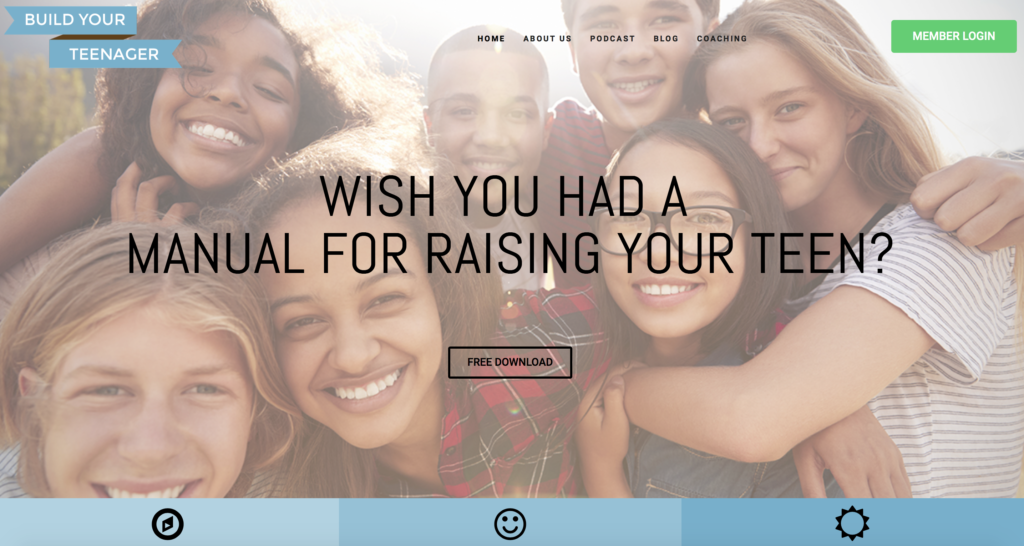 In one of their pre-summer podcasts they talked about Erik's math worksheets. As long as I've known the Lehnardts (over ten years now), those kids have been busting through Erik's math sheets. Erik and Michelle discovered that kids who have a fail-proof mastery of multiplication facts up through 15 do much better in math, because they don't have to hesitate when computing and they can spend more time understanding the concept rather than computing and double checking their facts.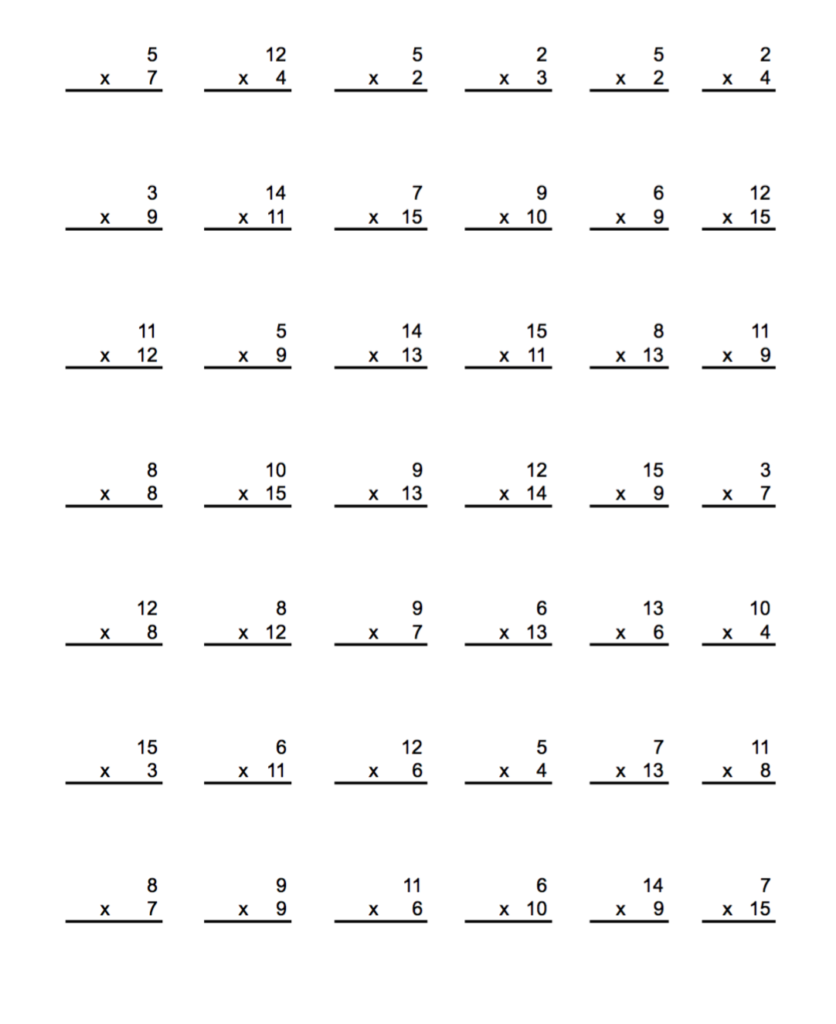 You can find their math worksheets here.
While you're at it, check out their new site! Add their podcast to your listening queue. Proof is in the pudding when it comes to their amazing kids and family. If you've been reading a while, you know I adore Michelle and her family. She is dear to me, but even if she wasn't, I'd want to tell you about what they have to share.
With both of these math helps, I offer my kids a monetary reward: 25 cents per math sheet. And $1 for every half hour on Khan. Whatever works, right?
Opt Outside!
If you're wondering what to do, opt outside! Everyone in our family is happier when we're out adventuring or exploring. Bickering, chaos, mess, and boredom are just part of the crazy called summer. But sometimes when it gets bad, I realize we all need a change of venue. And if I have the bandwidth, I try to get everyone out into the big wide world.
Mother nature helps us forget ourselves. She helps us discover things that are bigger and more important than our little disagreements — our mole-hills turned into mountains. She connects us with the Divine, outside and within. And she connects us with each other.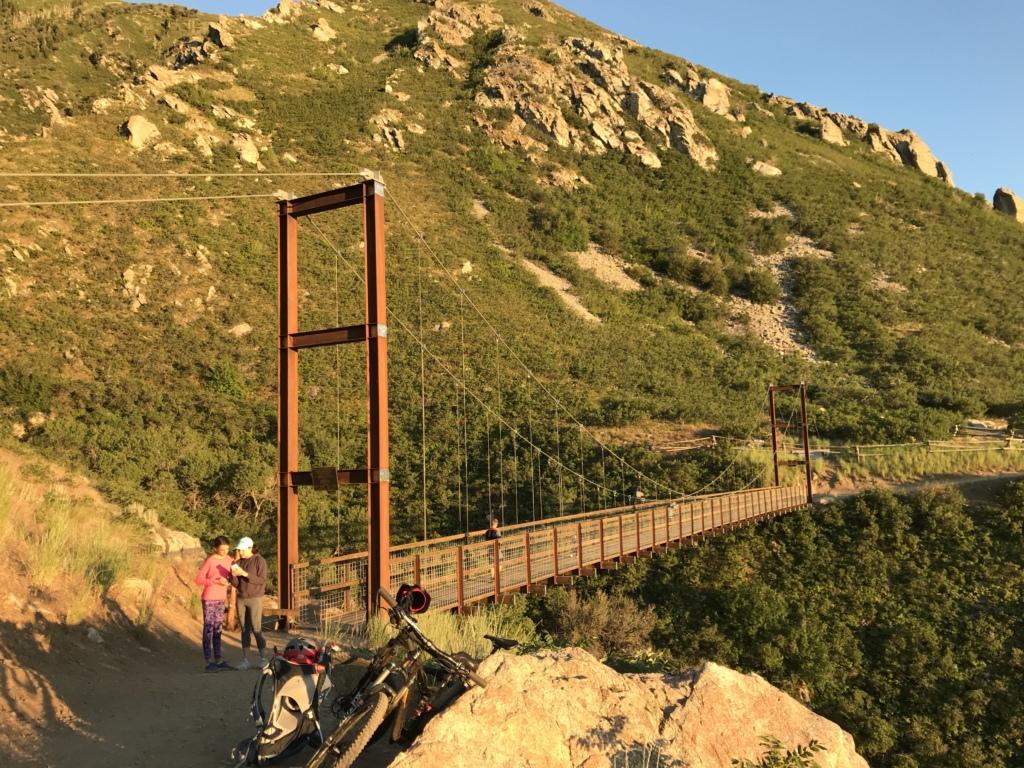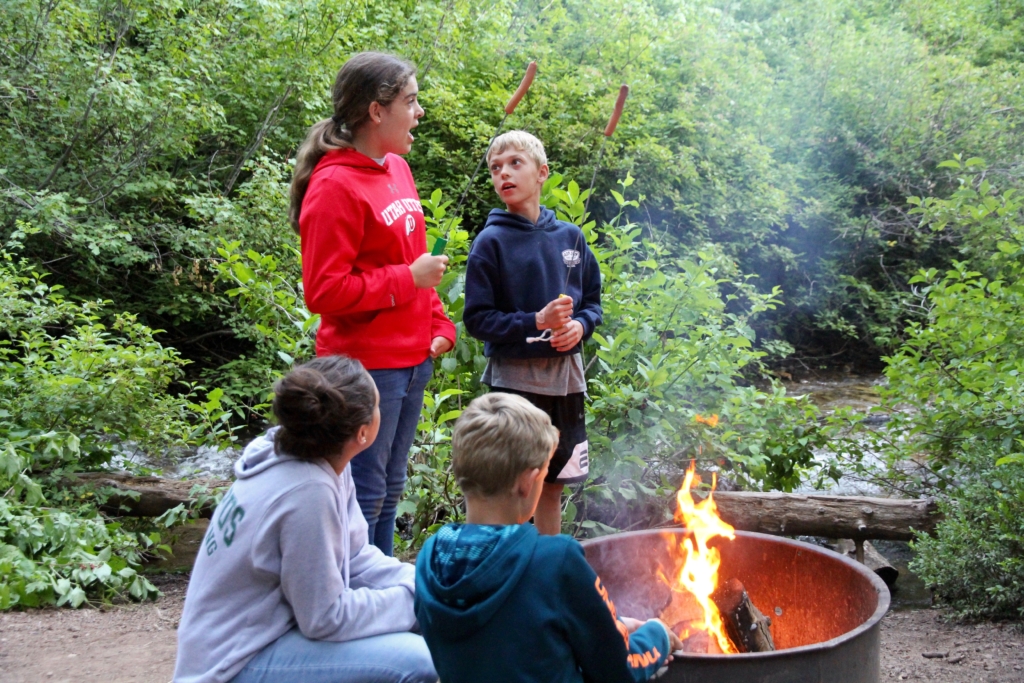 So if your indians are restless and warring, get outside. Find some wide open space. Head for the hills, find a trail, pick wildflowers, wade in a stream, roast s'mores, take a bike ride, conquer a peak, find treasures on the beach, or just take a walk around your neighborhood.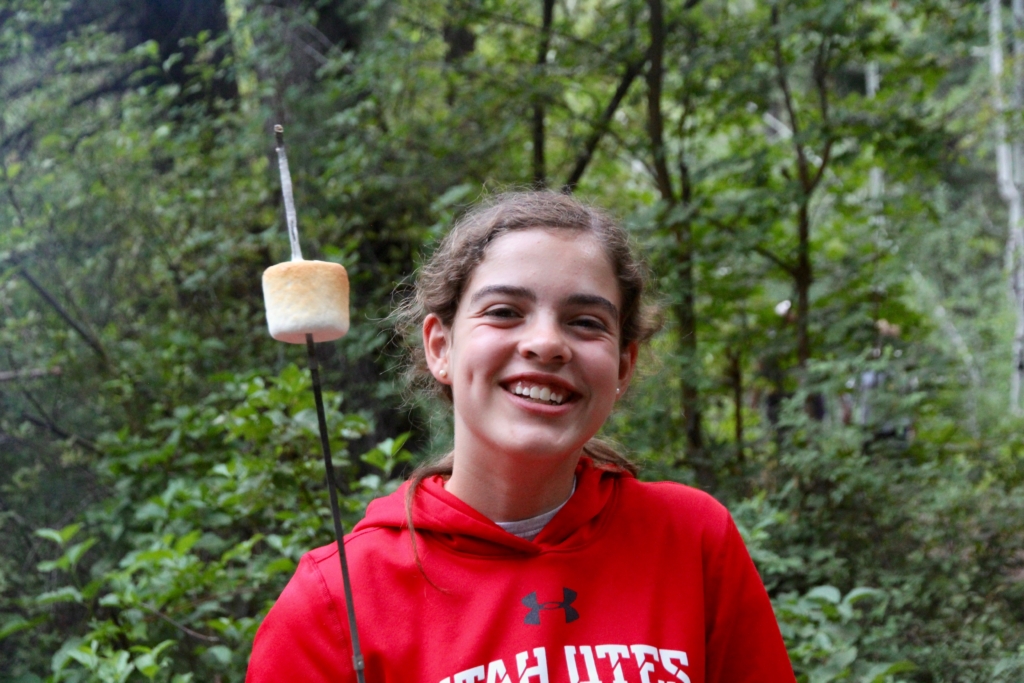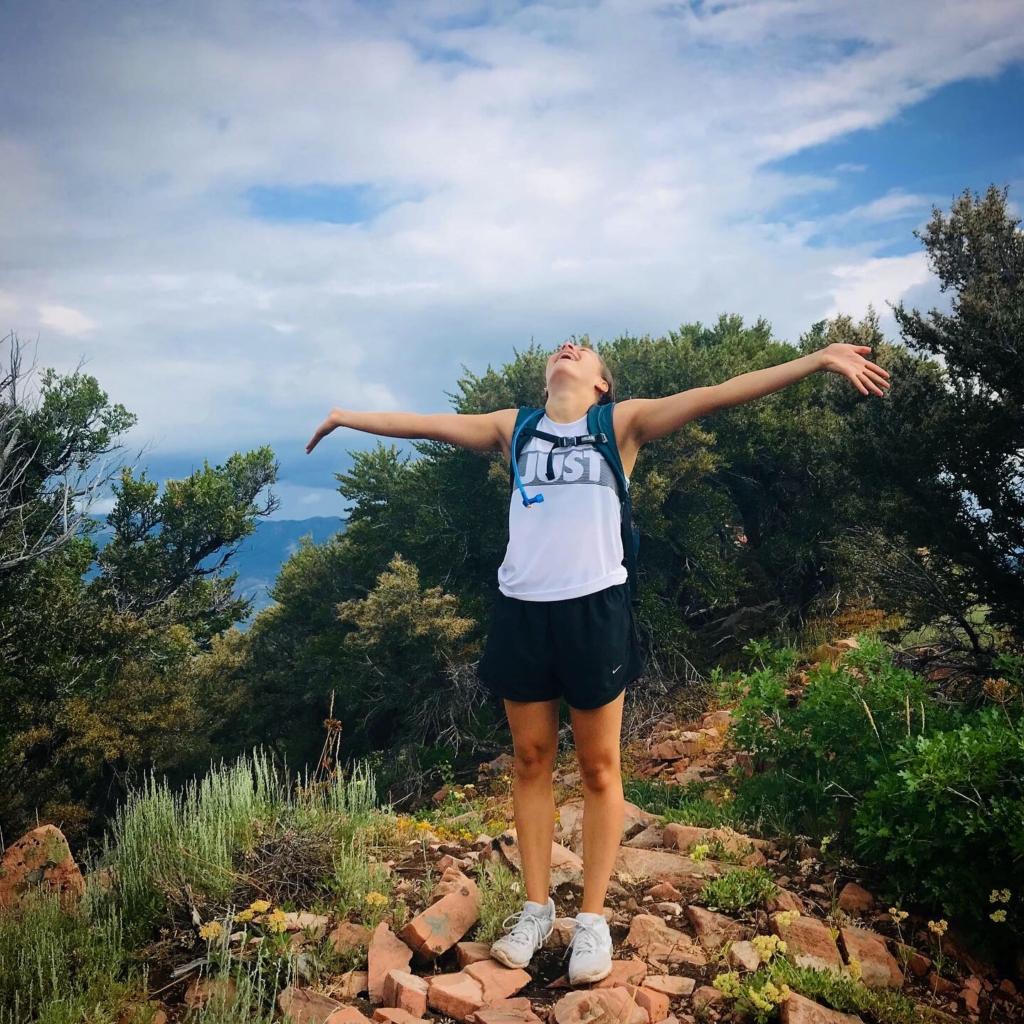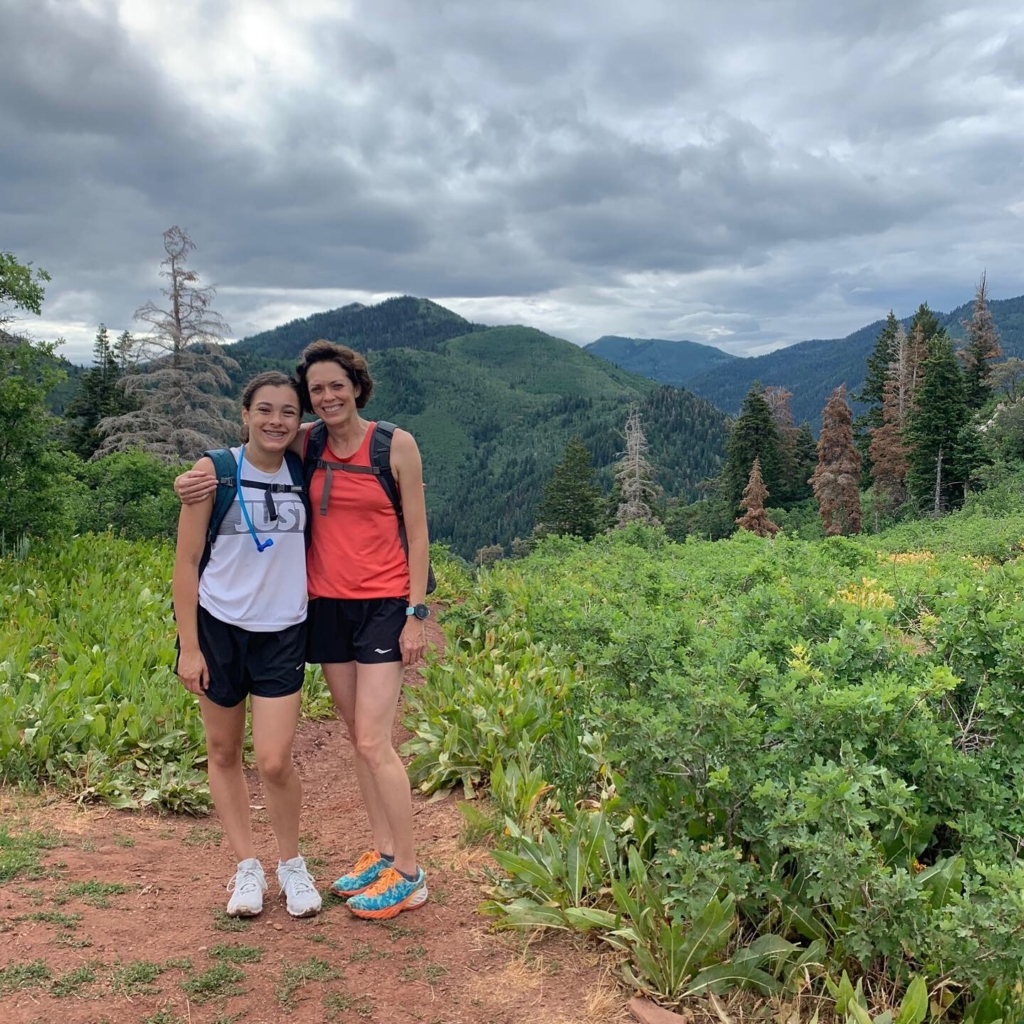 Last Saturday Eliza and I hiked to the top of Mt. Aire. It's just a few miles in distance, but steep! We had the best time together.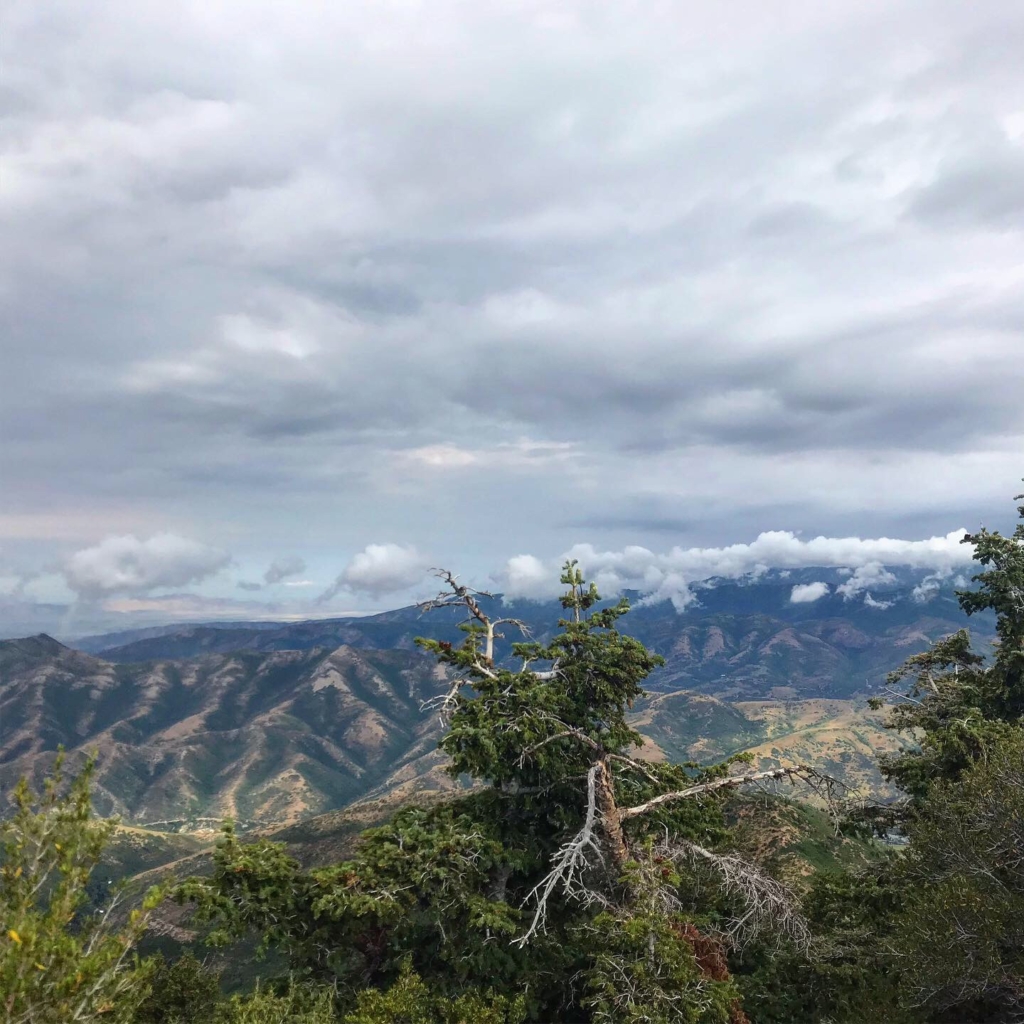 The views were spectacular.
And the wildflowers were gorgeous!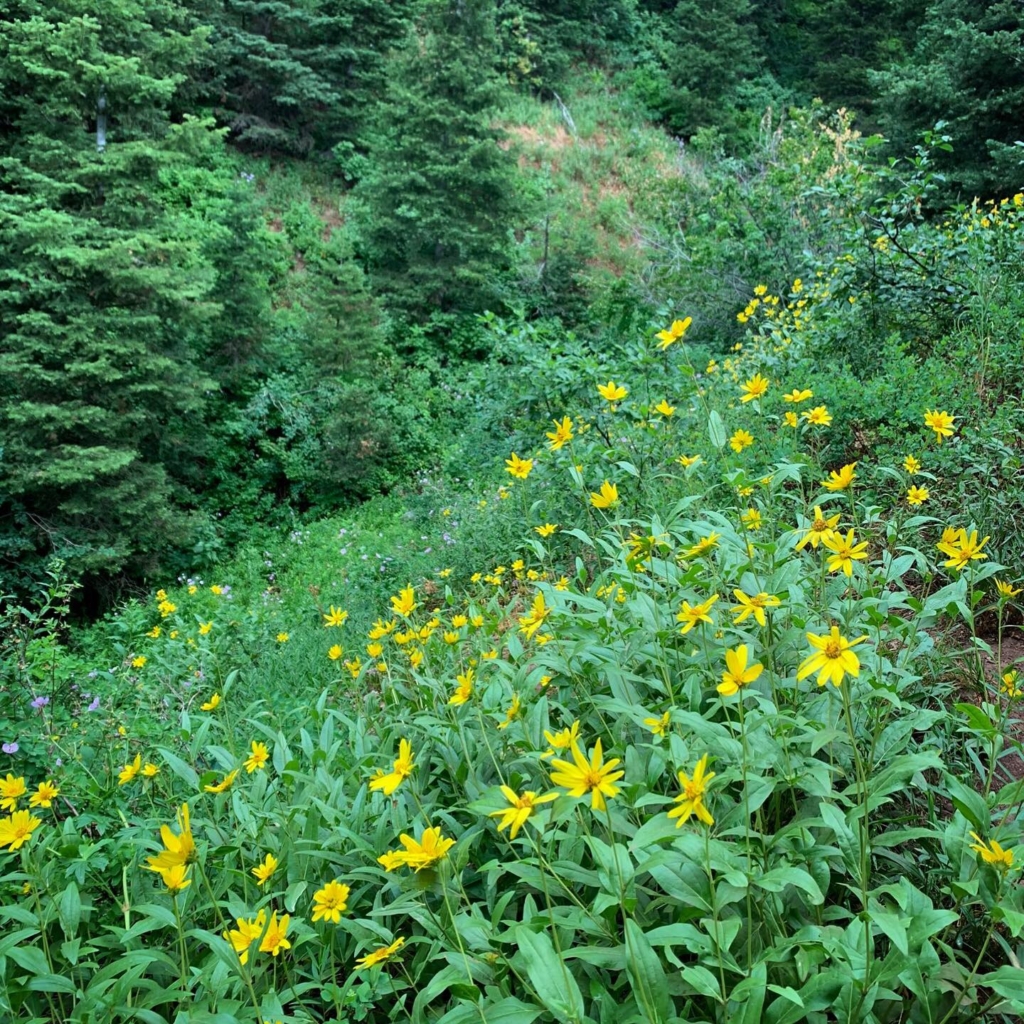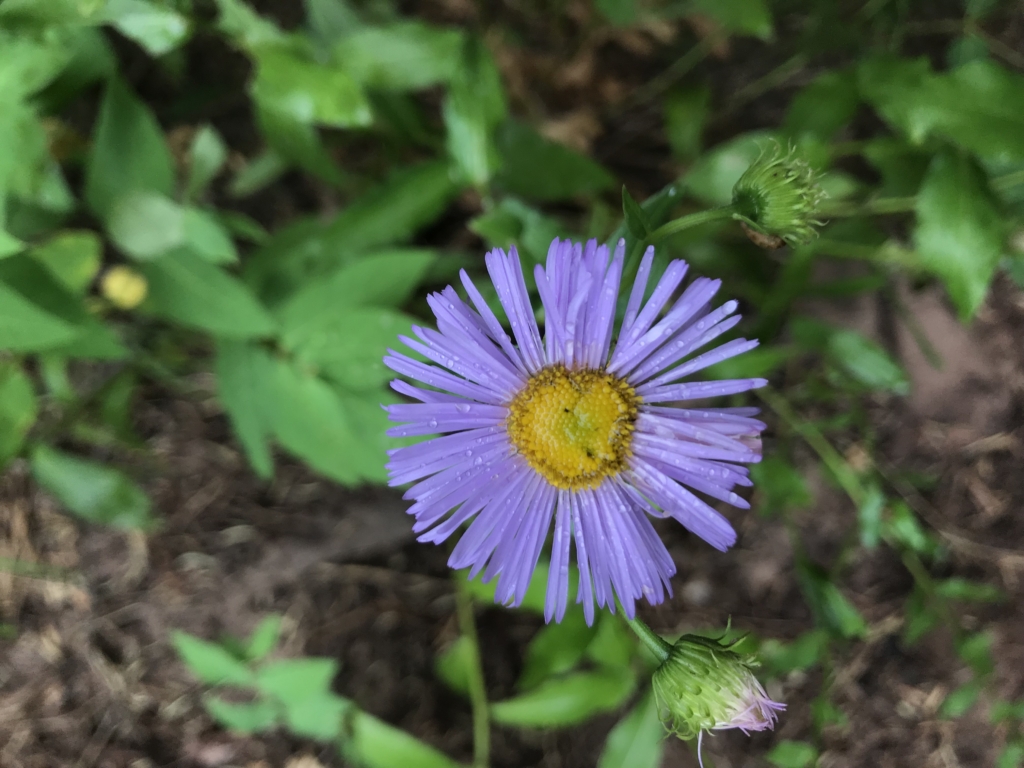 As Eliza and I were coming down the trail in a light rain, I said "Of all the places in the world, I think I feel most myself in the mountains."
I love not feeling like I have to look a certain way. I don't worry about my hair or wear any makeup. I push my body physically, reaching new limits and places, and that makes me feel alive. It's an experience full of paradox, but here's the truth: I always connect with God when I'm in the stillness of the mountains. I recognize His hand in both the tiny petals of a wildflower and the sweeping majesty of the peaks that surround our city. Likewise, I feel my own smallness, as well as the striking conduit of connection, that He is aware of me. I also feel a stronger link to those I'm with when we experience the outdoors together.
Do Some Service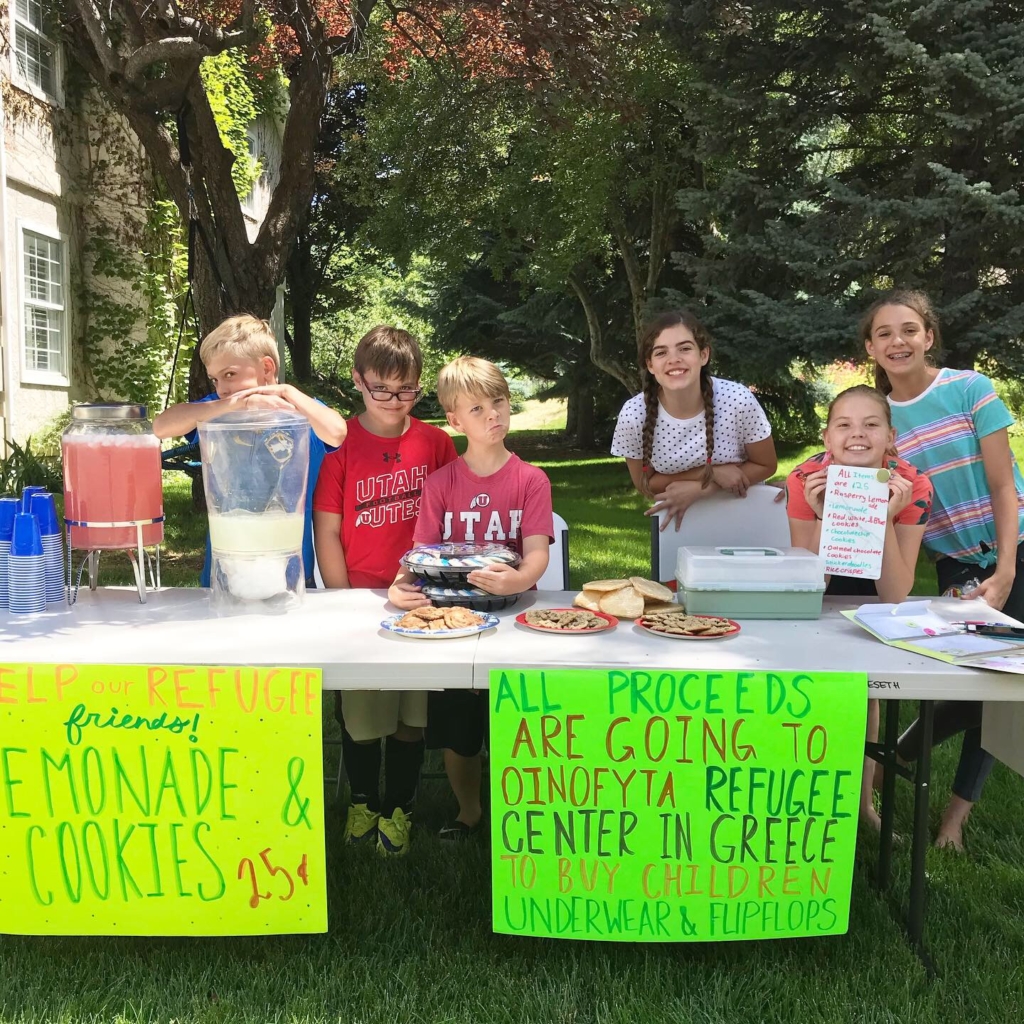 We all know the principle — it's important to teach our kids to serve. We want them to look outward, see beyond themselves, and notice how they can help. But it's not that easy to do. Making time for it, usually means setting aside something else important. But when we do, we feel a joy that we don't find through other activities. It brings an added sense of purpose and happiness into our family life that is invaluable.
This summer our friends, the Shumways, asked if we'd help raise some money to buy underwear and flip flops for refugee children in the Oinofyta Refugee Center, where they would be working this summer in Greece.
We said yes, and asked other kids in the neighborhood to join the effort. Some friends made cookies, some came as patrons, some helped man the table, created menus, and some just stopped by to donate. Even our orthodontist donated by sending a generous venmo amount. (Thank you Dr. Chandler!!) We raised hundreds of dollars that day!
Letting kids take the reins when it comes to service is key. These kids did the whole thing themselves. I just supervised. It was such a fun day.
Other service ideas: We've fulfilled various assignments at the Food Bank, helped at St. Vincent's soup kitchen downtown, weeded my Dad's yard, sewed stuffed bears for Dolls of Hope, played music at the Abbington (a senior living center close by), and put together bags of cleaning supplies for our local refugees.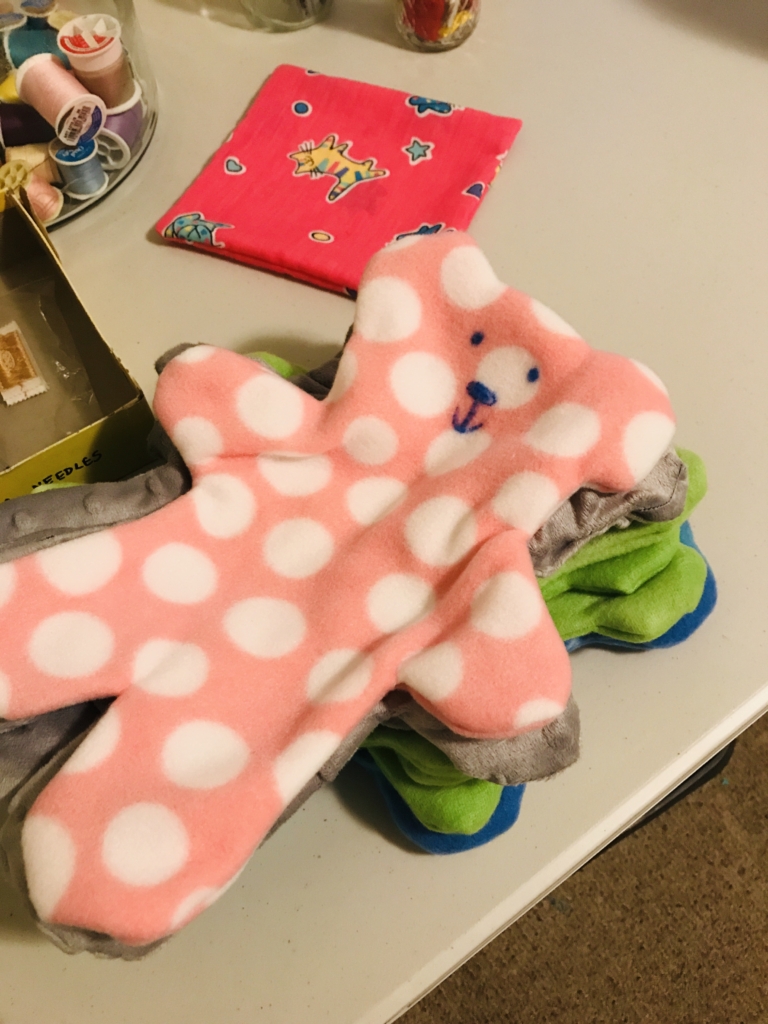 Sometimes I find helpful ideas here: justserve.org.
Let Kids Sleep IN!
If possible, I think sleeping in is a win-win for everyone. I love when the kids are still asleep and I can get a jump on the day by tackling laundry, reading, making a grocery list, responding to emails, or whatever else I can't seem to get done when they're awake!
Kids and Teens NEED sleep. I wrote about teens and sleep here. The majority of teenagers, by clinical definition, are sleep-deprived. It affects their school performance, their emotional health, they physical health, and when they're tired, they have more trouble making wise decisions.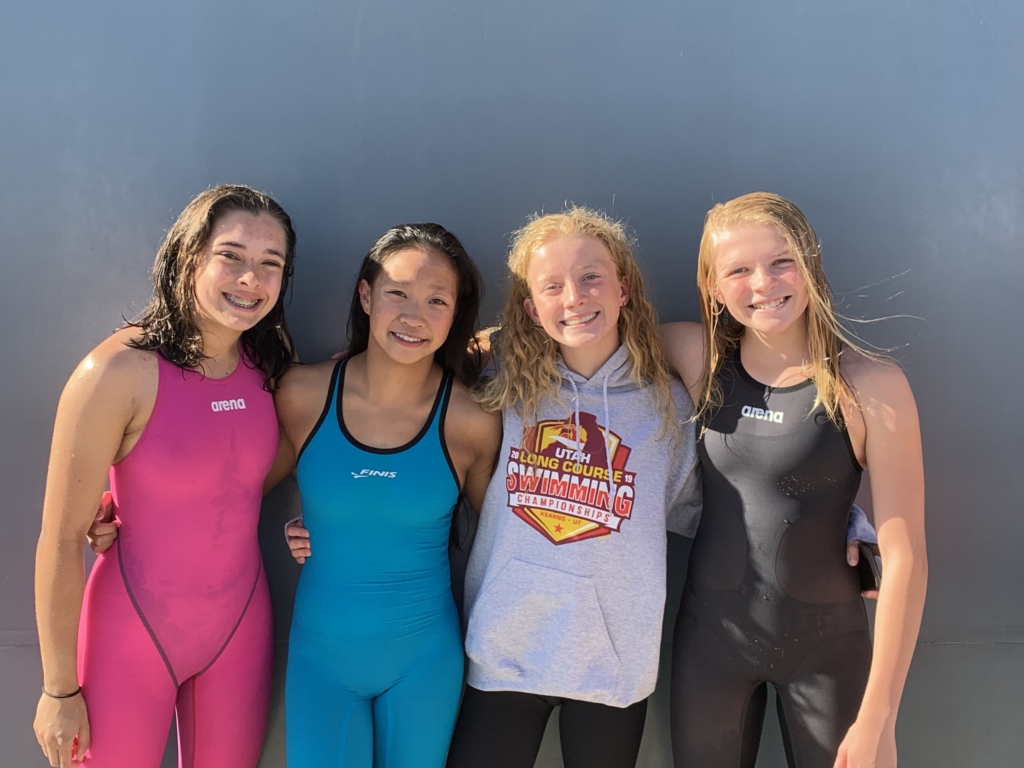 Helping Eliza get to bed early this summer, so she could make it to swim at 6AM wasn't easy. But she did it! And some days she came home and took a nap. I was so impressed with her handwork and dedication.
We all know what tired looks like, when it comes to kids who are angry, frustrated, or so emotional they can't communicate rationally. It's not pretty. And summer is a good time to let kids get a little more rest, slow their lives down a bit, rest, recuperate, even be bored for a while.
Of course, sleeping in until 10 every day might not be the best use of their time (which has happened on numerous days) but . . .ya know, 8 – 8:30 AM? That feels just about perfect for us.
Do Nothing and Be Glad About It
This is soooooooo hard for parents, particularly Moms, to do. At least it is for me. The to-do list (typically marked "URGENT") never gets shorter. It's always long, and it feels IMPORTANT. All caps, all the time.
But there really is something to nothing.
Doing nothing but sitting in the lawn chair, watching the sun set, while the evening breeze cools the day is so renewing! Sitting outside and eating lunch, then lying on the grass to watch the clouds float by, is anchoring. It helps us feel joy and a connection to who we really are.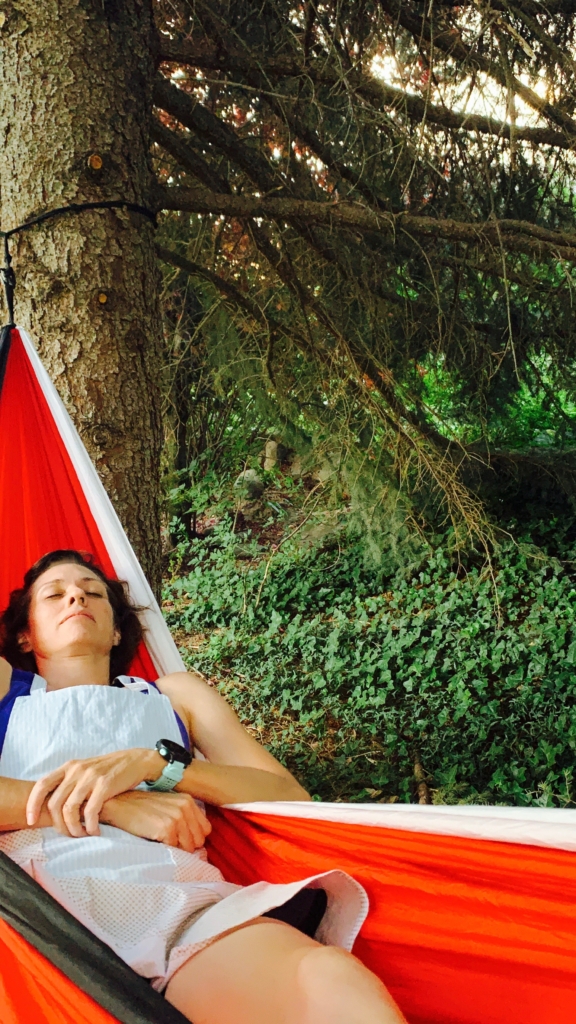 Liza snapped this photo of me in the hammock. Absolutely UNbecoming. But! Proof of doing nothing. And boy did it feel good to just sway in the hammock and do nothing!
Annnnnd that's a wrap! We only have two more weeks until school starts, and I can't believe we're about to launch into another year!!
Hope your last few days (or weeks) of summer are full of sunshine, easy meals, and a healthy dose of nothing. ❤️