We were beginning to think Old Man Winter wasn't coming.
December and January were unnervingly mild. First year of purchasing ski passes for our family and there was no snow to ski!
The high school track team would trot past our house daily in their shorts and t-shirts. Spence and Gordy would come home from school, eat a bowl of cereal, and bust outside to shoot hoops at the neighbor's house, ditching their sweatshirts on the driveway.
March and April were making a cameo mid-winter. The seasons felt topsy-turvy. Off kilter. And come February, it seemed everyone was praying for snow. Salt Lake's water supply depends on adequate snow levels in the mountains, and there just wasn't enough.
Finally, a couple weeks ago, winter came. "On a weekend," as my Dad said. And within a week, most of the snow had melted. But just a few days ago, a storm settled over the Wasatch and the snow fell heavy. By Sunday noon, we had 15 inches on our front lawn. 30 new inches in the mountains.
A March Miracle.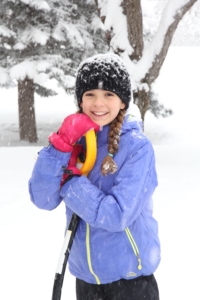 Just as we were about to pile into the car for church, we got word that church meetings were canceled. I can only remember two other times in Salt Lake when church has been canceled for weather. Rain, wind, blinding snowstorm? Life goes on. Pioneering spirit, I guess. But this Sunday, life came to a gentle standstill.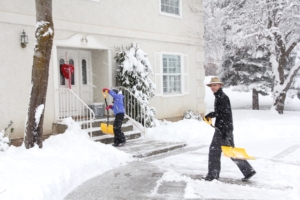 And it was lovely. We traded our dresses and slacks for snow pants and boots and went out to shovel. First we tackled our own driveway.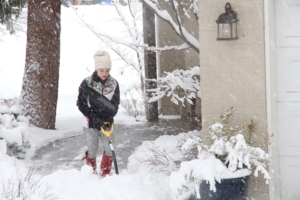 Then Betsy and John's. It was a joy to do some service together.
After shoveling, we retreated inside for hot chocolate with lunch. We held "Arvy Church" in the living room, then the kids went back out to make snow caves. Sami and the boys made a pine tree shelter and took a basket of snacks into their humble abode, to picnic under the boughs.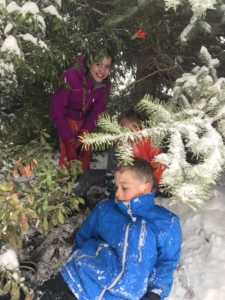 Going so long without winter, I realized how much the seasons instruct my life. I learn from the seasons. I count on their specific shifts in light and temperature. I love watching the ground retreat or open, depending on the month. And I was feeling seriously gypped that Winter hadn't shown up!
But when it did? It was wondrous. For all of us. I watched the snow sift out of the sky and marveled that every snowflake is the perfect temperature. Frozen just enough to be solid but soft enough to melt within seconds on your palm.
The snow fell remarkably and evenly to the earth, covering it in white, making it clean and new again.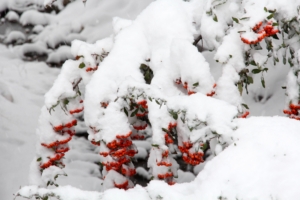 The symbolism was not lost on me. We too are covered, both figuratively and literally, by Christ's Atonement.
And I felt deeply grateful for this quiet, slow Sabbath.
It was much quieter than usual. No commitments. No schedule. And it was so nice to have Doug home.
'Tis tax season and with the new tax code, work has been especially grueling for Doug. Two nights ago he didn't come home until 3AM. I had a hard time sleeping knowing he wasn't home yet. I would fall asleep only to wake up an hour later and send him a text, worried he was unconscious somewhere on the side of the road.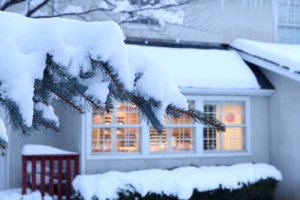 After Sunday dinner, the kids went back outside. They couldn't get enough of this white playground. They stayed out way past dark with Doug, digging winter caves and playing in the snow. Everyone is happier when Doug is around.
After the last bit of sunlight left the world,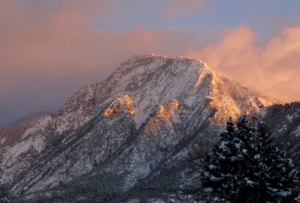 I settled onto the couch to read. Listening to the screeching and laughter of all those kids outside, playing with their Dad.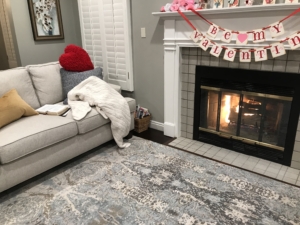 I read Psalm 116.
Return unto thy rest, O my soul; for the Lord hath dealt bountifully with thee. For though hast delivered my soul from death, mine eyes from tears, and my feet from falling. I will walk before the Lord in the land of the living.
And I noticed in Psalm 118, I had written a date. Ali and Sami's birth date. Next to this verse:
I shall not die, but live, and declare the works of the Lord.
I had forgotten this verse existed. I'm not sure when I scribbled their birthday into the margin, but when we celebrated their 11th birthday in February, Doug retold the story of their frightening emergency delivery, and how easily we could have lost our tiny baby girls. He also talked about how terrified he was that he might lose me as well. Had we been anywhere else than the labor and delivery floor, the physicians said, all three of us would not have survived the eclamptic seizure I had.
Declare the works of the Lord.
Live. Speak his name.
Shout it from my meager rooftop.
The Lord is good.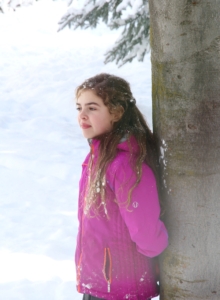 He is always working at our happiness. Even when death and heartache happen, when life with all its limits and natural laws plays itself out, or evil runs its course of agency in the world. We are forced to take some hard classes now and then. And if we haven't had a tough course yet, it's coming.
A curriculum is being developed just for you, just for me. Designed by the Lord. As He takes all our experiences, no matter where they fall on the spectrum of fairness or purpose, and He uses them for our good. If we just make Him a part of the journey. It's hard to believe sometimes, but He knows what He is doing with us.
A couple weeks ago I took these photos of the kids outside.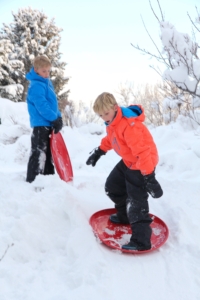 Even the smallest hill will do, right?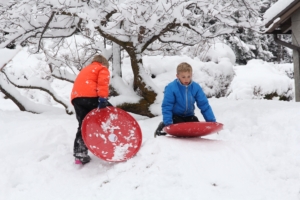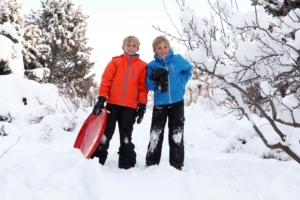 Sami and Eliza decided it was more fun to take a snow shower.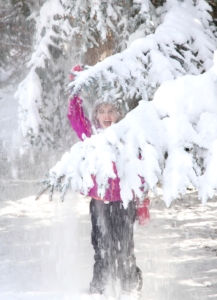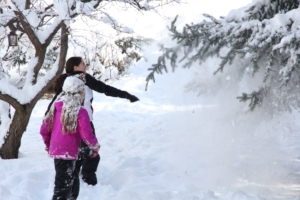 Look at Sami's hair!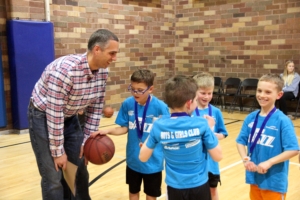 And just a few other happenings: Doug wrapped up another season of coaching the boys. They're getting  a little better. But oh my goodness, it's so funny to watch. It's kinda like stampede ball, with a few hail mary hurdles at the basket and some deliberate passing.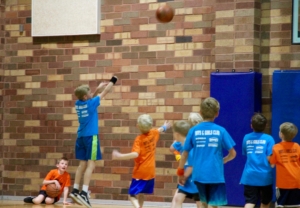 Here's Spence, putting up a pretty good shot.
Doug had two goals for the boys. 1 – Make sure each boy made at least one shot. 2 – Teach the boys to pass to each other rather than drive in for a glory shot. And bless their hearts, they did it.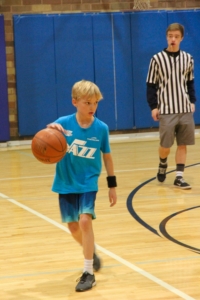 At one point in the season, Gordon still hadn't made a shot, so Doug asked the boys to keep passing the ball to Gordon, with hopes he could get a shot up. One sweet boy, Ben, passed the ball to Gordon every single time it came into his hands. Even when Gordon wasn't close by. He would stop dribbling, call out for Gordy, look for Gordy, and Gord would come running. He is the purest boy.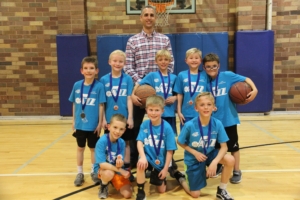 Love that Ben. Back row, far left.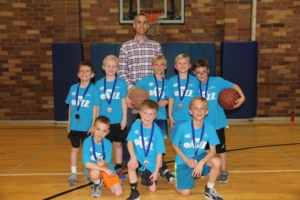 Love all these boys.
And you know, Gordy finally made a shot. Plus a few more. It was a good season. Bless Doug for coming home early from work to make this happen. Especially as busy season began to pick up the pace.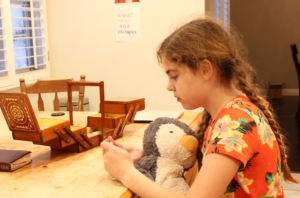 Oh! And look what else arrived that we thought would never come? Sami's sewing box! She was so excited to mend the hole in Blackie's neck (Spencer's penguin). Was it worth the wait? AND the emotional harangue? I dunno.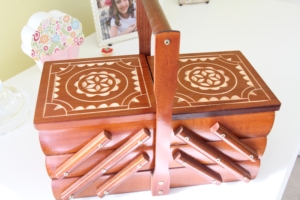 It is exquisite though.
And she loves it.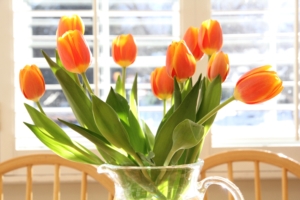 This morning there are tulips on our kitchen table, hinting at Spring. The sound of snow melt is pattering onto the front porch. This may have been Winter's one shot wonder. But it was a good show. An excellent show. A major comeback.