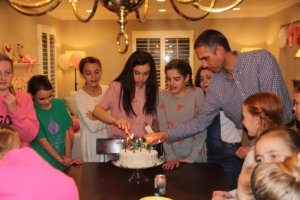 I know. You're thinking of Pippin and Merry – Tolkien's tiny hobbit duo who eat breakfast, second breakfast, elevensies, and so on. But… I figured twins turning 11 called for a special celebration, and being Tolkien fans, we had to call it Elevensies!
Alexandra and Samantha, eleven in tandem!
And get this. Never before has this happened in the Arveseth household: we had their birthday party on THE VERY day they turned 11. Not three months later, not a month later, not even a week later. Nope. On their very birthing day. We actually planned ahead. Too bad I can't figure out how to do that more often.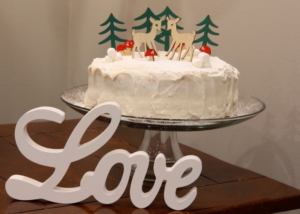 The girls invited their friends over for pizza, cake and ice cream, followed by a trip down to the Gallivan Center for ice skating.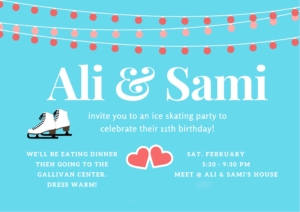 Sami designed the invitation, using Canva. Have you discovered Canva? It's amazingly easy to navigate, has tons of darling templates, and the best part? It's free. Just download the image you created and print at home or email it to your favorite print shop.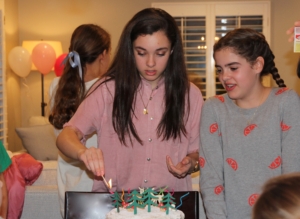 All the girls helped with the prep work. But Liza was an especially big help that night. We couldn't take the boys with us because we were already packing three cars to the hilt. She helped me clean up before the party, decorated the cake, tied party favors, then stayed home with the boys when we left for skating and cleaned up all of the dinner mess.
I don't know what shifted this year, but junior high has been a great step for her. She's happy each morning, responsible and managing school wonderfully (no easy task with her dyslexia – I'm so proud of her), and when she sees a need at home, she attends to it, without being asked. I've often come home from running kids places or some event and she has picked up the house top to bottom. I'm really enjoying her friendship.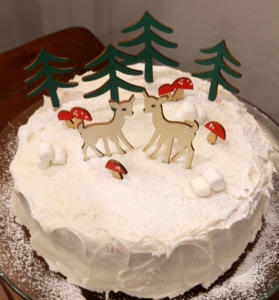 Winter Woodland cake she decorated.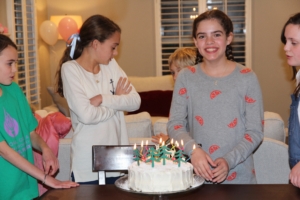 Ali and Sami blew out eleven candles.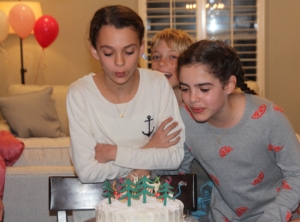 With Gordy the photo bomber close behind.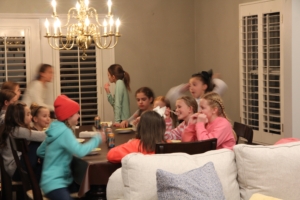 I loved watching all these girls interact. When you attend a different school than your neighborhood friends, you end up needing to combine two groups of girls at a party like this. One from the hood, one from school, who don't really know each other. I worried a bit about how it would go.
But I was so impressed with these girls. A couple very sweet and confident girls from Ali and Sami's school went and sat at the table with the girls from our neighborhood. Asking questions, getting to know each other a bit.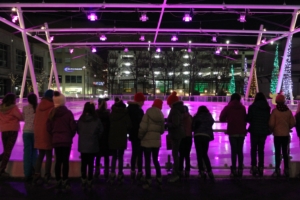 They laughed and swapped stories and then we left for the ice rink. Skating was the perfect ice breaker (no pun intended). All the girls were helping each other, grabbing each other's hands, encouraging each other around the rink.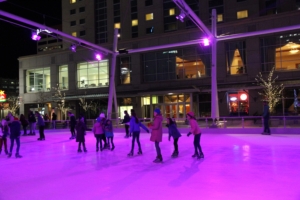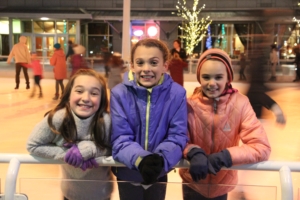 Didn't matter which school they went to. They learned everyone's names and were so incredibly good to each other.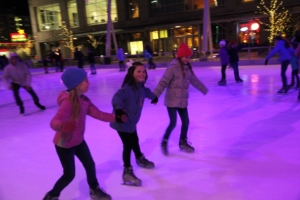 I thought they'd kind of stick to their separate crowds, but they didn't, and it was an inspiring interplay of kindness and inclusion that made the evening wonderful.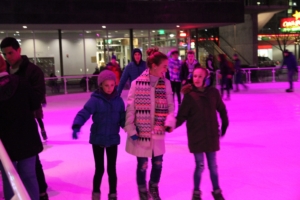 I think this cute gal had something to do with it. This is our lovely Hannah, who has been babysitting our kids since she was 12. She's a senior in High School now and is still our go-to girl. My kids adore her. Ever responsible, always compassionate and fun, and the hardest working teen I know. Truly. She was going to drive a group downtown in her car, but at the last minute also decided to stay and skate with us, so she borrowed my coat, which was a little large for her, and a scarf we had at home. Which didn't bother her in the least.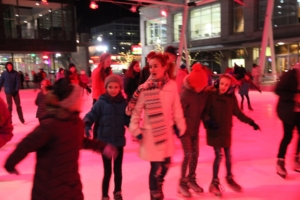 Ali told me Hannah was like the glue. Bringing everyone together, having them hold hands and make a chain around the ice, forming connections (physically and socially), bridging any gap. She's remarkable that way.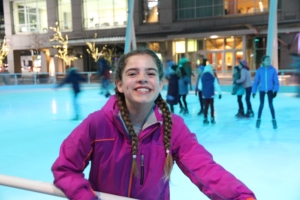 I think the girls had a grand time.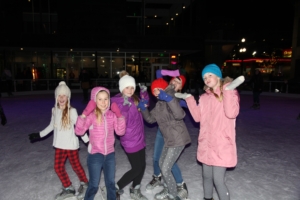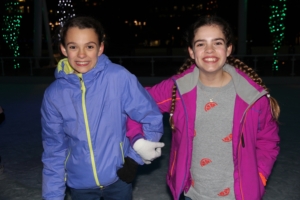 How I love these two. They rarely bicker. They share all their secrets and stories, sometimes way past bedtime. They have their own separate skill sets and interests, which I think is a good thing for twins, but they support each other fiercely.
TWIN NOTE: The girls wanted to be in the same school class this year, but I think we've realized, after all these months, it's probably best at school to have separate classes. This gives them a little more space to shine and keeps friends or teachers from comparing them. We've tried both options – together and separate – a couple years of each, and I will say having twins together is WAY easier for me! Easier to keep track of school assignments, easier to volunteer in class, but for the twins themselves, we've decided it's probably best to have their own classroom.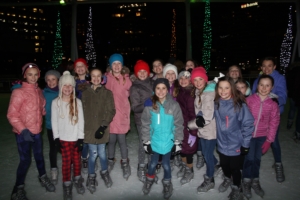 Love this darling crew, who I'm sure will overlap a lot through the years in sports, school dances, etc. even if they aren't at the same school.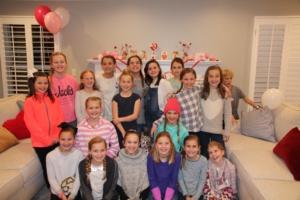 Lessons the girls and I discussed afterwards: Choose kindness. There is always room. Include. Don't be afraid to make a new friend. Enlarge your circle. What you send out will come back to you.
We love this favorite quote from Edwin Markham, which I had my kids memorize last year.
There is a destiny which makes us brothers (or sisters). None goes his way alone. All that we send into the lives of others, comes back into our own.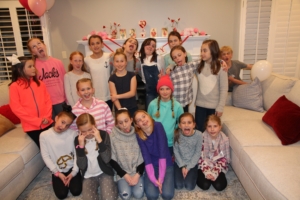 Silly girls. And look closely for Gordy as photo bomber. Again.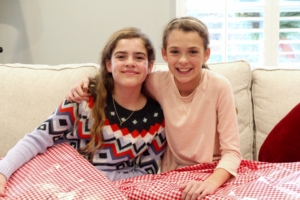 The next day the girls opened gifts from family.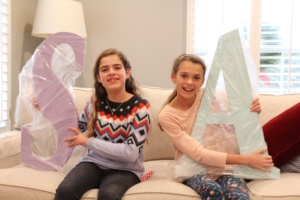 Wooden letters for their bedroom.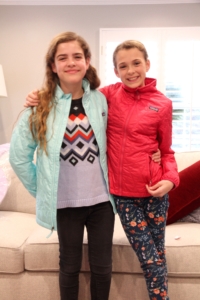 New jackets!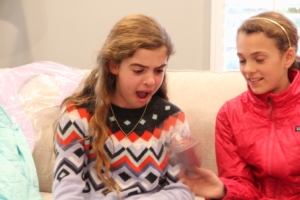 And this is the moment, Sami opened a game called Exploding Kittens. A silly, kid-humor, crazy card game, which kids love. But the name of it was rather disturbing for our resident cat lover.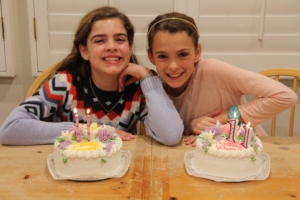 The girls blew out their own candles that night and… Elevensies was a wrap.
Ali, your tender heart and notes on my bed lift my spirit when the days are long and hard. Thank you for being so responsible and helpful at home. Thank you for all the meals you help me make and for being my errand buddy. Your hugs make me feel loved. It's a beautiful thing to watch you grow in confidence as you persevere in your talents. Even if morning is not your favorite and Dad and I play rock, paper, scissors to see who "gets" to wake you up for piano.
Sami, your awesome sense of humor lightens the mood when things at home get too serious. You have the gift of making anyone your friend and you seem to stand your sacred ground with ease. Comfortable in your own skin, you are authentic, brilliant, and creative. I love that you are pure and without guile. Your cartoons are the cutest and I'm loving your art. Thank you for being the one family member that can get the boys to do their jobs or come inside.
I love you, my beautiful 11 year old girls. xoxo