We have a little news to share… We are expecting baby number four – due in July (which makes me about 15 weeks along).  We are very excited and heard the heartbeat for the second time Monday.  To date, gender remains unknown but we will know more March 6th – D-day.  The day of the big ultrasound (D is for "determine" not "delivery."  I am way too much of a planner to wait until July!)
Doug professes some intuition as to whether it is a boy or girl, but I remain dubiously unimpressionable.  Maybe "open" is  a nicer way of putting it.  Truthfully, we are thrilled at the prospect of any little person joining our family – boy or girl!  
So far the pregnancy is going well.  I feel great and the heart beat is strong.  I am seeing a high-risk OB recommended to us.  He has been astute, professional and caring and will keep a wary eye on my blood pressure as we approach the last trimester.  Thus far, BP has been low and unremarkable.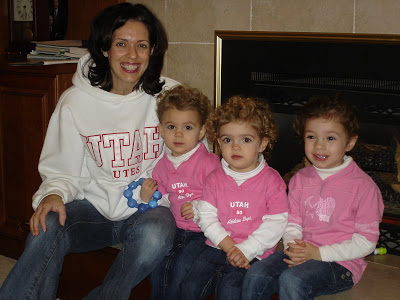 Hard to imagine we will add a fourth to this little trio of girls. Sometimes I wonder how we will do it, but as we contemplated IVF before leaving VA, I had strong feelings that it was the right course to follow.  We felt we should use our doctors there in DC.  So – although it was crazy to pack up for a cross-country move while attending doctor appointments every other day and trying to fit in a few days of bed rest – the outcome proved worthwhile.  It was worth every bit of anxiety, every injection, every blood draw, every unpredictable ride on the hormonal roller coaster.  
I love my girls.  I love being their Mother.  Today it meant wiping two noses hourly and yesterday it meant nursing Eliza's scraped knee, burned fingers, mouth injury (seatbelt retracted into her face) and head contusion due to a tumble down the stairs (this is ALL true – no exaggeration)  – and let's not forget the plastic hanger Ali had in her mouth that accidently got jammed into her throat when I turned around and bumped into her (the trauma of which triggered her gag reflux and caused her to promptly vomit!)  What kind of mother am I!? 
Despite the mayhem, lack of self-attention, and struggle for patience, I wouldn't trade a day of this (OK – maybe a day here and there – or even a week!).   But I would do it all again for the joy of having my girls.