NEWS FLASH! We are not having ONE baby in July – we are having TWO! Yes – "one more did not make four" (as we originally thought) – "one more made five"! We are having identical twins! (Ali and Sami are fraternal). Talk about head-spinning news! This is highly unusual – a 1% chance with IVF pregnancies.
As most of you know, our doctors strongly encouraged us during our final IVF attempt to transfer only one embryo due to my history with eclampsia and the eclamptic seizure I had while carrying Ali and Sami. So that's what we did- and we chose to use our doctors in DC because their science was more advanced when it came to success with single embryo transfers.
I admit, I was relieved, at the thought of no "twin risk" this time. The first year after Ali and Sami were born, I remember saying to Doug, if I HAD to do this again, I could, but I would never choose it. So we gave away all our "doubles" before we moved – extra car seat, extra bumbo, extra papasan chair, extra swing… Gone. Positive we only had one little baby growing inside! And – here we are! A second set of twins on the way that will yield 5 children 4 and under (we hope Eliza has her 4th birthday before they come!) We will have 4 cribs in the house (it will feel like an orphanage), 4 in diapers (I don't think I'll try to tackle potty-training right now with Ali and Sami – who will celebrate their 2nd birthday tomorrow!), and here's a staggering thought:
For a woman who thought she might never have children of her own, I will birth five children between the ages of 30 and 34!
After stumbling out of the coma-like stupor I was in for 24 hours following the news, I can honestly admit, I knew immediately (amid the disbelief) that this was a miraculous blessing. We can truthfully say – we are excited! Doug is pulling for two boys (it's either two boys or two girls). Let us know your vote!
So here's the "discovery" story. At 15 weeks gestation (over a week ago) I had some bleeding. Concerned enough, I phoned the doctor. The bleeding had slowed, but I figured I'd better call anyhow, assuming they would have me come in if it continued. Rather, the nurse asked that I come the following day for an ultrasound to make sure everything was alright. Still bleeding a bit in the morning, I was uneasy, perplexed. I couldn't read while sitting in the waiting room – just sat there, swinging my foot in circles, clutching my purse.
Finally, the ultrasound tech calls me back. She examines the cervix – no problems there. I am anxious for her to get to the uterus so I can see if the baby is moving. As she transitions to the uterus, this is what I see.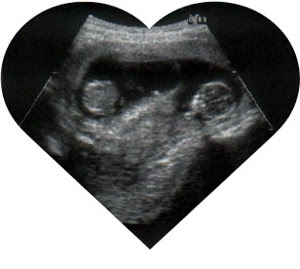 Dark womb with two circles in it. I stop breathing. I think to myself, "This is how it looked when I had ultrasounds with the girls…I think those are two heads – but there's now way it could be two heads – we only put in one embryo…" The tech stops talking and holds the ultrasound wand still. Silence. (Later she told me she knew then that I knew.)
She speaks. "Ummm…. there are two babies in there. Were you aware of that?" WAS I AWARE OF THAT? "NO!" I proclaim! "There can't be! There is no possible way!" She moves the wand around to reveal two healthy little babies with their heads together. "Ooooh – there's two babies in there" she says. "That one embryo split. They share the same placenta but are in different sacs, which is good. You are having identical twins." I begin to fidget, my body turns cold, my legs start to quiver, and I can't talk straight. She looks for the gender (babies are non-compliant) and says, "I think your Doctor will want to know about this. He's on the delivery floor. I'll be back in a few minutes. Can you wait?" Sure I can wait.
In less than five minutes, she's back. "Oh yeah…. he wants to see you!" I head back to his office. He is as surprised as I am. "This is highly unusual" he says several times. I'm looking for a chair, knowing I need to sit down if I'm going to talk about this with any sort of intelligence. His first words – "So this definitely increases your risk for eclampsia – even more so than your first twin pregnancy". He goes on to tell me a little more about how monozygotic twins are formed, other risks, and positives, then tells me he'd like to consult with another physician who is also on the delivery floor – a doc known nation-wide for his current research on eclampsia and pregnancy. He says it will take him 10 minutes or so.
I sit in his office alone – looking at out the snow-covered peaks. My head is spinning. I have to call Doug. I know he's at a client lunch but I have to talk to him. Now. "Please pick up….please pick up". "Hi… I'm at a lunch and it's really loud" he says, "Can I call you back?" "Nope!" I answer. "Nope!" I repeat with urgency. "Why – is something wrong?" "Ummmm…" I'm not sure what to say. I tell him to step away from the table. Pause… He comes back on. I blurt out our life-altering news. "WE'RE HAVING IDENTICAL TWINS!" Silence. More silence. "What did you just say?" he queries with disbelief. I repeat. "WE'RE HAVING IDENTICAL TWINS!" I laugh (or else I'm going to cry). "No way. There's no way. Really?" he responds. I say, "Way. I saw them. They're in there – that one embryo divided! We're going to have twins again!" And to Doug's credit, this was his next statement. "That is AWESOME!" I oozed into the chair. "Really – you think that's awesome? You think we can do it?" "Yes! " Doug says, "Of course we can! That is amazing. That's a miracle!" We discuss the miniscule chance of it happening and how amazing the whole thing is. Then, just like a man, Doug says, "We're going to need a bigger car!" "What? A school bus?" I retort. And the conversation goes on until our Doctor returns, as we laugh and almost cry at the wonder of it all. Two more babies…
And with some divine help over the last week, I've felt a great deal of peace knowing this was simply meant to be. God's plan was definitely not ours. But this is His hand. How else can we explain something like this? I have a sense of confidence that we will be alright. Any bit of reluctance I had about leaving Virginia now is gone. I know we were guided (albeit by a small measure of light) to come when we did. We will need our families. My dear Mom told my sister, "Well, I definitely have something to live for!" (Little did she think it would be sitting up nights with me again in a dark bedroom feeding two babies every three hours). But it is comforting to know when we are inclined, inspired, whispered to, or urged to do something – even if we don't know all the reasons for it – we can act in faith, expecting that path to prove happy and successful. Life is ironic, full of unexpected joys (and pains) – yet one has to embrace the unpredictable. Any other choice is not really living. And when the hard part is over, we realize how lucky we really are.
Below are some pictures our friend, Scot, took before we left Virginia. We are at one of our favorite parks – Burke Lake Park. I look at these and realize how much my family means to me. These individuals are my greatest loves.