I meant to publish this post around Father's Day. True to form of late (and probably future) I am behind. Still…I wanted to write about my Dad. The picture below was taken on Father's Day 1976. I am two years old. My brother Dave is one.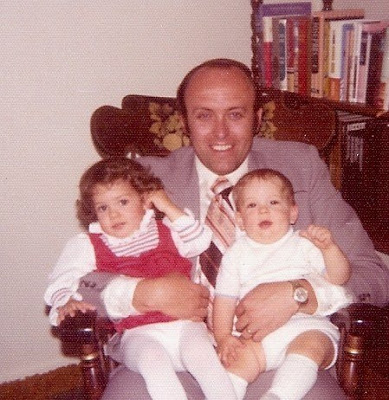 As a small girl I remember being surprised by the affection I felt for my Dad. It was during a church service on Father's Day. All the Primary children (ages 3-12) were on the stand singing to their Daddys. I wasn't more than three or four because I remember standing in the very front row, left side of the pulpit, looking out into the audience at my beaming Dad. Can't recall the song we were singing but I do remember the feeling that welled up in my chest and moved into my throat. I hadn't experienced this kind of emotion before. I was suddenly crying because I loved my Dad. And I knew he loved me.
Dad is one of the most happy human beings I know. He is compassionate, good-humored, and filled with love. He combats disappointment, stress and fatigue like the rest of us, but they don't deter him. Or change him. He is constant and predictable in his good nature. I can always count on a smile, joke and a hug from my Dad – no matter how he is feeling. In a world saturated with self-imposed drama, Dad is completely refreshing.
He genuinely cares about people. His charity and humor make him a fantastic physician. Hard to believe he's been practicing emergency medicine now for thirty plus years. He is witty and loves to make others laugh. During my pregnancy he cut out every cartoon about gestation, large bellies, and child-rearing he could find. The Far Side with a woman whose protruding backside was mistaken by her OB for a baby "not quite in position for delivery" was my favorite.
Dad loves everything about life. From the organic and beautiful (nature, fishing and hunting) to the different, unique, and even quirky. Like the loud ties he wears in the ER, the non-traditional menu choices (alligator legs?) And remember the layered lime and raspberry cake he made a couple months ago? (Pleck! Even Dad admitted – it was SO sour!) He makes minced pies for the holidays. (I thought minced pies were a thing of the past. Come to think of it, what IS a minced pie?) And then there's his fascination with facts like how wide a hippo can open its mouth. (Greater than 180 degrees if you wanted to know.) Dad can out-museum, out-theme park, and out-movie the most fit of entertainment patrons. He is determined to soak up everything this good life has to offer.
Dad's mother coined a family phrase he has passed on that encourages us to opt for trying something new. "You're IQ demands it" he would say, which meant learn as much as you can about everything. So when we were sitting in the car on a family trip bemoaning the fact that we had to get out and walk into one more visitors' center or try a new food that looked questionable, we would think, who wants to be demoralized by not increasing their IQ?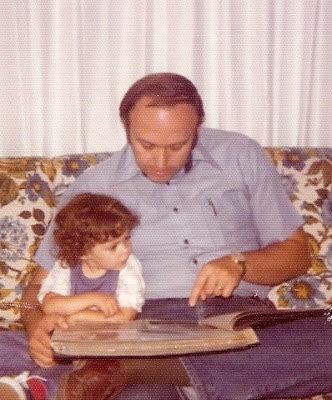 This is me and my Daddy looking at an old scrapbook.
Dad is intelligent. He retains everything he reads (including hundreds of interesting but useless facts). He loves to read sci-fi, history, westerns (thank you for turning me on to Louis L'Amour at an early age Dad), war books and religious commentary. Actually, he just re-read the last Harry Potter in prep for the new movie (and finished the entire series before I could make it through book three). When it comes to reading, he devours most everything.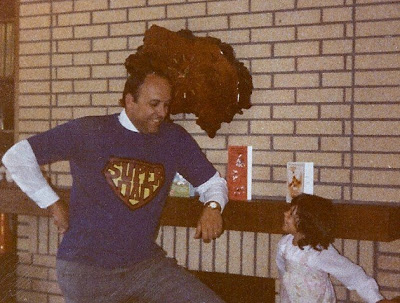 Now. Lest I tout my Dad as infallible, let me say he has been known to drive fast (although in control) and curse "stupid drivers." But not with profanity. Dad prefers more resourceful phrases like "dagnabbit," or "may the fleas of a thousand camels nest in your armpits." As a teenager I concluded that some kind of lead-footed alter-ego took over when he got behind the wheel. When off the streets, however, Dad was sweet as sugar. We gave him this "Super Dad" tee when I was five years old (above).
The picture above was taken this year on Father's Day. Spencer and Gordon were still in the hospital but we made this necklace of hearts for my Dad. One decorated heart from each of my children. I love that even though it's Father's Day, my Dad has still donned his apron in preparation for his family to join him for dinner.
Dad – I love you so very much. Thanks for all your wisdom, example, and love. We are thrilled that Gordon Robert is your namesake. Much of what I joy, appreciate and want to be in life, is because of you.
Doug enjoys every moment he has to be with his girls (and boys!) In the picture above Doug and Eliza are snuggling after church. Mint life-savers in their mouths.
You are the best Doug. Having our boys home and you to help was synergy. We understood what needed to be done and did it, without much talk, just enjoyment. I wish you could take the next month off! And so do the girls! A belated Happy Father's Day! We love you!